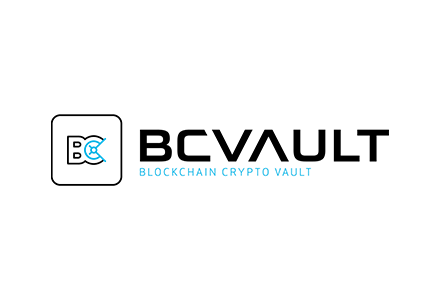 At first glance, it may seem like the hardware cryptocurrency wallet industry is pretty set in stone by this point in time. Companies such as Ledger and Trezor dominate the scene, and with good reason, too - they offer top-notch crypto asset security! However, this doesn't mean that there aren't alternatives, though. In this BC Vault review, we're going to talk about one of the more-interesting of these alternatives.
BC Vault, admittedly, isn't exactly the best-known crypto wallet. However, it has been steadily growing its reach, and attracting eyes all around the world - this is mostly thanks to the unique physical design of the product, and also some of the main features that it brings to the table.
However, can this wallet truly compete with the aforementioned industry titans? Read on, and find out!
Pros
Top-tier security features
Supports 20+ cryptocurrencies
Sturdy and well-made
Multiple wallet options to pick from
Products ship worldwide
Cons
Dated interface design
Quite pricey
BC Vault Review: PROS
We'll start off our BC Vault review by taking a look at some of the more-prominent positive aspects of the product. At the forefront of these aspects, naturally, there's the topic of security.
One of the Most Secure Cryptocurrency Wallets
In the world of cryptocurrencies, security is a term that gets thrown around more often than any other. It's not just for show, though - security is actually the most important aspect to consider when dealing with crypto, no matter if we're talking about coins, DeFi protocols, tokens, Smart Contracts, or anything else of that nature.
The regulation for crypto is still scarce all around the world. Some countries embrace it, others - ban it altogether. In both cases, there's still a lot of unknown to tackle - many unsolved questions lead to loophole formation for hackers, thieves, scammers, and similar malicious parties.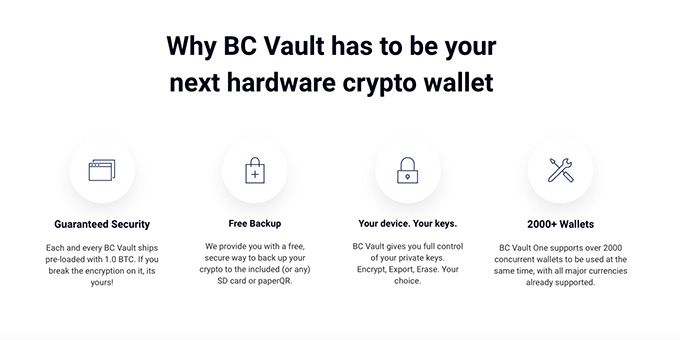 THAT'S the reason why security is so important. Naturally, the term is most commonly associated with cryptocurrency wallets, among other things.
User BC Vault reviews will tell you that the product in question is a cold wallet - more specifically, it's a hardware crypto storage item. This, in of itself, already tells us a couple of things.
For starters, if anyone is wondering is BC Vault any good, this should bring some reassurance - cold wallets are the safest possible way to store your cryptos. Investing in a cold wallet is the best way to ensure that your coins and tokens remain safe and sound, no matter the potential dangers.
Talk like that is cheap, though - let's take a closer look at the actual security features that BC Vault provides.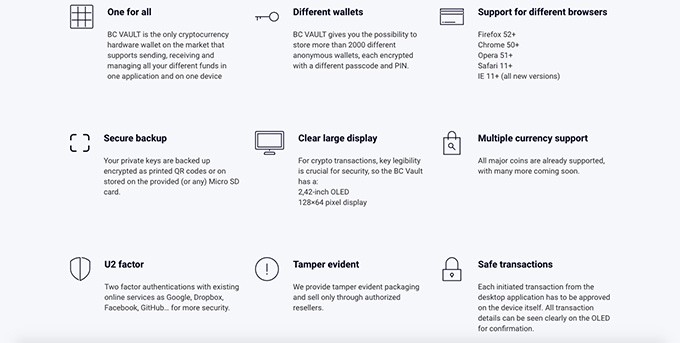 The very first thing that you should know is that the private keys to the wallet are yours. They belong to you, and you alone are going to be responsible for what happens to them. While this does result in a high level of responsibility on your end, it's also something that you would expect from a top-tier cold wallet - it basically means that the only way someone will access your coins is if they get the keys from you.
User BC Vault reviews will also tell you that the wallet supports different types of back-ups, too. You can back your coins up on an SD card, a paper wallet, or any other type of wallet that you'd wish to. To add to that, BC Vault employs a variety of safety elements, including:
A global password & PIN
A wallet-specific password & PIN
The security element of the wallet itself (and / or a backup)
The wallet can also act as a U2F - a universal second factor - for some major platforms, such as Google, Facebook, and more. In addition to that, its safety isn't only concentrated on what happens within the wallet - it also concerns transactions, too! All of your transfers done via the BC Vault app will need to be approved with the physical device, which adds an extra layer of security to the process.

Finally, if you're still not exactly convinced is BC Vault any good, there's something that might help sway your opinion, once and for all. BC Vault claims to preload each and every single wallet with 1 BTC - if you are able to break the encryption that their product is equipped with, you will receive that BTC!
At first glance, it's a really quirky feature - however, it does go to show just how confident the company is in regards to their products, which is always much appreciated! All in all, security-wise, BC Vault truly is one of the best wallets on the market - some superb news to start us off with!
Latest Coinbase Coupon Found:
CLAIM YOUR $200 BONUS
Coinbase Cyber Monday
Cyber Monday Madness at Coinbase! Get your first crypto and earn up to $200 in rewards. Hurry up before this Coinbase Cyber Monday deal ends.
Expiration date : 08/12/2023
3,784 People Used
Only 16 Left
Modern and Convenient Physical Wallet Design
The physical appearance of a cryptocurrency wallet is, admittedly, something that isn't usually paid all that much attention to, at least as far as the main evaluation criteria are concerned. Good - it shouldn't be any other way, either! Questions related to currency support and security should always be prioritized over things such as physical appearances.
That being said, when it comes to the convenience of the physical design in question, it's something worth considering, nonetheless.
You see, there are two big things to think about here - the uniqueness of the looks of the wallet, and how simple it is to use, in general.
Physical uniqueness is probably something you're not going to want your wallet to possess. This is because a unique-looking cold wallet is going to attract attention, and people will immediately know what they are looking at. This opens up a lot of room for potential theft attempts.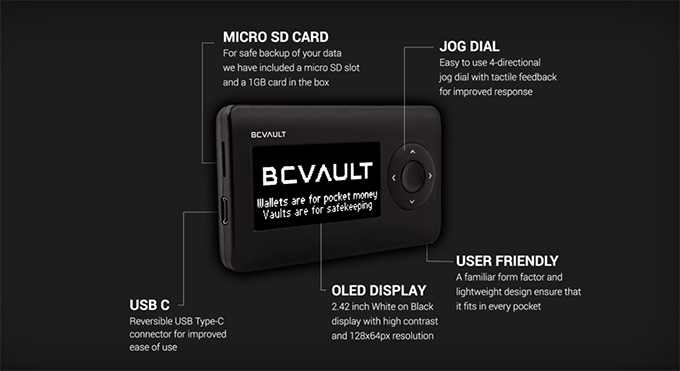 On the flip side, the product does still need to be convenient to use, especially if you're someone who's going to participate in a lot of transactions.
Well, user BC Vault reviews will tell you that the product in question has got both of those topics covered.
In regards to uniqueness, the wallet does, admittedly, look a bit out of the ordinary. However, if you don't come up close and read the "BCVAULT" text on the front of the product, you might easily mistake it for some sort of a retro gaming console, or a remote control device for your garage door.
The wallet, however, appears to be very convenient to use. It features a medium-sized screen, and very comfortably-placed button functionality. If you're used to smaller and more-compact wallets such as the Ledger Nano S Plus, the difference is going to be rather self-evident.
Sturdy and Element-Resistant
Now, physical appearances and general usability factors are all good and such, but there's something that's arguably even more important than that - the actual physical sturdiness of the device in question.
Most (if not all) of the top-rated hardware cryptocurrency wallets are made to hold against both the tests of time and physical wear / damage. Time-wise, granted that we're talking about hardware wallets here (as opposed to, say, paper ones), it's not really an issue - if you keep your wallet in a safe place, it will probably look and feel as new even after a few years.
However, physical damage resistance is very important. This is especially true for people who tend to carry their hardware wallets around with them, for one reason or another.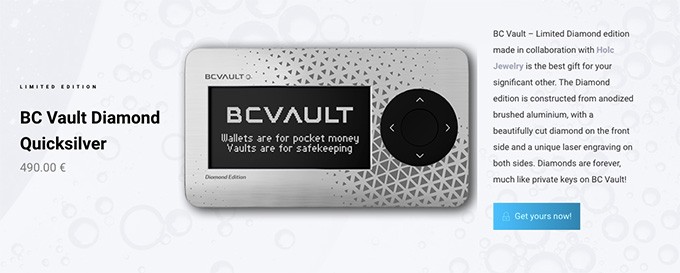 While your coins are going to be safe even if you happen to break the wallet, this is only the case in situations where you still have access to your private keys. If you do not, and the device does actually break, well - that's it. No way back.
Granted that such a scenario should never happen (meaning, you should always secure your keys in the best way possible), user BC Vault reviews will still tell you that the wallet in question is actually made to last.
As you will see for yourself in just a minute, BC Vault features an anodized and brushed aluminum design. Some models of the wallet feature aircraft-grade levels of sturdiness and construction!
All of that said, the point still stands - whether you're looking for BC Vault Bitcoin, Ethereum, or to store any other coin, the wallet in question should last you for a long time to come.
Speaking of coin storage, though...
Supports Countless Numbers of Different Cryptocurrencies
Cryptocurrency support is one of the first things that potential customers look into when searching for the best cryptocurrency wallets for themselves, no matter if we're talking about hardware products, software wallets, or else.
It's completely natural, too, especially in this day and age!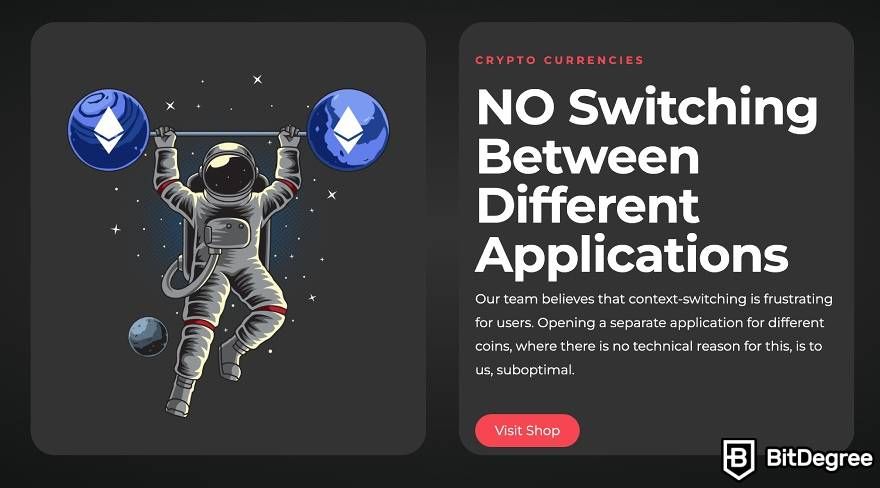 Crypto has hit the mainstream world like never before - it's in the news, and there are a lot of influential people talking about it, non-stop (I'm looking at you, Elon). With this newfound mainstream success, there's a lot of adoption happening, too - and not only when it comes to large financial institutions or global payment processors!
Individual crypto hodlers are expanding their sights towards new altcoins, much more now than ever before. People are taking their time to study and learn about crypto, and the different benefits that certain altcoins bring to the table. Naturally, everyone wants to keep all of their coins in a single, secure wallet, right?
Well, whether you're looking where in the US can you buy BC Vault or any other hardware crypto wallet, you should first know that there is no universal wallet for every and all cryptocurrencies in existence. However, with hardware products, you can get pretty close.
Reading through various user BC Vault reviews, it's evident that the wallet in question does support a huge list of cryptocurrencies - this is true even when you compare it with, say, Ledger or Trezor. It does allow you to store most of the "main" coins in existence, as well as an exponential number of different tokens.

These coins include everything from Bitcoin and Ethereum, all the way to Cardano, Dash, EOS, Stellar, and so much more. For most casual crypto enthusiasts, this is going to be more than enough.
It's also worth noting that this doesn't necessarily have to be the final list of coins, either. Hardware wallets tend to be constantly updated via new firmware version releases, which can often come with new coin support, too. An important point to consider whilst researching BC Vault reviews!
Multiple Different Product Versions
The hardware crypto wallet industry can often feel desolate not only because of the fact that there really aren't all that many reliable and well-made wallets out there, but also because the brands that ARE considered to be amazing usually sell one or two products, tops.
Now, naturally, you shouldn't come to expect a crypto wallet provider to have a Walmart-level selection of products - that goes without saying. However, some variety isn't only possible, but also much appreciated - something that people looking for BC Vault Bitcoin or even where in the US can you buy BC Vault will quickly learn, too.
BC Vault does, for a fact, have a pretty good assortment of different wallet versions and types that you can browse and purchase! While we'll get to the pricing aspect of it all a bit later on in the BC Vault review, the wallets that you can contemplate getting are:
BC Vault One - the original BC Vault wallet, the company's flagship product. The wallet comes equipped with all of the features discussed in this BC Vault review.
BC Vault Quicksilver - a device made from brushed aluminum. Aircraft-grade construction and sturdiness guaranteed.
BC Vault Gunmetal - a limited edition wallet, made from a single block of brushed aluminum.
BC Vault Diamond Quicksilver - a limited edition wallet made in collaboration with Holc Jewelry. Made from aluminum, with a diamond on the front and engraving on the sides.
BC Vault Diamond Gunmetal - a combination of the BC Vault Gunmetal and BC Vault Diamond Quicksilver.
BC Vault Huobi Special Edition Quicksilver - a special edition wallet made from a single block of aluminum that was brushed and anodized in order for it to provide aircraft-grade levels of construction.
BC Vault Huobi Special Edition Gunmetal - same as the wallet discussed above, just in the Gunmetal color scheme.
That's a significant list to consider! If you're looking for BC Vault for United States, you should note that all of the above-listed wallets are available to be shipped anywhere in the US, too, which is a huge benefit!
BC Vault surely does possess one of the biggest selections of wallet versions on the market. There is also various merch that you can consider grabbing, too, on top of different USB adaptors, SD cards, and so on.
Latest Ledger Nano X Coupon Found:
SAVE 10%
Ledger Cyber Monday
Ledger Cyber Monday sale is bringing you the best deals - follow the coupon link & get 10% off Ledger Nano X when buying the Family Pack X!
Expiration date : 04/12/2023
7,469 People Used
Only 21 Left
BC Vault Review: CONS
Now that we've discussed all of the main benefits and core features of the hardware wallet in question, and looked at BC Vault for United States and other regions of the world, let's move on to some of the less-positive aspects of the products, and see what clients of the company have to say about that.
Dated Interface Design
Each hardware wallet that you are going to purchase will have some sort of software associated with it. For example, if you were to go out and purchase yourself a Ledger (whether the Nano S Plus, or the Nano X), upon receiving the wallet, you'd be prompted to create a Ledger Live account - Ledger Live being the software of the Ledger wallets.
User BC Vault reviews will tell you that, no matter the wallet, these pieces of software serve the same general purposes - they allow the user to perform transactions, check their balances, manage the different coin blockchain apps, exchange one coin for another, and so on.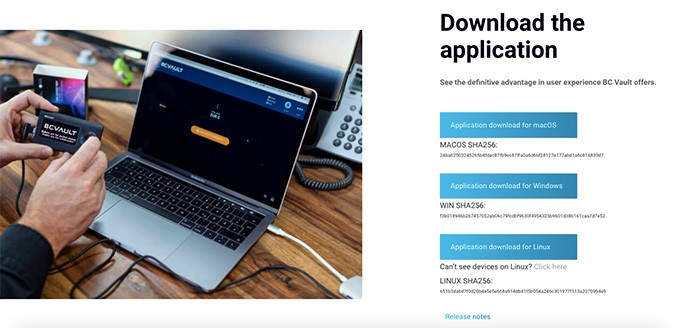 So, in short, these pieces of software are quite important. Well, whether it be BC Vault Bitcoin or any other crypto that you're after, you should know that the wallet in question does also possess software to accompany it. And, by the looks of things, while the software is alright, in and of itself, the interface could definitely be improved.
One of the main user complaints that you might notice concerning the interface in question is that it's dated, and isn't very intuitive to use. You will be able to find all of the essential features that you might require, sure, but if you were to place the BC Vault software interface up against that of Ledger, well… It's not really a competition.
Is this something that you should be overly concerned about? Definitely not. However, it's still a point worth keeping in mind - hopefully, BC Vault works to address the issue, and update their interface design to a newer, more modern version!

Did you know?
Price
While pricing is a completely different section in many other articles, in this BC Vault review, I'll combine it with the less-than-ideal features of the product in question.
So, price is important - that's obvious. Many people have a budget that they can spare for things such as hardware wallets and other crypto-related security measures - that's completely fair, too.
That said, not all crypto wallets are priced the same - some are quite a bit more affordable than others. Unfortunately, BC Vault does not fall into this category.
Here are the pricing options for the different wallets that BC Vault provides:
The prices are up there! Even when you compare them to Trezor Model T - one of the pricier wallets around -, they are still higher.
That's the other thing, too - seeing as Trezor is a household name in the crypto wallet industry, the natural question that may come up is this - why would anyone purchase a much more-expensive wallet, when they can get a more-affordable one, that also has a much more-stable reputation surrounding it?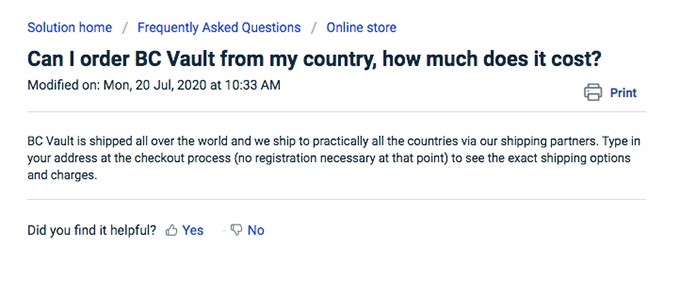 Well, it depends. The BC Vault has a lot of different features which can be quite attractive to crypto enthusiasts! However, it's all situation-dependent.
One other thing, though - if you're looking for BC Vault for United States, note that the company ships its product almost all around the world - the US included. That's awesome!
BC Vault or Trezor?
By this point in the BC Vault review, we've already established that the wallet in question does have a lot of attractive features to offer to crypto hodlers all around the world. However, is this particular product better than some of the industry leaders?
Well, to be completely honest, this is something that's for you to decide. What I can do, however, is help you compare and contrast the product in question with the aforementioned hardware wallet leaders.
First up, we have Trezor - namely, the Trezor Model T. Trezor has been long-known in the industry for providing cryptocurrency enthusiasts with the top levels of asset security.
In that regard, both Trezor and BC Vault are somewhat similar. Both wallets can act as U2F devices, and both of them do also have top-tier security and encryption features, too.
TREZOR MODEL T

The main advantages of a certain cryptocurrency wallet.

Top-notch security
Touchscreen user interface
Easy to set up
Supports around 1000 crypto assets

The main disadvantages of a certain cryptocurrency wallet.

Score that represents the ratio of the quality & advantages you get for a certain price.

See TOP10 Brands
Read review
Table: The pros and cons of the Trezor Model T
BC Vault, however, does support many more cryptocurrencies. Following that, if you're someone who wants to keep all of their assets in one wallet, then this might be an important point to consider.
On the flip side, Trezor is more affordable, as mentioned earlier on in the BC Vault review. With the combination of being cheaper and as established on the market as it is, the Trezor Model T is definitely a tough contender to beat!
That said, there are some individuals who feel rather strongly about Trezor's physical design, and not in the best way possible. Here, BC Vault does appear to have the upper edge - the latter product is both very sturdy, but also convenient to use, and perhaps even a bit more inconspicuous, which can prove to be a great feature if you plan on using your crypto wallet in public.
All things considered, if you're someone who likes to try out new things, and are interested in the technology behind cryptocurrency wallets (or perhaps would like to reap that 1 BTC reward mentioned earlier on in the BC Vault review?), BC Vault could be an interesting choice. For a time-proven solution, though, Trezor will always be a suitable pick.
BC Vault or Ledger?
Ledger - in this BC Vault review, namely, the Ledger Nano X - has always been the leading cryptocurrency hardware wallet on the market. The product is considered to be the best out of the best by many, due to a wide plethora of different reasons.
When comparing BC Vault and Ledger, the very first thing that pops up in people's minds is the user interface. Ledger Live is probably one of the most user-friendly, intuitive, and well-designed UIs I've ever had the pleasure of using - this is something that many Ledger customers echo, too!
On the flip side, as noted earlier, the same cannot be really said about BC Vault. The wallet's UI is a bit dated, and while it's still suitable for all types of use, this is something worth considering.
Cryptocurrency support, though, is where the BC Vault appears to have an upper edge. While Ledger supports around 5000 different crypto coins and tokens, BC Vault can house a wider array of assets.
LEDGER NANO X

The main advantages of a certain cryptocurrency wallet.

Can be managed from mobile device
Very secure
Supports more than 5500 cryptocurrencies
Comfortable design

The main disadvantages of a certain cryptocurrency wallet.

Score that represents the ratio of the quality & advantages you get for a certain price.

Visit site
Read review
Table: The pros and cons of the Ledger Nano X
When it comes to the physical design capabilities of both wallets, admittedly, BC Vault might be a better pick, simply because of how damage-resistant the wallet is. This is, yet again, something to consider for those who are keen on carrying their wallets around with them.
Lastly, pricing is probably the biggest area in which the differences between the two products really shine. The Ledger Nano X is much more affordable than the standard model of BC Vault - the latter is more than two times as expensive as the former!
All things considered, Ledger remains one of the best possible picks for a reliable and well-made crypto wallet. However, it's quite evident that BC Vault is a great pick, as well - it all kind of boils down to your personal preferences, and the features that you value the most.

Pros
Can be managed from mobile device
Very secure
Supports more than 5500 cryptocurrencies

Pros
Top-tier security
DeFi app support
Store over 5500 assets, install up to 100 apps simultaneously

Pros
Multiple cryptocurrency support
Very secure
SegWit and Bech32 address support
Conclusions
With that, we've come to the end of the BC Vault review. Thank you for reading all the way through!
Now, is BC Vault any good? Is the wallet worth checking out, and perhaps even trying? What are the general sentiments regarding the product, overall?
Yes, BC Vault is definitely one of the better hardware cryptocurrency wallets that have reached the market. The wallet is surely worth checking out - that's something that you'll find stressed in multiple user BC Vault reviews, too. Lastly, the general sentiments surrounding the product are very positive. All of those things combined, this places BC Vault close to other industry giants, namely - the Ledger Nano X, or the Trezor Model T hardware wallets.
BC Vault offers its users a wide array of features and benefits, not unlike those of the current industry leaders. There are multiple versions of the wallet to pick from, too, so everyone should be able to find the best option for themselves!
LEDGER NANO X
TREZOR MODEL T

Main score based on expert evaluations & real user reviews.

Whether the crypto wallet is hardware, software, desktop or paper type.

Hardware
Hardware

For which purpose or for what kind of people is the cryptocurrency wallet best for.

Best for Safely Storing, Sending, and Receiving Different Cryptocurrencies
Best for Easily Control Funds, Manage Balance and Initiate Transfers

Most popular hand-picked deals & coupons.

All Ledger Nano X Coupons
See All Coupons of Best Wallets

Final crypto wallet evaluation conclusion based on research, expert opinions & user feedback.

One of the best hardware cryptocurrency wallets ever made.
One of the most-secure cryptocurrency hardware wallets on the market.
Visit site
Read review
See TOP10 Brands
Read review
Table: The main feature of the Ledger Nano X and the Trezor Model T
The only thing that can discourage people from checking BC Vault out are the price tags that come along with the products - it's an expensive hardware wallet! However, if you are able to invest a bigger sum into the protection of your cryptos, most of the wallet's current users will tell you that you're not going to be disappointed!
Still not sure what's the best way to go about it? Well, check out our lists of the best cryptocurrency hardware wallets, and the best crypto wallets on the market, in general - perhaps these articles will help you make the right choice?
The content published on this website is not aimed to give any kind of financial, investment, trading, or any other form of advice. BitDegree.org does not endorse or suggest you to buy, sell or hold any kind of cryptocurrency. Before making financial investment decisions, do consult your financial advisor.
About Article's Experts & Analysts