How to Buy BitDegree Courses: Step-by-Step
Step 0: Don't have BitDegree Tokens? Learn How to Buy BitDegree Tokens Here!
Step 1: Visit the BitDegree website and register your account for free (you can also do it as you're about to pay for the course is Step 5).
Step 2: Choose a course you like, and click Start Learning Now.
Step 4: Choose BitDegree as a payment method, and click Checkout.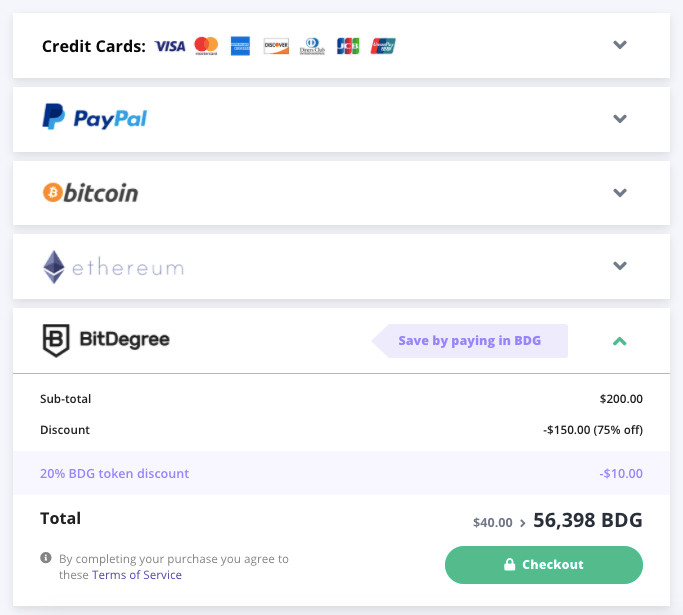 Step 5: If you haven't signed up yet, this is the step where you will be prompted to do that in order to purchase online courses. If you are registered and logged in with your email adress, you can go directly to Step 6.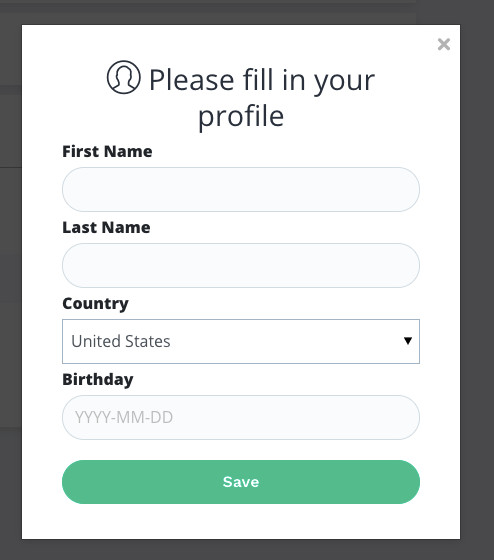 Step 6: Copy the given address (it's in the purple bar).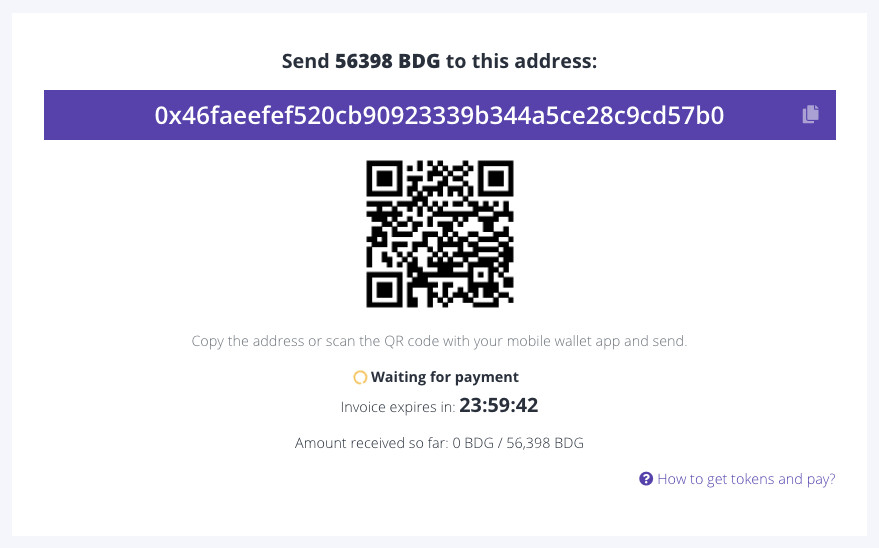 Step 7: Go to MyEtherWallet (or any wallet you have your BDG tokens in), and click on Send Ether & Tokens. Paste in the address and the amount required from the previous step. Set the Gas limit as 50000 and gwei as 25.
Step 8: Click Generate Transaction, then Send Transaction and Confirm that you want to buy online courses from BitDegree.
Step 9: After a couple of minutes, you'll see this screen. You can close it now: the payment has gone through successfully. You'll get an email once your purchase is verified.
Step 10: Your BitDegree course will be unlocked once the number of block confirmations reached 20/20. You will be able to find it in the My Courses section. You'll also get an email saying that you're course is waiting for you!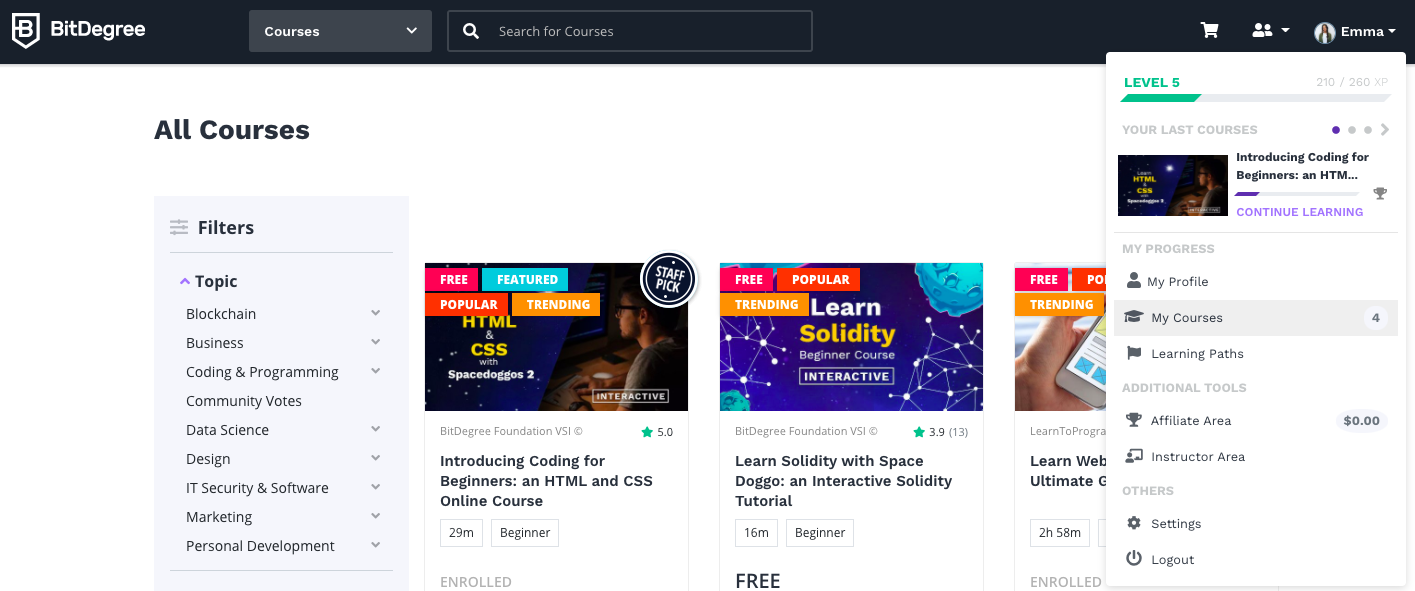 Introducing the BDG Token Club
If you browse the selection of courses in the BitDegree marketplace from time to time, you might have noticed a completely new section in the drop-down menu called the BDG Token Club: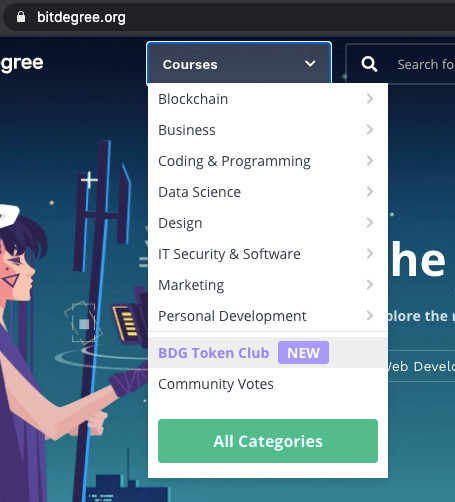 This card represents a unique selection of courses you can get for an exclusive price if you pay in BDG tokens. That's because for these courses, we accept your tokens for a fixed value of $0.07 each – which is a lot higher than the current market price!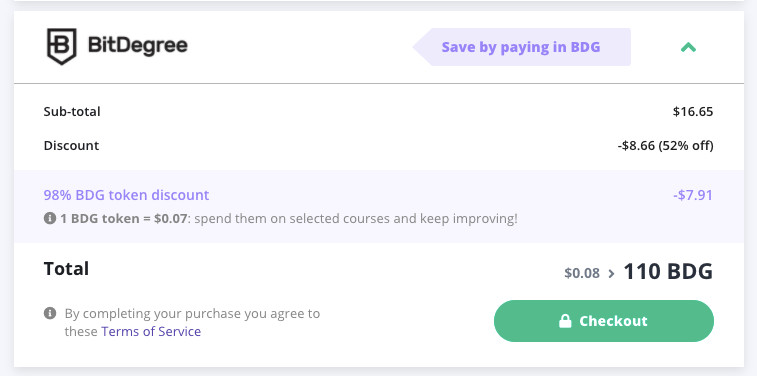 The BDG Token Club offers courses in various topics, including but not limited to coding, game development, business, and marketing. With a selection of 130 courses, there's definitely something for everyone – don't skip a great chance to save on improving your skills!
Time To Buy Online Courses!
See, this wasn't so challenging – a few minutes in, and you already know how to buy BitDegree courses using the BitDegree tokens. The process might have seemed complicated at first, but if you follow the tutorial step by step, you'll find buying online courses a breeze! Moreover, you will be able to enjoy all the discounts that come with using BDG tokens.
BitDegree is a great platform to learn new skills and upload your own courses if you want to share your knowledge with the world. Also, if it just so happens that you find the course and you have no BDG tokens or any other currency to buy it with, you can try applying for a BitDegree scholarship. You will get a chance to tell your story, explain how the course you selected will help you in the future, and try to impress a potential sponsor enough for them to give you a small scholarship. You can read more about this process here!