How to Buy BitDegree Courses with BTC: Step-by-Step
Step 0: Don't have any Bitcoin(BTC)? Learn How to Buy BTC Using Your Credit Card or Learn How to Buy BTC Using PayPal.
Step 0: Don't have a cryptocurrency wallet to store your Bitcoins(BTC)? Learn to Create a Cryptocurrency Wallet for Bitcoin.
Step 1: Visit the BitDegree website and register your account. By registering your account for free, you're already eligible to study from all of the free courses available!
Step 2: Select any paid course you like, and press Start Learning Now.
Step 3: Choose Bitcoin as a payment method, and click Checkout.
Step 4: Copy the given Bitcoin Address (it's in the purple bar). You can also scan the QR code using your mobile wallet application.
Step 5: Go to your Bitcoin wallet (I'm using the Blockchain.info's wallet for this tutorial). You'll need to click Send and paste in the address and BTC amount from Step 4.
Step 6: Make sure the address is the same one you saw in the Step 4. If it is, click Continue and Send Bitcoin.
Step 7: Now your payment is in line to be sent to BitDegree. It will be sent once the number you see next to Pending Confirmations reaches 3 out of 3. This can take up to an hour, so do not worry!
Step 8: After your payment is sent, you will see this screen on the BitDegree website. You can close it – the payment has already gone through successfully. You'll get an email once your purchase is verified!
Step 8: Your BitDegree course is unlocked once the number of block confirmations reaches 6/6. You will be able to find it in the My Courses section. You'll also get an email saying that your course is waiting for you!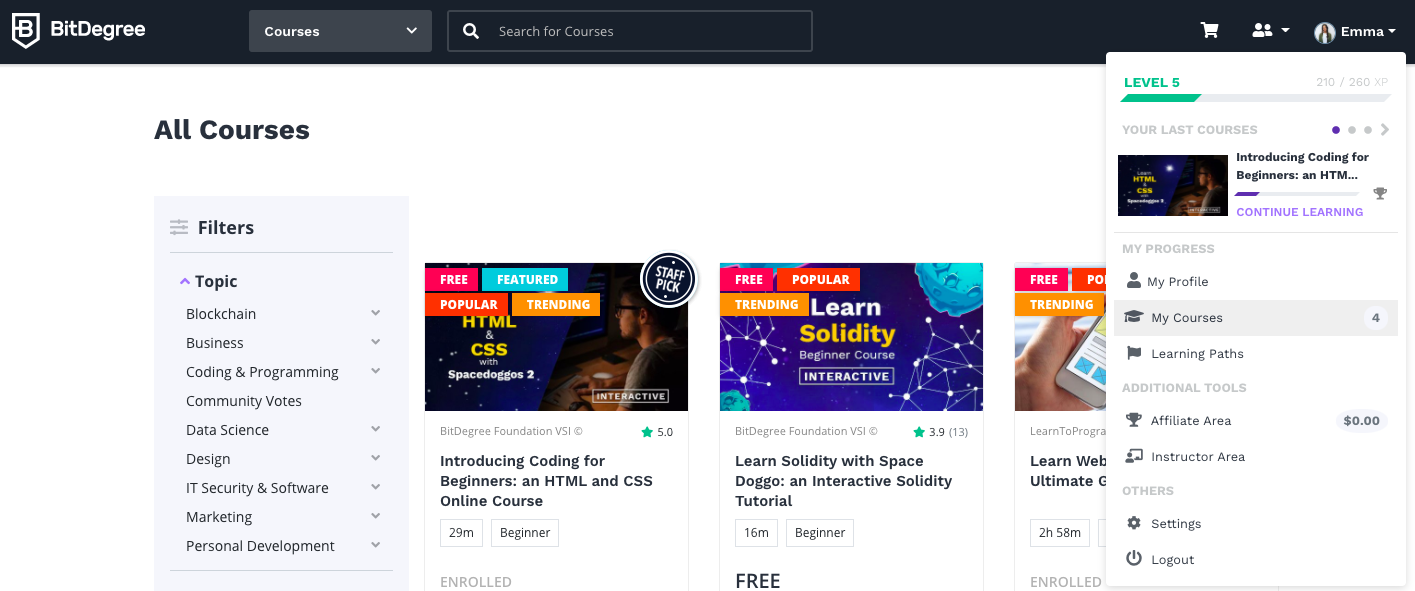 Time to Learn!
That's it – now you know how to buy BitDegree courses with BTC (Bitcoin)! Cryptocurrency and blockchain-based transactions might seem like they're complicated at first, but after you do it once, you should have no problems using this payment method in the future.
You can also use other cryptocurrencies such as Ethereum or BitDegree token (by the way, paying with BDG is the way to get the highest discounts!). Find these guides below:
1. How to Buy BitDegree Courses Using BDG Tokens
2. How to Buy BitDegree Courses Using Ether (ETH)
BitDegree is a great platform to learn new skills and upload your own courses if you want to share your knowledge with the world. If you choose to take the side of the learner, however, you will also gain BitDegree tokens that are stored on the platform.
You might also choose to apply for a scholarship, in which case you could earn tokens directly to your wallet as you finish the course (you can read more about the whole process here)! Be sure to check out our tutorial on how to use BitDegree tokens so they wouldn't go to waste!