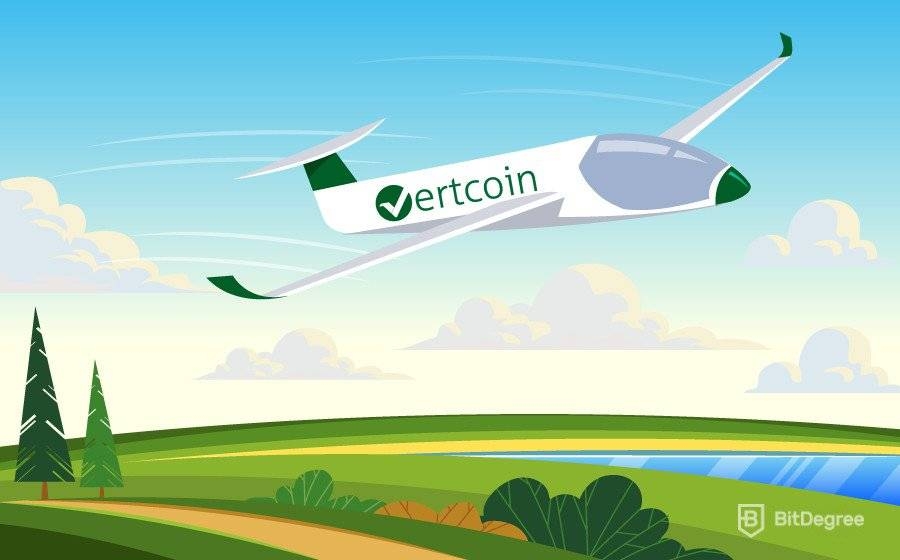 If, you're holding onto some Vertcoin and want to know whether the price is going to go up or down, get some Vertcoin price prediction? Or maybe you are thinking about buying some, but want to find out what is going to happen to the price in the near future?
Well, you've come to the right place as I am going to tell you everything you need to know! By the way, did you know that Vertcoin is also called VTC coin for short?
Anyway, in my Vertcoin price prediction guide I am firstly going to give you a quick explanation of what the project actually is, followed by a brief overview of what has happened its price so far.
After that, I am then going to discuss some possible predictions for 2023 and beyond and then give you my opinion on whether I think Vertcoin is a good investment or not. If you do conclude that VTC is an attractive asset to you, check out Binance, Coinbase, Kraken, and KuCoin - these are some of the top-rated crypto exchange platforms which would allow you to purchase said coins in a quick and hassle-free manner!
So, then - let's start by finding out what Vertcoin actually is!

Did you know?
Want to get smarter & wealthier with crypto?
Subscribe - We publish new crypto explainer videos every week!
What is DeFi in Crypto? (Explained with Animations)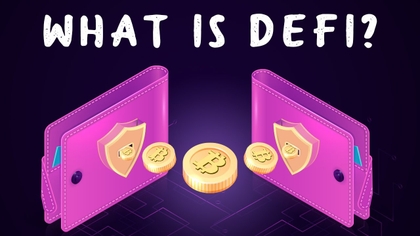 What is Vertcoin?
Vertcoin was first launched in 2014 and was created to compete with earlier blockchains, such as Bitcoin. It is a cryptocurrency that allows people to send and receive coins to each other, without needing a third party to verify transactions.
Latest Deal Active Right Now:
REDEEM $600 PRIZE
Binance Cyber Monday
Attention new Binance users: this Cyber Monday, you can score up to $600 in rewards by completing special tasks. Activate this amazing Binance Cyber Monday deal using the code – 49316610!
Expiration date : 05/12/2023
6,127 People Used
Only 16 Left
There are actually some key differences between Vertcoin and Bitcoin. Firstly, Vertcoin is able to confirm transactions in just 2.5 minutes, while Bitcoin takes 10 minutes. Also, while the Bitcoin supply will be limited to just 21 million, Vertcoin is four times bigger at 84 million.
Total supply:
84,000,000
Transaction time:
Average (2.5 Minutes)
Average TX fee:
$0.0018
Market cap:
$11,157,657.27
Total supply:
21,000,000
Transaction time:
Slow (10 Minutes)
Average TX fee:
$6.657
Market cap:
$618,396,832,615.41
Vertcoin is also different in the way people can take part in mining because it does not allow ASIC hardware devices. This then allows people to instead use their GPU's, which gives everyone a chance to take part. On the other hand, with Bitcoin, those with the most expensive ASIC devices always get the mining reward, which isn't a fair system.
So, now that you know what it actually is, the next part of my Vertcoin price prediction guide is going to look at what you need to consider when you read price predictions.
What to Consider Predicting Vertcoin
The internet is full of "expert" price predictions, but in reality, people don't know what will happen in the future. If they did, we would all be very rich.
The cryptocurrency industry is extremely volatile, and it is not unusual to see huge price swings in a 24-hour period. This, at times, makes it very difficult to predict which way the price is going to go.
Long term, the most important things that will affect the price of a cryptocurrency are new partnerships, technology, and real-world usage.
You should always remember that predictions are the personal opinions of the person making them. Therefore, never invest money based only on pricing predictions and always conduct your own independent research!
So now that you know what to consider, the next part of my Vertcoin price prediction guide is going to have a quick look at what has happened to its price so far!
Vertcoin Price Prediction: The Story So Far
When the VTC coin was first released in May 2014, it instantly went up to just over $5 per coin. However, over the next three months, it quickly went all the way down to $0.091, losing most of its value along the way. Interestingly, it remained at this price for the next three years.
Then, in May 2017, the VTC coin went on an excellent run, reaching all-time highs of just under $10 in January 2018! Since then, its price has been decreasing and now is worth only $0.2 in 2023.
Although the entire cryptocurrency industry experiences large pricing movements, it appears that Vertcoin has experienced very high levels of volatility.
Which way will its price go moving forward? It's anybody's guess! However, the next part of my Vertcoin price prediction guide is going to consider some possible predictions.
VertCoin Price Predictions 2023?
The first Vertcoin price prediction 2023 that I came across was by Patrick Brik at Profit Confidential. Brik believes that the only way to truly predict a cryptocurrency price movement is to use technical chart analysis.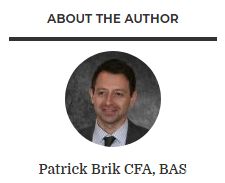 This is when you study previous pricing movements and look for certain trends, with the hope of estimating where and when the price will move. According to Brik, he has been using his chart analysis methods successfully for 20 years. So what does he think will happen to Vertcoin in the future?
Well, Brik was very confident in the future of Vertcoin and believed that Vercoin was supposed to reach $8,000 in 2018! For this to happen, Brik claimed that the "resistant point" of $7.25 must be broken clearly. A resistant point is a price where investors have historically sold their coins. If this is broken, though, it sometimes results in the price experiencing new highs. It's clear that this prediction was very unrealistic and that didn't happen.
However, there is a clear issue with this particular prediction and it's related to market capitalization. A coin's market capitalization indicates its total value. It is calculated by multiplying the total coins in circulation against the current market price of the coin.
For example, if there are 5 million coins in circulation and the current price of the coin is $2, then the total market capitalization is $10 million. So, going back to Brik's price prediction…
At the time of writing, there are approximately 44 million VTC coins in circulation, so when we multiply that by Brik's prediction of $8000, this would give it a total market capitalization of $352 billion!
In reality, this is very unlikely to happen within 2018-2023. It would make it the world's most valuable cryptocurrency, overtaking Bitcoin. It would also mean that Vertcoin would need to increase its all-time high price of $10 by more than 80,000%. Although price increases of this nature have happened in the past, this would be a significant event if it did happen to the VTC coin.
So, what other Vertcoin predictions are there? Another analyst I came across was WalletInvestor. He believes in the potential of the VTC coin, however, he is not as optimistic as Patrick Brik!
WalletInvestor thinks that in 1-year, Vertcoin will reduce to $0.00794 USD. Just like the previous prediction, they used technical chart analysis to predict future price movement.

This prediction for 2023 seems reasonable, however, very pessimistic as the currency Vertcoin price is $0.19.
What do you think of the two Vertcoin price prediction 2023 listed above? Do you think $8000 is possible, or a step too far? Anyway, the next part of my Vertcoin price prediction guide is going to look at what analysts think will happen in 2023 and beyond!
VertCoin Price Predictions 2023 and Beyond!
If you thought short-term price predictions were hard, long-term predictions are even harder!
Coinliker, who claims to specialize in cryptocurrency price predictions, believed that the price of the VTC coin should have reached $25.07 by June 2018. This meant an increase of about 150% from its all-time high of just under $10, giving it a total market capitalization of just over $1.1 billion. Needless to say, such scenario didn't happen in the past few years and now Vercoin price is continuously decreasing. At the moment (June 2023), Vertcoin price is only $0.20.
This was a difficult prediction to analyze. On one hand, a total valuation of $1.1 billion wouldn't be completely impossible, as there were and are many cryptocurrencies valued at more than this amount. However, lots of these coins have better technology, especially regarding transaction times.
So what about beyond 2023? One of the more realistic predictions is presented by tradingbeasts.com. You can see the Vertcoin price prediction for 2023 below.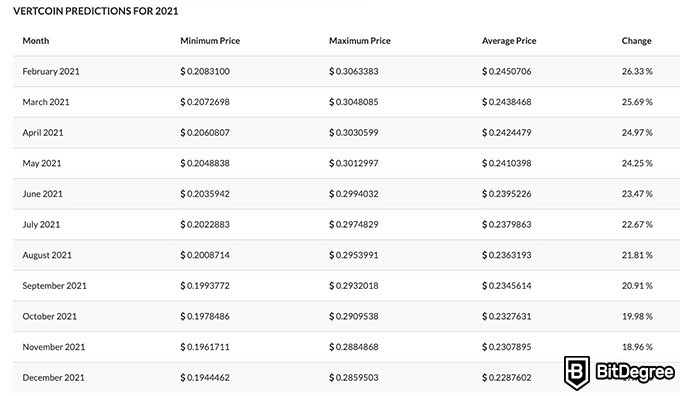 As you can see, based on these predictions Vertcoin price might increase up to $0.28. That's very realistic.
VTC Price: Is it a Good Investment?
Before I give you my views on Vertcoin, I wanted to make it clear that I am not giving you financial or investment advice. Just like the other views I discussed earlier, everything is based only on personal opinions.
You should always do your own research before making an investment and even more importantly, never invest based on a price prediction guide alone!
The way that I like to analyze the potential of the coin is to look at potential future events. To start, I took a look at the Vertcoin roadmap.
Roadmap
Although the Vertcoin roadmap for 2023 doesn't have specific dates, they do have a full list of objectives that they hope to meet. This includes increasing the number of exchanges they are listed on, getting their coin supported with the Trezor hardware wallet and establishing the Vertcoin Foundation.
These objectives show that the development team is constantly looking to improve and any one of these aims being met could result in a price increase in their VTC coin. Investors like to see objectives met, so it is important that Vertcoin is able to successfully reach most of the above targets.
Partnerships
One of the major negatives that could affect the price of Vertcoin is that they are yet to form any major partnerships. Partnerships are really important as it gives the coin real-world usage.
For example, if Vertcoin were able to do a deal with a corporation who wanted to start accepting its coin, then the price would go up massively. However, there appears to be no mention of partnership objectives within their most recent roadmap.

Pros
A very well-known crypto exchange platform
More than 500 different cryptos available
Two-factor authentication
Main Features
Over than 100 different cryptocurrencies available
Strong security
Small withdrawal fees

Pros
Secure and reliable
Low fees
A good amount of fiat currencies accepted
Main Features
Reputable exchange
Multiple fiat currencies are accepted
Relatively low trading fees

Pros
Anonymous trading
Secure
Supports a variety of cryptocurrencies
Main Features
Easy to use
Low fees
Good security
Competition
A further issue that might affect the valuation of the VTC price is its competition. There are many other cryptocurrencies that perform much better than Vertcoin, meaning that they can process transactions faster. Furthermore, the performance levels of Vertcoin are very similar to Litecoin.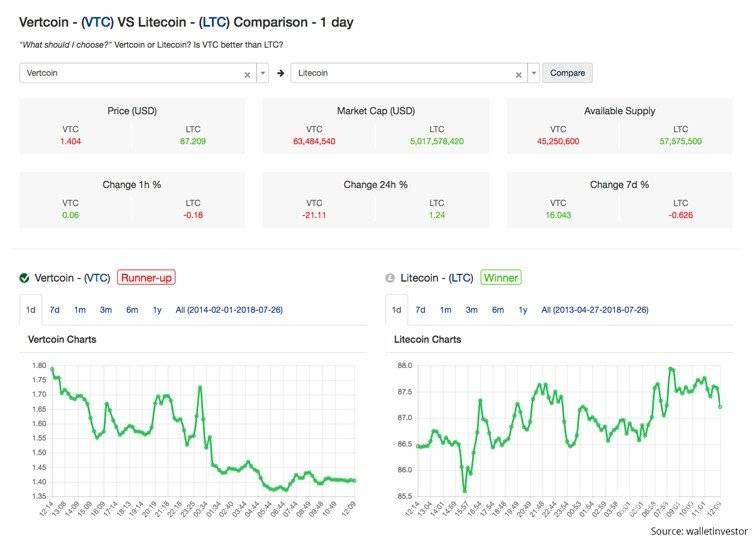 The big difference is that Litecoin is significantly more popular that Vertcoin, which is why it is a strong top 10 cryptocurrency. The only way that Vertcoin will able to beat its competition is to improve its technology. If they can, they have a really good chance of meeting some of the above Vertcoin predictions.
Ultimately, although I believe that the Vertcoin project has real potential, it's difficult to know what the future holds.
Conclusion
And that's the end of my Vertcoin price prediction guide. If you read it from start to finish, you should now have a really good understanding of what the project is and what they plan to do.
You should also have a good idea of some of the different Vertcoin predictions that currently exist. While some are really positive, others are not. As I mentioned earlier, predictions are purely the opinion of the person making them, so you should always do your own research before making an investment.
Lastly, don't forget that Vertcoin should only be purchased from the top exchange platforms, such as Binance, Coinbase, Kraken, or KuCoin. This will guarantee both the best fees, as well as some of the best, industry-leading security features, as well!
So, which way do you think the price will go in 2023 and beyond? Did you visit my guide because you are considering investing, or do you already hold coins? It's always good to hear new predictions, so make sure you let me know your thoughts in the comments section below!
About Article's Experts & Analysts