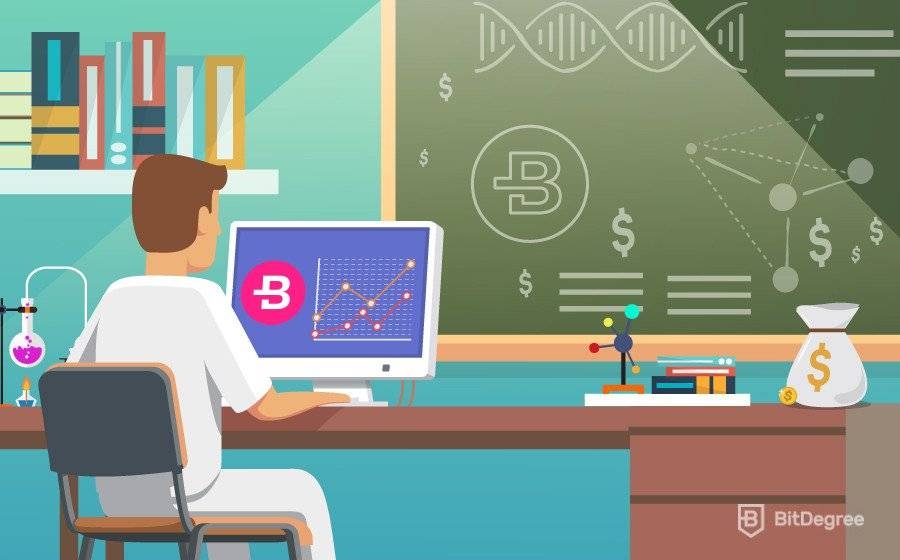 The you thinking about buying some Bytecoin, but not sure if now is the right time? Or maybe you are already holding some, but want to figure out if you should sell or hold and are looking for Bytecoin price prediction? Well, you've come to the right place!
In my Bytecoin price prediction guide, I am going to cover everything you need to know. Firstly I am going to give you a quick overview of what the Bytecoin project actually is. Next, I am going to briefly explain the importance of understanding that pricing predictions should be taken with caution, as they are just that – predictions!
After this, you will then be set to consider some of the factors that could affect its price, along with some examples of other Bytecoin price predictions. By the end of it, you should have a better idea of what you want to do!
So, what are you waiting for? Let's start by making sure we know what the Bytecoin project actually is!

Did you know?
Want to get smarter & wealthier with crypto?
Subscribe - We publish new crypto explainer videos every week!
NEAR Protocol Explained: Beginner's Guide to NEAR (Animated)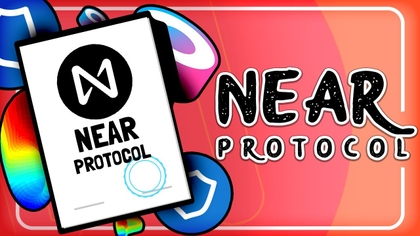 What is Bytecoin
Bytecoin is a cryptocurrency that specializes in private and anonymous transactions, allowing anyone in the world to send and receive funds without revealing their identity. It was created in 2012 by a group of anonymous developers, which even to this day, still remain unknown.
Latest Deal Active Right Now:
REDEEM $600 PRIZE
Binance Cyber Monday
Attention new Binance users: this Cyber Monday, you can score up to $600 in rewards by completing special tasks. Activate this amazing Binance Cyber Monday deal using the code – 49316610!
Expiration date : 09/12/2023
6,127 People Used
Only 16 Left
By sending funds through the Bytecoin blockchain, it only takes 2 minutes before the transfer is confirmed. This is much quicker than using Bitcoin, which takes up to 10 minutes.
Another key difference is that Bitcoin allows users to view lots of transaction information on the public blockchain, however Bytecoin transactions use something called "Ring Signatures", meaning that everything remains private.
Although Bytecoin uses Proof-of-Work like Bitcoin, there is a slight difference. Bitcoin (which uses something called SHA-256 algorithm), gives people the most expensive hardware the greatest chance to win the mining reward.
However, Bytecoin (which uses something called Egalitarian Proof-of-Work) allows people to mine using basic GPU's and CPU's, making it a much fairer system.
The native Bytecoin cryptocurrency is also referred to as BCN and in total there will be a maximum supply of 184,470,000,000 coins.
So now that you know what the coin actually does, the next part of my Bytecoin price prediction guide is going to make sure you understand that predictions should always be taken with caution.
Important Note About Cryptocurrency Pricing Predictions
In reality, nobody can predict the future, because if we could, we would all be very rich. This is especially true in the cryptocurrency industry as the markets are really volatile. Sometimes you can get a coin that goes up more than 1,000% in a single day, with no clear explanation as to why it happened.
The most important indicator of whether a cryptocurrency goes up or down is real-world events. For example, if a cryptocurrency formed a partnership with a really big company, then its price will more than likely go up. On the other hand, if a cryptocurrency experienced a hack, then the price would probably go down. Remember, though, this is not always the case.
You should never make an investment decision purely on the basis of a price prediction. Always conduct your own independent research and make sure you understand that predictions are nothing more than opinions.
Now that I've got that out of the way, the next part of my Bytecoin price prediction is going to look at some of the things that could affect the Bytecoin value in 2018. 
Bytecoin Price Prediction 2018
To give you an idea of how careful you need to be when looking at "Expert" Bytecoin price predictions, take a look at the following image.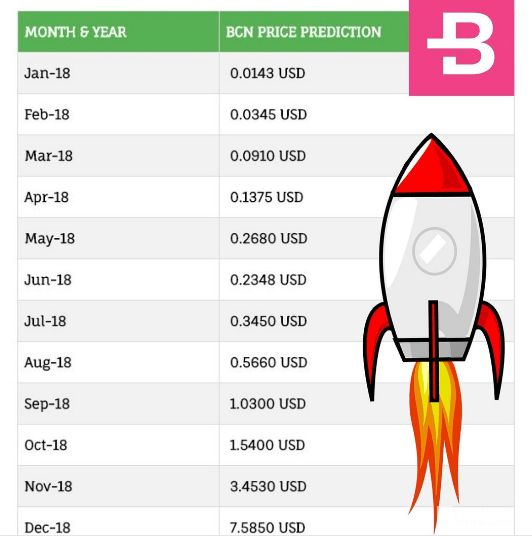 This pricing prediction was released by a Twitter page in January 2018 that calls itself the "Bytecoin Foundation" and they have almost 6000 followers. There are some clear issues with these predictions, which I will explain below.
When I talk about market capitalization, this is the best way to understand how much the cryptocurrency is worth in total, based on the current market price. This is achieved by multiplying the current price of the cryptocurrency against the total amount of coins in circulation.
For example, if there were 1 million coins and each coin was worth $0.50, then the total market capitalization would be $500,000.
According to the above Bytecoin price prediction, in December 2018 the price will be $7.5850. When you multiply this by the total supply of just over 184 billion, this would give Bytecoin a total market capitalization of more than $1.3 trillion.
To show you why this is a ridiculous Bytecoin price prediction, Apple - one of the most valuable companies in the world, had a total market capitalization of $953 billion in June 2018. Do you really believe that this will happen? If so, how much will Bitcoin be worth?!
The Bytecoin Foundation predicted that Bytecoin would reach $0.2680 in May 2018, however, the highest it got to was $0.017. After that, the price continued decreasing and Bytecoin is worth only $0.00019 in January 2023. So, what other Bytecoin price predictions are out there?
One of the more realistic predictions is by Cryptoground that believes that BCN price might increase to $0.0006 by the end of 2023.
Bytecoin Price Predictions 2023 and Beyond!
I came across a website called CoinLiker that claims to focus specifically on cryptocurrency predictions. According to their pricing model, they believed that Bytecoin will reach $0.2775 by the end of June 2018.
The highest price that Bytecoin has reached before is $0.01541, which happened in January 2018. This means that it would need to increase its price by approximately 1,700%. However, since 2018 the price of Bytecoin continued decreasing and it's worth only $0.00019 at the moment.
In reality, as I mentioned earlier, the price of a cryptocurrency can go up or down very quickly, so an increase of that size would not be impossible. For example, in the 12 months of 2017, Ethereum increased its price by 10,000%!
CoinLiker also provides a Bytecoin price prediction for the year 2023, where they estimate its price will rise to $0.6792. Going back to my market capitalization calculations, this means that the total Bytecoin value will be at $124 billion.
However, 4 years is a long time, especially in the cryptocurrency industry. So, the prediction could very well turn out to be correct! Who knows?!
CoinLiker does not provide any data explaining how they got to their Bytecoin price prediction, though. This makes it difficult to decide whether the predictions are reliable or not. With this in mind, I think its best that I discuss some of the things that might see its price rise, with a specific focus on the Bytecoin roadmap.
Bytecoin Roadmap – How Could This Affect the Price?
Before I take a look at some of the key events expected in the Bytecoin roadmap, I thought it would be a good idea to talk about what happened in the project's first three years.
During the first three years of trading, the BCN coin saw practically no interest at all. In fact, daily trading volumes were just a few thousand dollars. Then, in May 2017, after almost 12 months of no communication from the team, Bytecoin suddenly announced that they were working hard on making their goals a reality.
This resulted in a massive price spike, where the price went from $0.0002 to $0.0048 in less than 2 weeks of trading. Although these numbers don't sound like a lot, it actually indicates an increase of 2,300%!
This shows us that even a small update like the above can cause a massive Bytecoin price increase! However, bigger news came in May 2018, where major cryptocurrency exchange Binance announced that it was going to start listing Bytecoin. This is actually really good news as Binance is responsible for close to $2 billion in daily trading volume.
In just the first few hours after the Binance announcement, its price increased by almost 166%, only for the network to break down because it couldn't handle the volume! Many people believe that this could have been Bytecoin's big chance to make some real gains, however, its technology lets it down.
As a result, the first big stage of 2018 will see Bytecoin perform a hard fork, which is planned for the end of August. A hard fork is when the code of a blockchain is copied but changes are made to improve it. According to the Bytecoin team, this will make the network more secure and stable.
Once the hard fork is completed it will need to be tested. If everything is a success, then this could result in an increase in price. The full list of features that Bytecoin are looking to achieve has not been released yet, however, they have advised they are looking to install a dynamic fee system.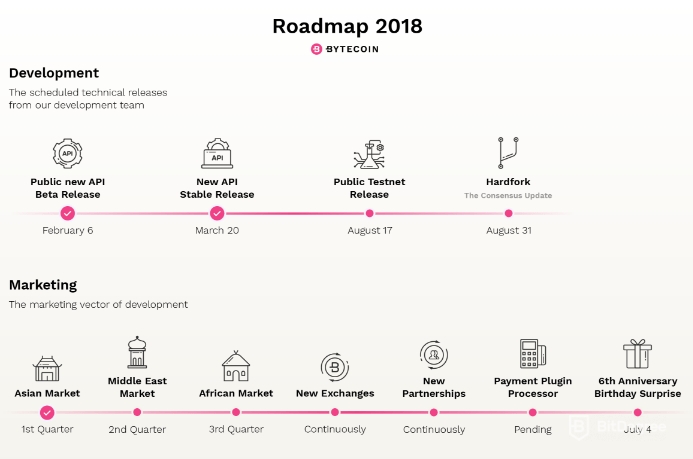 Although this means that transaction fees can increase when the network is busier, it does ensure that transactions are not stuck in a block so it is generally a good thing. It is events such as this that are the most reliable way to make a Bytecoin price prediction.
After the hard fork, Bytecoin is planning to release a Public Testnet in either Q3 or Q4. This will allow anyone to test out new software ideas that the Bytecoin developers think up while leaving comments and suggestions.
This could be a really successful addition to the Bytecoin project as it will allow the community to come up with new ideas and improvements. Again, the success of this particular upgrade could see the price of Bytecoin increase.
Unfortunately, this is as far as the Bytecoin roadmap goes, so it is difficult to make any other predictions based on their development objectives.
So now that I have discussed the availability of Bytecoin price predictions for 2023 and beyond, as well as some of the events within their roadmap that might affect the price, I am now going to have a discussion on whether I think it is a good investment.
Is Bytecoin a Good Investment?
Before I give my opinions, I thought I would make it clear that my Bytecoin price prediction guide is not financial advice. Like all predictions, it is nothing more than an opinion. You should always conduct your own research before making an investment.
Anyway, I believe that there are both good points that might see the Bytecoin value rise, however, I also believe there are negative points too.
Firstly, in terms of technology, it has a lot of advantages against the most popular cryptocurrency, which is Bitcoin. As I mentioned earlier, Bytecoin can confirm a transaction in 2 minutes, while Bitcoin takes 10 minutes. Bytecoin is also more anonymous than Bitcoin, which makes it much easier to send transactions privately.
However, there are actually other privacy coins that perform better than Bytecoin. These include Dash, which is able to confirm a transaction in just a few seconds through its InstantSend protocol.
I also think that the hard fork could potentially be an important event, as the Bytecoin team is planning on adding some new features. Nobody knows what these are yet, so we will have to wait and see.
On the other hand, there are also a couple of issues that I believe might see the price of Bytecoin fall. Firstly, governments don't like privacy coins because it makes it very difficult to find out if their citizens are using technology to commit a crime.
For example, in Japan, which is possibly one of the crypto-friendly nations in the world, their regulators are starting to put pressure on cryptocurrency exchanges to stop listing privacy coins. If this happens across the industry, the price of Bytecoin could be very badly affected.
Secondly, I am also a bit concerned that the Bytecoin development team choose to remain anonymous. If anything ever went wrong with the project, there would be no way to find out who was behind it.
In that sense, it's difficult for me to advise whether Bytecoin is a good investment. Ultimately, you need to make a decision based on your own research.  
Conclusion
And that's the end of my Bytecoin price prediction guide! I hope the information I have provided has benefited your decision-making process. If you have read my guide from start to finish, you should have a good understanding of what the Bytecoin project is and what other people think its price will be in the next few years.
As you will see, pricing predictions can vary depending on who is giving them, so always consider how they came to their conclusion. I have also explained some of the events that might cause Bytecoin to rise, as well as fall.
The most important thing is that you understand price predictions are only ever somebody's opinion, so try to do as much reading as you can.
What are your thoughts on the way Bytecoin will go? Are you thinking of making an investment, or do you already hold coins and want to know whether you should hold or sell? Let me know your current situation and more importantly, what you plan to do!
About Article's Experts & Analysts