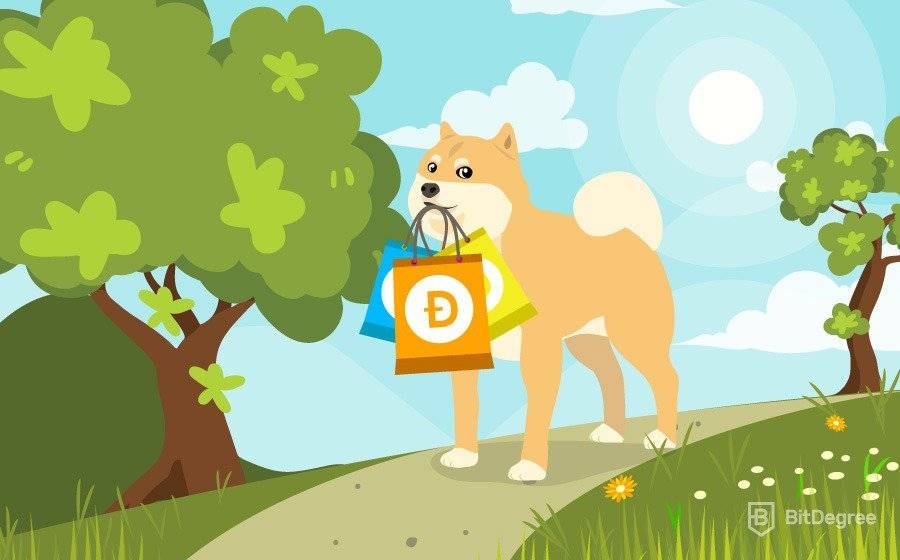 Today, we'll be looking at one of the more unique cryptocurrencies around – Dogecoin and finding out where and how to buy Dogecoin.
In this guide, you will learn what Dogecoin is, what Dogecoin was created for, what it is used for today, and if you should think of Dogecoin as a future cryptocurrency.
After that, the next section will look at options to buy Dogecoin. This part will cover: where to buy Dogecoin, how to buy Dogecoin, how to buy Dogecoin with USD, and how to buy Dogecoin with PayPal.
To tell you the truth, there's one highly-recommended platform that you should check out when buying Dogecoin - Binance! Since Dogecoin is on fire right now, this might be an opportunity of a lifetime.
BINANCE
KRAKEN

Main score based on expert evaluations & real user reviews.

For which purpose or what kind of people is the crypto exchange most useful.

Buying, trading, and holding a wide variety of cryptocurrencies
Best for Beginners

The countries in which the cryptocurrency exchange is available for operation.

Turkey, Russia, Argentina, Vietnam, Ukraine, + 40 more,
United States, Germany, United Kingdom, France, Canada, + 190 more,

Most popular hand-picked deals & coupons.

All Binance Coupons
All Kraken Coupons

Final crypto exchange evaluation conclusion based on research, expert opinions & user feedback.

One of the leading crypto exchange platforms in the industry.
One of the best crypto exchanges.
Visit site
Read review
Visit site
Read review
By the end of the guide, you should know the following:
A brief history of Dogecoin.
What Dogecoin can be used for.
If Dogecoin is a good or a bad investment.
How to buy Dogecoin.
Where to buy Dogecoin.
At the end, we'll sum everything up with a few closing thoughts. As usual, there's quite a lot to cover. So, as the Doge itself would say:
Wow. Much time. How waste.
Also, please make sure to purchase Dogecoin on only the most reliable and trustworthy exchanges out there! Binance is a good example of such an exchange. You can buy Dogecoin quickly and without much trouble HERE.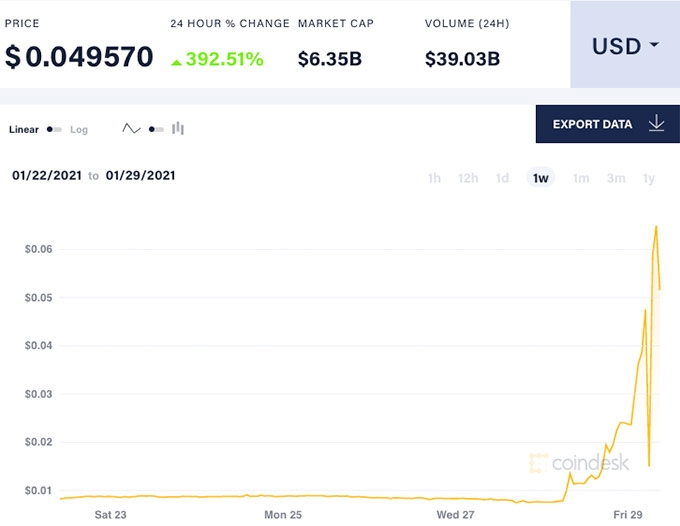 Did you know?
Want to get smarter & wealthier with crypto?
Subscribe - We publish new crypto explainer videos every week!
5 Best Crypto Portfolio Diversification Strategies (Animated Explanation)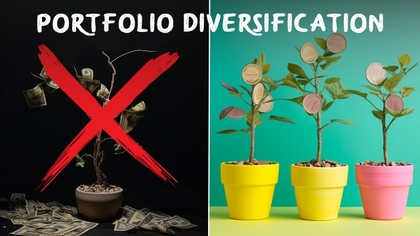 What is Dogecoin?
Dogecoin is:
Open source: The code is freely available for any programmer to change themselves
Decentralized: Its blockchain, or database, exists on many computers around the world
Peer-to-peer currency: Sending and receiving coins doesn't need a central server or authority to work currency
If you already know a little bit about Bitcoin, you'll probably notice that Dogecoin's description is a lot like Bitcoin. However, there are some important differences.
Firstly, there are lots more Dogecoin than there are Bitcoin. At the time I'm writing this article, there is more than 128 billion DOGE and maybe in the end, you'll buy Dogecoin. Another difference is that there is no ultimate limit on how many Dogecoins will be created.
A few days back, Dogecoin has reached its all-time high and increased it by more than 300%. That said, it might be one of those rare opportunities when you could multiply your earning in only one day. If you decide to do that, you should visit Binance for the easiest and quickest way to buy Dogecoin.
Note: When you see Dogecoin listed at exchanges, it often uses the "ticker" DOGE. This is used the same way as BTC is used for Bitcoin and ETH is used for Ethereum's native currency, Ether.
Finally, Dogecoin uses different coding for its miners. It's a little confusing and much too technical for this article. All you really need to know is that regular computers can mine Dogecoin. This is different to Bitcoin.
Only specialized computer systems that have been designed for crypto mining can profitably mine Bitcoin these days. These systems are known as Application-Specific Integrated Circuits or "ASICs", for short. The difference is that CPUs (the chips in normal computers) can still mine Dogecoin.
What is Dogecoin's Purpose?
As you can probably tell from the logo pictured above, Dogecoin was originally created as a bit of a joke currency. Obviously, it fun to buy Dogecoin. It started in 2013 and was created by Billy Markus and Jackson Palmer. These two founders have since left the project.
The name itself is taken from a popular early internet "meme". The original meme featured a Shiba Inu dog (the smallest breed of dog from Japan). The meme had a picture of one of these dogs with multicolored, comic sans (the font) text written in a kind of broken English. Examples of this text can be seen around the dog pictured in the Dogecoin logo:
"Plz mine, v rich, very currency, wow, much coin, how money, so crypto"
Despite starting as a joke currency, DOGE quickly developed a strong community around it. This community began to use the currency to tip other internet users for their content on forums such as Reddit. This form of tipping has become Doge's primary purpose.
Since its creation, Doge has also been used to donate money to charities. These have included the 2014 Jamaican Bobsled team who couldn't afford to get to the Sochi Winter Olympics, a Nascar driver named Josh Wise, and a clean water project in Kenya called Doge4Water.
Is Dogecoin a Future Coin?
As with any asset, whether Doge is a future coin depends on when the person first bought Doge and when they decide to sell it.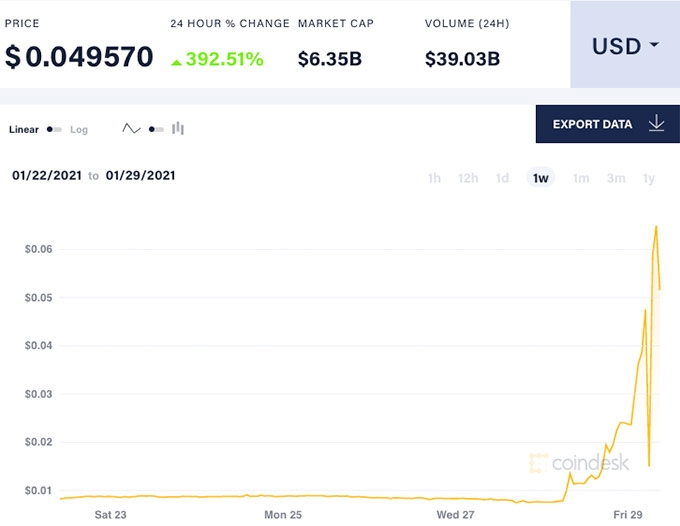 If you would have asked me if Dogecoin is a good purchase previously this year, I might say that just like other altcoins it can fluctuate in price unexpectedly and bring you quick earnings. However, now that Dogecoin's price has increased by more than 1000% this year, and more than 300% today, It definitely seems like one of the better future opportunity coins!
If want to get on this train and buy Dogecoin, you should go for Binance - one of the most reliable and secure cryptocurrency exchange platforms! It also supports fiat currencies, so it's one of the easiest ways to buy Dogecoin as well.
BINANCE

Whether or not the cryptocurrency exchange accepts payments via MasterCard.

Whether or not the cryptocurrency exchange accepts payments via bank wire transfer.

Whether or not the cryptocurrency exchange accepts payments via debit or credit card.

Visit site
Read review
How to Buy Dogecoin
Buying Dogecoin can be a bit tricky if you're not used to buying cryptocurrency. There are a few ways to do it though. Below, you'll find instructions on how to buy Dogecoin with USD, how to buy Dogecoin with a credit card, and how to buy Dogecoin with PayPal.
How to Buy Dogecoin with USD
There are not many options to buy Dogecoin with USD directly. However, some cryptocurrency exchanges do offer fiat pairs with DOGE. The most reputable exchange for buying Dogecoin is:
For some less-known, smaller exchange alternatives, you could check out:
To buy Dogecoin with one of these exchanges, simply follow the steps below. Each exchange will be slightly different but for the most part, these steps will apply to all.
Register at your chosen exchange. I'll use Binance for this example. Just click "Register" at the top right-hand corner of the exchange page.
Fill in the form pictured below: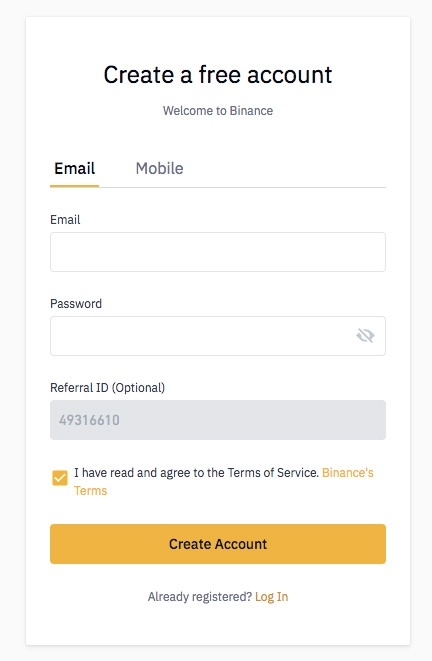 Once registered, make a deposit. Click on "Wallet" and then "Fiat and Spot" on the top-right navigation bar of the website.
Click the "Deposit" button. You will be presented with the below options. Click the deposit currency you want to use to send USD to the exchange.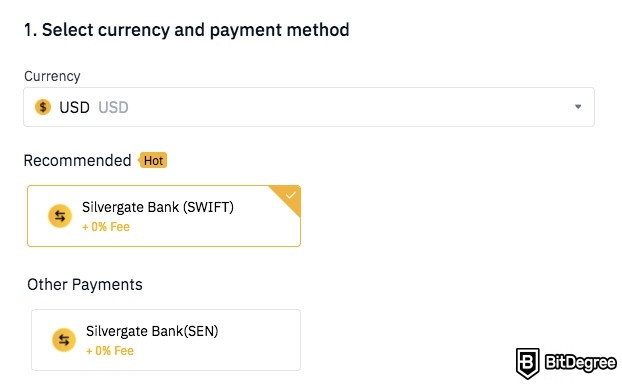 Follow the onscreen prompts entering in the information Binance ask for.
After that, find the "DOGE/USD" pair. To do this type "Doge" in the search bar. Click the "DOGE/USDT" pair. USDT is a stablecoin - its price is always fixed to that of the US dollar (you'll want to purchase USDT with a 1:1 ratio of your deposited USD, first). Finally, enter the amount of Dogecoin you wish to buy, pick the Market tab, and click "Buy DOGE".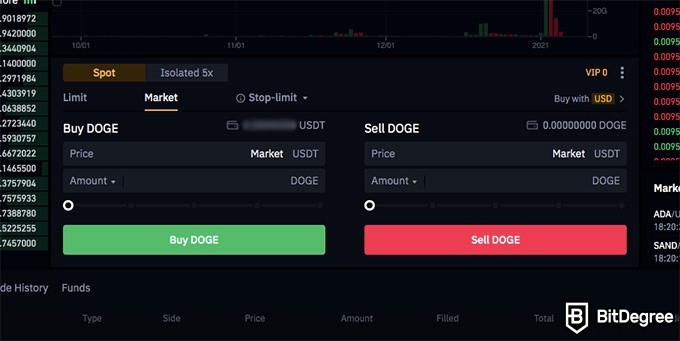 After you make your trade, you should immediately withdraw your DOGE to a wallet that is not an exchange. To do this, click "Withdraw" next to your DOGE balance. You will then need to enter your secure wallet address.
Note: It's important to withdraw your DOGE straight away to a wallet that you control the private keys of. Exchanges are not safe places to store cryptocurrency. They get hacked often. Download a multi-asset wallet such as Jaxx. Better still, use a hardware wallet such as the Ledger Nano X. This applies to all the methods to buy Dogecoin listed below.
Each of the exchanges that let users buy Dogecoin with USD accepts different USD deposit options. I've listed each below:
Binance: Visa / Mastercard, wire transfer, ACH bank transfer, SWIFT, SEN.
Livecoin: Visa / Mastercard, Payeer, Perfect Money, Capitalist, AdvCash, Qiwi.
Exrates: Payeer, Perfect Money, AdvCash, NixMoney.
YoBit: OkPay, Payeer, AdvCash, PerfectMoney, Capitalist.
Advantages and Disadvantages Buying Dogecoin with USD Directly
Advantages:
Quick and easy.
You only need to register at one exchange.
Disadvantages (related to smaller exchanges only):
Small exchanges (like those listed above) are often completely unregulated. This means that they could disappear at any time and there would be nothing you could do about it. You'd just lose all the money you had stored at the exchange! Remember, do not leave any cryptocurrency on any exchange EVER.
These small exchanges can charge large fees for depositing with USD directly. Some of the above methods listed will be free. Others might charge 1-2%.
Smaller exchanges usually have less liquidity. This means if you were wanting to buy a large amount of Dogecoin, they might not have enough to sell you. The below methods are much better for larger orders.
The exchange rates and the fees charged for trades can be very high. You should always check the rate against a website like Coinmarketcap before buying.

Did you know?
Want to get smarter & wealthier with crypto?
Subscribe - We publish new crypto explainer videos every week!
What is a Bitcoin & How Does it work? (Animated Explainer)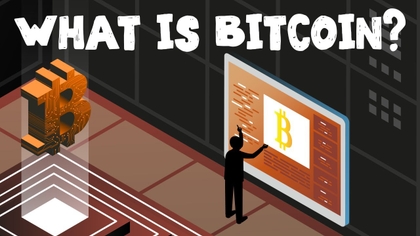 Buy Dogecoin with a Credit Card
If you'd like to purchase Dogecoin directly with fiat currencies (such as USD or EUR), then Binance is your best bet. This cryptocurrency exchange offers robust security, high liquidity, friendly fees, and multiple other benefits!
SECURE $600 BONUS
Binance Christmas Sale
Sign up on Binance and claim up to $600 worth of rewards for completing simple tasks during this Binance Christmas sale. Use our Binance referral code (49316610) to activate the offer while it's still valid!
Expiration date: 12/12/2023
2,935 People Used
Only 67 Left
There are very few other options to buy Dogecoin with a credit or debit card. Livecoin claims to accept credit card transactions. However, being a small unregulated exchange, it's up to you whether you want to trust them with your credit card details.
Buy Dogecoin with Bitcoin
I've listed how to buy Dogecoin with Bitcoin below. In this example, we're using Coinbase:
Head to Coinbase and click sign up.
Fill in the registration page.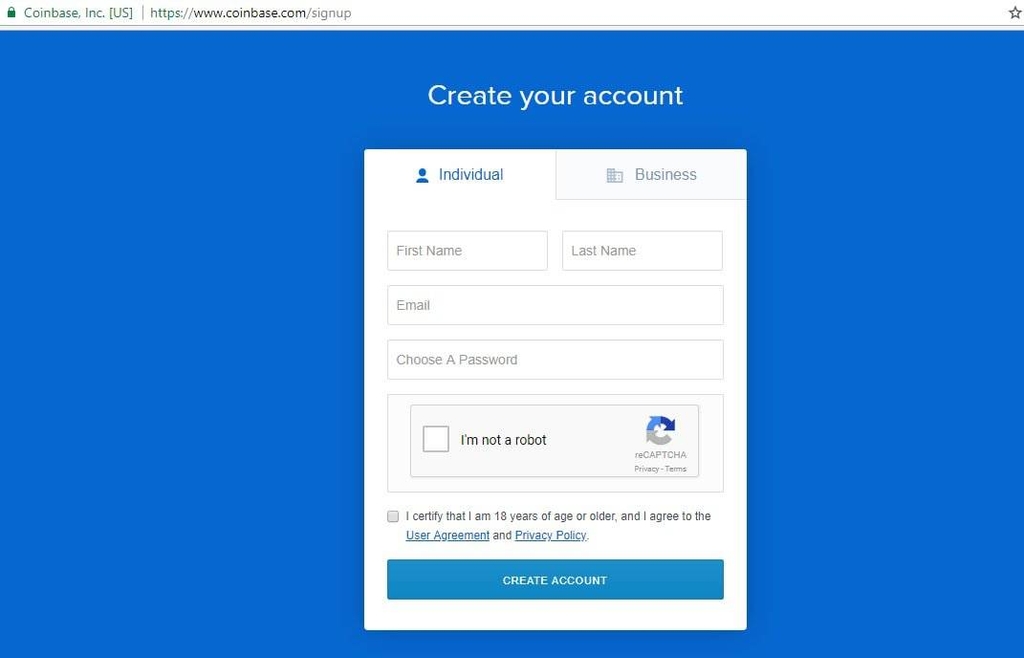 When registered, you need to add your credit card details.
Then, to buy Bitcoin, click the "Buy/Sell" tab as shown below.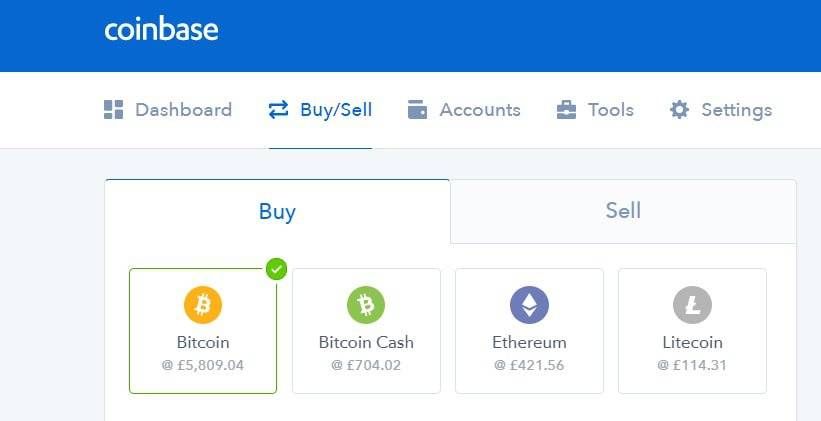 You then need to enter the amount of Bitcoin you would like to buy.
Choose your payment method (credit card) and enter your details to complete the sale.
Click on the "Accounts" tab and you should see the amount of Bitcoin you just bought in your Bitcoin wallet.
Next you need to exchange your Bitcoin for DOGE. For this example, I'll be using Binance. Again, the steps are below:
Fill in your details on the standard registration page.
Once registered, click "Funds" and then "Deposits" on the top menu. Choosing a deposit with Bitcoin gives you your Bitcoin receiving address.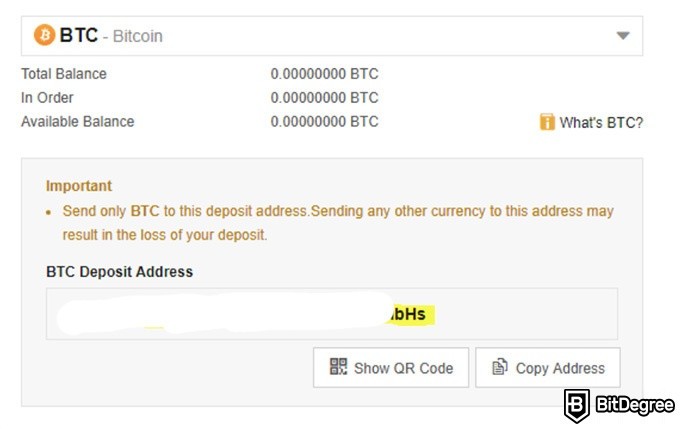 Copy this address and head back to Coinbase.
When you have logged in to Coinbase, click on the "Accounts" tab.

Under "Your Accounts" you will see your Bitcoin wallet. This is where you will see the amount of Bitcoin you purchased on Coinbase. You need to click "Send" as shown below. (For this example, we didn't purchase any Bitcoin. That is why the "Send" option is grey. If you have Bitcoin here, you should be able to click it.)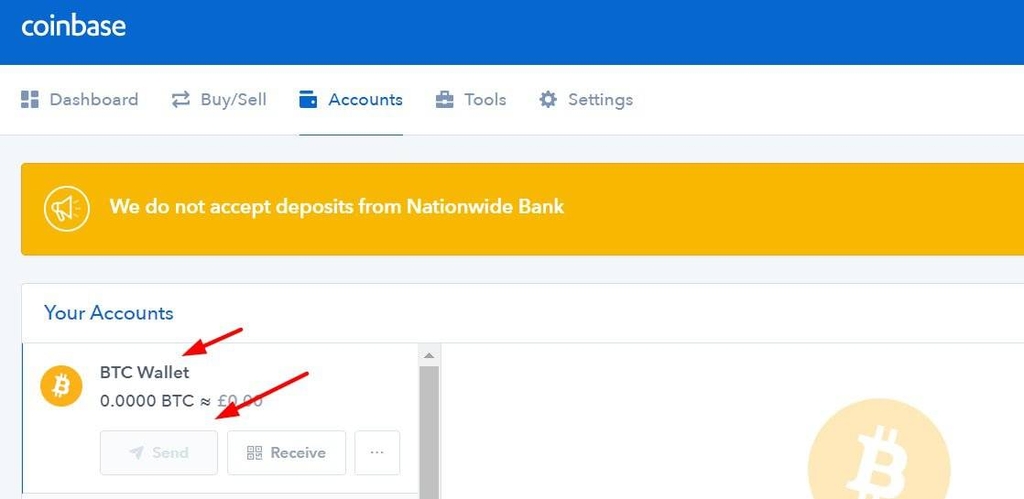 Once you have clicked "Send" you should see the following box.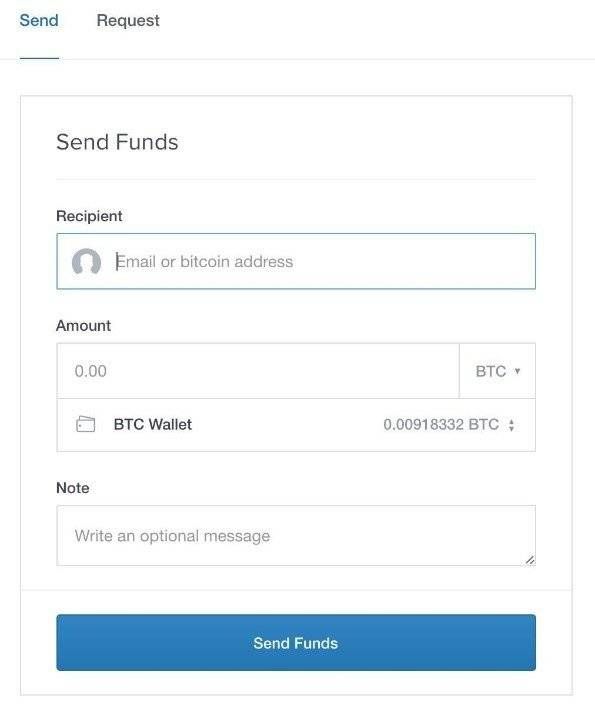 In the Recipient box, you need to paste the Binance address you copied earlier.
Enter the amount of Bitcoin you want to transfer to your Binance wallet.
Click "Send funds"
In a few minutes, you should receive your BTC at Binance.
Go back to Binance and click the "Markets" button at the top of the page.
Type "DOGE" in the search box and press enter. Then, press the DOGE/BTC pair.
You will be redirected to a new trading page. Press the Market tab at the lower part of the screen, and enter the amount of Bitcoin you wish to spend on DOGE.
Then, all that's left to do is press "Buy DOGE".
It might take a few minutes to complete your order. When it's done, your DOGE will appear in the wallet section.
It's then important to withdraw your DOGE to a secure wallet. I'd recommend either a hardware wallet. However, you can use a software wallet if you're only storing small amounts of DOGE for online tipping.
That's it, you completed the process of buying Dogecoin.

Pros
A very well-known crypto exchange platform
More than 500 different cryptos available
Two-factor authentication
Main Features
Over than 100 different cryptocurrencies available
Strong security
Small withdrawal fees

Pros
Secure and reliable
Low fees
A good amount of fiat currencies accepted
Main Features
Reputable exchange
Multiple fiat currencies are accepted
Relatively low trading fees

Pros
Anonymous trading
Secure
Supports a variety of cryptocurrencies
Main Features
Easy to use
Low fees
Good security
Buy Dogecoin Using PayPal
Even fewer cryptocurrency exchanges accept PayPal than they do credit cards. This is because users can simply report the transaction to PayPal and claim their money back. Exchanges obviously don't want people stealing cryptocurrency from them. For this reason, PayPal deposits are rare. There are ways to buy Dogecoin using PayPal though.
Probably the easiest and safest way to buy Dogecoin using Paypal is to first use it to buy Bitcoin. Unfortunately, Coinbase and some of the exchanges listed so far don't accept it. However, true peer-to-peer exchanges, such as LocalBitcoins, often have traders willing to accept PayPal. You might be shocked at how much they charge for the service though!
I've listed the steps for buying Bitcoin using PayPal below: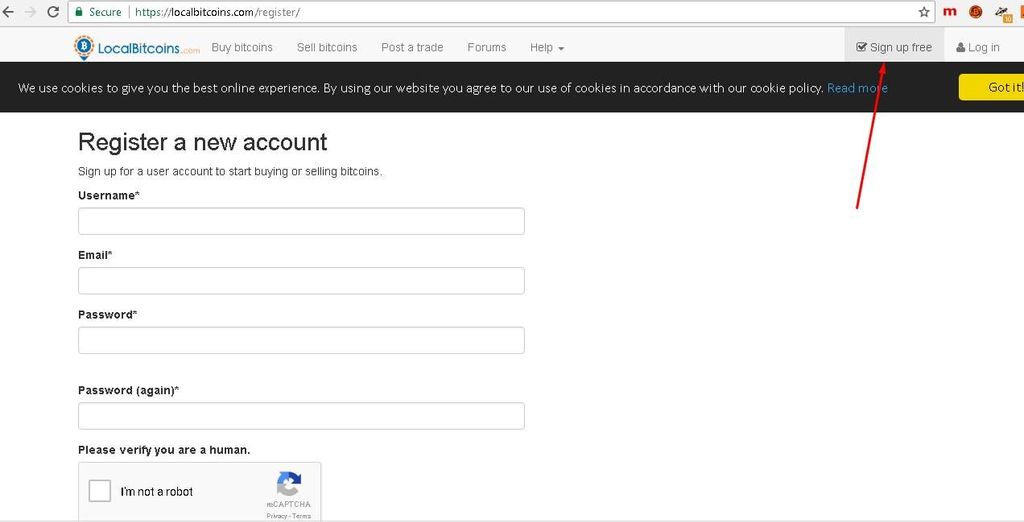 Fill in the details and login.
Click the link that says, "Buy Bitcoins" (red arrow below) and then use the scroll down box to select PayPal (blue). You'll notice that the price is a lot more expensive than the average market rate of Bitcoin. At the time of writing this article and taking that screenshot, the rate for Bitcoin on XE.com was £4683.17. You can see from the screenshot below that PayPal traders charge around a 20% premium. This is because so many of them get scammed by people making chargebacks. It's a risk for the traders to accept PayPal so they need compensation.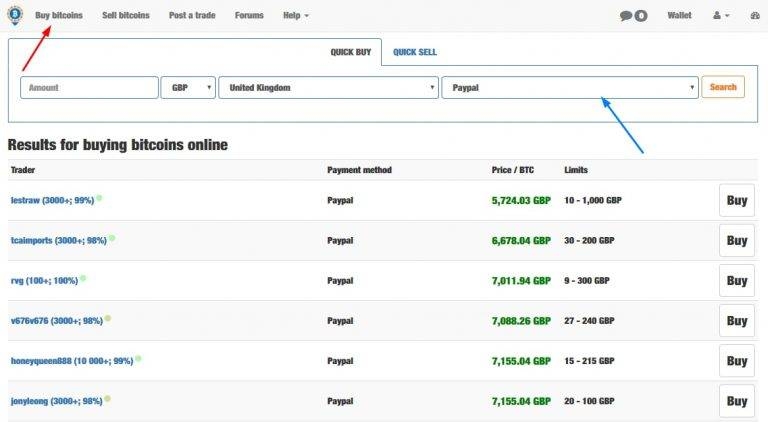 Once you've decided which offer to go for, click "Buy". You will then receive instructions on how to pay the seller.
Once the transaction has taken place, you then need to withdraw your BTC to a website like Binance. To do this, copy your address from Binance (see steps above for more information). Then, click "wallet" over at Local Bitcoins (red arrow below) and paste your Binance address into the bar (yellow arrow).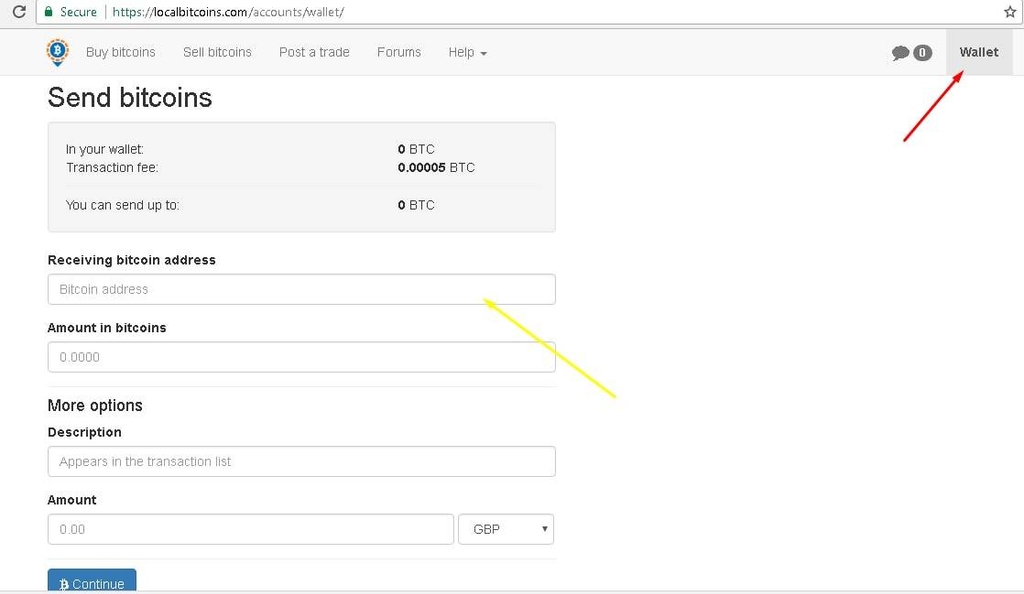 If you've been following this guide from the beginning, you should know the rest of the steps already. Head back over to Binance and follow the above instructions for trading BTC for DOGE.
Conclusion
As you can see, Dogecoin is a bit different from many other cryptocurrencies we've covered. It hasn't really been designed as a deflationary currency (the supply is always getting bigger). Dogecoin serves a useful purpose, unlike many cryptocurrencies around today.
It has found a nice use case as a coin to tip a few fractions of a cent to internet users creating fun or interesting content. The community surrounding DOGE and the current team of developers using the currency in the charitable ways they have done is also a worthy use case.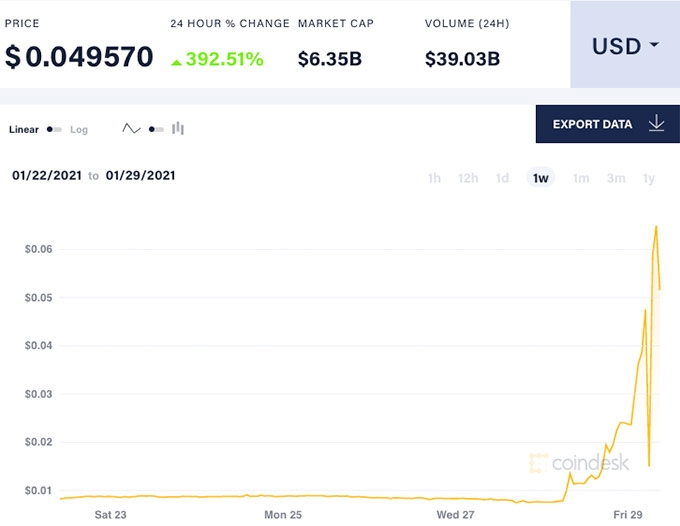 Before people used to say that buying a few Dogecoin probably isn't going to make you a millionaire – unless the developers put a hard limit on the number of coins available to buy. So, if you want to have some crypto fun, you can always buy Dogecoin on reliable exchanges, such as Binance.
However, today, as Dogecoin pricing increased by more than 1000% percent in one month, it's fair to say that Dogecoin was and still might be a future opportunity coin.
BINANCE

The total number of current users in each cryptocurrency exchange platform.

128M

Amount of cryptocurrencies that are accepted in a certain cryptocurrency exchange.

1. BTC
2. ETH
3. LTC
4. XRP
+ 350 more


What kind of fiat currencies are accepted in a certain cryptocurrency exchange.

USD/EUR + more
Visit site
Read review
Hope this guide has been helpful to you in learning a little more about this interesting digital currency. You should now know its history, its purpose, where to buy in, how to buy it using different methods, and if it should be thought about as a future cryptocurrency. As the Doge would say:
Wow. Much knowledge. Very learning.
So, what do you think? Do you consider Doge as a future cryptocurrency?
About Article's Experts & Analysts