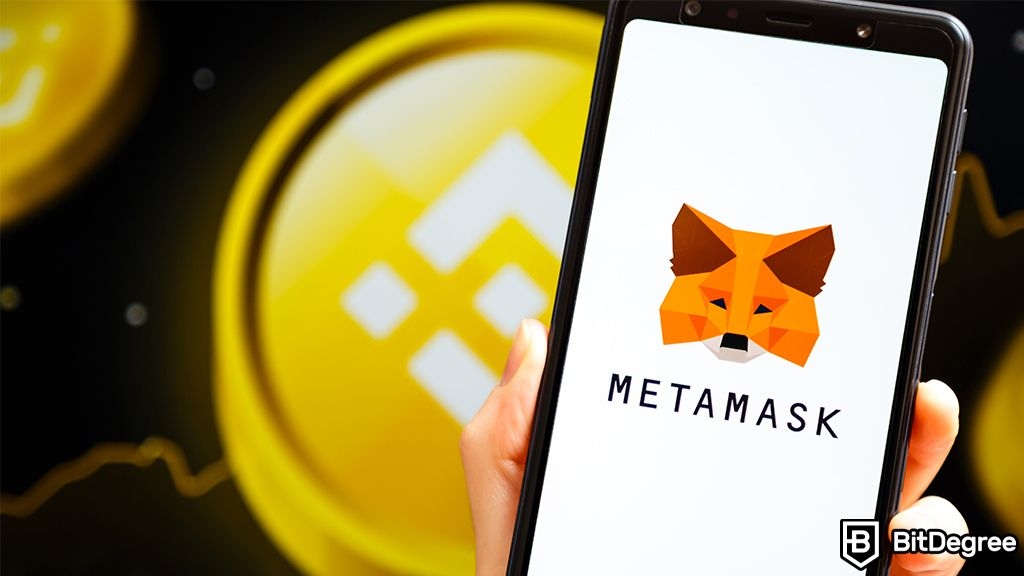 Swapping tokens on Binance Smart Chain (BSC), Binance's very own blockchain built for smart contract-based applications, is as smooth as a hot knife through butter (the same can be said about other chains, like Ethereum, for example). All thanks to decentralized exchanges (DEXs) like PancakeSwap. DEXs allow you to say goodbye to middlemen and make quick and efficient BSC swaps.
As for PancakeSwap, it's not just another "BSC swap DEX" on the block. It's one of the biggest DEXs on BSC that allows users to trade a variety of crypto assets, provide liquidity, and even pocket some extra rewards. But even though it's built on BSC, it allows making swaps on various other chains as well.
So, how to swap on PancakeSwap, exactly? I'll tell you that in a second, just note that I'll be swapping using the BSC testnet, so you could make trial swaps before the real deal. If you want to practice ETH swaps, for example, make them on Ethereum Goerli testnet (the process itself will be almost identical).

Did you know?
Want to get smarter & wealthier with crypto?
Subscribe - We publish new crypto explainer videos every week!
What is Solana in Crypto? (Beginner-Friendly Animation)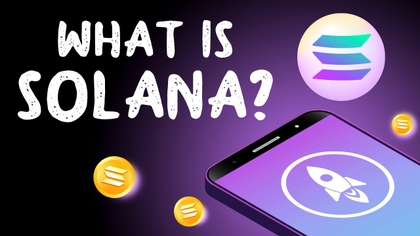 How to Execute a BSC Swap on PancakeSwap?
Executing a BSC swap on PancakeSwap can be done in a matter of minutes. Of course, assuming everything runs without a hitch. To ensure that, follow my guide!
Latest Deal Active Right Now:
REDEEM $600 PRIZE
Binance Cyber Monday
Attention new Binance users: this Cyber Monday, you can score up to $600 in rewards by completing special tasks. Activate this amazing Binance Cyber Monday deal using the code – 49316610!
Expiration date : 09/12/2023
6,127 People Used
Only 16 Left
Step 1: Go to PancakeSwap and connect your wallet.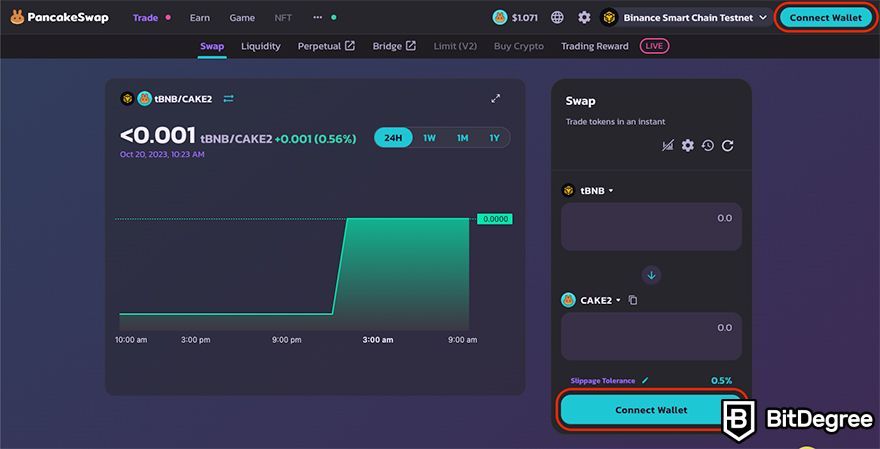 Step 2: You can connect various wallets. However, I went with the most popular one - MetaMask. Once you click on the MetaMask icon, you'll see a pop-up asking you to connect PancakeSwap to your MetaMask. So, just click "Next" and then "Connect."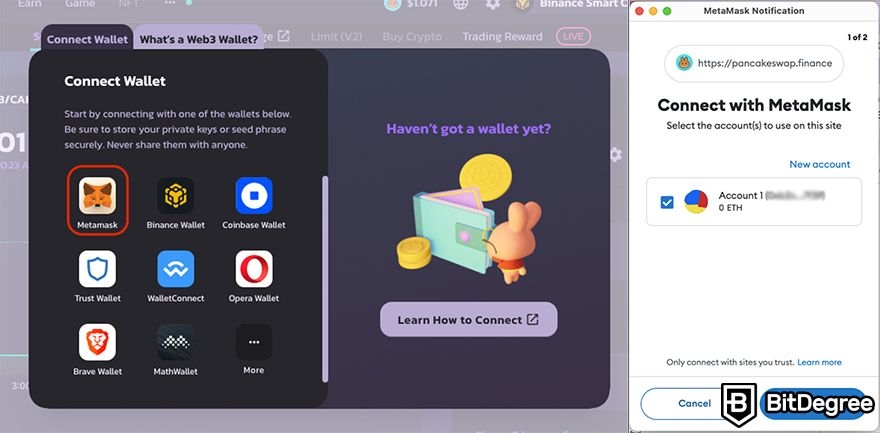 Do keep in mind that you should have a MetaMask wallet extension installed on your browser and be signed in to have the smoothest Binance Smart Chain swapping experience.
Step 3: After you agree to connect your MetaMask wallet, you might be asked to switch your network because PancakeSwap operates on the Binance Smart Chain, not the Ethereum network that MetaMask defaults to. Each blockchain network has its own unique set of smart contracts, tokens, and transaction mechanics.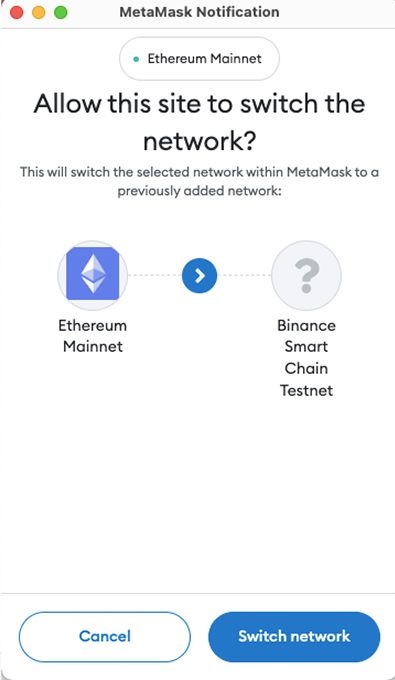 However, if you want to make a swap on Goerli, you'll need to switch the network on your wallet extension to that. It will immediately change on PancakeSwap as well.
Step 4: Now that you got that out of the way, it's time to make the actual Binance Chain swap. Pick both - the asset you want to swap and the one you want to receive, and then type in either the amount you want to get or give away.
For instance, I wanted to swap 0.001 tBNB for CAKE2, but I don't necessarily care how much CAKE2 I'll get. So, I've typed this number into the tBNB box. If I wanted to get a specific number of CAKE2 tokens, I would have typed in that instead.
If you want to make a swap on Goerli, though, swap GOR for tUSDC.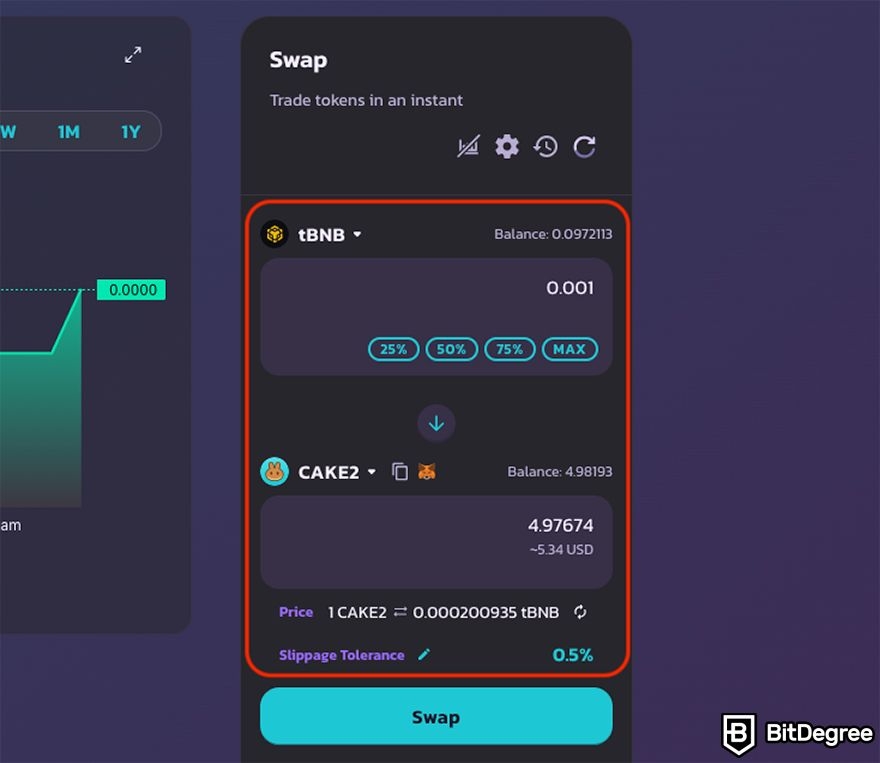 Notice that below, you can see two metrics - price and slippage tolerance. The former displays the current gas fee for swapping the assets in question, while the latter allows you to choose how much slippage you want to tolerate.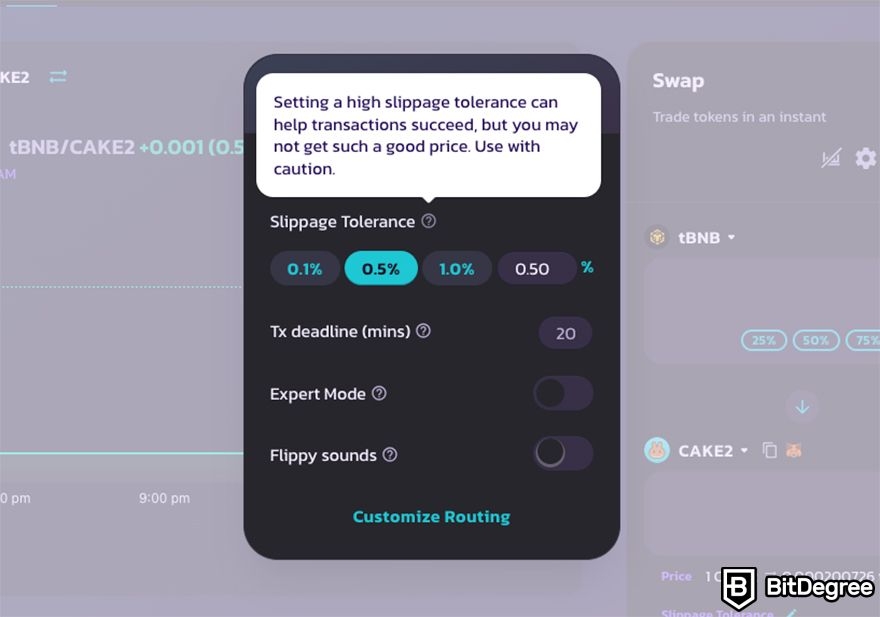 Slippage tolerance basically is the maximum percentage you're willing to lose if the price changes between the time you place an order and when it's executed. So, if you set a slippage tolerance of 0.5%, it means you're okay if the final price is 0.5% higher or lower than what you expected.
However, sometimes, you might get the "Price Impact Too High" error, when trying to make the swap. This happens when the number of tokens that you want to swap is too high or too low. If you encounter this issue, try to decrease or increase the total sum of tokens and / or lower the slippage.
For example, I wanted to swap 0.01 tBNB and got the error, but when I changed it to 0.0001 tBNB, it was just fine. Though, in another scenario, you might need to increase the sum of tokens to fix this - just play around with the number, and that should do the trick!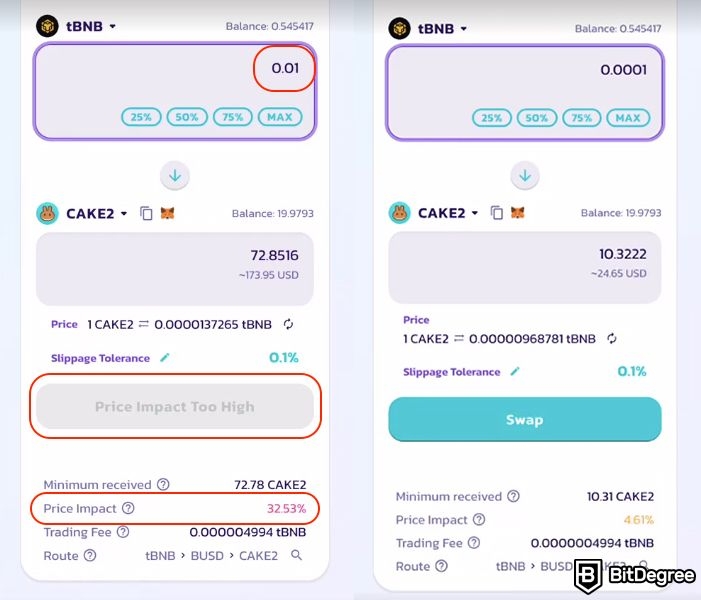 Step 5: Once you're ready, click "Swap." You'll then see the summary of your BSC swap both on PancakeSwap and MetaMask.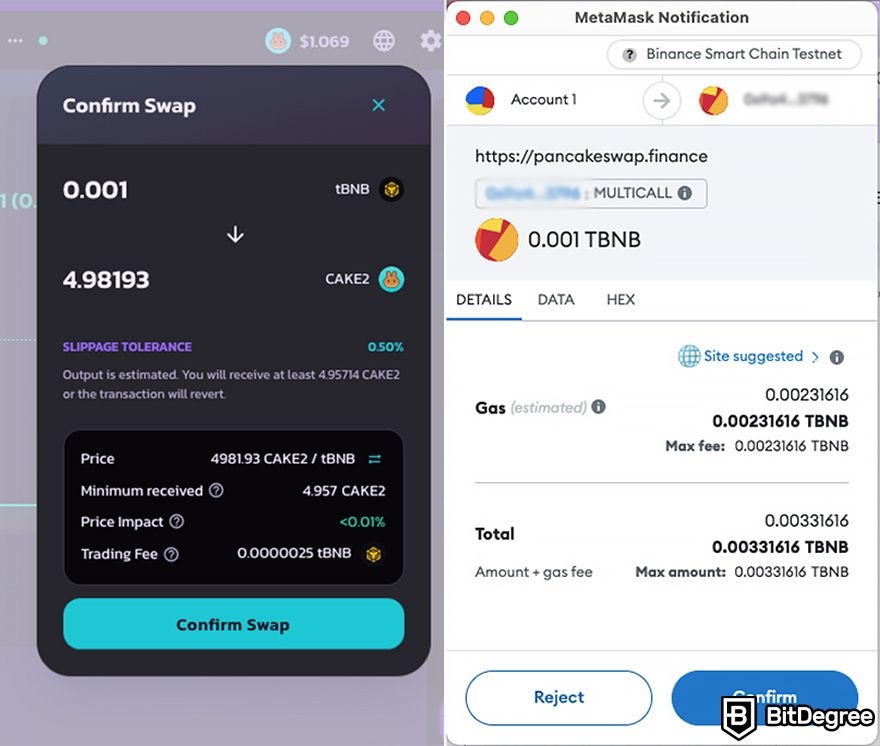 The summary displays the number of assets you plan to swap, the minimum number of the new assets you'll receive (based on price movements), the price impact (the difference between the market price and your price due to trade size), and the trading fees you'll have to pay.
Step 6: If everything seems okay, click "Confirm Swap" on PancakeSwap, then "Confirm" on MetaMask, and wait for the swap completion.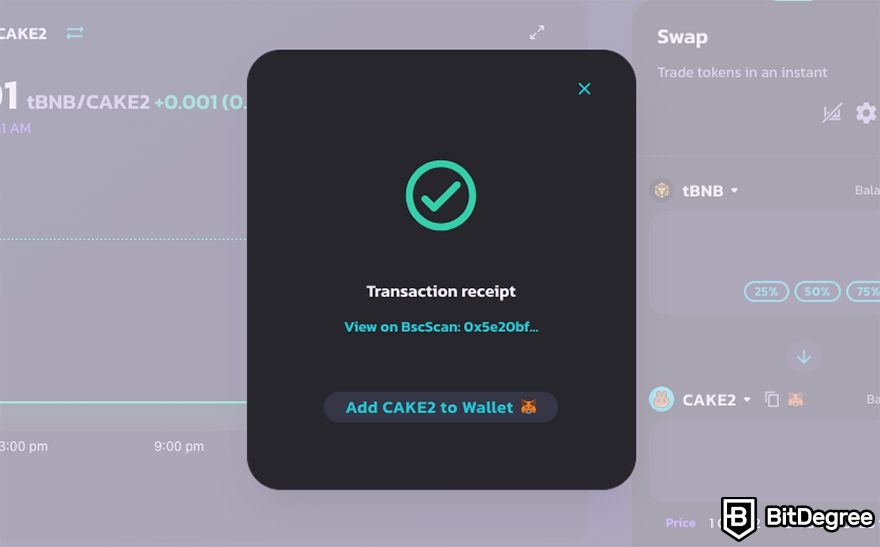 Step 7: The last step after swap confirmation is adding the token to your MetaMask wallet so you can track it (if it's not added already). To do that, you can click on the "Add X to Wallet" (in my case, X is CAKE2) or, if that doesn't work, go to your MetaMask and click "Import tokens" to add it manually.
You'll just have to fill in the token contract address (you can find it on BscScan), click "Next," and then "Import."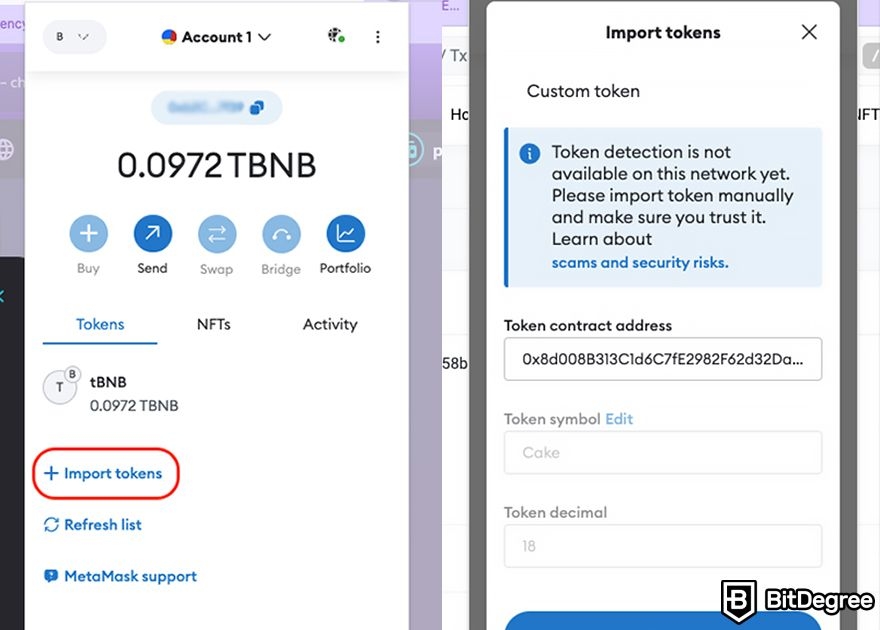 When I typed in the contract address, all information about the CAKE token was filled in automatically. If this doesn't happen, you might also need to fill in the token symbol and decimal by hand.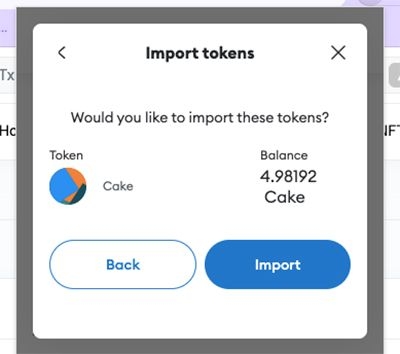 And that's it! You'll be able to see your newly acquired tokens in your wallet.
What is the Difference Between Swapping and Exchanging Crypto?
One of the biggest questions that might arise to newbie crypto enthusiasts when dwelling on the topic of ETH or BSC swaps is whether swapping is the same as exchanging crypto. Well, some might say yes, but it actually is a no. The terms "swapping" and "exchanging" are often used interchangeably, but they refer to different methods of crypto trading.
"Swapping" generally occurs on a decentralized exchange, like PancakeSwap. During a swap, the trade happens directly between users through a smart contract, without the need for an intermediary.
Swaps are generally quicker and offer more privacy, but they may have less liquidity for certain trading pairs, be less secure, and less intuitive for beginners. However, when it comes to making a Pancake Swap BSC, I'd say the process is truly beginner-friendly.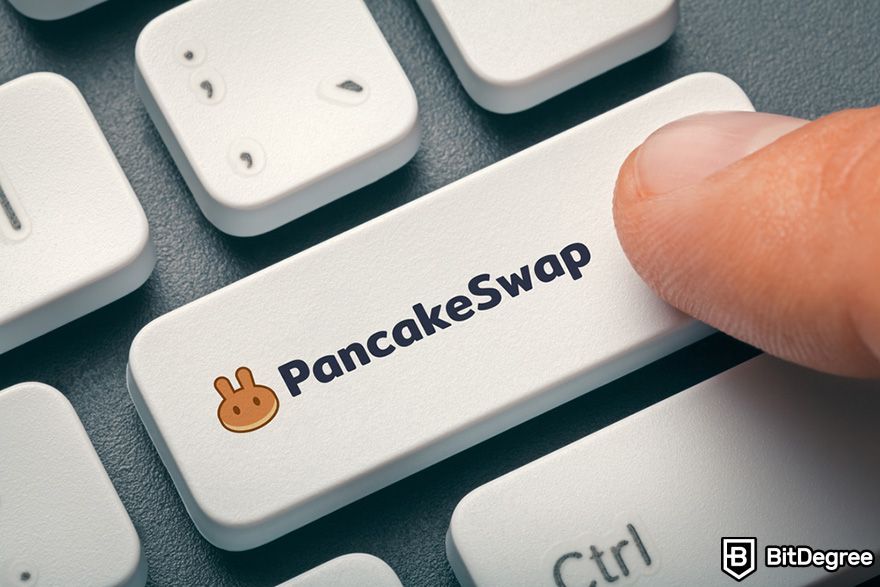 "Exchanging," on the other hand, refers to processes that take place on centralized exchanges (CEXs) like Binance, where transactions are facilitated by the platform itself.
CEXs offer a wider range of crypto assets, high liquidity, stronger security, and often a more user-friendly experience. However, they do require you to put more trust in the platform in question, as you're not in direct control of your tokens.
All in all, while crypto swaps offer more privacy and control at the cost of potentially less liquidity and safety, crypto exchanges provide ease of use, security, and high liquidity but require trust in a central entity.
Conclusions
So there you have it! As you can see, executing ETH or BSC swaps truly is an easy process, especially when you're using DEXs like PancakeSwap. No matter if you make swaps on mainnets or go with testnets (like BSC testnet or Ethereum Goerli).
Just a heads-up: don't forget to double-check contract addresses, pick the right slippage tolerance, and give a quick once-over to the transaction fees. Why? Because nobody likes unpleasant surprises, that's why.
Now, go ahead and make that swap!
About Article's Experts & Analysts