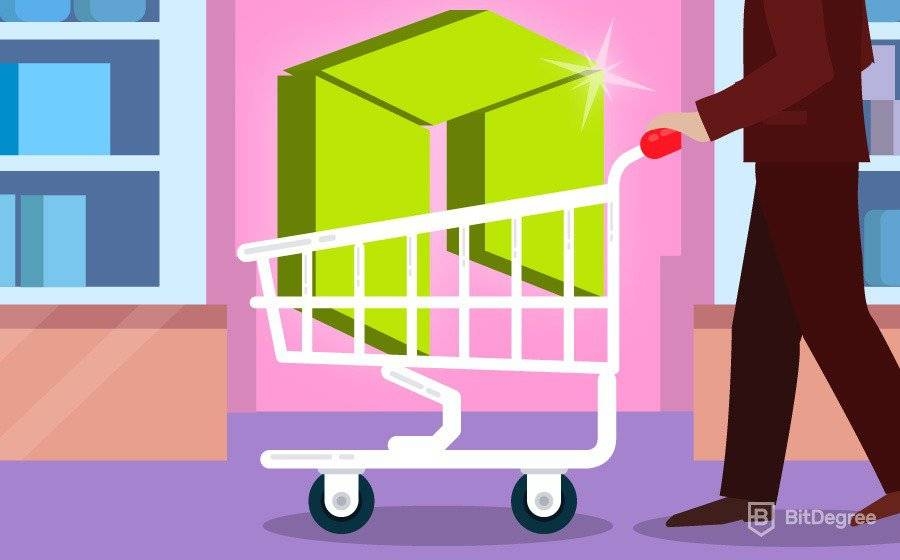 In the summer of 2017, the coin Antshares rebranded itself as NEO. Since that day, NEO has gone from $10.51 to an all-time high of $196.85 in January '18. The wave that was made across the crypto world earned NEO the title 'The Ethereum of China'.
So, it must be a pretty big deal, right?
After reading this article, you will learn all about what NEO is, how to buy NEO coin, where to buy NEO coin, and whether or not NEO is a good investment. Before we get into how you can purchase NEO, I'll tell you a little bit about the story and history behind NEO.
(If you're already familiar with NEO and feel confident in your knowledge, feel free to skip to the 'How to Buy NEO' section!)
Let's get started!

Did you know?
Want to get smarter & wealthier with crypto?
Subscribe - We publish new crypto explainer videos every week!
How do Cryptocurrency Exchanges Work? (Easily Explained!)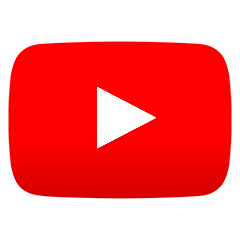 The Bottom Line of NEO Crypto
NEO is often referred to as the Ethereum of China. It is the first Chinese open-source blockchain. This means that the original code is made freely available and may be redistributed and modified.
Latest Binance Coupon Found:
CLAIM $600 BONUS
Exclusive $600 Binance Offer
Don't miss this limited-time deal that's only available for our readers. Follow the Binance referral code link & receive up to $600 in rewards and bonuses!
Expiration date: 13/06/2023
7,847 People Used
Only 49 Left
There are three core factors of the NEO blockchain:
Digital Assets
Smart Contracts
Digital Identities
The vision of NEO is in favor of the idea of linking your digital identity to your real-world identity. This is an important part of the NEO ecosystem. NEO will use new forms of digital identification protocols to enhance the way electronic identity exists.
Another important part to understand about NEO is the difference between the NEO token and the GAS token.
NEO Token versus NEO GAS
When you research how to buy NEO coin, you will probably come across two different tokens: NEO token and the GAS token. This design is an innovative step away from the model that most other coins use.
The NEO token is the governance token — it is used to vote and govern the blockchain. GAS is the utility token that is used to pay for transaction fees. GAS is also used to deploy and execute smart contracts.
Note: Smart contracts are programmable value and are used to create applications that run on a blockchain. In this case, that blockchain is the NEO blockchain. To learn more about smart contracts in a simple format, see my What is a Smart Contract guide.
For NEO mining, you virtually mine GAS with your NEO token. Every GAS token that is consumed on the blockchain will be distributed proportionally to all NEO holders. So, if you hold NEO, you automatically receive GAS on a monthly basis. This can be thought of as a dividend (a share of profits) that automatically appears in your digital wallet.
GAS dividends are just one example of the many economic tools that comprise NEO's smart economy.
Smart Economies
The concept of a smart economy is a central piece of NEO's vision. This means that NEO wants to have a real economy on the blockchain.
The functions of the smart economy would allow thousands of parties to enter into contracts with one another without having to trust each other. That is because the trade functions are enforced by computer code, rather than relying on either party in the contract and/or central authority.
The founder of NEO envisions having economic applications that run on smart contracts on the NEO blockchain. The smart contracts are what enforce the economic laws the NEO's ecosystem will uphold.
There are a lot of real economic activities on the NEO blockchain that can replace economic systems in today's world, like the NEO wallet. Blockchain-based economic activities like the NEO ecosystem make transactions faster and cheaper than real-world banking solutions.
When you research how to buy NEO coin, you will find that NEO is a very community-driven project. There are hundreds of developers based all over the world. However, there are very few core developers. The number of developers is a healthy sign, as some projects have little or no development activity! That is not an issue with NEO.
Is it a good investment?
In January of 2017, the coin was $0.13 cents USD. On that same day, one year later, the coin rose to an all-time high of $196.85 in 2018. In the months after, the price cooled off, reaching a 12-month low of just under $45.00 in early April. The price has been rising steadily in the weeks since, though.
From the lowest price to the highest, NEO was close to experiencing a 700,000% return on investment. If the previous ROI is an indicator that is important to you, then this figure should jump out at you!
Maybe you are ready to buy NEO coin right now yourself. Below we have provided some step-by-step instructions on how to purchase NEO. You can use the information to help you decide which exchange you want to use. However, remember that you should always consult a financial expert before you make any investment.
How to Buy NEO Coin
No matter how you're looking to buy your NEO coins, first, you need Ether (ETH). We'll get this using Coinbase. So, you'll need to set up a Coinbase account if you haven't already got one.
To buy Ethereum on Coinbase:
Login to Coinbase using your username, password, and mobile phone (SMS verification).
Once you are logged in to your Coinbase Account, go to Buy/Sell.
Once you select Buy/Sell on Coinbase, you should select Ethereum next. In the USD box, enter the USD equivalent of Ethereum that you'd like to purchase (you will see the corresponding amount of Ethereum appear in the ETH box to the right).
After you type in the amount of Ethereum that you would like to purchase, select the "Buy Ethereum Instantly" box. (You will be asked to confirm with a text message to have your mobile device ready)

Did you know?
How to Convert from Ethereum to NEO
Coinbase only allows you to purchase BTC, ETH, LTC, and BTH. So, now you have to send your ETH out to another exchange so that you can buy the NEO coin. I use Binance, so I will show you how to use Binance to buy NEO coin with the ETH you bought on Coinbase.
Go to Accounts on Coinbase and select the Send button below ETH Wallet.

Once you click on Send, a pop up will appear. The pop up contains input boxes where you have to enter your address. Keep that window open in one tab and prepare to open another tab.
Now, you will have to go to Binance. On the home page, select Funds, then select Deposits. (You need a Binance account, so if you haven't got one, set one up and come back to this step).

On the Deposits screen, search for Ethereum in the box by typing in 'ETH'. Then, select 'copy address' on the right-hand side of the screen.

Once the address is selected, head back to the other Coinbase tab. Paste the ETH Deposit Address from Binance into the Recipient box in the Coinbase menu. If you have a valid ETH address, a green validation icon will appear next to the Recipient box. Enter the amount of USD (or ETH) you would like to send to your Binance account. Take notice of how the Network Fee affects the total amount. When you are satisfied, click the blue box that says 'Continue.'
Once you select Continue, you will see another pop-up window that confirms your transaction. You will need to have your mobile phone ready. Enter the 2-step verification code provided by your authentication app. Once the code is entered, select Confirm.
After you confirm the transaction, another pop-up box will appear. This pop-up box allows you to see the status of your transaction on Etherscan.
You can go back to your Binance tab now and select Funds, then select History in the drop-down menu. This allows you to view Deposit History, which is another way to check when your transaction becomes complete.

To execute a trade at market price, make sure you select the coin that you want to trade (e.g., NEO/ ETH). You must also make sure that you correctly have the Market box selected as the arrow to the left show. The right arrow shows where you enter how much NEO you want to sell. The box next to it is where you can enter how much NEO you want to buy.
(To buy NEO coin using the Market option means that you are buying or selling NEO at whatever the market price is currently being offered at. The limit option gives you more specific buying and selling options, but is slightly more complicated for beginners).
Now I'll compare some of the leading exchanges on which you can purchase NEO. I'll breakdown the transaction fees, security, and more need-to-know information about each exchange.
We'll continue talking about Binance to start things off.
NEO Exchanges: Binance
Binance is a good exchange because it is easy to use. It was one of the first exchanges I began using when I started trading cryptocurrency. I learned a lot of lessons by using it. The coins on the exchange have a fairly good reputation. Binance holds a 1% trading fee. If you have BNB (Binance Coin), you can use it to reduce the trading fees by 50%, so that you are only charged 0.5% OR Binance holds a .1% trading fee. If you have BNB (Binance Coin), you can use it to reduce the trading fees by 50%, so that you are only charged 0.05%. Not bad, eh?
Some of the biggest disadvantages of Binance mostly existed early on and are no longer problems. It included a lack of communication in English and a lack of interaction with the community. However, as time has gone on, Binance has become a much more transparent exchange.
Over 2 billion dollars per day are traded on Binance! Of that 2 billion, about 29 million dollars is used to trade NEO.
NEO Exchanges: Upbit
This exchange has roughly the same NEO trading volume as Binance, hovering around 29 million dollars daily. Upbit dominates where people buy NEO coin in South Korea. It has over 1.8 billion USD being traded on the exchange daily. There is a .25% KRW trading fee applied to all orders as well as a 0.01-1000 KRW Withdrawal Fee, which varies depending on the amount being withdrawn.
Yet, Upbit has left some questions in investors' minds because they are the only major exchange in Korea who is not in support of self-regulation. The recommendation for self-regulation came from the South Korean government, so it was a bit surprising that Upbit did not participate.
However, Upbit does not have any obligation to participate so it is not as confrontational as some sources have made the news out to be. Obviously, this has not affected how many people have chosen to buy NEO coin on Upbit's exchange.
NEO Exchanges: Bitfinex
This Hong-Kong based trading platform has been the largest Bitcoin exchange platform for quite some time; the coin currently comprises roughly 30% of Bitcoin trading. Over 17 million dollars' worth of NEO is currently traded on the exchange daily.
Bitfinex's fee structure is based on a tier with higher trades being awarded more favorable fee rates. The following column illustrates the fee structure at Bitfinex: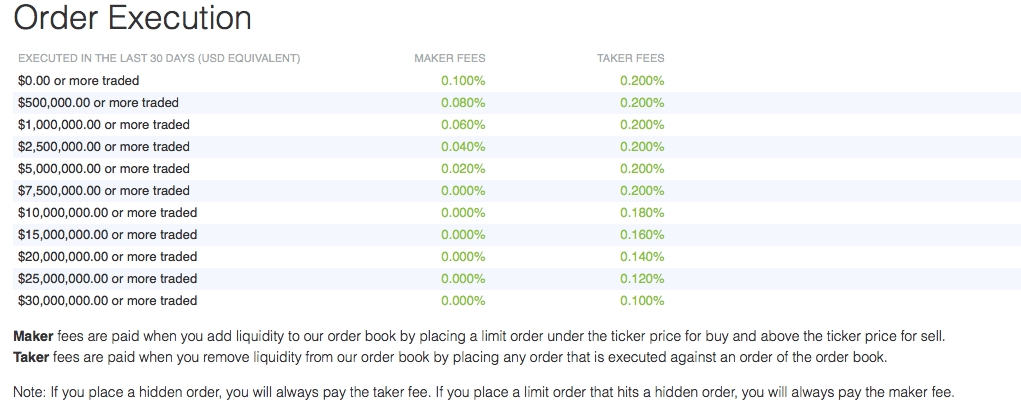 NEO Exchanges: CoinEgg
At the time of this publication, CoinEgg had just below a 60-million-dollar trading volume per day. NEO was the second-highest traded coin on the platform, accounting for more than 11 million worth of trade per day. CoinEgg has a 0.10% fee on all trades. As you see, some exchanges charge a flat trading fee while others use tiered trading fees.
The exchange is based in the United Kingdom. One of the major disadvantages of this exchange is that it only trades against BTC. It also does not offer any type of fiat currency integration.

Pros
Can be managed from mobile device
Very secure
Supports more than 1500 cryptocurrencies

Pros
Top-tier security
DeFi app support
Store over 5500 assets, install up to 100 apps simultaneously
NEO Exchanges: OKEx
The first thing you should know about OKEx is that it was the subject of a 3 million-dollar USD Bitcoin hack in October of 2017. The hacker logged in from a German IP address and traded BTC-ETH trading pairs to sell all of the Bitcoin within one hour. This occurred in China and the police there refused to take the case because of the country's perspective on Bitcoin at that time.
However, despite the exchange's exclusivity and hack, the exchange is in the top 5 NEO exchanges by volume, so I felt it should be included in the list.
There are less than 8 million dollars of daily trading by volume. It makes up less than 5% of the total daily NEO trading volume. The fee structure on OKEx operates on a similar structure as Bitfinex with the Maker/ Taker Fee Model (maker = -0.1%, taker = 0.1%).
Conclusion
You now know what NEO is, how you can exchange ETH to get it, and which exchanges you can buy NEO coin on.
NEO has definitely shown some major Return on Investment for early adopters of the coin; as previously mentioned, it has soared over 700,000% from the lowest to highest price. (Crazy stuff!)
The price point might be warranted because of the fact that NEO can handle 10,000 transactions per second, but one of the biggest obstacles holding NEO back is Chinese regulation — their stance on cryptocurrency is unstable.
Once regulation in China becomes more stabilized, though, I believe the coin will take off further than it went before.
So, will you be buying NEO coin? If so, which exchange are you going to use? Did you follow my step-by-step on Coinbase and Binance or did you go with a different option? Let me know!
Important note: please consult a financial expert before you buy NEO coin or make any other investment.
Leave your honest feedback
Leave your genuine opinion & help thousands of people to choose the best crypto exchange. All feedback, either positive or negative, are accepted as long as they're honest. We do not publish biased feedback or spam. So if you want to share your experience, opinion or give advice - the scene is yours!