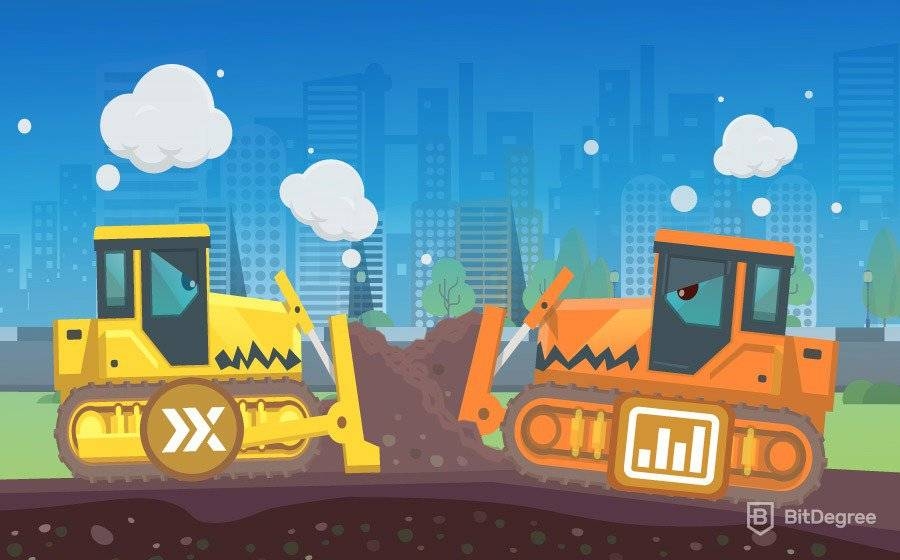 Greetings to all of you Bitcoin beginners, crypto fans and newbie traders… Welcome to this Bittrex VS Poloniex guide!
Buying and selling cryptocurrencies has made a lot of people a lot of money. More than $23 billion of cryptocurrency trading was completed in the last 24 hours! The places where all this trading happens is on cryptocurrency exchanges.
There are a lot of different crypto exchanges to choose from. As a beginner, you should choose your first crypto exchange very carefully. You need an exchange which is safe and simple to use. Choosing the right exchange will give you the perfect introduction to crypto trading. In this guide, I will compare two crypto exchanges: Bittrex VS Poloniex.
I'm going to tell you everything you need to know about Bittrex VS Poloniex. You will find out what kind of exchanges they are, who they're designed for, and what services they offer. You'll also find out how much they charge for their services and how safe they are to use. By the end of this Bittrex VS Poloniex guide, you will be able to decide which of these crypto exchanges is best for you.
Note that if neither of the two exchanges suit your preferences, you could look at some alternatives, such as Binance and Kraken.
The first thing you need to understand about Bittrex VS Poloniex is what kinds of exchange they are. To answer this question, you need to jump into my time machine. We're going all the way back to 2014!

Did you know?
Want to get smarter & wealthier with crypto?
Subscribe - We publish new crypto explainer videos every week!
What is a Crypto Bridge? (Explained with Animations)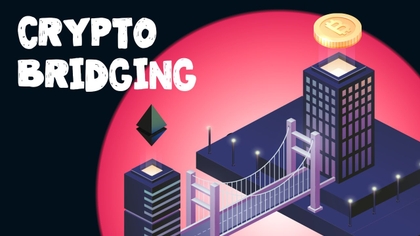 Origins of Bittrex
Bittrex is a crypto exchange founded by Bill Shihara, Richie Lai and Rami Kawach in 2014. It's based in Seattle, USA.
Latest Deal Active Right Now:
REDEEM $600 PRIZE
Binance Cyber Monday
Attention new Binance users: this Cyber Monday, you can score up to $600 in rewards by completing special tasks. Activate this amazing Binance Cyber Monday deal using the code – 49316610!
Expiration date : 09/12/2023
6,127 People Used
Only 16 Left
Something else happened in 2014. The world's biggest crypto exchange, Mt. Gox, went bankrupt. The exchange was hacked several times before it went out of business. Around 200,000 Bitcoins had been stolen. The collapse of such a big exchange scared crypto investors.
The founders of Bittrex knew that cryptocurrency needed safer exchanges. They knew this because they had all worked as security professionals at Amazon and Microsoft! Shihara, Lai, and Kawach were the perfect trio to build a crypto exchange that customers could trust.
In 2014, people thought that trading cryptocurrencies were a risky thing to do. Crypto traders were seen as either brave or foolish. Exchanges like Bittrex changed all that. Now, crypto trading is for everyone. So, what about Poloniex?
Fundamentals of Poloniex

Poloniex is a crypto exchange founded by Tristan D'Agosta in 2014. It's based in Delaware, USA.
D'Agosta is a different kind of businessman from the guys at Bittrex. He has worked as a freelance composer and has a degree in music from Rutgers University. He once ran a company called Polonius Sheet Music! This just confirms that crypto really is for everyone!
In February 2018, D'Agosta sold the exchange to Circle Internet Financial Ltd. Circle is backed by the Goldman Sachs bank.
Bittrex has the more experienced team, but Bittrex probably has a more experienced team than most crypto startups! Both platforms have become hugely popular in the four years since they were formed. But which is bigger? Let's find out.
Bittrex VS Poloniex
Size
You have to look at the numbers to work out the size of a crypto exchange. One of the most important numbers for a crypto exchange is their 24-hour trading volume.
Note: The 24-hour trading volume of an exchange is how much cryptocurrency is bought and sold on the platform in one day. The number is usually calculated in US Dollars.
Let's look at the trading volumes for Bittrex VS Poloniex on May 8th, 2018:
That's a lot of trading! As you can see, more trading has been done on Bittrex. Users of Bittrex traded about 30% more cryptocurrency than users of Poloniex. How do Bittrex and Poloniex compare to the other exchanges on the market though?
The total 24-hour trading volume of all these exchanges on 05/08/18 was $23,394,415,076. This means that both exchanges only make up about 2% of the market each. Although this makes the exchanges sound small, they are both quite high on the list. Bittrex is rated as the 12th largest exchange, and Poloniex is only just behind in 15th place.
Bittrex and Poloniex traders make hundreds of thousands of trades every day.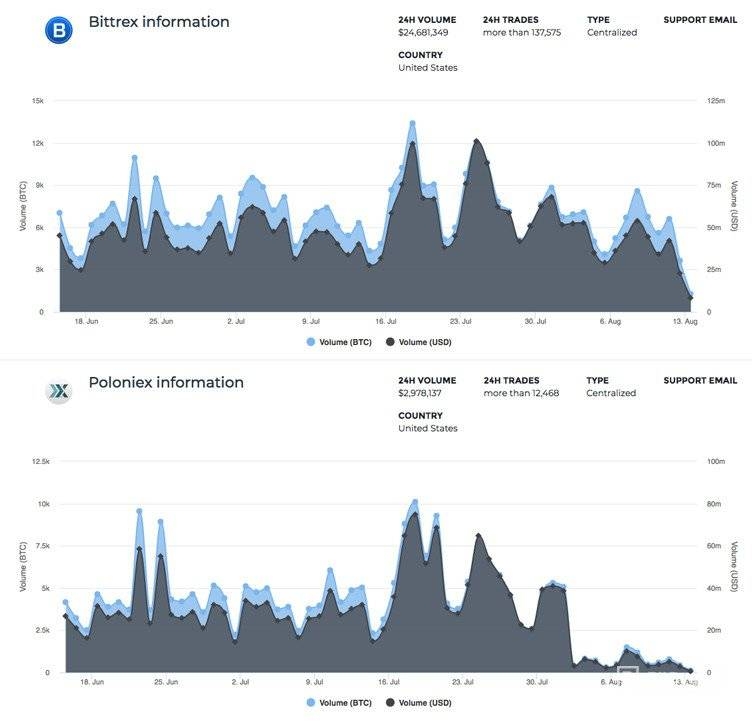 Source: cryptocoincharts
Poloniex isn't quite as big as Bittrex today, but you'll have to check again tomorrow to see if this is still true. The numbers can change fast in the world of crypto!
Now you've seen the numbers, let's have a look at what currencies Bittrex and Poloniex offer.
Currencies
Different exchanges offer different currencies for trading. It's a good idea to find out what currency trading is offered by an exchange before you sign up. Bittrex and Poloniex only offer cryptocurrency trading. This means that you can't use fiat currencies to buy and sell cryptocurrencies.
Note: A fiat currency is a currency that is legally supported by a national government. They are the currencies of countries. Examples of fiat currencies are the US Dollar (USD), the British Pound (GBP) and the Chinese Yuan (CNY).
Bittrex allows users to fund their accounts by wire transfer using US Dollars. However, Bittrex only offers this option to users who are funding their accounts with more than $100,000. Not many newbies will be doing that!
The closest thing that either platform offers to fiat currency trading is USD Tether. USDT is a cryptocurrency that is backed by real US Dollars. For every USDT, there is a real US Dollar in reserve at Tether.
Unfortunately, Tether doesn't solve the problem of how you're going to buy your first cryptocurrency. Newbies almost always make their first purchase of cryptocurrency with fiat currency. This means you'll probably have to visit another exchange first before you use Bittrex or Poloniex to buy cryptocurrency.
I would recommend Binance to beginners for fiat currency purchases.
Once you've purchased some crypto from another exchange, you can start trading with Poloniex and Bittrex. What the platform's lack in fiat trading they make up for with their selections of cryptocurrencies. Let's compare Poloniex VS Bittrex for coin selection…
Bittrex Coin Selection
Bittrex is famous for its huge selection of cryptocurrencies. There are so many coins available on Bittrex that I can't list them all here. The exchange offers to trade for all the well-known coins like Bitcoin (BTC), Litecoin (LTC), Ripple (XRP) and Ether (ETH). Bittrex also offers to trade with less popular coins like Polymath (POLY), eBoost (EBST), Siacoin (SC) and Factom (FCT).
Bittrex offers 258 different cryptocurrency trading pairs.
Note: Trading pairs are the two currencies for which an exchange rate is being offered. Think of it like going to the airport and swapping US Dollars for Euros in the Bureau de Change.
Some critics of Bittrex think all this choice is a bad thing. Beginners can get easily confused by the huge number of coins on offer. Not all the coins on Bittrex are worth investing in.
How does Poloniex's coin selection compare?
Poloniex Coin Selection
Unlike Bittrex, Poloniex doesn't offer hundreds of coins, but it does offer a lot. Poloniex offers 97 different trading pairs. The more popular cryptocurrencies, like Bitcoin and Tether, have the most available trading pairs. Bitcoin has 43 unique trading pairs by itself. The selection of coins available is big enough for newbies to start trading with but not so many that they get confused.
This is a Bittrex VS Poloniex guide for beginners. For this reason, I think that Poloniex has the best selection of cryptocurrencies because it has a smaller selection. The choice of currencies available on Bittrex is impressive but too large for a beginner to deal with.
Now let's look at what each platform charges its users to buy and sell cryptocurrency…
Fees
It's important for new traders to be able to understand what an exchange is charging for trades and why. I'll tell you about Bittrex fees first, then Poloniex fees.
Bittrex Fees
The best thing about Bittrex fees is that they are really easy to understand. Every trade is charged a fee of 0.25% of the trade amount. This means that for big or small trades, the fee stays the same. Simple!
Poloniex Fees
Poloniex fees work in a different way to Bittrex fees. This is because Poloniex fees are decided by the size of the trade and whether you're a maker or a taker. However, the fees most new traders will pay will still be 0.25%. This is the fee that takers will pay when they trade with less than 600 BTC.
Note: A taker is someone who wants to trade cryptocurrency for a price that is already being offered on the exchange. A maker is someone who is willing to trade cryptocurrency for a price that isn't already being offered. A taker's order will be filled immediately. A maker will have to wait until a taker accepts their price.
So, if you don't want to wait for your order to be filled or you're not trading more than 5 million dollars worth of Bitcoin then you will pay a fee of 0.25%.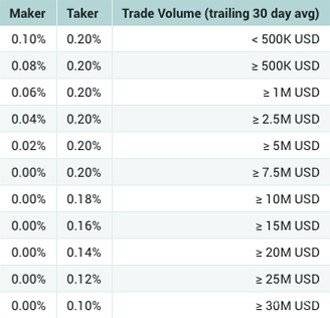 Poloniex Fees | Source: poloniex
This category is a small victory for Bittrex. Both platforms offer newbies similar fees but Bittrex fees are easier to understand. Next, I want to talk about security. Is Poloniex safe? Is Bittrex safe? There's only one way to find out! Let's compare Bittrex VS Poloniex security measures.

Did you know?
Want to get smarter & wealthier with crypto?
Subscribe - We publish new crypto explainer videos every week!
What is a Liquidity Pool in Crypto? (Animated)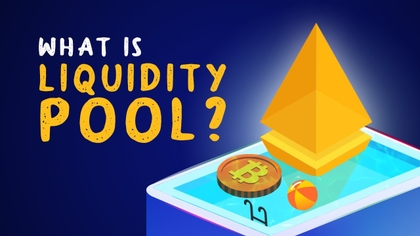 Security
Security is one of the first things new traders should think about when they're choosing a crypto exchange.
Is Bittrex Safe?
Bittrex has never been hacked. It's one of the most secure cryptocurrency exchanges on the market. Bittrex stores 80-90% of all currency is kept offline. This is called cold storage. Bittrex also offers its users two-factor authentication to secure their accounts.
Note: Two-factor authentication is where a user has to provide two kinds of information to access their account. The two kinds of information are a password and a code that is sent to the user's mobile phone.
So, your answer is Bittrex safe? is yes.
Is Poloniex Safe?
In 2014, Poloniex was hacked. Hackers stole 12.5% of the Bitcoins held on the exchange. The Poloniex team was fast to react. They stopped the attack and refunded users who lost money. Since this happened, Poloniex has worked very hard on improving user safety.
Like Bittrex, Poloniex keeps most of its funds in cold storage and encourages users to set up two-factor authentication.
Again, your answer to "is Poloniex safe?" is yes.
When you compare the security of Bittrex VS Poloniex, you can see that they are both safe platforms that offer similar security features. However, it is very important to remember that crypto exchanges aren't banks.
Bittrex and Poloniex have both been criticized for being slow to help users who are having problems. Neither exchange gets very good reviews for customer service! This means that all traders should make sure they are doing everything they can to protect their own accounts.
Both platforms offer similar security features. However, the Bittrex team are all security professionals and the platform hasn't been hacked. For these reasons, Bittrex is a more secure exchange.
So far, you've learned what services Bittrex and Poloniex offer, how much they cost and how safe they are. Next, I want to talk about user-friendliness. Which exchange is easier for beginners to use?

Pros
A very well-known crypto exchange platform
More than 500 different cryptos available
Two-factor authentication
Main Features
Over than 100 different cryptocurrencies available
Strong security
Small withdrawal fees

Pros
Secure and reliable
Low fees
A good amount of fiat currencies accepted
Main Features
Reputable exchange
Multiple fiat currencies are accepted
Relatively low trading fees

Pros
Anonymous trading
Secure
Supports a variety of cryptocurrencies
Main Features
Easy to use
Low fees
Good security
User Friendliness
Bittrex and Poloniex were both designed to be professional trading platforms. This means that they both offer services and features that might be difficult for beginners to use.
Bittrex
New users will find opening an account with Bittrex quite easy. Registration and verification are simple processes and once you've verified you're ready to trade. Bittrex is built with elastic computing. This means that trades are processed very fast even when the site is busy. As a newbie, you'll want your first trades to be as smooth as possible!
Bittrex offers its users a lot of different trading information. This is great for experienced traders but is too much for some beginners. Here's a snapshot of a Bittrex trading page: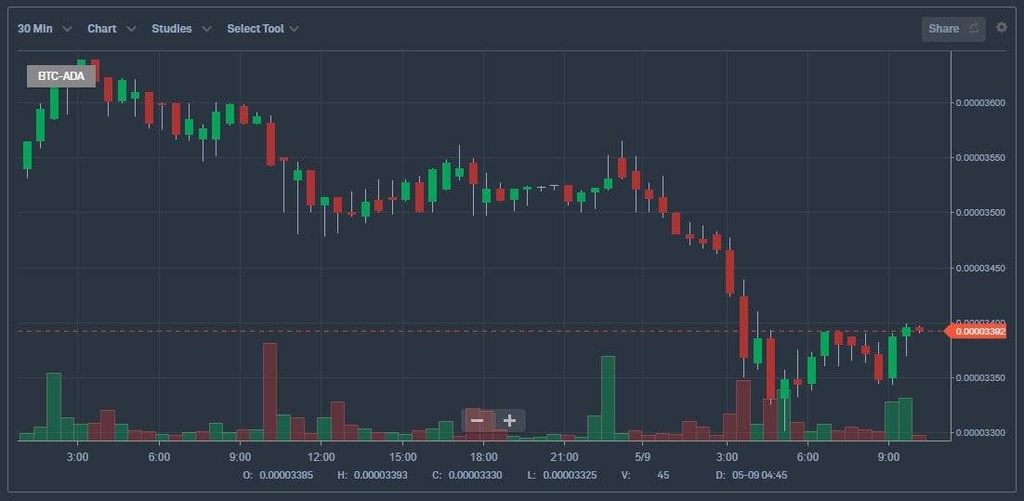 Don't worry! I don't understand what any of that means either! Let's see if Poloniex is easier to use…
Poloniex
Poloniex registration and verification are nice and simple. All you need to do is fill in the required information and you'll be ready to trade in no time. Poloniex also has quite a simple layout. It's simple enough for most traders to use.
However, Poloniex offers more advanced trading features than Bittrex. These features include margin trading and the maker/taker trades I mentioned earlier. Margin trading involves borrowing currency to trade with. The rewards from this kind of trade can be very high but so can the losses!
I wouldn't recommend margin trading to newbies. You've been warned! If you don't believe me, take a look at a margin trading page on Poloniex: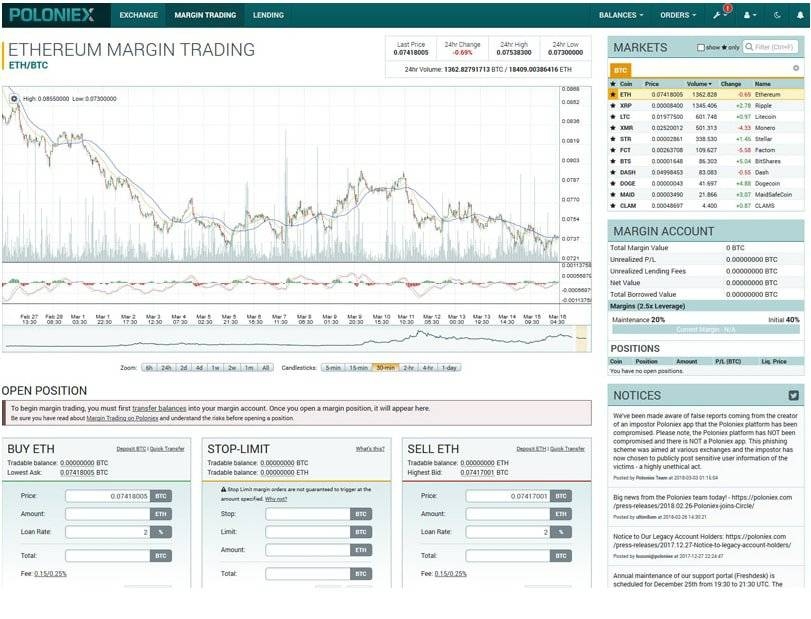 Pretty scary, right? So, now you know. When we compare Poloniex VS Bittrex, you can see that they are easy enough for beginners to use but have a lot of features and services that are not so easy to use. I think that most users will find trading on Bittrex and Poloniex challenging. Both exchanges are worth visiting when you have more trading experience though. Poloniex has interesting trading styles to try and Bittrex has a lot of choice and market information. This one's a tie!
Now I'd like to share some final recommendations before you choose which exchange is best for you.
Poloniex VS Bittrex: And The Winner Is…
At the start of this guide, I asked; Bittrex VS Poloniex: What's the better alternative? Well, it's been a very close contest. Both platforms are well-designed trading exchanges. They are both respected in the crypto community. Both exchanges are very popular and offer a great selection of cryptocurrencies. Bittrex and Poloniex have some good features in common. They also share some less positive features.
Bittrex and Poloniex don't allow fiat trading. This is a problem for new traders who want to buy cryptocurrencies with their local fiat currency. The variety of coins, information and trading styles on both platforms will confuse many beginners. It's too much, too soon. Newbies need simple platforms, like Coinbase, when they start trading cryptocurrencies.
Bittrex and Poloniex are both good trading platforms, but I wouldn't recommend either for beginners. However, when you're ready to make more advanced trades, then Bittrex and Poloniex are great places to learn. If you want to learn about new coin markets, then Bittrex is the exchange for you. If you want to try more exciting trading styles, then sign up with Poloniex!
Now you know everything you need to know about Bittrex VS Poloniex. Do you think Poloniex is better than Bittrex? Or is Bittrex the King of exchanges? Or, perhaps there are better alternatives, altogether - exchanges such as Binance, Coinbase, Kraken, and others?
If you'd like more information about Bittrex, check out our Bittrex review.
About Article's Experts & Analysts