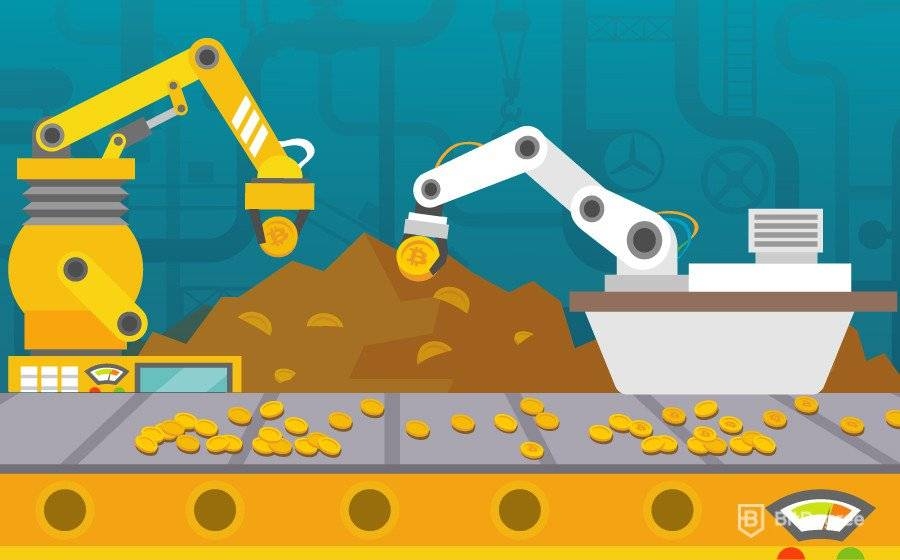 Hey there! Let me welcome you to this guide to choosing the best Bitcoin mining hardware. If you're wanting to get started earning a passive income mining Bitcoin, you've come to the right place. This guide will explain the differences between the top Bitcoin mining rigs on the market today.
If you don't know your DragonMints from your Antminers, don't worry. As usual, I'll be explaining all that to you in an easy to understand way.
This guide to Bitcoin mining machines will cover the following:
What is Bitcoin mining.
How to pick a Bitcoin mining machine depending on your own circumstances.
A look at the top mining units on the market today. I'll cover: the DragonMint T1, Antminer T9+, Antminer R4, Avalon6, Antminer S9, and the PangolinMiner M3X. There will also be hints as to which kind of miner each of these will appeal to.
A handy table to help you compare each of the units.
As always, there's loads to get through in this guide to the best Bitcoin mining hardware around. Without further ado, let's begin!
However, before doing that, you should know that there's a variety of reliable cryptocurrency exchanges for buying and trading Bitcoin. That includes Coinbase, Binance and Coinmama.

Did you know?
Want to get smarter & wealthier with crypto?
Subscribe - We publish new crypto explainer videos every week!
How to Store NFTs in 2023 (3 Most Secure Ways Explained)
What is Bitcoin Mining?
The role of Bitcoin mining is to verify that transactions on the network follow the rules. To do this, complex computer units are used to check the transactions and broadcast them to other computer systems around the world. The operators of these computer systems are rewarded for their efforts. This reward comes from both the fees that each transaction and a mining reward set by the network itself.
To stop people cheating the network, a system known as "proof-of-work" is used. Proof-of-work is needed before any group (block) of transactions is added to the blockchain. When the computers are performing their proof-of-work, what they're doing is trying to guess a long string of numbers and letters. This string is known as a hash.
Only the computer that correctly guesses the hash can add the block to the chain. Proof-of-work requires computational power and the process is neither quick or cheap. To cheat the network would require so much of an investment that it is not financially viable for someone to try and amend the blockchain. This is the main security feature of the Bitcoin (and other cryptocurrency) networks.
Bitcoin mining used to be able to be performed by CPUs (central processing units) like those found in your computer system at home. However, as more units began to mine the network, the difficulty of the hashes they were trying to guess increased. This made people turn to higher-powered processors such as GPUs (graphical processing units). These GPUs are commonly found in high-end gaming PCs.
Today, the hashes are so hard to solve and there are so many miners trying to solve them that only specialist computer systems can solve them. These units use application-specific integrated circuit chips – or ASICs for short. That is what this article is all about!
Mining Hardware Depends on Your Circumstances
Although Bitcoin miners are now limited to choosing from a range of ASICs to mine Bitcoin, there are still plenty of options. Picking one will depend on each miner's individual circumstances. Some miners will want a single unit that can work in their spare bedroom. Others will want a couple of affordable ASICs to get themselves started mining for the first time. Finally, there are some people who want to fill a warehouse with the absolute best Bitcoin mining hardware around.
There are lots of things to consider when picking Bitcoin mining hardware. It's important to judge each unit based on their hashing power, their electricity consumption, their ambient temperature, and their initial cost to buy.
There are also some ideological reasons to choose one manufacturer over another. These relate to decentralization and I'll touch upon some of the issues that surround this later in this article.
The Best Mining Hardware
Finally, I can get down to the real topic of this article – Bitcoin mining hardware. I've looked at Bitcoin mining rigs from some of the biggest and best-known manufacturers on the planet to create this list.
I've also tried to group the different devices in terms of the applications that they're best suited for. I'll be giving you my recommendations for Bitcoin mining rigs for:
People on a tight budget.
People wanting to mine at home.
Those who have never mined Bitcoin before.
People who are looking to spend the most on the most power Bitcoin mining hardware around.
A couple of alternative choices for professional miners who can't locate enough DragonMint T1s for their operation.
Whichever option you decide to choose, make sure to also get a reliable Bitcoin wallet. It's recommended to go for Ledger Nano X and Trezor Model T.
Best Bitcoin Mining Hardware on a Budget – Antminer T9+
For Bitcoin miners that are on a budget, one of the best Bitcoin mining rigs around is the Antminer T9+. It can be picked up much more cheaply that most of the other devices on this list. However, don't let the price tag fool you — it's still a decent machine.
As well as being great for those concerned about the price of their mining unit, the Antminer T9+ is ideal when space is a concern. This is because it features a compact design. This makes it great for cramming lots of units into a mining rig farm. If this is how you intend to use your ASIC miners, you'll be even more glad of the temperature reducing features of the Antminer T9+. You'll be saving a lot of money on extraction equipment too.
In terms of the hardware this unit uses, the Antminer T9+ features 162 of Bitmain's BM1387 chips. This allows it to produce a brilliant hash rate of 10.5 TH/s whilst drawing just 1332W from the wall.
As well as being a great performer, the Antminer T9+ also has an easy to grasp user-interface. This is used to configure various settings and make upgrades to the firmware as new releases come from Bitmain.
Being priced between $550 and $600 per Bitcoin mining rig, the Antminer T9+ is certainly the most affordable unit on our list. You can pick one up from here.
Unfortunately, like the average Bitcoin mining machine, the power supply is sold separately.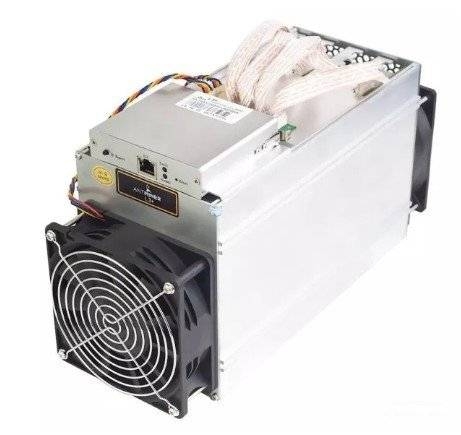 Best for Beginners – Avalon6
The next piece of Bitcoin mining hardware I'll be looking at is one for the beginners to Bitcoin mining. The creators of the Avalon6 Bitcoin mining rig, Canaan Creative, built it with simplicity in mind.
The Avalon6 Bitcoin miner is one of the easiest ASIC units to setup. Both the advanced and basic procedure is simple, and this makes the device great for beginners. Unfortunately, it's not the most profitable unit around. From the 1050W it draws from the wall, it only manages to produce 3.5 TH/s.
Whilst it's certainly not going to impress any serious Bitcoin miners, the ease with which you can set up this bit of kit, along with the affordable price tag will make it a great unit for those wanting to get started in the world of Bitcoin mining.
Unfortunately, like most of our units on this guide to Bitcoin mining hardware, the Avalon6 doesn't come with its own power supply. These are sold separately.
There are options to buy the unit itself directly from Canaan Creative, but these are only for bulk orders. Fortunately, it's possible to pick them up in smaller order sizes for around $650 each from here.
Running an Avalon6 (or Any Bitcoin Mining Machine) Not for Profit?
As well as being great for beginners, the Avalon6 is a good piece of hardware for those who want to mine Bitcoin without making a profit. This might sound bizarre at first but there is a very good reason why people would want to mine Bitcoin without necessarily generating profits.
Put simply, the more units mining on a cryptocurrency network, the more secure that network is. The robustness of Bitcoin's security comes from its decentralization. There are many hobbyists and passionate developers around the world who either are not able or don't want to mine Bitcoin for a profit. There are many reasons that this could be the case. These include but are not limited to the following:
Not having an area of your home that you want to dedicate to running multiple mining units.
Living somewhere very hot meaning that all that equipment running would generate an unbearable amount of heat.
The electricity being too expensive to generate a profit from running Bitcoin mining rigs.
You're not at home often enough to bother setting up a Bitcoin mining rig farm that could, after all, represent a fire hazard.
The Avalon6 makes a good unit to run in an office or at home that might well lose money but serves a very altruistic purpose – securing the network. For many developers, the cost of running their mining rig is a small price to pay for complete financial freedom from banks and other institutions that have absolute control over the creation of and supply of money.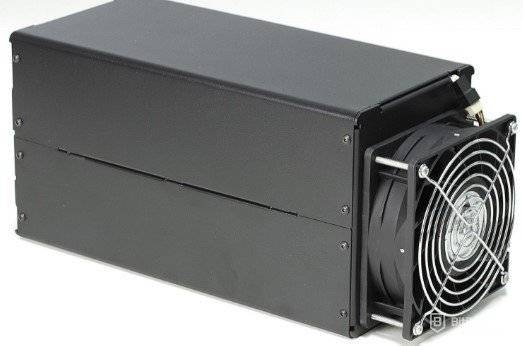 Best for Home Use – Antminer R4
Like the Avalon6, the next selection on the list of the best Bitcoin mining rigs is good for small applications where space is an issue. This is because it runs so quietly. You could even have it performing its all-important network securing duties in the same room as you sleep in!
Like their T9+ unit, the R4 uses Bitmain's BM1387 chips. It uses 126 of them to produce a very competitive 0.098 J/GHs. If you're not sure what this means, read it as "very efficient"!
The major selling point of the Antminer R4 is, of course, its whisper quiet operation. Bitmain has achieved this by redesigning its fans entirely. The team was inspired by silent split air conditioning units. Borrowing design features, they were able to create a fan that is just as effective as traditional ones but makes less than half the noise. They also equipped the R4 with an automatic controller. This ensures that the fan never makes more noise than is necessary.
One of the biggest drawbacks of the Antminer R4 is that it's very expensive. The price seems to vary dramatically depending on where you pick one up. Some sites advertise $1,000 but have no link to see them at this price. The only site selling the unit that I managed to find was a European website called AntMiner Distribution Europe BV. They had them listed at 1,500euro, or $1,700.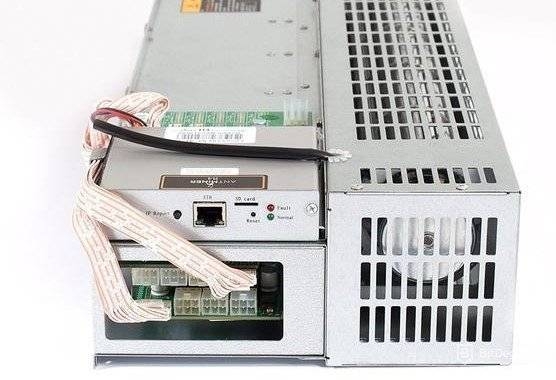 Issues with Bitmain?
Of course, like all Antminer units, the R4 is built by the Chinese Bitcoin mining giants Bitmain. Bitmain is something of a controversial company. In fact, in 2017, they were accused of delaying the important SegWit upgrade to the Bitcoin network.
Many accused them of doing this so that they could benefit from the extra highs fees that were necessary at the time. For this reason, some Bitcoin miners refuse to use Bitmain products. However, if you're not interested in politics, they do make some excellent Bitcoin mining units!

Did you know?
Want to get smarter & wealthier with crypto?
Subscribe - We publish new crypto explainer videos every week!
Is Decentralized Anonymous Blockchain a Myth? (Explained!)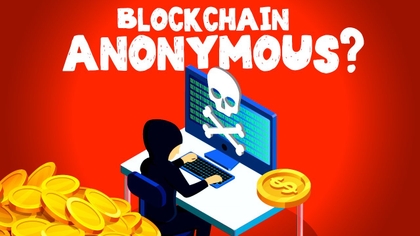 Best if Money is no Object – DragonMint T1
We now come to the absolute best mining unit on the market today. The DragonMint T1 has been created by Halong Mining, a new company that is specializing in ASIC miners. Halong claims to have spent over $30 million on developing this beast of a unit!
The DragonMint T1 uses a state-of-the-art chip design (DM8575). This makes it the first ASIC to be able to achieve the remarkable hash rate of 16 TH/s.
What's more, it manages to achieve this incredible hash rate whilst remaining efficient when it comes to energy consumption. The unit consumes just 0.075J/GH. That's around 1480W of power draw. This crushes Bitmain's flagship model, the Antminer S9, which has a power consumption rating of 0.098J/GH.
The cooling of the DragonMint T1 is handled by two nine-blade variable fans. These manage to keep the average ambient temperature down to just 25 degrees.
Again, like with most Bitcoin mining rigs, the DragonMint T1 doesn't come with a power supply. The company recommends using the DragonMint 1600W.
Unfortunately, being such a beast of a unit, the DragonMint T1 is in huge demand. This means you might have to join a waiting list to get your hands on one! When you do finally get the opportunity to buy it, you might be a little overwhelmed by the price. You're looking at a starting price of $2,729 for the unit itself. The official power supply will set you back an additional $115.
If you do decide to buy DragonMint units, you're also supporting decentralisation of mining by giving your custom to a company that isn't Bitmain. For some, this could also be a deal breaker!
If all of that wasn't enough to convince you of the DragonMint's capabilities, there's also an awesome graphic of a dragon on the side too!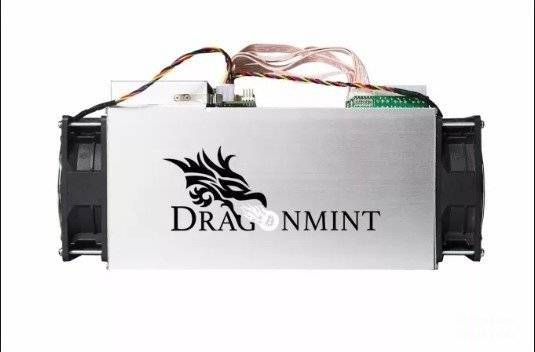 Antminer S9 – The Next Best Thing to the DragonMint T1
Since the DragonMint T1 is so popular, the manufacturers are struggling to keep up with the demand for them. For that reason, I decided to include a couple of other pieces of Bitcoin mining hardware that was almost as good.
If you're a serious miner and are unable to get a DragonMint T1, don't worry. Units like the Antminer S9 will produce almost as much hashing power.
Like the other Antminer units I've included on this guide, the S9 is equipped with Bitmain's BM1389 chip. However, unlike the others, this beast has 189 of them. At the time it was created, this made it the highest hashing unit on the planet. Although it can no longer claim to be the best in terms of hash rate, at 14 TH/s, it's a close second to the DragonMint T1.
The Antminer S9 cools itself using custom-made heat sinks. These are built using a high-grade aluminium alloy. It also uses two high speed fans on either end of the device. This ensures that hot air is quickly gotten rid of and replaced.
Being a Bitcoin mining rig with such a high hashing rate, you'd think that it would be a nightmare to set up. However, this is not the case. The Antminer S9 has the same user-friendly interface that most Bitmain miners use. This allows you to quickly adjust settings and upgrade the firmware when needed.
Like the DragonMint T1, the best Antminer unit on the market doesn't come cheap. You're looking at around $2,700 - $3,000 each for them. Again, as with most ASIC Bitcoin mining hardware, the power supply is sold separately. This will cost another $100-$150. Clearly, they are not for hobbyist Bitcoin miners!
You can pickup an Antminer S9 here.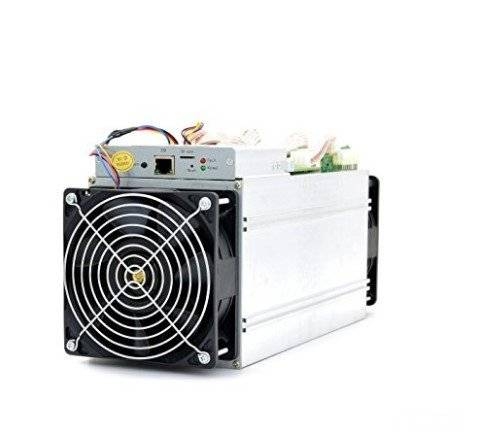 Best if avoiding Bitmain and Can't Get a DragonMint – PangolinMiner M3X
Finally, given the controversy over Bitmain produced Bitcoin mining hardware, I thought it best to include a DragonMint alternative that wasn't made by them.
For many, the Pangolin unit will represent a good balance between value and hashing power. It's capable of running at between 12 and 13 TH/s. Whilst this is only three quarters of the power of the DragonMint flagship model, it is still respectable.
This power becomes even more noticeable when you consider the initial purchase price of the Pangolin. It's currently on sale at the company's official website at just $850. Compare that to the $2,700 that a DragonMint of Antminer S9 will cost and you can instantly see the appeal of the Pangolin M3X.
Right now, that probably sounds too good to be true. Just wait for a second thought. There are quite a few drawbacks!
Firstly, the Pangolin is probably the loudest unit I've covered in this article. Which means it's not well-suited for home use.
All that noise is probably due to the huge amount of power that's needed to run the Pangolin M3X. At 2100W, it's the most electricity hungry unit I've covered in this guide to Bitcoin mining hardware. That means that any savings you might have made on the upfront purchasing price will be lost over time as the electricity bills start to come in.
However, those that live somewhere where power is cheap will probably favor the Pangolin. Alternatively, if you were using one where the electricity is free, and you don't live onsite, the Pangolin will represent the best choice of Bitcoin mining hardware.

Pros
A very well-known crypto exchange platform
More than 500 different cryptos available
Two-factor authentication
Main Features
Over than 100 different cryptocurrencies available
Strong security
Small withdrawal fees

Pros
Secure and reliable
Low fees
A good amount of fiat currencies accepted
Main Features
Reputable exchange
Multiple fiat currencies are accepted
Relatively low trading fees

Pros
Anonymous trading
Secure
Supports a variety of cryptocurrencies
Main Features
Easy to use
Low fees
Good security
Mining Hardware Comparison Table
Below, I've included a comparison table of the six pieces of Bitcoin mining hardware I've covered in this guide. This should help you to decide which is going to be the best unit for your mining operation.
| | | | | |
| --- | --- | --- | --- | --- |
| | Company | Price | Hash Rate | Power Consumption |
| DragonMint T1 | Halong Mining | $2,729 | 16 TH/s | 1480W |
| Antminer T9+ | Bitmain | $550-600 | 10.5 TH/s | 1332W |
| Antminer R4 | Bitmain | $1,700 | 8.6 TH/s | 845W |
| Avalon6 | Canaan Creative | $650 | 3.5 TH/s | 1050W |
| Antminer S9 | Bitmain | $2,700-$3,000 | 14 TH/s | 1,372W |
| M3X | Pangolin | $1,000 | 12 – 13 TH/s | 2,100W |
Conclusion
So that's my roundup of the best Bitcoin mining hardware available today. I hope you found it both interesting and informative.
As you can see, there's a lot to consider when making a choice about mining hardware. So, what's best for one person, might be the total opposite for you. That's why each of my selections tried to target a different group of potential miners.
After reading this guide, you might also decide that it's not for you. However, if you still want to invest in Bitcoin, you should choose secure and easy-to-use cryptocurrency exchanges, such as Coinbase, Binance and Coinmama.
Let's quickly round up some of the important things to consider about your own mining operation with some questions to ask yourself:
Where will you be doing your Bitcoin mining? Do you need a quiet machine?
How much do you have to spend on Bitcoin mining hardware? With units ranging from $550 to $3,000, there's a huge amount of choice here!
Do you need the highest hashing power possible to generate maximum profits?
How much is your electricity? If it's cheap, the power consumption will be less important to you.
Do you care if your Bitcoin mining hardware was built by Bitmain or would you prefer to further decentralize the network and use one of their competitors?
Once you mine Bitcoin, it's crucial to find a reliable hardware wallet to keep it secure. Ledger Nano X and Trezor Model T are among the most recommended options.
Now that we've come to the end of this guide, you should have some much stronger opinions about the different mining hardware available today. For Bitcoin mining, you'll surely need some software, feel free to check my guide on Bitcoin mining software here.

So, what do you think? Which do you think is the best Bitcoin mining hardware on the market today?
About Article's Experts & Analysts