With the crypto industry growing in popularity by the day, more and more people are coming into the space, and exploring what it has to offer. It's no secret that all of these people need something to kickstart their journey - oftentimes, that something is a reliable wallet. And, in this SafePal wallet review, we'll be taking a look at one of the more interesting crypto storage solutions around.
SafePal is a unique wallet product, simply due to the fact that it combines convenience and security, by providing its users with the option to choose between hot and cold wallet products. In other words, you may choose to use SafePal as a mobile app, a browser extension, or an actual, physical wallet.
That's a very rare option to have! Naturally, though, it also sparks up multiple debates online - is SafePal safe to use? Is it a legitimate wallet product? What is the SafePal token, or the SFP crypto asset? Let's not waste any time, and jump right into it!
Pros
Top-tier security
An app, a browser extension, and a cold wallet
(Cross-chain) swaps + spot trading
Buy crypto with credit / debit card
Thousands of supported coins & tokens
NFT storage
Cons
Some concerns about the security of the hardware wallet
SafePal Wallet Review: PROS
Founded in 2018, SafePal offers a complete suite of secure crypto management solutions accessible to seasoned crypto veterans and newcomers. It is also the first and only hardware wallet investment of Binance Labs, the venture arm of Binance. SafePal now serves more than seven million users across the globe with its unique hardware wallets, software wallets, and browser extension wallet product lines.
These are paired and managed through the SafePal App, where users can easily store, manage, swap, and trade their assets. As of writing this, SafePal supports 15 languages and 54 blockchains, and is adding more. In the long term, SafePal aims to empower investors toward financial opportunity and freedom in the decentralized world.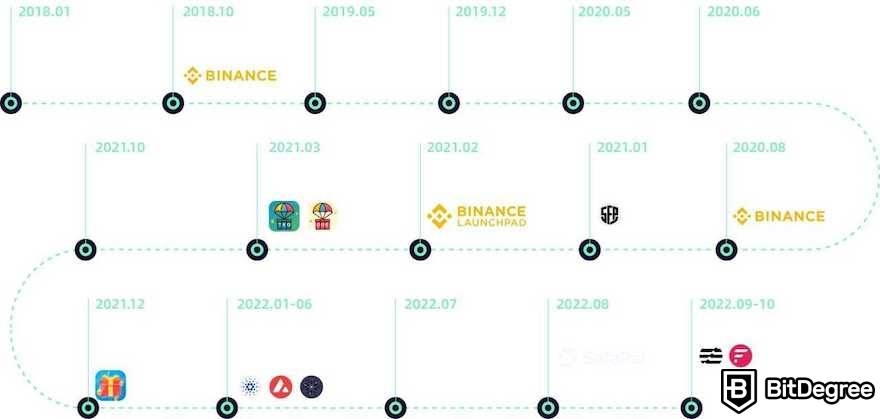 As per usual, we'll start off this SafePal wallet review by covering all of the main benefits (and notable features) of the crypto storage product in question. Before talking about the "3-in-1" nature of this wallet, however, let's first address the main elephant in the room - security.
A Security-Conscious Crypto Wallet
If you've spent even a few days in the crypto sphere, you've probably heard this spiel already - security is (should be!) the No. 1 priority of anyone who's getting into crypto. This is why, at the beginning of this SafePal wallet review, I mentioned that crypto wallets are usually newcomers' first stops in this space - without a proper wallet product, your crypto is at constant risk.
While wallets are designed to keep your digital assets protected, no two storage options are the same. This is especially true these days, when you have so many different wallets (and wallet types) to pick from. Browser extensions, apps, hardware wallets, paper wallets, designated software, and so on - each of these come with their own intricacies, too!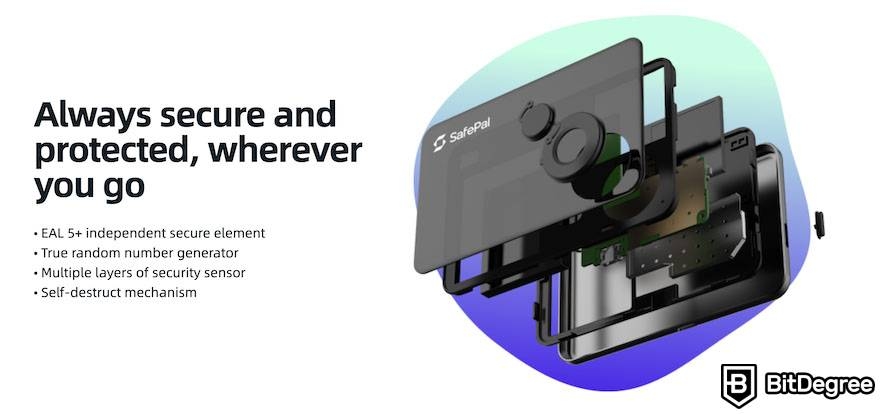 Going back to SafePal, naturally, many potential customers are wondering - is SafePal legit, is it safe, and is it good at protecting your assets, in the first place? Well, judging by both the feedback from existing customers, as well as the information provided by the brand itself, it would definitely seem so!
No matter which SafePal wallet it is that you choose to use - the app, the browser extension, or the hardware device -, they will all come with designated security features. For starters, all three wallets are non-custodial - in other words, they do not hold your private keys. Instead, these belong solely to you, and you alone.
To put it another way, if someone were to come to SafePal, and ask them to hand over your personal wallet information, the company would not be able to do so, even if legally obligated - simply due to the fact that they wouldn't have this information, in the first place.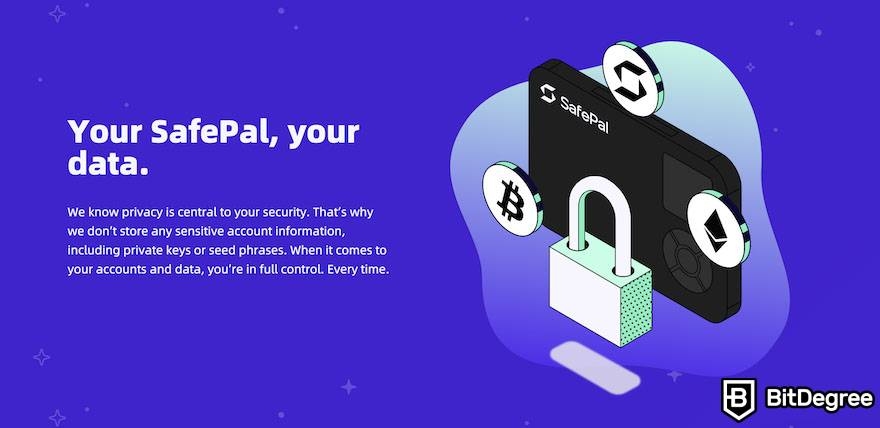 Customer SafePal S1 wallet reviews also mention terms such as "EAL5+", and "self-destruct mechanism". What this essentially means is that this wallet employs some of the most robust security features available on the market, and then some. In order to be EAL5+ certified, crypto wallets need to go through rigorous penetration testing procedures - this alone is a big statement towards the security of this wallet product!
To top that off, the self-destruction mechanic is like a kill switch, if everything else fails. If a potential hacker or thief was to try and tamper with your wallet, and the relevant security level was triggered, your private keys would self-destruct - the thief would have no way to access your assets.
Naturally, in addition to these major features, you also have things such as two-factor authentication, custom password creation, and so on. Additionally, as mentioned earlier, SafePal proudly exclaims that they are "the first tokenized hardware wallet backed by Binance". With the latter company being such a giant name in the crypto space, this is definitely a big deal, and an important point to consider for anyone who's wondering is SafePal safe!
Latest Binance Coupon Found:
$600 WELCOME BONUS
Binance Black Friday Deal
If you're new to Binance, great news - this Binance Black Friday period, you can earn up to $600 in rewards. Sign up, use the code 49316610, and start earning now!
Expiration date : 01/12/2023
2,817 People Used
Only 46 Left
One Wallet - Three Options
As I've mentioned in the beginning of this SafePal wallet review, one of the most interesting features of this particular wallet is that it's actually three wallets in one. Allow me to elaborate.
First, you have the SafePal app. This is a mobile application version of the wallet in question - you can download it on your iOS or Android device. Next, the browser extension - simply add the SafePal wallet to your Chrome, Edge, or Firefox web browser, and use it like any other browser wallet (i.e. MetaMask).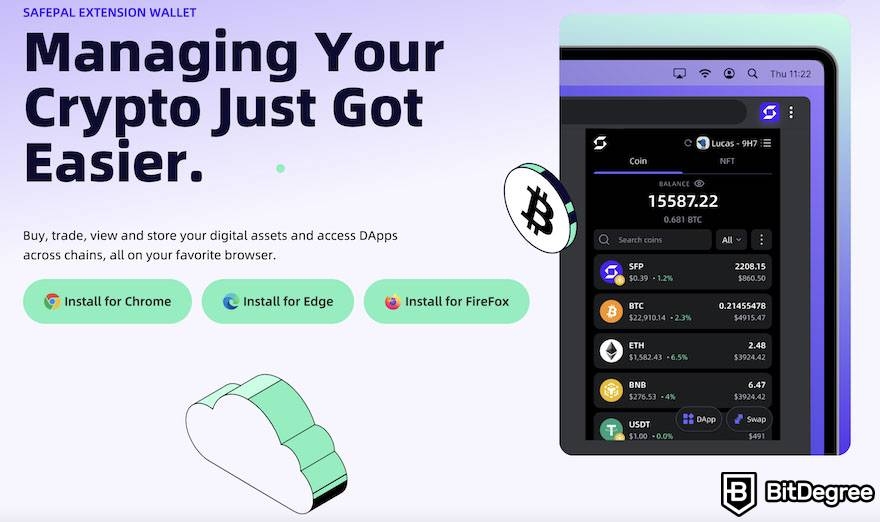 Lastly, if you've noticed multiple customer SafePal S1 wallet reviews online, note that this is the hardware version of the company's wallet. This, however, is a separate chapter, in itself - we'll get to it in a minute.
The point that I'm trying to make here is that, all three wallet options combined, this creates a sort of a SafePal ecosystem. You can safely and simply import your wallet information to another version of the crypto storage solution from SafePal (for example, use both the app, as well as the hardware wallet).
Admittedly, this is a very rare feature to have! Most crypto wallet providers focus on providing their users with a single wallet, be it digital or hardware. With SafePal, you really have a significant variety of choice - that's notable!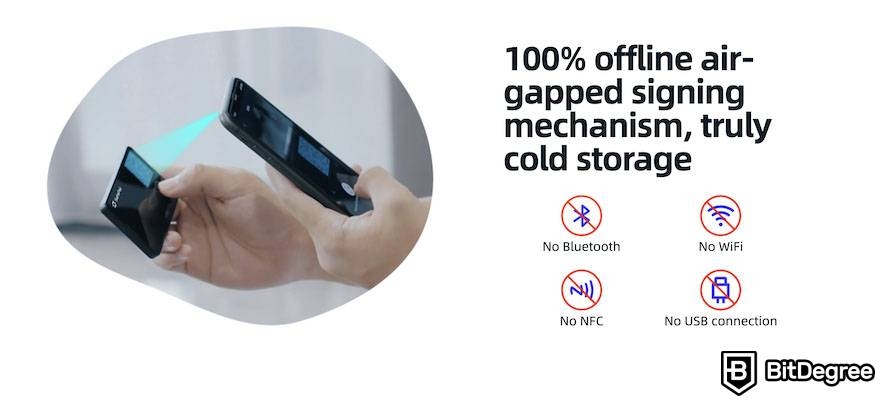 Another point that's worth stressing is that all three wallet versions feature the same amount of privacy and security, with the hardware option being a bit of an exception in the latter regard (cold wallets are safer, by design).
This, in turn, creates a sort of a sense of a well-designed product ecosystem that I've mentioned above - when you combine it with the SafePal coin, which we'll discuss soon enough, you have yourself a pretty serious product on your hands!
SafePal S1 - A Multi-Featured Hardware Wallet
As mentioned earlier, a big part of customers leaves SafePal S1 wallet reviews. This is in relation to the hardware wallet product that the brand offers - let's check it out.
From the visual side of things, at first, the S1 doesn't necessarily stand out too much. While it's unlike the "traditional" USB-like physical wallets that most of us are familiar with (mostly thanks to Ledger), the wallet is still small enough to fit into your pocket seamlessly.
When looking closer, though, you will soon notice a small display, as well as a button pad to navigate it. Thanks to this wallet having 5 buttons instead of 2 (something that's very common with other hardware wallets), you'll be able to perform a huge array of different functions with the device.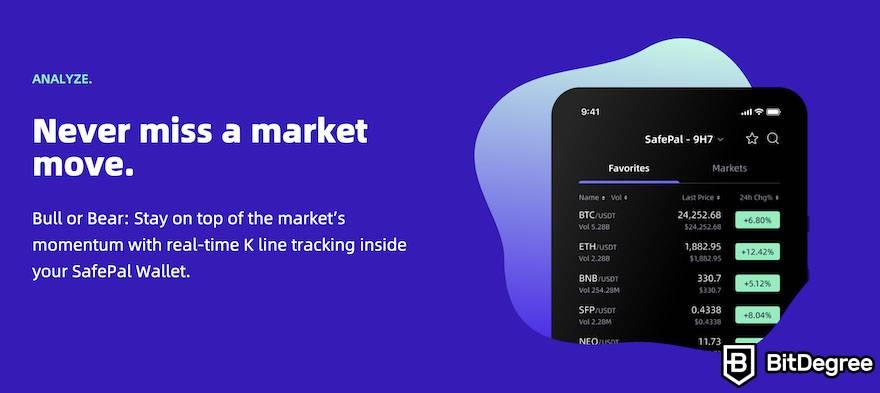 What functions are those? Well, apart from your traditional transactions, the SafePal hardware wallet will allow you to participate in DeFi- and dApp-related activities, browse through different coins & tokens, store NFTs, and so on.
The wallet also supports completely offline-based transaction confirmations. You don't need an internet connection, Bluetooth, or even NFC in order to sign the transactions you perform - this, in turn, adds to the security and privacy aspects of your Safepal S1 wallet experience.
Furthermore, the SFP wallet device is completely KYC-free. You do not need to put up any personal information in order to start using the hardware wallet - if you so choose to, there will be nothing that could tie you back to the wallet in question. It's a major benefit for anyone who's seeking true decentralization and anonymity within the crypto space!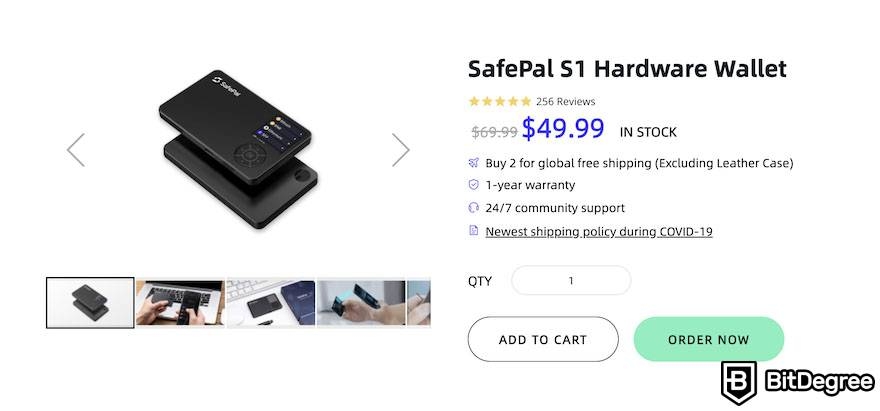 The S1 comes with a big list of additional features, but since many of them are shared with the app- and browser-based versions of the wallet, we'll cover them separately. The last big point that I'd like to stress in regards to the SafePal hardware wallet is the price tag - it's one of the most affordable hardware crypto storage solutions on the current market!
Specifically, as of writing this SafePal wallet review, the product retails at $69,99 (with a current promotion offering a huge discount, and bringing the price down to $49,99). With many other hardware wallet costs ranging in the hundreds of dollars, it certainly makes the S1 stand out from the crowd.
Supports Thousands of Crypto Assets
When looking for a crypto wallet, once you get security out of the way, the next big question will often have to do with the number (variety) of crypto assets that the wallet supports - SafePal wallet reviews aren't different in this regard, either.
It makes sense, when you think about it - with new crypto projects entering the market on a daily basis, enthusiasts are often looking for wallets that could hold a big variety of coins & tokens. This would eliminate the need for multiple wallets, and thus, save you from having to keep track of multiple things at once.
No matter if you decide to use the SafePal app, browser extension, or the hardware wallet, there's some great news, in this regard - SafePal supports a huge variety of different cryptocurrencies and blockchains!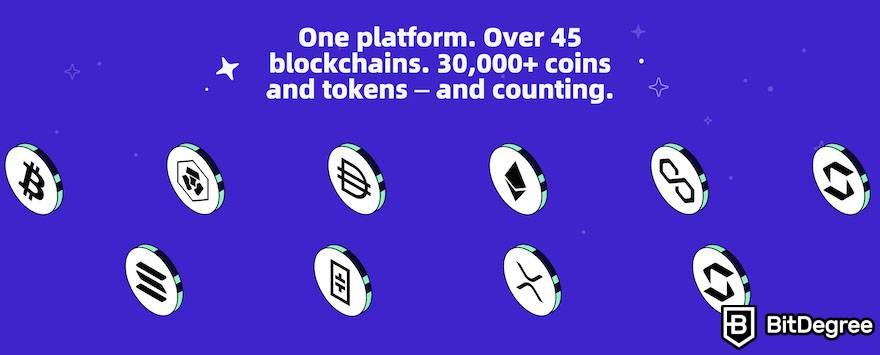 To be a bit more specific, as of writing this SafePal wallet review, the wallet currently supports 54 chains (networks), and thousands of different coins & tokens. So, unless you're searching for some very niche assets, or tokens that were launched literally this morning, there's a pretty high chance that you'll find what you're looking for!
On top of that, as I've mentioned earlier in the chapter, this also means that you'll have the option to store all (most) of your portfolio in a single wallet. While this isn't something that's recommended to be done from a security standpoint, if you're adamant about convenience, it's certainly worth keeping in mind!
Stake-to-Yield Functionality
As the crypto industry grows, different wallet providers aim to provide their customers with more and more features - the same is true in regards to this SafePal wallet review, as well. One of the most notable additional features that SafePal provides to its users is the stake-to-yield functionality.
As the term implies, you are able to stake your crypto assets, and earn a passive APY over time. The actual number will vary depending on the assets that you stake, as well as the point in time when you decide to do so. That being said, SafePal claims to have multiple staking programs available, at different points in time, so everyone should be able to find one that'll fit their wants and needs.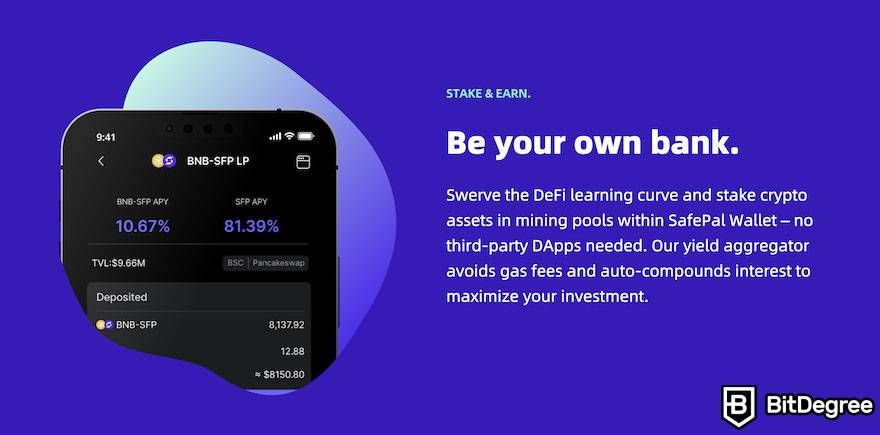 Is this a super-rare feature to have, crypto wallet-wise? No, not really - there are many crypto storage solutions nowadays that focus on providing their customer with the biggest variety of features possible, staking included. That being said, no two staking wallet providers are the same - reliability and security remain a big concern, and in this regard, SafePal remains a great pick!
So, to put things short, if you're looking for a wallet that would allow you to both store your crypto coins & tokens in a safe and reliable way, while also providing you with the chance to earn a passive income, the SafePal hardware wallet, app, and browser are surely worth looking into!
Buy Crypto With a Credit Card + Swapping / Spot Trading
Speaking of additional features, something that has become very popular is purchasing cryptocurrencies straight from your wallet, without having to register on and utilize the services of an exchange platform. Many industry-leading hot and cold wallets offer this feature nowadays - once again, it all comes down to convenience and ease of use.
SafePal does, naturally, offer this feature to its users, as well. You'll have the ability to purchase different crypto coins and tokens straight from your wallet, by utilizing a credit or debit card.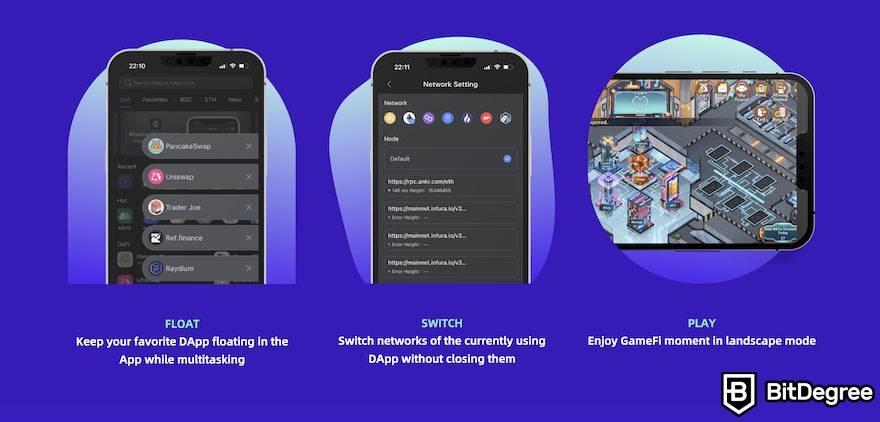 The only downside of this is that, since you'd be using traditional payment methods, you'd need to waive the anonymity and privacy aspects that come with the SFP crypto wallet. Depending on how much these things matter to you (or, rather, to what extreme), you might still need to venture out, and look for a decentralized exchange.
In addition to simplified crypto acquisition, SafePal also offers its users the ability to swap cryptocurrencies from within the wallet, as well as participate in spot trading. While crypto acquisition is a pretty common feature, the same cannot be said for swapping and spot trading, wallet-wise!
To top that off, user SafePal wallet reviews will tell you that the crypto storage platform supports cross-chain transfers, too. What this essentially means is that you'll be able to transfer your crypto assets from one network to another, with complete ease.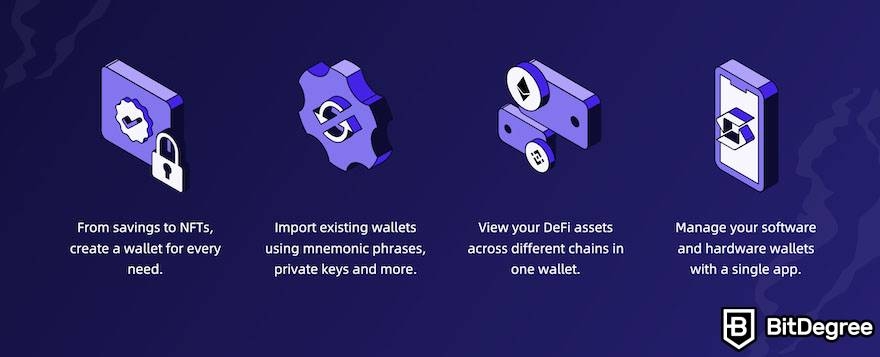 This is actually a pattern that you might have noticed already, all throughout this SafePal wallet review - simplicity. While the platform in question offers a wide array of different features (some of them - quite advanced), SafePal still focuses on presenting everything in as simple and user-friendly of a manner as possible.
It's definitely a notable point to consider, especially if you're new to crypto! The space can get really overwhelming, fast, so having the opportunity to participate in some advanced processes (spot trading, swapping, etc.) in a straightforward manner is valuable from a learning perspective, as well.
SFP - The Native Token of the SafePal Ecosystem
The absolute majority of crypto projects - whether it be wallets, exchanges, or else - have native tokens associated with them. SafePal is no exception - the SFP coin is something that's bound to come up as a topic of conversation, in multiple user SafePal wallet reviews.
Following the above-mentioned point, one of the biggest challenges that crypto projects face, token-wise, is to facilitate a clear purpose for users to acquire and utilize the tokens of their native platforms. There are plenty of crypto projects out there that do have tokens associated with them, but have failed to create a purpose for the existence of these tokens, generally speaking.
The SFP crypto token is, evidently, quite different. While you may choose to use this token as a tradeable asset (so, you'd exchange or swap SFP for other crypto assets), its primary purpose has to do with governance.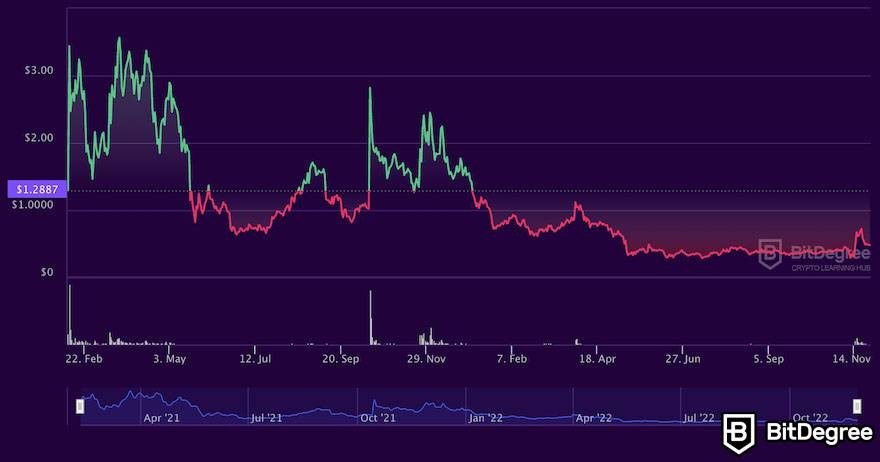 To be a bit more specific, holders of the SFP coin are able to participate in the decision-making processes related to the SafePal wallet. This includes updates, new chain or token additions, voting on important proposals, and so on.
If you're only looking for a wallet in order to store your crypto and forget about it, then this isn't really something that'll be very relevant to you. That said, if you'd like to participate in the ecosystem of the project, and help advance the features of the wallet that you store your crypto in, the fact that SafePal allows you to do so via its token mechanics is definitely notable!
As of writing this SafePal wallet review, the current SFP price is $0.49. While this number tends to fluctuate, due to the general volatility of the market (among other reasons), for nearly a year now, it has remained relatively stable.
NFT Storage - Supported!
While the popularity of NFTs is something that's probably even more volatile than the crypto market itself, there's no denying that these tokens have become an inseparable part of the industry. One of the biggest challenges that NFT holders face, however, is similar to that of "traditional" cryptocurrency enthusiasts, as well - finding a reliable wallet to store your digital assets in.
Well, admittedly, the situation was far worse a year or so ago. Nowadays, many of the mainstream wallets support NFT storage, in some way. They could only support storing the token, or - in addition to that - provide you with a visual interface, as well. It depends!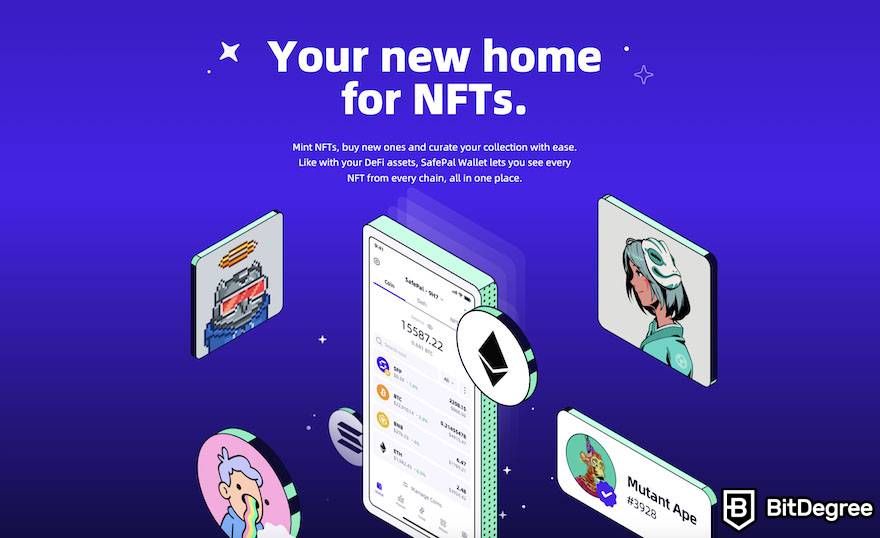 All of that being said, reading through some user SafePal wallet reviews, it's evident that finding a reliable NFT wallet still isn't the simplest thing to do, even given the just-discussed improved situation within the market. Well, this is where the SafePal crypto wallet comes into play - it allows you to store your non-fungible tokens!
Essentially, granted everything that we've talked about in this review, this means that the vast majority of different digital assets can be stored within the SafePal wallets. If you're a digital asset collector, it's surely some great news!
SafePal Wallet Review: CONS
Now that we've covered all of the major features and benefits of the SafePal hardware wallet (as well as its digital equivalents), let's also take a look at some of the less-positive user SafePal wallet reviews, covering some of the notable shortcomings that the platform might possess.
Concerns Regarding the Security of the S1 Wallet
One of the most common complaints that you'll likely come across has to do with the SafePal hardware wallet, specifically. Due to the very competitive price of S1 hardware wallet at $49.99, the product security is sometimes challenged by some users.
Now, there's a lot to unpack here, simply due to the fact that these statements can be seen in a few different ways.
On one hand, the fact that some users are doubtful about the security aspect of the wallet is, obviously, a bad thing. However, many of the complaints are purely price-based.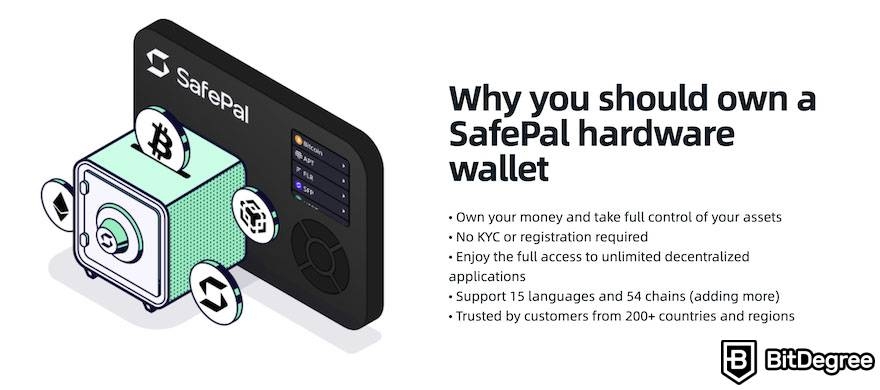 Specifically, with the SafePal hardware wallet currently priced at $49.99, it's actually almost three times more affordable than one of the most popular hardware crypto wallets in the world - the Ledger Nano X. It's definitely a huge difference in price!
Following that, if you're paying three times less for one wallet over another, you should definitely add this point to your comparison. To top that off, what it all boils down to is the security that the wallet provides to your crypto assets.
And, as we've established from multiple user SafePal wallet reviews, this is not something to be concerned about, when it comes to SafePal.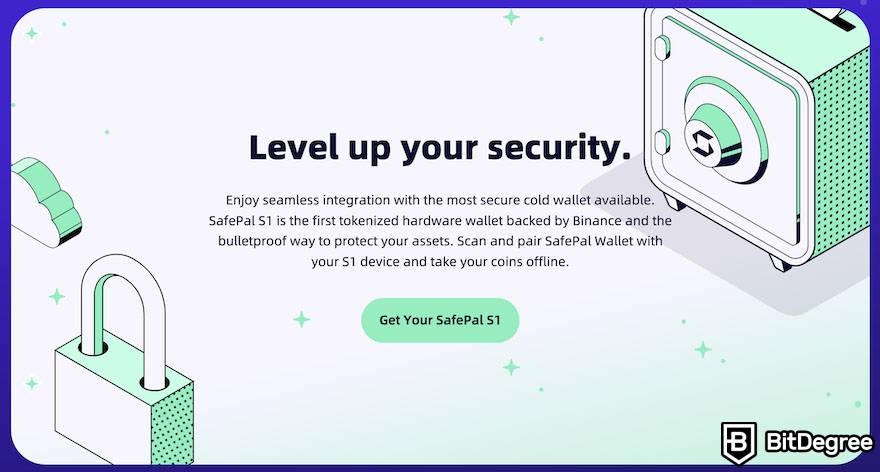 As a final point, it's also important to mention that, as far as the product's build quality is concerned, you probably aren't planning on throwing your SafePal crypto wallet around, and bouncing it from the walls. Hardware wallets are products that should be stored away safely, in general - it's a rare scenario that you would have to take it out, or carry it around with you.
Thus, even if you were to pick some of the most well-known cold crypto wallets on the market, there's a pretty high chance that, if dropped, they would break apart, as well - these products aren't made to withstand such situations, since it's not really a part of their core purpose.

Did you know?
Conclusions
To wrap things up, what's the conclusion here - is the SafePal wallet worth checking out, or are you better off using another popular crypto storage solution?
Well, judging by the vast majority of user SafePal wallet reviews, I'd say - SafePal is surely worth giving a shot!
A sentiment that I've echoed throughout the entirety of this article is that SafePal puts a lot of focus on the security side of its services. Yes, it does have multiple different features, supports in-wallet crypto purchases, and comes in three different forms (an app, a browser extension, and a hardware wallet), but the core focus still lies on the security features.
This, in itself, is a huge statement about the legitimacy of the company behind the SafePal crypto wallet. No matter how many fancy features a wallet might have, if it lacks in security, it should usually be avoided, since you'd risk losing your crypto assets, if you were to store them on it.
Since the situation is literally quite the opposite with SafePal, it's a huge aspect that needs to be considered, for anyone who's looking for a reliable wallet solution! Reading through all of the user SafePal wallet reviews, it's rather evident that this is a concept that's accepted quite broadly, too!
If you do find that SafePal is a wallet that you'd like to look into and try using, make sure to check out my dedicated tutorial on the topic. With that said, thanks so much for reading, and until next time!
The content published on this website is not aimed to give any kind of financial, investment, trading, or any other form of advice. BitDegree.org does not endorse or suggest you to buy, sell or hold any kind of cryptocurrency. Before making financial investment decisions, do consult your financial advisor.
About Article's Experts & Analysts