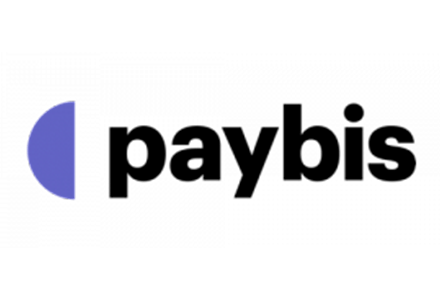 Online, you are not going to have a difficult time finding multiple user Paybis reviews. This is one of the more-popular cryptocurrency exchanges in the UK (the country in which it is based), and it does offer users a rather wide range of different features and benefits.
Having said that, though, Paybis also has a few notable concerns revolving around it, too - it's part of the reason why many people are trying to figure out more information about the platform in question.
Worry not, however, since we'll figure all of it out today, in this very article. I'll tell you about the pros and cons of this particular exchange, discuss some of its usability aspects, check to see how fast and smooth the registration and account funding processes are, and also give my own, personal opinion at the very end.
If you're ready, let's get right to the point!
Pros
Very simple to use
Multiple payment options
A reliable, licensed exchange
Good security
24/7 customer support
No hidden fees
Cons
Few cryptocurrency options
Not available in some countries / states
Paybis Review: PROS
As per tradition, we'll start off by discussing the beneficial features of Paybis, and will also take a look at some of the positive user Paybis reviews found online.
As mentioned in the introductory part of the article, Paybis is based in the UK. As you will see shortly, this fact alone does inherently bring some benefits, and also some issues with itself.
It's worth pointing out, though, that the exchange does possess a rather positive reputation within the industry, in general. Most of the users of the platform are content with the vast majority of its features - at the center of these features lies the aspect of security.
A Very Secure Cryptocurrency Exchange
At this point in time, I probably don't need to tell you that security is always going to be the most essential feature to look into when picking out the best cryptocurrency exchange for yourself.
These days, many exchanges are trying to wow their potential customers with a wide assortment of different features and flashy offers. Seemingly-unlimited trading options, hundreds (if not thousands) of crypto pairs, minimal KYC requirements that can be completed really quick, and so on - all of these things don't really matter, however, if the exchange lacks in the security department.

Think of it this way - if you get coerced into using an exchange simply because it offers some of the lowest fees on the market, and then lose all of your deposited funds because of a security breach, you probably aren't going to care about the small fees in that case, are you?
Now, admittedly, most exchanges nowadays have some sort of insurance in place - if your funds DO get compromised, you'll probably be refunded the full sum of the asset that's affected, but that's beside the point.
So, what does all of that have to do with this Paybis review? Rather simple, really - anyone questioning is Paybis safe should know that the platform in question is one of the most secure crypto exchanges in the current industry!
For starters, although this is a bit of a controversial topic, the exchange in question does enforce strict KYC regulations. In layman's terms, this means that you will have to pass extensive identity verification steps before you can do any major moves on the platform - this is especially true when it comes to asset exchange.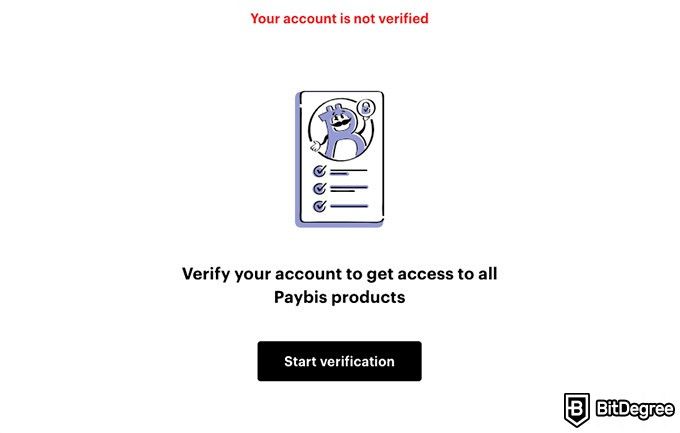 One of the best features of the exchange is that it does not store your cryptocurrency on its platform - in other words, the exchange isn't custodial. This is great!
Sure, it does mean that you'll have to possess a wallet of your own, where you would then transfer your funds after you're done trading. However, this is a very good thing - your crypto assets are always going to be safer in a wallet of your own, than on some exchange. If you need the most secure wallet out there, you can find one on this list.
In short, Paybis is definitely a reliable cryptocurrency exchange that offers some of the best security features for all of your trading wants and needs.
Latest Coinbase Coupon Found:
CLAIM YOUR $200 BONUS
Coinbase Cyber Monday
Cyber Monday Madness at Coinbase! Get your first crypto and earn up to $200 in rewards. Hurry up before this Coinbase Cyber Monday deal ends.
Expiration date : 01/12/2023
3,784 People Used
Only 16 Left
Around-the-Clock Customer Support
Customer support is probably one of the most underrated features when discussing cryptocurrency exchanges and the benefits that each of them have over one another. Well, that's the case until you really look into it - or encounter a situation where you need some help, ASAP, but there's no support to fix your issue.
It would seem that Paybis know this rather well - this exchange provides you with live, 24/7 customer support.
This is a big deal! It means that you will be able to get in contact with the exchange's customer support at any given point in time, no matter what issue it is that you'll be facing. I can tell you from my own, personal experience - the support is very friendly and patient, and will help you with anything that you might need.
Fiat Payments - Accepted!
Now, this is definitely a huge feature - it's obvious from the fact that it's mentioned in most user Paybis reviews, too!
Paybis allows users to purchase cryptocurrencies both via credit & debit cards, and also via a bank transfer, too. Without a doubt, this is some of the best news for any cryptocurrency enthusiast, especially one who's just starting out.
If you're a crypto newbie, the industry (and all of its jargon) can be really confusing. This is further facilitated by the fact that some exchanges, to this day, don't allow you to purchase cryptocurrencies with fiat money - frankly, if you want to buy a specific crypto asset, you'd need to transfer some other crypto coin from another exchange or wallet, and use it to buy the aforementioned asset.
Confusing? Very. On top of that, it's rather frustrating, too!

Paybis takes all of this hassle away - while you may not be able to purchase a specific coin with fiat money (it depends on the trading pairs available), you can be sure that the entire above-mentioned procedure can be done on the same platform.
On top of all of that, this does also help to answer the question is Paybis a scam or not, albeit in a pretty subtle manner. I'll give you a hint - IT'S NOT!
You see, many of the shadier exchanges out there don't allow you to make fiat purchases, while the more-reliable options do. Now, I'm not saying that this is some sort of a golden rule or anything - it's not. However, a pattern like that can still be observed.
That is usually the case because of the aforementioned KYC regulations. If an exchange does not have (m)any KYC identity verification requirements, it is less likely to support fiat payments, since there's usually a lot of anonymity involved.

In some cases that's a good thing, while in others - not so much. It all depends on your point of view.
As opposed to that, though, granted that Paybis does support fiat payments, it surely adds to the legitimacy of the exchange, and the company behind it. Naturally, there are far fewer people asking "is Paybis legit?"!
UPDATE 2023:
Paybis does now also support Apple Pay - in other words, MacBook, iPad, and iPhone users are able to purchase cryptocurrencies with just a single click of a button!
Fast Payouts
While there are a few notable features that the platform in question is known for, you might find some customer Paybis reviews that mention "fast payouts".
What are they referencing, exactly? Well, it would appear that Paybis has some great payout times when it comes to transfers made from the exchange to your bank account (or some other place of your choice).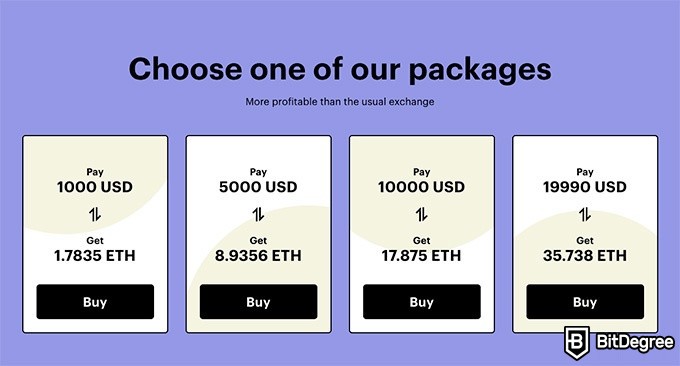 This is great! It's actually one of the more-notable frustrations that some crypto enthusiasts seem to face - with many exchange platforms out there, your payment will go through super-fast, but once you want to take money out, good luck - it might take days, and in some cases, even weeks for your earnings to arrive in your bank account.
Well, I'm glad to be able to say it in this Paybis review - that's not going to be the case with the exchange in question. The payouts should be timely and consistent - awesome!
Simple-to-Use Interface
Now, this is something that we'll focus on in a bit more straightforward manner once we get to the actual registration process of the exchange, but it's still something worth mentioning here, nonetheless.
Online, there are quite a few user Paybis.com reviews that talk about the simplicity of the UI of the exchange. After trying the site for yourself, chances are that you'll understand what they mean pretty quick - the platform is made to be both simple and functional to use, while utilizing and showcasing only the essential features and buttons.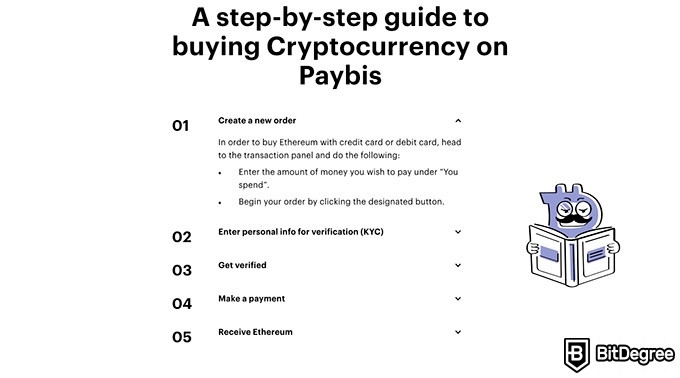 It's actually a very refreshing look (and feel), especially if you come from a background of using some of the more feature-filled exchanges (I'm looking at you, Binance). That said, the people that are bound to appreciate this the most will probably be those who have never used any exchange, whatsoever.
The Paybis interface is simple, straightforward, and fun to use, and it makes the Bitcoin (or any other cryptocurrency) buying process very quick and seamless. Good stuff!
Latest Binance Coupon Found:
REDEEM $600 PRIZE
Binance Cyber Monday
Attention new Binance users: this Cyber Monday, you can score up to $600 in rewards by completing special tasks. Activate this amazing Binance Cyber Monday deal using the code – 49316610!
Expiration date : 05/12/2023
6,127 People Used
Only 16 Left
Paybis Review: CONS
Now that we've covered the main benefits that you can expect from using Paybis, let's take a look at some of the less-than-ideal aspects of the exchange, and check to see what the user Paybis reviews that aren't all that happy with their experience talk about the platform in question.
Not Available for some US Investors
Admittedly, reading through some Paybis.com reviews online, this is one of the things that tend to come up the most.
As noted a few times already, Paybis is a UK-based cryptocurrency exchange. Being based outside of the US basically means that the exchange is going to have to pass some SEC verifications in order to serve US-based customers.
While the exact details are unclear, unfortunately, that's not the case - if you are located in the states of New York (NY) and Hawaii (HI), you are not going to be able to utilize the features of the exchange. Some restrictions do also apply to Texas-based residents, too.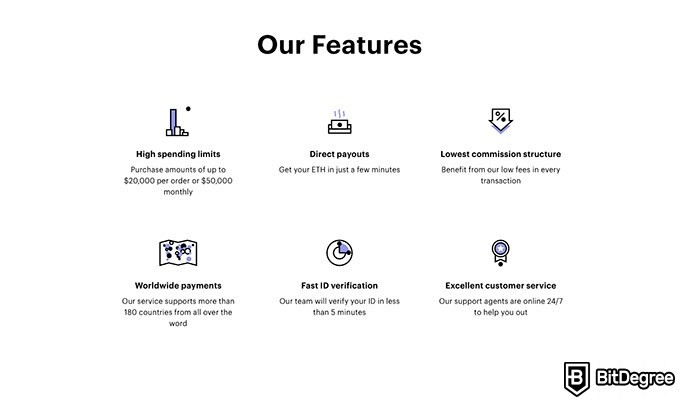 That's rather disappointing. And yet, it's actually a problem that many ovearseas exchanges seem to face.
Whatever the case might be, this does cut off a lot of potential customers for Paybis. On top of that, it also limits the number of people who are going to be able to use the platform rather drastically (since the exchange isn't available in some other countries, too - a full list can be found in their Terms of Service, section 12, subsection 3).
High Fiat Payment Fees
Fiat payments are definitely a beneficial feature for any and all crypto exchanges to possess - that's obvious. However, sometimes, it might actually be worth looking for an alternative method of purchasing your desired crypto assets - this is especially true when it comes to the high fees that some exchanges have.
User Paybis reviews will tell you that, as far as this exchange is concerned, the fees are definitely not the lowest.
Purchasing cryptos with a credit or debit card, you will have to pay a minimum fee of $10, up to a transaction of $225. If you were to purchase crypto for more than $225, you'd be charged a 4,5% fee.
Not too bad? Well, yes - to an extent. However, as the sums increase, so do the fees. The great thing here, however, is that Paybis does not charge anything for your first credit or debit card exchange!

Other payment methods aren't really a saving grace, either. They start from 3,99% for bank transfers, and finish off at 2.95% with Skrill.
Finding information on exchange fees is rather difficult, but it seems to lie in the range of 1% - 8,95%. That's a significant margin, and it mostly depends on the payment method of choice.
On top of all of that, Paybis does also have their own "service fees". All things considered, it would appear that it's one of the more-expensive exchanges on the market, fee-wise. However, the additional features and reliability of the platform do seemingly make it worth paying the fees, for many individual crypto enthusiasts, at least.
Supports Very Few Cryptocurrencies
A single look at any of the user Paybis reviews online will quickly reveal that the exchange supports a small number of coins. There are only 9 assets that you'll be able to trade on the platform. They are:
As you can see from the list above, Paybis does allow you to trade most of the top-tier, best-known cryptocurrencies - however, that's about it.
If you were to look at any other major crypto exchanges out there, you'd quickly notice that the majority of them offer at least 50-80 cryptocurrencies for their user trading needs, with some having more than 200 at a time!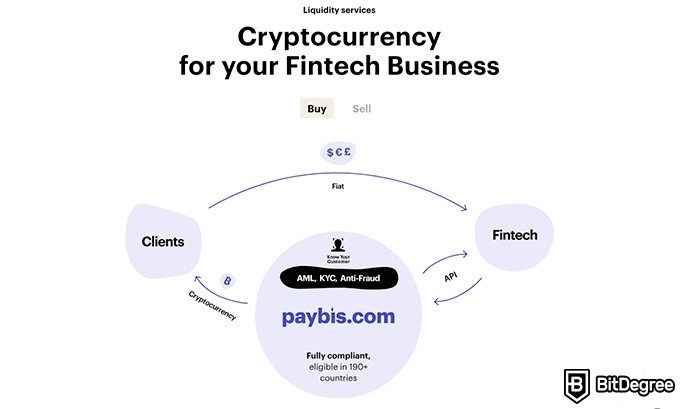 Having said that, though, this is also something that's very case-dependent. I mean, it truly does depend on what it is that you want to trade, or which cryptocurrencies you want to hodl, in the first place.
If you're only looking for a place where to buy Bitcoin or Ethereum, and aren't really interested in some alternative coins, then sure - user Paybis reviews will tell you that the platform will suit you perfectly, in this regard. However, if you're actually looking to invest in some altcoins, well…. You'll have to turn to some other exchange.
UPDATE 2023:
Paybis has expanded their list of supported cryptocurrencies. Currently, the list looks like so:
BTC, DOGE, BNB, USDT (ERC-20 and TRC-20), ETH, LTC, USDC, LINK, YFI, SHIB, AXS, AAVE, ENJ, BAT, PER, SXP, CRV, NMR, HOT, SAND, KNC, MKR, COMP, WBTC, DAI, SUSHI, CHZ, UNI, XRP, BCH, XLM, TRX.
Admittedly, that's a pretty huge list! It's a much larger and more varied selection of coins and tokens than before, and thus, more crypto enthusiasts should be able to find what they're looking for!

Did you know?
How to Use Paybis?
At this point, we've covered all of the most-notable features and shortcomings of the Paybis cryptocurrency exchange. Before I let you go, though, the last thing we should do in this Paybis review is take a look at the registration process on the site, and also cover the actual crypto purchasing part, too.
How to Register on Paybis?
Taking it from the top, first, let's register on the platform.
Step 1: Go to the Paybis official website, and press Sign Up.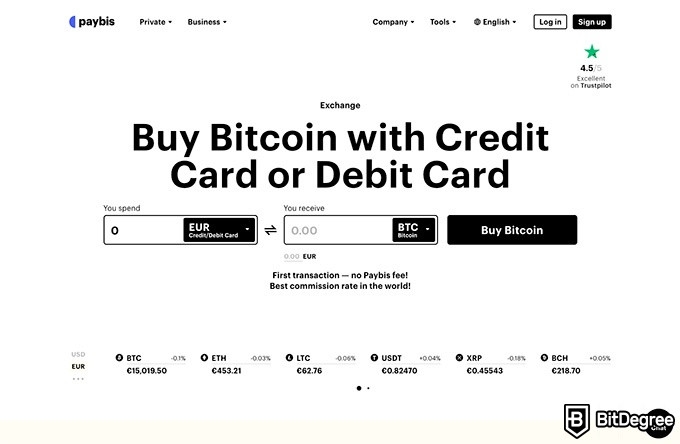 Step 2: On the screen that pops up, you'll be asked to enter your email address, and create a password.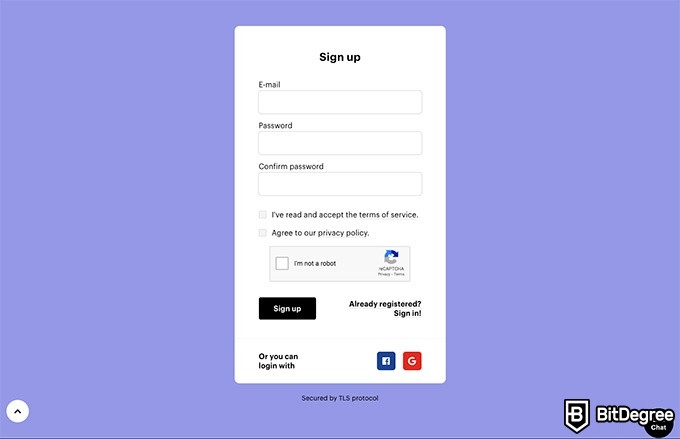 Step 3: Once you do that, you will be redirected to the exchange part of the platform, and you'll be able to start buying your desired cryptocurrency.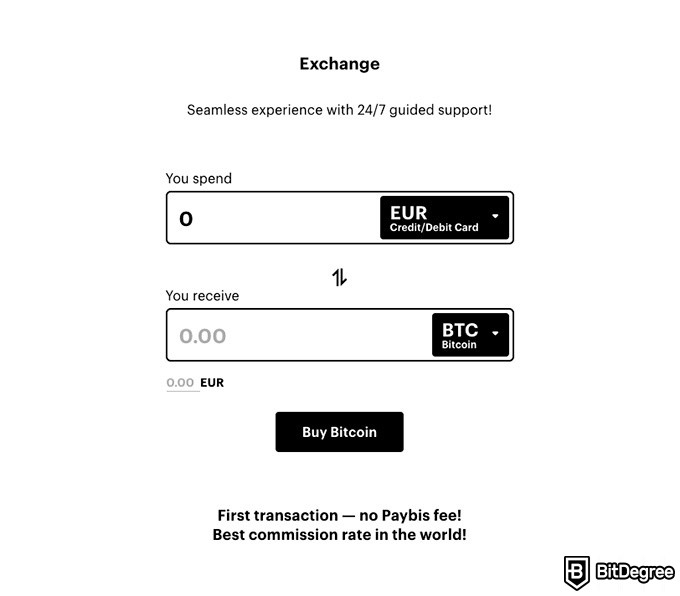 Now, talk about a seamless registration process, huh? Wow, that's was fast! Naturally, you should expect requests to confirm your email and pass KYC verification processes in due time, but as far s the very-initial registration is concerned, it literally takes no more than 30 seconds!
Truth be told, it has to be the fastest registration process that I've come across - and I've registered on and used many different crypto sites! Definitely some good news, as far as this Paybis review is concerned!
How to Purchase Cryptocurrency on Paybis?
Now that you've registered on the site, the next step is to start trading and buying your desired crypto assets. Since Paybis does redirect you to the exchange part of their site upon registration, we'll take it from there.
Step 1: First of all, you should choose your payment methods by pressing the little arrow on the "You spend" section of the exchange screen. Here, you will be able to choose your desired payment method, and also the fiat currency that you'll be charged for the transaction. Once done, enter the amount of money that you'd like to spend.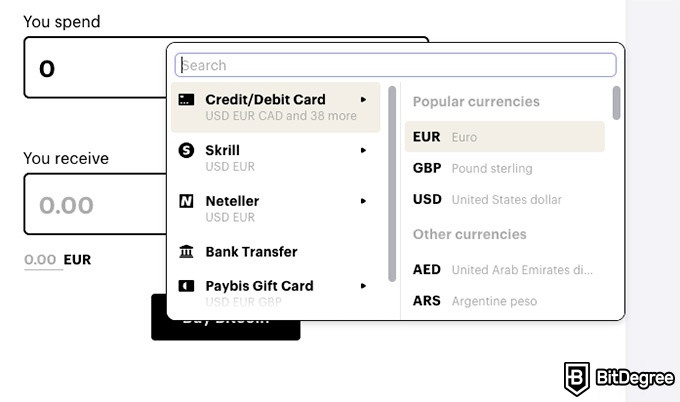 Step 2: Now, follow through with the same process in the "You receive" section, too. Here, you will have to pick the desired cryptocurrency that you'd like to purchase.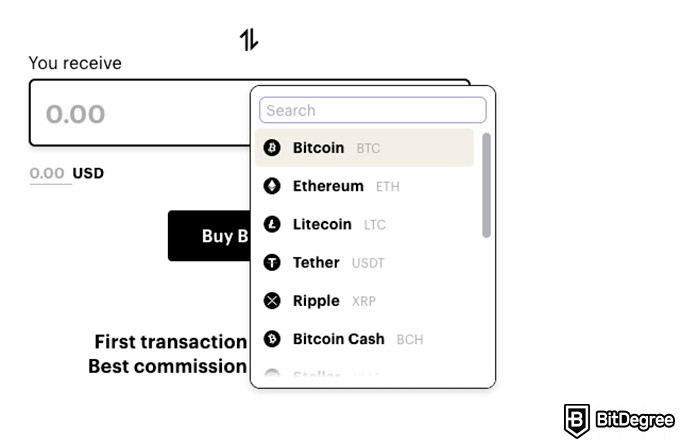 Step 3: Once you press Buy Bitcoin, you will be redirected to a separate page where you will then be asked to pass some KYC verification processes. These processes involve providing Paybis with proof of your identity, a selfie, and then your residential address, too.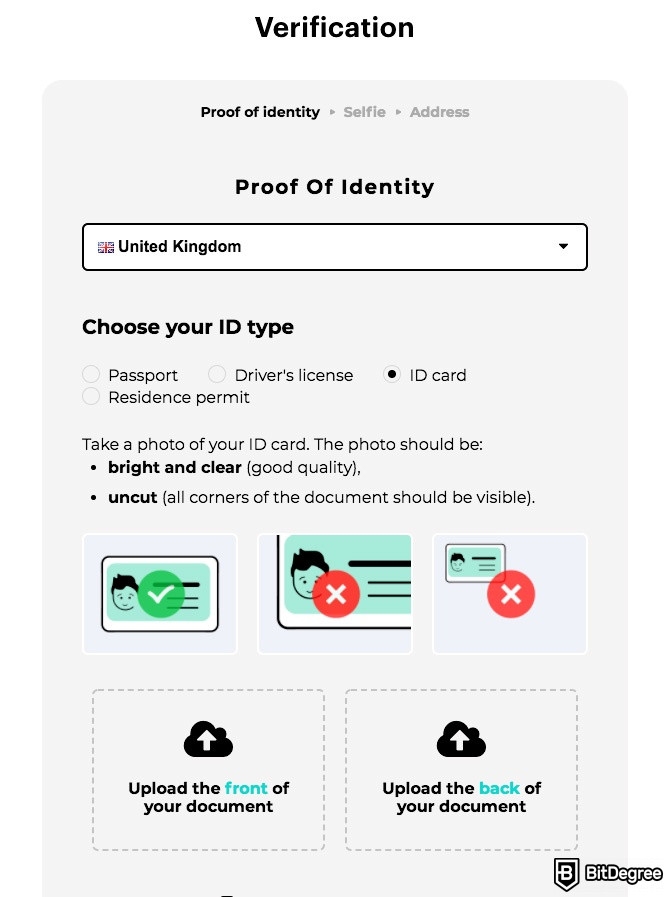 Once that's done, you will then be allowed to complete your transaction!
You know, I was skeptical at first, but I have to hand it to Paybis - they've streamlined the processes on their site to a T. Never have I used a more fluid and simplified crypto exchange!
Exploring the website even further (your account, the member area, etc.) simply reaffirms this notion, too. Every single page that you visit is made with the utmost simplicity in mind - you'll never come across a section that would be cluttered with needless functions or stuffed with difficult-to-understand graphs and other pieces of information.
Admittedly, for some, this is going to be an issue - if you're an advanced trader who needs some advanced tools in order to help them trade effectively, Paybis might not be for you. However, the exchange provides ideal conditions for beginners to simply hop in and out, carrying their newly-acquired cryptocurrencies with them.

Pros
A very well-known crypto exchange platform
More than 500 different cryptos available
Two-factor authentication
Main Features
Over than 100 different cryptocurrencies available
Strong security
Small withdrawal fees

Pros
Secure and reliable
Low fees
A good amount of fiat currencies accepted
Main Features
Reputable exchange
Multiple fiat currencies are accepted
Relatively low trading fees

Pros
Anonymous trading
Secure
Supports a variety of cryptocurrencies
Main Features
Easy to use
Low fees
Good security
Conclusions
So, with all of that being said and done, is Paybis a good cryptocurrency exchange, and is it worth using, or at least trying out - or is Paybis a scam that needs to be avoided?
Well, one thing's for sure - the exchange is definitely NOT a scam. Let me put it this way - if you're a beginner in the field of cryptocurrency trading, or have never even traded or bought cryptos, in general, then Paybis does appear to be an amazing starting point. However, if you're already a professional trader, the platform doesn't really have anything to offer to you.
Beginner user Paybis reviews speak about the simplicity and straightforwardness of the exchange, and the fact that you can do everything in a very swift manner, without spending too much time having to navigate through the site, searching for whatever it is that you might need.
Advanced traders, however, should take note of the high fees of the exchange (something that can be forgiven if you're a beginner, granted the ease of use and hassle-free nature of the platform), the lack of crypto trading options, and the fact that the site might actually be TOO simple.
If you're not too fond of Paybis, and the exchange hasn't left a lasting impression on you, do check out our list of the best cryptocurrency exchanges in the current industry. Perhaps one of them is going to be a better choice for your own, specific crypto trading wants and needs?
All of that said, I thank you for reading, and wish you the best of luck!
The content published on this website is not aimed to give any kind of financial, investment, trading, or any other form of advice. BitDegree.org does not endorse or suggest you to buy, sell or hold any kind of cryptocurrency. Before making financial investment decisions, do consult your financial advisor.
About Article's Experts & Analysts