The number of people who choose to invest in cryptocurrencies as well as start trading to make a profit has been significantly increasing over the last few years. That's why people are looking for secure and easy-to-use crypto exchanges that would support multiple cryptocurrencies and provide low trading fees. Now, if you're looking for a crypto exchange platform that would provide you with all the previously-named features, you might eventually stumble upon some user OKEx reviews.
OKEx is a popular crypto brokerage and trading platform that provides some great features for anyone looking to acquire and / or trade crypto. This OKEx exchange review will answer all of your questions about the company and the platform itself, helping you to decide whether or not it's suitable for you. Thus, pay attention to all the pros and cons to make the right choice.
As a sidenote, the company has rebranded to OKX, losing the "E" in its name. However, since many people still know and refer to it as OKEx, for the sake of continuity, I'll be calling it that in this article, as well. Furthermore, if you're looking for alternative exchanges, keep in mind that platforms such as Binance and Coinbase are considered to be leaders in the space.
Let's start this OKEx review by introducing you to the company.
Pros
Strong security
650+ trading pairs
Good functionality
Low fees
Cons
Not recommended for newbies
OKEx Exchange Review: Introduction to the Company
OKEx was founded back in 2017, it's a Malta-based cryptocurrency trading platform that's been used by millions of people in over 100 countries. The company provides advanced financial services by using blockchain technology.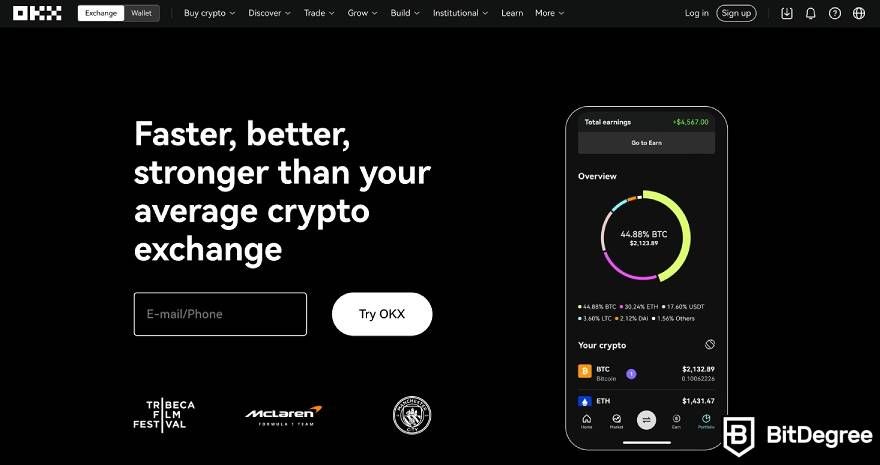 OKEx is a well-recognized brand in the industry and has almost $750m of volume daily. The company believes that security should always come first and, therefore, provides users with a safe and reliable environment for cryptocurrency trading. Also, OKEx wants to ensure that the platform is easy to use, even for those who aren't experienced in crypto trading yet.
In this OKEx exchange review, we'll find out everything about the platform - its functionality, main pros and cons, and so much more. Essentially, you'll find out if the platform is as good as the company claims.
Latest Binance Coupon Found:
$600 WELCOME BONUS
Binance Black Friday Deal
If you're new to Binance, great news - this Binance Black Friday period, you can earn up to $600 in rewards. Sign up, use the code 49316610, and start earning now!
Expiration date : 01/12/2023
2,817 People Used
Only 46 Left
OKEx Exchange Review: PROS
I would like to begin this OKEx review with the positive aspects and find out why so many people have decided to choose this platform over various others. Who knows, maybe OKEx is exactly what you're looking for?
650+ Trading Pairs, 340+ Cryptocurrencies
Every cryptocurrency exchange platform supports a different number of cryptocurrencies. Needless to say, the more options, the better.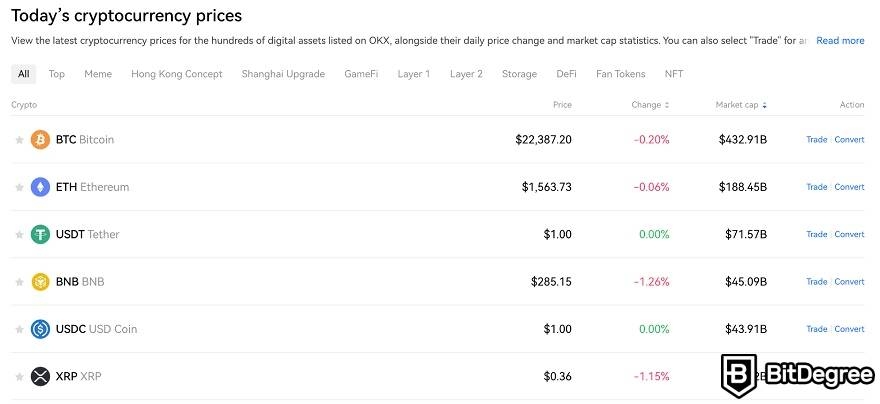 OKEx supports more than 340 cryptocurrencies and offers over 650 trading pairs. When compared with other top-rated platforms, the number is definitely higher than average. Here are some of the most popular cryptocurrencies supported by OKEx:
And here's the list of some of the available trading pairs:
ETH/BTC
LTC/BTC
OKB/BTC
BCH/BTC
BSV/BTC
ETC/BTC
etc.
You can easily find all of the cryptocurrencies and trading pairs available on the OKEx website.
OKEx also supports multiple fiat currencies, including but not limited to:
EUR
USD
GBP
CAD
JPY
AUD
RUD
The final aspect that should be mentioned is that you can choose from multiple payment options, including credit/debit card, bank transfer, PayPal, Payeer, Skrill, GooglePay, ApplePay, etc. Therefore, OKEx won't limit you.
Latest Binance Coupon Found:
$600 WELCOME BONUS
Binance Black Friday Deal
If you're new to Binance, great news - this Binance Black Friday period, you can earn up to $600 in rewards. Sign up, use the code 49316610, and start earning now!
Expiration date : 01/12/2023
2,817 People Used
Only 46 Left
Good Functionality
As mentioned at the beginning of this OKEx exchange review, the platform offers great functionality. Let me explain what I meant by that.
OKEx is not a regular cryptocurrency exchange where you can buy, sell and trade cryptocurrencies. It also allows:
Lending and borrowing crypto. People can earn interest by lending crypto to other users - margin traders. What I would like to mention is that borrowing crypto can be very risky. That's why, I would never recommend this to new inexperienced traders.
Trading on margin. This feature is also known as leverage. It uses a loan agreement principle that allows you to multiply your funds and get more profit. OKEx offers up to 100x leverage, so you should make sure that you know what you're doing.
Spot trading. This feature refers to crypto-to-crypto trading. While using OKEx, you get more than 650 pairs, including Bitcoin, Ethereum and Tether, to choose from.
Options trading. Options trading is definitely not suitable for beginners because it requires in-depth math skills and trading experience. It works like a contract that allows the owner to purchase cryptocurrency at a specific price on a certain date in the future. However, what's important to mention is that the owner doesn't have to stick to the contract.
If this is not the first OKEx exchange review that you're reading, you probably know that there aren't many platforms that can provide you with such functionality.
Robust Security
Functionality and the number of supported coins wouldn't mean anything without security. Imagine having exceptional functions and thousands of cryptocurrencies to choose from, just to one day log into your account and see that all of your cryptocurrencies are gone.
Since that's not something you'd want to happen, it's crucial to find yourself a crypto exchange that provides robust security.

OKEx comes with some great security features. When registering, OKEx will recommend you to use multi-factor authentication - 2FA or MFA. While it's not a must, you can choose to use this extra security level only when performing important actions. What is more, you can set an anti-phishing code that will be sent together with all emails that come from OKEx.
Now, in most cases, I'd recommend getting a secure crypto wallet, such as Ledger and Trezor, to protect your assets; however, it seems that OKEx took care of it. OKEx has its own cold wallet that will keep your private keys offline. So, you could say that the security part is covered.
Mobile App
If you want to trade everywhere, you should definitely download the OKEx app. The app is compatible with iOS, Android, macOS, and Windows. You can easily download it on Google Play and App Store.
OKEx mobile app is evaluated very well on Google Play. You'll find that there are 264,000 reviews, and most of them are positive. The average score is 4.5, so that says a lot.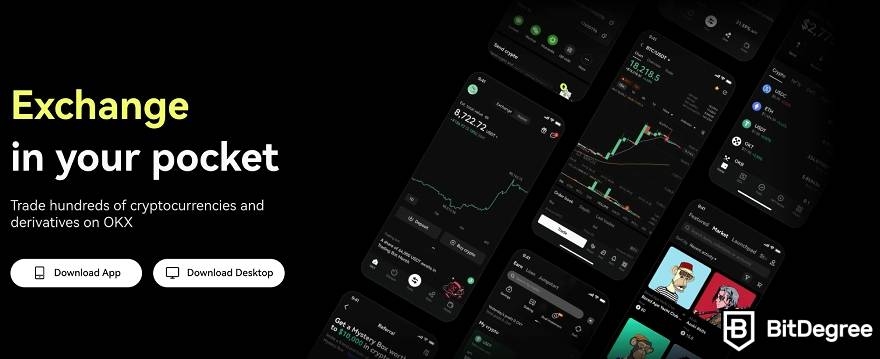 The majority of customers claim that the app is very easy to use, has a clear design and is completely glitch-free. That said, if you want to manage your account from the palm of your hand, it's recommended to download the app and have the ultimate experience.
Helpful Customer Support
When using a crypto exchange, registering, making a deposit, trading and performing other actions, you might encounter certain issues. There's no better way to solve them than contacting a provider. However, since not every crypto exchange platform has helpful customer support, chances are that you won't always be provided with a solution.
Now, since this is an OKEx exchange review, you're probably wondering how good its customer support is.
If you have any questions when using OKEx, you get a few different options - to visit their support center and find the needed information, find useful articles on the Academy, or simply contact their customer service that's available 24/7.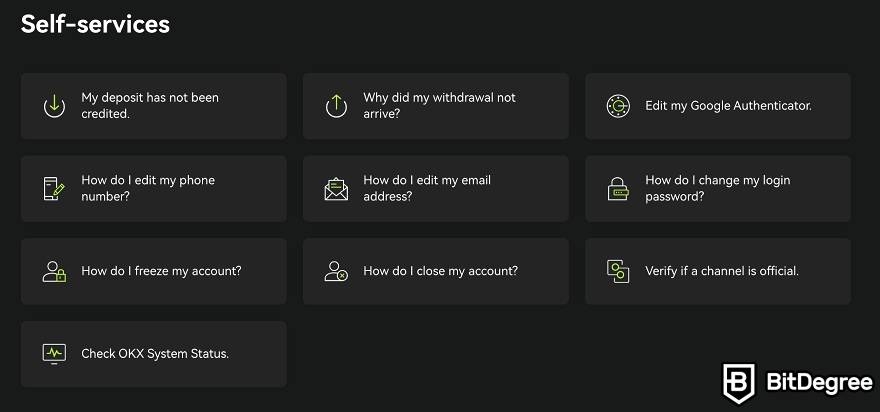 All the options are good; however, if you encounter a very specific issue, it's recommended to contact live customer service and solve that problem immediately. To make sure that OKEx support is actually helpful, I analyzed a number of user OKEx exchange reviews, as well as contacted them myself. My personal experience was completely the same as that of other users; OKEx customer support responded quickly, and provided the information that I was looking for.
So, considering all the aspects, it's fair to state that OKEx has really good customer support. That's not as common as you might think.
Low Fees
Every crypto-enthusiast, especially when it comes to day traders, knows that trading fees can determine their choice when deciding between a few different trading platforms. That's why I would like to take a look at trading fees very closely in this OKEx exchange review.
For normal, or new users, there's a 0.08% maker fee and a 0.1% taker fee. Also, if you are an advanced trader, OKEx fees get so much lower - 0.06% maker fee and 0.08% taker fee. You can find the fees for new users in the table below.

While it seems that new users get really attractive deals, VIP members get even lower trading fees. You can find all of the relevant information on the dedicated trading fee page, on OKEx.
Thus, you'd probably agree with me that OKEx fees are really competitive.

Did you know?
OKEx Exchange Review: CONS
It's evident that OKEx comes with some really attractive features. It supports more than 340 cryptocurrencies, offers low fees, has strong security and helpful customer support, and allows crypto lending and borrowing. However, now that we finished discussing OKEx pros, it's time to see which aspects can ruin your experience.
Not the Most Newbie Friendly
Having extensive features and functions to choose from is great. However, you probably know that it can also be too overwhelming for new users.
When it comes to OKEx, the platform is definitely more recommended for experienced users. Such options as margin trading, spot trading, options trading, and crypto lending and borrowing can be not only too advanced, but also very risky for newbie traders.
If you decide to use OKEx and want to find out more about the platform beforehand, it's recommended to visit OKEx Academy where you can find multiple tutorials, including tutorials for newbies, trading ideas, and industry analysis. What is more, you can find the blockchain glossary on the same page. It will help you to get a general idea not only about trading, but blockchain itself, as well.
Thus, while newbies can be a little lost when using OKEx at first, everything can get so much easier after performing thorough research and practicing a bit.
How to Get Started on OKEx?
After reading all the pros and cons of this OKEx exchange review, it's clear that OKEx is a truly interesting cryptocurrency exchange platform. If you're keen on trying OKEx out before looking into alternatives, I would like to make it even easier for you and provide a step-by-step guide on how to register on OKEx and start using the platform.
How to Register on OKEx?
Registering on OKEx takes only a few minutes. Here's a quick guide on how to do that.
Step 1: Go to the OKEx website.
Step 2: Click the "Sign up" button, which you'll find on the top-right of the page.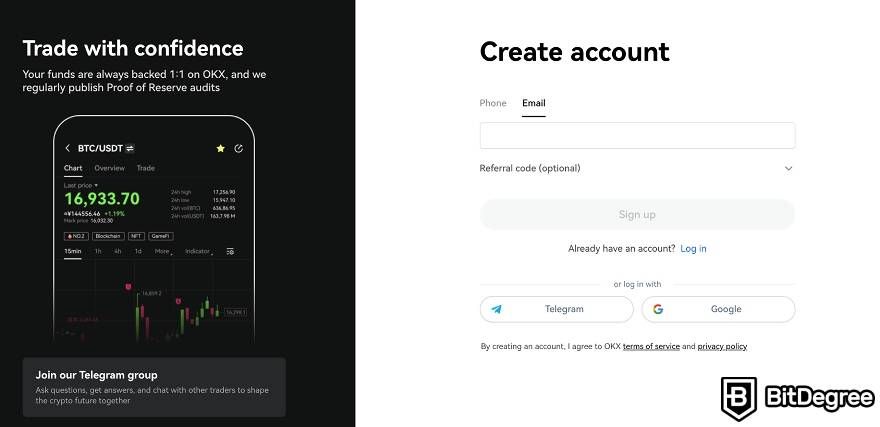 Step 3: Enter your email address and password. Instead of an email address, you can use your phone number.
Step 4: Click "Sign up".
After creating your account, you will need to fill in additional information to verify that it's you. To do that, you will only need your ID or passport number.
How to Make a Deposit on OKEx?
Once you register, it's time to make a deposit. To do that, you simply need to purchase cryptocurrencies. Since OKEx provides you with multiple payment options, you will have no issues here.
Choose from the payment methods below and deposit credit in your account:
Credit/debit card
Bank transfer
PayPal
Payeer
Skrill
GooglePay
ApplePay
etc.
Thus, when purchasing crypto on OKEx, your options are almost unlimited.

Pros
A very well-known crypto exchange platform
More than 500 different cryptos available
Two-factor authentication
Main Features
Over than 100 different cryptocurrencies available
Strong security
Small withdrawal fees

Pros
Secure and reliable
Low fees
A good amount of fiat currencies accepted
Main Features
Reputable exchange
Multiple fiat currencies are accepted
Relatively low trading fees

Pros
Anonymous trading
Secure
Supports a variety of cryptocurrencies
Main Features
Easy to use
Low fees
Good security
Conclusions
Wrapping things up, keep in mind that OKEx is a Malta-based cryptocurrency trading platform that was founded in 2017, and is now considered one of the most popular crypto exchange platforms.
OKEx fees are super low, it supports more than 340 cryptocurrencies and over 650 trading pairs. What is more, it provides you with exceptional features, such as trading with margin, spot trading, options trading, lending and borrowing crypto, and even more.
While it seems that OKEx has it all, newbies can find it really difficult to use. That's because the platform has so many extensive features that require knowledge to understand.
That being said, if you prefer using an alternative exchange, make sure to check out platforms such as Binance, Coinbase, KuCoin, and Kraken. These are the leading cryptocurrency exchanges in the industry, each coming with a set of major benefits to the user.
Hopefully, this article provided you with all the necessary information, and you're ready to become a part of the crypto community!
The content published on this website is not aimed to give any kind of financial, investment, trading, or any other form of advice. BitDegree.org does not endorse or suggest you to buy, sell or hold any kind of cryptocurrency. Before making financial investment decisions, do consult your financial advisor.
About Article's Experts & Analysts