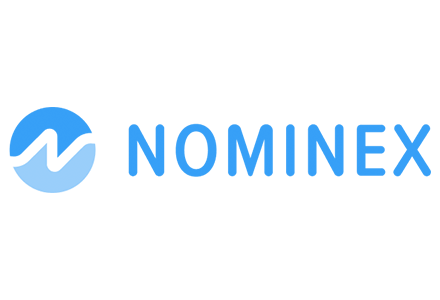 The world of cryptocurrencies is truly an unpredictable one. This is rather evident when you take a look at the volatility aspect, and the various price swings that cryptos experience. That said, every now and then, you might come across an amazing discovery - in this Nominex review, I'm going to tell you about a platform that fits these criteria.
If you're not super-deep into the crypto scene, chances are that you might have not even heard about Nominex before. It's a relatively new exchange platform, and thus, it still inspires people to ask - is Nominex legit and safe to use?
In the review ahead, we'll answer these questions, and many, many more. We'll discuss both the positive and the less-positive aspects of Nominex, and will also take a look at just how simple the platform is to start using (which is super-important for complete newcomers to the industry).
Pros
Buy crypto with credit & debit cards
Very secure
Demo accounts - available
20+ different cryptocurrencies
KYC-less exchange
Very low fees
Cons
US investors may not be able to use the exchange
Nominex Review: PROS
As has become a tradition with our cryptocurrency exchange reviews, we shall start off this Nominex review by discussing the main benefits that you'd be able to expect whilst using the exchange in question. After that, we'll move on to some of the existing user Nominex complaints, and also check out the usability aspects of the platform, too.
Supports Around 20 Cryptocurrencies
One of the first thing that you'll notice when visiting the Nominex exchange is that it supports around 40 different cryptocurrency pairs, and 20 different cryptocurrencies.
That's actually pretty good.
Now, I'll admit - 20 crypto coins isn't anything to be amazed about. There are crypto exchanges out there that support over 200 crypto assets - ten times more!
However, even with that being the case, there are two specific reasons why it's actually a huge benefit, as far as Nominex is concerned.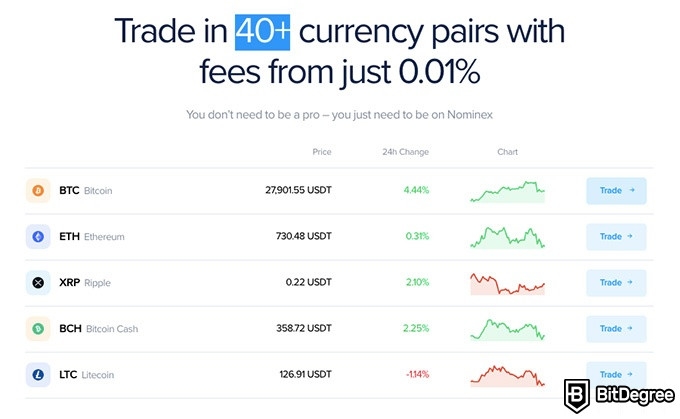 For starters, the exchange in question is still very young - it has only started its operation in mid-2019! Frankly, what this means is that, with time, you can expect to see an ever-increasing number of crypto assets being available on the platform.
For a starting exchange like that, 20 is actually pretty decent - there are other crypto trading platforms out there that have operated for a much longer period of time, and still don't even offer their customers 10 coins to trade and exchange with!
On top of that, it's also worth mentioning that Nominex has all of the main cryptocurrencies that you'd want to trade available for you to access. Whether it's Bitcoin or Ethereum that interests you, or some other, alternative crypto assets such as Bitcoin Cash or Litecoin, you'll surely find all of the main options on Nominex.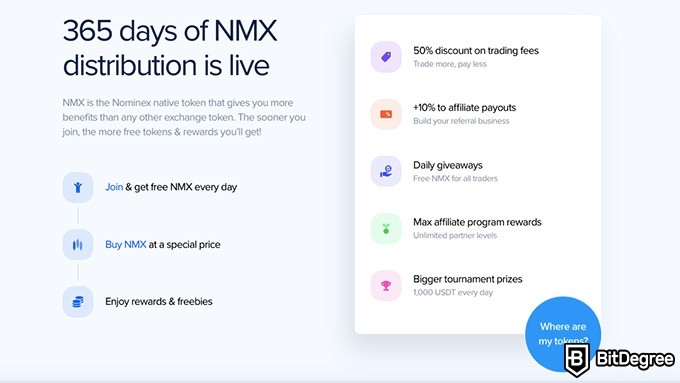 To be fair, with the cryptocurrency market experiencing such growth as it is right now, it's no wonder that crypto enthusiasts have started to expand their interests, and look for ways of how they can diversify their portfolios. In the world of crypto, altcoins are the way to do this.
Whatever the case might be, looking at user Nominex reviews, it's evident that the platform's 20 coins should suffice for most beginner and mid-level crypto traders. Even if you're an experienced trader who's focusing on a few select coins, Nominex should might still do the trick!
Top-Tier Security Features
Security should always be the core feature that you focus on when choosing a reliable cryptocurrency exchange platform - this Nominex review is, admittedly, no different.
What makes a crypto exchange secure, though? Well, this is surely a question that has popped up in the minds of people questioning "is Nominex safe?", too.
For starters, the relatively-recent trend for crypto exchanges has become to keep their customers' assets in offline storage devices - in other words, hardware cryptocurrency wallet. This is actually a super-effective method of securing crypto - if the exchange does get hacked, the hackers won't be able to reach your funds, since they'll be kept offline.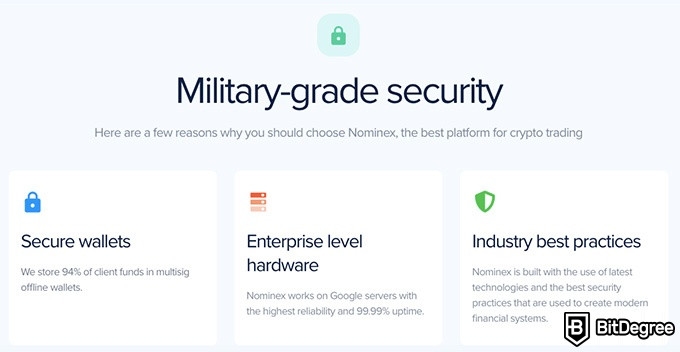 To add to that, many exchanges also offer insurance. Frankly, if something was to happen to your cryptocurrency that's held on the platform's servers, you would likely be refunded all of your lost asset value. Good stuff!
As the company themselves claim, Nominex employs "the industry's best practices". One of such practices is to keep the majority of their customer funds on multi-signature cold storage devices. A great start for anyone wondering is Nominex legit!
Following that, Nominex does also offer its users "military-grade encryption" features. In layman's terms, this simply means that not only are your cryptocurrencies safe on the exchange, but you can also be sure that any of your private information is encrypted, too.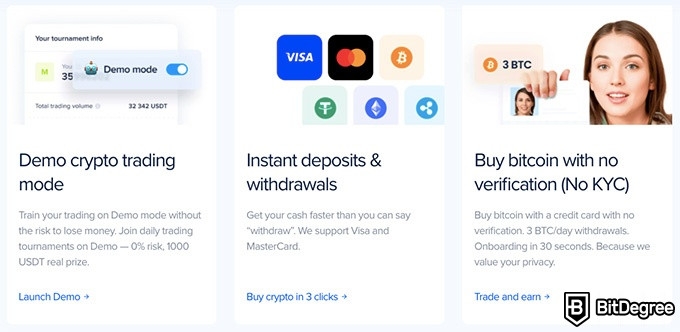 Finally, Nominex employs only the most-trusted Google servers for all of their exchange needs. These servers reportedly have uptime statistics of 99,99% - frankly, there's no downtime, so you'll be able to reach the exchange at any given point in time!
So, then - is Nominex safe? Yes, definitely! The exchange offers its users top-notch security features that are going to both protect your crypto assets, and also all of your private information, too. The servers are reliable, and the company has not had any notable security breaches as of writing this Nominex review - definitely something worth keeping in mind!
Demo Accounts with Some Real Rewards
One of the cooler aspects of the Nominex exchange is the fact that it offers users the chance to open demo accounts, and practice their trading skills on them.
Demo accounts are grossly underrated. While it may seem like a waste of time for some, user Nominex reviews will tell you that a demo account can help you both when it comes to general trading, and also to simply study and learn the interface of that particular exchange platform.
If you're wondering is Nominex legit, however, you'll be happy to hear that this platform takes it a step further - with a Nominex demo account, you can actually win real crypto assets whilst trading with demo ones.
The exchange offers prize pools of 1000 USDT - a stablecoin which price is fixed to that of the US dollar. You can win these prizes by participating in demo trading tournaments - as Nominex themselves put it, you risk 0% of your money, and have a chance to win some actual crypto coins!
Admittedly, this is a pretty rare feature - it definitely makes the exchange stand out!
An Extensive Referral Program, Option to Stake Assets
Since this isn't directly related to crypto exchanging, we won't get too deep into it, but it's still something that's definitely worth mentioning.
You see, the vast majority of high-end cryptocurrency exchanges out there are going to have referral programs for their users to use. These programs are important, since they help to attract new clients to the platform, while also being profitable for existing users who act as affiliates. It's a win-win situation!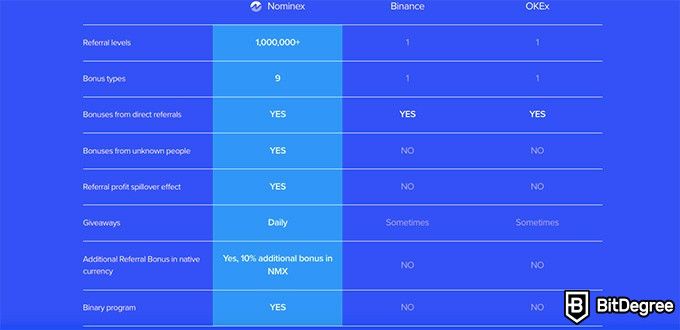 Now, how is Nominex unique in this regard? Well, this exchange actually has the most extensive and rewarding referral program that you're likely to come across!
User Nominex reviews point out that there are unlimited tiers that you can reach, each of which are going to grant you some specific features and benefits. There are multiple types of bonuses available, daily giveaways that you can participate in, and so on - a lot of perks involved!

That said, the best part is that anyone can participate in these referral programs! If you're an active trader and have friends to invite - great! However, even if you're a social media entrepreneur or a simple crypto hodler, there are still ways of how you can use the referral system to your advantage!
On top of that, Nominex also offers its users token distribution, tournament pools (as pointed out when talking about the demo accounts), and even staking functionality. Frankly, you'll be able to do a lot more than just trade your assets on the exchange in question!
No Mandatory KYC… Kind of
Now, this is probably going to be the most interesting part when it comes to the benefit section of this Nominex review, simply because of how two-sided it is. Allow me to explain.
In the world of crypto trading, two acronyms are going to stick out and follow you everywhere you go - KYC and AML.
KYC means "Know Your Customer". It's a set of regulations that each financial institution needs to follow - as you can probably guess, crypto exchanges are considered to be financial institutions. To be frank, KYC happens when exchanges ask you to provide proof of your identity and residential address - they need to figure out if you are really who you say you are.
AML stands for "Anti-Money Laundering". It's pretty self-explanatory, and lacks the "mysticism" that often surrounds KYC - it simply means that an exchange employs all of the necessary features (KYC included) to ensure that its customers aren't participating in money laundering activities.

Now, some user Nominex reviews may tell you that, when it comes to KYC, it's often a double-sided coin. On one hand, it makes sense for an exchange to employ it - it guarantees extra security features, allows you to trade in peace, and also makes the activities of the exchange legal in many more countries around the world.
On the flip side, though, it undermines the whole concept behind crypto - anonymity. If you supply a huge financial corporation with your ID and residential address, chances are that you won't really be 'anonymous' whilst trading coins on that market, now will you?
Now, what's the situation with Nominex? Well, let me tell you - it's difficult.
Everywhere you look online (both on the company's official website, and on some user Nominex exchange reviews), you will see that Nominex is KYC-free. Meaning, you are able to purchase cryptos on the platform, and not be afraid that you'll need to provide it with your personal information.
However, things are actually a tad bit more complicated than that.
If you would like to buy crypto with a credit or debit card, you'll be able to do so via two partner companies that Nominex employs - Koinal and Mercuryo. Koinal appears to have allowed you to buy crypto without KYC (the situation is different now - we'll get to that later) - Mercuryo, on the other hand, will ask you for proof of your identity.

On top of that, user Nominex reviews will tell you that the "no KYC" policy of the company only stands if you want to withdraw no more than 3 BTC worth of crypto per day. If you are a bit more ambitious, well - you'll have to go get your ID.
Still, however - no matter what the case might be, the fact that Nominex offers even some form of KYC-less transactions is very surprising! If you value your privacy and anonymity, this is a major factor to keep in mind whilst reading through Nominex exchange reviews!
Very Low Fees
Now, what would a Nominex review be without discussing the fees, right? Thankfully, we can do so in the benefit section of the article!
Nominex trading fees really are very low. In fact, they can go as low as 0,01% - that's amazing!
Nominex employs a maker / taker fee model, as do most other exchanges out there that do not use fixed fee models. The fees start from 0,1% for both types of traders, and then go down progressively, in accordance with the amount of crypto that you trade over a certain period of time.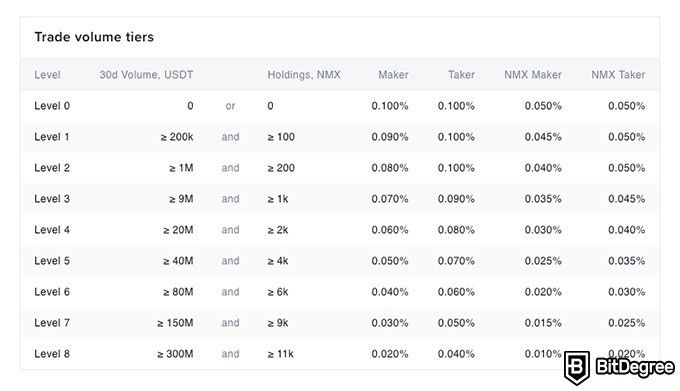 However, the trick here is that you can use NMX - Nominex's native crypto token - to pay for your fees, and reduce them up to 50%.
Even when you concentrate on only the starting Nominex trading fee - 0,1% -, it's still very good! On top of that, there are also discount cards that you can use to your advantage, too.
Latest Binance Coupon Found:
CLAIM $600 BONUS
Exclusive $600 Binance Offer
Don't miss this limited-time deal that's only available for our readers. Follow the Binance referral code link & receive up to $600 in rewards and bonuses!
Expiration date: 13/06/2023
7,847 People Used
Only 49 Left
Nominex Review: CONS
Up to this point in the Nominex review, we've discussed some of the main benefits that you can expect from the exchange in question. Notably, the list is rather extensive, and Nominex is truly a unique exchange platform!
However, that does not mean that there aren't any Nominex complaints out there, and some general quirks of the service that should be addressed. That's exactly what we'll be doing now.
US-Based Traders May Not be Able to Use the Exchange
MAY not be able to. Bear with me here.
In the States, the Securities Exchange Commission (better known as simply SEC) regulates all of the crypto exchange-related matters. All of the exchanges and brokerage platforms that want to operate within the country and attract US investors have to pass through SEC first.
Now, that's not an easy thing to do. SEC has been known for being pretty forward with their lawsuits against crypto-related companies and exchanges. Naturally, one of the most important factors that an exchange needs to demonstrate in order to be on good terms with SEC is mandatory KYC.
Ya… You can probably see where this is going.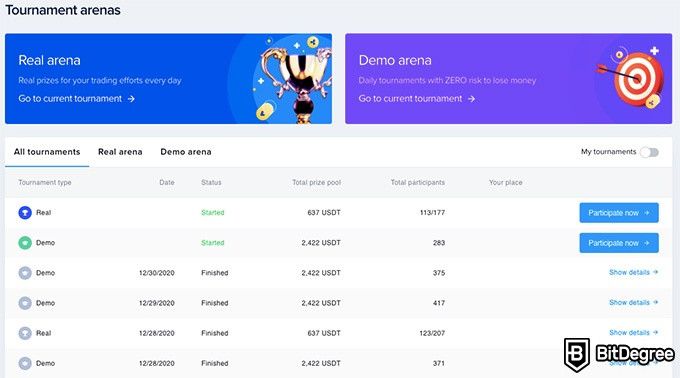 Now, while most user Nominex reviews won't really tell you this, residents of the States can still use KYC-less exchanges - however, this would be done illegally, and could result in fines. Needless to say, at the same time, there are no insurances in place for such exchanges and trades - if your crypto assets get stolen, there's no way of getting them back.
That being said, though, nowhere on their website does Nominex state that US-based investors are not welcome. Combine this with the fact that Mercuryo - one of the platforms that Nominex works with - DOES actually require KYC, and you have a pretty tricky situation on your hands.
A lot of this can be boiled down to the fact that Nominex is still a very young exchange - one can expect that, with time, user Nominex exchange reviews and the company itself will bring some more clarity on the matter.
Might Not be the Best Option for Advanced Traders… Yet
Admittedly, one thing that's almost clear is that the Nominex cryptocurrency exchange is going to be great for beginner traders. I say "almost", since we still need to look into the usability aspects of the platform. That aside, though, user Nominex reviews agree that the site is full of features, yet still very simple and straightforward to understand.
However, with that being the case, it's also worth pointing out that Nominex might not be the best option for anyone who's already an advanced trader with a varied and diverse crypto portfolio.
In all honesty, the reason behind that is pretty simple, too - a limited number of crypto trading pairs available.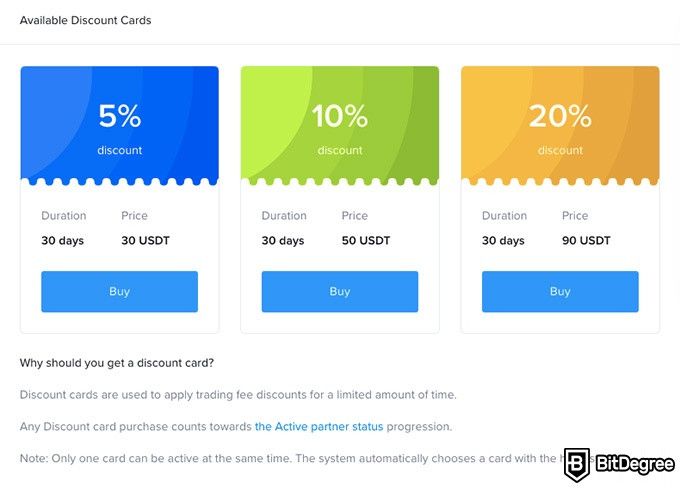 Since not every cryptocurrency can be bought with fiat money by using a credit or debit card (or bank transfer), you have to have at least some basic knowledge of how to exchange one crypto for another. This, in turn, means that, if you want to hodl more coins, you'll need more trading pairs, too.
At present, Nominex does only support 40 trading pairs, so it might not be sufficient for advanced traders. That being said, though, it is yet again worth mentioning that the company is just getting started - if, with time, they add in more coins and more trading pair options, professional traders might be much more incentivized to use this exchange over others!

Did you know?
How to Use Nominex?
So - with all of the main points of this Nominex review discussed and out of the way, all that's left to do is to check out the actual usability aspects of the platform, and draw our conclusions from there.
How to Register on Nominex?
We'll begin with the registration process.
Step 1: Go to the Nominex official website, and press the big Get Started button.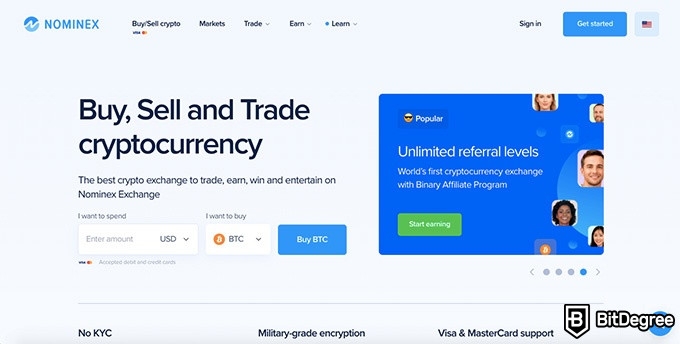 Step 2: You'll be redirected to a signup page, and asked for your email and to create a password. You can also enter a referral ID, if you have one.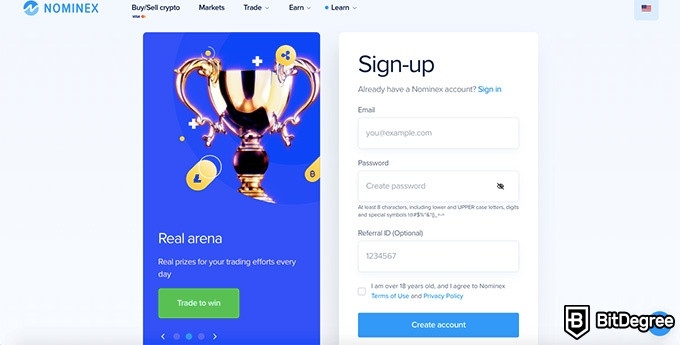 Step 3: Once you've passed the initial signup page, you will then be asked to confirm your email address. Do so by visiting your email inbox, and pressing Confirm email.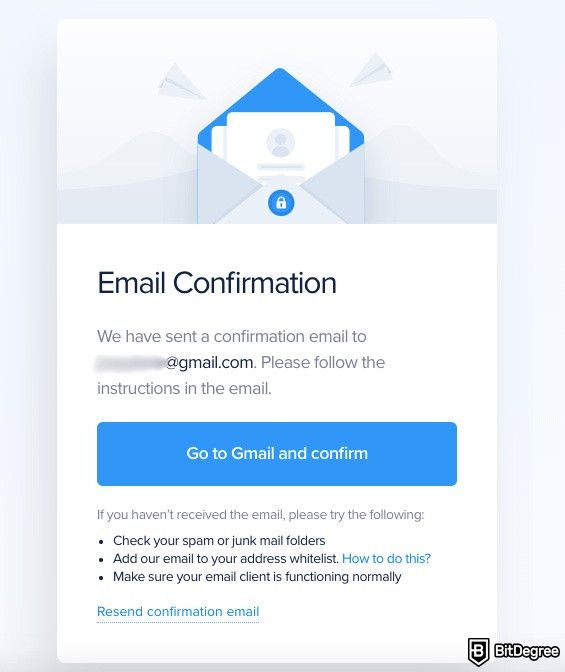 Step 4: Once you do that, that's it - you're in!
As you can see for yourself, the registration process is super-quick, and completely painless (in the sense that there are no prolonged checks or information inputs). Now, let's move on to the process of purchasing your first crypto coins.
How to Buy Cryptocurrency on Nominex?
If you'd like to purchase your first crypto coins with a credit or debit card on Nominex, it would look a little something like this:
Step 1: From the homepage of the website, navigate to the Buy/Sell Crypto tab.

Step 2: You will be redirected to a separate crypto purchase screen. Here, you can choose the cryptocurrency that you want to buy, the amount of money that you want to spend, and your preferred payment channel.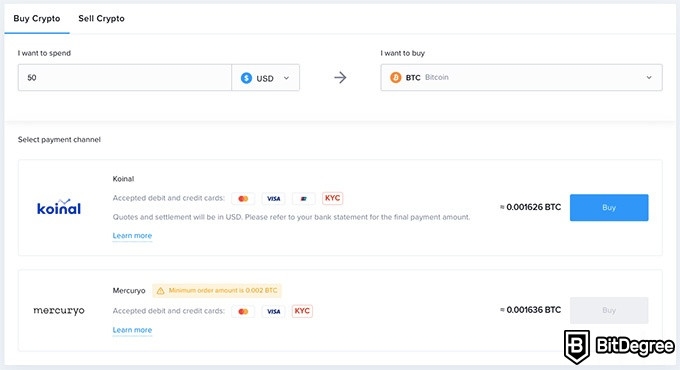 Step 3: Once you make all of your choices, pick the appropriate channel, and proceed with your purchase (confirming the amounts, entering your credit or debit card details, and so on).
The interesting point to make here is that, as of writing this Nominex review, Koinal appears to ask for your KYC verification - this directly negates what is claimed by other user Nominex exchange reviews. If that is actually the case, then the only way that you are able to retain your KYC-less position is by trading cryptos on Nominex, but not buying them with a credit or debit card.
After you've entered all of the required information, agreed with all of the terms of service, and checked your amounts, all that's left to do is wait - you should receive your coins at the specified address shortly!

Pros
A very well-known crypto exchange platform
More than 500 different cryptos available
Two-factor authentication
Main Features
Over than 100 different cryptocurrencies available
Strong security
Small withdrawal fees

Pros
Secure and reliable
Low fees
A good amount of fiat currencies accepted
Main Features
Reputable exchange
Multiple fiat currencies are accepted
Relatively low trading fees

Pros
Anonymous trading
Secure
Supports a variety of cryptocurrencies
Main Features
Easy to use
Low fees
Good security
Conclusions
To finish off, in summary of all of the Nominex complaints, benefits, features, and unique aspects, let's answer the core question - is Nominex worth checking out?
Yes, Nominex is absolutely worth checking out.
The platform, while still being very young, offers customers a wide variety of different features and unique aspects that they can utilize. Everything from crypto staking up to demo accounts and referral programs - there are a lot of features for you to check out!
Is Nominex safe? Yes, completely! Is it simple to use? For sure! The exchange offers great security features, multiple crypto assets for you to trade with, and allows you to purchase cryptocurrencies with fiat money (credit and debit cards). The Nominex trading fees are amazing, too! An all-around great crypto trading platform!
The content published on this website is not aimed to give any kind of financial, investment, trading, or any other form of advice. BitDegree.org does not endorse or suggest you to buy, sell or hold any kind of cryptocurrency. Before making financial investment decisions, do consult your financial advisor.
Leave your honest Nominex review
Leave your genuine opinion & help thousands of people to choose the best crypto exchange. All reviews, either positive or negative, are accepted as long as they're honest. We do not publish biased reviews or spam. So if you want to share your experience, opinion or give advice - the scene is yours!