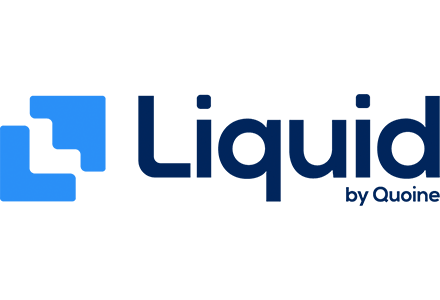 With the rise in popularity that the majority of cryptocurrencies have experienced over the last few years, there has also been an increase in interest in reliable & legitimate crypto exchanges, too. Searching for such exchanges, you're bound to come across some Liquid reviews.
Admittedly, Liquid might not be a very well-known crypto exchange platform - at least not when you compare it with some of the industry leaders. However, the exchange in question still does have a lot that it brings to the table!
If you're interested in the Liquid exchange, and would like to know more about the features and benefits that it can provide you with, look no further - in this Liquid review, we're going to talk all about it! If you're looking for better alternatives, though, you can check out Binance, Coinbase, or Coinmama.
Pros
Good security features
A lot of cryptocurrencies available
Plenty of additional features
Fiat-crypto purchases - available
Cons
US residents can't purchase cryptocurrencies with fiat money
Mediocre fees
Liquid Review: PROS
Liquid has a pretty interesting story, when it comes to its inception. Unlike most exchanges, Liquid came to be due to a merger between two older cryptocurrency exchange platforms called Quoinex and Qryptos. This merge happened in 2018, and while this may make the exchange in question somewhat young, it's notable that there's a lot of experience behind it.
As per usual, we'll start off our Liquid review by taking a look at the features and benefits that this Japan-Singapore exchange has to offer to its users, and then move on to discussing some of the more-notable complaints. Finally, I'll also show you how to register on the platform, and make your first crypto purchase, too.
Supports Many Different Cryptocurrencies
One of the most notable features of the Liquid exchange is that it supports a pretty wide selection of different cryptocurrencies and crypto pairs for their users to utilize and trade with.
Now, let's break that statement down, shall we?

As I am writing this, there are more than 7000 different cryptocurrencies available to be discovered, traded, and used, in their respective manners. While your average crypto enthusiast isn't going to need or use even 1/100th of them, that's beside the point - the actual point, however, is that cryptocurrencies are becoming progressively more popular by the day.
As the popularity increases, so does the interest of the general public, too. Reading through some user Liquid review found online, it's evident that even cryptocurrency newbies today come into the industry having done their research.
That's a subtle way of me trying to say that Bitcoin is no longer the solemn crypto coin that people are interested in - nowadays, there's a lot more asset diversification going on.
Due to this fact alone, people are now looking for cryptocurrency exchanges that will allow them to trade a lot more coins than just Bitcoin or Ethereum. Enter the Liquid exchange.

With Liquid crypto, you'll have more than 100 different cryptocurrencies to check out and trade with. That's a high number of cryptos!
Naturally, no single trader is probably going to need so many different crypto assets in their portfolio. However, the fact that you do have a pretty decent variety of choice is always welcome.
It's actually also one of the most commonly-referenced benefits of the exchange in question, among user Liquid reviews found online. It makes sense - it's definitely one of the major features of the platform!
Bank Transfers and Credit / Debit Card Purchases - Available
Admittedly, this is a point that segways rather nicely from the one discussed prior.
While it's obvious that more people are looking at some different cryptocurrencies, this does also affect the way that you'd acquire them, too. It's something that's evident both when reading user Liquid reviews, and also any other exchange-related reviews, too.
In the early days of Bitcoin and some altcoins, probably the most popular method of acquiring cryptocurrencies was mining, and then trading them over for some other ones. As you can imagine, since then, the crypto acquisition processes have become much more sophisticated.

The most popular ways of getting yourself some Bitcoin or Ethereum nowadays would be buying them with a credit or debit card, or even via a bank transfer. On the Liquid exchange, that is exactly what you can do, too.
That's not something that should be taken for granted, either! While it is true that most of the top-rated exchanges on the market today support multiple fiat-related payment options, there are still many, many platforms that don't.
As far as the Liquid exchange is concerned, though, you will be able to purchase your desired cryptocurrencies (at least as far as the main coins go) both via a bank transfer, and also a credit / debit card. Some exceptions do apply here, but we'll discuss them later on in the article. As a standalone point, that's pretty awesome!
Serious About Account and Asset Security
Security is, without a doubt, the most important aspect of any reliable cryptocurrency exchange. I do feel like I'm a broken record whenever I say it at this point, but hey - it's true!
Without adequate security measures, cryptocurrency exchanges are simply not worth looking into, as potential trading platform options. While various different features and perks can be quite inviting, at the same time, if there's no proper security in place for your account and the assets held within, you risk being hacked, and all of your cryptocurrencies stolen.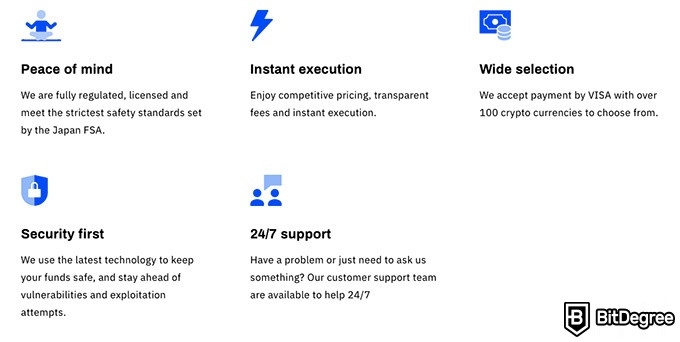 Thankfully, user Liquid reviews will tell you that this is not something you need to stress over with the exchange in question. Liquid does, for a fact, have some amazing security features in place.
For starters, as far as account security is concerned, the Liquid exchange utilizes mandatory 2FA - two-factor authentication - on each and every single account. While it's one of the simplest security measures nowadays, it's still very effective, and can prevent your account from being compromised the vast majority of the time.
There's also withdrawal protection, IP address whistling, cool-down periods of certain setting changes, and so on. With your actions on your account needing to be approved, you can be sure that, if a potential hacker was to access your assets, you would know about it, immediately.
Then there are the asset protection features, too. These are actually where the Liquid exchange's security aspects really do shine through.
First of all, Liquid keeps 98% of the users' crypto assets in cold storage devices. Cold wallets are very common additions to the lists of the best cryptocurrency wallets, in general - with good reason, too! Hardware crypto storage devices are going to provide you with the best possible security on the market - that's definitely a win on Liquid's side of things.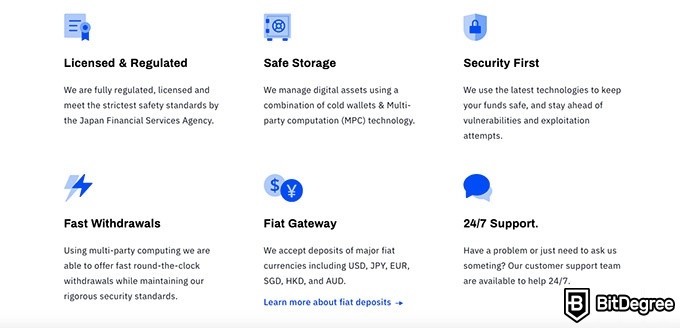 Furthermore, when it comes to Liquid crypto, you can also expect the exchange to utilize full KYC and AML checks and verifications.
KYC stands for "Know Your Customer". It's a set of guidelines that financial institutions have to follow - for the customer, this results in having to provide the cryptocurrency exchanges with their identity-proving documents. While this is a very commonly debatable prospect in the crypto communities worldwide, one thing's for certain - it definitely helps with the security side of things.
AML stands for "Anti-Money Laundering", and is very similar to KYC - these two practices fall into the same category, and with AML being a bit more self-explanatory, together with KYC, it helps Liquid get to know its users rather thoroughly, which makes it a much more difficult option for hackers and potential cryptocurrency thieves.
In any case, I have to agree with the majority of user Liquid reviews here - the exchange does definitely have a lot to offer, security-wise!
Some Additional Features
Now, it's worth mentioning that Liquid does also have some additional features that it offers to its users, on top of the traditional cryptocurrency trading ones.
For starters, there's something called "Infinity trading". What this is is actual CFD - Contract for Difference - trading.
When you trade CFDs, you don't actually trade an underlying asset (in this case - a cryptocurrency), but instead, participate in a contract by "betting" that the price of the aforementioned asset is going to be higher at a specific point in time.
If you're right, you earn money. If you're wrong, you lose it.

User Liquid reviews also talk about futures and margin trading, too - both of which are available on the exchange in question. Depending on the type of trading that you choose to participate in, you can expect to also have access to anywhere from 25x up to 100x of leverage!
Naturally, same as many others, Liquid does also have a mobile app that you can use for all of your trading and exchanging wants and needs. All things added up and considered, the Liquid exchange really does have an extensive list of features to offer to its users!
Latest Binance Coupon Found:
CLAIM $600 BONUS
Exclusive $600 Binance Offer
Don't miss this limited-time deal that's only available for our readers. Follow the Binance referral code link & receive up to $600 in rewards and bonuses!
Expiration date: 04/06/2023
7,847 People Used
Only 49 Left
Liquid Review: CONS
While Liquid surely does have a lot of beneficial features to offer to its users, you can still find some less-than-satisfied user Liquid reviews online. Notably, there are a few aspects of the exchange that users aren't very thrilled with!
Let's move on to discussing these very aspects, and take a look at whether or not they are deal-breaking issues, or rather some minor inconveniences.
Troubles for US-Based Users
Probably one of the most notable problems related to the exchange in question would have to do with the United States, or, rather - US-based users of the platform.
Reading through some Liquid reviews, it would seem that US-based customers are going to be limited in what they can do on the exchange - more specifically, in the methods that they can trade on the exchange. If you are located in the US, the only way you'll be able to trade on Liquid is crypto-crypto - fiat-crypto pairs are reportedly inaccessible for residents of the States.
This is, admittedly, not surprising. There are many, many cryptocurrency exchanges that have issues with the Securities Exchange Commission (SEC), and thus, there are also many exchanges that do not allow US investors to trade on them, in general.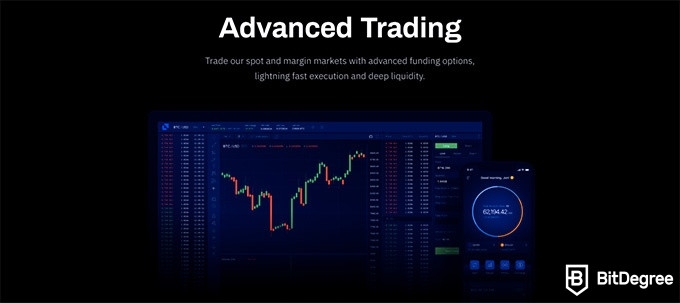 Liquid does, in fact, allow you to trade on their platform, however, you are going to be limited to a specific set of trading pairs (those that involve crypto-crypto trading). Among other things, this can cause a lot of inconvenience for any newbie crypto traders.
You see, in order to trade on the Liquid exchange successfully while being based in the US, you would have to acquire some cryptocurrency, then transfer it to Liquid, and trade it for another crypto coin of your choice. The process is quite long, and very tedious - especially when you compare it with buying cryptos with a credit or debit card.
It's also not beginner-friendly, either. If you're completely new to the world of crypto trading, chances are that you're going to want to avoid all of the complicated hassle, and simply buy cryptocurrency via fiat money. In a scenario like this, Liquid crypto trading might not be the ideal choice. You'll be much better off with either Binance, or Coinbase.
Mediocre Fees
Cryptocurrency trading fees are likely going to be among the first things that you'd look into whilst searching for the best exchange platform to use, long-term. Every crypto trader and investor wants to make a profit - that's a no-brainer.
However, your profit-making chances are going to be heavily dependent on the exchange that you pick, and this is mostly because different exchanges have different fees. So, what do user Liquid reviews say about the fees of the platform in question?
Well, they are rather mediocre.

You see, both market makers and market takers are going to start off with the same exact trading fees - 0,3%. Admittedly, makers have many more benefits, fee-wise, but let's take it one number at a time.
0,3% is, admittedly, rather high. Naturally, it depends on what you compare it with, but if you were to place this number near the fees offered by some of the industry-leading exchanges, it wouldn't look all that good.
Now, as mentioned a second ago, market makers on the Liquid exchange do have a lot of exceptions. For example, their fees are non-existent, as long as they don't trade over $10000 per month. On top of that, both categories of traders can decrease their fees by performing more trades - however, maker fees decrease faster.
Finally, you could also use QASH - the Liquid exchange native token - in order to reduce your fees even further. User Liquid reviews note that, combining all of these things, you can still get some rather good deals, fee-wise.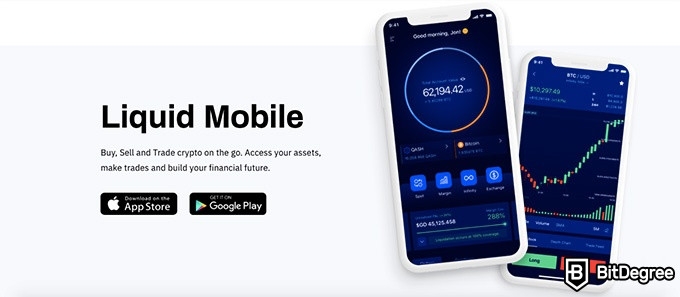 Still, however, if we were to look at just the default numbers mentioned above, they don't really look all that good, in the grand scheme of things.
It's also worth mentioning that the exchange has no deposit fees, and the actual withdrawal fees are going to depend on the situation of the blockchain of the select cryptocurrency, at that point in time.

Did you know?
How to Use the Liquid Cryptocurrency Exchange?
To finish our Liquid review off, let's take a closer look at the usability aspects of the platform, and also how you can start trading on it, too.
How to Register on Liquid?
We'll begin with the registration process.
Step 1: Go to the Liquid official website. Once there, press the big Get started button at the top-right corner of the screen.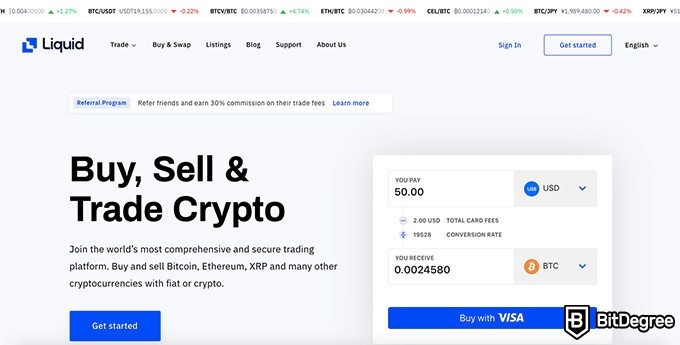 Step 2: Now, you will be prompted to enter your legal name, email address, referral code (if you have one), and also the country that you currently reside in.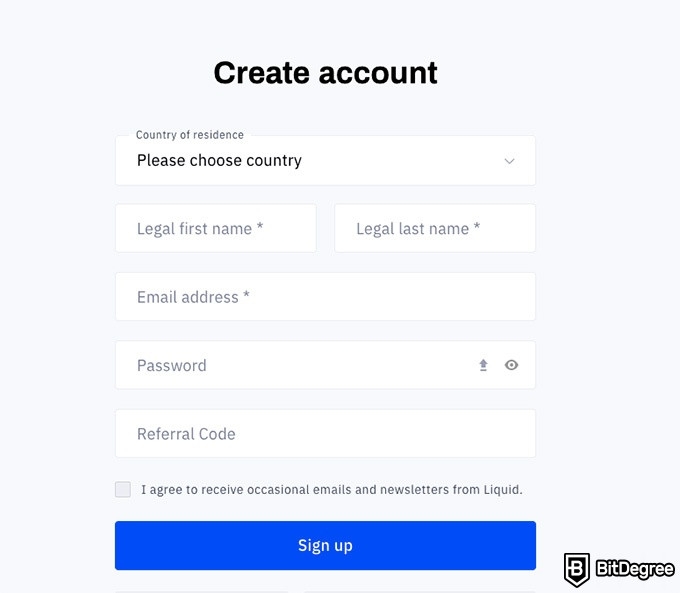 Step 3: Next up, you will have to confirm your email address. Navigate to you your inbox, and press the confirmation button in the email that you should have received from Liquid.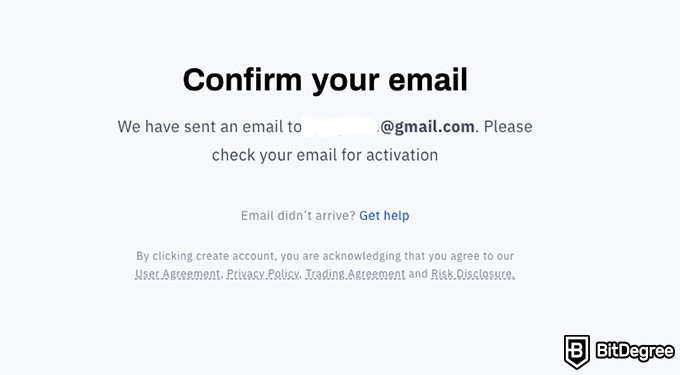 Step 4: That's it! All that's left to do is to sign in to your account, and start trading!
The first thing that might pop into your mind is the simplicity behind the registration process on Liquid. You wouldn't be wrong to think so, either - it's actually one of the smoothest registration experiences I've had in a while!
Liquid makes the registration and "getting started" processes supers-simple and straightforward. Unlike many other exchanges on the market, the platform also does not ask you to pass KYC verifications right off the bat - this can, undoubtedly, cause a lot of confusion for any industry newcomers, and dissuade them from using the exchange, altogether.
Registering on the Liquid exchange is also super-quick, too. The whole entire process will take you no more than a minute to do! It is, admittedly, a great thing for both beginner traders and experienced professionals, alike. No one wants to spend a lot of time registering on any type of a website!
How to Start Trading on Liquid?
So, you've registered on the Liquid exchange - now what? Well, you'll probably want to fund your account, and start trading. Let's see just how optimized this particular process is, shall we?
Step 1: Sign in to your Liquid account.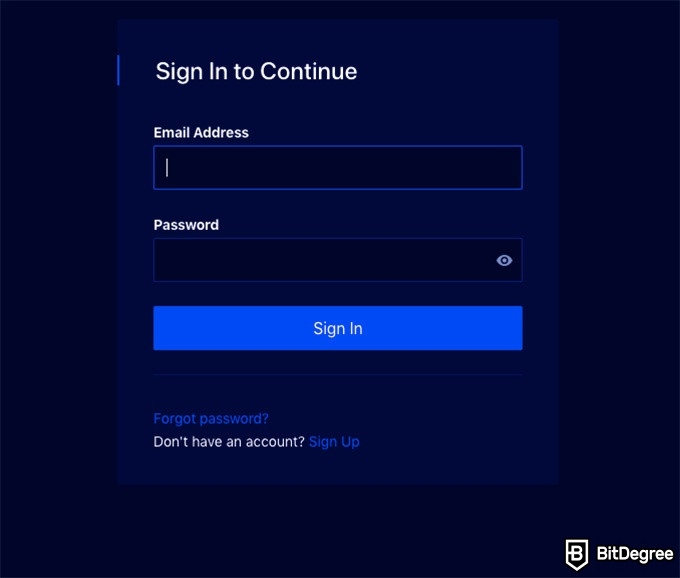 Step 2: You will be directed to your dashboard. Here, you can see some helpful tips on how to set up your account properly - two-factor authentication, KYC, account funding, and so on.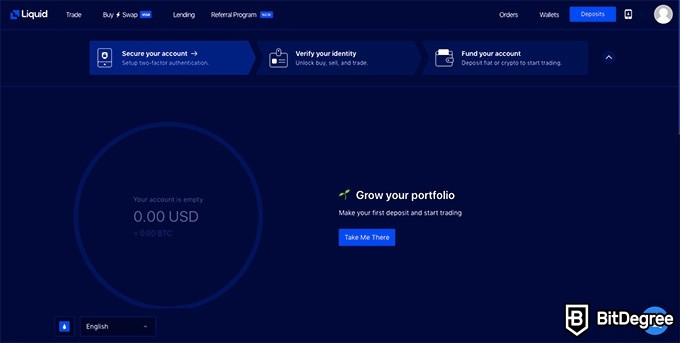 At the top right corner of the screen, you will also see a Buy | Swap button, and a little VISA sign near it. Press the button.
Step 3: After some legalities and conformations, you will be presented with a trading screen. Here, you can purchase the cryptocurrency that you'd like via a credit or debit card, or swap one asset for another.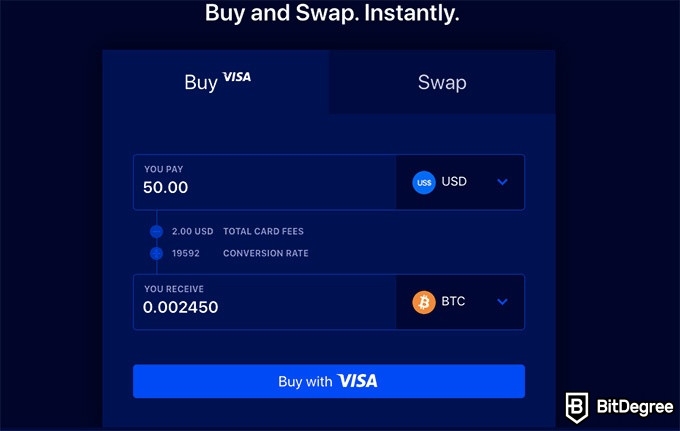 You will also see the fees that you'll be charged, and also the conversion rates, too.
Step 4: Now, the final step might be somewhat convoluted, since you are going to be redirected to your profile page, and asked to pass KYC verification, and also secure your account with 2FA, if you've yet to do so.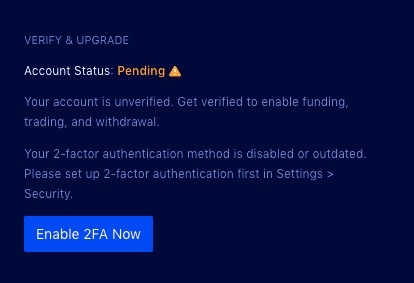 The "convoluted" part here is simply the fact that you will have to take the time to verify your identity, and set everything up in order for your order to pass through. Keep in mind, though, that this is standard practice - while you were able to skip the frustrating processes upon registration, they are still mandatory, nonetheless.
Once you pass the verification processes, and your account is secured and certified, you will be able to add a credit or debit card, and start trading!
Truth be told, the crypto buying process is rather similar to that that you'd encounter on any other major exchange out there. While the verification might seem annoying, that is the case everywhere - well, at least on all of the centralized exchanges.
As far as user Liquid reviews go, however, it does not seem to be too much of an issue, in the grand scheme of things.

Pros
A very well-known crypto exchange platform
More than 500 different cryptos available
Two-factor authentication
Main Features
Over than 100 different cryptocurrencies available
Strong security
Small withdrawal fees

Pros
Secure and reliable
Low fees
A good amount of fiat currencies accepted
Main Features
Reputable exchange
Multiple fiat currencies are accepted
Relatively low trading fees

Pros
Anonymous trading
Secure
Supports a variety of cryptocurrencies
Main Features
Easy to use
Low fees
Good security
Conclusions
So - with all of that said and done, all that's left to finish off our Liquid review is to decide, once and for all - is the platform worth checking out?
I'd say - if you're located outside of the US, and are looking for an alternative crypto trading platform, then yes, the Liquid exchange might just be the right option for you!
One of the best features of the exchange is the fact that it's very secure - whether it be account security, or that related to your crypto assets, you can rest assured that Liquid is going to provide its users with the top-tier security aspects, either way!
The exchange also has a wide variety of cryptocurrencies to pick from and trade, and does also have an assortment of different features for you to utilize, too.
The most prominent user complaints and some of the more-negative user Liquid reviews stem from the fact that US investors can only trade crypto-crypto on the platform, and that the default fees are a tad bit high. Other than that, Liquid is surely one of the better exchanges in the industry, and definitely one worth checking out, no matter if you're a crypto trading beginner, or already an expert!
If, however, you feel that Liquid isn't really the right choice for you, know that there are many other alternatives available - check out our list of the best cryptocurrency exchanges out there, glance at Coinbase or Binance, and make your pick!
The content published on this website is not aimed to give any kind of financial, investment, trading, or any other form of advice. BitDegree.org does not endorse or suggest you to buy, sell or hold any kind of cryptocurrency. Before making financial investment decisions, do consult your financial advisor.
Leave your honest Liquid review
Leave your genuine opinion & help thousands of people to choose the best crypto exchange. All reviews, either positive or negative, are accepted as long as they're honest. We do not publish biased reviews or spam. So if you want to share your experience, opinion or give advice - the scene is yours!