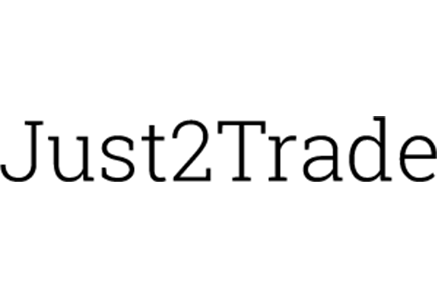 So, you're looking for a reliable cryptocurrency exchange alternative? Or perhaps you're interested in a brokerage, where you could purchase some of the main cryptocurrencies and then do with them as you please? If so, then user Just2Trade reviews will tell you that this platform might be a great choice for you!
Admittedly, Just2Trade might not be a very well-known exchange, as far as the mainstream options go. That said, it definitely has some great features to offer to its potential users, nonetheless. Worry not, since we'll discuss all of this in the article below!
Naturally, we'll also talk about the less-positive sides of the platform, too. I'll also show you how to pass the registration process, and at the very end, we'll also sum things up - in other words, I'll let you know my own, personal opinion about this brokerage, and whether or not it's actually worth checking out.
Pros
A crypto exchange and a forex brokerage
Fiat-crypto payments - supported
Supported on all major platforms
Good fees
Easy to use
Cons
A minimum deposit of $100 required
Small number of supported cryptos
Just2Trade Review: PROS
We'll start off by taking a look at some of the more-positive aspects of the brokerage, and discuss those user Just2Trade reviews that outline the best benefits and features of the platform.
Coincidentally, one of the first benefits you'll find mentioned among Just2Trade reviews are the fees available with this brokerage.
Low Fees
Undoubtedly, fees are going to be one of the most important aspects to look into when trying to decide which crypto exchange or brokerage will suit your wants and needs the best.
At the same time, though, they can get rather complicated - thankfully, as you'll see in just a minute, this is not the case with the Just2Trade app.

Crypto exchange fees are usually segmented into three different parts. These include deposit, trade, and withdrawal fees. Deposit fees are, admittedly, a very rare sight to see - most exchanges are void of them.
Withdrawal fees vary by quite a bit, and usually depend on two separate factors - the exchange itself, and the blockchain of a specific cryptocurrency that you want to withdraw.
Finally, trading fees are, well… Difficult. These are usually used as the deciding factor when it comes to judging a crypto exchange, at least fee-wise.
So, where do user Just2Trade reviews fit in here? Well, using the Just2Trade app or official website, you'll quickly learn that the brokerage has some very decent fees!
The transaction fee might not tell you that, though - at 0,35% per transaction, it might seem mediocre, at best. However, this is where you should make sure to read the small print - it's 0,35%, FLAT! What this means is that the fee is fixed, and won't be changing around due to some trading volume or any other circumstance.
Sure, it does also mean that it won't go down, either. However, as a fixed fee, 0,35% per transaction is actually rather decent!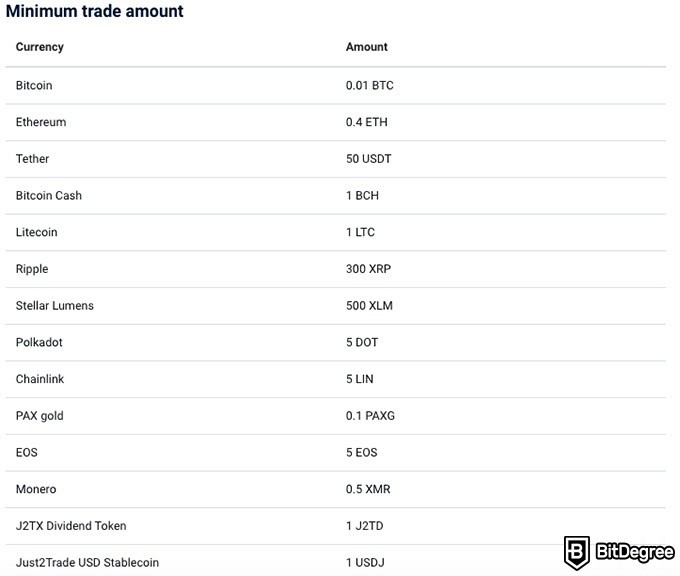 Withdrawal fees are where Just2Trade shines, too. They are going to depend on the cryptocurrency of your choice, but are likely to remain super-low, and mostly dependent on the blockchain.
Frankly, while deposits being free is nothing spectacular, the transaction fee isn't anything to moan about, either. Sure, it's a bit more expensive than you'd find with most high-end exchanges, but it's far from being unreasonable, especially given the fact that it's a fixed, flat fee!
Finally, if you'd like to trade some listed tokens, the fees will go down as low as 0,01% - that's awesome!
Latest Deal Active Right Now:
$300 + 40 DOGE BONUS
Huobi Black Friday Limited-Time Period
Huobi Black Friday & Cyber Monday 2023 period offers great bonus for new users - sign up & earn up to $300 + 40 DOGE bonus!
Expiration date : 12/12/2023
3,817 People Used
Only 31 Left
A Sophisticated & High-End, Yet Simple to Use Trading Platform
Reading through user Just2Trade reviews found online, another thing that sticks out quickly is the fact that the brokerage platform has some truly high-end functionality for advanced traders, but does also offer beginners a very simple and straightforward option for trading cryptos, too.
Now, I'm getting a tad bit ahead of myself, but when you'll find yourself registering on the site, you'll have two options to pick from - either the MT5 platform, or the cryptocurrency exchange. The two are different, and represent the different features mentioned above.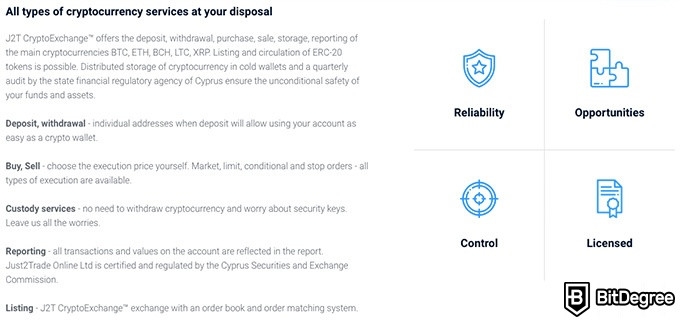 The MT5 platform is used for some alternative trading options - we'll get to that in a bit. For now, it's worth mentioning that MT5 (otherwise known as the MetaTrader5) is the more-advanced version of MT4 - the most popular and well-known trading interface, to date.
When it comes to cryptocurrency trading, things are a tad bit different - crypto enthusiasts will be able to utilize a high-end, yet very simple exchange interface for all of their crypto trading wants and needs.
It's also important to note that anyone questioning "is Just2Trade safe to use?" can rest assured - no matter what it is that you decide to trade on either of the above-mentioned interfaces, the processes are going to be entirely secure!
Multiple Assets to Trade With (in Addition to Cryptocurrencies)
While looking for some user Just2Trade reviews online, you'll likely notice that the majority of these reviews will be discussing things other than cryptocurrency. The reason behind this is simple - the brokerage part of the platform allows you to trade many additional options!
On the platform in question, you'll be able to deal in stocks, futures, forex, bonds, options, and - of course - cryptos. That's a very decent list!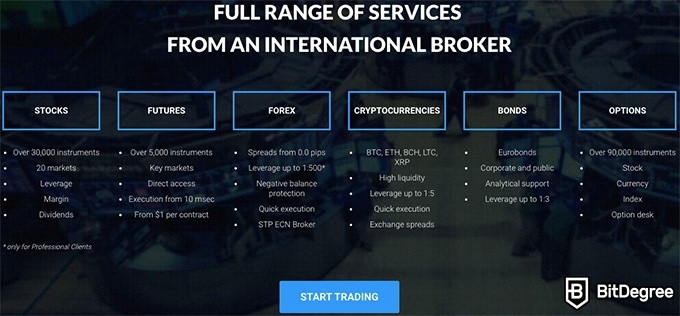 Now, surely, it's not going to be something that's absolutely crucial for anyone who's looking to trade cryptos. However, if you do plan to explore different assets in the future, and would like to consider investing in different spheres, then choosing Just2Trade would mean that you could do it on the same platform!
Available on Different Platforms
Something that isn't as commonly mentioned in user Just2Trade reviews is the fact that you'll be able to trade cryptocurrencies on multiple different platforms, if you do decide to use the exchange in question.
Namely, you have your Just2Trade app for mobile devices (iOS and Android), your software for desktop, and a web-based interface.

This is actually awesome! It frankly means that you won't be "tied down" to a single platform, and will be able to trade on the go - whether it be via your mobile device, or a computer.
By extension, it also means that you'll be able to track the market closely, and any time that you see a great opportunity to purchase some crypto coins, you'll have the chance to do so, right from your phone! Naturally, though, this is true assuming that Just2Trade supports that specific cryptocurrency (we'll get to that in a minute).
A Safe and Certified Brokerage
The security of a cryptocurrency exchange (or, in this case - brokerage) is, undoubtedly, the most important aspect to look into when trying to decide whether or not a particular platform suits you.
Think about it yourself - if the exchange that you plan on using isn't secure, it means that everything from your crypto assets, all the way to your personal information can get hacked and stolen by thieves and other malicious parties. On top of that, since most modern exchanges follow KYC guidelines, your identity could be compromised, too!

That's simply the reason why, whilst looking at user Just2Trade reviews or the reviews surrounding any other exchange, you should always pay extra-close attention to the security features that it offers.
If you're wondering is Just2Trade safe, however, I do have good news for you - both the exchange, and the interfaces that it utilizes are completely safe to use.
J2T CryptoExchange is a certified brokerage platform - it has certifications in the EU, UK, and USA. This simply means that the platform follows all of the necessary security and data protection guidelines, and that it is trusted in the aforementioned regions. This extends to the crypto exchange part of the site, too.
This is definitely good news for any of the platform's users! You will also soon see this firsthand, but the registration process to the platform requires you to pass strict KYC checks - frankly, you'll have to provide your address, some personal information, and proof of your identity (in the form of an ID card, or similar).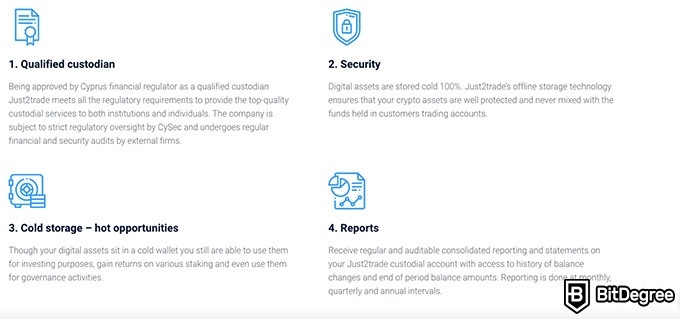 Also, the company states that 100% of the users' crypto assets are kept in cold storage devices - in other words, hardware wallets. That's superb!
All of these things combined should help with answering the question - is Just2Trade safe? Judging by multiple user Just2Trade reviews, it surely is!
Crypto Purchases with a Credit & Debit Card / Bank Transfer
Upon visiting the crypto-dedicated part of the exchange in question, you'll soon notice that the platform actually allows you to purchase select cryptocurrencies with fiat money, namely - credit or debit cards, and also via bank transfers.
Now, this is definitely something that should be mentioned more often in user Just2Trade reviews!
These days, it might seem like fiat-crypto acquisition availability isn't going to surprise anyone. I mean, a single look at the top-rated exchanges in the industry will show you that the vast majority of them offer this feature - most are quite proud about it, too!

It's no wonder, really - buying cryptocurrency with a credit or debit card is probably the simplest and most-straightforward way of going about it. It's very quick, super-beginner-friendly, and you can also expect the crypto coins to reach your wallet in minutes.
That said, as far as the less-known exchanges and brokerages go, it's actually still not that common to come across a platform that would offer fiat payment support. Yet again, though - while many user Just2Trade reviews aren't going to tell you this, the platform in question has support for this feature.

To be fair, that is likely because of the fact that J2T CryptoExchange isn't primarily a cryptocurrency exchange, but rather a stock-and-other-asset brokerage. They've figured out all of the security and certification details a long time ago, and thus, offering fiat-crypto support was likely not an issue.
Still, however, it's a very appealing aspect that is sure to attract many users to the brokerage - ones that, in a different scenario, would have maybe not chosen this specific platform, and went with a "simpler" alternative.
Latest Binance Coupon Found:
SECURE $600 BONUS
Binance Christmas Sale
Sign up on Binance and claim up to $600 worth of rewards for completing simple tasks during this Binance Christmas sale. Use our Binance referral code (49316610) to activate the offer while it's still valid!
Expiration date : 12/12/2023
2,935 People Used
Only 67 Left
Just2Trade Review: CONS
Now that you know a bit about the benefits offered by the brokerage in question, let's take a look at some of the user Just2Trade complaints, and check to see if there are any glaring issues with the site that need to be addressed any further.
Supports a Small Variety of Cryptocurrencies
Surely, this is one of the most prominent issues that you'll probably notice immediately upon visiting the brokerage in question - it's also among the more-common user Just2Trade complaints, too.
With the vast majority of the high-end crypto exchanges on the market today, you'll be able to find a huge selection of different crypto assets to trade and exchange. It's actually one of the main points that exchanges compete on!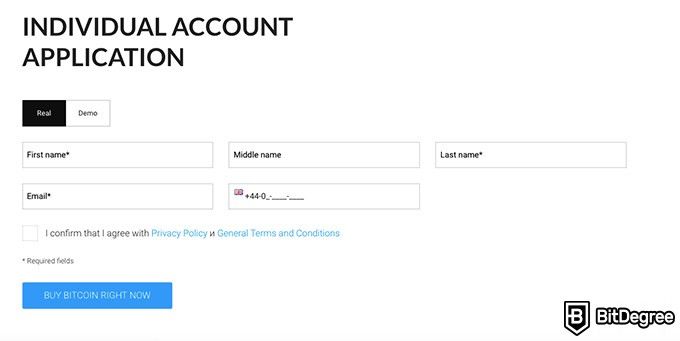 It makes perfect sense, too. Crypto enthusiasts nowadays are always looking for new investment opportunities in the form of altcoins. The majority of the population, in general, is a lot more crypto-savvy than it was, say, 5 years ago. This, in turn, means that exchanges and brokers need to step up their game, and offer a wider selection of coins, too!
However, user Just2Trade reviews will tell you that this isn't the case with the brokerage in question. Just2Trade offers its users only 5 different cryptocurrencies:
As you can probably imagine, that's not ideal!
That being said, though, it might also not be a huge dealbreaker, either. It depends on your own, specific preferences.
If you're just starting out with crypto, 5 coins might actually be just enough! This is especially true if you only want to concentrate on the main crypto assets on the market, such as Bitcoin or Ethereum.
However, if you're already an experienced trader who wants to diversify their assets as much as possible, unfortunately, you won't be able to do so on J2T CryptoExchange.
There's a Minimum Deposit Amount
Now, this is one of the more-interesting user Just2Trade complaints that you might come across.
You see, with most exchanges, in order to start trading cryptocurrencies, you're going to have to purchase (or transfer) a set amount of cryptocurrency - the amount differs in accordance with the currency, of course.
Just2Trade minimum deposit is a thing, however - and that minimum deposit is $100. In other words, if you'd like to trade cryptos on this platform, you're going to have to make a Just2Trade minimum deposit of 100 bucks.

Now, if you plan on trading cryptocurrencies long-term, that's not an issue. However, it can still prove to be annoying, granted that many exchanges out there have much smaller requirements, a far as crypto purchases go.
Whether this is a significant con, or a minor inconvenience is going to depend vastly on your own, personal situation!
Also, it's worth mentioning that Just2Trade has no deposit fees for cryptocurrencies and tokens - there's but a 3% fee for a bank wire transfer.

Did you know?
How to Use the Just2Trade Brokerage?
So, we've taken a look at user Just2Trade reviews and some of the more common Just2Trade complaints, and also discussed things like Just2Trade minimum deposits, security, and other important features of the brokerage.
Now, to finish off the review, let's see just how difficult (or simple) the registration process to the site actually is, and how long it takes for you to be able to start trading crypto.
How to Register on Just2Trade?
First up, the registration process.
Step 1: Go to the Just2Trade official website, and press the Register button on the top-right corner of the screen. Notably, if you find yourself on the general brokerage side of the website, all you need to do is navigate to the crypto tab, and press the little More button under the CryptoCurrency card, at the top of the page.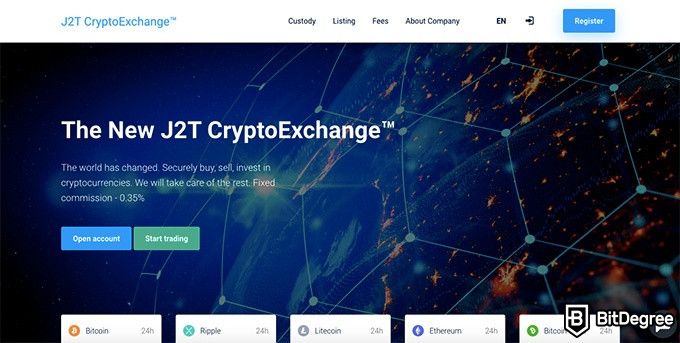 Step 2: You will have to fill out your name, email address, and phone number in order to submit an application to join the brokerage. Do so.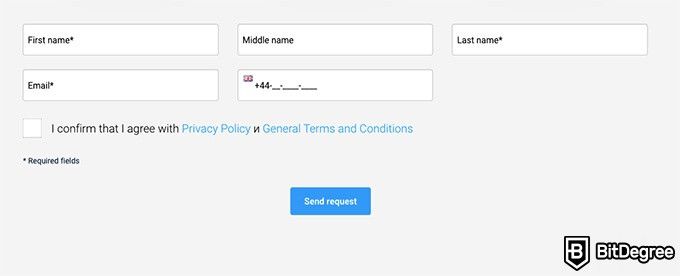 Step 3: Now, you will be redirected to an individual account application page. This is where you'll have to fill out all of the relevant information about yourself.
First of all, you'll need to provide your full legal name again, your country of birth, and your nationality.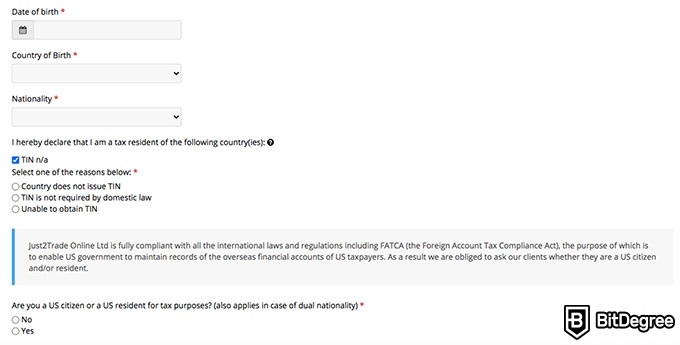 Step 4: Once that's done, the next step is to fill out the contact detail form. Frankly, here, you will have to state your full residential address.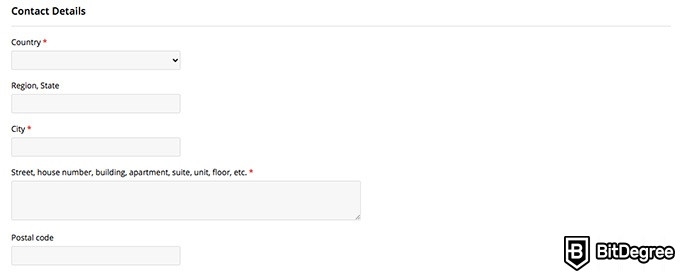 Step 5: Now, your economic profiling. You will be asked questions about your current economic situation, and plans for the future - all of this is standard procedure, so you needn't fret. Notably, you might be able to avoid such questions with KYC-less exchanges, but the vast majority of brokerages that offer both crypto and other asset trading features will ask you for this information.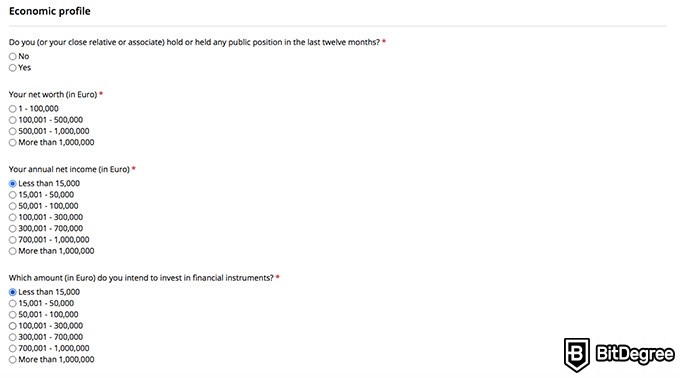 Step 6: The penultimate step is to provide your trading account information, and also proof of your identity. You'll need to upload two separate documents - one that confirms your identity, and one that confirms your residential address.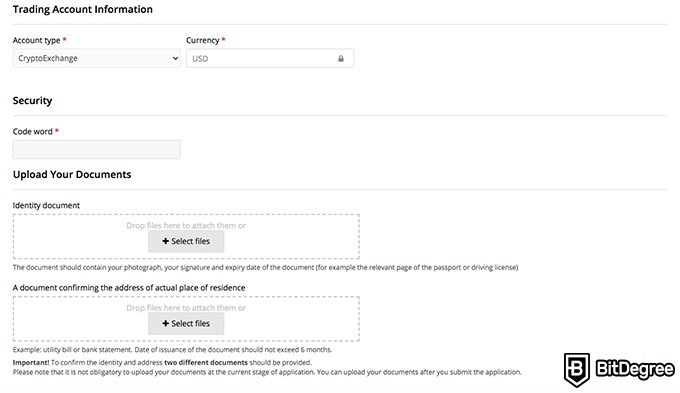 Step 7: Finally, all that's left to do is consent with all of the terms and conditions, confirm that the information you've provided above is legitimate, and submit the application. Now, nothing left but to wait for approval!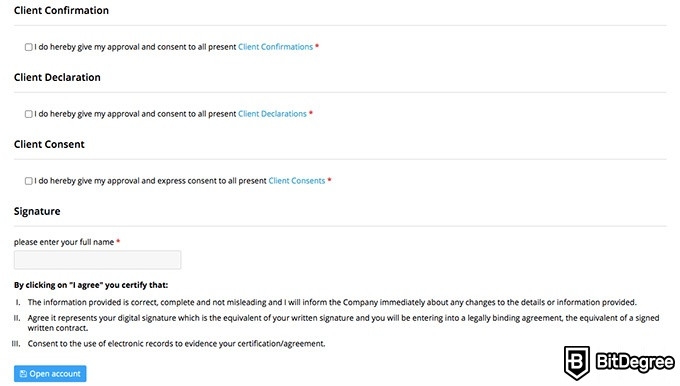 Admittedly, the registration process for Just2Trade is rather cumbersome. Many crypto exchanges nowadays try to streamline these procedures as much as possible, and don't really ask about any KYC-related verifications up until the point of you actually ordering some cryptocurrency via a bank transfer or credit card.
With that being said, though, J2T CryptoExchange isn't a typical crypto exchange - it's an asset brokerage. Keeping this information in mind, it makes sense that there are multiple other factors that need to be accounted for.
Don't get me wrong - the registration was definitely not "difficult", in any sense of the word. It was actually rather straightforward! However, if there was one thing I could change about it, it would have to be the one-page format. For any beginner trader, it can seem very overwhelming, and they might opt out and pick another, simpler-looking exchange, instead.

Pros
A very well-known crypto exchange platform
More than 500 different cryptos available
Two-factor authentication
Main Features
Over than 100 different cryptocurrencies available
Strong security
Small withdrawal fees

Pros
Secure and reliable
Low fees
A good amount of fiat currencies accepted
Main Features
Reputable exchange
Multiple fiat currencies are accepted
Relatively low trading fees

Pros
Anonymous trading
Secure
Supports a variety of cryptocurrencies
Main Features
Easy to use
Low fees
Good security
Conclusions
Now, then - we've reached the end of our Just2Trade review. At this point in time, you should have developed a pretty good idea of what to expect out of the brokerage in question, and whether or not it will suit your own expectations.
For consistency's sake, however, let's answer the question, in a straightforward fashion - is Just2Trade safe, and is it even worth using, in the first place?
Yes, to both of those questions!
Obviously, Just2Trade isn't your standard cryptocurrency exchange - it has a separate section for an asset and security brokerage, and also a cryptocurrency exchange part, too! The platform, however, does prove to be a great alternative for anyone who's interested in purchasing some crypto coins for themselves.
J2T CryptoExchange proves to be a great place to start investing, in general, since it offers a wide range of different assets for you to tinker with and, evidently, purchase. You can also create a demo account if you're not still sure about the entire process, which will give you a chance to try out the platform at your own pace.
Just2Trade also offers the opportunity to purchase crypto with a credit or debit card (or a bank transfer), has a great trading interface that is both intuitive and simple to use, and is also very secure, too.
The only notable user Just2Trade complaints that might be worth mentioning would have to do with the fact that the crypto asset choice is pretty limited (only 5 coins available), and that there's also a minimum deposit of $100. Other than that, most users seem to agree that J2T CryptoExchange is definitely worth checking out!
If, however, you are not convinced, and would like to find a different alternative, you could also take a look at our list of the best cryptocurrency exchanges in the current industry. Chances are that you'll be able to find a suitable platform there, no problem!
The content published on this website is not aimed to give any kind of financial, investment, trading, or any other form of advice. BitDegree.org does not endorse or suggest you to buy, sell or hold any kind of cryptocurrency. Before making financial investment decisions, do consult your financial advisor.
About Article's Experts & Analysts