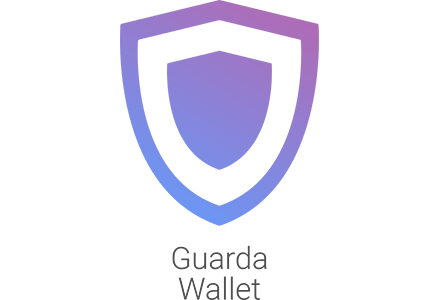 If you find yourself going through different cryptocurrency wallets, it's time to stop and finally find a secure wallet for your assets. This Guarda wallet review will help you to find out everything there is to know about this multi-platform cryptocurrency wallet.
Even though Guarda is still relatively new and not as well known as such wallets as Ledger Nano X, Trezor Model T or the Binance Wallet, it's worth giving it a chance.
In this Guarda wallet review, I will take a quick look at the company, provide you all the technical details on the wallet, its pros and cons, usability, and additional features that matter to every crypto enthusiast.
Without further ado, let's move right into it.
Verdict at a Glance: Guarda is a multi-platform cryptocurrency wallet that offers web, desktop and mobile wallets. Guarda can be synced with Ledger hardware wallet to improve security, it doesn't store your private keys and is super easy to use. The only problem is that Guarda offers relatively high trading fees.
Pros
Good security measures
Easy to use
Live customer support
High number of supported cryptocurrencies
Cons
Still new company
Relatively high fees
Guarda Wallet Review: The Basics
Guarda wallet was launched only a few years ago, in 2017. The group of highly experienced specialists is focusing on creating blockchain-related products ever since then.
When it comes to Guarda crypto wallet, the main aim was to create a digital wallet that could provide users with complete security, effortless crypto storing and easy asset management. Since the company respects your anonymity, they do not store your backup files, private keys, or any other data that could threaten your security.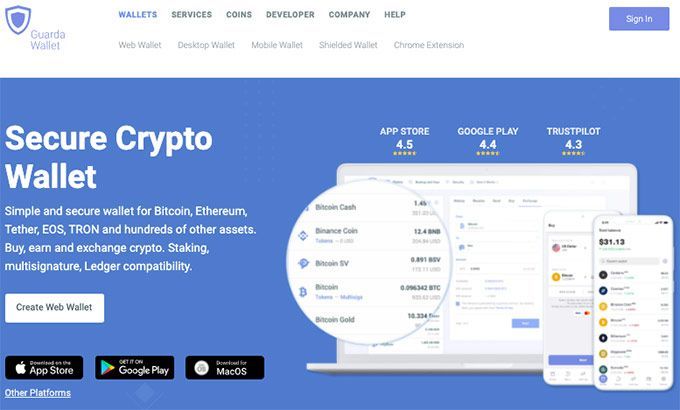 Even though it has been only a few years since the wallet was created, the company has come a long way. At first, they started with a single currency wallet, then added the web version, iOS and Android versions, created a token generator and so much more.
While the company and the product itself sound really promising, let's see if it's actually that good.
Latest Ledger Nano X Coupon Found:
GET MORE, SAVE 10%
Ledger Holiday Sale
Holidays are all about sharing! Get top-tier security for you & your loved ones with this 10% Ledger Holiday discount on family packs.
Expiration date : 12/12/2023
3,947 People Used
Only 53 Left
Guarda Wallet Review: PROS
Just like everyone is used to, I will begin this Guarda wallet review from the positive aspects. I will take a look at technical details regarding security, introduce you to different Guarda wallet versions, provide you with supported coins and even more.
Since every feature matters when choosing yourself a cryptocurrency wallet, make sure not to miss out on anything.
Good Security
If you would ask what aspect is the most important when picking a crypto wallet, every specialist (without any exceptions) will tell you that it's security. While some of you are looking for easy-to-use wallets or options that support the highest amount of coins, none of it matters if your assets can be stolen in the blink of the eye.
LEDGER NANO X
GUARDA

Overall level of security & safety of your assests offered by a certain crypto wallet.

Whether the crypto wallet requires two-factor authentication as an extra layer of security when completing an action.

Whether the crypto wallet requires multiple keys to authorize a transaction as an extra layer of security.

Whether the crypto wallet requires a Pin code as an extra layer of security when completing an action.

The general anonimity level of your data.

What kind of methods of recovering your cryptocurrency assets in case you lose your wallet or forget your primary password does the wallet offer.

24-word Recovery Phrase or Nano S Plus
Backup file with private keys

Who owns your private keys.

You
You

The level of control you have on the crypto wallet.

Visit site
Read review
See TOP10 Brands
Read review
Table: The security features of the Ledger Nano X and Guarda
The security of cryptocurrency wallets mostly depends on the type of wallet that you choose. Let me introduce you to each of them to provide a better understanding:
Online wallets. It's pretty obvious that online wallets tend to be the least secure. While they tend to be really easy to use, it's not recommended for people who store higher amounts of cryptocurrencies. Online wallets are the most vulnerable for hacking, so you shouldn't keep an amount that you would be afraid to lose.
Software/app wallets. Software or app wallets are the middle option between secure hardware wallets and vulnerable online wallets. They're usually good for those who are making hourly or daily trades. However, it's still recommended to keep a good amount of your assets in a hardware wallet.
Hardware wallets. As you probably already understand, hardware wallets are one of the most recommended options for people who value security. Since your private key is stored offline, hackers couldn't access it.
Paper wallets. Paper Wallets are considered to be the most secure option. The only drawback is that if you lost it, there's no way of getting your assets back.
Guarda is a multi-platform cryptocurrency wallet, it has both online and software wallets. Out of the two, I would recommend choosing the Guarda software/app wallet that should be relatively secure. It's not as reliable as hardware wallets, such as Ledger Nano X or Trezor Model T, though.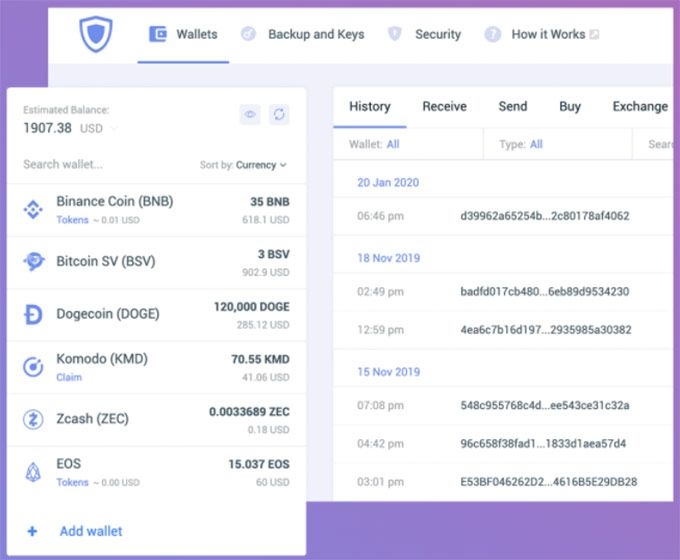 Security-wise, there are a few features that Guarda has to offer. First of all, Guarda provides you with encrypted backups that are stored on your device. What is more, you can choose to use face or ID recognition instead of passwords. Also, Guarda is a non-custodial wallet, meaning that the company doesn't store your private keys.
The final security aspect that you should pay attention to when choosing a wallet is whether the wallet is open-source. If you're not familiar with the term, open-source wallets allow you to see the entire code and check if there are no malicious codes that could threaten your security and lead to losing your assets.
As you've probably already figured out, Garda's wallet is open-source. It means that you can relax and start/continue using Guarda wallet without worrying about security threats.
All things considered, Guarda's wallet seems to be relatively secure. So, now that we got security out of the way, it's time to find out more about different types of wallets that Guarda has to offer.
Latest Deal Active Right Now:
$300 + 40 DOGE BONUS
Huobi Black Friday Limited-Time Period
Huobi Black Friday & Cyber Monday 2023 period offers great bonus for new users - sign up & earn up to $300 + 40 DOGE bonus!
Expiration date : 12/12/2023
3,817 People Used
Only 31 Left
Various Wallet Versions
Guarda has three different wallet versions:
Web wallet
Desktop Wallet
Mobile Wallet
Just like any other online wallet Guarda web wallet can be accessed from any device that has an internet connection. Since Guarda wallet is compatible with Ledger (one of the most secure wallets in the market), I strongly recommend taking advantage of this opportunity.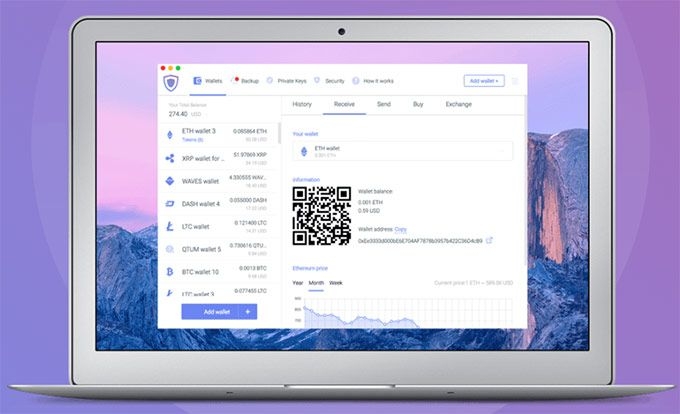 Guarda desktop wallet can be synced with the Ledger wallet to improve security. It's super easy to navigate and can be used to store, send, buy and exchange cryptocurrencies. It's available for both Windows and macOS users.
Guarda mobile wallet is super convenient and can be used on the go. It offers the same functionality as a desktop wallet and also uses fingerprint or face recognition. Mobile Guarda wallet is available for both iOS and Android devices.
Supports a Fair Amount of Coins and Tokens
Another important part to be discussed in this Guarda wallet review is supported coins.
If you prefer the most popular cryptocurrencies, such as Bitcoin and Ethereum, you won't have issues with any mainstream cryptocurrency wallet. However, if you're into less-known tokens, you'll need to make a more thorough research to find a wallet that supports that specific cryptocurrency.
Now, since it's Guarda wallet review, it's fair to say that the majority of people will be able to find a coin or token that they're looking for. Guarda supports more than 40 coins and thousands of tokens including ERC20s, BEP-2, and other popular assets. The number is pretty high compared to some other cryptocurrency wallets.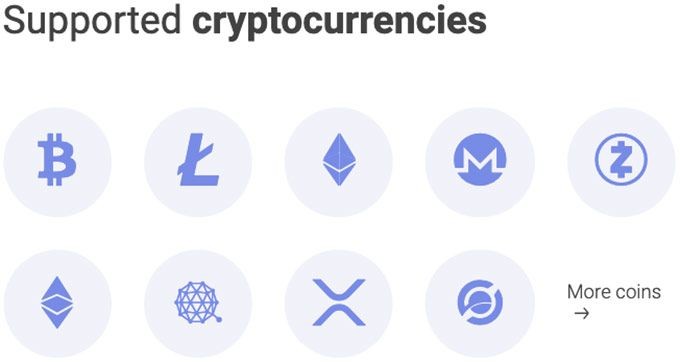 Here are some of the coins that are supported by Guarda:
Bitcoin
Bitcoin Cash
Ethereum
Ripple
Tezos
Dash
Cosmos
This is, obviously, a very small part of supported cryptocurrencies, however, you might already find cryptocurrency that you're looking for.
Helpful Customer Support
If you've ever used a cryptocurrency wallet before and experienced some difficulties, then you probably know that good customer support is not so easy to find. In most cases, it takes days to get an answer (if you get it at all).
Based on multiple Guarda wallet reviews, the situation is different with this wallet. Guarda's customer support is really helpful and will solve all the issues that you're experiencing (if you're having any).
Guarda's customer support will be there for you 24/7, so if you have any questions before starting using the platform, or have some sort of concerns when using it - do not hesitate to ask.

Did you know?
Guarda Wallet Review: CONS
So far, all the aspects regarding Guarda crypto wallet seem to be pretty good, however, now it's time to take a look at more significant drawbacks.
Relatively High Fees
When it comes to software cryptocurrency wallets, the majority of them are free. However, it's obvious that they need to make money somehow. That's why most of them charge a specific amount for trading one cryptocurrency to another or simply for sending assets.
You might be confused, we're talking about Guarda wallet, so what does it have to do with exchanging cryptocurrencies? Well, as I said, free wallets need to make money somehow, so most of them provide cryptocurrency exchange services that charge for trading.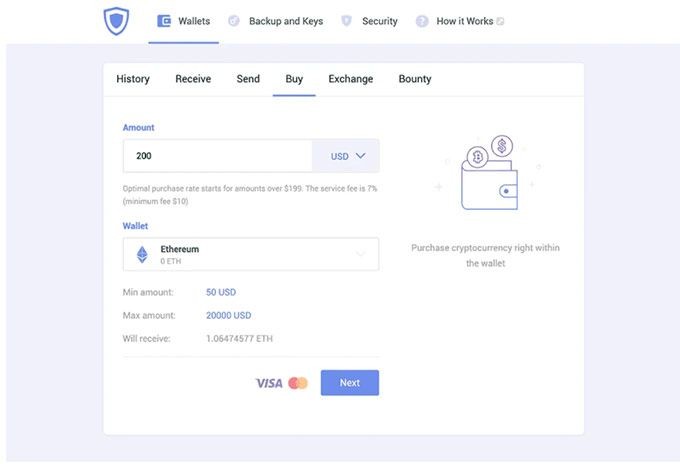 The situation is similar with the Guarda wallet. While you can create an account, download the app and use it completely free, you will need to pay a 3.5% fee when using the built-in exchange service.
3.5% fee is relatively high compared to what other cryptocurrency exchanges have to offer. That's why it's one of the major Guarda wallet flaws.
Still New Company
The final aspect that I would like to include in this Guarda wallet review is not a major flaw but rather something that you should think about.
Guarda was founded only a few years ago, so it's a relatively new wallet compared to the industry giants. This means that the wallet is not as time-tested as it's competitors, such as Ledger and Trezor that were founded in the period of 2012-2014.
This is it, I've provided you with all the major Guarda wallet pros and cons, so you can already make certain assumptions about this provider and even decide if it's suitable for your needs.
How to Use Guarda Wallet?
Guarda is really easy to use, however, you still might have questions related to its usability. If so, let me tell you how to use the Guarda wallet.
How to Create an Account?
Guarda wallet can be created in a few easy steps:
Step 1: Go to guarda.com/app.
Step 2: Click on "Create a New Wallet". Once doing that, you will be asked to create a secure password. You should never include personal information into your password. If you're out of ideas, then take advantage of a password generator.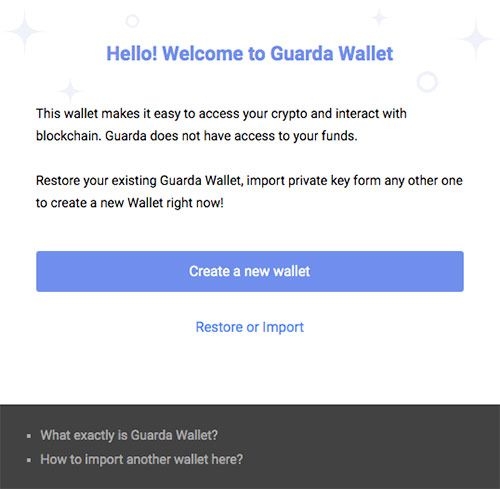 Step 3: After entering the password, you should write it down and press "I've written it down".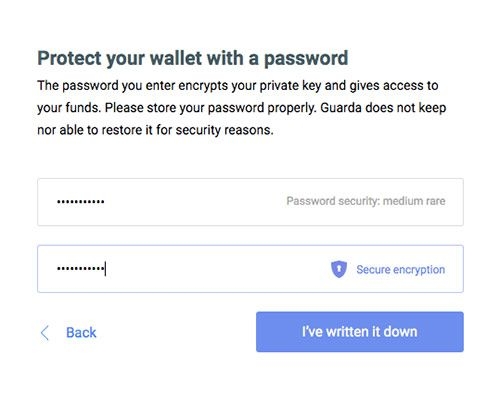 Step 4: Download your backup. Note: it's crucial to never lose your backup because, otherwise, you won't be able to access your cryptocurrencies.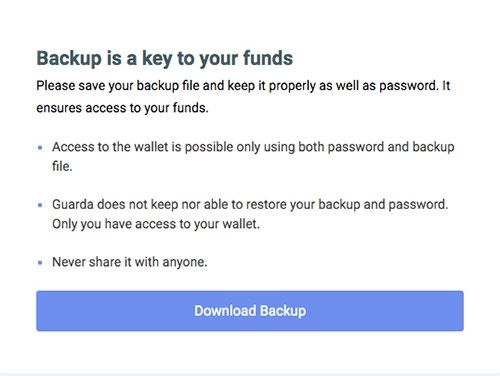 How to Send?
To send crypto, log into your wallet and select "Send". Now you need to provide the wallet address and the amount that you want to send. After doing that, press "Next". That's it, you've managed to send your coins. Below you can see the image that will explain the whole process in a more clear way.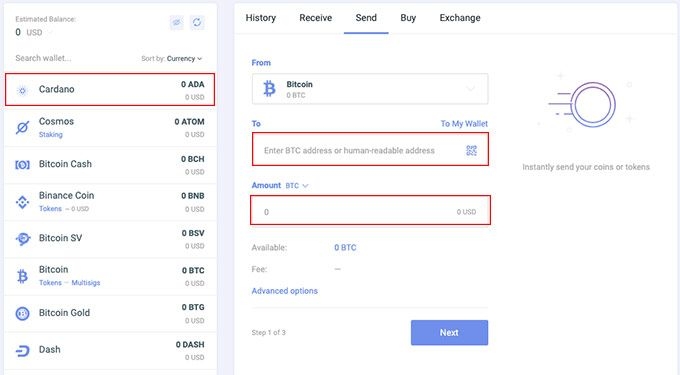 Now, let's see how to receive coins.
How to Receive?
Receiving coins is just as simple as sending them. First of all, you need to log into your account, then select crypto that you want to receive and press on "Receive". After that, copy the wallet address and send you to your coins to that address. Now, all you need to do is wait for the coins to appear in your wallet.
If you find it difficult to figure out, simply take a look at the picture below.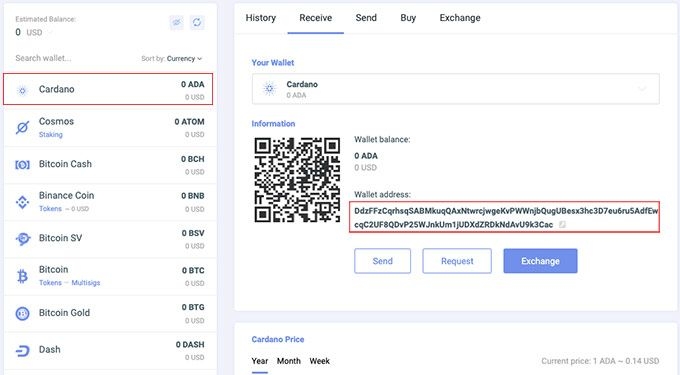 Just like I told you, it requires no previous knowledge to use Guarda wallet.
That's about it, this Guarda wallet review is coming to an end. Now, let's jump to conclusions.

Pros
Can be managed from mobile device
Very secure
Supports more than 5500 cryptocurrencies

Pros
Top-tier security
DeFi app support
Store over 5500 assets, install up to 100 apps simultaneously

Pros
Multiple cryptocurrency support
Very secure
SegWit and Bech32 address support
Conclusions
Therefore, Guarda is a multi-platform cryptocurrency wallet that offers web, desktop and mobile wallets. Since you get to choose from online and software wallets, it's recommended to choose the latter one.
Even though Guarda will never be as safe as reliable hardware wallets, such as Ledger Nano X and Trezor Model T, it offers some attractive security features that should keep your assets safe.
Table: The company information of the Guarda Wallet and Trezor Model T
If you like how easy it is to use Guarda wallet, however, want to improve your security, you should know that it can be synced with the Ledger wallet. It's highly recommended if you store huge amounts of cryptocurrencies.
I hope that you found this Guarda wallet review helpful and managed to decide if this wallet is exactly what you're looking for!
The content published on this website is not aimed to give any kind of financial, investment, trading, or any other form of advice. BitDegree.org does not endorse or suggest you to buy, sell or hold any kind of cryptocurrency. Before making financial investment decisions, do consult your financial advisor.
About Article's Experts & Analysts