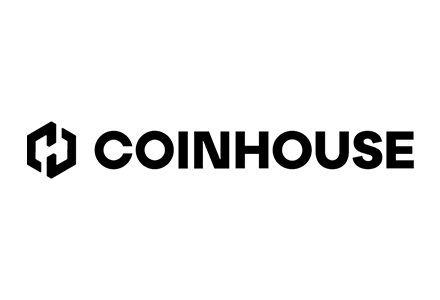 With the cryptocurrency market growing and attracting more and more people, it has never been easier to purchase the crypto assets that you'd want. These days, there are countless numbers of exchanges, brokerages, and other platforms that allow you to either buy, trade, or store crypto. In this Coinhouse review, we'll be talking about one such platform.
Coinhouse is a French crypto brokerage platform. This fact alone makes it quite unique, since there aren't all that many high-profile crypto exchanges and acquisition sites from Europe. Naturally, this comes with some added benefits to European users - we'll talk about that eventually. That said, this isn't the only feature that Coinhouse is known for.
If you're located in the European Union (in addition to other countries that support SEPA bank accounts), and are looking for a reliable, high-end exchange platform to purchase and invest in crypto, Coinhouse could be a viable option! That doesn't really say anything, though - let's get straight to the facts.
Pros
Very secure
An established brokerage (founded in 2014)
Multiple different features
Newbie- and expert trader-friendly
Great customer support
Over 50 supported cryptocurrencies
Cons
Somewhat high fees
Only available with a SEPA bank account
Coinhouse Review: PROS
To start things off, as per tradition, we'll start off this Coinhouse review by looking at the positive sides of the platform, and talk about its most notable benefits. At the top of this list, you will find security and regulation.
A Highly-Secure, Well-Regulated Crypto Broker
It really is no secret that security is the "name of the game", when it comes to all-things-crypto. As time goes on, though, regulatory compliance is slowly becoming equally as important. Allow me to explain.
Whether you decide to use the Coinhouse exchange, or any other crypto-related service, you are probably going to transact with financial assets - crypto, euros, US dollars, and so on. In a situation like that, you'd be highly interested in keeping those assets safe and sound, right?
Well, with crypto still being in its infancy days (yes, it really is still *that* early), there are still a lot of mistakes being made, by multiple companies around the globe. In many cases, these mistakes happen due to some sort of negligence or oversight regarding security. Well, user Coinhouse reviews will tell you that the crypto broker in question is very serious in this regard.

Coinhouse utilizes all of the industry-standard security features that you'd come to expect, from a platform of its size. For example, if you decide to store (keep) your crypto assets on Coinhouse Pro (Premium - or the Coinhouse exchange, in general), your coins and tokens would be stored with Ledger Vault - an institutional crypto safety solution employed by multiple platforms around the world.
Naturally, users also have the opportunity to utilize some of the more traditional digital security features, such as two-factor authentication (2FA). While being an industry standard for most exchanges out there, 2FA is still very effective in keeping your assets safe and sound.
Now, as mentioned earlier in the Coinhouse review, regulations - or, rather, regulatory compliance - are slowly becoming equally as important as traditional security features. That's because, if the platform that you're using is regulated, and complies with all of the relevant laws within the region of its operations, this adds a huge amount of safety and reassurance to the services that it offers.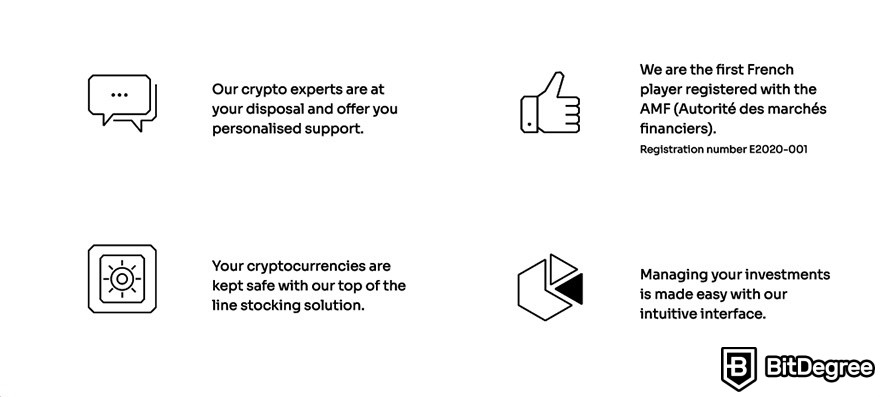 Don't get me wrong - this doesn't mean that all DEXs are inherently unsafe! However, for the sake of not diving deep into the crypto regulation rabbit hole, let's leave that discussion for another day.
So, how does this all tie in with the Coinhouse exchange? Well, being based in the EU, Coinhouse is one of the strictest-regulated crypto brokers that you might come across!
The simplest example of this would be the fact that the platform is the first French crypto exchange that is registered with Autorité des Marchés Financiers - a French governmental agency that's responsible for overseeing the financial markets, protecting investors' interests and funds, and making sure that all financial institutions follow the law, to a T.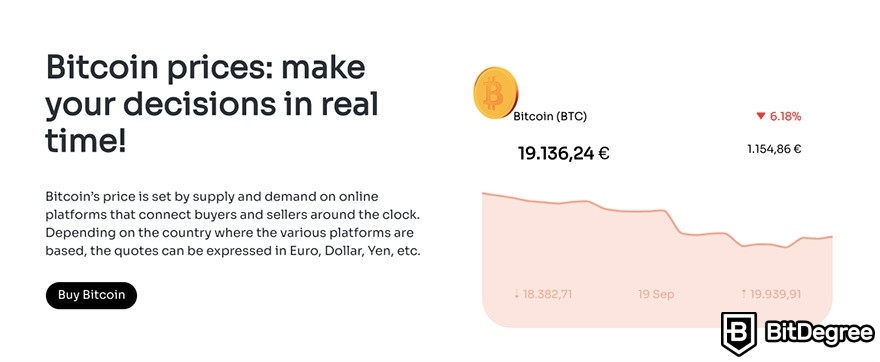 Following that, naturally, both the standard platform, as well as Coinhouse Pro (Premium) will require all of its users to pass KYC & AML checks before they can start buying and investing in crypto. This is, once again, pretty standard for any high-end crypto exchange, and Coinhouse isn't an exception to the rule.
Lastly, it's also worth noting that the Coinhouse exchange was first established all the way back in 2014. While this might come off as trivial information for the uninitiated, in reality, it says a lot about the company! Being present on the market for such a long time, Coinhouse has seen both the good, as well as the bad that it has to offer - and the brokerage still stands strong, to this day!
A Decent Selection of Cryptocurrencies
Long gone are the days when your average crypto investor would only look to trade the most popular crypto assets, such as Bitcoin or Ethereum. Instead, nowadays, the situation is very different - even complete industry newcomers are often interested in a wide variety of coins & tokens, and are thus looking for platforms that would support them.
It's a sentiment that you'll find with user Coinhouse reviews, too. That's not at all surprising - with so many different assets available to be accessed, and the more-popular cryptos being thrown into the mainstream spotlight, it makes sense that people are looking to diversify their portfolios, straight from the get-go.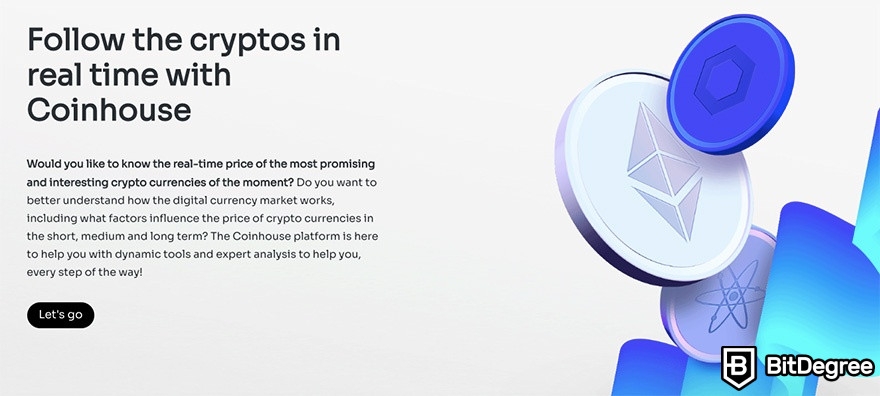 Following that, exchange platforms around the globe are constantly looking to list more and more assets, so that their clients wouldn't need to venture off to a different exchange, and could find everything that they are looking for with the same, single brand.
Now, if you're looking to find out what is Coinhouse, you should be aware of the fact that the company offers a very decent selection of crypto assets to its users. Specifically, as of writing this Coinhouse review, there are currently over 50 crypto coins & tokens supported on the brokerage.
This list does, naturally, include all of the major names that you would expect to see - Bitcoin, Ethereum, Ripple, Litecoin, Polkadot, and so on. However, if you're interested in some of the more-niche assets, you'll find many of them here, as well - CRV, UNI, YFI, SUSHI, etc.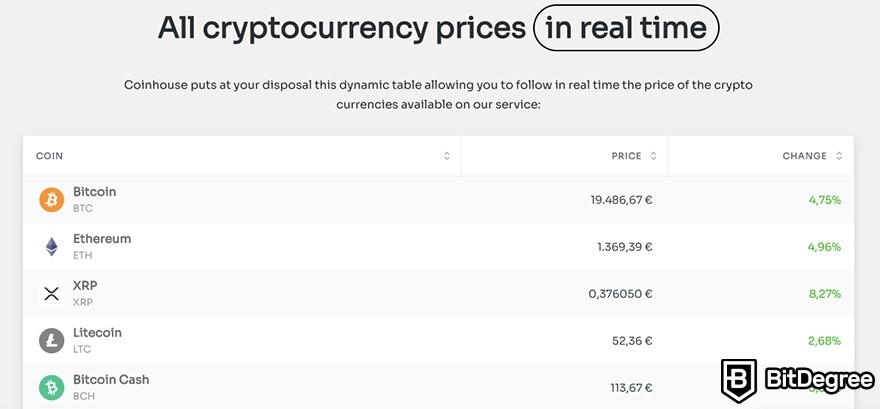 Admittedly, it's worth pointing out that over 50 supported cryptos might not seem like a big number - after all, there are exchange platforms out there that support well into 100s of cryptocurrencies! That said, there are many variables at play here - regulations, region-specific crypto bans, asset safety measures, and so on, and so forth.
At the end of the day, whether you're a newbie investor or a professional trader, chances are that you'll find what you're looking for, with the Coinhouse exchange - something expressed by multiple user Coinhouse reviews, as well!
Top-Tier Customer Support
I tend to point this out with many of my crypto project reviews, and this Coinhouse review won't be any different - customer support is a very underappreciated feature, in the world of crypto.
Hear me out.
If you're using a service, and something goes wrong, you'd probably want there to be customer support agents, ready to help you at any point throughout the day, any day. That makes a lot of sense, especially when you're dealing with actual financial assets - here, the stakes are always high.
Well, with crypto, you can take those stakes, and raise them up a couple of times - with so many newbies entering the market, it's very easy to make mistakes, and if you know anything about crypto, you will also know that mistakes in this space are often unforgivable.

All of that is to say, if you're wondering what is Coinhouse customer support like, I can assure you - judging by the variety of positive user Coinhouse reviews, it would seem that it's definitely one of the stronger sides of the brokerage.
Coinhouse does not have live chat support, which is a shame. Furthermore, their support is available during fixed hours - Mondays through Friday, from 9:30 AM to 6 PM, Paris-time.
That being said, you can reach support via email (by submitting a support ticket), or by calling them up with a provided number. This is definitely much appreciated, since if you run into some sort of an issue, and need to solve it fast, there's no faster way to reach support than via phone.
On top of that, user Coinhouse reviews will tell you that the customer support agents over at the brokerage in question are very friendly and helpful, and will do everything to solve any and all issues that you might face. I probably don't need to tell you that this is a huge benefit, albeit still often an underappreciated one.
Multiple Different Services
Up to this point in the Coinhouse review, I've referred to the brokerage as just that - a cryptocurrency brokerage platform, where you can purchase and sell crypto coins & tokens, as well as invest for the longer term, if you so wish to.
Truth be told, though - Coinhouse actually offers a lot of different features to its clients! Let's run through them, shall we?
First of all, you have crypto savings accounts. As the term might imply, this feature allows you to store your crypto with Coinhouse, and earn a passive interest over time, in the form of crypto.

Now, there are three types of savings accounts that you can pick - Bitcoin, Ethereum, and Tether. Each of them offer different interest rates, but you can expect to earn up to 6% annual returns (depending on the market, of course).
The best part? There are no entry, management, or exit fees. That's huge, when it comes to any potential profits that you might see!
Next up, asset and / or portfolio management. The Coinhouse exchange allows you to avoid spending countless hours looking at crypto news and charts - you can trust their experts, and leave your investment plans in their hands. Coinhouse crypto professionals will organize an asset and (or) portfolio management plan for you, in-line with your goals, budget, and other variables.

It's a very rare feature to come across, and is thus certainly an interesting one to consider!
Then, you have recurring transfers - a feature that is still in development. These are pretty self-explanatory - if you'd like to invest into crypto in a recurring manner (depending on price fluctuations and general market volatility, of course), but don't want the headache of having to do so manually every single time, this is the feature for you.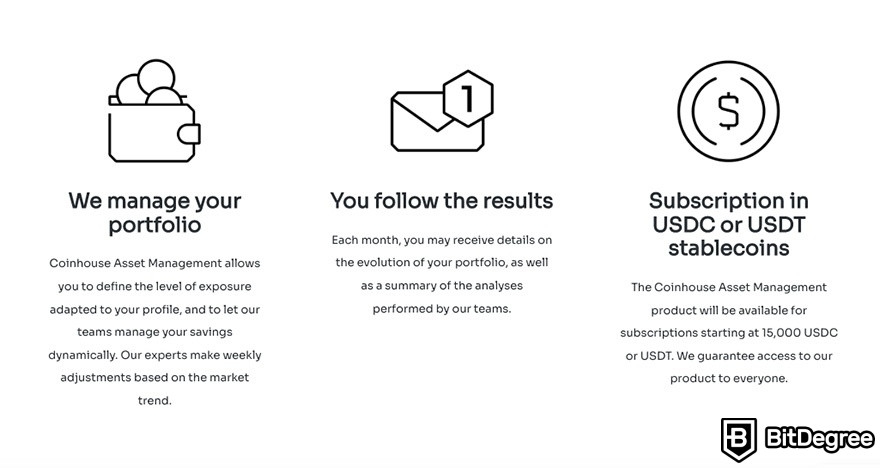 Lastly, you have Coinhouse Custody - a sister company of Coinhouse, the platform offers institutions and high-tier investors the opportunity to store their crypto assets with Coinhouse, in a designated, highly-secure manner.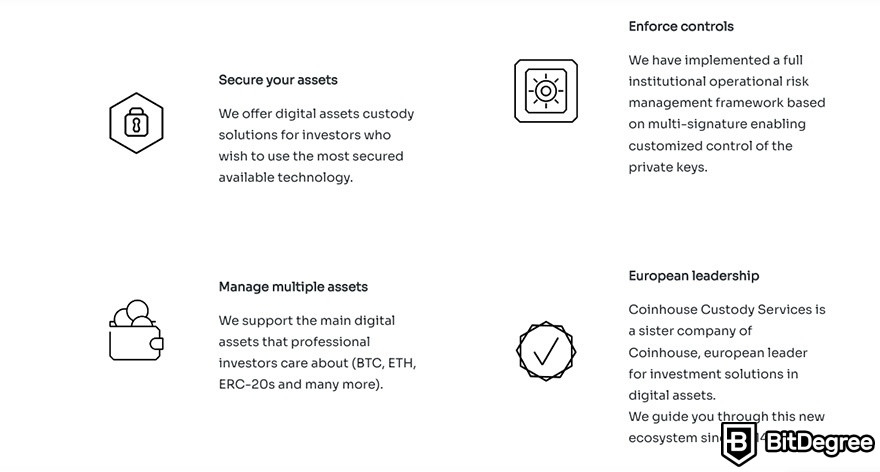 Note that these are all major features available with Coinhouse - there are additional ones that you can explore, as well! These would include the likes of Coinhouse Academy - a designated area where you can learn more about crypto, and Coinhouse itself -, training programs for teams and individuals, as well as institutional solutions aimed at companies that'd want to use the services of the brokerage in question.
Different Types of Accounts for Different Investors
Probably one of the most unique features of the Coinhouse exchange platform is that it operates on a subscription basis. This is a very uncommon feature, as far as crypto exchange platforms are concerned, and it certainly makes Coinhouse stand out from the crowd.
Essentially, there are 3+1 account types available with the brokerage in question. These are:
Classic (standard account)
Premium
Platinum
There's also an additional account called Business+, which is aimed at high-tier professional traders and institutional investors - since it's a very niche, custom service, we won't look into it too much, in this Coinhouse review.
Starting off with the Classic account, it's completely free to open and start using. This account type is aimed at individuals who are still very new to the space, and aren't planning on becoming active traders or investors, just yet. Instead, if you want to explore Coinhouse, and some of the core features that it offers, you will be able to do so, with the Classic account, free of charge.

Moving on, next, you have the Premium account, also known as Coinhouse Pro. This is the account type that's aimed at "your standard crypto enthusiast" - if you're a fan of all-things-crypto, have been in the market for a while now and know your way around it, and do already know and understand how crypto wallets, trading, and other, similar concepts work, this account type will likely suit you best.
With a Premium account, you'll receive better fee deals, more advanced features, as well as a variety of additional services. Judging by multiple user Coinhouse reviews, a Premium plan will cost you €39 per month.
Lastly, the Platinum account. As you might expect, this plan is catered towards individuals who are either already expert traders, or who have the money to invest, but don't really want to spend the time researching the market themselves.

With a Platinum subscription, you'll have access to Coinhouse's expert team of analysts and crypto professionals, and will have the opportunity to utilize their asset & portfolio management, custody, and other advanced features - all of which we've covered earlier in the Coinhouse review.
A Platinum subscription will cost €468 per year, and becomes free after $50,000 is invested. You may choose to pay monthly, yearly, bi-yearly, or every three years - if you choose the two latter options, you will receive discounts of 20% and 30%, respectively.
I have to admit - it certainly is a unique approach to user account management! Coinhouse has a very specific model of functioning, and thus, offers rather specific benefits and features, depending on the plan that you choose.
Latest Binance Coupon Found:
CLAIM $600 BONUS
Exclusive $600 Binance Offer
Don't miss this limited-time deal that's only available for our readers. Follow the Binance referral code link & receive up to $600 in rewards and bonuses!
Expiration date: 13/06/2023
7,847 People Used
Only 49 Left
Coinhouse Review: CONS
Up to this point in the Coinhouse review, we've covered all of the main features (benefits) that you can expect to come across with the crypto brokerage in question. Now, it wouldn't really be a thorough review if we didn't take a look at some of the biggest shortcomings that the platform has, as well!
Only Accessible if You Have a SEPA Bank Account
Without a doubt, this is probably the biggest shortcoming associated with Coinhouse. Allow me to give you some context.
The majority of crypto exchange platforms aim to attract as many customers as possible. In most cases, this is a global phenomenon - meaning, if you're an exchange based in Asia, you'll likely try to receive licenses to operate in the US, or the EU. It makes sense - the more people become exposed to your services, the higher will your potential user base be.

However, as I've mentioned earlier, that's just it - the process isn't all that simple, and is often overfilled with bureaucracies, different types of paperwork, a load of inspections, and huge gaps of time in between all of those aforementioned things.
All of that said, certain exchanges and brokerages will only operate in specific regions, whether defined geographically, economically, or else. For anyone looking to find out what is Coinhouse Pro brokerage, you've probably guessed that this platform isn't an exception.
Coinhouse will only allow individuals who have a SEPA bank account to use their platform, and its services. In other words, if you want to start investing with Coinhouse, you will need to open a SEPA bank account, in one of the applicable countries.

Truth be told, this is actually a pretty interesting approach! Oftentimes, exchanges will outright ban residents of different regions from registering on their platform. With Coinhouse, the situation is very different - you can reside in, say, the US, and still have an account on the platform, as long as you possess a SEPA bank account.
It's worth mentioning that, while it does limit the number of potential users on the brokerage, it's still far from being a detrimental issue.
Somewhat High Fees
I probably don't really need to tell you this, but fees are a major factor to consider, when picking out a crypto exchange (or any other) service for yourself.
Most of the time, traditional crypto exchanges make a point out of their competitive fees. As of me writing this Coinhouse review, the current industry standard is 0,25% trading fees for market makers, and 0,3% for market takers.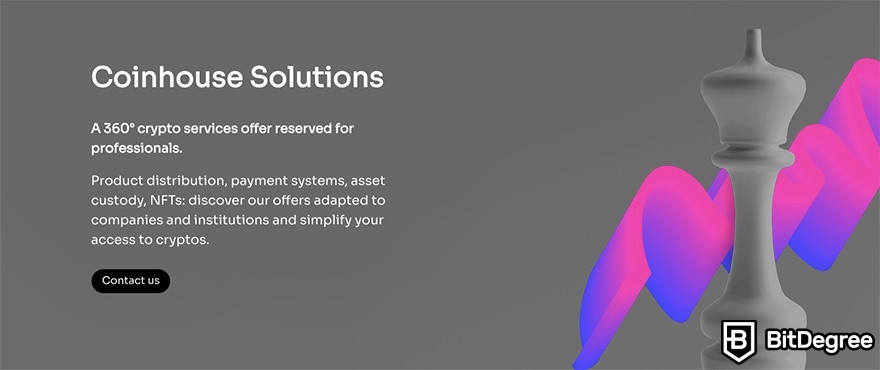 Where does Coinhouse stand, in this regard? Well, it's actually a bit complicated, since Coinhouse fees will depend on your account type, as well as a few other aspects.
According to various user reviews, if you're looking to swap cryptocurrencies, this will cost you a flat fee of 0,99%, across the board. So, no matter if you're a free (Classic) account user, or someone with a Platinum account subscription, swapping crypto will come with the same Coinhouse fees. Also, all types of accounts are free to be opened - the subscription payments come later, but opening an account will not cost you anything.
That said, if you're looking to buy crypto via SEPA bank transfer, the fees can range up to 1,49%, depending on your account type. Buying with a credit or debit card will entail a 1,99% fee.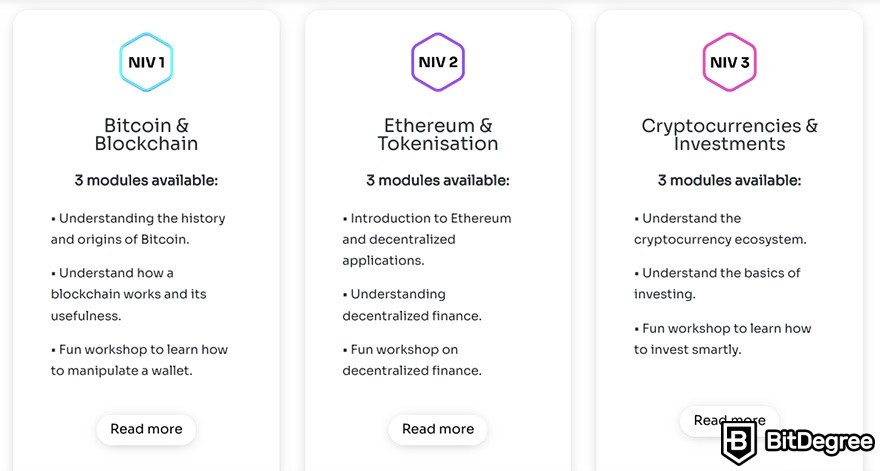 Lastly, it's worth mentioning that if you sign up for a Premium or a Platinum account, there will be certain limits for minimum deposits, as well. Premium users will need to deposit at least €5,000 in order to start participating in any of the services offered by Coinhouse, while Platinum account holders will have to bring in a hefty minimum of €100,000.
So, as you can probably see for yourself, the numbers are pretty significant. This is especially true if you compare them with some other top-rated crypto exchange platforms. However, as we've established a few times already in this Coinhouse review, the platform in question isn't really your typical "crypto exchange".
The higher Coinhouse fees are thus justified by all of the different services that you receive, as well as the advanced-level security features employed by the company.

Did you know?
How to Use Coinhouse?
To finish off this Coinhouse review, it's worth looking into how you yourself could start using the brokerage! While the general usability question would require a whole, separate tutorial, in of itself, here, we'll look into the very basics of registering on the site, and how you can check out all of its Classic account-available features.
Step 1: Navigate to the Coinhouse official website. Once there, click on the "Sign Up" button at the top-right of the screen.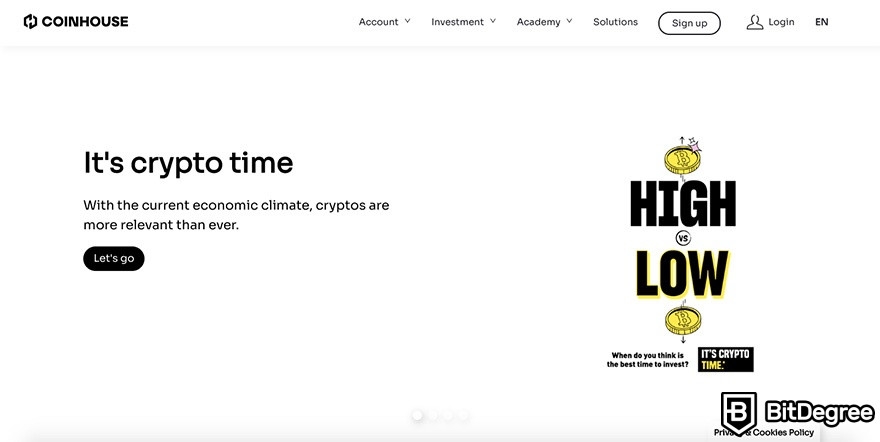 Step 2: Once you enter and confirm your email address, you will immediately be redirected to an identity verification page, where you will need to fill out all of the necessary KYC information about yourself. This includes your full name, residential address, as well as your full identity information.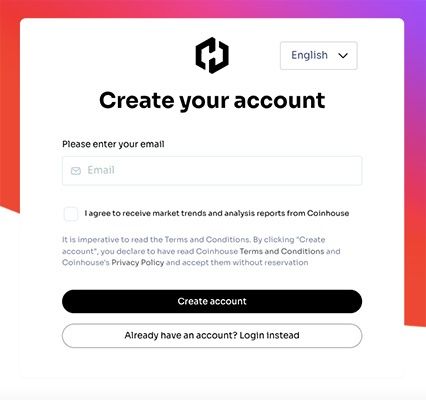 Step 3: Once you pass through all of the verification steps, and choose your account type, you'll be able to start exploring all of what Coinhouse has to offer!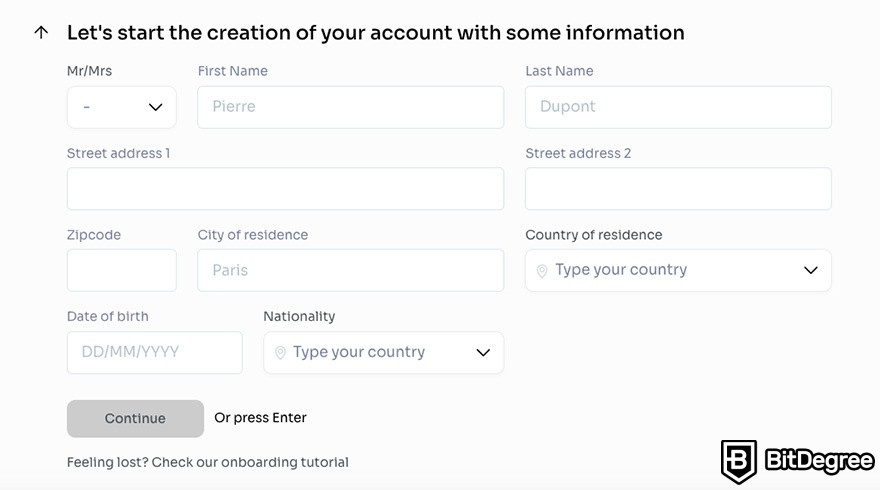 Truth be told, the registration process with Coinhouse is pretty simple, as long as you have all of the documentation ready. It's a shame that the company doesn't allow you to explore the platform beforehand, so that you could "get a feel" of what it's like, and if it suits your preferences.
At the same time, though, this type of aggressive KYC adds to the security of the site, and allows you to rest assured that all other users registered on the platform have been verified, and are complying with the relevant regulations.
Once you jump into your dashboard, you'll be able to check out the core features available with Coinhouse, and upgrade your account type, if you so wish to.

Pros
A very well-known crypto exchange platform
More than 500 different cryptos available
Two-factor authentication
Main Features
Over than 100 different cryptocurrencies available
Strong security
Small withdrawal fees

Pros
Secure and reliable
Low fees
A good amount of fiat currencies accepted
Main Features
Reputable exchange
Multiple fiat currencies are accepted
Relatively low trading fees

Pros
Anonymous trading
Secure
Supports a variety of cryptocurrencies
Main Features
Easy to use
Low fees
Good security
Conclusions
Reaching the end of this Coinhouse review, what's the sentiment here - is Coinhouse, Coinhouse Pro (Premium) or Coinhouse Platinum worth it?
Well, allow me to reiterate the point that I've been trying to make for the entirety of this article - Coinhouse is a very specific crypto brokerage, and thus, it will suit a specific type of people. If you're into traditional methods of investing, and are looking for a safety-first crypto platform, the yes - Coinhouse is definitely worth checking out, for sure!
While it may not have the best fees on the market, or even the biggest variety of crypto assets available to be traded, Coinhouse still provides its users with a huge array of features. You will be able to access everything from crypto savings accounts, all the way to personal, custom portfolio and asset management.
Those are some truly unique features!
To top that all off, if you're still unsure about Coinhouse, remember that the entry-level (Classic) account is free to create and use - while you will need to pass relevant KYC checks, there won't be any financial responsibilities (subscription fees), and thus, you'll be able to take your time in deciding whether or not Coinhouse suits your wants and needs.
Lastly, don't forget - the platform can only be accessed if you have a SEPA bank account. If you're not based in the EU (rather, the European economic zone), make sure to look into whether it's possible to open a SEPA account from your country of residence, in order to use Coinhouse.
Thanks for reading my Coinhouse review, and until next time!
The content published on this website is not aimed to give any kind of financial, investment, trading, or any other form of advice. BitDegree.org does not endorse or suggest you to buy, sell or hold any kind of cryptocurrency. Before making financial investment decisions, do consult your financial advisor.
Leave your honest Coinhouse review
Leave your genuine opinion & help thousands of people to choose the best crypto exchange. All reviews, either positive or negative, are accepted as long as they're honest. We do not publish biased reviews or spam. So if you want to share your experience, opinion or give advice - the scene is yours!