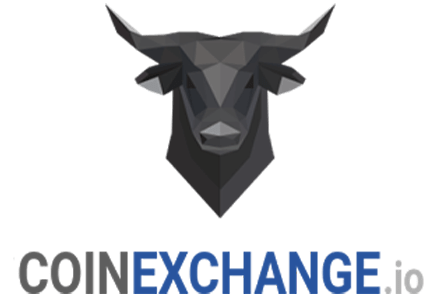 CoinExchange is NO longer available! It was closed back in 2019 due to financial issues. However, there's completely nothing to be worried about, there are even better platforms that I would like to recommend. Check out TOP 3 cryptocurrency exchanges:
For the sake of clarity, you'll still be able to find a thorough CoinExchange review below.
Interested in trading cryptocurrencies but not sure where to start? I know the feeling… There are just too many different exchanges to choose from, and each of them is traded to different types of traders.
However, since you came to this review, I assume that you're considering CoinExchange. Today, I will introduce you to CoinExchange and all the aspects that you need to know about this platform.
I will start this CoinExchange review with the company background, followed by the list of pros and cons as well as a step-by-step guide on how to use the platform and make your first trade.
So, by the end of this CoinExchange review, you will have all the needed information to make a final decision on whether CoinExchange is the right platform for your needs!
Well, what are you waiting for? Let's find out more about CoinExchange!
Pros
Simple platform
Anonymoustrading
Good security
Cons
No fiat currency deposits
High fees
Unhelpful customer support
What is CoinExchange?
CoinExchange is a third-party cryptocurrency exchange that specializes in alt-coins. Now, before I continue, I just wanted to make sure you understand what an altcoin is as many people get confused by this term.
Most people refer to an altcoin as any other cryptocurrency that is not Bitcoin. This is incorrect. An altcoin is a cryptocurrency that has its own native blockchain, like Ethereum or Ripple. If it doesn't have its own unique blockchain, but instead is built on Ethereum or NEO, etc., then it is a token!

Now that I have cleared that up, let's move on!
CoinExchange is a crypto-to-crypto platform, meaning that it is not involved in real-world currencies such as USD/GBP/EUR. Instead, you deposit a cryptocurrency such as Ethereum and then trade it for another cryptocurrency. The same applies to withdrawals — you can only withdraw cryptocurrency.
Unfortunately, even though I have spent all day trying to find out the CoinExchange.io location, I couldn't find any useful information. That's a bit worrying, TBH.
Anyway, if you are looking for an altcoin or token that isn't very popular, then there is a good chance that it will be listed on CoinExchange. In fact, there are more than 400 different cryptocurrency pairings available on the platform, which is quite a lot if you ask me.
Note: A cryptocurrency pairing is used to describe two different coins that can be traded with each other. For example, if you wanted to trade Bitcoin (BTC) with Litecoin (LTC), you would need to find a BTC/LTC or LTC/BTC pairing! Banks use pairings in the real-world too, such as USD/GBP or EUR/YEN!
Another thing that CoinExchange does is host new ICO's. Basically, when a new cryptocurrency project is launched, the project will list its coin or token on CoinExchange so that people would be able to invest.
So, now you know brief information about the company, the next part of this CoinExchange review is going to be focused on the advantages and disadvantages…
CoinExchange Review: Advantages & Disadvantages
✓ Trading Fees. One of the most important things to consider when choosing an exchange is trading fees. CoinExchange charges a fixed amount of 0.15% for both buying and selling coins.
Although it's not the lowest fee in the industry, it is much lower than many other cryptocurrency exchanges can provide you with. Of course, I'm not talking about the most recommended exchanges, they offer even lower fees.
✓ Free Deposits. The only thing you will have to pay for is the blockchain transaction fee that usually doesn't cost much at all.
✓ Simple Platform. As soon as you visit the CoinExchange website, the first thing you will notice how easy it is to use it. This means that it's just perfect for beginners. Also, since the exchange uses very few colors, it's very pleasant to the eye!
✓ Range of coins. One of the biggest advantages is that CoinExchnage offers hundreds of different coins to buy, sell and trade. You'll be able to find no only the most popular coins, such as BTC or ETH, but also less popular options.
✓ Anonymous trading. Many of the larger cryptocurrency exchanges will ask you to submit ID before you can trade. This is not a requirement at CoinExchange, meaning that you can buy, sell and trade coins anonymously.
✓ Good Security Tools. In February 2018, CoinExchange decided to make all users set up Two-Factor Authentication (2FA). This means that in order to trade or withdraw coins, you will need to confirm a code that is sent to your mobile phone. This adds extra security to your funds!
Now that I've discussed all the advantages, it's time to take a look at CoinExchange cons.

✗ No information about the company. The biggest concern I have when it comes to CoinExchange is that they don't list any information about their company. No one knows where it's based, when the platform was established or who owns it.
The reason this is a problem is because if anything bad happens, such as CoinExchange stealing everyone's coins, it wouldn't be possible to find out who did it. This is called accountability and CoinExchange has none of it.
✗ Customer Support. Another disadvantage that I feel is important to mention in this CoinExchange review is that their customer support is poor. There is no live chat or phone support, and the only way of getting help is by using an online ticket. Their help section is also quite limited.
✗ No Fiat Currency Deposits. It is always disappointing when a cryptocurrency exchange doesn't allow you to deposit funds using everyday payment methods such as a debit/credit card or bank account.
✗ High Withdrawal Fees. Although CoinExchange fees are clearly displayed, when I took the time to analyze them, I noticed that some are quite expensive. For example, if you want to withdraw Ethereum (ETH), it will cost you 0.01 ETH. This might not sound like much, but if Ethereum rose back to its previous $1000 mark, it will cost you $10.
✗ Minimum Deposits. CoinExchange have a high minimum deposit on some of their coins. For example, if you wanted to deposit Ethereum (ETH), you would need to deposit a minimum of 0.1 ETH! As I explained in my previous disadvantage, if Ethereum was $1000, that would mean a minimum deposit of $100!
✗ Low Trading Volumes. Compared with other exchanges, CoinExchange have low trading volumes. Even their most popular trading pairs do not reach more than $1 million in a 24-hour period, with some coins having trading volumes of less than $10 per day! This can make it difficult to buy and sell coins.
✗ Technical Problems. In early 2018, CoinExchange had to use a different domain name (www.coinexchange2.com) as their servers went down. They later said this was because they had their domain blacklisted.
✗ Bad Reviews. When I searched the cryptocurrency forums for user reviews on CoinExchange, I noticed that there are a lot of bad customer experiences. Things such as delayed withdrawals and downtime.
Latest Binance Coupon Found:
REDEEM $600 PRIZE
Binance Cyber Monday
Attention new Binance users: this Cyber Monday, you can score up to $600 in rewards by completing special tasks. Activate this amazing Binance Cyber Monday deal using the code – 49316610!
Expiration date : 05/12/2023
6,127 People Used
Only 16 Left
CoinExchange Review: Coins, Fees, and Verification
As I mentioned earlier in this CoinExchange review, there are hundreds of different coins provided by the company! You can choose from BTC, ETH, XRP, LTC, USDT, and many other options.
When it comes to trading fees, they're 0.15% every time you buy or sell a coin and deposits are free! Binance, however, charges less than 0.1%, that's even less expensive.
When it comes to verification, there is no requirement to send across any documentation. In fact, you don't even need to provide any personal information other than your email address.
This is a great benefit for those who want to trade anonymously. There are also no withdrawal limits, making it really easy to move funds around.

Did you know?
Who Should Use CoinExchange?
If you have read this CoinExchange review up to this point, you should be aware of both pros and cons of this exchange platform. One of the positives is that the platform is easy to use — making it suitable for beginners or those with little experience.
Another feature that might appeal to people is the fact you don't need to provide any ID or personal information to get started. In fact, no matter how much you trade, you can access all of CoinExchange's services without any restrictions.
I also think that CoinExchange is good for those who like to buy less popular coins that are normally cheap. Although these types of coins can be risky investments, sometimes they can be rewarding too.
I wouldn't recommend CoinExchange for those who want to trade really large amounts. This is because they choose to remain anonymous. So, if anything went wrong, the funds would be gone forever.
Although theft can happen with any third-party exchange, at least other exchanges are happy to identify themselves. If you are only looking where to deposit small amounts, then CoinExchange might be suitable for your needs!
So, now that you know what users CoinExchange suits best, I am going to give you a step-by-step guide on how to open an account! This is a really easy process and will only take you 5 minutes!
How to Create an Account?
1. First, you will need to visit the official CoinExchange website.
2. Next, click on the green Register Now.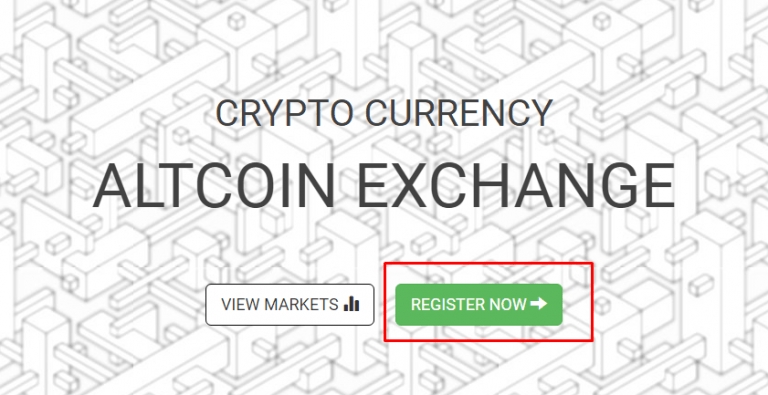 3. Now you will need to enter your email address and choose a username. You will also need to choose a really strong password. Then click Register.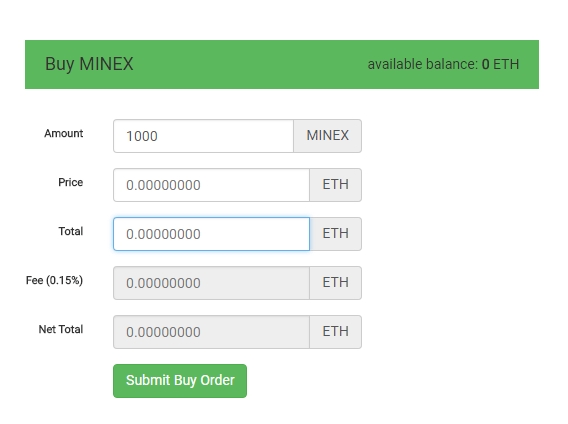 4. You will then need to confirm your email address by clicking on the link that CoinExchange sends you. And boom, you now have an account!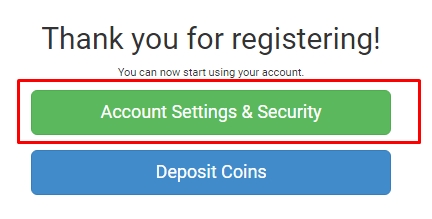 5. Now would be a good time to setup your account security as you will need to do this before you can trade. Click on Account Settings & Security.
6. Click on Google Authenticator and follow the instructions to connect your CoinExchange account with your mobile phone!

How To Buy Coins on CoinExchange.io?
So, now that you have an account at CoinExchange, it's now time to go and buy some coins! The first thing you need to do is deposit some funds. The easiest way to do this is to buy Ethereum with Coinbase and then transfer the coins to CoinExchange.
First, you need to set up an account with Coinbase. Then, once you have verified your identity and set up your debit/credit card, you can then buy some Ethereum.
1. Click on Buy/Sell.


2. Then click on Ethereum.


3. Scroll down and enter the amount of Ethereum you want to buy. I am buying 125 Euros worth. Don't forget, when you deposit ETH into CoinExchange it has to be a minimum of 0.1 ETH!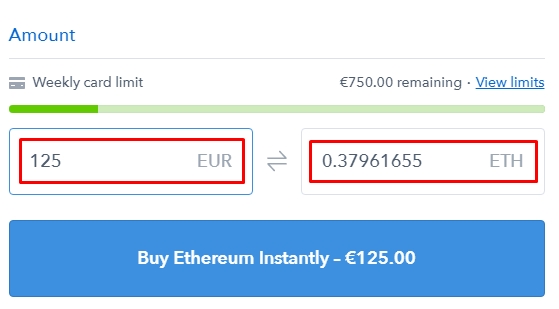 4. Finally, click on Buy Ethereum Instantly. You now have your very own Ethereum coins!
Transferring ETH To CoinExchange
1. At the top of the Coinbase screen, click on Accounts.


2. Next, select Ethereum and click on Send.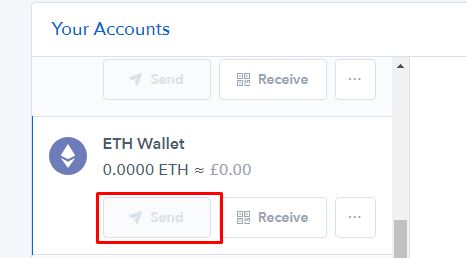 3. This is where you will need to enter your CoinExchange wallet address. So, open a new tab and log back in to your CoinExchange account.
4. At the very top right of the screen, click on My Account, then click on Balances.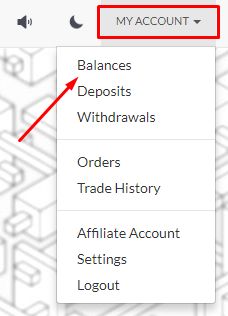 5. This page might take some time to load, but once it does, enter Ethereum into the search box.


6. Find the line that displays Ethereum (ETH) and then click on the blue Actions button. In the drop down list, select Deposit ETH.


7. CoinExchange will now warn you that the minimum deposit is 0.1 ETH. Next, click on Generate New Address.


8. You will now see your personal deposit address for Ethereum. Copy it to your clipboard!

9. Finally, go back to your Coinbase tab and paste in the wallet address that you just copied. Once you click on Send, the funds should reach the CoinExchange account within 10 minutes.
How To Use CoinExchange.io
Now that your CoinExchange deposit has cleared, I will now show you how to make your first trade! I will show you how to buy a token called Minex (MNX), however, you can apply this same process to the coin you want to buy.

1. Click on Select a Market and then choose ETH Ethereum.


2. Next, click on Select one or more markets and then search for the coin you want to buy. As I am buying Minex, I am then clicking on the MINEX/ETH pairing.

3. Once again, click on the currency pairing.


4. You will now be on the trading screen for the coin you want to buy! Scroll down below the chart and look for the green Buy Minex box.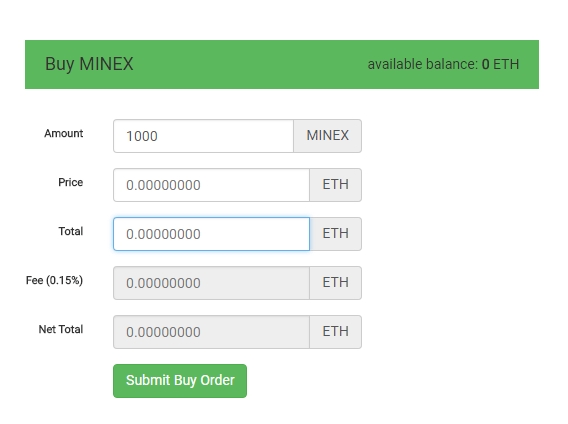 5. In the Amount box, enter the number of coins you want to buy.
6. Finally, click on the green Submit Buy Order button to complete your trade!

Pros
A very well-known crypto exchange platform
More than 500 different cryptos available
Two-factor authentication
Main Features
Over than 100 different cryptocurrencies available
Strong security
Small withdrawal fees

Pros
Secure and reliable
Low fees
A good amount of fiat currencies accepted
Main Features
Reputable exchange
Multiple fiat currencies are accepted
Relatively low trading fees

Pros
Anonymous trading
Secure
Supports a variety of cryptocurrencies
Main Features
Easy to use
Low fees
Good security
Conclusion
That's the end of this CoinExchange review! I hope you found it interesting and learned something from this. If you read it from start to finish, you should now have a good understanding of how the exchange works, its advantages and disadvantages, and how to start trading.
CoinExchange is certainly not the best exchange out there, but if you are looking to trade lots of new altcoins and tokens, then this might be the right exchange for you.
My only advice is to not deposit huge amounts of coins, as I am concerned about their decision to stay anonymous. Most importantly, never trade an amount that you can't afford to lose!
If you want to find another, more secure cryptocurrency exchange, you should check out Binance, Kucoin and Kraken. They're the most reliable cryptocurrency exchanges in the market. Not only they provide strong security and a long list of cryptocurrencies to pick from but also low fees and helpful customer support.
The content published on this website is not aimed to give any kind of financial, investment, trading, or any other form of advice. BitDegree.org does not endorse or suggest you to buy, sell or hold any kind of cryptocurrency. Before making financial investment decisions, do consult your financial advisor.
About Article's Experts & Analysts