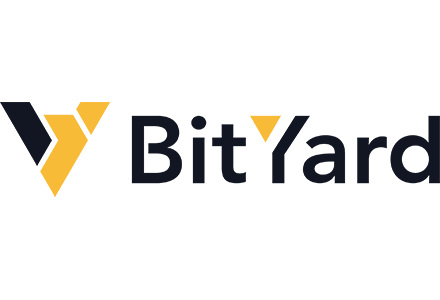 UPDATE 2023: On January 5, 2023, BitYard rebranded to BYDFi. However, for the sake of consistency, in this review, I'll be referring to it as BitYard. If you'd like to check out the newer, updated overview of said platform, feel free to visit our in-depth BYDFi review.
Have you ever looked at a cryptocurrency trading service, and thought to yourself - nope, that's way too difficult? It's actually an issue that many newbie investors face - all of the graphs and industry-specific jargon can really throw you off! In this BitYard review, however, we'll take a look at a platform that tackles this issue rather well.
BitYard is a Singapore-born company. The exchange was launched in 2019, which makes it pretty young, when compared to some of its competitors. That being said, for those who are wondering is BitYard legit, I can tell you, straight from the get-go - the company offers its users a huge array of features, and has already managed to earn a reputation of a reliable crypto trading service provider.
We'll mention and discuss all of those features in this BitYard review! Whether you're looking for information on the company's fee model, security features, or have heard about its copy-trading functionality, you'll find all of those concepts (and more!) discussed below.
Let's get to it!
Pros
Trade crypto, futures, CFDs, and more
Beginner-friendly
Low trading fees
Copy-trading feature
24/7 live customer support
Industry-standard security features
Cons
Some reported issues with certain coin withdrawals
BitYard Review: PROS
Let's take this BitYard review from the top, and start off with the most-notable benefits of the platform.
A One-Stop Trading Platform
One of the core strengths of BitYard is the fact that it's a "one-stop-shop" for all of your trading needs. Truth be told, this includes other major asset groups, and not only crypto.
User BitYard reviews found online will tell you that, with the platform in question, you'll be able to trade:
Spot
Inverse Perpetual Futures
Lite Futures (CFDs)
Commodities
Forex
The aforementioned products available on the trading platform in question do also break down into smaller sections. However, the core benefit here remains clear - if you're looking to diversify your portfolio, and add things such as oil and Forex into it, BitYard allows you to do so, all in one, single trading platform.
First and foremost, this brings convenience. You don't need to create multiple accounts on a variety of different exchanges - everything can be done on a single platform.
This, in turn, results in speed and efficiency - things that are exceptionally important for anyone who's striving to become a professional trader, wants to get the best prices, or does day trading as their full-time job.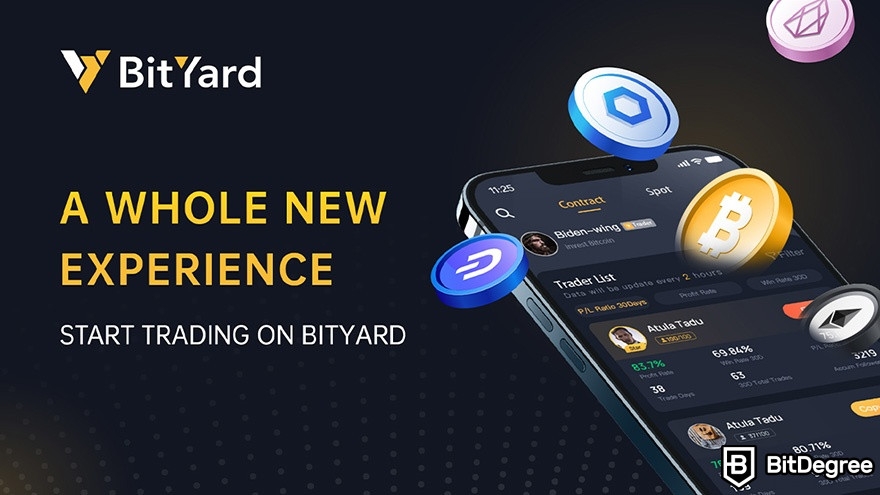 If you're a newbie in the industry, don't let that dissuade you, though. While there's a lot of complex functionality available on the platform, BitYard trading is really as difficult as you'll make it out to be. Specifically, you can choose to ignore all of the advanced features available on the platform, and focus on simple crypto spot trading.
To circle back to the initial point I was trying to make, most user BitYard reviews are very satisfied with the fact that you can trade multiple different asset classes on the exchange in question. Navigating through the trading interfaces is super-fast and simple, and can be done "on the spot".
Besides, note that it offers a variety of order types. This includes limit, market, stop-loss, and take profit orders.
With cryptocurrencies being the center of attention, though, I am also glad to say that BitYard supports a wide selection of coins and trading pairs.
Latest Binance Coupon Found:
REDEEM $600 PRIZE
Binance Cyber Monday
Attention new Binance users: this Cyber Monday, you can score up to $600 in rewards by completing special tasks. Activate this amazing Binance Cyber Monday deal using the code – 49316610!
Expiration date : 05/12/2023
6,127 People Used
Only 16 Left
A Huge Selection of Cryptos
One of the biggest frustrations that traders face with modern-day exchanges is the fact that many of them have very limited coin and token support.
It's expected that an exchange will support assets such as Bitcoin or Ethereum - these cryptos are basically a given. However, after you check out the list of top 10 cryptocurrencies, you might struggle to find any of the less-known coins. That's a major shame!
It's also not something that you'd need to worry about when it comes to BitYard trading. The exchange platform in question offers over 400 different cryptocurrencies to its users.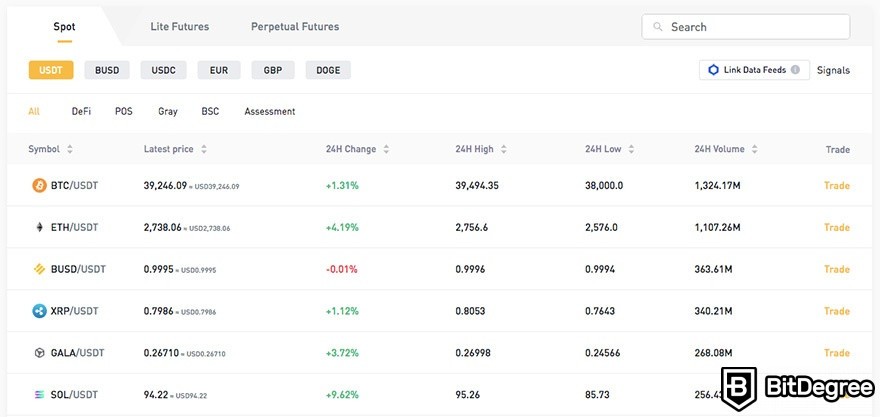 These do, naturally, include the most notable names in the current DeFi industry, such as Ethereum and 1Inch. However, you will also be able to find some of the more-niche tokens, as well!
Remember when we talked about portfolio diversification, earlier on in the BitYard review? Well, this point doesn't only apply to different asset classes - it's relevant when you're focusing on solemnly trading crypto, as well!
BitYard will allow you to diversify your crypto portfolio with niche assets and less-known coins and tokens. While it won't offer as many different assets as you'd find on, say, a top-tier DEX, this isn't really going to be an issue for most individuals - it can actually be considered a good thing, too!

You see, with BitYard being a legitimate and KYC-friendly platform, you won't need to worry about things such as spontaneous new project rug pulls, or coin de-listings - issues that are prominent with many decentralized exchanges out there.
Speaking of legitimacy, let's take a look at the security features that BitYard employs on their platform.
A Safe, Reliable, and Legitimate Cryptocurrency Exchange
Security and reliability are at the forefront of any crypto exchange on the market. While these concepts were always important, after a few notable and industry-shaking events over the past few years (Mt. Gox hack, BitConnect, etc.), exchange safety features have become the fundamental aspect through which all exchanges are analyzed, to begin with.
Naturally, as you might expect, there are plenty of people questioning "is BitYard safe?", and "is BitYard legit?". This makes sense, when you keep in mind the fact that the company is just a few years old.
That said, allow me to reassure you - if its multiple licenses and a strict KYC verification process are anything to go by, BitYard is as legitimate as any other high-end crypto exchange platform on the market.
License-wise, BitYard conforms to the following regulatory organs:
ACRA (Accounting and Corporate Regulatory Authority of Singapore)
MSB (The American Money Services Businesses)
MTR (Estonian Register of Economic Activity)
AUSTRAC (Australian Transaction Reports and Analysis Center)
All of these governmental entities mentioned above are concerned with making sure that financial service operators perform and maintain fair business practices, and ensure the security of their users' funds.
On top of that, as mentioned a bit earlier in this BitYard review, the company in question enforces strict KYC & AML verification checks on its users. These abbreviations stand for "Know Your Customer" and "Anti-Money Laundering", respectively, and relate to sets of financial guidelines that all centralized and legitimate crypto exchanges must adhere to.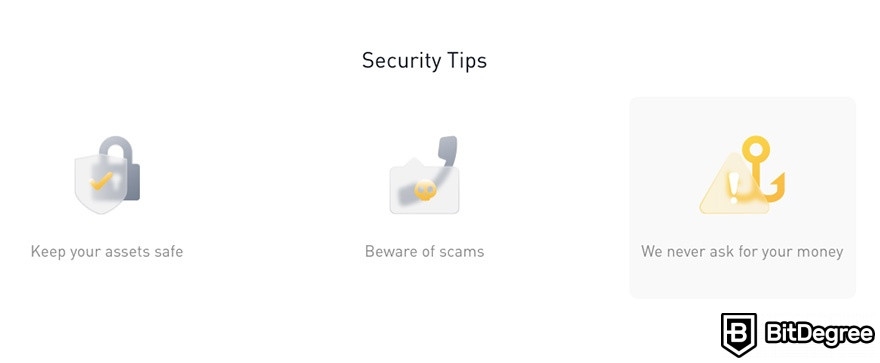 What does this look like from the user's perspective? Well, if you want to register on BitYard and use all of its available services (CFD and derivative trading, cryptocurrency exchanging, getting access to Forex and futures, etc.), you will need to provide the company with proof of your identity (submit a photo of a valid ID or passport), as well as pass card verification.
Furthermore, there will also be risk assessment processes in place, as well as constant active monitoring of your actions on the exchange platform itself. Now, if you're reading this BitYard review in order to find out is BitYard legitimate, this should definitely answer that question.
Now, one thing that should be mentioned is that you *will* actually be able to use BitYard, without KYC. Certain core features mentioned above will be limited, yes, but you may still register on and start exploring BitYard without submitting any personal information to the exchange in question.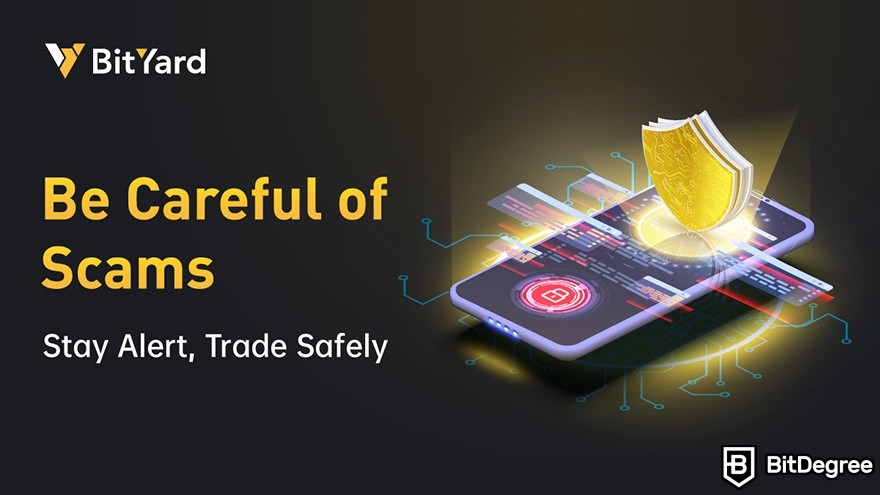 How is this notable, in the first place? Well, quite a few other exchanges out there will impose strict KYC checks from the very beginning - in other words, you won't be able to even pass the registration window without submitting proof of your identity.
The reason why this is less-than-ideal is simple - what if you find that the exchange isn't for you, and that the functionality that it provides isn't what you expected? Instead of finding this out and simply leaving to search for alternatives, your information is now recorded and kept by the exchange in question. Not ideal!
SMS authentication, custom PIN codes, account verifications, and so on - security-wise, BitYard does also employ all of the industry-standard features that you'd come to expect to find on a top-tier exchange platform.
Low (Maker / Taker Trading) Fees
In the world of asset trading, there are always two sides participating in a trade - market makers and market takers. Market makers will create a listing (a "sell" order), while takers will fill it (purchase the asset for the price set by the maker). All of this is true with trading, in general, and does also apply to the crypto market, as well.
Why do I tell you all of this? Well, in many cases, market makers and takers will have very different fees imposed on them, during the trade - takers are the ones that pay the larger side of the fee.
While it's not immediately apparent whilst reading through user BitYard reviews, if you do decide to trade on the BitYard app or their official website, you will learn that both the market makers and takers pay a very similar fee on BitYard. That's notable!

The fee in question will range from 0,1% up to 0,3%, for all spot trading that you may participate in. Truth be told, these are some of the lower fees in the industry!
Following that, cryptocurrency conversions will cost you from around 0,1% to 0,15%, depending on a few factors. Once again, this is a pretty standard fee, and the rate is very decent, when you take all factors into account (coin and token variety, the convenience of using the platform, and so on).
There's a selection of additional fee models, centered around other products offered by the BitYard trading platform (CFDs, overnight service fees, margin trading fees, etc.). If you'd like to study all of the fees imposed by the company, you can find them listed on their official website.
Copy-Trading Feature
User BitYard reviews do mention that the platform has quite a few unique features to offer. At the top of such features, however, you'll find the copy-trading functionality.
Just as the term implies, this feature allows you to copy a select trader, and perform all of the same trades as they would. BitYard has a separate section on their official website, where you can find the most successful traders per specific period of time.
Here, you can simply choose to copy their trades, with some data customized and adjusted to your liking!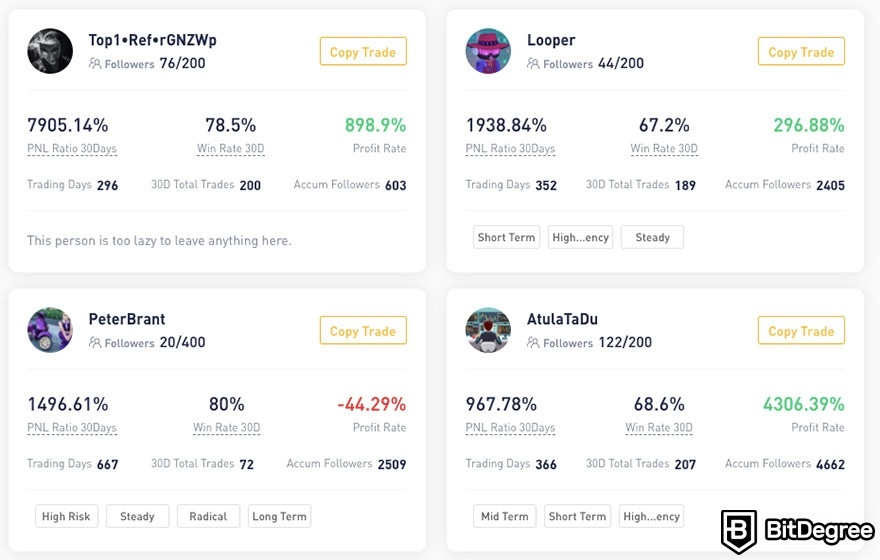 Evidently, BitYard isn't the *only* exchange platform that would have this functionality. That being said, as far as crypto-specific exchanges are concerned, copy-trading is exceptionally rare - it's mostly a feature that you'd expect to find with a traditional stock and commodity exchange!
Now, naturally, there are a lot of different details that should be examined, considered, and understood before participating in copy-trading - that's a given. However, the point remains the same - most user BitYard reviews found online are very positive towards the feature!
Fiat Currency Support
These days, fiat support is expected from any reliable cryptocurrency exchange. Frankly, that's not really surprising - this is one of the core features that all top-rated exchanges should possess! It's a super-simple way for beginners to come into crypto, and a lack of a fiat on-ramp is often viewed as rather shady (unless you're trading on a DEX).
Well, for anyone still wondering is BitYard legit, you'll be happy to know that the exchange in question does support fiat payments - specifically, fiat-crypto acquisitions.
BitYard itself doesn't process your transactions, though. Instead, this is done by Banxa, XanPool, Transak, and Ramp.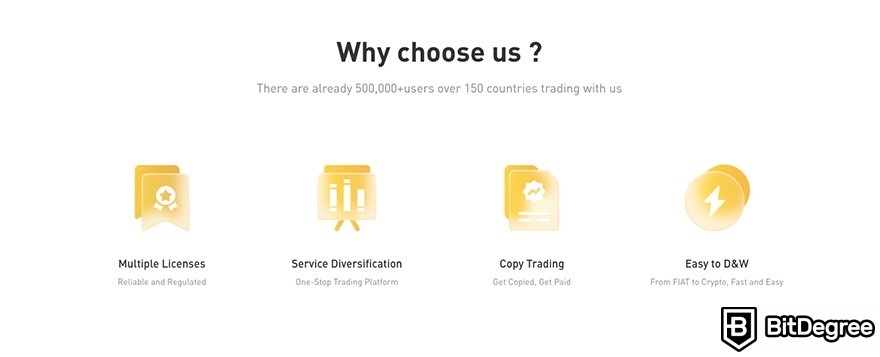 As far as fiat-crypto transactions are concerned, users are currently able to purchase 36 different crypto assets with fiat money. These include the most well-known coins (Bitcoin, Ethereum, Tether, XRP), as well as less-known cryptos, such as AAVE, COMP, BAT, and more.
Furthermore, you may also transfer fiat money to BitYard via a credit or debit card, cash deposits, and electronic money transfer. In other words, the company supports all of the most-popular methods of money transfer, so you can pick one that's most convenient to you!
All in all, fiat support is definitely one of the highlights of this BitYard review!
24/7 Live Customer Support
Have you ever come across an issue that you just can't seem to solve? Perhaps you were trading, and encountered a bug in the dashboard? Or, even worse, there was some sort of a technical glitch, and you can't see your funds in your exchange-based crypto wallet?
In situations like these, customer support becomes an invaluable asset to be had!
While many people would come to expect all major crypto exchange platforms to have live customer support services, the reality is a bit different. To this day, there's a sizeable number of exchanges that don't actually offer live customer support - instead, there's either a ticketing system, or you need to reach out to the exchange via an email.
In regards to the BitYard app, none of that will be necessary - the company offers its users 24/7 live customer support. All that you need to do is connect to a support agent via a live chat feature, at the bottom-left corner of the website.
This is awesome! It means that, no matter what sort of trouble you might find yourself in, or what questions you might have regarding the services offered by the exchange, you will always receive a timely and conclusive answer.
I've actually contacted a support agent myself, on BitYard. I had some questions regarding some of the company's services, and thought I'd simply ask the support for help. The agent I got connected to was patient and helpful, and answered my questions instantly.
If you yourself have some questions regarding BitYard, or simply want to find out is BitYard safe (in other words, find out more about the company's asset security features), you should definitely contact their support agents, and get your questions answered!
Mobile App, Affiliate Program, and Much More
By this point in the BitYard review, you've probably already noticed that the trading platform provided by the company comes equipped with a variety of different benefits. Before we move on to the next section of our review, however, let's take a quick look at some other notable features that we haven't yet mentioned.
First of all, BitYard is available to be used on your internet browser, by default. However, you may also choose to download the crypto exchange platform to your mobile device, as well - in other words, there's an app available to be checked out!

Having instant access to your portfolio and trading functionality on your smartphone will allow you to trade "on the go". This is an excellent point for any active day traders who need to react to the market fast, and at any point in time during the day. The app is available both on Google Play, as well as the Apple Store.
On top of that, BitYard also offers a very generous referral program to all of its users. You are able to earn up to 40% commission on all of your referred friends' trading fees, and the program itself is multi-level - the more people you refer, the more individuals will they themselves invite to BitYard, and thus, your earnings will increase, as well.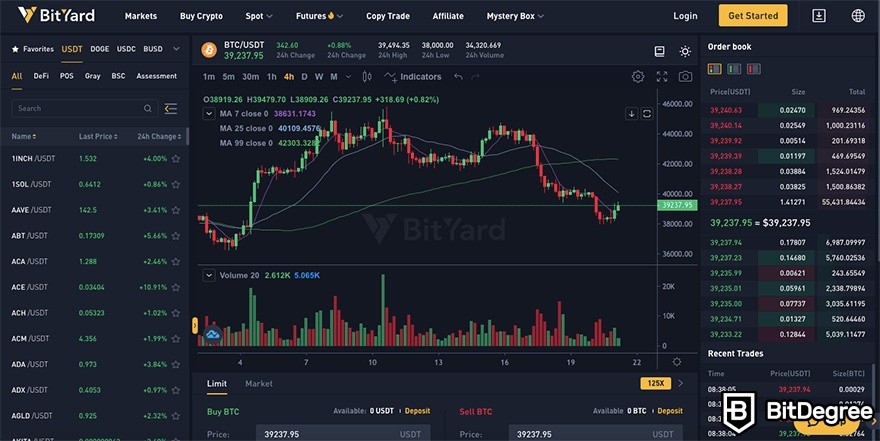 Besides that, it's worth noting that BitYard is supported in over 150 countries, including the United States! So, even US-based traders can use it.
Over 1400 different trading pairs, different products, certain features available without passing KYC verification… There are a lot of additional, smaller benefits available on the platform! That being said, with BitYard fees, main products, and benefits discussed and out of the way, let's move on, and talk about the less-positive side of the exchange.
Latest Binance Coupon Found:
REDEEM $600 PRIZE
Binance Cyber Monday
Attention new Binance users: this Cyber Monday, you can score up to $600 in rewards by completing special tasks. Activate this amazing Binance Cyber Monday deal using the code – 49316610!
Expiration date : 05/12/2023
6,127 People Used
Only 16 Left
BitYard Review: CONS
You'll notice that the vast majority of user-left BitYard reviews found online are very positive towards the cryptocurrency exchange service in question. Having said that, though, there are some quirks that still need to be addressed, before you can make your own mind regarding the matter!
Complaints About Limited Withdrawal Options
Probably the biggest complaint that you'll see mentioned in user BitYard reviews has to do with the fund withdrawal feature. To be more specific, users complain about only being able to withdraw funds in the form of USDT (the Tether stablecoin).
Browsing through the exchange, I myself did not encounter this issue - Bityard has a wide list of cryptocurrencies that it allows its users to withdraw, simply by entering the selected amount of coins, your receiving wallet, and choosing your chain (where needed).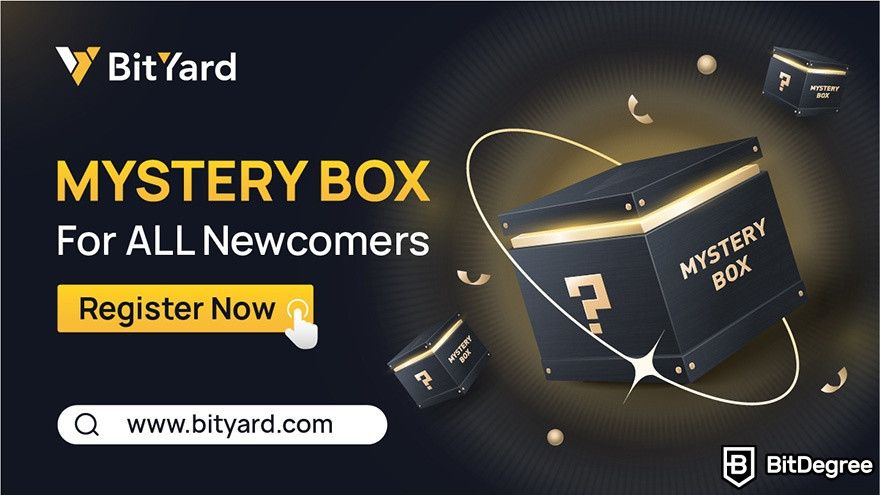 That being said, however, taking a bit of a closer look, it would seem that this issue (and similar ones) isn't something that's constant, but instead, only happens every so often.
Fundamentally, for most people, it won't really be a big deal. However, if you have a specific wallet that you want to transfer your funds to (one that doesn't accept Tether), it can be frustrating, that's true.
To reiterate, however, once again - this doesn't appear to be a constant issue, and at the time of writing this Bityard review, it would appear that multiple coin withdrawals are perfectly possible, too.

Did you know?
How to Use BitYard?
To finish off our BitYard review, let's take a look at how you can start using the platform and all of its services.
How to Register on BitYard?
As per usual, we'll begin from the registration process.
Step 1: Go to the BitYard official website, and click the big orange "Get Started" button at the top-right of the screen.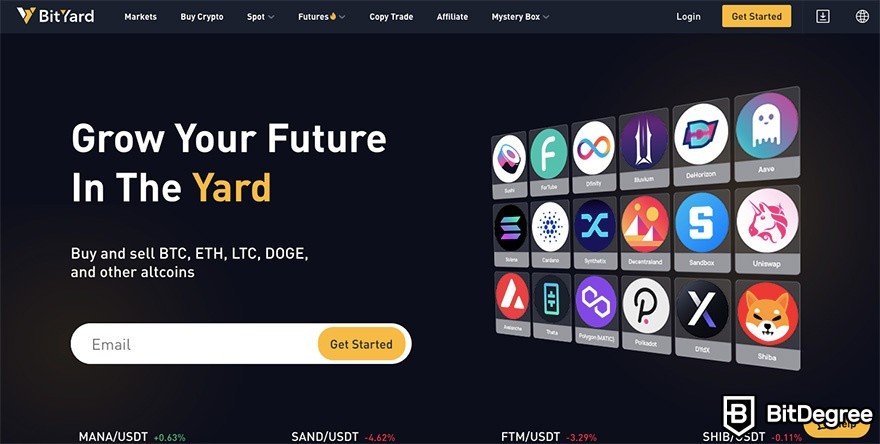 Step 2: Here, you will need to enter your email address, verify it, and then create a password.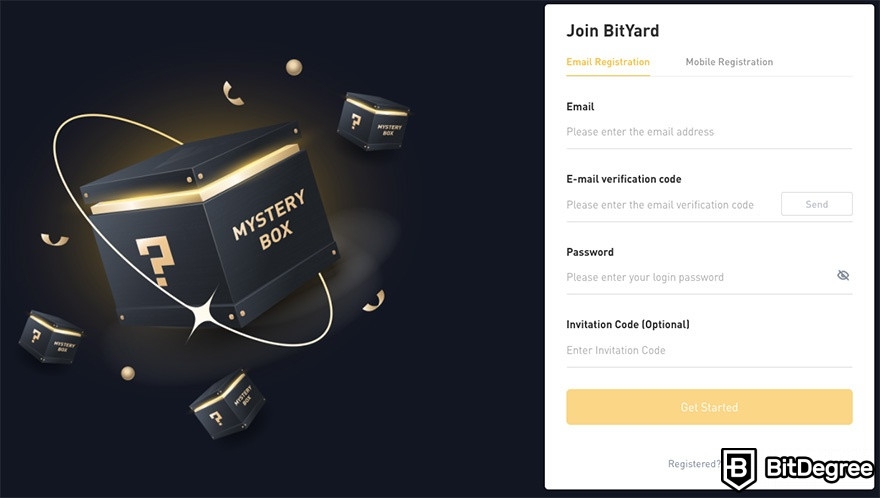 Step 3: Once you create your account, you will be redirected back to the homepage. From here, your first step should be funding your account - in other words, depositing some funds.
On that note...
How to Deposit Funds into BitYard?
The process of funding your account on BitYard is pretty straightforward.
Step 1: Navigate over your "Assets" tab at the top-right corner of the screen, and press "Deposit".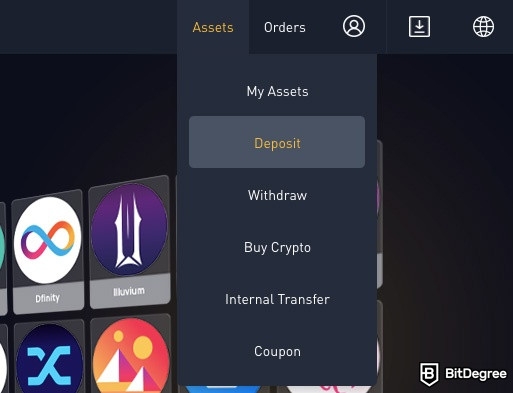 Step 2: Here, you are able to choose which cryptocurrency you'd like to deposit. Simply pick the one that you'd like to transfer, choose a chain (if needed), and you'll see a generated deposit address. Within this window, you may also purchase your select cryptocurrency for fiat money.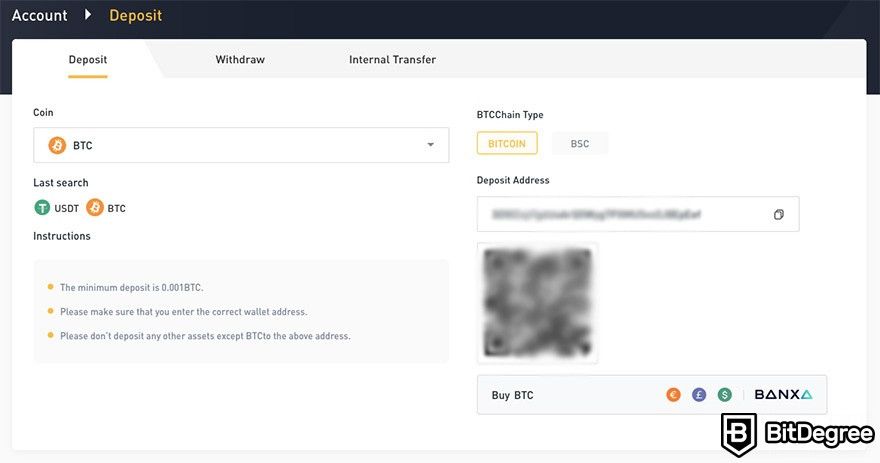 Step 3: Once you're ready, all that's left to do is deposit your crypto of choice, and wait for your account balance to top up!
Both the depositing and crypto acquisition processes are super-quick and simple, and you shouldn't face any struggles during the process. Now, another question is:
How to Withdraw Funds from BitYard?
You know how to deposit funds but you should also know how to withdraw them.
Step 1: Again, navigate over to your "Assets" tab at the top-right corner of the screen, but, this time, press "Withdraw."
Step 2: A withdrawal window will pop up. Now, you just have to choose which asset and how much of it you want to withdraw, type in the address you want to withdraw to, enter your fund password, and click "Withdraw."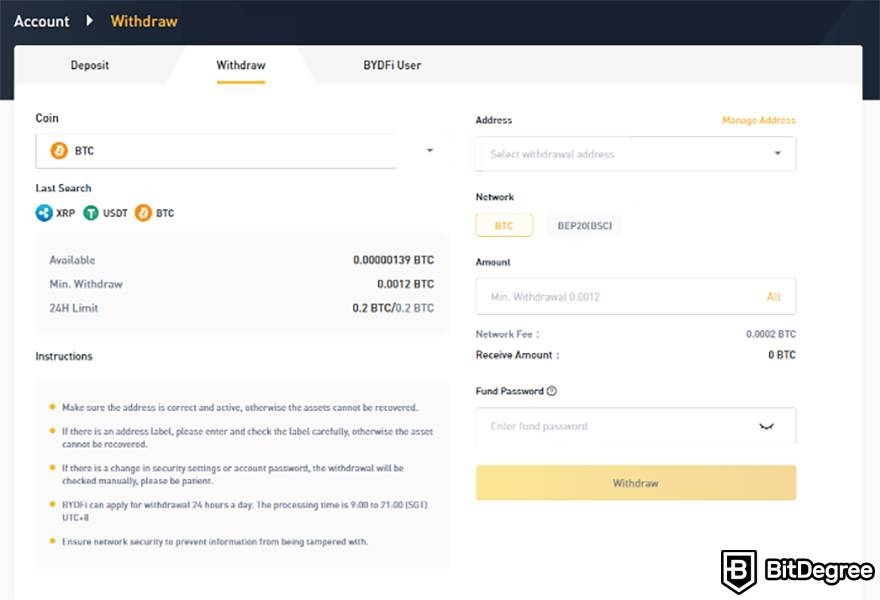 That's it! Your funds will be withdrawn to your selected address. Just note that withdrawals on BitYard are processed from 09:00 to 21:00 (Singapore Time). Besides, unverified users have a 0.2 BTC daily withdrawal limit, while verified users can withdraw up to 5 BTC per day.
Now, let's look into other BitYard's features.
How to Use the Main Features of BitYard?
First and foremost, you should navigate to the Bityard spot trading dashboard - you can find it at the top-left part of the screen. Hover over "Spot" - you will have the chance to choose from the classic dashboard, or use the more-advanced version.

The dashboard boasts a healthy number of over 1400 different trading pairs for you to sort through, select, and utilize. The user interface itself is rather self-explanatory, and isn't at all different from most other cryptocurrency trading dashboards out there (referencing the classic dashboard here).
Next up, you may also choose to trade different products, too - perpetual futures, CFDs, and so on. Once again, the trading windows can be accessed at the top of the screen, hovering over the "Futures" tab.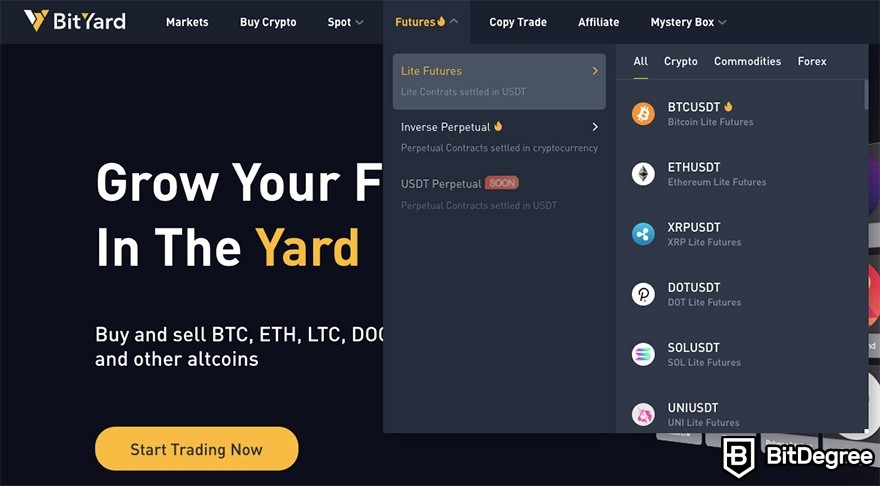 Copy-trading-wise, you will need to find the trader that you'd like to copy, and set certain criteria in place, so that this process could be automated for you. You may also request to be a trader, yourself!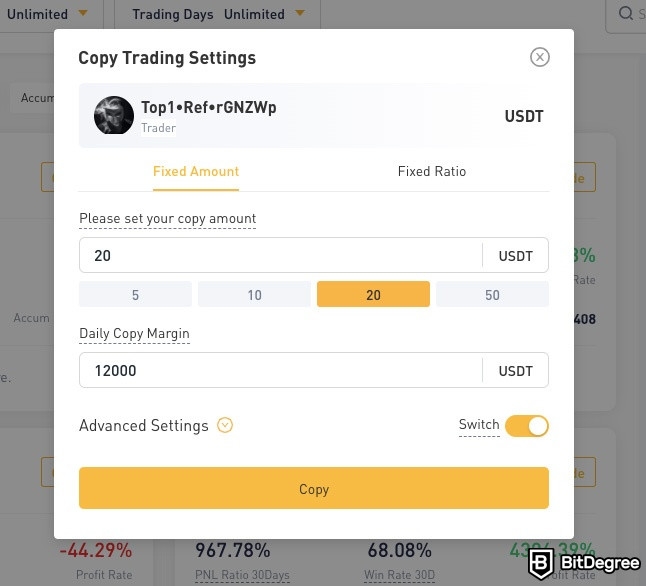 Lastly, you may also visit the "Affiliate" tab, and check out all of the perks that you'll receive for choosing to refer your friend and other people to the platform.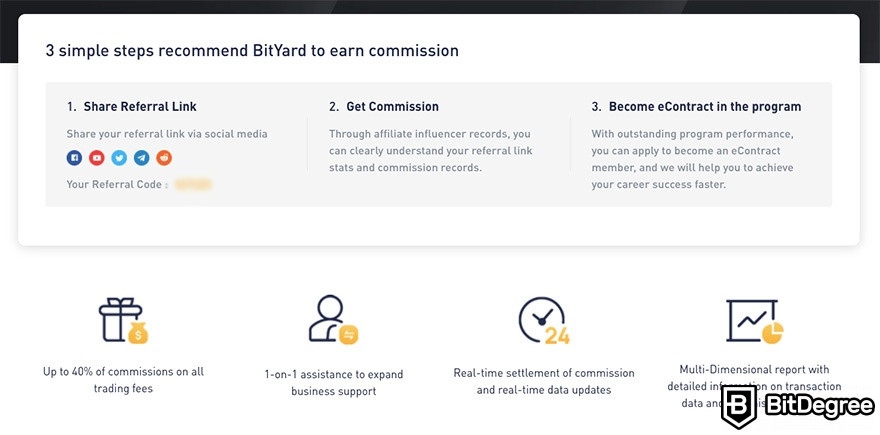 While this point is often glanced over in many user BitYard reviews, that shouldn't be the case - the program offers some amazing benefits to the users!

Pros
A very well-known crypto exchange platform
More than 500 different cryptos available
Two-factor authentication
Main Features
Over than 100 different cryptocurrencies available
Strong security
Small withdrawal fees

Pros
Secure and reliable
Low fees
A good amount of fiat currencies accepted
Main Features
Reputable exchange
Multiple fiat currencies are accepted
Relatively low trading fees

Pros
Anonymous trading
Secure
Supports a variety of cryptocurrencies
Main Features
Easy to use
Low fees
Good security
Conclusions
Now that you're aware of all the benefits and drawbacks associated with Bityard, what's the final conclusion here - is it a cryptocurrency exchange that's worth checking out, in the first place? Yes, it most definitely is!
BitYard is a high-end crypto exchange platform that allows you to trade both cryptocurrencies (crypto assets such as coins and tokens), as well as other, more-traditional products, such a CFDs, futures, derivatives, and more. While the platform itself is rather young, it has already managed to solve many of the issues that are often associated with crypto exchanges nowadays.
BitYard fees are on the lower end of the spectrum, the platform offers both a beginner- and an advanced-level-friendly dashboard, has a generous referral program, a wide selection of coins and tokens (and trading pairs), fiat deposits, high-tier security features, and so much more.
Is BitYard safe? Yup. Does it have all of the licensing to prove it? Most definitely. Custom passwords, 2FA, and many other industry-standard features will keep your assets safe and sound!
With that being said, thanks so much for reading my BitYard review! I do hope that you've learned a lot - until next time!
The content published on this website is not aimed to give any kind of financial, investment, trading, or any other form of advice. BitDegree.org does not endorse or suggest you to buy, sell or hold any kind of cryptocurrency. Before making financial investment decisions, do consult your financial advisor.
About Article's Experts & Analysts