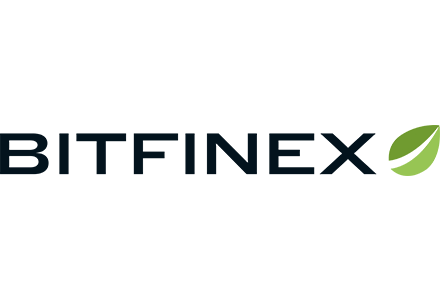 If you're a cryptocurrency veteran, there's a pretty good chance that you've heard the name "Bitfinex" before. It's one of the older cryptocurrency trading platforms on the internet - the sheer number of user Bitfinex reviews found online showcases this pretty well, too.
Having said that, though, it's worth pointing out the fact that Bitfinex wasn't always considered to be "an amazing crypto trading platform". In fact, the exchange does have a pretty shaky past - it's something that many critics tend to bring up while discussing is Bitfinex legit, too.
Is the exchange worth checking out nowadays, though? And what features (both security, and others) does it offer to its current user base? Or, perhaps, there are better options on the market - options such as Coinbase or Binance? Well, read on and find out!
Pros
More than 170 crypto assets to trade with
Supports fiat deposits
Advanced trading tools
Small fees
Highly-improved security features
Cons
Controversial past
Might not be suitable for beginner traders
Bitfinex Review: PROS
Before we discuss the issues that have plagued Bitfinex almost half a decade ago, we should actually start off by talking about the positive things that the platform is currently known for. After all, the vast majority of user Bitfinex reviews found online are actually rather positive towards the exchange in question!
A Cryptocurrency Exchange Aimed at Professional Traders
No matter where it is that you'd look online, the vast majority of user Bitfinex reviews are going to mention the fact that this particular exchange is mostly aimed at crypto trading professionals.
Admittedly, that's actually a really rare thing to come across! Most of the cryptocurrency exchange platforms on the market try to achieve the opposite - cater to crypto newbies, and make their services as approachable and simple to use as possible.
That said, though - what makes Bitfinex a "professional" trader platform?
Well, for starters, let's take a look at the trading (order) types available on the site. Many crypto sites are going to offer users a single trading option - market orders. These are the most simple of orders that you can perform - purchasing or selling the specific amount of crypto assets for the price that they're currently being valued at.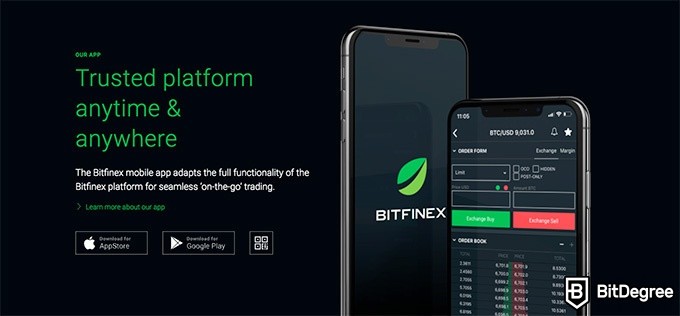 The Bitfinex exchange offers its users some advanced order types. In addition to market orders, you'll find limit, stop-limit, stop, fill or kill, scaled, and a few other types of order options on the site. It's very rare for a crypto exchange to offer such a varied order choice to its users!
In addition to some advanced order options, Bitfinex also allows users to customize the interface to their liking. Advanced crypto traders will be able to view more-informative charts, too - this isn't an all that common feature, either!
All things considered, the Bitfiniex exchange truly is a great option for professional traders, at least as far as feature variety and customization goes. Something echoed by quite a few user Bitfinex reviews, too!
Latest Binance Coupon Found:
$600 WELCOME BONUS
Binance Black Friday Deal
If you're new to Binance, great news - this Binance Black Friday period, you can earn up to $600 in rewards. Sign up, use the code 49316610, and start earning now!
Expiration date : 01/12/2023
2,817 People Used
Only 46 Left
A Decent Number of Trading Pairs (400+)
In the world of crypto exchanges, you'll often come across a term called "trading pairs". This term refers to the "asset-to-asset" trading options that you'll have on the platform of your choice.
If you're a professional cryptocurrency trader (or a newcomer who wants to become one), crypto trading pairs are probably quite important to you! While there are multiple factors that come into play as far as making profits goes (i.e. fees, taxes, account limits, etc.), the right crypto trading pair can be the deciding factor in this regard, too!
User Bitfinex reviews will tell you that the platform in question offers over 400 different trading pairs. All things considered, that's a pretty decent number of options to pick from! These pairs include both fiat-to-crypto, and also crypto-to-crypto ones, too.
Strong Security Features
I mention this in every single crypto article that I write, and this Bitfinex review is no exception - security should always be the core feature that you look into whilst trying to find the best crypto exchange platform for yourself.
In the introductory part of the Bitfinex review, I've mentioned the fact that Bitfinex has suffered some security issues over the years - that is true. However, it's also something that we'll discuss a bit later on in the article. For now, let's take a look at some of the current security features that are present on the site.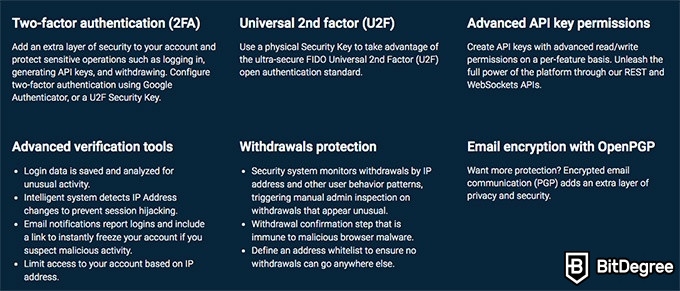 First of all, Bitfinex pays close attention to the IP address that you use to sign into your account. Upon logging in, your information is then saved into the platform's systems, and your IP address is logged, too.
What this does is it prevents any third parties from accessing your account from a different IP address. On top of that, you can also place some additional safeguards, too - for example, you could make it so that withdrawals can only be performed from a single, set IP address. That's actually a really great security feature!
For anyone going through user Bitfinex reviews and asking is Bitfinex legit, though, there's yet another security measure that the company behind the exchange utilizes - cold cryptocurrency storage.
Cold storage refers to keeping crypto coins in hardware devices. These devices are not connected to the internet - this means there is no way of accessing them, and the only feasible dangers that would be present with such a storage method would involve physical theft or some natural damage (i.e. fire, water, etc.).

Multiple Bitfinex reviews emphasize the fact that the exchange keeps 99,5% of its users' crypto assets in cold storage devices. That is truly one of the best security features that Bitfinex employs!
All in all, most users of the exchange agree that Bitfinex has truly learned their lessons from past controversies, and that the current security features and measures that are in place within the platform are both adequate and reliable.
Derivative Trading Option
The Bitfinex exchange offers its clients a few different methods of trading - in addition to the most-popular option of crypto exchanging, you can also trade derivatives on the site, too. It does appear to be an appreciated feature, especially considering some user Bitfinex reviews!
A derivative is like a contract that's tied to the asset that you're interested in - in this case, it would be the cryptocurrency. Let's use Ethereum as an example.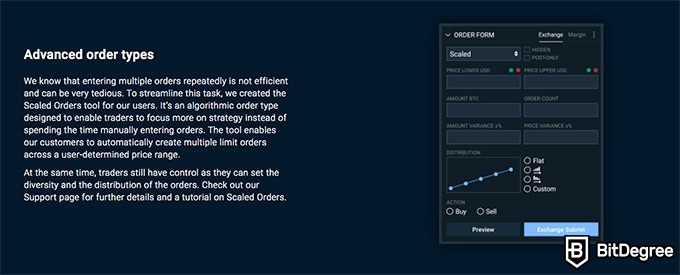 Say, you would like to profit from the cryptocurrency market, but have no actual interest in holding crypto coins, or getting yourself a crypto wallet, in the first place. That said, you've heard that Ethereum is a great investment at that point in time, and you want to act fast.
Derivative trading allows you to do just that! With Bitfinex, you can invest in an asset without actually needing to purchase it. This way, a contract is created, and the price of the asset is tied to the contract in question.
Supports 5 Different Fiat Currencies
One of the more annoying aspects that many people bring up even in Bitfinex reviews is the fact that some exchanges out there require you to make deposits via a cryptocurrency transfer.
What this means is that, if you'd like to purchase, say, Litecoin, you'd have to first withdraw some other coin from your wallet (i.e. Ethereum), transfer them to the exchange, and only then make the appropriate transaction.
Tedious and annoying, for sure!
It's also not something that you'd need to worry about with Bitfinex. The exchange in question allows you to make deposits with 5 different fiat currencies - USD, EUR, GBP, JPY, and CNH.
While the deposits can only be made via a wire transfer, the fact that you can use four fiat currencies means that you won't have to struggle with difficult transferring processes. Great!
Bitfinex Review: CONS
Now that we've discussed all of the major benefits and features of the Bitfinex exchange, let's transition and take a look at some of the less-positive aspects of the platform.
Naturally, for anyone wondering is Bitfinex legit, probably the biggest glaring con that you'd face with the exchange is the earlier-mentioned controversial past of the company and the platform.
A Controversial Past
Bitfinex had two historical break-ins - one in May 2015, and one around a year later, in August 2016.
These two break-ins were notable at the time, since a lot of funds were lost. The hacks were also of a high profile - they echoed through the crypto communities worldwide, and sent a clear message to other exchanges.
After the hacks, the lost user funds were reimbursed by the exchange - meaning, if you had lost any crypto assets during the hack, you would have been repaid, in full.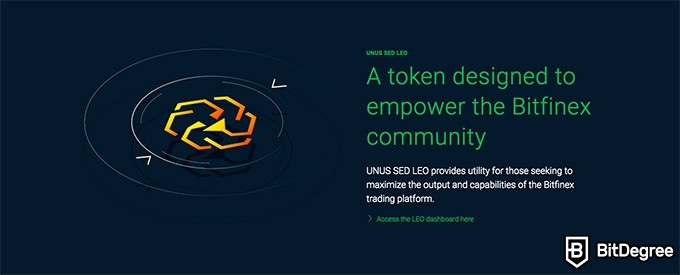 As you can probably imagine, cryptocurrency exchanges are under some tremendous pressure. No matter whether you read some user Bitfinex reviews, or check out any crypto enthusiast forum, you'll probably notice that the vast majority of crypto coin hodlers are super-careful about their assets, and thus pick and choose exchanges in a very selective manner.
Naturally, the break-ins were a huge blow to Bitfinex. As pointed out earlier in the Bitfinex review, the company has appeared to learn their lesson, and have since strengthened their security exponentially.
Might Not be Suitable for Beginner Traders
Apart from the security standpoint of the exchange, another issue that's mentioned commonly among user Bitfinex reviews is the fact that the platform is likely not going to be very suitable for beginner traders.
Bitfinex is primarily aimed at professional traders - people who already have a pretty varied portfolio of financial assets, and now want to get into crypto trading, as well. A single look at the features available on the site will tell you that you should have some knowledge about financial markets and investments in order to utilize the full potential of Bitfinex.
Now, naturally, no one says that you can't use the Bitfinex exchange if you're a beginner - it's just that you're probably going to have a pretty difficult time figuring out all of the technicalities, ins and outs, and intricacies of the exchange.
If you want to find a very beginner-friendly exchange, you should take a look at Coinbase instead.

Did you know?
Fees
Now, let's take a look at the fees available on Bitfinex.
Same as many other exchanges, Bitfinex has a "maker" and "taker" fee model. A maker is a person who puts forward a sale offer, while the taker, as you've probably guessed by now, is one who accepts that order.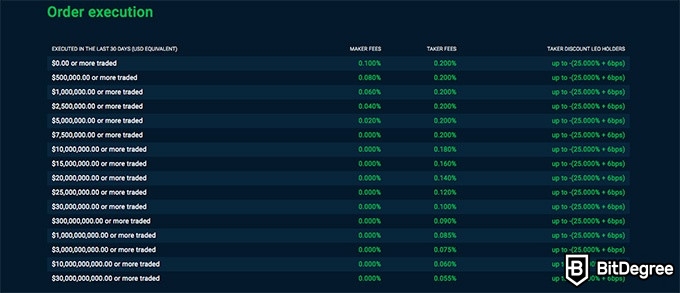 Bitfinex fees range up to 0,2% for the taker. All things considered, this would make the exchange one of the best alternatives for anyone who's looking to save as much money, fee-wise.
Deposits are completely free, and withdrawals are going to cost a bit, depending on the cryptocurrency that it is that you're withdrawing.
How to use Bitfinex?
To finish off our Bitfinex review, let's take a look at how the actual registration process on the site works, and whether or not it's actually simple to create an account.
Step 1: Go to the official Bitfinex website.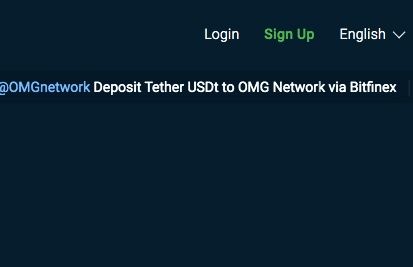 Step 2: On the upper-right part of the screen, press Sign Up.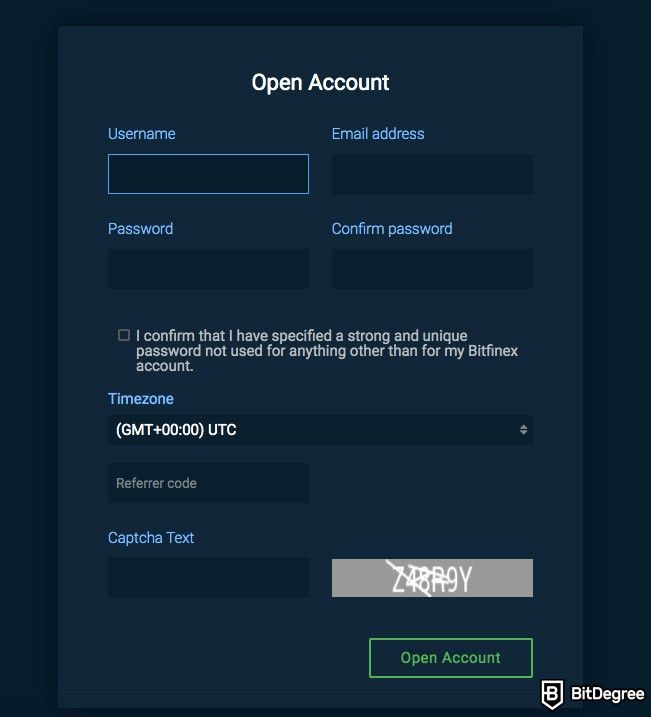 Step 3: In order to open up an account, you'll have to do the usual - create a username and password, and provide Bitfinex with your email address. Pretty standard practice.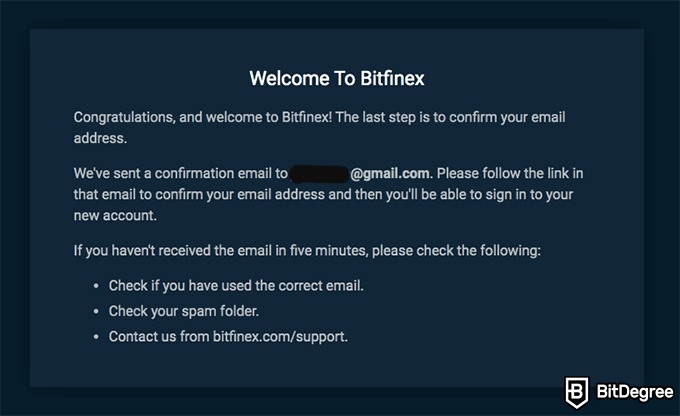 Step 4: Now, you'll be asked to confirm your email address - do so.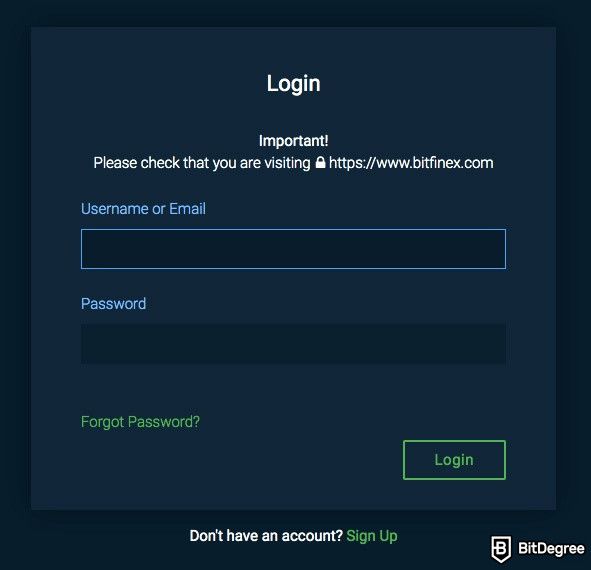 Step 5: You will now need to re-log into your account. And, that's it - you're in!
The registration process to Bitfinex is super-quick and simple. Once you're on the site, you'll be able to activate two-factor authentication, and also verify your identity for further trading-related actions.
Here is The Best Binance Offer I Found:
$600 WELCOME BONUS
Binance Black Friday Deal
If you're new to Binance, great news - this Binance Black Friday period, you can earn up to $600 in rewards. Sign up, use the code 49316610, and start earning now!
Expiration date : 01/12/2023
2,817 People Used
Only 46 Left
Conclusions
So, all of that being said, is Bitfinex legit and worth checking out?
I'd say - yes, but there are a few things that should be kept in mind, as you do so!
If you're an experienced trader with a varied portfolio of crypto assets, and you know the ins and outs of the industry, sure - Bitfinex could be a great option. It has small fees, a wide belt of financial and analytical tools, and is currently very secure, too.
If you're just starting out, though, and haven't got the vaguest idea of how crypto trading works, admittedly, there are going to be better options for you out there. Check out our list of the best cryptocurrency exchanges if you're interested! Namely, make sure to point your attention to either Binance, or the Coinbase crypto brokerage.
I do hope that this Bitfinex review was useful to you, and wish you the best of luck in all of your trading ventures to come!
The content published on this website is not aimed to give any kind of financial, investment, trading, or any other form of advice. BitDegree.org does not endorse or suggest you to buy, sell or hold any kind of cryptocurrency. Before making financial investment decisions, do consult your financial advisor.
About Article's Experts & Analysts