Are you tired of the limitations that come with traditional crypto exchanges? If so, it may be time to explore the benefits of crypto OTC trading platforms! To help you take your investments to the next level, I will introduce to you the best crypto OTC trading platforms available.
There are some really good options available, including Binance, Coinbase, and Kraken. However, choosing one among so many can be quite an overwhelming task.
That's why, in this crypto OTC trading platforms review, I'm going to provide you with important facts regarding OTC trading and the platforms that offer this service.
I'll cover the particular features of each platform, as well as other relevant factors such as security, fees, and the range of supported cryptocurrencies.
So, by the end of your reading, you will be able to choose a platform that is the most suitable for you!
The best crypto OTC trading platforms that will be discussed are:
Let's get into it!
Best Crypto OTC Trading Platform: What is OTC Trading?
Before we jump straight into the best crypto OTC trading platforms I listed, it's important to make sure you know what OTC trading means. So, allow me to explain it to you.
Essentially, OTC stands for Over-the-Counter trading and it enables traders to conduct direct transactions for buying and selling cryptocurrencies outside of traditional exchanges - for this reason, they are commonly referred to as off-exchange trading.
Unlike exchange trading, which is done on public exchanges with order books and price charts visible to all, OTC trading involves transactions between two parties directly or through the intermediation of a third party, with prices and terms of the trade agreed upon privately.
In the world of cryptocurrency trading, intermediaries in OTC trades are often referred to as OTC desks, with the most prevalent type being the OTC broker. OTC desks typically act as market makers, holding an inventory of assets and offering to buy and sell those assets at quoted prices.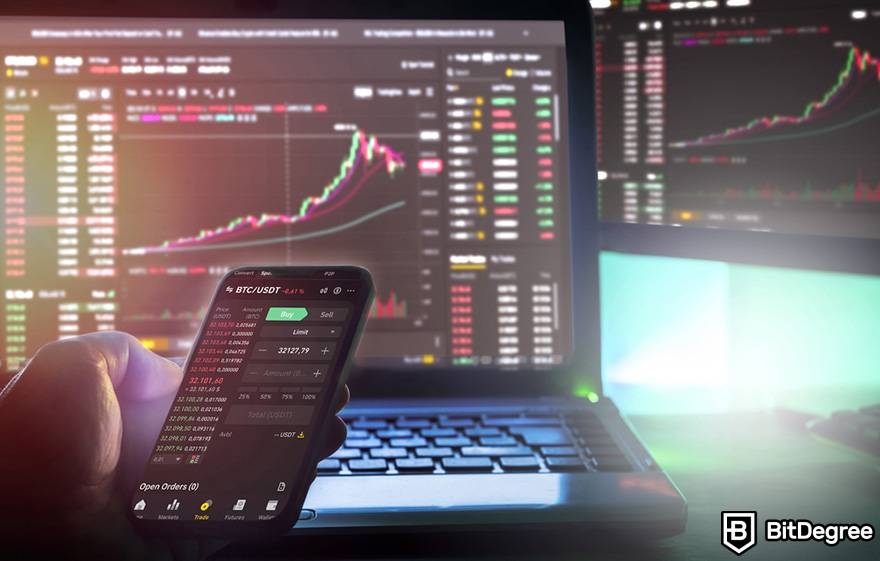 What's more, these platforms not only intermediate the transactions, but also offer additional services such as market analysis, risk management, and asset custody.
There are many OTC brokers in the market and some of them are included in this crypto OTC trading platforms review, such as Binance and Coinbase. Though, of course, not every OTC trading platform is a broker.
As I mentioned, some of them just provide the space for sellers and buyers to trade directly. This is the case of KuCoin, for example, as this platform offers a Peer-to-Peer (P2P) OTC trading network.
Another important aspect of OTC trading is that, oftentimes, it can be done completely anonymously, meaning that the trades can be conducted without revealing the identity of the parts. Pretty interesting, huh?
Well, it actually gets even better: due to this structure, this type of trading gives more space for direct negotiation of the deal's conditions, resulting in greater flexibility and quicker settlement periods than traditional exchanges!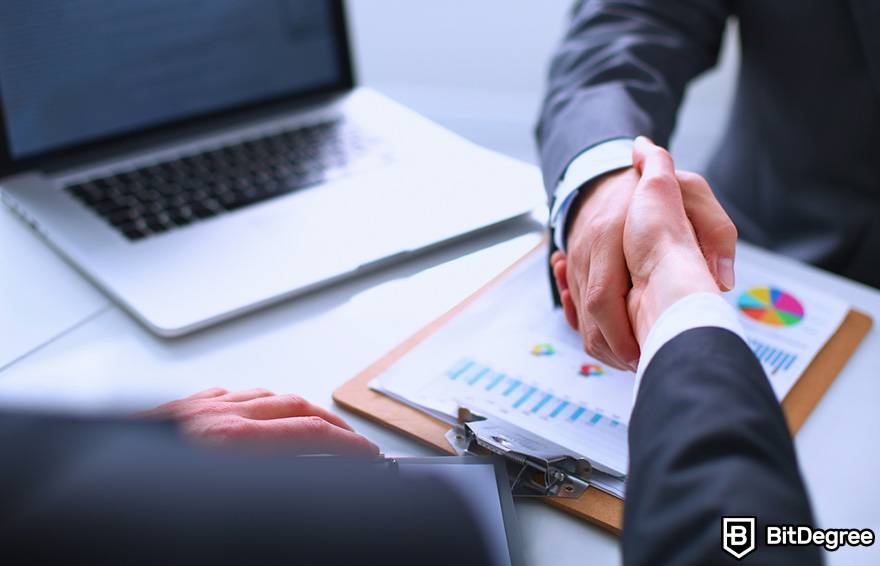 OTC trading platforms also allow traders to buy or sell larger amounts of cryptocurrency without the risk of slippage or significant price impact. In case you are not sure what slippage means, let me explain it in a few words:
Slippage refers to the situation in trading where there is a disparity between the expected price of a trade and the actual price at which the trade is executed.
By the way, services provided by OTC trading platforms are very personalized, with 1-on-1 VIP attention - top-notch customer service is definitely one of the main requirements for a platform to be considered one of the best crypto OTC trading platforms!
Also, fee-wise, OTC trading fees are generally lower - they are included in the quoted transaction price, as well.
Overall, since OTC trades are good for trading high volumes of cryptocurrencies, this type of trading is especially good for institutional investors and high-net-worth individuals. However, it's not limited to this type of customers alone! On the contrary, anyone can participate in OTC trading, as some platforms allow lower minimum trades quota.
That's basically it when it comes to OTC trading. Now, let's proceed to the best crypto OTC trading platform reviews I've prepared for you!
Ranks #1 out of 8 Crypto Exchanges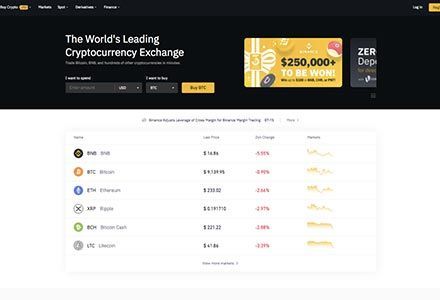 Things we liked:
+ A very well-known crypto exchange platform
+ More than 500 different cryptos available
+ Two-factor authentication
+ P2P trading option
+ Emphasis on security and KYC
+ Supports fiat-crypto acquisitions
Things we didn't like:
- Might be a bit difficult for beginners
CLAIM $600 BONUS
Exclusive $600 Binance Offer
Don't miss this limited-time deal that's only available for our readers. Follow the Binance referral code link & receive up to $600 in rewards and bonuses!
Expiration date: 02/06/2023
7847 People Used
Only 49 Left
As one of the biggest cryptocurrency exchanges globally, Binance undoubtedly deserves a place on the list of the best crypto OTC trading platforms, and here's why:
Binance offers the Binance OTC desk, an OTC trading service that enables retail traders to trade significant amounts of cryptocurrency without difficulty, making it ideal for institutional investors, high-net-worth users, and people who require large orders of cryptocurrencies.
The Binance OTC desk supports crypto-to-crypto trading, allowing users to exchange one cryptocurrency for another. Not only that, users can trade in fiat currencies.
Transaction of the Binance OTC desk get confirmed within minutes. Besides, it also has a deep liquidity pool, even for altcoins with a low market cap.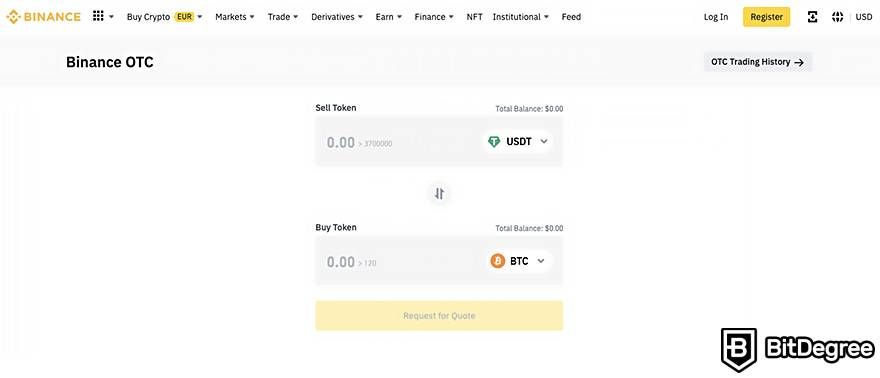 Moreover, for those interested in having access to a wide range of cryptocurrencies, Binance is the perfect platform overall, as it's the leading exchange when it comes to digital assets' diversity! It offers more than 350 cryptocurrencies and several crypto-fiat pairs.
Now, if you are looking for cheap OTC trading platforms, you will be glad to know that the Binance OTC desk doesn't charge any trading fees!
However, although Binance doesn't charge any fees for trading, they require a minimum order of $200,000. This could be a problem for people who want to buy smaller amounts of cryptocurrency.
Anyway, another advantage of the Binance OTC desk is its customer support. Traders can receive assistance at every step of the way, making it easier for them to make informed decisions and execute trades with confidence.
Also, Binance OTC trading service is personalized for each user and it's especially good for new traders, as it has a beginner-friendly interface! While there are many options to navigate through, it's very intuitive and even has pop-up tutorials for those who use the platform for the first time.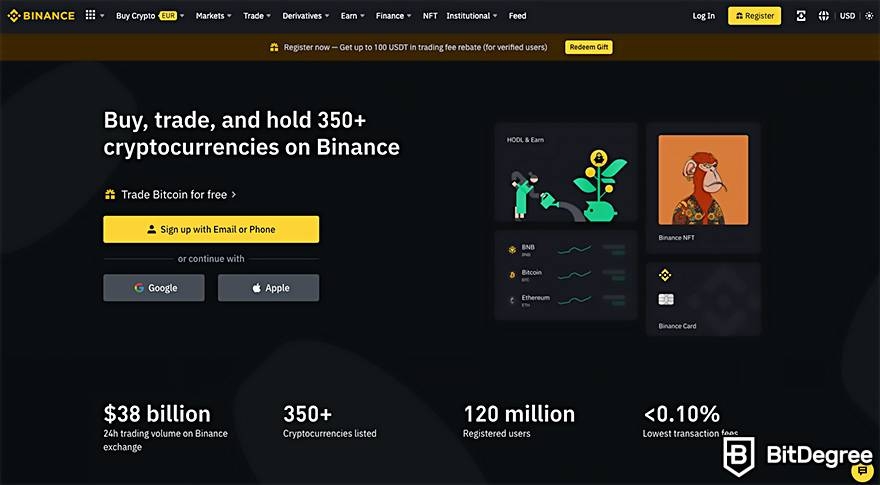 Though you should also know that Binance is one of the best trading platforms in the industry not only because of its OTC trading feature. It offers so many more other useful features. It basically has everyhting a true crypto enthusiast might need!
For one, it offers various types of trading including spot, margin, P2P, and so on. Apart from that, it also a variety of earning features thorugh its Binance Earn program, as well as plenty of learning material for beginners through its Binance Academy platform. Besides, it even offers a physical Binance card!
Overall, Binance's OTC trading service is an excellent choice for retail traders looking for a well-known platform that provides personalized service with a huge array of supported cryptocurrencies and fast account settlements. Best of all, there are no trading fees, making it a cost-effective choice for traders of all levels.
Those are just some of the main reasons why Binance is consistently ranked as one of the ideal options available in crypto OTC trading platform reviews!
Ranks #2 out of 8 Crypto Exchanges
Things we liked:
+ Fiat currencies - accepted
+ Simple to use
+ Accepts only the most trustworthy cryptocurrencies
+ Very secure
Things we didn't like:
- Not available in all countries
- Some of the less-known coins aren't supported
$5 BTC BONUS
For New Verified Coinbase Users
Receive your $5 bonus in BTC when you sign up for a new Coinbase account & complete all photo verification steps. Follow this Coinbase referral link to activate the deal!
Expiration date: 02/06/2023
4989 People Used
Only 11 Left
Coinbase is a cryptocurrency exchange that also has an OTC trading option, which offers a range of features to professional traders and institutions. Due to its OTC trading service, provided by Coinbase Prime - an integrated solution of Coinbase -, it's widely regarded as one of the best crypto OTC trading platforms on the market.
With Coinbase Prime, traders have access to OTC block trading, which is a type of trading especially good for institutional investors, as it typically involves larger trade sizes, as well as faster execution times and more price privacy!
One key feature of Coinbase Prime is its diversified liquidity and smart order routing pool, which allows traders to gain access to a wider range of prices from the overall cryptocurrency market. In other words, the prices don't depend solely on Coinbase's exchange prices!
Moreover, Coinbase Prime offers margin trading, meaning that users can borrow funds from the platform to invest in digital assets, potentially generating higher returns than they would be able to achieve using only their own funds.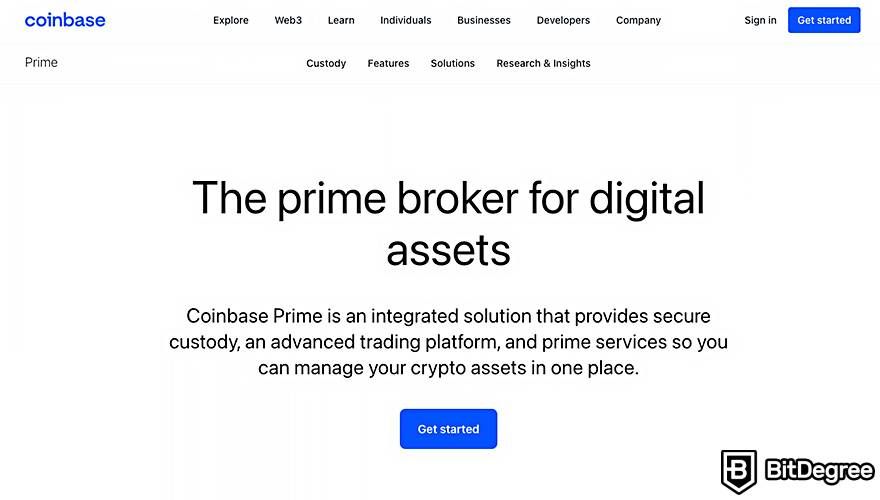 Coinbase Prime also provides thorough post-trade reporting analytics that users can access at any time. Put simply, this feature basically enables users to keep track of their trading activity, leading to better-informed investment decisions in the future.
Regardless if you are an experienced trader or a new one, this feature can certainly help you!
What's more, Coinbase originally only supported Bitcoin, however, that has changed! Now, the platform provides a broader range of digital assets.
As good as it is, Coinbase's benefits actually don't end here: it has a mobile app, as well as 1-on-1 customer support that is available 24/7 to answer any question users may have.
And, of course, we can't talk about Coinbase without mentioning its efforts to ensure the safety of the platform: when signing up, users have to go through KYC protocols, among other safety measures. There is also the cold storage policy to keep the customer's funds safe in an offline secure location.
Hence, Coinbase is certainly a crypto OTC trading platform legit and trustworthy!
Having said all of that, Coinbase is best suited for institutional investors looking for a highly secure OTC desk that grants users access to both real-time and historical analytics for cryptocurrency spot and derivatives markets.
Ranks #3 out of 8 Crypto Exchanges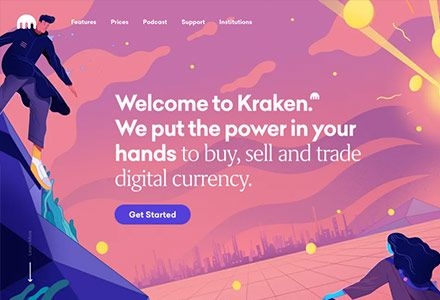 Things we liked:
+ Secure and reliable
+ Low fees
+ A good amount of fiat currencies accepted
Things we didn't like:
- Not the most helpful customer service
Fees As Low As 0%
Get 0% Fees By Trading With Kraken
Join Kraken today & start trading with fees as low as 0%! Save money with one of the top-rated crypto exchanges on the market.
Expiration date: 02/06/2023
2938 People Used
Only 47 Left
When it comes to the best crypto OTC trading platforms, Kraken must be mentioned! That's because it has been providing top-notch OTC trading services for years and it has built a reputation as a reliable and trustworthy trading platform.
Kraken OTC trading is the go-to platform for high-net-worth crypto traders. It's available in the US and can be used globally at any time of the day or week.
What's more, it's a commission-free OTC desk! In other words, you can trade for free, which is not very common among OTC trading platforms, as most of them charge fees that usually range from 0.1% to 1%.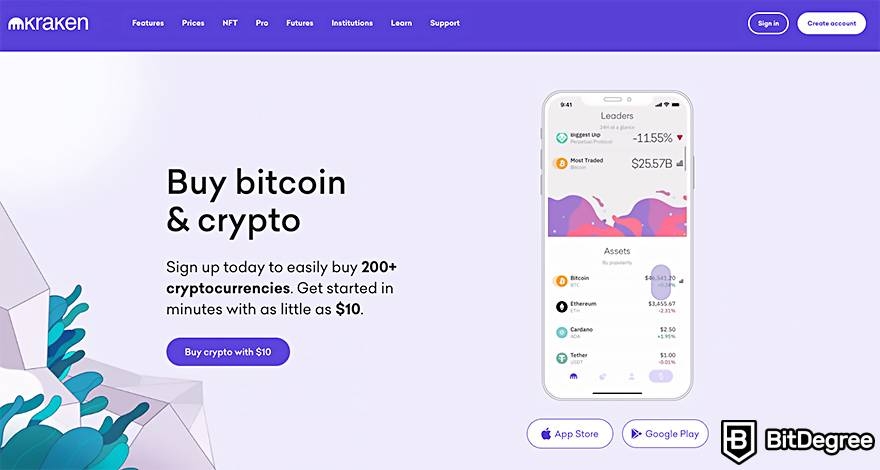 Besides that, one of the best attributes of Kraken OTC trading is its AutoRFQ feature. In case you are not familiar with this term, let me explain it to you:
AutoRFQ stands for Automated Request for Quote and it enables traders to obtain quotes for large trades without having to manually request them from multiple liquidity providers.
By the way, a quote is a bid or an offer to purchase or sell a certain cryptocurrency at a given price. It shows the price at which a specific cryptocurrency is currently trading and it indicates the willingness of buyers and sellers to engage in a trade.
So, put simply, the AutoRFQ allows for instant OTC trades! Pretty nice, right? Not every OTC trading platform has this feature and this is one of the reasons why Kraken is included in this crypto OTC trading platform review.
However, Kraken has something quite common among OTC trading platforms: it has a minimum order size. In Kraken's case, the minimum amount is $100,000, which is not the highest in the market - that's good news!
Now, besides that, the platform also stands out for its diversity of digital assets: it provides a wide array of crypto assets (200+) and fiat currencies (7+). This is definitely good news for traders and buyers interested in spreading their investments across different assets or sectors. Moreover, Kraken has deep liquidity pools, which are great to prevent slippage!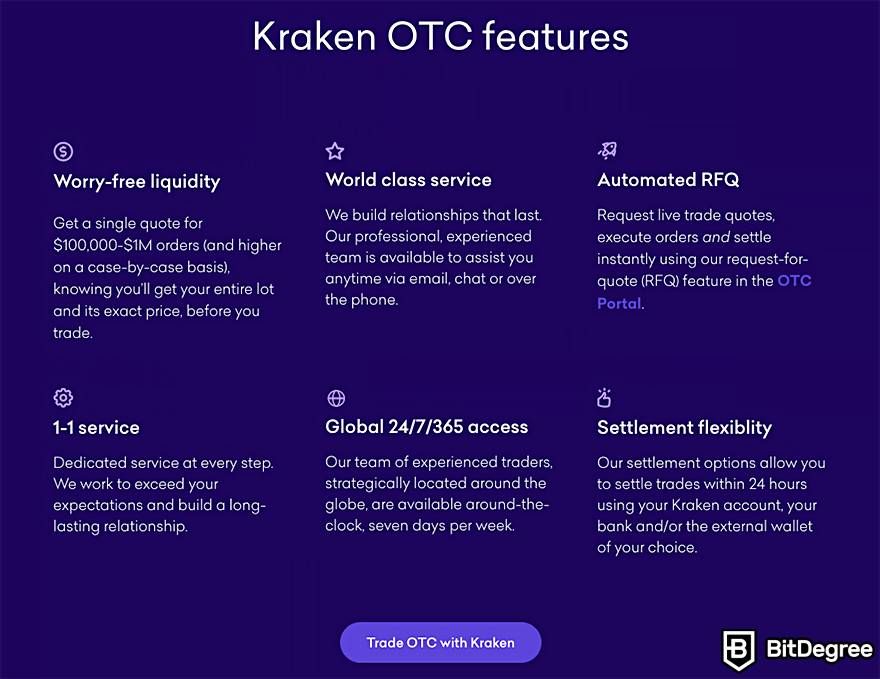 If you think that's good enough for making Kraken a great option, would you believe it if I told you it actually gets better? Well, that's because, on top of everything, the platform provides excellent customer service.
The customer service team is available 24/7 and you can contact them via email, live chat, or phone to have a 1-on-1 conversation. The team can answer any question you have about the platform and even provide valuable insights.
As a result of being a reliable and trustworthy platform that high-net-worth crypto traders can definitely count on, Kraken has received high praise in many crypto OTC trading platform reviews for its reliability and trustworthiness.

Did you know?
Ranks #4 out of 8 Crypto Exchanges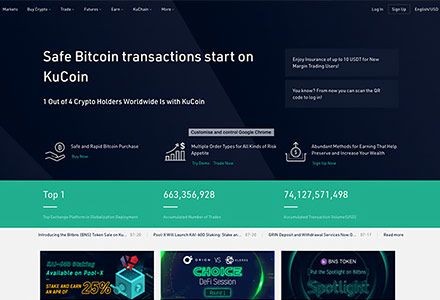 Things we liked:
+ Anonymous trading
+ Secure
+ Supports a variety of cryptocurrencies
Things we didn't like:
$500 BONUS
For New Kucoin Users
Use this Kucoin Coupon & get up to $500 in rewards. Sign up to Kucoin for huge perks & limited-time offers!
Expiration date: 02/06/2023
3984 People Used
Only 27 Left
KuCoin's reputation as a leading cryptocurrency exchange extends to its OTC trading service, making it one of the best crypto OTC trading platforms.
As mentioned previously, KuCoin's OTC trading is done through the platform's P2P network, which allows users to trade cryptocurrencies with fiat currencies directly with other users, without the need to place orders on the regular exchange order book.
In other words, KuCoin is not a broker, meaning that it facilitates the direct deal between trade parties, instead of supervising the whole process. Similar to most OTC trading platforms, KuCoin is often used for large transactions or by institutional investors who want to avoid affecting the market with their trades.

Furthermore, KuCoin places a high priority on security, particularly when it comes to its OTC trading service.
How does it ensure the safety of transactions? Well, it's actually through a pretty simple but reliable method: KuCoin temporarily freezes the seller's cryptocurrency until the buyer has transferred the agreed-upon amount of fiat currency to the seller's bank account, thus verifying the transaction.
Now, regarding the variety of currencies, KuCoin's OTC trading service supports fiat currencies like USD and CNY, as well as cryptocurrencies, including Bitcoin, Ethereum Tether, and many others.
By the way, one of the advantages of the KuCoin OTC trading service is the integration of the industry-leading decentralized oracle network. This integration provides access to accurate, tamper-proof exchange rates between various fiat currencies and cryptocurrencies, which help set floating rates in OTC markets.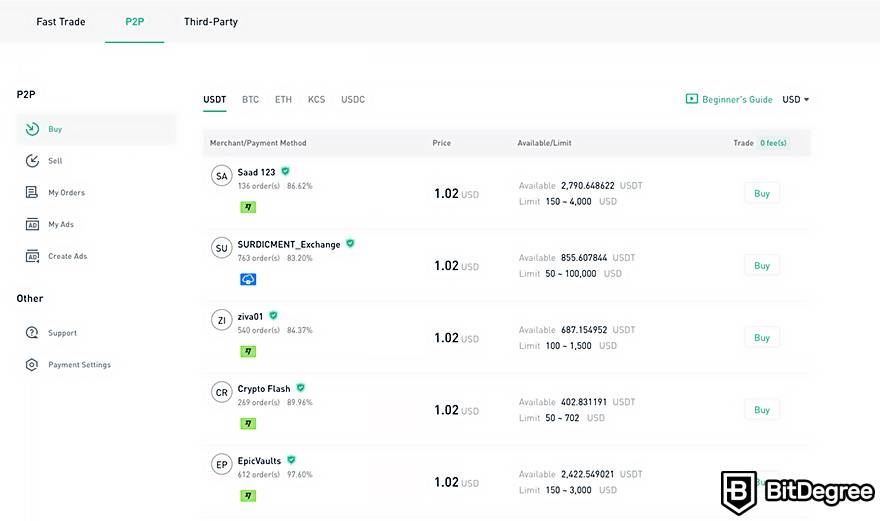 What's even better, KuCoin doesn't charge a fee for OTC trades!
So, you can have access to fast settlement, secure transactions, professional and reliable merchants, and multiple local payment methods available, all with zero fees.
Now, if this platform has piqued your interest, you might be wondering how to start using KuCoin's OTC trading service, and I'm here to tell you that it's very simple: you will need to have a verified KuCoin account and go to the OTC trading page.
Next, users will need to select the cryptocurrency they wish to trade, choose between buying or selling, and then enter the desired amount and price. After that, it's basically done!
So, the integration of the decentralized oracle network and the high level of security are some of the things that make KuCoin's crypto OTC trading platform legit and trustworthy.
Ranks #5 out of 8 Crypto Exchanges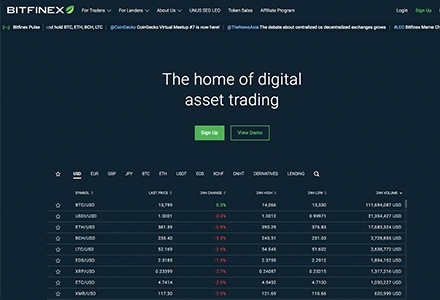 Things we liked:
+ More than 170 crypto assets to trade with
+ Supports fiat deposits
+ Advanced trading tools
+ Small fees
+ Highly-improved security features
Things we didn't like:
- Controversial past
- Might not be suitable for beginner traders
Bitfinex has been providing top-notch services to its users since 2012, which makes it one of the oldest cryptocurrency exchanges, as well as one of the best crypto OTC trading platforms out there. Allow me to tell you why:
By providing users with the option to access instant liquidity pools through the OTC Desk or trade directly with a counterparty, this platform enables them to avoid going through public order books altogether.
That way, the Bitfinex OTC trading desk is essentially a peer-to-peer network that connects buyers and sellers directly. This means that users can trade directly with other Bitfinex users without the need for a middleman - this makes Bitfinex stand out among some of the other options listed in this crypto OTC trading platform review.
It's quite simple to initiate a trade, as the only information required is the OTC nickname of the counterparty! What's more, once a request to trade has been sent, the counterparty only needs to accept it in order to complete the transaction.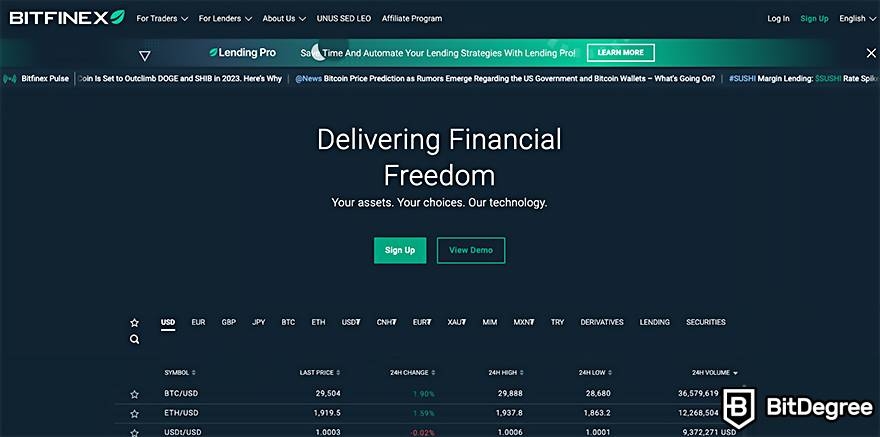 Thus, if you are looking for a practical way to do OTC trades that don't involve third parties, Bitfinex is certainly an interesting choice!
Another positive feature of Bitfinex's OTC desk, which earns it good feedback in crypto OTC trading platform reviews, is the fact that it supports all the order types available on the main platform, such as stop, stop-limit, fill or kill (FOK), and more.
Now, when talking about the range of cryptocurrencies supported, Bitfinex's OTC desk is meant for trading ERC-20 tokens. ERC-20 is a standard for tokens issued on the Ethereum blockchain, and it is the most widely used token standard in the world of cryptocurrency.
Moreover, it's worth noting that the minimum OTC user-to-user trade on Bitfinex is equivalent to $50. Not only that, the price spread can't surpass 10.0% of the current market price of the currency/pair being traded.
When it comes to the fee, Bitfinex does charge a commission, however, it's quite low - only 0.1% for both seller and buyer.
Beyond its OTC trading service, Bitfinex has other relevant features, such as good security measures - including 2FA (Two-Factor Authentication), withdrawals protection, OpenPGP email encryption, and so on. By the way, it also has a mobile app!
In short, the Bitfinex OTC trading service stands out for providing instant liquidity through the OTC Desk, while also supporting all order types available on the main platform, making it a versatile tool for advanced traders!
Ranks #6 out of 8 Crypto Exchanges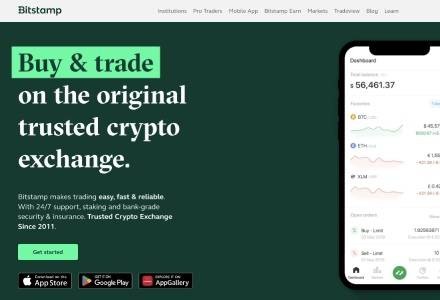 Things we liked:
+ Helpful customer support
+ Fiat payments are accepted
+ Reliable and established
+ Low trading fees
Things we didn't like:
- Not the best option for beginners
- Small number of supported cryptos
$50 Bonus Code
Special Bitstamp Promotion
Bitstamp code hunt is here! 9 different Bitstamp bonus codes are available online with the value of $50. Follow this coupon link to learn more.
Expiration date: 02/06/2023
1033 People Used
Only 27 Left
Bitstamp was launched in 2011 as an exchange platform and just recently started offering an OTC trading service. Although it hasn't been long since its start, it already granted Bitstamp a place among some of the best crypto OTC trading platforms in the market.
Bitstamp's OTC trading service is notable for its Automated Request-for-Quote feature. Put simply, through the OTC RFQ tool, traders give details of the trade they wish to make, such as the amount of cryptocurrency they want to buy or sell and the desired price range. Then, the platform sends the request to multiple market makers who can provide bids for the transactions.
With Bitstamp's OTC trading service, you can trade swiftly and without any risk of slippage. Moreover, the platform has multiple OTC dealers, which results in deep liquidity and prevents the disruption of the regular spot market.
The users of Bitstamp also have access to an institutional-trade matching engine powered by NASDAQ technology, which ensures that the customers receive unparalleled uptime and non-stop availability. Bitstamp also makes sure to support the traders through the 24/7 premium live customer service!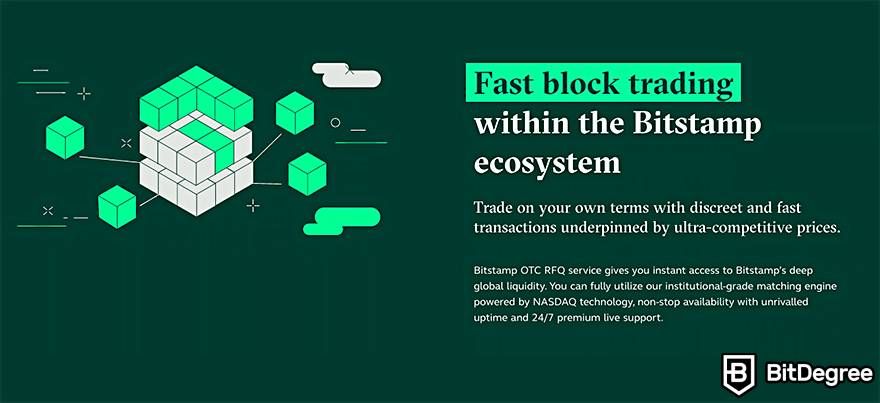 Regarding the size of orders supported by Bitstamp, they can range from $50k to $500k per transaction - this minimum order size is actually quite competitive!
Now, if you want to know if this platform provides good diversity of currencies, rest assured because it definitely does. The available pairs include BTC/USD, BTC/EUR, and LTC/USD, among many others.
What's more, Bitstamp guarantees privacy by intermediating the transactions - which means you can trade completely anonymously. However, it's worth noting that, in order to create a Bitstamp account, you will need to provide some personal information as part of the KYC protocols.
Despite all that, Bitstamp is great not only for OTC trading. It's a good crypto trading platform overall. Why? Mainly due to the fact that it's surely an established and turstworthy platform as it has been in the crypto industry since 2011, and it still is considered to be one of the best choices for many traders.
Besides that, it has low trading fees, strong security, a variety of payment methods, a convenient mobile app, and so much more!
In short, Bitstamp's OTC trading service is one of the best in the market, with an Automated Request-for-Quote feature and a wide range of currencies with competitive order sizes and institutional-grade technology.
Ranks #7 out of 8 Crypto Exchanges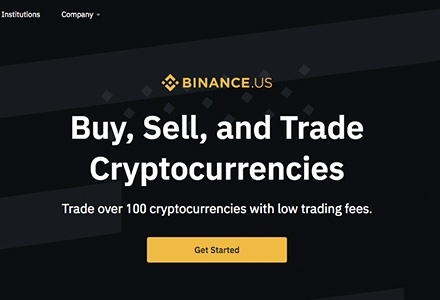 Things we liked:
+ Simple to use
+ Fiat payment methods - accepted
+ A dedicated tax statement tool
+ Advanced trading functionality
+ Some of the best trading fees
+ A lot of crypto education-related resources
Things we didn't like:
- Mediocre customer support experiences
- Lack of security-related information
Binance.US, which was established in 2019 to cater to customers from the United States, has quickly risen to become one of the best crypto OTC trading platforms globally.
Binance.US OTC trading service is aimed at high-volume traders and institutional investors, offering them competitive pricing, deep liquidity, and fast settlements to trade large volumes of cryptocurrencies without affecting the market price.
Hence, the services provided by Binance.US don't differ a lot from Binance, except for the fact that Binance.US has significantly fewer services. Though it does offer an OTC trading service for all US-based traders.
FYI, Binance.US is a subsidiary company of Binance. It was opened due to the fact that Binance is not compliant with US regulations regarding crypto, while Binance.US is. Just note that they are still two separate companies.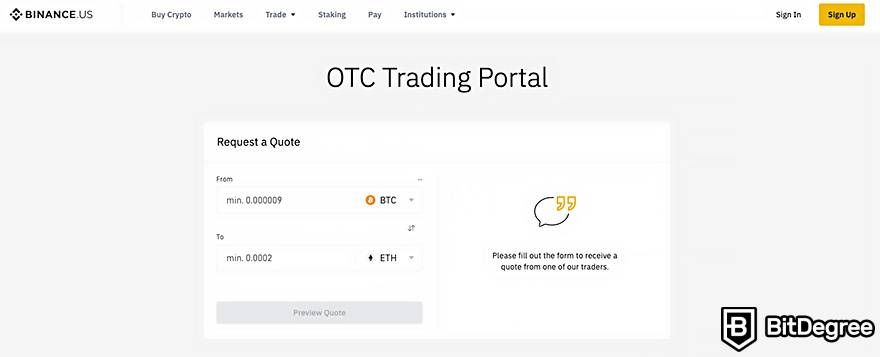 However, there is something worth mentioning: the American version of the platform (Binance.US) has fewer supported currencies - around 120. At first, that might seem like a big disadvantage, but, actually, compared to other platforms, Binance.US would still be considered diverse!
It's also important to know that, although Binance.US doesn't impose any fees for OTC trades, a spread will be applied. In other words, If you are purchasing, the prices will be higher than the market price, and if you are selling, the price will be lower than the market price.
Furthermore, when it comes to security, Binance.US is known for its strict security protocols. The platform uses two-factor authentication (2FA) and other advanced security measures to protect users' accounts and funds. Additionally, Binance.US is regulated in the United States and complies with all applicable laws and regulations.
In short, Binance.US has made a name for itself as one of the top crypto OTC trading platforms in the United States, offering high-volume traders and institutional investors deep liquidity, competitive pricing, and fast settlements.
Having said all of that, Binance.US certainly deserves a spot in this crypto OTC trading platform review!
Ranks #8 out of 8 Crypto Exchanges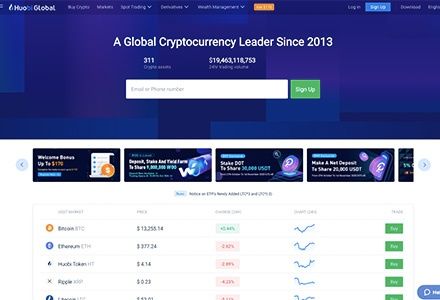 Things we liked:
+ Very low fees
+ User-friendly interface
+ Most crypto assets are stored offline
+ 24/7 customer support
Things we didn't like:
- Only crypto assets available to be exchanged
- Not regulated
Huobi has a special service called Huobi Desk for those customers interested in OTC trading. This desk offers ultra-competitive quotations and optimizes capital efficiency while reducing the risk of market slippage. For this reason, Huobi surely fits into our "best crypto OTC trading platforms" list.
The Huobi OTC desk offers peer-to-peer (P2P) trading services to institutional investors, acting as a mediator between buyers and sellers. Moreover, it has multiple currency options for clients, as it supports trading pairs of major stablecoins and currencies, including USD, GBP, and HKD, as well as USDT and USDC.
Moreover, the Huobi OTC Desk also provides settlement flexibility, allowing clients to lock in their desired price and settle trades to their Huobi account, bank account, or external wallet of their preference.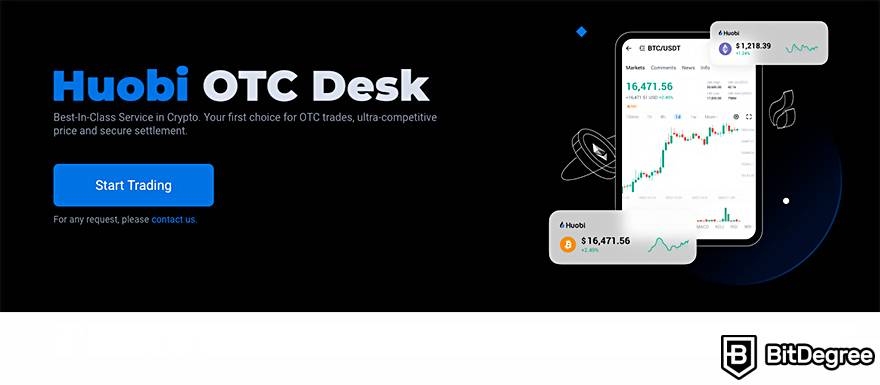 Fee-wise, Huobi OTC Desk is completely free! What's more, when it comes to security, this platform doesn't disappoint either, as Huobi is a service provider compliant with a strict regulatory framework.
Some of the safety protocols followed by it include rigorous KYC and verification of documentation such as proof of income, and so on.
This, of course, is only done to ensure the system is not disrupted by scammers and rule-breakers! This level of precaution is definitely outstanding, that's why this platform consistently earns good points in crypto OTC trading platform reviews.
Though note that, Huobi is a great cryptocurrency trading platform overall with a good reputation in the industry. For one, it has high liquidity and a variety of supported cryptocurrencies. Besides that, it's great for both beginners and advanced users as it has a user-friendly interface and a responsive customer support.
Hence, Huobi Desk is an excellent choice for institutional investors looking for a safe and efficient trading experience.
Conclusions
Cryptocurrency exchange trading has become incredibly popular, with platforms like Binance, Bybit, and Coinbase leading the way. However, for traders looking to buy or sell large amounts of cryptocurrency, the traditional exchange trading can have some limitations. That's why more and more traders are turning to OTC trading as a viable alternative.
Fortunately, there are several top-notch options to choose from when it comes to the best crypto OTC trading platforms.
To take advantage of the benefits of OTC trading, such as lower transaction fees and improved privacy, it's crucial to carefully select a platform that meets your needs. That's why I've analyzed various factors to ensure that I only recommend crypto OTC trading platforms legit and trustworthy.
Though, keep in mind that, while OTC trading may be the best option for some traders, it may not be the best for everyone. Thus, it's important to carefully evaluate your trading goals and preferences as well as take some time to read several crypto OTC trading platform reviews.
Additionally, if you plan participating in OTC trading and you want to trade large amounts of crypto assets, I suggest getting a reliable hardware wallet for storing your assets safely. Some of the best hardware wallets on the market include Ledger Nano X and Trezor Model T.
The content published on this website is not aimed to give any kind of financial, investment, trading, or any other form of advice. BitDegree.org does not endorse or suggest you to buy, sell or hold any kind of cryptocurrency. Before making financial investment decisions, do consult your financial advisor.
Leave your honest Top 8 Best Crypto OTC Trading Platforms for 2023 review
Leave your genuine opinion & help thousands of people to choose the best crypto exchange. All reviews, either positive or negative, are accepted as long as they're honest. We do not publish biased reviews or spam. So if you want to share your experience, opinion or give advice - the scene is yours!
---
TOP3 Most Popular Coupon Codes