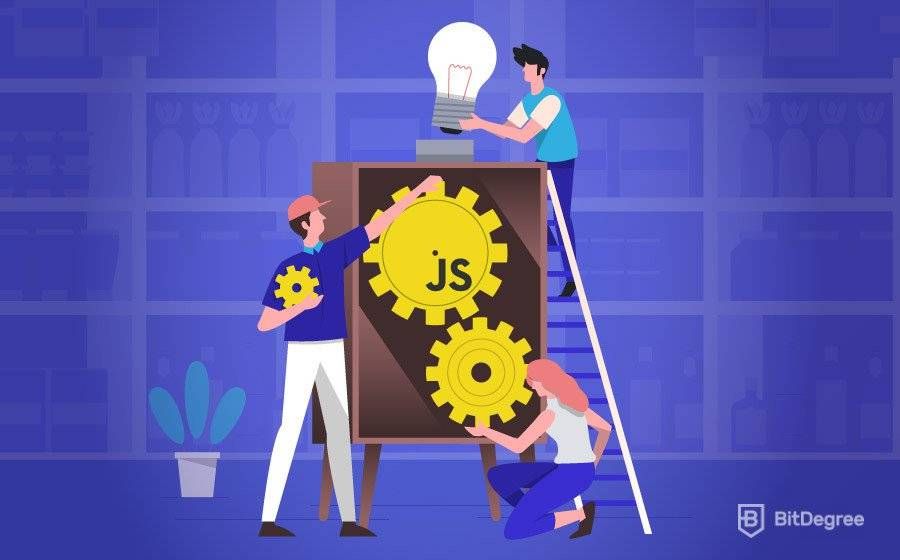 JavaScript is one of the most popular programming languages in the world. However, I am still often asked the question 'What is JavaScript used for?', especially by those, who consider learning JavaScript.
Along with HTML and CSS, JavaScript forms the basis of front-end web development, allowing the creating of interactive elements. This is something of a simplistic view, and in this tutorial, I'm going to help you figure out exactly what is JavaScript used for.
Unfortunately, there is a lot of low-quality information out there that claims to be from 'authority sources'. This is especially true when it comes to things like online JavaScript courses which can help you discover what is JavaScript used for.
Interested? Make sure to check out these courses on either Udemy or edX - two of the best online learning platforms on the market!
With this in mind, let's jump straight into it. What is JavaScript used for, and why should you learn it?
What Is JavaScript?
To put things simply, JavaScript is an object orient programming language designed to make web development easier and more attractive. In most cases, JavaScript is used to create responsive, interactive elements for web pages, enhancing the user experience.
Latest DataCamp Coupon Found:
CLAIM 50% OFF
DataCamp Cyber Monday Deal
DataCamp Cyber Monday special is here! Enjoy a massive 50% off on DataCamp plans. Subscribe now and redefine your data and Al skill set for the better!
Expiration date : 08/12/2023
5,324 People Used
Only 36 Left
Things like menus, animations, video players, interactive maps, and even simple in-browser games can be created quickly and easily with JavaScript.
Three different languages work together to enable the creation of modern web pages. These are:
HTML, or hypertext markup language, which is used to put content onto a page. It allows the inclusion of things like text, images, links, and even videos. For example, HTML would allow you to put a login button in a certain position on your webpage.
CSS, which is used to style the content that has been inserted using HTML. Following on from the example above, CSS would allow you to change the shape, size, color, and style of the login button you added with HTML.
JavaScript, which is the focus of this tutorial. JavaScript allows you to take ordinary web elements and make them interactive. It can be used alongside your HTML and CSS and is an extremely important tool for any web developer.

To complete the example above, JavaScript code would be used to make your login button perform the required actions (logging a user in when it is clicked).
If you want to be a front-end web developer, you need to build a strong knowledge of all three of these languages. Although this article is going to focus on JavaScript for the rest of it, it would be best if you do some more research about HTML and CSS if you're not already familiar with them.
Alternatively, learn the basics with the wonderful video lectures offered by the Learn JavaScript in the 1 Hour course. In just over an hour of high-quality video, you will learn everything from simple syntax to functions and how to think like a programmer.
The courses seem too costly for you at the moment? It's understandable that not everybody has the finances for paid courses. Luckily, you can apply to BitDegree small scholarships to learn JavaScript! Be sure to check them out: nothing, and especially not your financial situation, should stop your education.

Pros
Easy to use with a learn-by-doing approach
Offers quality content
Gamified in-browser coding experience
Main Features
Free certificates of completion
Focused on data science skills
Flexible learning timetable

Pros
High-quality courses
Nanodegree programs
Student Career services
Main Features
Nanodegree programs
Suitable for enterprises
Paid certificates of completion

Pros
A huge variety of courses
Easy-to-navigate interface
Over 600 free courses
Main Features
A huge variety of courses
30-day refund policy
Free certificates of completion
Reference Guides
Language reference guides are one of the most important developer tools in the world. They contain pretty much all the information anyone could ever need about a programming language, and they are great for looking up difficult concepts and syntax.
For example, the BitDegree JavaScript reference, is perfect for looking up information about concepts or general programming practices.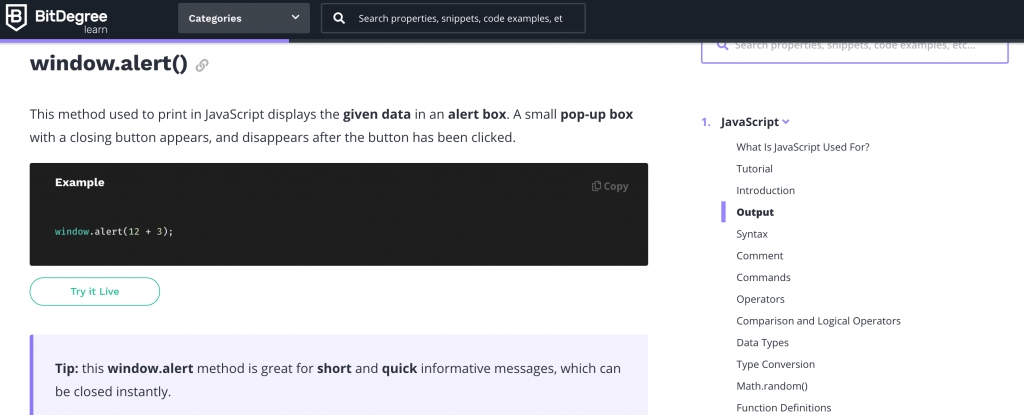 Where to Learn?
Now that you know what JavaScript used for, it's time to start learning. When learning programming, you need to choose reputable resources from the very beginning, otherwise you might just waste your time trying to grasp difficult concepts from poorly-qualified teachers.
In this age, your options are practically limitless. You can read books, sign up for a degree in university, go on Youtube, ask a friend, or read countless tutorials online. However, in my opinion, the best way to learn is through an online course.
Let's see the options! First and foremost when talking about learning JavaScript, I should mention that if you want to become a front-end developer, which JavaScript is used in, you also need to learn HTML and CSS, then you can enhance your web with Javascript.
When it comes to learning JavaScript, there are a few trustworthy options. I advise you to start with the introduction to JavaScript course. When you're done with it, you might want to continue learning.
The next suggestion would be intermediate JavaScript course. This course will prepare you for things ranging from web development to software development. So, get studying!
Conclusion
JavaScript is one of the most popular programming languages in the world.
Although it was designed to help front-end web developers create interactive elements, the use cases of JavaScript have rapidly expanded to include things like back-end web development, game creation, and even mobile app development.
If any of these things interest you, you should consider learning JavaScript.
Discovering what is JavaScript used for will open your eyes to the benefits of learning how to code. Learning JavaScript will make you more employable, will give you the chance to become an entrepreneur or a freelancer, and will give you a whole lot more job security.
If you want to start learning how to code with JavaScript, start with decent online courses, such as those offered by Udemy or edX. Get familiar with a few reference guides, and download your code editor so you can practice writing your programs.
Most importantly, make sure that you have fun while you're learning how to code with JavaScript!
Leave your honest feedback
Leave your genuine opinion & help thousands of people to choose the best online learning platform. All feedback, either positive or negative, are accepted as long as they're honest. We do not publish biased feedback or spam. So if you want to share your experience, opinion or give advice - the scene is yours!