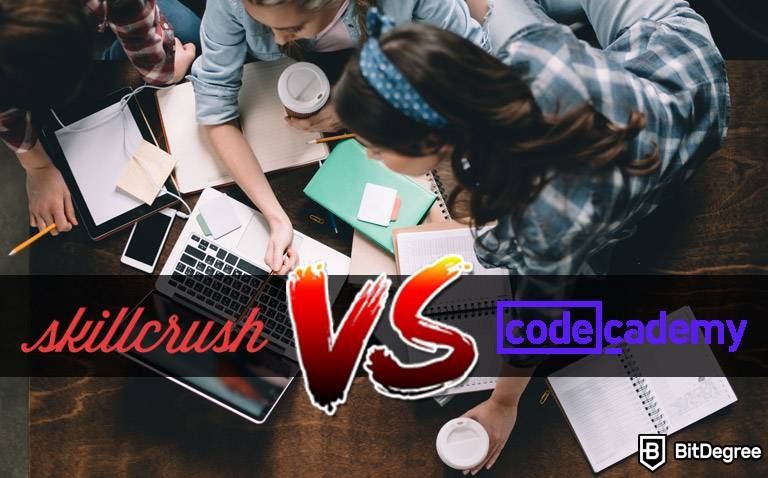 Are you interested in adding coding skills to your technical toolkit but are struggling to find a place to start learning? Don't worry, we're here to help. Today, our focus is on Skillcrush VS Codecademy – two online learning platforms that focus on coding. Whether you're a beginner or on the lookout for more programming skills, read along – you're going to learn a lot about the two platforms.
Using our signature comparison criteria, we'll analyze both platforms based on their performance, user-friendliness, pricing, and other factors. You're going to see which of the two platforms suits your needs best and will aid you efficiently in your journey to mastering coding.
Before we begin, here's a brief introduction to both platforms. Skillcrush is a digital coding school. Founded in 2012, it offers courses and specializations for prospective industry professionals. Its competitor is Codecademy. This platform, which was launched in 2011, provides free and paid coding courses.
So, let's begin our Codecademy VS Skillcrush comparison by learning more about how we'll be evaluating both platforms.
Skillcrush VS Codecademy: Comparison Criteria
Whether we're discussing Skillcrush VS Codecademy or comparing other platforms, we need to take transparency and fairness into account. Naturally, not all platforms offer the same range of services – for example, DataCamp is a platform renowned for its data science courses, while other services, like Coursera, can offer a broader catalog range, including subjects like lifestyle or arts.
Latest DataCamp Coupon Found:
EXCLUSIVE 67% OFF
On DataCamp Subscription
Follow the Datacamp promo code link & get an exclusive 67% OFF Datacamp subscription. Act now while the offer is still available!
Expiration date : 26/03/2023
2,765 People Used
Only 35 Left
So, to ensure that all is kept fair in our comparisons, we have established a criteria system. It's simple to follow and covers what we believe to be the essential aspects in all online learning platforms, regardless of the content they offer. Our criteria do not follow any order of importance – we firmly believe that each of the five matters as much as the rest.
Here are the five categories that we'll be covering in our Skillcrush VS Codecademy comparison:
Ease of Use on Desktop and Mobile. Some people are complete newcomers to digital learning. Others hop from one platform to another, looking for the best courses to improve their skills. Whether you're a complete newcomer or someone with prior online learning experience, you probably want the platform to be simple to follow as you get started. In our first category, we'll see how user-friendly Codecademy VS Skillcrush are. In addition to talking about the desktop experience, we'll also check whether there are apps available for learners that prefer studying on their phones.
Course Quality and Variety. Next, let's talk about the courses themselves. Naturally, we can't compare each catalog course-by-course due to brevity. However, we can get a more general idea based on two key concepts – quantity and quality. We'll take a look at the catalog ranges and what learner levels are supported. Is it all beginner-friendly or can more advanced coders find something for themselves, too? Essentially, it's all about figuring out how well the two platforms balance on that thin line between quality and quantity.
Language support. Since we're talking about coding platforms, it's important to note that "language" in this case refers to things like French and Spanish, not Ruby or Javascript. No matter where you are on the planet, Skillcrush VS Codecademy services are more than likely accessible to you. And while we know for a fact the platforms are great if you speak English, some global learners prefer having native language support. So, we're going to find out what tools the two services have used to make the learning experience more inclusive, and where they could still find room for improvements.
Certifications. Usually, when you complete a course on an online learning platform, you receive a certificate as proof of your new skills. There are many uses for these – most commonly, people add them to their LinkedIn profiles or list them in their CVs. Some certificates offer more utility than others – for example, accredited rewards can sometimes be converted to actual college credit. After briefly discussing this concept of accredited certifications, we're going to take a look at what you can earn by completing courses on Skillcrush VS Codecademy and how much value this proof has.
Pricing. Last but not least, we can't discuss education without talking about its costs. In general, online courses are seen as a more cost-friendly alternative to colleges and universities. That said, cheaper does not mean worse. In fact, these platforms often base their course content on material that's also used in formal learning spaces or directly from the industry, giving the learners hands-on experience. We're going to find out what payment plans Codecademy VS Skillcrush have, as well as where you may find some discounts. To end the comparison on a sweet note, we'll also take a peek at some of the free perks.
As I've mentioned, none of these criteria are listed based on order of importance. We also won't be giving a numbered rating for either of the platforms. At the end of the day, the decision rests on your shoulders – taking in the data we're about to present you with, you can decide what suits your needs as a learner best. We're here to help.
Still unsure which platform to go for? Take a look at our Comparison Tool for online learning platforms – it covers even more extensive data and numbers that may sway your decision. Additionally, it lets you see how Skillcrush VS Codecademy stand compared to other similar platforms. If you want to learn more about each platform individually, you can take a look at our Skillcrush and Codecademy reviews.
So, the moment of truth has finally come. Let's jump into our Skillcrush VS Codecademy comparison.
Skillcrush VS Codecademy: The Comparison
All criteria will be listed following the same order as they were explained above, starting with ease of use.
Ease of Use on Mobile and Desktop
Familiarity and ease of use are things that tend to be important to new and recurring learners alike. After all, when you join an online learning platform, what you really want is to concentrate 100% on the material, not waste time wandering around and finding what's where. So, good site structure and intuitive menus are crucial to creating a great learning experience.
So, if you're considering becoming a student on Skillcrush VS Codecademy, what can you expect? Well, as far as it seems, it should be smooth sailing in both cases!

Let's begin by talking about Skillcrush. Once you open the homepage, you're greeted with a sleek, easy-to-follow interface. The site guides you to an introduction to coding roles that help you find the right career path. Still having thoughts about this whole tech thing? You might be interested in the "Is tech right for you?" quiz – by answering a few short questions, you'll find out which path might suit your preferences.
Don't skip this test, as it'll play an important role in your learning process on Skillcrush. This platform is career-based, meaning that it's focused less on teaching one-off courses on programming skills and more on preparing you for a specific role. As you make your way through the site, you'll learn about different professions in the tech industry and what they entail, including:
Web design
Front-end engineering
UX/UI design
Wordpress development
That said, all the descriptions can be a bit tricky to navigate. The platform spends a lot of time explaining the use of the content, and finding the actual course list can take some navigating. So, as far as usability is concerned, there's still room for growth.
Now, let's take a look at Codecademy. At first glance, this platform is pretty easy to navigate, and this impression sticks around. The menu gives you a nice preview of the course catalog, sorted based on programming languages, career paths, and industries. Additionally, you can preview the variety of resources that include code documentations, practice exercises, career advice, learning tips, cheat sheets, and other fun freebies.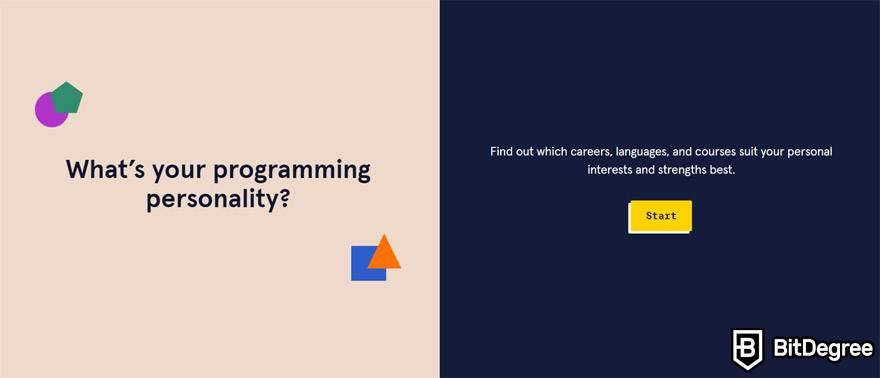 If the world of programming still seems confusing to you, Codecademy can help you pick the best starting point. Like Skillcrush, it offers a sorting quiz. Based on your answers, you'll be recommended a course that suits your learner level and personal interests.
As fast as desktop navigation is concerned, the Skillcrush VS Codecademy face-off leans more towards the latter in terms of simplicity. However, there's a big mobile elephant in the room that we must discuss.
Although as a programmer you're more likely to work on a desktop device, probably even utilizing multiple monitors, online learning platforms offer the convenience of learning on the go – that is, when a mobile app is available. So, what can you find if you type either Skillcrush VS Codecademy in the search bar of your app store?
Well, it's only Codecademy that will bear positive results. This platform offers an iOS and Android-compatible mobile app, allowing you to learn whenever and wherever is convenient for you, as long as you have an internet connection.
Table: Skillcrush VS Codecademy device compatibility.
Unfortunately, Skillcrush doesn't offer a mobile app for its users. As far as the future is concerned, the project team doesn't seem to have mentioned any plans of launching such products in the foreseeable future.
So, overall, comparing the Codecademy VS Skillcrush ease of use, it seems that Codecademy might be more convenient for some learners. However, if you're focused on specific career-based training, Skillcrush will let you follow a straightforward path to success.
Course Quality and Variety
Courses are the core of online learning platforms. It might seem obvious, but it can't be overstated – the course catalog can make or break a platform. Besides, quantity doesn't always equal quality. You can find a platform with only a handful of courses, but the curation is better than on a site with thousands of unvetted guides.
Of course, the quality of quality can be subjective. What works for some learners may be too easy or too difficult for others. Nevertherless, how do Skillcrush VS Codecademy compare in terms of their course catalogs?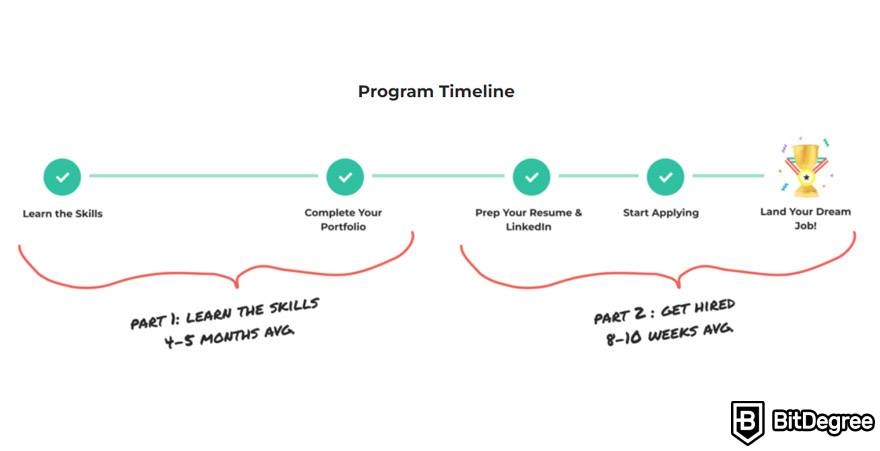 Well, the difference here is pretty staggering. Let's start with Codecademy. If you were to take a look at the full catalog, you'd find more than 290 courses to choose from. All courses are sorted based on the programming language and the subject. The former is pretty obvious – you'll see separate categories for HTML, C++, Swift, PHP, and other popular programming languages. The subjects are project or industry-based and include roles like:
Machine Learning
Cybersecurity
Mobile Development
DevOps
Data Visualization
Of course, there's plenty more to cover when it comes to the subjects. As a learner, you'll have the most to get out of Codecademy if you're a beginner or an intermediate level programmer, as these are the two main groups based on your current skillset. Additionally, you get to pick between free and paid courses – however, pricing is something we'll discuss later.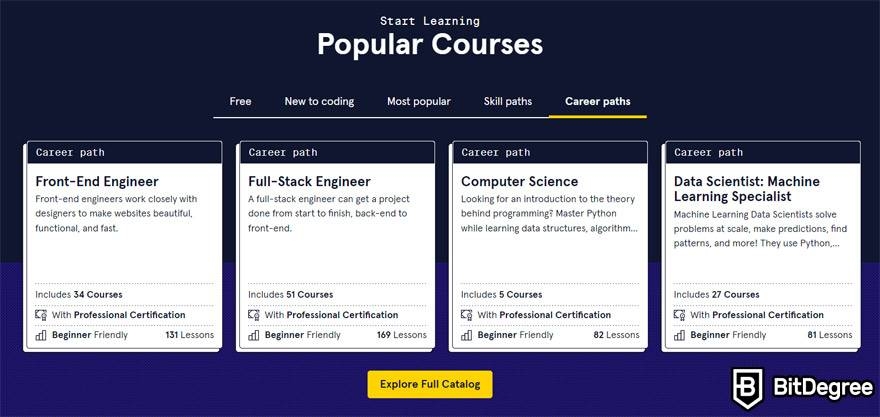 In addition to regular one-off courses, you can also complete career tracks. These series of courses allow you to gain the foundational skills required to enter one of the many tech-based jobs, such as data scientist, iOS developer, back-end engineer, and others. All in all, it's a pretty solid range, and it won't be too overwhelming if you're completely new.
Things are very different on Skillcrush VS Codecademy. In fact, Skillcrush is somewhat unique compared to many learning platforms. While it's not unusual to see hundreds and even thousands of courses as you go through the different service providers, Skillcrush only offers eight – and they might not be what you're used to expect.
As I've already mentioned, Skillcrush offers courses that are set to prepare you for a career in the tech industry. Indeed, that's what the courses themselves are shaped around. While this range might seem small, it offers a lot. For starters, with a smaller pool of courses, Skillcrush is able to offer all learners one-on-one career coaching services and live Q&A sessions with the instructors. Not many other platforms can offer this level of direct support and communication.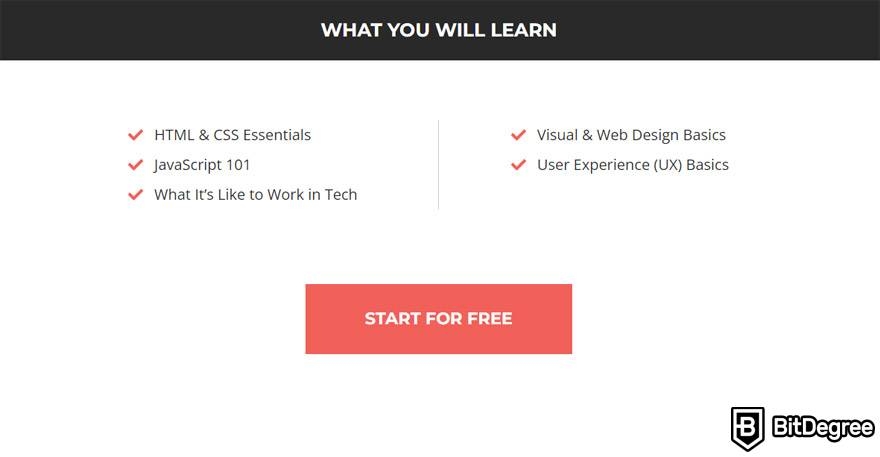 Then, there are the specialization courses. They consist of multiple classes and projects, and the goal is to set you up for your first job as a front-end developer, Python programmer, or visual designer. All courses are updated continuously, so you can be certain that the learning material won't be out of date.
In addition to the Skillcrush courses and specializations, you can also sign up for the Break Into Tech Job Training Program. This is another unique concept offered by the platform. According to the platform, by completing this program, you are guaranteed to receive your first industry job at the end.
As you can see, between Skillcrush VS Codecademy, both platforms offer a very different range of services. However, both have received positive user feedback for the quality. Although Codecademy is the more varied option, especially if you're still discovering which sides of tech you enjoy the most, Skillcrush can be great if you already know which role would suit you best.
Language Support
The internet is a very global space. It's basically a virtual playground where we get to meet people from all over the world and share our experiences with them, from what we've seen to what we've learned. With billions of people joining the world wide web, it's no wonder that not all of them can access all content in English.
So, if you run an educational platform, it's important to know your audience and what can make their learning process easier. In this case, it's often courses, videos, and other helpful content being available in multiple languages. You can find this support in many shapes – from subtitles and audio tracks to complete A-Z course translations.
So, how do Codecademy VS Skillcrush fare here? Sadly, not great on both counts. Neither platform has foreign language support tools, meaning that you can only access the content in English. This can be a big letdown, as other popular programming platforms, like DataCamp, offer more extensive foreign language support.
CODECADEMY
SKILLCRUSH

Easy to use and navigate
Has a few different plans, including a free one
One of the best places online to learn how to code

Easy to navigate around
Inclusive and supportive
Good content quality

The technical side of things could use some improvement
Free courses are too general
Sometimes, it's tough to find relevant information

Pricey
Lacks original features (inclusivity isn't an original feature)
Some reviews claim that the refund policy is flawed

Visit site
Read review
See TOP10 Brands
Read review
Table: The pros and cons of Codecademy VS Skillcrush
Nevertheless, there are still a few things you can do to make things easier if studying in English isn't your preference. For starters, why not take advantage of the social features offered by Skillcrush? Students can easily connect with their peers. So, if you're lucky, you may find others who speak your mother tongue and can help you out.
Additionally, something as simple as Google Translate can help. In fact, this is the official recommendation provided by Codecademy. Since the courses are tech-based, the bits you need to translate are usually pretty straightforward, while the code remains the same regardless of the language.
So, as you can see, neither platform is a great choice if you want to learn in a language other than English. However, there are some strategies you can take advantage of to make learning a bit easier for yourself.
Certifications
Who doesn't love a sweet reward for their efforts? If you're familiar with how most online learning platforms work, you know that for each achievement you earn and each course you complete, the rewards you reap are most commonly certificates. They act as proof of your skills, as well as the time you put into the learning process.
Think of a certificate as a status of accomplishment. You can use them if you feel like your CV needs a boost or if you simply want to show off before your friends. However, some certificates of completion offer additional perks. For example, if you complete a course that was developed in tandem with a university, it's very likely that your certificate is accredited. This means that its legitimacy is backed by a higher education institution. Sometimes, if you're lucky, you may even be able to convert it into some college credit and make your university journey fly past you faster!
So, when it comes to certifications in our Skillcrush VS Codecademy comparison, what can you expect?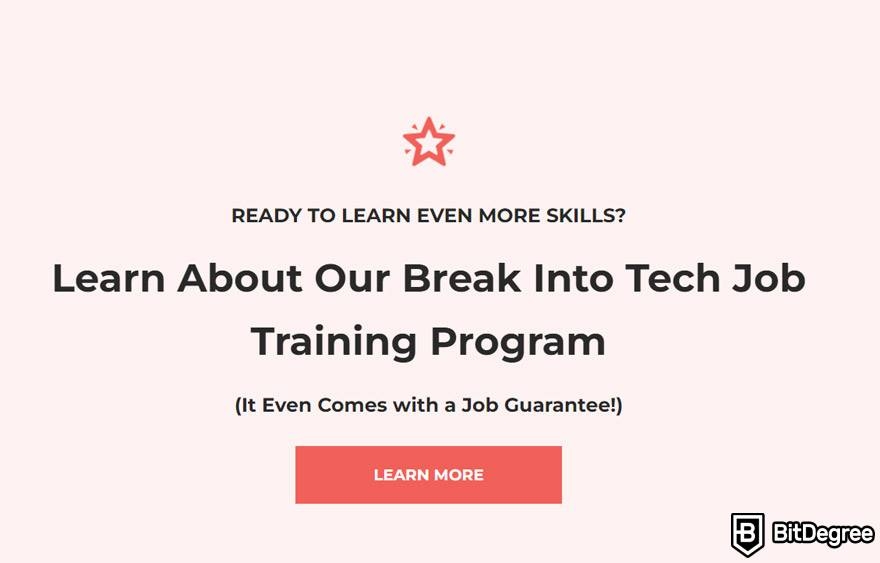 With Skillcrush, things seem to be complicated. There's very little information on certifications themselves, so it's possible that you might not earn them upon completing the courses. However, if you choose to go through the Break Into Tech skill training or complete one of the specialization courses, you'll have something else that's just as valuable – a portfolio. Since you'll be working on numerous projects as you study, you'll be able to use them as proof of your practical skills and theoretical expertise.
Codecademy offers non-accredited certificates of completion. Most courses on the platform's catalog are eligible for this perk. However, you should double-check each course description to be sure that it grants proof of completion. Additionally, if you're interested in a career track certification, you must complete each course in the path 100%. You cannot skip over any of the tasks. Once you're done, you'll be doubled up on your certificates – for each course and for the career track as a whole.
If accredited certifications are what you're after, neither of the two Skillcrush VS Codecademy platforms offers what you want. However, the Codecademy reward system is more straightforward and clearer for a beginner to get the hang of.

Pros
Easy to use with a learn-by-doing approach
Offers quality content
Gamified in-browser coding experience
Main Features
Free certificates of completion
Focused on data science skills
Flexible learning timetable

Pros
Simplistic design (no unnecessary information)
High-quality courses (even the free ones)
Variety of features
Main Features
Nanodegree programs
Suitable for enterprises
Paid certificates of completion

Pros
Huge variety of courses
Easy to navigate
No technical issues
Main Features
Huge variety of courses
30-day refund policy
Free certificates of completion
Pricing
We're reached the final section of our Skillcrush VS Codecademy comparison – pricing. We often have to vote with our wallets, and subscription-based services like online learning platforms are no exception. You need to make sure you're getting your money's worth. After all, you wouldn't pay for private web design classes only to sit around doing nothing.
But before we look at the pricing charts, let's talk about freebies. It's always nice to have access to a platform without the requirement of payment. You might also want to see how things work and whether the platform's teaching model is effective for you before you commit.
So, is there anything free and notable on Codecademy VS Skillcrush? Yes! In fact, both platforms offer some nice free perks.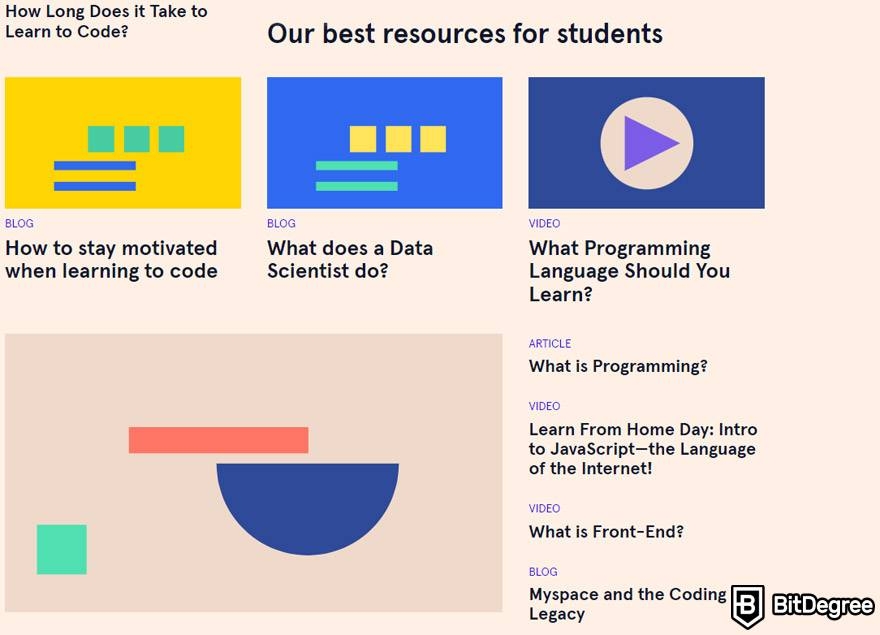 Let's see what Codecademy has in store first. You might recall me mentioning earlier that the catalog includes both free and paid courses. This is the biggest advantage offered by Codecademy. Some platforms only allow you to complete a chapter or limit how much content is available for free. You can simply select the Basic plan which is completely free and make your way through the selected catalog. Also, all those resources I listed earlier, like documentations and cheat sheets, are also available free of charge.
As for the other platform, you can enjoy Camp Skillcrush. This is a free coding camp that introduces you to the essentials of the learning environment. In total, you can access eight courses on web design and coding. Once you've tried them out, you can figure out which career path you might prefer.
That's free perks covered. Now, let's discuss the payment plans.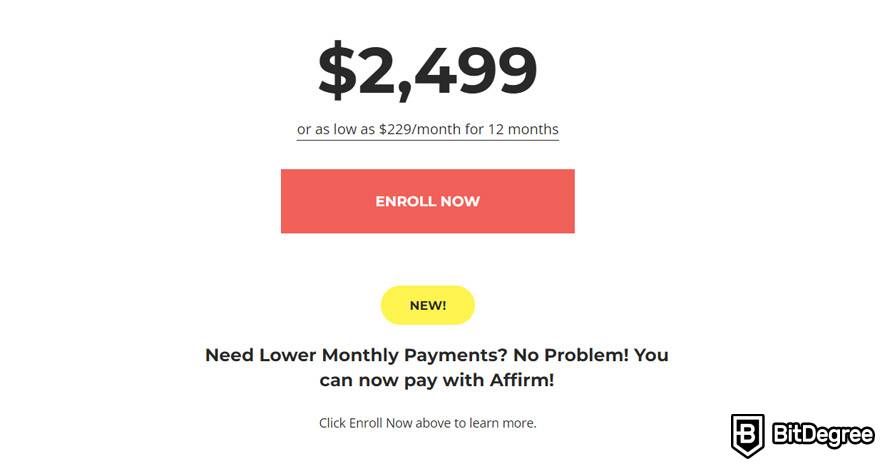 Both platforms function as subscription services. If you choose to join the Break Into Tech training program, the monthly fee is $229. Alternatively, you can pay $2,499 upfront to cover the full one-year training fee. For an additional charge, you can add further career support services and advanced CSS courses.
If you want to pick a particular specialization, the price is $199/month or $549 upfront for three months of studying. However, the Front End Developer plus ReactJS program charges $699 for the full four months of learning. And since I know these price tags can seem pretty high, I've arranged a few discount codes and special offers for you that can be found here.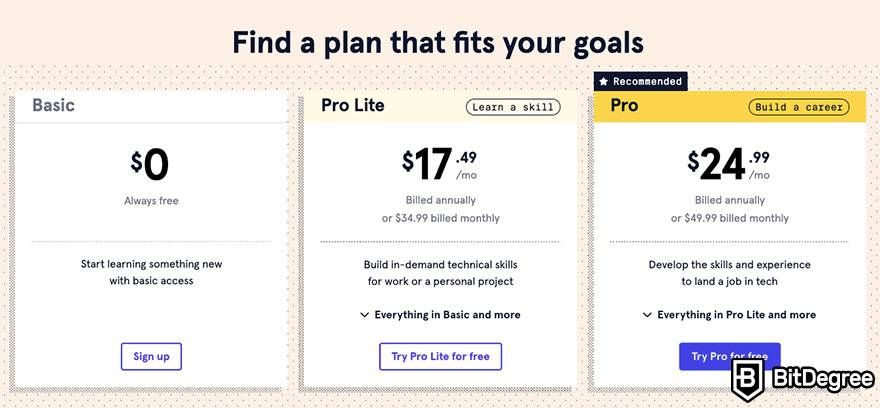 As a Codecademy user, you can choose between one of the three subscription plans:
As we've discussed, the Basic plan contains all the free courses in the catalog as well as additional learning resources. With the Pro Lite plan, you can start taking any course in the entire Codecademy catalog. The Pro plan contains all the perks mentioned here. It also unlocks access to career paths, allowing you to become an expert in your field easier.
So, if you're looking for general beginner-friendly courses and a broader skill variety, Codecademy is a great, wallet-friendly option. However, if you want to specialize in a particular field and work on your personal portfolio, Skillcrush is certainly a worthwhile investment. No matter what you choose between Skillcrush VS Codecademy, it will be worth it.
Conclusions
With this, our Skillcrush VS Codecademy comparison has come to an end. The two platforms are very different in their teaching models, course variety, and services offered. However, both can be a great option if you're completely new to the tech world.
And now, it's your turn. What do you think – do you prefer the advantages of mobile learning that Codecademy grants you, or are you interested in the career-driven specializations by Skillcrush? Share your experiences with the platforms in the comments below. And if you're looking for more data to make the final decision, our Comparison Tool is always available. Here, you can see more features offered by the platforms and compare them against other brands like DataCamp.
Tech doesn't have to be scary, even if you've never tried it before. So, go forth, work on your brand news skills and, most importantly, have fun!
Leave your honest feedback
Leave your genuine opinion & help thousands of people to choose the best online learning platform. All feedback, either positive or negative, are accepted as long as they're honest. We do not publish biased feedback or spam. So if you want to share your experience, opinion or give advice - the scene is yours!