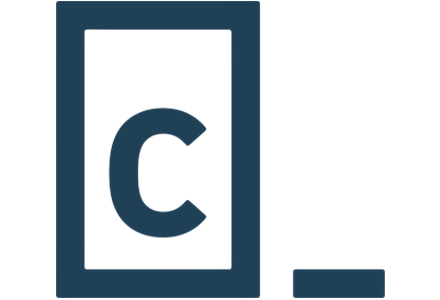 Coding is a tough skill, and it might be difficult to find a reputable online learning platform to be able to start learning it. That's why many people turn to various different reviews for help. Today, in this CodeCademy review, we'll take a look at a platform that is widely considered to be one of the best sites dedicated to learning how to code.
Just as many other Code Academy reviews, we'll start by covering the company itself - what it is, what it does and so forth. After that, we'll check out the platform itself - I'll tell you about the various features that it has, the pricing policies, we'll talk about is Codecademy Pro worth it and so on.
Before we begin, let me just say in advance - if you'd like to find some better CodeCademy alternatives, check out Udemy or edX. These are among the best MOOC providers in the industry!
Pros
Easy to use and navigate
Has a few different plans, including a free one
One of the best places online to learn how to code
Cons
The technical side of things could use some improvement
Free courses are too general
Sometimes, it's tough to find relevant information
Table of Contents
Codecademy Review: Introduction
Let's start this Codecademy review by briefly talking about the company behind the code learning platform. After all, it's probably a good idea to learn about the people behind the website and the entire project before we start analyzing their services, right?
Codecademy came out all the way back in 2011. It's a New York-based MOOC company that specializes in providing people with courses centered around the topic of coding.
Codecademy offers students 14 different programming languages to learn at their own leisure. These include some of the most popular languages that are currently dominating the job market, such as Java or Python.
Furthermore, the company offers two more options, in addition to their basic learning plan - the Codecademy Pro and the Codecademy Pro Intensive.
Latest Codecademy Coupon Found:
7-Day
Free CodeCademy Trial
Take advantage of this CodeCademy promo code & enjoy 7-day free trial of CodeCademy PRO features. Follow the coupon link to enroll.
Expiration date : 27/03/2023
2,005 People Used
Only 15 Left
Ease of Use
The factor of just how easy it is to use and navigate the site is very important when it comes to an e-learning platform being successful and respected within the community. If a website is clunky and confusing, chances are that visitors are not going to get past the main landing page.
My first impressions upon visiting the main Codecademy landing page were… Interesting. I must admit, it took me a few seconds to register what I'm looking at. And it's not because there was some obscurity or modern art installation in front of me.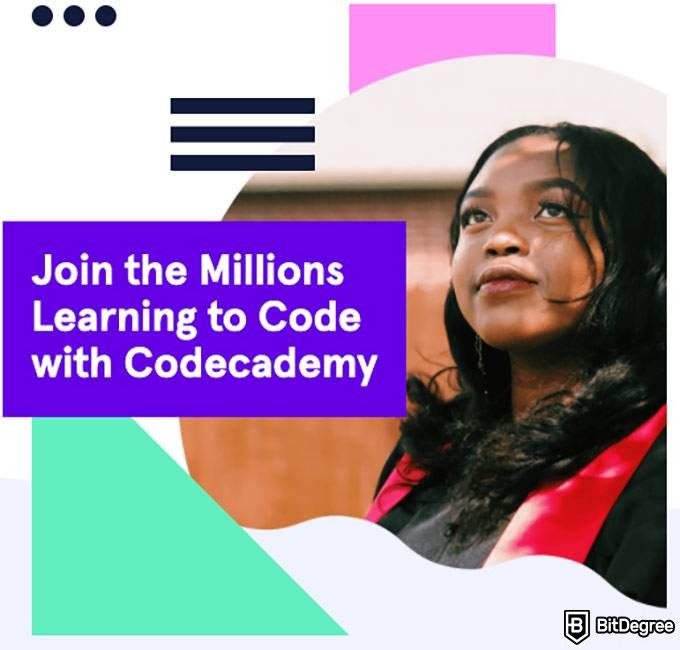 Actually, the page was pretty generic - it's just that everything was so up close and in your face! I have to admit, though, that after scrolling a tad bit down, I quickly got used to it.
The page itself is pretty generic as far as educational platform landing pages go. You have the signup form, an obligatory video telling how great the company is (although I have to admit - their video did seem pretty genuine), some testimonials and a small list of reasons why you should choose Codecademy as your online code-learning platform.
Overall, a pretty basic front page - although that's not necessarily a bad thing!
There are two sections which you can go to from the main page - the community section and the full catalog. I would first talk about the community section and how easy (or hard) it is to navigate through it, but after ten seconds of waiting and not seeing the page give out any signs of possible life, I gave up.
Their catalog, though, was quite refreshing. Not many Codecademy reviews mention this when they discuss is Codecademy good, but I actually found their course layout to be somewhat unique.
The catalog was easy to navigate (you could sort the courses by languages, subjects and memberships plans), the courses buttons presented only the essential information. It was refreshing since it didn't try to stuff a ton of information down your throat.
The course pages themselves are great, too. They have a very minimal amount of essential information displayed on them - no needless nonsense, no popups, none of that stuff. I immediately understood what I clicked on and was presented with possible courses of action (enroll in the course, read the summary, etc.) even faster.

All things considered, I have to say that a lot of Codecademy reviews fail to mention that the user interface of the platform is both aesthetically pleasing and very simple to navigate and use. Pretty cool!

Did you know?
Content Quality
As the infamous saying goes - content is king! That couldn't be truer - the platform can have the nicest and most inviting of designs, offer all courses free of charge and advertise like mad - if the content sucks, no one's going to spend time actually dealing with it.
That doesn't seem to be a problem for Codecademy, though. A lot of users mention this in their Codecademy reviews, but the content on the platform is actually up to par!
The company stresses that the learning quality of the students is really important, and it seems that they're keeping up with their words! Codecademy constantly updates its courses and aims to bring in new and relevant learning material into the site.
A lot of people ask "is Codecademy Pro worth it?" or write Codecademy Intensive reviews. Truth be told, most of the feedback that these two versions of the platform have is relatively positive - prices seem to be some of the only known issues (we'll talk about that later).
All in all, the quality of the content presented on the site does seem to be in line with what the company says its values and goals are. Since good content is so important, this is a big thing indeed!
Features
Interesting and unique features are some of the main ways that online learning-based platforms try to distinguish themselves from their competition. Some offer interactive courses, others - different subscription plans, memberships and promotions. As a lot of Codecademy reviews state, this site is exactly one of such platforms.
Codecademy offers its users three different ways to learn on their site - free courses, Codecademy Pro and Codecademy Intensive.
Free courses. For the longest amount of time, the majority of the courses on the platform were free of charge. All you had to do is register and start learning. Since the inception of the other two paid plans, however, the number of free courses has experienced a downfall (which is pretty obvious from most Codecademy Pro Intensive reviews and Codecademy Intensive reviews). However, there are still some courses on the site that can be accessed and taken free of charge.
Codecademy Pro. The subject to the popular question "is Codecademy Pro worth it?", is like the "premium" plan that the website offers. It includes various quizzes, personal projects, learning paths and so on - things that would otherwise not be accessible to a free user. As Codecademy puts it themselves, this premium plan is designed for people who want to take their learning experiences one step further.
Codecademy Pro Intensive. As a lot of Codecademy Intensive reviews will tell you, this is basically the hardcore version of Codecademy Pro. Here, you will find (in addition to the previous features) extra curriculums, deadlines, designated Slack channels, exams, and so on. It's a boot camp version of what you want to learn, basically.
These are the main features that Codecademy offers to its students. Even though there are quite a few Codecademy Intensive reviews and Codecademy Pro Intensive reviews found online, people still wonder and ask is Codecademy Pro worth it and is Codecademy good, in general?
I have to say, according to the "Content Quality" section that we've covered above, the platform does seem to have some awesome features. But, before you make any decisions of your own, there is one more factor that comes into play considering Codecademy reviews - the price.
Price
As with probably most other popular online learning platforms, the biggest portion of negative feedback that Codecademy receives revolves around the prices. Let's take a closer look, shall we?
As I've mentioned a bit earlier in this Codecademy review, most of the courses that Codecademy was offering at the beginning were free. Since they started promoting their upgradable plans, however, people became skeptical.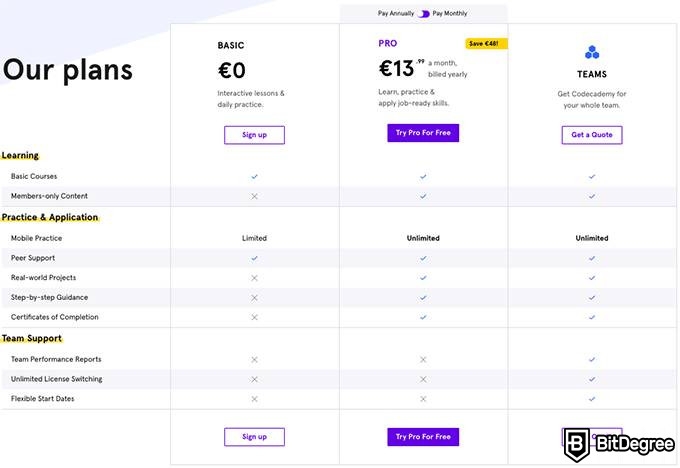 The Codecademy Pro membership costs $19 USD per month - this means that it's a subscription-based pricing model. As opposed to that, their Codecademy Intensive plan costs $199 USD per course. Additionally, it could cost more depending on the subject matter, course topic complexity, etc.
Surely, if you're a long-time Codecademy user, then your Codecademy Pro Intensive review might not be all that pleasant. The "OG" users do say that it's a bit of a shame that the site transitioned from being almost exclusively free to charging almost $200 USD for a course.
Sure, there still are free courses that people can access, but there's a problem with that, too.
Many Code Academy reviews state that the free courses are basically a "one glove fits all hands" type of a deal. They do not take into account a user's skill level and can jump from being super-basic on one lesson to really advanced in the next.
This can be really frustrating - it makes students feel like the free courses are nothing more than "fillers of space" so that the site could proclaim that it does, indeed, offer courses free of charge.
Learning Experience
As the final point of reference, I've chosen to cover the overall learning experience that the site provides. Even though this is probably the most abstract and subjective criterion of them all, it does play a huge part both in the student's opinions about Codecademy, and the Codecademy reviews.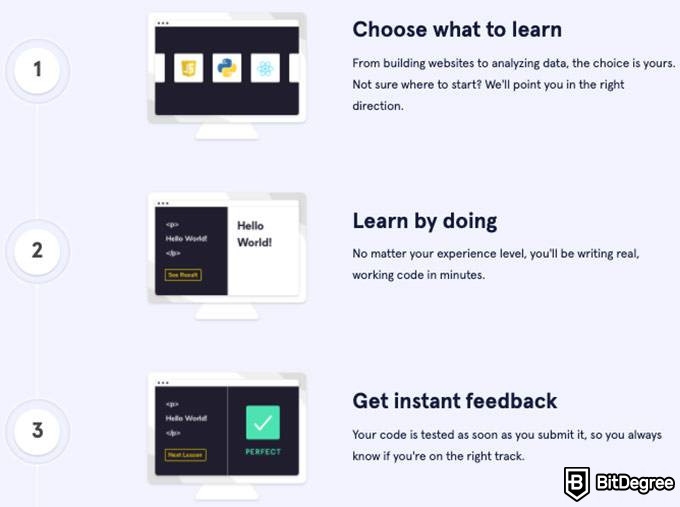 The general consensus about the learning experience in Codecademy seems to be relatively positive. And, to be honest, I can see why. Right from the getgo, the platform offers an easy-to-understand-and-interact-with interface, a wide variety of different courses to choose from (after all, 14 programming languages is quite a lot!), and different options that would suit everyone, according to their wants and needs.
Also, the company strives to deliver some of the most relevant courses on topics that would not only be interesting to the students, but would also benefit the job market.
On the other hand, there are complaints that some of the courses tend to crash, and the instructors are not very understanding. While I cannot confirm or deny the claims about the instructors, I can see where the "course crashing" comes in - even while writing this Codecademy review, I've experienced technical difficulties with their video player (it lagged like hell) and their "Community" tab (still can't seem to load!).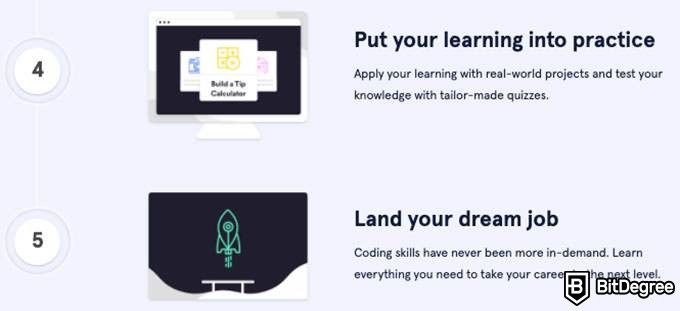 Even though that does not necessarily sway the actual learning experience in any way, it's still something that the company would do well to look into.
Latest DataCamp Coupon Found:
EXCLUSIVE 67% OFF
On DataCamp Subscription
Follow the Datacamp promo code link & get an exclusive 67% OFF Datacamp subscription. Act now while the offer is still available!
Expiration date : 27/03/2023
2,765 People Used
Only 35 Left
Conclusions
With time, there are more and more online education and learning-based companies popping up in various different parts of the internet. Some are based locally, but most of them try to get a broader reach and attract a global audience in any way that they can.
This is why e-learning platforms have to constantly show their A-game, update their content and offer students various promotions and other incentives.
That being said, it's actually a great thing if you're a student looking for an online-based learning platform. This guarantees that you'll receive some of the best deals around, since all of these companies are competing for your attention.
Codecademy chose the route of specializing into a single, somewhat niche topic - coding and programming. Their whole content and ideas revolve around it - and that's great!
Being a niche product or service provider means that you can target a very specific audience, which then translates into a bugger retention rate than if you would, for example, offer students to teach them everything and anything. Well, at least in most cases. If you're in need of some alternative course providers - ones that also have a broader range of topics, too -, you should turn to platforms such as Udemy or edX.
That being said, we have reached the end of this Codecademy review. As I've said, many different people leave many different Codecademy reviews - you can't please everyone! However, in this Codecademy review, I tried being as transparent and honest as possible.
Leave your honest Codecademy review
Leave your genuine opinion & help thousands of people to choose the best online learning platform. All reviews, either positive or negative, are accepted as long as they're honest. We do not publish biased reviews or spam. So if you want to share your experience, opinion or give advice - the scene is yours!