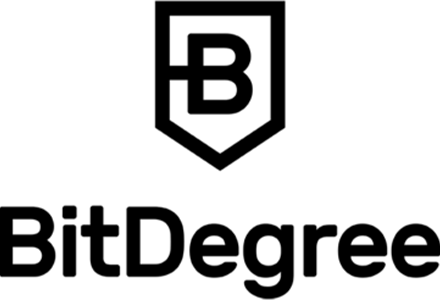 If you're wondering what is BitDegree and why you should try it out, you've come to the right place. While there are many different online course providers that have recently entered the market, there has been an increasing amount of interest surrounding BitDegree.
So, what is BitDegree? BitDegree is an online course-providing platform focused on teaching people digital computing skills such as web development, data mining, database manipulation, creating games, blockchain development and more.
One thing that immediately makes BitDegree stand out from its competitors is the fact that the platform is heavily blockchain-based. BitDegree has its own token (crypto tokens are not the same as crypto coins - keep that in mind!), blockchain certificates and has even had its own ICO back in December, 2017.
The vision of BitDegree, as stated by the company itself, is to "make learning fun and rewarding". The company achieves this by providing gamified courses, blockchain certification, scholarships, a reward system and other features that will be covered later on in the review.
Pros
Integrated gamification features
Blockchain integration
Scholarships availability
Good for solo-learners
Easy-to-use platform
Cons
Young platform, not much time to consolidate their brand
Few community features
Table of Contents
How to use BitDegree?
When it comes to MOOC (Massive Open Online Courses) providers and their platforms, the ease of use is actually really important. And BitDegree recognizes and honors this.
Straight off the bat, BitDegree is very easy to use and navigate around. Once you access the homepage, you can instantly search for courses you are interested in, or login/sign-up to view the courses you have enrolled in. The website takes on a futuristic vibe which is enforced by the homepage characters and accented colors.
For the sake of finding out is BitDegree worth it, the platform's renowned HTML and CSS course "Space Doggos 2" was selected.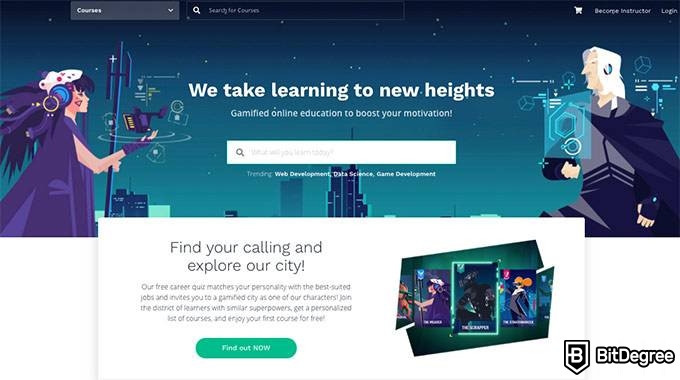 This course is unique as it was created by the company itself – BitDegree Foundation.
Once accessing the page you are greeted by the price, offered rewards (+100 XP and a certificate), reviews and learning level.
The +100 XP reward might have caught your eye: BitDegree has the advantage of a gamified learning platform which means that you will get some rewards for learning, reviewing materials to keep you going. More on this in the Features section.
If you are not hesitating, you can just press "Start Learning Now" and enroll in the course. If the course has a price, you will first get redirected to the check-out page to pay for it. After enrolling, you will find the course on your dashboard after logging in.
Then, just follow the instructions in the course. In Space Doggos case, you will be greeted with an interactive area, where you will get instructions and will have to input your own code to advance to new lessons. In video courses, you will just have to watch the video.
If you are looking for other courses, you can quickly use the search bar, select an appropriate category, or head to the Courses page and explore all of the materials with the help of filters.
If you're wondering is BitDegree worth it from the technical side of things, then you don't need to worry about that, either. The website works well, loads fast, and there were no crashes or errors encountered during the research phase of this BitDegree review.
The whole interface is smooth and easy to navigate. While BitDegree follows the general pattern that most other e-learning platforms use, it still manages to employ its own, unique twist on it.
Latest BitDegree Coupon Found:
100% FREE
Best Courses at BitDegree
Get the best courses for FREE with this BitDegree coupon. Choose from hundreds of online courses. Sign up to receive the offer!
Expiration date : 05/04/2023
16,994 People Used
Only 6 Left
Features
It really shows that BitDegree cares about its learners as it offers an abundance of features, starting from gamification that is implemented together with the Octalysis Group. Such features include:
Daily and weekly rewards for reaching goals (such as finishing a lecture);
Friending: so you can add your friends and track their progress easier;
Badges: for reaching certain goals, you get badges;
Levels: after getting the required number of XP, you get to level up;
Statistics tracking: you can easily see how much time you have spent studying in your profile and compare it with other BitDegree users;
Career quiz: according to your answers, BitDegree chooses the character that is closest to you who then gives you a choice of courses to start from. The chosen character flag is later added to your profile.
This comes to a fun user profile which you can see below: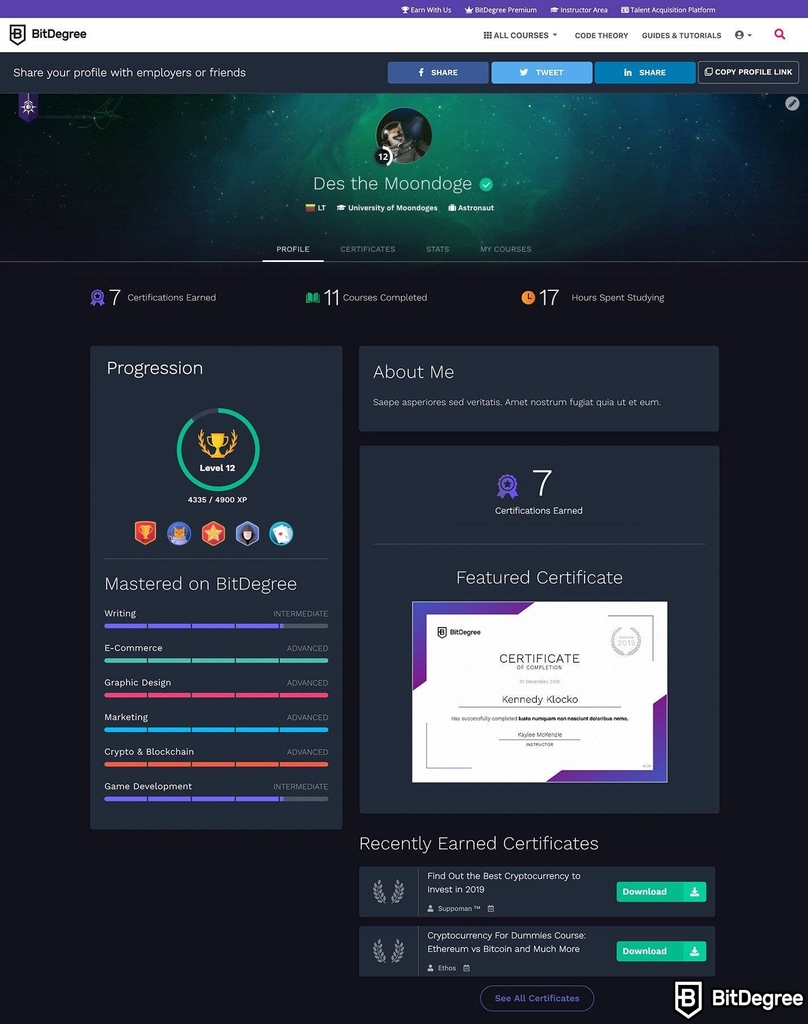 Oh, and those certificates you see? They are blockchain certificates: secure and impossible to counterfeit proof of your education.
But it doesn't just end here: BitDegree also cares that you would use your education. So they have partnered up with companies and started offering scholarships: you get paid after you complete the partnering company courses and tests and if you're successful, you might get selected by the company to work there.
If you are more of a casual reader and solo-learner, BitDegree offers two other big parts on the platform: BitDegree Learn and BitDegree Tutorials.
BitDegree Learn provides students with the ability to further their knowledge in the field of programming on an individual level. This part of the platform consists of short tutorials, a ton of code examples and some mini-lessons that revolve around 12+ coding languages.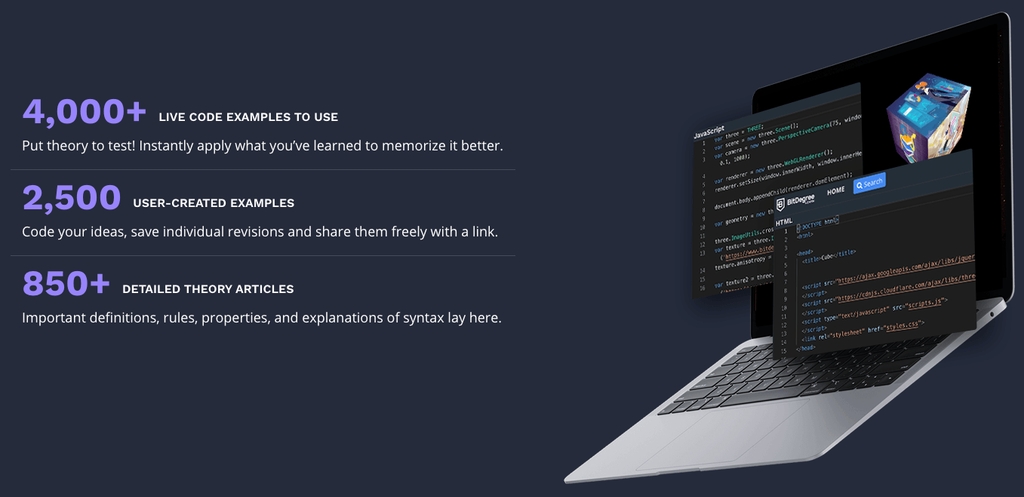 BitDegree Tutorials is the part of the website where students can find articles, comparisons and other various written material on some of the most popular topics of the IT and crypto industries.
The tutorial section of the platform is being constantly updated with new articles that are not only relevant to anyone who wants to get into these industries, but are also quite extensive in their nature.
Is BitDegree worth it, when it comes to features? We think yes, absolutely it is worth your time as the new features might help you immerse into learning and finish those courses and easily learn something new and useful.

Did you know?
Content Quality
The quality of the content that an e-learning platform provides is the most important aspect of the site. The courses that are offered have a bigger priority than any visuals, flashy colors and even a cute brand character. Let's see: is BitDegree worth it when it comes to the platform's content?
Whilst writing this review, a few different, free and paid courses have been chosen at random in order to analyze whether or not their quality would meet the general standard. Our key analysis factors were:
The instructor speaks clearly;
The course instructions are easily understood;
The course has no filler information;
The course offers additional value.
All of the courses chosen affirmed a positive answer to the question "is BitDegree worth it?" by corresponding positively to our analyzed factors. Moreover, BitDegree is working with Vilnius University into researching the motivation of learners to enroll and finish courses, so you can be sure that the quality of courses will only grow.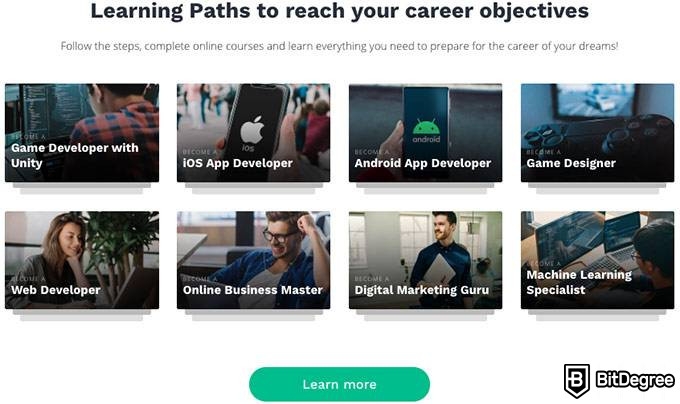 There are two more parts of the platform that offer additional content that we have already talked about: BitDegree Learn and BitDegree Tutorials. Let's take a look at the quality of their content.
BitDegree Learn offers in-depth theoretical articles on main programming languages and offers an interactive space to try out and create code examples. The information is written neatly and to the point and the code snippets and interactive examples in the editor offer the additional value of strengthening your knowledge.
BitDegree Tutorials provide users with various articles on Crypto/Blockchain or Educational/Career topics. Reading through the articles, it is quite obvious that they were written and thought out in a concise and professional manner: each article presents tips, important information and of course a concise summary for those who don't have a lot of time. It's worth following them to learn something new each week.
So is BitDegree worth it from the content quality side? Yes: the platform offers great quality in all of the parts of the website and is always on the lookout to provide more.
Price
Even though pricing tends to be a heated topic when it comes to e-learning platforms, BitDegree seems to have it all sorted out.
The platform offers users two types of courses. First of all, there are free ones. Yes, they are fully-fledged courses - no "watering down", no trials, nothing. It's rare to find a MOOC provider that would offer free content which would be in-line with the paid version - BitDegree, however, is one of such providers.
You can keep a lookout for the free courses on their Free Certifications page. Also, you get one free course after signing up and completing the account calibration quiz: you get to choose from four different, but suited to your quiz result, courses.
The second pricing option is just that - paid courses with individual price tags. The prices may vary depending on the length, quality of the course, but you can get discounts: BitDegree gives out discount codes on social media or have sales on some special days like Black Friday or celebrations like Easter.
If you see a course and can't afford it, BitDegree also has a solution for that: they have started micro-scholarships where you can apply, explain why you need this course and get funded if you're lucky. How does this work?
Well, sponsors (large companies) look over the requests and fund the ones that seem the most promising. To make the funding secure, their donation is converted to a stable cryptocurrency with a ratio 1:1.
The student receives the money if he completes the course and if not, the company is refunded. BitDegree is currently on the lookout for more companies to join the program, so currently, the micro-scholarships are in their early phase, but with a lot of promise for the future.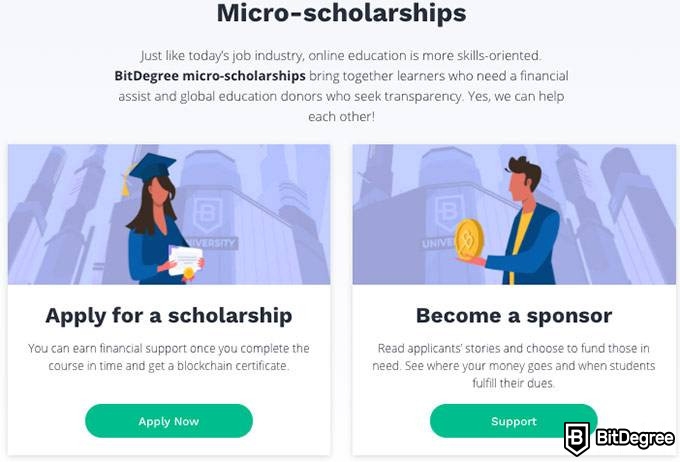 All in all, the pricing on the website is objective and very reasonable. Since each individual paid course has its own price tag, you can make sure that it does suit your expectations by reading the description or watching the preview. There are also tons of free courses - many more than are available with most other MOOC providers out there!
Learning Experience
The learning experience can be defined by summarizing all of the other points covered in this review - everything from decent pricing all the way to the quality of the courses adds to create an overall learning experience.
If you're still wondering is BitDegree worth it, it is obvious that the company does everything to ensure that its users have an amazing learning experience. The users tend to agree, too – according to the vast majority of the student reviews that BitDegree receives, it seems that users love the platform, and are super happy to have found it!
Based on everything seen whilst writing this article, and the general tone of most of the online BitDegree reviews, it is probably safe to conclude that if you decide to choose BitDegree as your online course provider, you can expect to have an awesome learning experience.
Latest DataCamp Coupon Found:
EXCLUSIVE 67% OFF
On DataCamp Subscription
Follow the Datacamp promo code link & get an exclusive 67% OFF Datacamp subscription. Act now while the offer is still available!
Expiration date : 04/04/2023
2,765 People Used
Only 35 Left
Conclusions
So, is BitDegree worth it? It's a unique project that, despite its very young age, can already boast about quite a few significant achievements like the gamification project or scientific motivation studies.
BitDegree platform is heavily blockchain-based, the company has its own token and blockchain certificates. All in all, they manage to make the learning process fun and enjoyable. That being said, BitDegree is completely worth it.
Leave your honest BitDegree review
Leave your genuine opinion & help thousands of people to choose the best online learning platform. All reviews, either positive or negative, are accepted as long as they're honest. We do not publish biased reviews or spam. So if you want to share your experience, opinion or give advice - the scene is yours!