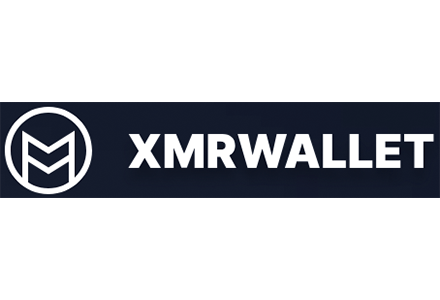 Monero (XMR) is surely one of the most interesting cryptocurrencies on the entire market. Due to the unique anonymity position that this coin promotes, finding a reliable wallet for it can actually prove to be a challenge. In this XMR Wallet review, we'll check out one of the more-popular options, and try to decide whether or not it's a good place to keep your Monero in.
Straight from the get-go, I can tell you that the XMR Wallet online was created by one Nathalie Roy. The wallet launched all the way back in 2018. This does actually make it one of the older wallet projects that are still around, as far as XMR is concerned!
Being around for a long time, naturally, you're going to find a wide range of both positive and negative user XMR Wallet reviews. Let's sort through the facts, and figure out whether this wallet service is right for you!
Do keep in mind, however, that if you want top-of-the-line security, your best option would be to purchase a hardware wallet, such as a Ledger Nano X, or a Trezor Model T. While the interfaces of these wallets don't support XMR, you can still store the coins within them, and use a third party GUI.
Pros
Open-source
Very easy to use
No logs, no registration
Completely free to use
Cons
Transactions may take a long time to sync
A web-based wallet
XMR Wallet Review: PROS
As per tradition, we'll start from the positive aspects of the wallet. Undoubtedly, one of the best features that it possesses would have to be the fact that it's open-source.
An Open-Source Monero Wallet
Whenever you're searching for crypto wallets, one of the most important features that you need to look into is whether or not the wallet is open-source. While not necessarily being a deal-breaker, this factor alone can definitely tell you a lot about the product.
What does "open-source" mean, exactly?

If a cryptocurrency wallet is open-source, it means that the code behind it is available for anyone to be checked out, and inspected. This, in turn, adds to the transparency aspect of the product.
As you might have already guessed, user XMR Wallet reviews will tell you that this particular wallet is open-source.
Anyone can go to the GitHub repository of the XMR Wallet, and check out the code behind it. This makes it nearly impossible for the creator of the wallet to include some malicious code - it would be revealed almost instantly.
The benefits of an open-source platform don't end with transparency, however. In addition to being able to check out the code, you can actually also contribute to the wallet's development, as well!

If you're a developer yourself, and know how to code, you will be able to make suggestions towards the development of the wallet. If the community decides that your suggested updates are both useful, and also lacking of any trickery, the code could be implemented into the project - that's significant!
Whether you're looking for the XMR Wallet download, or simply want to set up the XMR Wallet on your machine, the fact that it's an open-source platform should definitely inspire much more confidence in the project!
Latest Binance Coupon Found:
REDEEM $600 PRIZE
Binance Cyber Monday
Attention new Binance users: this Cyber Monday, you can score up to $600 in rewards by completing special tasks. Activate this amazing Binance Cyber Monday deal using the code – 49316610!
Expiration date : 05/12/2023
6,127 People Used
Only 16 Left
A Veteran in the Industry
While this isn't necessarily a direct, objective "pro" of the wallet, it's definitely something that needs to be considered when you're reading through the user XMR Wallet reviews.
As I've mentioned in the introductory part of the article, the XMR Wallet has been around since 2018. This is actually a pretty long time, in terms of crypto - many of the most reliable projects today are half as old!
With the cryptocurrency industry itself still being relatively young, the age of a project matters a lot. It's especially true with wallets! The older a crypto wallet is, the more people are likely going to trust it.
It makes perfect sense, too! If you read through user XMR Wallet review left online, and notice that the wallet has been around for almost 4 years already, chances are that, if it were some sort of a scam, the project would have failed a very long time ago. Add this to the fact that it's an open-source wallet, and, well… The facts speak for themselves!
Works on Tor (The Onion Browser)
Admittedly, this isn't a benefit that you would see mentioned in many cryptocurrency wallet reviews. However, it's actually part of the magic of the Monero cryptocurrency, in combination with the XMR Wallet in question.
Tor is a popular internet browser. It's mostly used with one, specific purpose in mind - in order to access the Deep Web.
The Deep Web is a special part of the internet that isn't indexed by standard search engines, such as Google or Yahoo. It's often shrouded in mystery and various legends, but in reality, the Deep Web is mostly used by individuals who simply want to preserve their privacy while being online.
With Monero being a strictly privacy-oriented cryptocurrency, you can see how these two things correlate.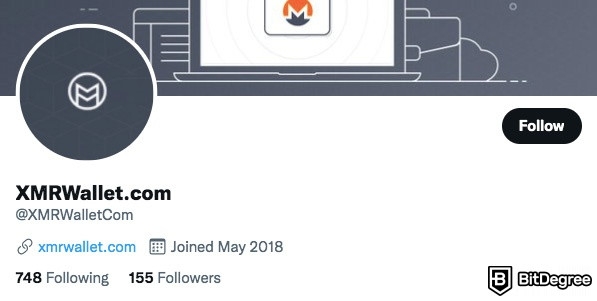 The reason why I tell you all of this is because the XMR Wallet online does support Tor functionality. Specifically, when you create an account on the wallet's website, you will be provided with what is known as an "onion link" - a special Tor browser link that will lead you to a designated place on the Deep Web.
If you're a privacy-concerned individual, and are adamant about protecting your personal information at all cost, user XMR Wallet reviews will tell you that this is perfectly possible to do with the wallet in question.
No Registration, No Data Logging
Without a doubt, this is one of the most important features of the XMR Wallet. It's also the core feature that makes users interested in using this wallet service, in the first place!
Look - it's no secret that Monero (XMR) is mostly used by individuals who are either very meticulous about the privacy of their crypto transactions, or are super-interested in this part of the crypto world. Naturally, if you fall into the former category of people, your privacy wish is going to extend to the wallet that you might use, as well!
Multiple user XMR Wallet reviews will tell you that the wallet in question does not require you to register in order to start using it, and also has a strict "no-logs" policy. Both of these things are of major significance, so let's check them out, separately.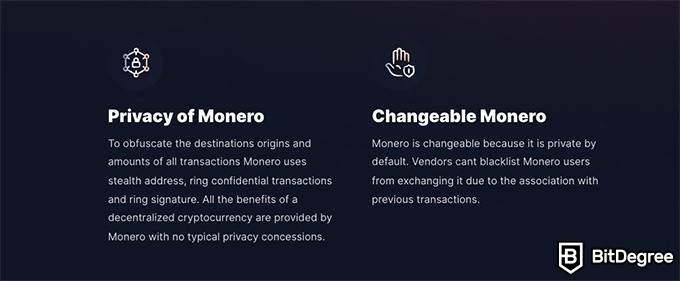 First up, the lack of registration. It's completely true - if you're looking for how to set up the XMR Wallet, you should know that this process will be comprised of two or three steps, since there is no registration involved. Later in the XMR Wallet review, we'll actually go through the setup process, in its entirety - now, though, let's focus on why this lack of registration is important.
Without registration, you won't need to provide any of your personal information to the wallet service in question. This is, admittedly, often the case with many other wallets, as well, no matter which cryptocurrency it is that you might be interested in storing. However, with the XMR Wallet, this "no registration" policy is taken even further.
The wallet in question won't require you to submit your email address, nor will it ask for any other type of your identifiable information. You could, theoretically, create the wallet with some sort of a VPN active, or via the Tor browser, which would result in complete anonymity.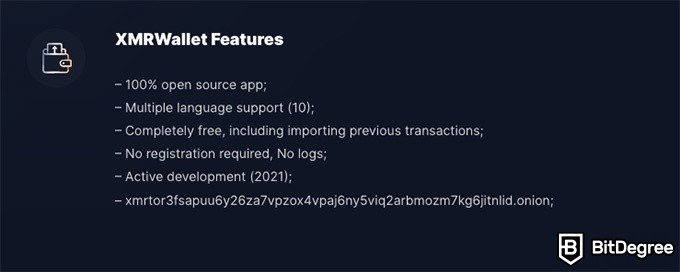 Following that, the strict "no data logging" policy of the wallet is a huge factor here, as well.
The term "data logging" is mostly related to the above-mentioned VPN (Virtual Private Network) services. The act of logging data itself refers to when a service provider tracks what you do online - your actions, the websites that you visit, the services that you interact with, your clicks, and so on.
In terms of this XMR Wallet review, data logging would refer to tracking your personal information, the wallets that you send your XMR to, general transaction data, and so on. The wallet in question does none of that.
All of this is to further emphasize the privacy and data security features that the XMR Wallet provides to its users. Once again, when you combine this with the fact that the wallet is an open-source project, and that the code is available for anyone to be checked and audited, it presents the XMR Wallet as a truly high-end project!
Your Private Keys Belong to You
"Private keys" refer to the special code for your cryptocurrency wallet. This is the key that would be used to retrieve your funds, if you would lose access to your original wallet, and would have to create a new one. Instead, you would simply be able to recover your old wallet with this single, special code.
Multiple cryptocurrency wallets out there are custodial, in the sense that they hold your private keys. This is, obviously, far from being ideal. Then there are wallets that don't TECHNICALLY hold your keys (they claim to have no access to them), but also don't allow you to see the keys, either.
The perfect scenario here is evident - you being the sole holder of your wallet's private keys. With the XMR Wallet online, this is completely possible.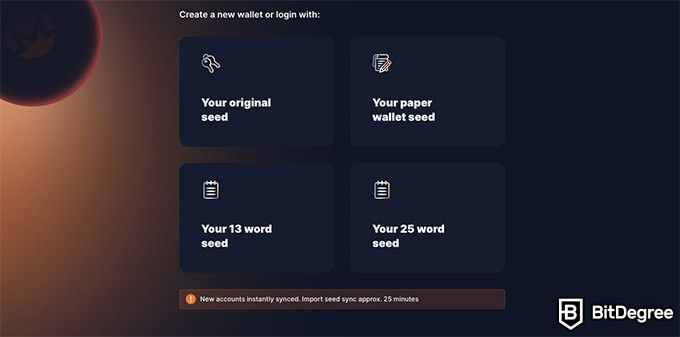 When you create a wallet with the service in question, you will be able to access your private keys in the "Account" tab of your profile. No one else is going to have access to these keys but you - your wallet, and thus, your Monero funds are going to be completely in your hands.
Evidently, after all of the different features that we've talked about in this XMR Wallet review, this likely doesn't come as a major surprise. That said, it only goes to further legitimize the wallet service, and showcase just how privacy-savvy it truly is.
Supports Multiple Languages
While this is something that's not directly related to the actual XMR Wallet online service in question, it's still an important factor to mention, nonetheless.
By default, the XMR Wallet will be available to be accessed in English. However, the platform does support other languages, as well.
A rather hefty list of languages, too! You may use the XMR Wallet online in the following languages:
English
French
Russian
Chinese Simplified
Japanese
Italian
Dutch
German
Portuguese
Spanish
10 different languages for you to pick from - that's a lot! The languages also cover a huge part of the world, so chances are that even if English isn't your mother tongue, or if you're simply more comfortable with using another language, the XMR Wallet might be able to help you out.
Very Simple to Use
Wallet interface simplicity is often an overlooked factor, when you're searching for and picking out the best cryptocurrency wallet for yourself. This isn't too surprising, granted that there are far more important features to look into and evaluate.
That being the case, though, it's still something that shouldn't be discarded completely, since it can definitely influence how you interact with the wallet, and whether or not you will continue using it.
Nowadays, many cryptocurrency wallets offer their users a whole selection of different features and widgets, in addition to crypto storage functionality. You will find built-in exchange features, crypto swaps, security-oriented customizations, and more.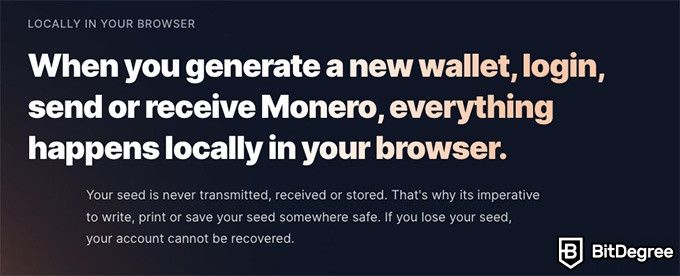 While this is cool, these additional features do often make the wallets difficult to use and navigate through, especially if you're a crypto beginner. Well, if this is something you're concerned about when it comes to the wallet in question, worry not - chances are that you won't require XMR Wallet support services to help you navigate around the wallet interface!
The XMR Wallet is super-simple to use. It comes equipped with a very straightforward layout, and has nothing but the bare essential features for you to access. It's once again part of the Monero wallet charm - however, while most Monero wallets offer simple functionality, it's worth arguing that the XMR Wallet has streamlined its interface very well, still.
In short, if you were worried about how difficult the XMR Wallet online would be to use to the average individual, I can assure you - if you're familiar with the standard industry language revolving around crypto storage, you shouldn't face any troubles while using this wallet, whatsoever.
Free to Use, Forever (Donation-Powered)
This is actually a very straightforward benefit of the XMR Wallet - it's free to use, forever. This is something that the creator of the wallet promised, themselves - there are no fees associated with using the wallet, and you don't need to pay any subscription or creation fees, either.
How does the wallet support itself, then? And what motivates the core developers to keep on working on the project?
Simple - via donations.

Users of the XMR Waller are able to donate, if they like the project. These donations will then go towards motivating the developers to work on the wallet, as well as to fund further upgrades and advancements of the platform.
You can, however, choose to not donate anything, and use the wallet completely free of charge. According to the creator of the wallet - Nathalie Roy -, the project will remain completely free to use, forever.
Latest Ledger Nano X Coupon Found:
SAVE 10%
Ledger Cyber Monday
Ledger Cyber Monday sale is bringing you the best deals - follow the coupon link & get 10% off Ledger Nano X when buying the Family Pack X!
Expiration date : 07/12/2023
7,469 People Used
Only 21 Left
XMR Wallet Review: CONS
Up to this point in the XMR Wallet review, we've already established all of the core benefits that you can expect to receive while using the wallet service in question.
Evidently, it's definitely one of the higher-end Monero wallets available on the market today. That being the case, however, it's important to take a look at some of the less-positive aspects of the wallet, and check to see if there are any deal-breaking issues associated with it.
An Online-Exclusive Wallet
One of the biggest issues that users of the XMR Wallet express in their reviews is the fact that the platform can only be used while you're online, via a browser.
What this means is that there is no XMR Wallet download, and no dedicated app that you could have on your laptop or phone. Instead, you need to connect to the wallet via the official website of the project.
Why is this an issue? Well, mostly due to the fact that such wallets are considered to be somewhat unsafe, and prone to break-ins and phishing attempts.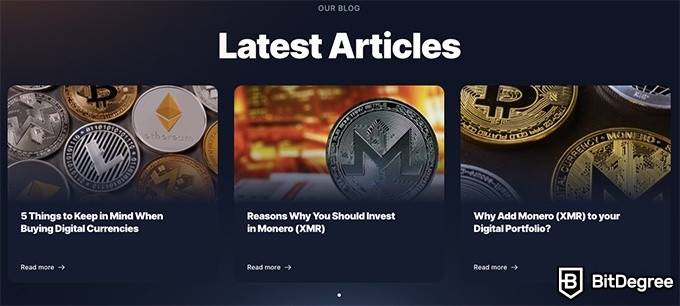 If your wallet is based online, on a website, this opens up the doors to multiple different asset theft opportunities to various scammers out there. This is especially true if your computer is unsafe, and already compromised with some sort of a virus.
Now, don't get me wrong - this does not mean that the actual XMR Wallet is unsafe, in of itself. However, it's simply prone to being easier to manipulate and break into, when compared to software-, app-, or hardware-based wallets.
Naturally, if you keep your computer safe, and protect it from various viruses and other types of malware, the risk is minimized. Still, however, it's something that's worth keeping in mind, nonetheless!
Transactions Can Take Some Time to Sync
While this may sound like more of a nuisance than an actual issue, reading through different user XMR Wallet reviews, it's evident that this factor has created a lot of stress, for many people using the wallet in question.
When you perform transactions on the blockchain, they need to be confirmed, and will then appear in your wallet app. However, depending on a variety of different factors (network speed and congestion, the wallet itself, etc.), the data of these transactions might take a longer time to synchronize within the wallet itself - in other words, you perform a transaction, send funds to your wallet, but don't receive them for a significant amount of time.

Some users claim that the XMR Wallet tends to take a somewhat long period of time to sync transaction data. On the wallet's official website, the creators also state that imported seeds of old wallets could take up to 25 minutes to sync, as well.
Naturally, this isn't a major issue. However, it can cause a lot of stress of whether or not your funds are safe - this is something that's evident from reading through user XMR Wallet reviews, too.

Did you know?
How to Use the XMR Wallet?
Now that you're aware of all of the major pros and cons of the XMR Wallet, let's have a quick look at how you can actually register on the platform, and start using it.
Evidently, the registration process is as simple and quick as they come - still, though, let's have a closer look.
How to Register on XMR Wallet?
Before you do anything, make sure that you're using only the official XMR Wallet website, and not some sort of a phishing-oriented clone!
Step 1: On the official website of the XMR Wallet, press "Create XMR Wallet" at the center, or the top-right corner of the page.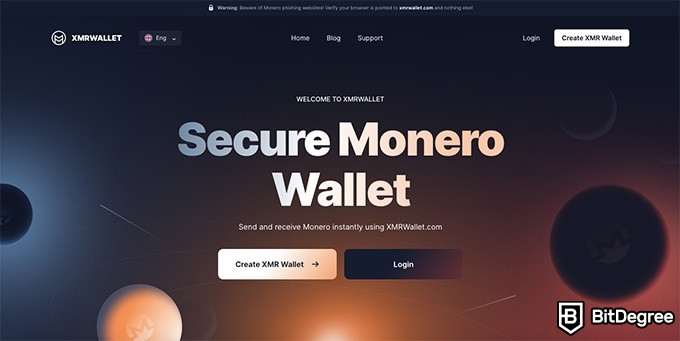 Step 2: Now, your account is basically created! All that you need to do is write down and save your private seed phrase, and that's it!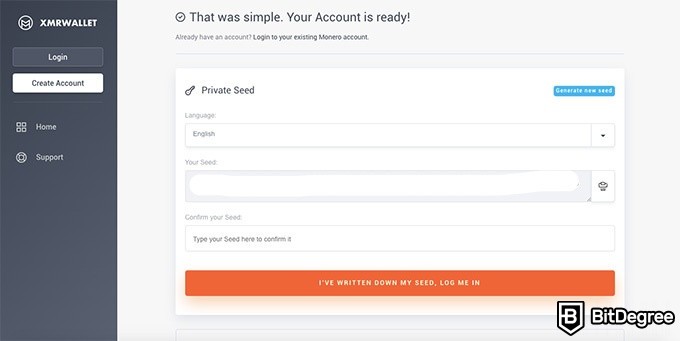 Step 3: Once you confirm you've written down your seed phrase, you will be redirected to your wallet dashboard, and your wallet will sync up with the network.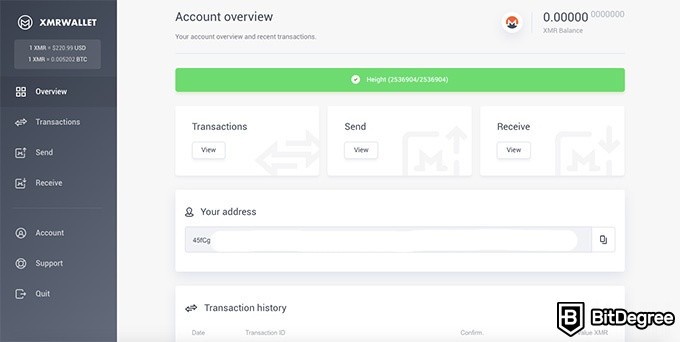 It really is that fast and simple! You are able to create an account on the website in a matter of seconds - a very notable feature!
At the same time, I'd like to remind you - XMR Wallet downloads do not exist, so don't fall for any potential scam attempts! The wallet can only be used online, on the website.
How to Use the Wallet?
The wallet interface itself is very simplistic in its design, and all of the core features can be navigated through the sidebar on the left side of the screen.
First of all, you can view your transaction history, as well as send and receive Monero (XMR) to your wallet. Everything is rather self-explanatory, and there are no complex features involved.
You may also access XMR Wallet support - in this section of the user interface, you will be able to donate to the team behind the wallet, or contact them with any issues that you might have.
Lastly, within the account tab, you will be able to view and access your private wallet keys, your seed, account address, and related information.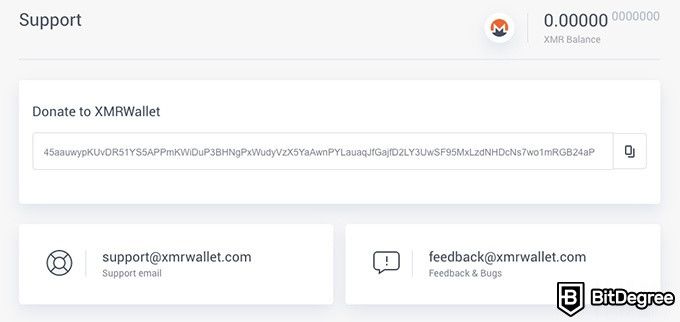 All things considered, allow me to reiterate my point, once again - if simplicity is what you're after, and you're not looking for some advanced features with your wallet, then the XMR Wallet is definitely a great choice for you. The project is created in a very lightweight manner - there is nothing but the essential features for you to check and use.
Another point that I'd like to emphasize here is one that's also mentioned by the creators of the wallet, too, when you first register on their platform. You should treat the XMR Wallet as you would your physical, fiat money wallet.
What do I mean by that? Well, you don't go walking around with all of your life's savings in your physical wallet, do you? The same logic should be applied to the XMR Wallet, as well - you should avoid keeping (storing) large amounts of XMR in your wallet. It being an online-based crypto wallet, this wouldn't be a smart thing to do, security-wise.

Pros
Can be managed from mobile device
Very secure
Supports more than 5500 cryptocurrencies

Pros
Top-tier security
DeFi app support
Store over 5500 assets, install up to 100 apps simultaneously

Pros
Multiple cryptocurrency support
Very secure
SegWit and Bech32 address support
Conclusions
Thanks for reading my XMR Wallet review! By this point in the article, you should have a pretty good idea of what to expect out of the wallet in question, and what sorts of features it can offer to its users.
Now, would I personally recommend using the XMR Wallet for all of your Monero storage wants and needs?
Well, yes - but with all of the common sense-led caution in mind.
No one can truly guarantee the security of your cryptocurrency assets, except for you. The XMR Wallet online appears to be a reliable service that has both been around for some time now, and has also proven itself to be a legitimate wallet project thanks to its open-source code and anonymity features.
That being said, there are still some users who are weary, and uncertain about using the wallet in question. Your best bet is to heed the advice of the wallet creators themselves - you should only store small amounts of XMR within the wallet, and always double-check your transactions before confirming them.
On that note, it's still worth stressing that the XMR Wallet offers its users true simplicity of use, and has a wide array of features that all privacy-loving crypto enthusiasts are surely going to appreciate.
Remember, though, that you may always store your XMR in a Ledger or Trezor (or any other hardware) wallet, and simply use a third party as your graphical user interface! This will ensure the maximum safety of your Monero.
That said, I do hope that this XMR Wallet review was useful to you, and that you've learned something new. Best of luck with all of your crypto ventures to come!
The content published on this website is not aimed to give any kind of financial, investment, trading, or any other form of advice. BitDegree.org does not endorse or suggest you to buy, sell or hold any kind of cryptocurrency. Before making financial investment decisions, do consult your financial advisor.
About Article's Experts & Analysts