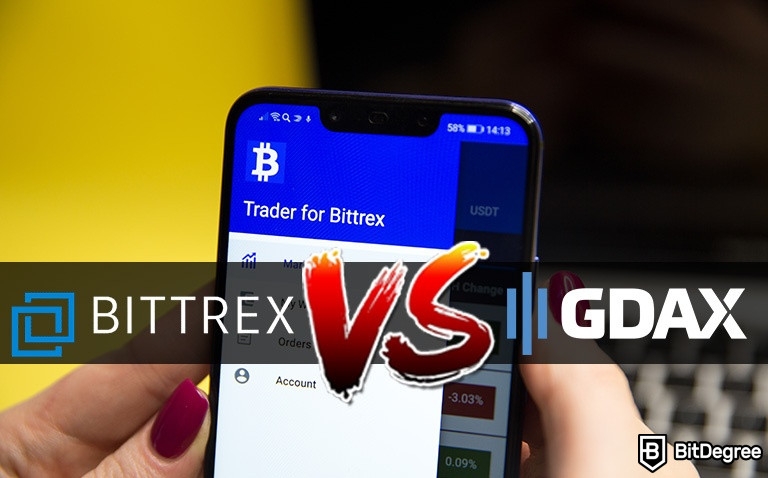 If you're interested in cryptocurrency, sooner or later, you might find yourself in need of a reliable, high-end crypto exchange platform. These days, finding one isn't as hard as it was before - that said, what if you've chosen a couple, and can't seem to pick out a single one? Well, in this Bittrex VS GDAX comparison, we'll discuss two of the better options!
If you're contemplating between Bittrex and GDAX, it probably means that you've done your research, and have actually chosen two of the better crypto exchanges out there! In such a scenario, choosing one can be rather difficult!
Do not fret, though - I am here to help! First of all, we'll consider some of the most essential features that every high-tier exchange should possess. Once we've got that sorted and out of the way, we'll compare Bittrex VS GDAX, and see which platform will suit you best!

Did you know?
Want to get smarter & wealthier with crypto?
Subscribe - We publish new crypto explainer videos every week!
Crypto Day Trading VS Swapping: What's More Rewarding? (Animated)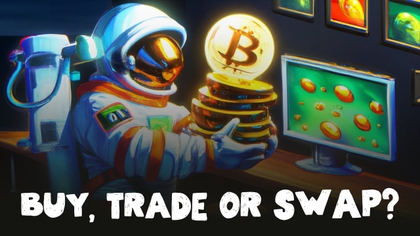 Bittrex VS GDAX: Comparison Criteria
As pointed out in the introductory part of the Bittrex VS GDAX comparison, the very first thing that we need to do is discuss the actual comparison criteria - in other words, the core features that we'll be using as the reference points throughout the entirety of this article.
Latest Deal Active Right Now:
REDEEM $600 PRIZE
Binance Cyber Monday
Attention new Binance users: this Cyber Monday, you can score up to $600 in rewards by completing special tasks. Activate this amazing Binance Cyber Monday deal using the code – 49316610!
Expiration date : 05/12/2023
6,127 People Used
Only 16 Left
Now, I do acknowledge the fact that different people are going to have different preferences, crypto exchange-wise. Having said that, though, there are still some things that should ALWAYS be present in a top-tier exchange platform - that's exactly what we'll be referencing in this GDAX VS Bittrex comparison, too.
So, there are five features that we'll look into - security, ease of use, fees, supported coin count, and user count. Allow me to briefly elaborate on each of the points.
Security. Security is the most important aspect of any cryptocurrency exchange site out there. An exchange could have amazing fees, a huge user base, and be available 24/7, all over the world, but if it lacks security, it should be avoided, at all cost. It makes perfect sense - if there's some sort of a security breach of the platform, and you've stored your crypto coins on it, there's a high chance that all of your coins are going to be compromised and stolen. In short, whether it be this Bittrex VS GDAX comparison or any other, make sure to always pay close attention to the security features of a platform!
Usability Aspects. With time, more and more new people come into the cryptocurrency world, and express the wish to start trading and exchanging crypto. Since there are many newcomers, crypto exchange platforms aim to smooth out their interfaces and streamline the trading processes, to be as simple and straightforward to use as possible. Not all sites are successful at doing so, though - there are many exchanges out there that are only suitable for the crypto trading pros! This is why ease of use is an important factor to consider, no matter what your skill level is. Surely an important point in this Bittrex VS GDAX comparison, too!
Fees. If you're serious about trading cryptocurrencies, you are going to need to pay close attention to the fees of each of the major crypto trading sites. That's simply because of the fact that, if you want to maximize your potential earnings, you're going to need to search for the lowest trading fees possible! This is especially true for professional crypto traders - that is why all of the top-rated crypto exchanges compete with one another to provide the best possible fees for their users. If this is something that's important to you, make sure to pay close attention to this point in the Bittrex VS GDAX comparison!
Supported Coin Count. A high-end cryptocurrency exchange platform is usually going to have a wide selection of different crypto coins available for its users to trade with and exchange. Well, most of the time - there are exceptions (Coinbase used to be one), but nowadays, with the interest in crypto growing exponentially over the years, it has become almost mandatory for companies to offer a wider selection of coins, and not just the main, most-popular cryptocurrencies out there. It's definitely a point worth keeping in mind, and we'll surely pay attention to it in this Bittrex VS GDAX comparison!
User Count. Active user count is one of the more interesting factors to look into when comparing two different crypto trading platforms, such as Bittrex VS GDAX. It can truly reveal a lot of useful information about the platform! First of all, it's a good indication of just how active the act of trading actually is on the specific platform. Truth be told, some cryptocurrency exchange sites out there are almost desolate - there's a minimal number of trades happening on them, and you might end up having to wait for quite a while, if you want to buy or sell some coins for a specific price. That said, the number of users on these platforms can also tell you just how reliable the site is, in general!
So, yet again - while there are multiple other features that are worth paying attention to in regards to picking out the best cryptocurrency exchange platform for yourself, the ones mentioned above should always be looked at and considered.
With that being said, let us move on to the actual Bittrex VS GDAX comparison!
Bittrex VS GDAX: The Comparison
In order to keep things as clear as possible, we're going to compare Bittrex VS GDAX by using the earlier-discussed features, in the same order that we did so, too. So, following that logic, let's talk security, first.
Security
Security is, undoubtedly, a very stressful topic when it comes to crypto exchanges. That's because most cryptocurrency enthusiasts are very jumpy when it comes to even the slightest security risks. And they should be - I mean, your crypto assets are at stake here!
Thankfully, though, it's not something you'd need to worry about concerning either of the two exchanges discussed in this Bittrex VS GDAX comparison - both of these platforms have some of the strongest security features in the entire industry!

You see, both GDAX and Bittrex keep the vast majority of their users' crypto assets in offline, cold storage devices. While Bittrex stores anywhere between 80% - 90% of the assets in these devices, GDAX may keep up to 98% of the crypto coins in hardware devices, at any given point in time.
On top of that, the remaining coins that are kept online, in the so-called "hot wallets" are insured - meaning, if something was to happen to them, you'd be compensated for your losses.
Note that all of this is on top of some other, more-general security features that both platforms have - two-factor authentication, custom PIN codes, and so on. As far as the security part of the GDAX VS Bittrex goes, it's frankly a tie - both exchanges are absolutely amazing!
Ease of Use
You've might have heard the saying before - simplicity is key.
Well, cryptocurrency exchanges are some of the best examples of this.
A crypto exchange that is super-difficult to use might not seem like too big of a problem for an expert trader who's been involved with the cryptocurrency markets for many years now. That being said, such people make up the minority - the vast majority of individuals who visit crypto exchange sites aren't really going to be professionals in the field!
Frankly, the "golden standard" for a cryptocurrency exchange in his regard is to be both simple and enjoyable to use, yet also offer all of the core features that any high-end platform should have. Naturally, this isn't something that's simple to achieve - that said, some exchanges do manage to maintain this standard!
What about the Bittrex VS GDAX debate? Do these two platforms fall into the category of exchanges that are, in fact, simple and fun to use?
Yup - both GDAX and Bittrex are actually very straightforward and easy to use.
The user interfaces on both platforms are easy to navigate through, and - more importantly - neither Bittrex nor GDAX burden their users with needless, complex tools.
Fees
When it comes to the fees of the two Bittrex VS GDAX platforms, they are actually quite straightforward.
With Bittrex, you can expect up to 0,2% withdrawal fees, depending on the amount, frequency, crypto asset, and so on. That's actually very good - it's one of the smallest fees on the market! The platform's trading fees also range around the 0,2% mark.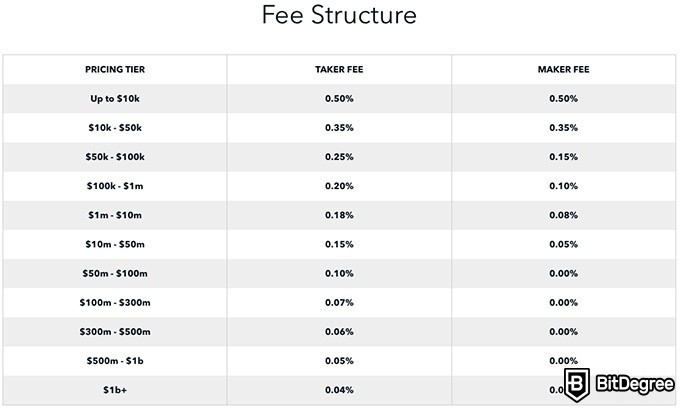 GDAX, on the other hand, is a tad bit more complicated. There's a lot of "taker" and "maker" aspects being involved - for example, a "maker" could have 0% fees, while, at the same time, a "taker" would have to pay up to 0,3%. The general range of the taxes Bittrex VS GDAX (on GDAX's part, that is) is up to 0,5% - a bit higher than Bittrex, but still not too bad!
All in all, both Bittrex and GDAX have rather decent fees, no matter if you plan to trade a few crypto assets, or go big!

Did you know?
Want to get smarter & wealthier with crypto?
Subscribe - We publish new crypto explainer videos every week!
What are dApps in Crypto? (Explained with Animations)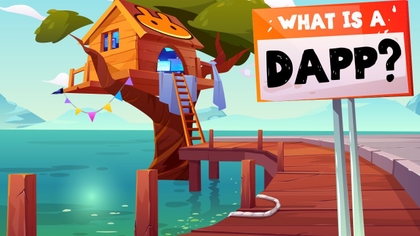 Supported Coin Count
While the taxes Bittrex VS GDAX is surely a very "hot topic" concerning the two platforms, it's worth pointing out that the supported coin count of each of the sites is also rather important, too!
This aspect will tell you just how many different crypto assets you'll be able to trade on the platforms. It's especially useful for those people who are planning to maintain a varied portfolio of cryptocurrencies, and would want to trade all (or most) of them on a single, reliable exchange.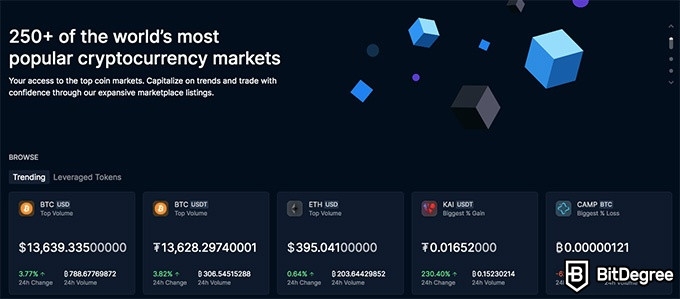 Bittrex has over 220+ cryptocurrencies for you to trade and exchange. That's a really high number! With GDAX, it's a bit more difficult - the exchange does support around 30-40 different coins, and has a huge pool of trading pairs available, too (mostly via fiat currencies).
In short, Bittrex does take the lead here - if you're interested in a wide variety of different cryptocurrencies, Bittrex is the way to go!

Pros
A very well-known crypto exchange platform
More than 500 different cryptos available
Two-factor authentication
Main Features
Over than 100 different cryptocurrencies available
Strong security
Small withdrawal fees

Pros
Secure and reliable
Low fees
A good amount of fiat currencies accepted
Main Features
Reputable exchange
Multiple fiat currencies are accepted
Relatively low trading fees

Pros
Anonymous trading
Secure
Supports a variety of cryptocurrencies
Main Features
Easy to use
Low fees
Good security
User Count
An active user count can tell you a lot of things about a crypto exchange platform!
For starters, if such a platform has a lot of active users, you can be sure that it has taken all of the appropriate measures in order to ensure that security and ease of use are at the top priority. I mean, if the site wasn't secure, or was too complex to use, it wouldn't really have a high user count, now would it?
On top of that, a high user count can also guarantee some active trading opportunities! It usually means that the markets within the exchange are booming, and that there are constant trades and exchanges happening, too.
As far as the Bittrex VS GDAX comparison is concerned, things are a bit difficult. Well, not with Bittrex - this specific platform has around 500,000 active users. That's not too bad! Although it's much less than most other high-end crypto exchanges, it's still a decent number of people using the platform.
The issues here start with GDAX. That's because, when you create an account with Coinbase, you are automatically registered to GDAX, too - by that logic, the exchange would have around 13 million users! Having said that, only a fraction of them do use GDAX - the rest are mostly active on Coinbase.
Conclusions
So - with all of that being said, which of the two GDAX VS Bittrex cryptocurrency exchange platforms is the better alternative?
While it's a bit of a tough call, most people would actually prefer to go with Bittrex!
While GDAX does have a lot to offer to its users, some people might find it a bit confusing - the platform itself is oriented towards the more-professional crypto traders. While it isn't hard to use, there are still some technicalities involved - with Bittrex, on the other hand, you can be sure that you won't encounter any difficulties!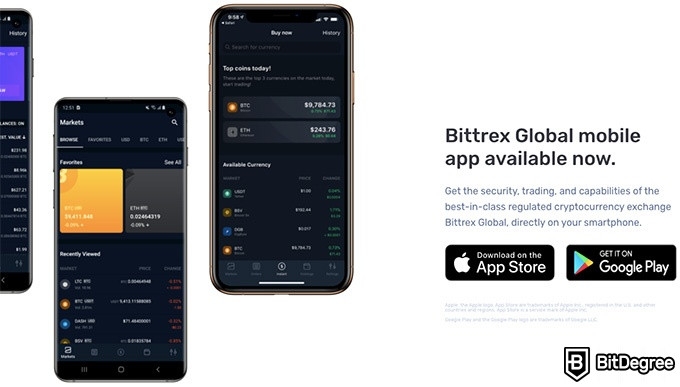 Decent user count, a wide selection of crypto coins, very straightforward to use, amazing security - truly a great crypto exchange alternative! Even when it comes to taxes Bittrex VS GDAX, Bittrex is the better option!
With all of that being said, though, I hope that this comparison was useful to you, and that you were able to make the right choice. Best of luck!
About Article's Experts & Analysts