Having shaken off its end of the year blues when it plunged 60%, SafeMoon has burst into 2022 with a 300% growth spurt. This is what makes the community so lively. We saw this post at the beginning of the new year.

SafeMoon Price 2021 Review
SafeMoon is a crypto newcomer, created in March 2021. However, it immediately started making headlines upon launch with a huge run-up in April. Its initial price was only $0.000000001, however, it soon reached $0.0000015 on 3 April as traders started to get interested. More importantly, it stayed around this price for about two weeks. While this price growth seemed pretty impressive at the time, it was nothing compared to what happened next.
The SafeMoon price skyrocketed in the space of a little over two days, hitting a high of $0.00001375 on the evening of Tuesday, 20 April. That is a price rise of 375%. To put things even more starkly, if you had bought into SafeMoon when it was launched, then you would have seen the value of your investment shoot up by a stratospheric 1,374,900%.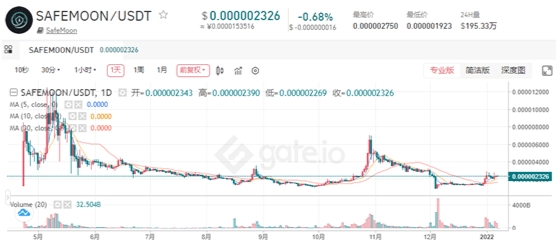 Source from Gate.io
The mega-boom was short-lived, however, and the price gradually declined from the end of May. On 28 August, the beta launch of SafeMoon Wallet suffered technical difficulties and the price went from $0.000003508 to $0.000002519 over a day, according to data from Gate.io.
However, October saw a massive 355% jump from $0.000001386 at the start of the month, to $0.000006302 on 29 October. SafeMoon saw a price surge following the update to V2 in November but throughout December, its performance was not satisfactory.
Therefore, the current growth indicates the coin is reliable. The road ahead is full of petals provided the investor confidence keeps booming, resulting in a significant push to the coin price, taking it across all barriers.
Can the SafeMoon Price Hit $1?
As per price predictions by analysts, the SafeMoon price would close to a new all-time high level before this year-end without any resistance level indication. One more reason for this is the corporate SafeMoon involved in developing charity projects, influencing the liquidity pool and attracting more users for investment.
According to analysts' forecast, the SafeMoon price will hit the $1 level soonest as the current price has been showing bullish momentum, steadily moving up since the beginning to attract more buyers.
The community believes that SafeMoon will continue to be appreciated by the buyers and sellers for trading on exchanges of the crypto market, with a solid increase in price showing a potential of $0.009 over this year. Redditors also recommend buying SafeMoon on every dip.
About Safemoon
SafeMoon is a cryptocurrency token created in March 2021 on the Binance Smart Chain blockchain. The slogan of SafeMoon, "Safely to the moon", derived from the phrase "To the moon", meaning "to quickly rise in price".
As of December 2021, SafeMoon is available to trade on multiple exchange platforms, in which Gate.io, PancakeSwap (V2), Decoin, PancakeSwap, BitMart, ZBG, BiKi, LBank, Hoo, Hotbit, MEXC, Bitbns, Bitrue, WhiteBIT, KickEX, BitForex, BHEX, Jubi and Biswap are included.
This is a third party-distributed Press Release, BitDegree is not responsible for any content or related materials, the advertising, promotion, accuracy, quality, products or services on this page. Before making any decisions or taking any actions, readers are advised to do their own research, first. BitDegree is not liable nor responsible for any direct or indirect loss or damage related directly or indirectly to the use of any products, services or content in the Press Release.
---