The official token of Jedstar, called JED, was launched in August 2021. Since then, the token has appreciated by 500,000% in just four months of its existence, with a small number of 5,000 holders, and a market cap of $28 million.
At this point in time, Jedstar is preparing to launch a completely new token, called KRED. This token will be used for gaming and metaverse purposes, and will launch on Dec. 17. 2021.
The team behind Jedstar hopes that the launch of KRED will help the original JED token surpass its previous ATH of $1,13. Specifically, Jedstar hopes that the effect will be similar to that of the Terra project (LUNA) - it went from $0,5 at the beginning of the year, all the way to $75 in December, despite Bitcoin crashing. Ever since KRED was announced, JED's price surged by 28%, from $0,5 up to $0,64.
Both the JED token (a DeFi-focused token), and the KRED token (a currency for GameFi) are expected to lead the industry to mass adoption, via GameFi. The focus of KRED is to become as and more successful than similar NFT gaming- and metaverse-related projects, such as Axie Infinity or The Sandbox.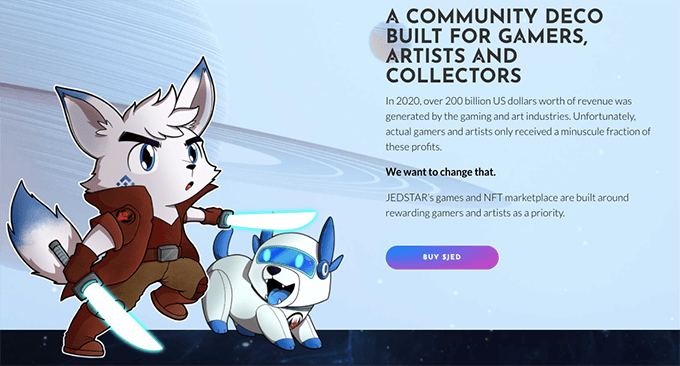 Jedstar has launched a gaming platform called Stardome back in January, 2021. With over 200 different games available to be played, KRED will be the native token for transactions. The token in question will also be used for two larger games - a collectible card game planned to launch in 2022, and a completely new meta MMORPG that's set to launch in 2023.
In addition to all of that, Jedstar has also teamed up with a few notable artists who had previously worked for Riot, Disney, and Magic the Gathering. These partnerships are in relation to Jedstar's own NFT marketplace, Agora.
This is a third party-distributed Press Release, BitDegree is not responsible for any content or related materials, the advertising, promotion, accuracy, quality, products or services on this page. Before making any decisions or taking any actions, readers are advised to do their own research, first. BitDegree is not liable nor responsible for any direct or indirect loss or damage related directly or indirectly to the use of any products, services or content in the Press Release.
---