Key Takeaways
The Bitcoin white paper celebrates its 15th anniversary, marking a significant milestone in the cryptocurrency world.
BitDegree launches a Web3 exam to celebrate this occasion, offering an educational opportunity to learn more about Web3 technologies.
Participants of the Web3 exam stand a chance to win from a $130,000 prize pool and receive a Proof-of-Knowledge NFT certificate.
Fifteen years ago, the mysterious Satoshi Nakamoto published the Bitcoin white paper. This document laid the foundation for Bitcoin and the vast and intricate world of cryptocurrencies.
The white paper introduced the concept of decentralized digital currency to the world, representing a radical shift in how we perceive and handle financial transactions. The anniversary of this groundbreaking paper is an opportune moment to reflect on Bitcoin's evolution and impact on the global financial landscape.

Did you know?
Want to get smarter & wealthier with crypto?
Subscribe - We publish new crypto explainer videos every week!
What are Stablecoins, Altcoins & Wrapped Coins Explained!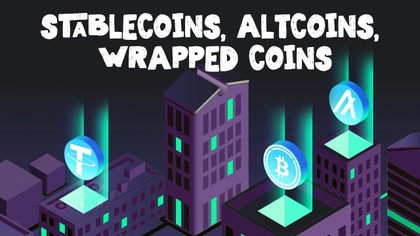 To celebrate this milestone, BitDegree, a leader in online education platforms, is preparing to launch the world's first Web3 exam. This innovative exam is designed to both test and expand participants' knowledge of Web3 technologies.
BitDegree's initiative aligns with the growing interest in blockchain and decentralized technologies. It offers a comprehensive learning experience for those eager to understand and engage with these emerging fields.
The highlight of BitDegree's initiative is the jaw-dropping prize pool of $130,000 and Proof-of-Knowledge NFT certificates, which incentivize participants to dive into the world of Web3.
This prize pool not only recognizes learners' efforts but also emphasizes the importance of education in the ever-evolving domain of digital currencies and blockchain technology.
As the Bitcoin white paper celebrates its 15th anniversary, BitDegree's innovative Web3 exam stands as a testament to the ongoing importance of digital currencies and blockchain technology.
The initiative not only honors Bitcoin's past achievements but also paves the way for future advancements in digital learning and decentralized technologies. The substantial prize pool further highlights the importance of education in this field, encouraging a new wave of learners to explore and contribute to the future of Web3.
Join the waitlist for the Web3 Exam launching on November 27th, and don't miss out on the next big thing in crypto!
---