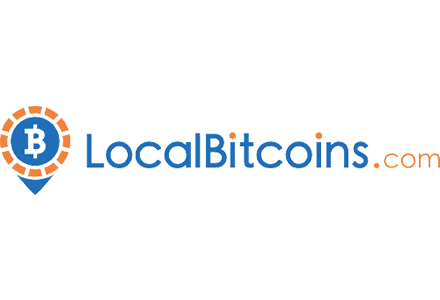 The Craigslist of cryptocurrency exchanges - that's the phrase LocalBitcoin users employ when asked to describe the site in but a few words. In this LocalBitcoins review, we'll check this specific exchange out, and see whether or not it lives up to the hype that's generated around it.
And there's a lot of hype to be had, too! If you've spent any time browsing some of the more-popular crypto forums or subreddits, you might have seen the name of this exchange pop up quite a few times, especially when it comes to people asking other users to recommend some reliable crypto exchange platforms.
Exchanges such as Coinbase and Binance are already established within the industry. However, is LocalBitcoins legit, and is the platform truly safe to use? Well, let's find out!
Pros
P2P exchange
Supports fiat payments (wire transfer, PayPal, etc.)
Small fees - 1%, paid by the seller
Good security measures
Cons
Have to beware of potential scam attempts
Higher-than-average prices
LocalBitcoins Review: PROS
To start things off, we'll take a look at some of the positive user LocalBitcoins reviews - those that mention the best aspects of the exchange in question.
P2P Cryptocurrency Exchange
Naturally, we should start off with the elephant in the room - the thing that makes LocalBitcoins a unique crypto trading platform.
Most cryptocurrency exchanges out there are centralized - what this means is that they follow the KYC rules, and abide by some certain regulations of the state or country that they are registered or operate in. This, in fact, has become the norm.

Centralization, however, technically goes against the central (no pun intended) philosophy of cryptocurrencies - decentralization. This is something that's very evident when you take a look at some user LocalBitcoins reviews, too - many people mention it to be one of the best features of the platform in question.
How does decentralization manifest with LocalBitcoins, though? Simple - the platform is actually one of the rarer P2P exchanges on the market.
P2P stands for "Peer-to-Peer". In the context of crypto trading, it refers to a trading process where you would exchange a form of currency (fiat money, or a specific type of crypto coin) with another person, and they'd provide you with the cryptocurrency of your choice.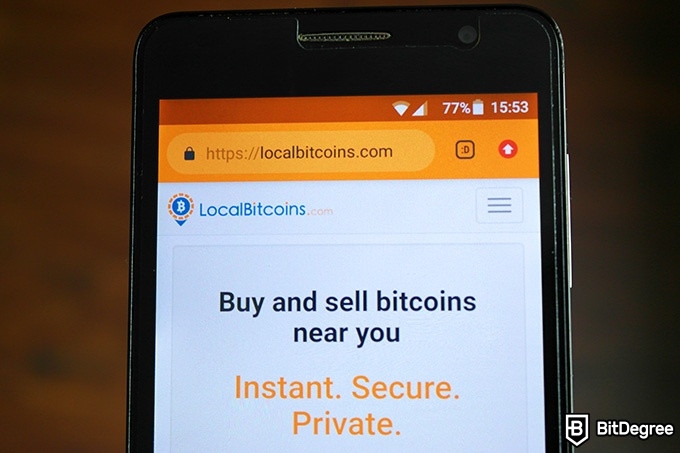 Now, a P2P cryptocurrency trading platform acts as a medium between the seller and the buyer. Well, a medium where the two parties would meet up (hence the Craigslist part), and also an escrow service to ensure that the transactions go as smoothly as possible.
So - LocalBitcoins is, in fact, a P2P cryptocurrency trading platform. You register on the site, find a deal that suits you, and connect to the seller - all of that is done in your own regard!
Latest Deal Active Right Now:
$300 + 40 DOGE BONUS
Huobi Black Friday Limited-Time Period
Huobi Black Friday & Cyber Monday 2023 period offers great bonus for new users - sign up & earn up to $300 + 40 DOGE bonus!
Expiration date : 12/12/2023
3,817 People Used
Only 31 Left
Fewer Restrictions than With Most Exchanges
Now, one of the core aspects that come up when people discuss is LocalBitcoins legit is the fact that this particular exchange, due to its unique nature, has some fewer restrictions in place - at least when compared to the more-mainstream crypto exchanges out there.
In the realm of crypto trading, the term "restrictions" refers to the actions that you'd need to take in order to start successfully trading medium / high amounts of cryptocurrency. You see, if you only want to trade and exchange minuscule sums, you'll be able to do so with most exchanges out there - care-free.

However, things start getting a bit more complicated when you get into the higher numbers. The vast majority of exchanges are going to require you to verify your identity - that is, provide your address, and a photo of your ID.
Yet again - many of the user LocalBitcoins reviews found online will probably tell you that this isn't exactly ideal if you're an avid fan of decentralization.
With LocalBitcoin, things are quite interesting, too. Even though it's a P2P crypto exchange, it doesn't really remove all of the restrictions from the traders - it just makes them more lenient. LocalBitcoins used to offer its users the chance to trade anonymously, but due to certain regulations, this feature was discontinued.
You see, the platform has 4 distinct account verification tiers. Each of the tiers increases the amount of crypto you can trade per year.
At T0, you'll be able to trade (send and receive) around $1000 per year. At T4, though, your account won't have any limits, whatsoever. The full descriptions of what is required from every tier of verification can be found here.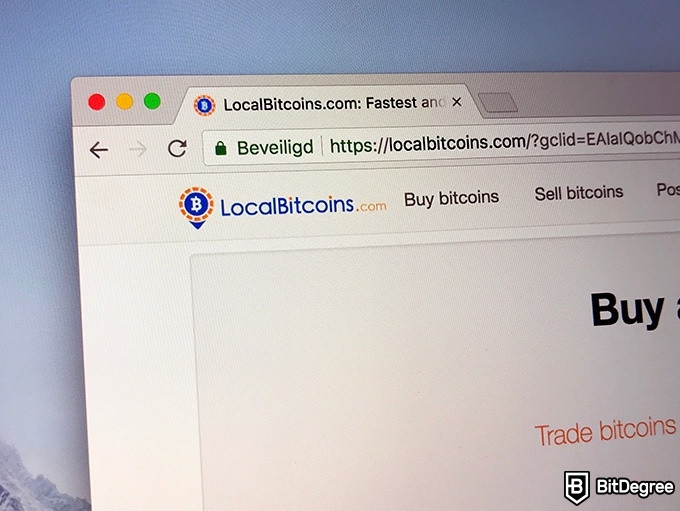 So, how does the platform in question stand out of the crowd when it comes to account trading restrictions? Well, as with most exchanges, user LocalBitcoins review will tell you that verification is, unfortunately, unavoidable. However, it does help out when answering questions such as "is LocalBitcoins safe?"!
On top of that, the verification tiers are more lenient than with most other exchanges, too. Pretty good!
Decent Security Measures
As you can probably imagine yourself, security is one of the key factors when picking out the best crypto exchange platform for yourself. This is something that is echoed in user LocalBitcoins reviews, too - no matter if it's a P2P exchange or a centralized one, security is always going to be very important for anyone participating in crypto trades.
Admittedly, as far as the question "is LocalBitcoins safe?" is concerned, there are some people who claim the platform to be a less secure option than some of its more-popular alternatives. That, however, is not something that you concern yourself with.
You see, LocalBitcoins employ all of the essential security features that you'd expect from a crypto exchange site. For starters, you'll have the chance to activate 2FA - two-factor authentication - on your account. It's not a mandatory feature, but you should always do so, nonetheless!

Another security feature that the platform offers has to do with you actually logging into your account from a different browser or device. Same as some of the better-known exchanges, LocalBitcoins will ask you to verify your login attempt via email.
The features mentioned above refer to the security aspects of your account. But what about trading?
Well, plenty of user LocalBitcoins reviews will tell you that there are some safeguards here, too!
First of all, the platform itself acts as an escrow service for all of your crypto trades. What this means is that LocalBitcoins assume the role of a middleman - if you're buying, say, Bitcoin, the platform will keep the coins until you pay up, and release them upon confirmation that the other person received their payment.
On top of that, LocalBitcoins also have a reputation system in place. This is a godsend as far as P2P exchanges go - with the help of this system, you can check whether the person you want to do business with is legit, and if they have a good reputation on the platform, too.
All in all, for anyone wondering is LocalBitcoins safe, rest assured - the platform has plenty of security features in place!
A Wide Range of Payment Method Options
If you're a newcomer to the realm of cryptocurrencies, you'll probably be really happy once you find user LocalBitcoins reviews that mention the extensive list of payment options available on the platform.
Some exchanges out there only allow you to pay for crypto coins with other cryptocurrencies - Ethereum is especially popular in this regard. While it's great for experienced traders due to the comparatively low fees, newbies might be intimidated by the complexity of the process.
Not something to worry about with LocalBitcoins, though. The platform allows you to pay via channels such as PayPal, SEPA, WeChat, Skrill, wire transfers, and so on.
The specific payment options are going to depend on the seller of the crypto coin - however, with some research, you'll surely be able to find an option that would suit your wants and needs!
Latest Binance Coupon Found:
SECURE $600 BONUS
Binance Christmas Sale
Sign up on Binance and claim up to $600 worth of rewards for completing simple tasks during this Binance Christmas sale. Use our Binance referral code (49316610) to activate the offer while it's still valid!
Expiration date : 12/12/2023
2,935 People Used
Only 67 Left
LocalBitcoins Review: CONS
Looking at some LocalBitcoins reviews found online, it's obvious that the platform is quite appreciated by any crypto enthusiasts out there - especially those people who believe in the philosophy of Bitcoin, and cryptocurrency, in general. While Coinbase and Binance are the best options in regards to centralized exchange platforms, LocalBitcoins does fill a niche, as well.
Having said that, though, an exchange like this does manage to amass some less-positive feedback, too. One of the most prominent issues that LocalBitcoins face actually have to do with scams.
Potential of Being Scammed
A single google inquiry that sounds something like "is LocalBitcoins legit?" will reveal to you all of the potential scams that can happen on the site.
While it is true that LocalBitcoins employ some decent security measures, and even acts as an escrow service, there are still plenty of issues that can arise whilst performing a transaction. That is why the reputation feature exists within the site, in the first place!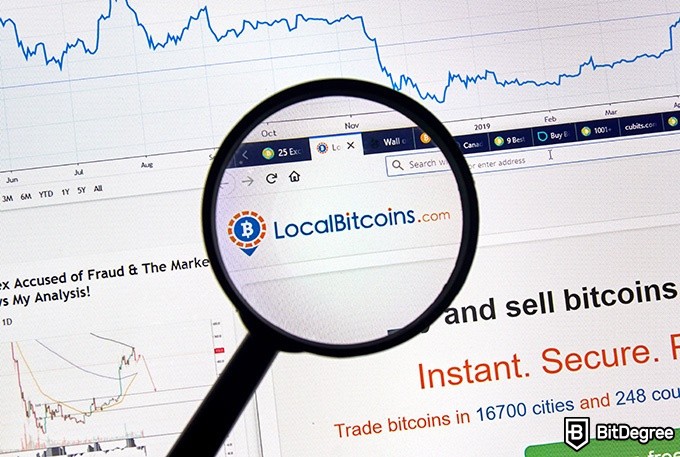 If you're careful about the processes that you perform on the exchange, you should be fine. However, scam attempts are still a notable issue with P2P exchanges - LocalBitcoins isn't exclusive in this regard.
Do always check the reputation of the seller from which you'd like to purchase your cryptocurrency, and practice proper security etiquette, in general - if you sense that something fishy's going on, it's better to find another option, than risk potentially losing all of your assets.
Higher-than-Average Price Tags
Some user LocalBitcoins reviews point out the fact that the prices on the platform appear to be quite inflated. That might perfectly well be the case - it all depends on the payment methods.
You see, while LocalBitcoins charge a very reasonable fee (1% on all trades, the seller is charged), the actual prices of the Bitcoin that you're purchasing depend on the available payment methods that the seller accepts. It's commonplace for fiat currency payments (ones made via PayPal or Skrill) to possess much higher fees than those made by other crypto coins.
All in all, this is surely something to keep in mind! While not many user LocalBitcoins reviews mention this, but it might not suit anyone who's trying to make as high of a profit as possible while trading crypto. That said, if you want to preserve as much anonymity as possible, it might be worth paying a bit more money.

Did you know?
How to Use LocalBitcoins?
Now, to finish off this LocalBitcoins review, we should also look into the platform in question, too. There are some reviews online that point out the possibly-confusing nature of the site, at least for those who've never used it before.
Is that really the case? Well, let's find out!
How to Register on LocalBitcoins?
For starters, let's take a look at the registration process.
Step 1: Go to the LocalBitcoins official website.
Step 2: Press Sign up free. You'll be asked to create a username and password, and provide your email address.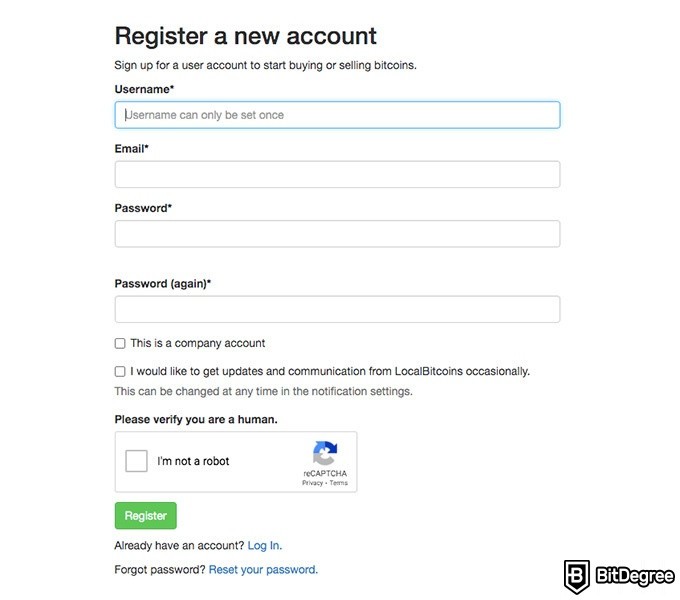 Step 3: You will now be asked to confirm your email address. Do so.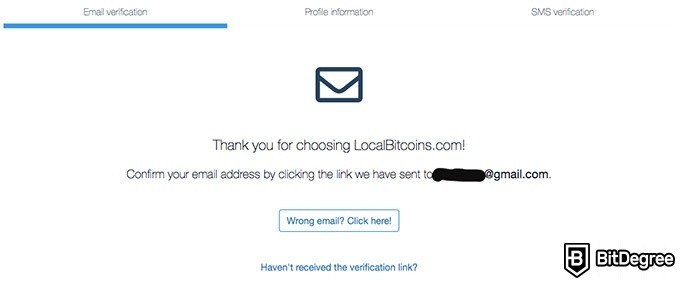 Step 4: Next comes the profile creation page. You'll have to enter your name, surname, phone number, and just how much are you planning to trade per year (in euros).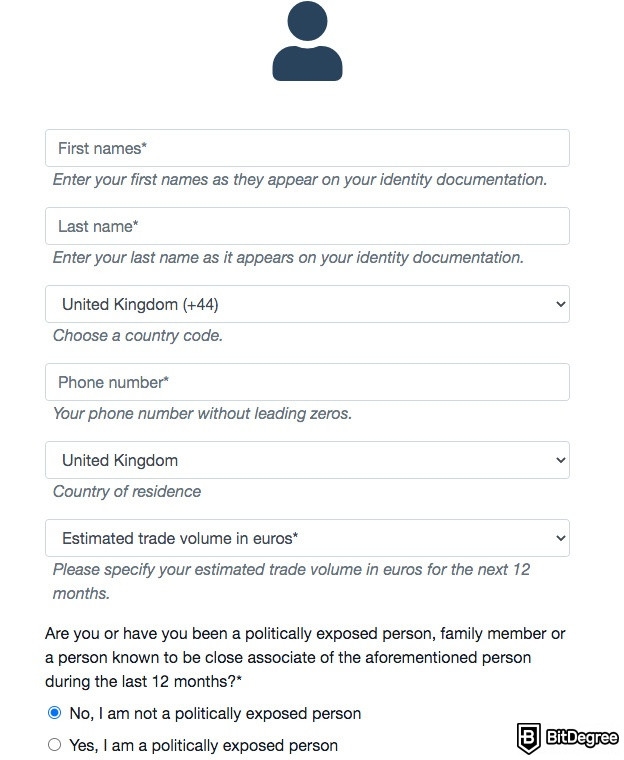 Step 5: Finally, you'll have to confirm your phone number by entering the code that you'll receive on your mobile device. Once that's done, that's it!
The registration experience on LocalBitcoins was actually pretty simple and straightforward - while the platform lacks intricate design choices and does look a bit outdated, that does not impact its ease of use factor, whatsoever.
Once you've registered on the site, you'll be able to either purchase a set amount of cryptocurrency, or continue your verification even further (in order to increase the limits of crypto you can buy).
The purchasing process is also quite simple - the most important aspect of the entire procedure is for you to find a reliable seller, and make sure that all of the details of the transaction are correct.

Pros
A very well-known crypto exchange platform
More than 500 different cryptos available
Two-factor authentication
Main Features
Over than 100 different cryptocurrencies available
Strong security
Small withdrawal fees

Pros
Secure and reliable
Low fees
A good amount of fiat currencies accepted
Main Features
Reputable exchange
Multiple fiat currencies are accepted
Relatively low trading fees

Pros
Anonymous trading
Secure
Supports a variety of cryptocurrencies
Main Features
Easy to use
Low fees
Good security
Conclusions
Now, with all of that being said, and all of the most important points of the user LocalBitcoins reviews discussed and out of the way, but a single question remains - is the platform worth using?
In all honesty, it does depend on a few different factors!
If you're a cryptocurrency enthusiast who believes in as little centralization as possible (at least when it comes to cryptocurrencies), then LocalBitcoins might, in fact, suit you quite well. While the platform does have some regulations in place now, it's still a bit more lenient than most other, non-P2P exchanges on the market.
If, however, you're a complete newcomer to the realm of cryptocurrencies, and are looking to purchase your first crypto coins, then a mainstream, regulated and centralized exchange would likely be a better alternative, at least until you get a proper footing in the field of crypto trading. In this field, you should try out Coinbase or Binance.
The content published on this website is not aimed to give any kind of financial, investment, trading, or any other form of advice. BitDegree.org does not endorse or suggest you to buy, sell or hold any kind of cryptocurrency. Before making financial investment decisions, do consult your financial advisor.
About Article's Experts & Analysts