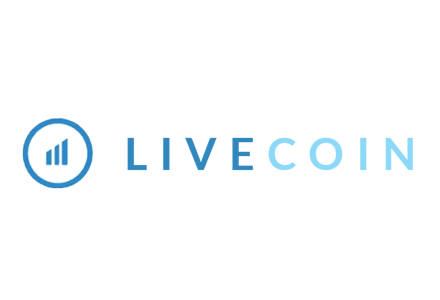 UPDATE 2023: After suffering a huge break-in, the Livecoin exchange was eventually shut down, and is no longer operational. Thus, you should look into some alternative exchanges, instead - platforms such as Binance, Kraken, Coinmama, and KuCoin.
With cryptocurrencies becoming an increasingly-popular topic, there are now many people who are looking to get into trading and investing. If you're one of those individuals who value their anonymity, you might be looking into exchanges that allow you to retain this aspect - most user Livecoin exchange reviews found online emphasize this, too.
However, with increased anonymity, there's also an increased risk of something going wrong. This is true with everything, but cryptocurrency exchanges are at the top of the risk chain, due to their still-developing regulatory nature.
Is Livecoin safe? Is it worth using? Or is it a platform that's better to avoid at all cost, and you should pick some better alternatives? Well, let's find out!
Pros
Very small fees
KYC - not mandatory
Decent security (from the technical standpoint)
A huge crypto asset choice pool
750 crypto trading pairs
Cons
Easier to get scammed due to lack of KYC
Shady company
Livecoin Exchange Review: PROS
If you were to look up Livecoin online whilst trying to find out a bit more about the company behind the exchange, you'd quickly run into a wall, straight from the get-go. You see, at some places, it is said that Livecoin is based in Seychelles, while others state that the headquarters for this exchange are located in London.
Quite frankly, the company behind the exchange doesn't really do a good job at specifying the actual truth, either.
Naturally, this automatically raises some red flags. However, this whole thing also comes with some benefits for the user - namely, the ability to avoid KYC.
No Mandatory KYC - AN Anonymous Exchange
KYC stands for "Know Your Customer". It's a set of regulations that are in place with financial institutions in the US - the regulations mean that the institutions in question must "know their customers", or, in other words, verify the customers' identities.
In such situations, cryptocurrency exchanges are no exception.
The vast majority of exchanges that you might come across today are centralized - what this means is that they employ the KYC rules, and require you to verify your identity, residential address, and trading goals in order to allow you to actually trade and exchange cryptocurrencies.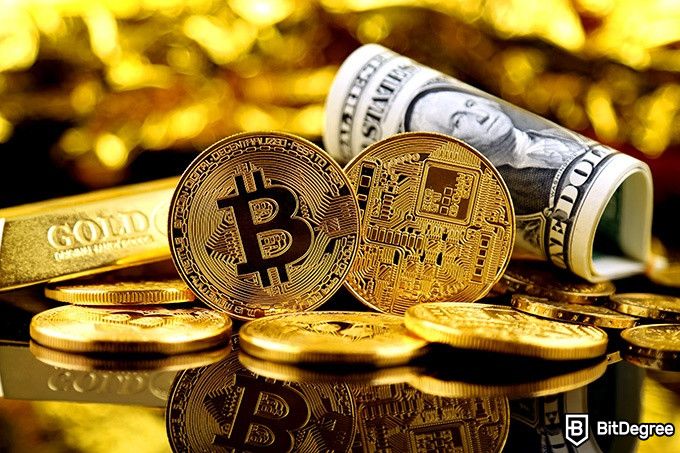 User Livecoin exchange reviews will tell you that, in this regard, the exchange in question is different. While not being explicitly decentralized, Livecoin does allow users to trade and exchange cryptos on their platform without the mandatory requirement of passing KYC verification.
If you're a diehard crypto enthusiast, you'll probably see this as a really good thing. After all, decentralization is literally the core value of cryptocurrencies - Bitcoin was created out of the frustration with centralized financial institutions!
However, it all does depend on your risk tolerance level. You see, while centralized exchanges might lack anonymity, they do usually provide significantly higher security features and guarantees. With anonymous exchanges, things mostly lie on your shoulders - if you fall victim to some sort of a scam or security breach, chances are that there will be no higher authority to help you out.
Having said that, though…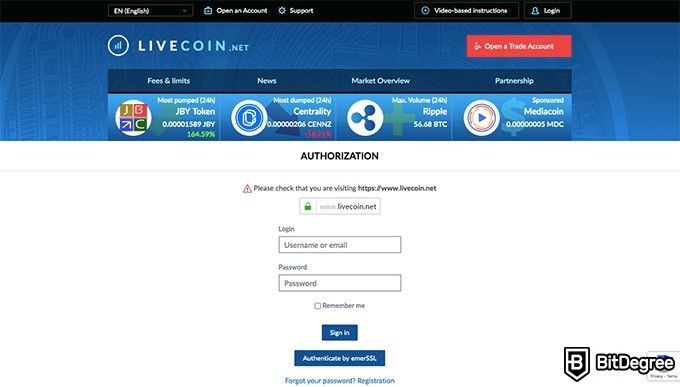 While this doesn't really help answering questions such as "is Livecoin safe?", the semi-decentralized nature of the exchange is still something that's considered to be a pro, as far as Livecoin reviews go, at least. It's one of the now-super-rare exchanges that still combat the KYC regulations, in one way or another.
In short - if you're looking for an anonymous cryptocurrency trading platform, there are multiple user Livecoin exchange reviews found online that are surely going to direct you towards this particular exchange.
Latest Deal Active Right Now:
$300 + 40 DOGE BONUS
Huobi Black Friday Limited-Time Period
Huobi Black Friday & Cyber Monday 2023 period offers great bonus for new users - sign up & earn up to $300 + 40 DOGE bonus!
Expiration date : 10/12/2023
3,817 People Used
Only 31 Left
A Wide Variety of Cryptocurrencies
As I'm writing this Livecoin exchange review, there are currently over 7000 different cryptocurrencies on the market. These would include Bitcoin, altcoins, stablecoins, the I-can't-say-that-word coins, and a huge variety of tokens. Depending on when it is that you're reading this, the list could be much bigger - there are new crypto projects entering the market seemingly every single day.
The list of available cryptocurrencies isn't the only thing that's been rapidly growing in these past couple of years, though - it's closely followed by people's enthusiasm and understanding of the crypto market, and the blockchain technology, as a whole.
Naturally, as you can probably imagine, people aren't only looking to learn is Livecoin legit simply because they have some sort of an unsated interest in the matter. No - they are doing so because of the fact that they want to find a reliable crypto exchange to grow their portfolios with.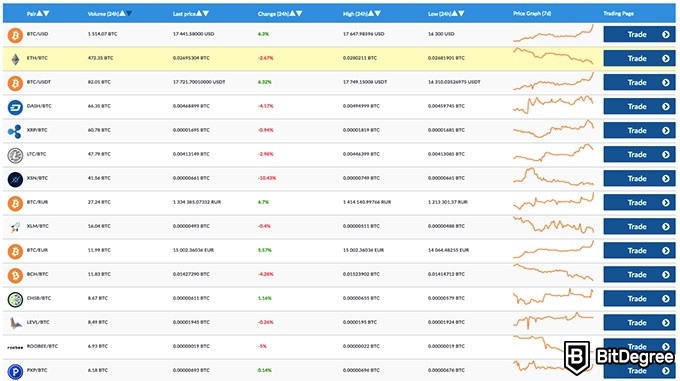 Reliability is one thing, though - since crypto enthusiasts nowadays are much more crypto-savvy, in a general sense, they also tend to invest and speculate about a broader range of coins, too - long-gone are the days when Bitcoin and Ethereum were the only two points of focus.
Yet again, though - in order to do all of that trading, investing, and speculating, you're going to need an exchange that supports a long list of cryptocurrencies and - perhaps even more importantly - crypto trading pairs. This is exactly where Livecoin shines.
The exchange offers users over 150 different cryptocurrencies to trade and exchange. Consequently, there are also around 750 different trading pairs for you to pick from!
The number of cryptos available is actually notable, because it makes Livecoin one of the best exchanges for anyone who's considering trading a wide variety of cryptos. 150 is a lot! Chances are that, no matter what coin or token it is that you're looking for, you'll find it on Livecoin.
Well, unless you're looking for some super-niche cryptos. Then you might be left disappointed.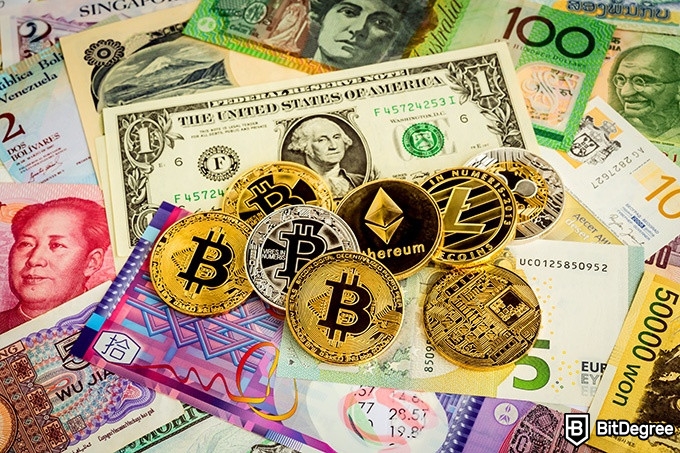 That said, the trading pairs are yet another thing that you should take note of. With 750 different trading pairs, you'll surely be able to find one that will be the most conveniant for you - no more having to exchange one cryptocurrency into another, just so you could exchange it into a third one!
It's something that you'll find mentioned on some other user Livecoin exchange reviews, too, but it's definitely a notable point worth stressing even further!
Fiat-Crypto Trading - Available!
Do you know what makes a cryptocurrency exchange great for a beginner trader?
Well, if you've answered "a lot of things", you're right. Ease of use, coin variety, and so on - sure, all of these features are important in this regard.
However, probably one of the most notable of such features would have to do with fiat-crypto trading.
Fiat currencies are those that are governed by a centralized institution - in most cases, that institution is the government. So, EUR, USD, JPY, and any other country- or region-specific currency would be a fiat one.
Beginner crypto traders are always going to prefer to trade cryptos for fiat money. The logic behind this is very simple, too - if you're just starting out, you probably want to avoid all of the unnecessary hassle, and get your first crypto coins as soon as possible!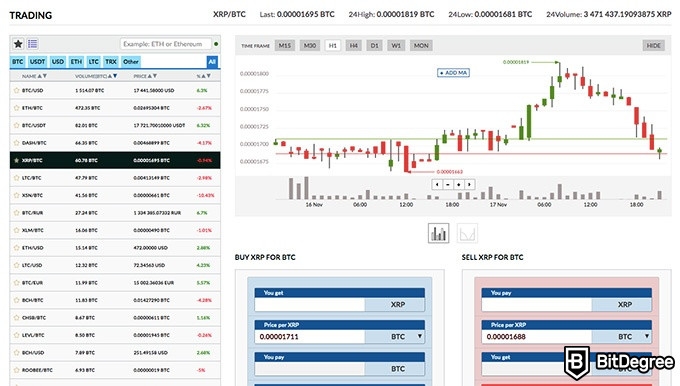 Crypto-crypto trading can be very confusing, especially since you might have to exchange your fiat money on one exchange platform, simply to then transfer your cryptos to another platform so that you could purchase SOME OTHER cryptos. Think MIOTA, if you want a good example.
So - fiat-crypto trading is great. All of the user Livecoin exchange reviews agree with this sentiment, too. Frankly, any and all top-tier crypto exchanges on the market know this - it's one of the best methods of how to attract new and beginner traders to your platform!
Livecoin does offer you the chance to trade crypto for fiat money. Most of the methods of doing so are a tad bit unconventional, but that's probably mostly because of the non-KYC nature of the exchange.
If you want to buy cryptocurrency with fiat money, you can do so via these channels on Livecoin:
Payeer
PerfectMoney
Capitalist
AdvCash
Qiwi
Note that you can also buy crypto with a credit or debit card, but that's not advised - more on that later.
Withdrawing your fiat funds after you're done trading can be done via these platforms:
Visa or Mastercard
Yandex Money
Webmoney
Naturally, when it comes to all of these, different fees apply. Speaking of which, this is also something we can address as one of the pros of this Livecoin exchange review, and another part of the answer to the question - is Livecoin legit?
Some of the Lowest Fees on the Market
Fees are something that's undoubtedly very important to everyone, no matter if you're just starting out, or are already an advanced trader. This is especially-so-true with the crypto market being as volatile as it is - if you want to get a good return on investment (ROI), you're going to have to take exchange fees into account, as one of the main aspects of the entire ordeal.
Livecoin offers its users some of the best crypto trading fees in the entire industry. The current "industry standard" is around 0,25% for flat fees - anything that above is considered to be on the more-expensive side, while anything below is appreciated as affordable.
User Livecoin exchange reviews will tell you that the exchange in question offers a flat fee of up to 0,18%. In this case, "flat" means that both the maker and the taker of the trade (both parties) need to pay the same exact fee - in some other cases, makers and takers pay different fees.
The only time this is different is when you breach the $100,000 limit - as the exchange amount increases, from that point onward, the fees are going to decrease.
A 0,18% fee is wonderful! It means that Livecoin is one of the best crypto exchange options for anyone who's looking for an exchange with the best fees.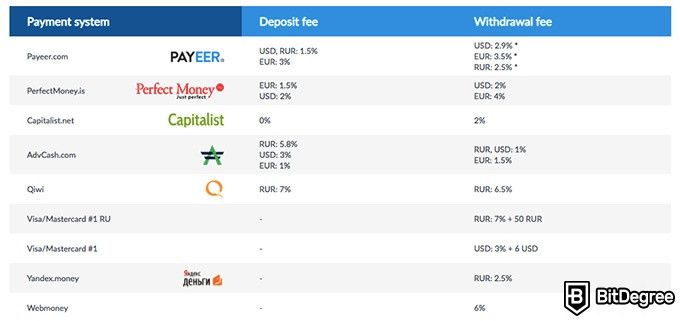 Things are a tad bit different with fiat deposit and withdrawal fees, though. If you choose to deposit fiat money via one of the earlier-mentioned methods, the fees could go up to 3% (for EUR - USD deposits are cheaper), while withdrawals could reach 4%.
That's a bit high! However, that's often the case even with some of the better-known and more mainstream exchanges - while you'll undoubtedly find some user Livecoin exchange reviews that aren't too fond of these fees, the same is true with any other exchange out there.
Decent Technical Security Measures
While Livecoin doesn't really have the best of reputation regarding things like scam deterrence (we'll get to that in a minute), it's worth acknowledging that, when it comes to the actual technical security measures of the platform, the site is actually pretty decent!
While you won't really find anything "fancy" or "new-tech" on the site, you can expect things like two-factor authentication to be present and available for you to utilize. 2FA is actually a very effective method of keeping your account secure!
Probably the best feature of the exchange, though, is the fact that it claims to keep a high portion of the users' crypto assets in cold wallets, otherwise known as hardware crypto storage devices.
Whenever your cryptos are kept in cold wallets, they are, at that time, disconnected from the internet. No internet connection means that it's going to be impossible for hackers to reach your funds, unless they literally find them and physically steal the hardware device.
All things considered, these are pretty decent security measures, at least as far as the technical side of things is concerned. Admittedly, though, they might not assure every single user who might want to try Livecoin out.
Latest Binance Coupon Found:
SECURE $600 BONUS
Binance Holiday Sale
Sign up on Binance and claim up to $600 worth of rewards for completing simple tasks during this Binance Holiday Sale. Use our Binance referral code (49316610) to activate the offer while it's still valid!
Expiration date : 10/12/2023
2,935 People Used
Only 67 Left
Livecoin Exchange Review: CONS
Now, it's evident that there are quite a few positive Livecoin exchange reviews online, and that the platform does have some rather interesting and beneficial features to offer to its users. However, not all of the feedback that it receives is superb - there are quite a few valid concerns related to questions such as "is Livecoin safe?".
That's actually the first thing we should tackle - safety.
Questionable User Security Measures
Before we get into this, let me just preface - as of writing this Livecoin exchange review, the exchange has not been hacked, or had its security breached in any other major way.
Having said that, though, there are still some very valid user concerns that revolve around the topic of security.
You see, the earlier-discussed KYC is a double-sided coin. It's nice to know that your transactions and, by extension of that, various other actions online are actually anonymous, and that you are able to delve into your own finances knowing that they are actually completely yours.
On the flip side, though, anonymous exchanges are also considered to be the most dangerous as far as potential scams and hacks are concerned. If your assets get stolen on a decentralized exchange, there's frankly no way of going back - once they're gone, they're gone.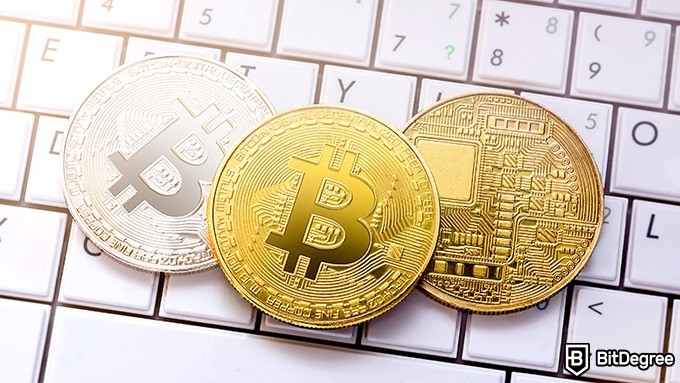 Naturally, as you can imagine, decentralized exchanges can be super-secure, same as centralized ones. Having said that, though, they are still going to lack a single, although very important, scam deterrent - KYC.
You see, when there's KYC involved, you'll have to verify your identity in order to start trading cryptos. Naturally, as you can imagine, if you're a scammer who's looking to trick people out of their crypto assets, this isn't something that's going to be appealing to you.
A lack of KYC regulations, though, allows people to create multiple accounts, pass through some less-effective security measures, and so on.
While this isn't necessarily a major and objective reason as to why NOT use the exchange in question, it's still something mentioned in multiple user Livecoin reviews, and should be taken into account, nonetheless.
Shady Company Reputation
As I've mentioned in the introductory part of the Livecoin exchange review, one of the biggest issues that people have with the exchange is that it's, well… Shady.
Livecoin is truly a unique case. The selective implementation of KYC rules and regulations means that the people behind the platform must remain at least somewhat anonymous, too, or there would be some issue with the US authorities.
However, it does not boost the credibility of the platform, whatsoever.
It's not really clear neither where the company behind Livecoin is based in, nor who's working on the project, either. This is going to be a huge red flag for anyone who's wondering "is Livecoin legit?" - placing your financial and crypto assets into the hands of an unregulated authority isn't the smartest thing to do, in the vast majority of cases.
Now, what makes Livecoin rather special is the fact that the exchange has never been involved in any major scandal related to security or customer crypto assets. Over the few years that Livecoin's been active, the platform has kept a pretty low profile.
Whether or not this is something that sways your opinion about Livecoin, it is undeniable that the site is truly an interesting alternative in the crypto trading space. Still, anyone who's unsure if they'd want to risk their cryptocurrencies and tokens on a platform like this should definitely look into some safer and more-reliable alternatives. Binance and Kraken are at the top in this category.
Customer Support Issues
Proper customer support is surely integral for any reliable crypto exchange.
Think about it - if you're using an exchange that doesn't provide swift and helpful customer support, you might be in trouble if you do run into some sort of an issue. This is true with both technical difficulties and general questions, not to mention things that are related to, say, account recovery.
Well, there are some user Livecoin exchange reviews that aren't all that happy about how the exchange handles their support inquiries.
Most of the negative Livecoin reviews that concern this topic note that the customer support services are pretty slow. If you're in need of an answer to your question ASAP, this might be a serious issue.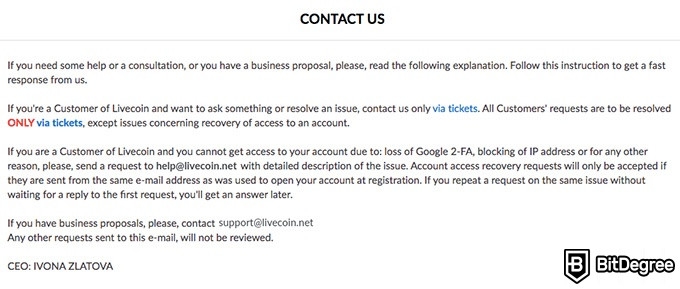 On top of that, the team behind Livecoin also state that if you send them a follow-up email (or submit a second ticket with the same inquiry), you'll have to wait even longer.
That's not ideal! It also comes off as being almost passive-aggressive - if you're having some serious issues, and your crypto assets are at stake, you'll probably want to contact the support team as soon as possible, and if you're left to wait for some time, you might be eager to submit a follow-up ticket to emphasize the severity of the situation!
All in all, whatever the case might be, it's worth keeping in mind that there are some user Livecoin exchange reviews that aren't all that happy with how the company deals with their customer support matters.

Did you know?
How to Use Livecoin?
So, then - now that we've discussed all of the major pros and cons of the exchange in question, and also took a look at questions such as "is Livecoin legit?" and "is Livecoin safe?", let's finish off this review by glancing at the usability aspect of the exchange in question.
The registration process on the platform goes a little something like this:
Step 1: Go to the official Livecoin website.
Step 2: Click Open Trade Account at the top-right corner of the screen.
Step 3: Enter all of the primary information (email, create a password, etc.).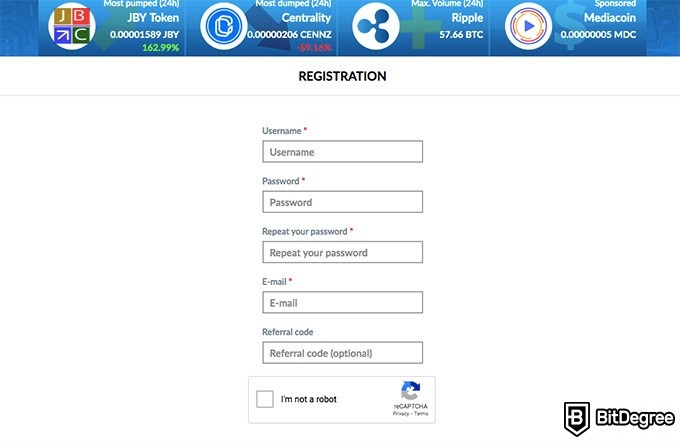 Step 4: A confirmation email is now sent to your inbox - enter the confirmation code as requested.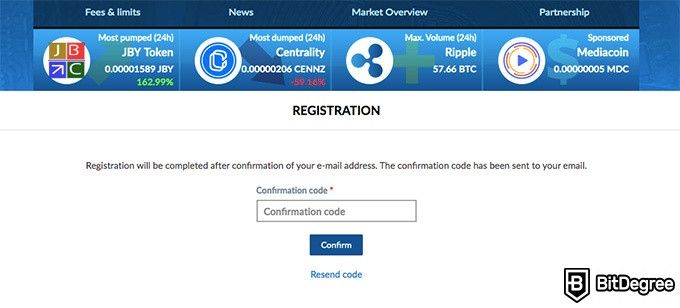 That's it! Your account has now been created. All you need to do is enter your information, and log in - you're set!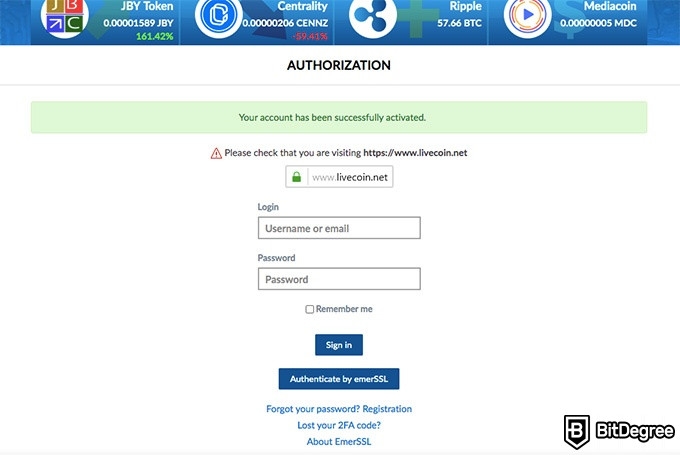 Upon logging in, you'll be prompted to create a 4 digit PIN code - you'll need it every time you perform certain actions on the site.
Once you're more comfortable with the website, you can just click on the Balance tab at the top-right corner of your screen, and either add some funds to your account, or even buy cryptocurrency directly, with a credit or debit card (the fees for such a transaction in USD are 4,45%, so this isn't the advised method of going about it).

Pros
A very well-known crypto exchange platform
More than 500 different cryptos available
Two-factor authentication
Main Features
Over than 100 different cryptocurrencies available
Strong security
Small withdrawal fees

Pros
Secure and reliable
Low fees
A good amount of fiat currencies accepted
Main Features
Reputable exchange
Multiple fiat currencies are accepted
Relatively low trading fees

Pros
Anonymous trading
Secure
Supports a variety of cryptocurrencies
Main Features
Easy to use
Low fees
Good security
Conclusions
So, then - is Livecoin worth checking out?
Well, this particular cryptocurrency exchange does offer a lot of different benefits to the user - this is something that is obvious from reading various customer Livecoin exchange reviews found online, too.
Having said that, though, the platform is a tad bit shady, and there are many inconsistencies surrounding the company behind it, too (i.e. the fact that no one seems to know where Livecoin is based at).
If you're an experienced trader who wants to further their anonymity while trading crypto assets, Livecoin could be a great alternative - it has amazing fees, is simple to use, does not implement mandatory KYC regulations, and has a wide range of cryptos to trade, too.
If you're just starting out, though, and aren't quite sure if Livecoin is the right platform for you (even though the exchange is yet to experience any major controversy), there might also be some better alternatives for you, too - check them out here. These alternatives are especially important after Livecoin's closure.
The content published on this website is not aimed to give any kind of financial, investment, trading, or any other form of advice. BitDegree.org does not endorse or suggest you to buy, sell or hold any kind of cryptocurrency. Before making financial investment decisions, do consult your financial advisor.
About Article's Experts & Analysts