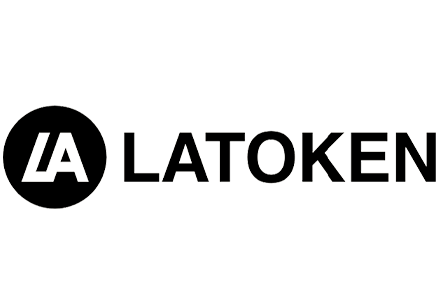 As there are hundreds of cryptocurrency exchanges available today, finding the right one for you is not an easy task. However, that's the main reason why you need such as LATOKEN reviews that reveal the whole truth about the platform.
In this LATOKEN review, I will introduce the company behind LATOKEN and its main values. Then, I'll move straight to the LATOKEN review and take a look at the platform's pros and cons, including supported cryptocurrencies, customer service, and so much more.
Also, later in the review, we'll proceed with a quick tutorial that will help you to get started with this exchange, if you decide to do so, of course. When you're done with this LATOKEN review, you will know for sure if this company and services are the right fit for you.
So, without further ado, let's find out more about LATOKEN.
Pros
Easy to start trading
Wide range of assets to choose from
Average trading fees
Cons
Multiple negative customer reviews online that create certain doubts
LATOKEN Review: About the Company
Founded back in 2017, LATOKEN is an Estonia-based cryptocurrency exchange that currently has about 270 employees. Of course, this number is fluctuating all the time. The company was founded by CEO Valentin Preobrazhensky along with 3 other experts and instantly started growing.
LATOKEN initially wanted to create a multi-asset crypto trading platform, however, it became more of a cryptocurrency exchange platform in the process. That said, it's now a regular platform for trading digital assets that offers some additional perks.
Apart from crypto trading, the company also provides users with financial services, FinTech, cryptocurrency wallet, and a neobank - a bank that operates exclusively online.
Now, let's take a look at the general LATOKEN rankings.

Based on the exchange score, LATOKEN is currently ranked as the 111th service provider on the CoinMarketCap. However, if you take a look at the daily trading volume, you can see that it's way higher, in about 60th place.
It's definitely not one of the top cryptocurrency exchanges based on these measurements, however, what you should know is that back in March 2019, the exchange managed to enter CoinmarketCap's Top-20. Sounds like an amazing result, however, there weren't that many worthy competitors back then as there are now. So that's something that you should keep in mind.
That's definitely enough information for you to know about the company, so now let's move to the actual LATOKEN review and see what good this platform can offer.
Latest Binance Coupon Found:
SECURE $600 BONUS
Binance Christmas Sale
Sign up on Binance and claim up to $600 worth of rewards for completing simple tasks during this Binance Christmas sale. Use our Binance referral code (49316610) to activate the offer while it's still valid!
Expiration date : 12/12/2023
2,935 People Used
Only 67 Left
LATOKEN Review: PROS
We'll start off this LATOKEN review with the most exceptional benefits associated with the LATOKEN exchange.
You will find out more about the additional services offered by LATOKEN, available cryptocurrencies, trading fees, ease of use, and even more. Once this part is done, we will move on to the negative aspects associated with this cryptocurrency exchange and see if it has any significant flaws.
It's possible that you've heard users saying that LATOKEN is a scam, so let's find out if that's the case in this LATOKEN review.
Additional Services
If you were researching the best cryptocurrency trading platforms, you've probably noticed that they tend to offer not only an exchange but also additional services, such as digital wallets for your cryptocurrencies, loans, and even more. Let's see if the situation is similar when it comes to LATOKEN.
If you visit LATOKEN's official website, you will see that the company also provides you with an opportunity to invest in startups on the world's largest IEO Launchpad. When it comes to investing, though, you should always be aware of the risks and make sure to perform thorough research before doing that. Otherwise, it could lead to huge losses.
What is more, you can take advantage of their referral program that gives you a $50 credit that can be used to pay 25% of fees when someone signs up using your link, and also get money when those people are trading.

Also, you can start a fundraiser online by pitching to thousands of investors from the LATOKEN network. You can access more than 500k LATOKEN users worldwide via Data Room or Online Video Pitch. Furthermore, you can perform various tasks and earn crypto rewards for doing that.
You can also make a listing of your project on the LATOKEN exchange and improve the performance of your digital asset as well as take advantage of the referral program to attract organic traders.
When it comes to pitching your startup to investors, you can easily do that on VCTV (Venture Capital Television) that was created to spread technology and entrepreneurship. Once it's done you will get feedback as well as valuable contacts that might help you in the future. Currently, LATOKEN has 25 huge investors.
That's about it when it comes to the variety of services offered by LATOKEN, so let's move further and find out more about the additional perks of using this platform.
Latest Deal Active Right Now:
$300 + 40 DOGE BONUS
Huobi Black Friday Limited-Time Period
Huobi Black Friday & Cyber Monday 2023 period offers great bonus for new users - sign up & earn up to $300 + 40 DOGE bonus!
Expiration date : 12/12/2023
3,817 People Used
Only 31 Left
Wide Range of Assets to Choose From
One of the things that are definitely important to pay attention to is supported cryptocurrencies. If you're interested not only in mainstream coins such as Bitcoin or Ethereum but want to trade less-popular tokens as well, you should go for a platform that provides more assets to pick from.
LATOKEN currently supports more than 250 cryptocurrencies, which is significantly more than many other exchanges can offer. Some of the supported ones include:
Bitcoin
Ethereum
Cardano
Dogecoin
Ripple
USD Coin
EOS
Litecoin
250 others
LATOKEN supports not only the most popular cryptocurrencies, such as Bitcoin, Ethereum, or Litecoin, but also less-known tokens that you might be interested in. That said, the number of supported cryptocurrencies shouldn't be a problem when it comes to this exchange.
The only negative thing to be mentioned here is that LATOKEN lists many lesser-known and not necessarily reputable assets that might affect the platform's reputation negatively.
Easy to Start Trading
Another important measure when deciding which crypto exchange to choose is usability. If you're just a beginner and haven't tried using similar platforms before, you need to pay attention to the platform's interface and ease of use. After all, if you're planning on using it every day, it's definitely an important point to consider.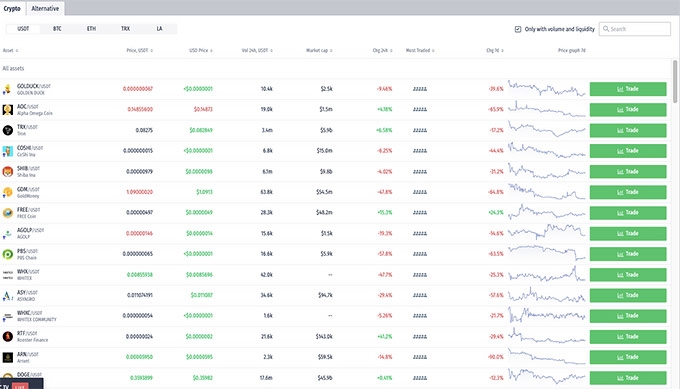 LATOKEN is considered to be one of the easier-to-use platforms because it has a very clear landing page where you can find all the available services offered by the company. That includes the trading platform, crypto wallet, IEO Launchpad, LADEX, and LA airdrop.
What is more, it supports multiple languages, including English (obviously), Spanish, Chinese, Vietnamese, Portuguese, German, Italian, and even more. You can easily choose your language preferences from the drop-down menu located at the top-right of the page. If you have any issues, you can always contact the company's customer support and get all the answers you need.
Also, LATOKEN has four Tiers of verification that each is necessary for different withdrawal amounts:
Tier 0 - 1 000 USD/24h withdrawal limit.
Tier 1 - 10 000 USD/24h withdrawal limit.
Tier 2 - 100 000 USD/24h withdrawal limit.
Tier 3 - 100 000 USD/24h withdrawal limit and access to alternative tokens.
For Tier 3 verification you need to provide your email, full name, phone number, date of birth, citizenship, proof of residence, ID documents, photograph, and complete the respective questionnaire.
That said, while it's easy to create an account on this exchange (you will find out how to do that further into this review), it won't be as easy to withdraw your assets. That's all for security reasons.
Focus on Security
Even though we all prioritize different features when choosing a cryptocurrency exchange, it's evident that security should always go first. After all, if it's as easy to use a platform as hacking your account, usability becomes completely unimportant. That said, make sure to choose a provider that considers your privacy and security a priority.
Now, let's take a look at what LATOKEN exchange can offer.
LATOKEN presents itself as a very secure cryptocurrency exchange and offers:
Encrypted keys
Password security
Secure storage
Data transmission
DDOS protection
2FA verification
Just like the majority of other cryptocurrency exchanges, LATOKEN comes with an online wallet for storing your cryptocurrencies. Even though it's always recommended to choose hardware wallets that do not store your private keys online, LATOKEN ensures to encrypt your private keys with AES-256.
AES-256 encryption has a key length of 256 bits and is known to be almost unbreakable. What is more, LATOKEN claims to keep 99,95% of users' funds in cold storage that uses multi-signature technology. If that's the case, you should be pretty confident about this company when it comes to security.
Another thing that should be mentioned when it comes to security is that LATOKEN exchange protects users' passwords using Salted SHA-256 encryption. If you're unaware, a salt is random data that's automatically added to your password to make it more secure. Unfortunately, SHA-256 is considered to be less secure than BCRYPT, SCRYPT, or Argon2.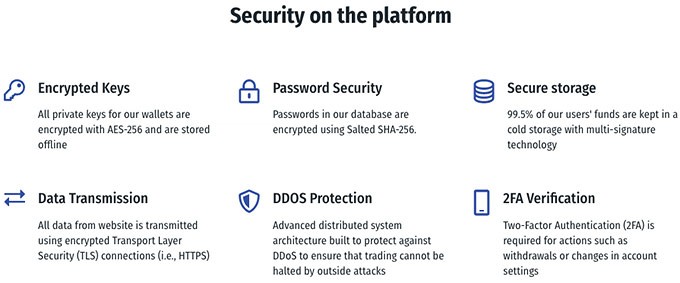 When it comes to data transmission, LATOKEN is using encrypted Transport Layer Security (TLS) connections (i.e., HTTPS). TLS is a widely used security protocol with a fundamental use case of encrypting the communication between web apps and servers.
Also, if you decide to make any changes in your account or make a withdrawal, you will need to go through Two-Factor Authentication (2FA) to prove your identity. It's similar when it comes to the majority of other cryptocurrency exchanges.
Now, the final aspect to be mentioned is that LATOKEN provides protection against DDoS using advanced distributed system architecture which, in their own words, ensures that trading cannot be halted by outside attacks.
If the company manages to provide everything that is promised regarding security, LATOKEN exchange should be a pretty secure option for trading cryptocurrencies.
Now that one of the most important parts of this LATOKEN review is covered, it's time to move further and focus on other details that will help you to decide whether or not this exchange is the right one for you.
Quite Average Trading and Withdrawal Fees
LATOKEN claims to provide users with a flexible trading fees that beats their competitors, so let's find out if it's the truth.
When it comes to trading fees, there are a few terms that you should understand - maker and taker fees. Market makers are the ones who are adding liquidity to the market. They're trying to buy at the current best bid or sell at the best price. Market takers are the ones that are trading at the prices set by the market makers. In most cases, trading fees for market makers are lower than the ones for market takers, however, there are always some exceptions.
Now let's take a look at LATOKEN prices for both market makers and takers:
| | | | |
| --- | --- | --- | --- |
| Level | 30d Volume, $ | Maker | Taker |
| 1 | Less than $10.0k | 0.49% | 0.49% |
| 2 | $10.0k - $50.0k | 0.39% | 0.39% |
| 3 | $50.0k - $100.0k | 0.29% | 0.29% |
| 4 | $100.0k - $250.0k | 0.12% | 0.19% |
| 5 | $250.0k - $1.0m | 0.07% | 0.11% |
| 6 | $1.0m - $2.5m | 0.06% | 0.09% |
| 7 | $2.5m - $10.0m | 0.04% | 0.07% |
| 8 | $10.0m - $20.0m | 0.02% | 0.05% |
| 9 | More than $20.0m | Zero | 0.04% |
As you can see, LATOKEN provides fees based on the 30-day trading volume. This means that the more you trade, the lower fees you get.
Moving further, LATOKEN also provides you with the ability to trade Perpetual Futures. The futures market works differently from regular spot trading as you will be actually trading contracts that agree to buy or sell a specific cryptocurrency at a future date for a certain price.
Even though futures trading allows you to take advantage of the price volatility, it can also be very risky, so you should always make sure that you know what you're doing before making certain decisions.
When it comes to Perpetual Futures trading fees offered by LATOKEN, they're definitely among some of the lowest ones. The fees for makers and takers remain the same, take a look:
| | | |
| --- | --- | --- |
| Contract | Maker | Taker |
| BTC/USDT | 0.06% | 0.06% |
The fees are so low that you probably won't feel that you're being charged extra.
Now, there's one last thing left to discuss when it comes to LATOKEN prices. That's withdrawal fees. The fees are charged in the cryptocurrency that you want to withdraw. LATOKEN claims that they're updating fees on a regular basis based on the market and blockchain conditions.
You can find an example of how the LATOKEN fees look like when withdrawing different cryptocurrencies in the table below.
| | | |
| --- | --- | --- |
| Cryptocurrency | Withdrawal Fee (normal) | Minimum Withdrawal |
| LATOKEN | 1,616.000000000000000008 | 840 |
| Bitcoin | 0.0005 | 0.001 |
| Ethereum | 0.02 | 0.022 |
| USDT (ERC20) | 36 | 21 |
| USDT (TRC20) | 3 | 5 |
| CRV | 16 | 9 |
| PARETO | 69,584.000000000000000008 | 52,191 |
| XID | 3,600 | 2,700 |
| SFM | 5,000 | 10,000 |
| MIR | 100 | 800 |
In general, LATOKEN managers provide quite average trading fees. However, I wouldn't say the same about withdrawal fees that are not always user-friendly. Also, I've noticed many negative customer reviews regarding the withdrawal process. I will definitely pay more attention to this issue in a further part of our review.
Mobile App Available
If you're into daily trading and want to do that freely without any restrictions, you should always make sure to pick an exchange that offers mobile support. Even though that has already become a standard, many providers fail to deliver pleasant mobile trading experiences.
Let's take a look at the LATOKEN mobile app and see how well it's evaluated among users.
First of all, the LATOKEN mobile app is available for both Android and iOS, so you can use it with any mobile device. What is more, it has 4.2 stars on Google Play and was installed by more than 500,000 people.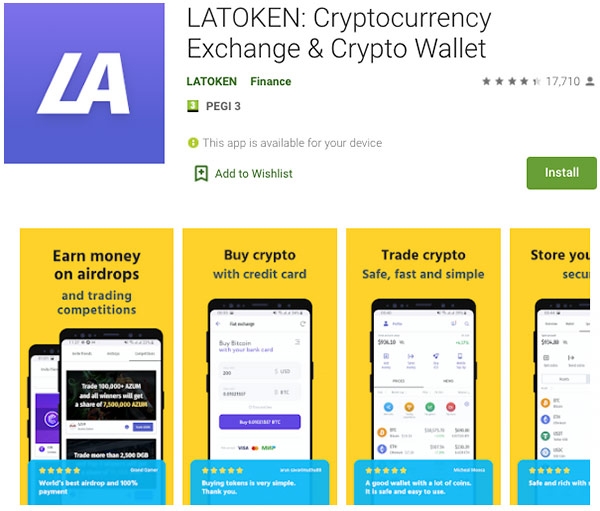 The app includes both cryptocurrency exchange and a digital wallet that you can create in a few minutes by providing your email address and phone number. Even though it's convenient to store your cryptocurrencies in online wallets, you should keep in mind that they're not as secure as hardware wallets that are also known as cold ones.
Now, if you take security seriously and want to make sure that your assets are protected at all times, you should make sure to check out such hardware wallets as Ledger Nano X, Trezor Model T, and Ledger Nano S Plus. However, if you were to look for reliable online wallets, you might want to consider Coinbase that comes with exceptional security measures.
Getting back to the LATOKEN app, it provides you with all the necessary features and tools to grow your crypto assets and start trading. What is more, you can utilize price alerts to make sure that you never miss your opportunities to buy or sell cryptocurrencies at the wanted price.
Whilst using the LATOKEN mobile app, you can also track the latest crypto and blockchain news and always be aware of what's happening in the industry. By following the latest news, you can also make assumptions about price fluctuations.
Currently, you can use the LATOKEN app to trade more than 450 crypto pairs. Needless to say, when there are so many options available, almost everyone will be able to purchase and sell cryptocurrencies of their choice.
Also, the newest LATOKEN app update brought one significant change - a new referral program. It provides you with both $50 credit on your accounts and daily cashback when people sign up using your referral link. Needless to say, the program provides you with an opportunity to earn additional income.
When it comes to customer LATOKEN reviews regarding the app, the majority of them are rather positive. People say that the app is quite easy to get used to and many loved the fact that LATOKEN provides so many lesser-known tokens to choose from that are often unavailable on other exchanges.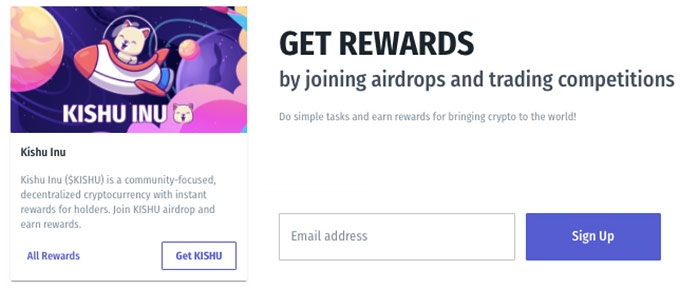 It also seems that many people were quite disappointed but gave 5 stars just because LATOKEN customer service helped them to solve all the technical issues that they were having at the time.
All in all, it seems that the LATOKEN app provides all the necessary tools, however, it could definitely be improved, especially when it comes to the withdrawal process.
Multiple Support Options
Even though there are many crypto enthusiasts who know what they're doing, the fact is that there are even more beginners who haven't used a crypto exchange before. While everyone needs to start somewhere, it's always nice to have helpful customer service that will help you in the process.
When it comes to LATOKEN customer service, you'll be able to come across two confronting opinions. While some say that LATOKEN customer service is one of the most reliable and helpful ones, others claim that it took forever to receive a response. That said, it's unclear what to expect from the company.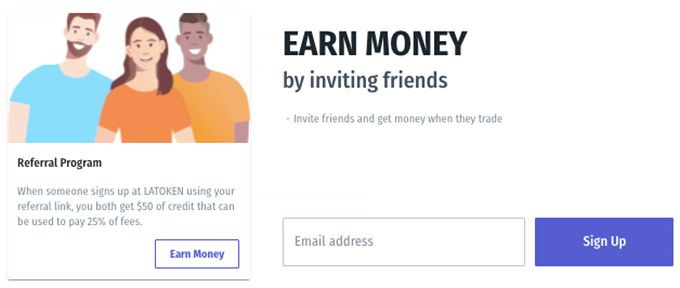 In general, there are a few different options you can choose when contacting LATOKEN customer service. You can instantly contact their customer support team that's available 24/7 by providing your question. What is more, you can find a live support widget on their platform. This one's definitely the most convenient one.
Also, you can easily fill in their ticket submission form or simply join the official group in Telegram messenger for more answers. That said, there are multiple options when it comes to LATOKEN customer support, so simply choose the most convenient channel and wait for your problems to be resolved.
Even though there are quite a few negative customer LATOKEN reviews when it comes to their customer support, it still seems that more people are pleased with it than disappointed.

Did you know?
LATOKEN Review: CONS
When evaluating only the pros of this LATOKEN review, the platform seems to be a rather good option. However, you shouldn't make up your mind without first having to hear about the negative sides of this exchange.
That said, let's move on to the less pleasant part of this LATOKEN exchange review and find out what it's missing.
Negative Customer Reviews
When deciding which product or service to choose, one of the most important things that you should do is check out customer reviews. People who have been using the platform or service that you're interested in for months or even years are the ones who know the pros and cons of it the best.
Now, when it comes to customer Lotaken reviews, I was quite surprised to find out that there are so many negative ones. In fact, it has only 3.1 stars on Trustpilot and almost half of them are bad.
Since there are so many negative reviews, you're probably wondering what users are saying and why they're so displeased with this platform. Let's find out.
The very first and the most significant complaint was that the company is a scam and rips off its customers. Users claim that when they sell cryptocurrencies they get only half or even a quarter of the value that they were supposed to get. When that happens, they are unable to contact the company's customer support and are simply ignored.
What is more, some people complained that their cryptocurrencies disappeared as those assets were simply removed from the website. I'd say that's one of the reasons why you should always keep your crypto in secure hardware wallets.
Moreover, many people are suspecting fake liquidity and are not happy with the fee structure. For example, one user was withdrawing $2000 worth of crypto and paid a $175 fee. That definitely sounds like a lot, however, that's why it's important to check out the withdrawal fees of different assets applied by LATOKEN.
The final significant problem is that some people were unable to withdraw cryptocurrencies from their accounts when they were storing thousands worth of coins. Of course, no one would want this to happen to them.
You can visit Trustpilot if you want to find more customer LATOKEN reviews. Sadly, the most commonly heard phrase on the page is 'LATOKEN scam'.
How to Use the LATOKEN Exchange?
Let's take a quick look at how to start using LATOKEN exchange.
How to Register on LATOKEN?
Registering on LATOKEN will take only a few seconds.
Step 1: Go to the official LATOKEN website https://latoken.com/ and click on the Sign up button.

Step 2: Follow the instructions and provide the needed information, including email address and password that will be later used for your account.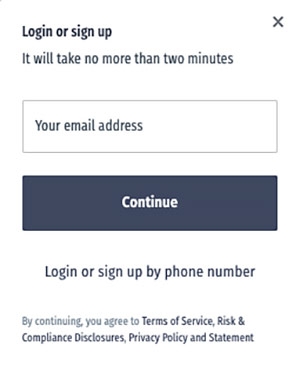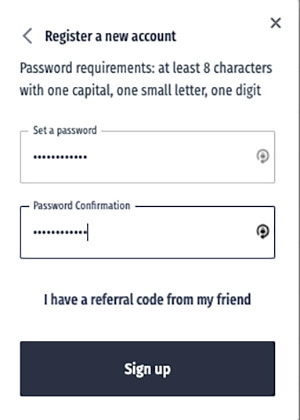 Step 3: Verify your account by providing the code that was sent to your email.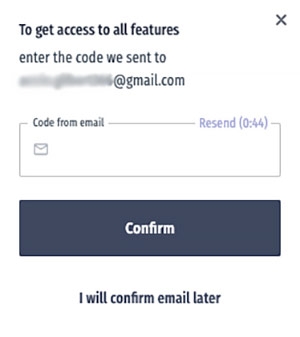 That's it, your account is already created!

Pros
A very well-known crypto exchange platform
More than 500 different cryptos available
Two-factor authentication
Main Features
Over than 100 different cryptocurrencies available
Strong security
Small withdrawal fees

Pros
Secure and reliable
Low fees
A good amount of fiat currencies accepted
Main Features
Reputable exchange
Multiple fiat currencies are accepted
Relatively low trading fees

Pros
Anonymous trading
Secure
Supports a variety of cryptocurrencies
Main Features
Easy to use
Low fees
Good security
Conclusions
As promised at the very beginning of this LATOKEN review, I've provided the information not only about the company but also about the cryptocurrency exchange platform itself.
Some of the most exceptional LATOKEN features are that the platform supports more than 250 cryptocurrencies, focuses on security, and has a clear interface.
On the other hand, there are many negative customer LATOKEN reviews towards the platform, many people claim that it's a scam and they've experienced issues when withdrawing money, others said that their assets simply disappeared and customer support ignored them.
That said, take every aspect into account before deciding if LATOKEN exchange is suitable for your needs.
The content published on this website is not aimed to give any kind of financial, investment, trading, or any other form of advice. BitDegree.org does not endorse or suggest you to buy, sell or hold any kind of cryptocurrency. Before making financial investment decisions, do consult your financial advisor.
About Article's Experts & Analysts