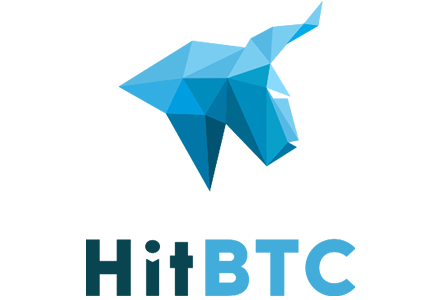 Since cryptocurrency popularity is growing you can find such a variety of platforms that allow you to buy, sell and trade cryptocurrencies. While having more options is a good thing, you might also encounter some issues when choosing a cryptocurrency trading platform for your needs.
Today, I'll introduce to you HitBTC, one of the better-known crypto exchange platforms where you can buy and sell Bitcoin, Ethereum, Litecoin, EOS and multiple other cryptocurrencies.
In this HitBTC review, you'll find out about HitBTC security, its pros and cons, fees, supported coins, and payment methods. What is more, at the end of this review, I will show you how to sign up for HitBTC and start using this platform. If you'd like to use some better alternatives, though, make sure to check out Binance or Coinbase!
Without further ado, let's jump to HitBTC review and find out more about this cryptocurrency exchange.
Pros
Low trading fees
Strong Security
800+ trading pairs
Demo account
Cons
Not the best customer support
Quite a long verification process
HitBTC Review: Introduction to the Company
HitBTC is one of the popular European bitcoin exchange platforms that was founded back in 2013 and started with a 6 million USD Venture Capital investment. The company behind HitBTC is called Ullus Corporations.
HitBTC allows you to trade the most popular cryptocurrencies and widespread fiat currencies, including USD and EUR. The main company's goal is to introduce crypto traders to the most advanced technologies.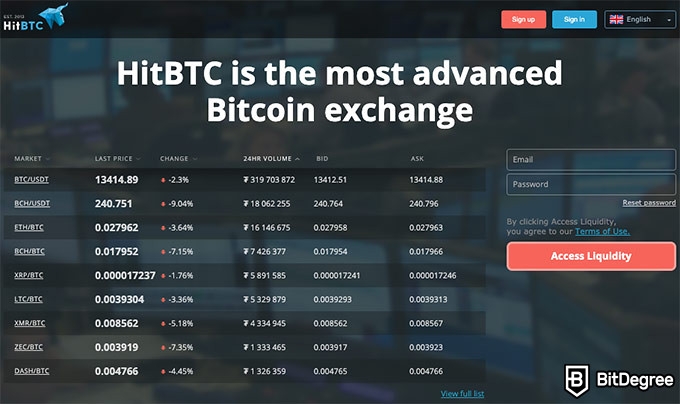 Let's move further to find out whether or not the company manages to achieve its main goal and how good the services they provide actually are.
Latest Binance Coupon Found:
CLAIM $600 BONUS
Exclusive $600 Binance Offer
Don't miss this limited-time deal that's only available for our readers. Follow the Binance referral code link & receive up to $600 in rewards and bonuses!
Expiration date: 08/06/2023
7,847 People Used
Only 49 Left
HitBTC Review: PROS
Before beginning with the pros of this HitBTC review, I would like to pay your attention to a few aspects.
While HitBTC has multiple features and functions, we'll be focusing only on the most important crypto side of things that will help you to decide whether this exchange is suitable for your personal needs.
Now that this is clear, let's begin this review from the positive aspects and find out is HitBTC legit.
800+ Trading Pairs
When deciding which crypto exchange platform to use, there are multiple aspects to take into account. Some people consider fees as one of the most crucial factors, others pay attention to security (that's a must!), however, a significant part of individuals make sure that a platform supports specific cryptocurrencies that they prefer trading in.

While some platforms support up to 10 cryptocurrencies, others can support hundreds and even more. Needless to say, the more options you get, the better it is.
Now, what about HitBTC?
HitBTC supports a huge number of cryptocurrencies. You can choose from more than 380 cryptocurrencies and over 800 crypto pairs. That being said, even if you're a fan of less popular coins, the chances of finding them on HitBTC are truly high. Multiple HitBTC reviews can confirm that.
Some of the supported HitBTC coins include:
BTC
ETH
XRP
USDT
BCH
LTC
ADA
~380 others
The available trading pairs include:
BCH/BTC
BCH/USDT
BTC/USDT
ETH/BTC
LTC/BTC
~800 others
As you can see, HitBTC exchange is truly extensive and provides you with the ability to trade multiple cryptocurrencies, even less popular altcoins.
Secure Platform
If you're still a newbie in the crypto world and do not know which aspects matter when choosing a crypto exchange platform, I can help you.
Security always comes first. It doesn't matter if a platform is easy to use, has low fees and other exceptional features if your account can be hacked at any second, leaving you empty-handed.
This shouldn't happen when using HitBTC as it's one of a few crypto exchange platforms that's never been hacked. This has to do with the fact that the platform comes with multiple security measures that include:
Termination of all sessions. HitBTC has the "Terminate all sessions" button that, when clicked, will immediately log out everyone, except you, of your account. This way, you'll be able to terminate all the potential threats immediately.
Email notifications about new IP logins. If someone logs into your account from a new IP address, you'll be immediately notified about that via email.
Automatic logouts. You can go to the settings page and enable automatic logouts. Don't forget to choose a preferred time period after which you'll be automatically logged out, for example, 1 day, 2 days, etc.
Whitelisting withdrawal addresses. This is one of the best security features when it comes to HitBTC exchange. You can whitelist the addresses to which your funds can be withdrawn. This means that even if your account and email are compromised, you stay protected.
Two-factor authentication. This is one of the most common security features when it comes to top-tier crypto exchanges. It's an extra layer of security added to your account.
If you want your account to be extremely secure make sure to create a strong password. Also, it's recommended to have a dedicated email account for trading and keep your coins in secure cryptocurrency wallets. The most recommended cold wallets include Ledger and Trezor. The reason why they're so secure is because your private keys are stored offline.
Thus, based on all the security features that HitBTC provides, it would be fair to say that this crypto exchange can be recommended for its robust security.
Low Trading Fees
I bet that the majority of you were looking for a HitBTC exchange review because you wanted to make sure that this platform is legit and suitable for trading. You already know that it's reliable, however, there are other aspects that matter.
Now, when it comes to trading, one of the aspects that might influence your decisions on which of the platforms to choose is trading fees. If you're into daily trading this is especially important to you.
HitBTC offers some of the lowest fees in the market. Regular users pay a fixed amount - 0.1% maker fee and 0.2% taker fee. However, what you should know is that the higher amounts you trade, the lower your fees will be.
As you can see in the picture below, starting from Tier 9, you will be paid 0.01% back of the trade that you make. That's not something that many other platforms can offer.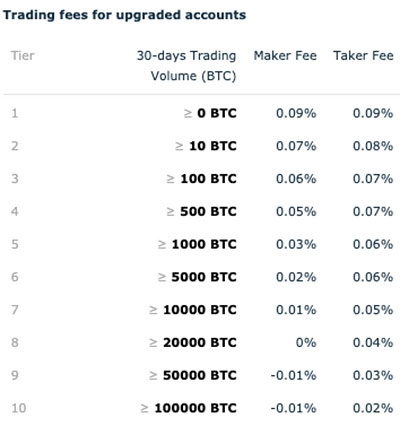 The system will be calculating your trading volume for the last 30 days and determine the fee rate for your account every day. That said, it encourages you to trade even more.
Demo Account
Trading is not as easy as it might seem in the first place. If you haven't done that before, you could make trades that would bring you huge losses. To avoid that, it's important to figure out how the platform works first.
In most cases, it's recommended to watch some tutorials or simply start trading small amounts that you wouldn't be afraid of losing. However, when it comes to HitBTC, you can have a full experience without the need to risk anything. It's all because HitBTC has a Demo account.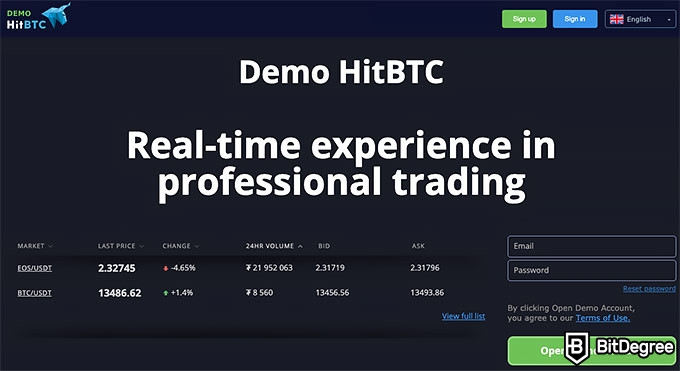 The Demo account is suitable for beginners who want to have a real-time experience in trading. It's all for educational and training purposes. That being said, you can credit yourself with a test fund and apply different strategies when trading.
The Demo account can be used completely free, without any real investments, making it a perfect place for training, figuring out how the trading works and deciding if the platform is suitable for you without the need for multiple HitBTC exchange reviews.
Hence, if you want to have a real trading experience without risking anything, you should definitely give it a try.
Mobile App (Soon Available)
All traders will be happy to hear that HitBTC is developing a mobile app for iOS and Android devices that you can download on Google Play Store and Apple's App Store.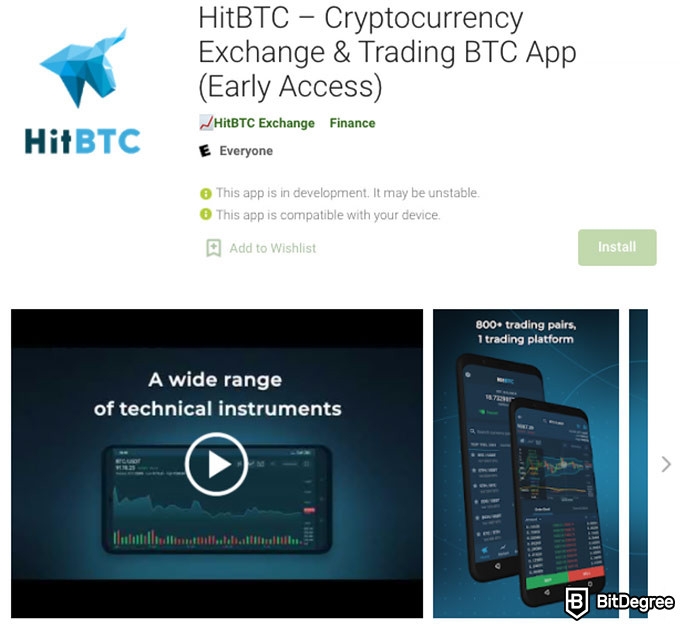 Now, while HitBTC mobile app is available, it's still in a development stage, meaning that the app is not stable and you might experience certain issues when using it.
That being said, it's recommended to wait for the app to be completely developed in order to have a full experience.

Did you know?
HitBTC Review: CONS
Since we're already done with the positive aspects of this HitBTC review, it's time to jump to the less pleasant part and discuss what this crypto exchange is missing. Remember, though - if you'd like to check out some better alternatives, feel free to visit Coinbase or Binance.
Not the Best Customer Support
The very first aspect that multiple HitBTC reviews distinguished is the fact that this crypto exchange has poor customer support.
Even though the company claims to provide you with customer support that will be there for you 24 hours per day on its homepage, you'll be able to find a bunch of negative reviews online that refer to unhelpful HitBTC customer support.
I have to say that is quite disappointing as no one will be there to help you in case you'll be having any issues when creating your account, verifying your identity, trading crypto, and so on.
Therefore, you should take this into consideration when deciding whether HitBTC is suitable for you.
Long Verification Process
While many of you would probably say that long verification is not a bad thing (and I would agree with you), I know that some people prefer platforms that allow registering and verifying an account in a few easy steps.
Now, since HitBTC has multiple security measures, it might take a while for you to create your account and verify identity. The information that you will have to provide includes your personal information, residential address, proof of identity, selfie and phone number.
While such a verification process is quite regular to all crypto exchange platforms that take security seriously, it might take a while to provide all the needed information.
You can jump straight to the further section if you want to find a step-by-step guide on how to register and create your account.
How to Use HitBTC Cryptocurrency Exchange?
Being aware of all the pros and cons you've probably already decided if this crypto exchange is suitable for you. Now, if you want to start using HitBTC right away, you should know how to register and deposit your funds. You'll find all the needed information on how to do that below.
How to Register on HitBTC?
Registering to HitBTC is super easy. Here's a step-by-step guide on how to do that.
Step 1. Go to the company's main page and click the "Sign Up" button that you will find in the top right corner of the page.
Step 2. Provide a valid email address and create a password (make sure it's secure).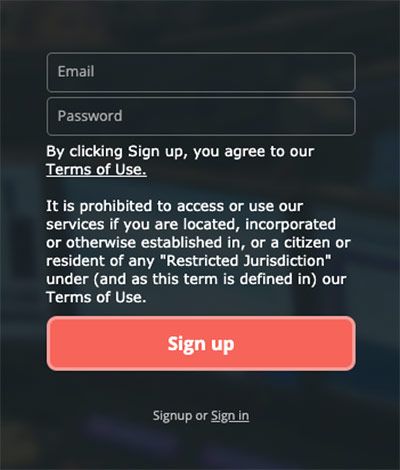 Step 3. Provide additional information, such as your residence country, full name and phone number.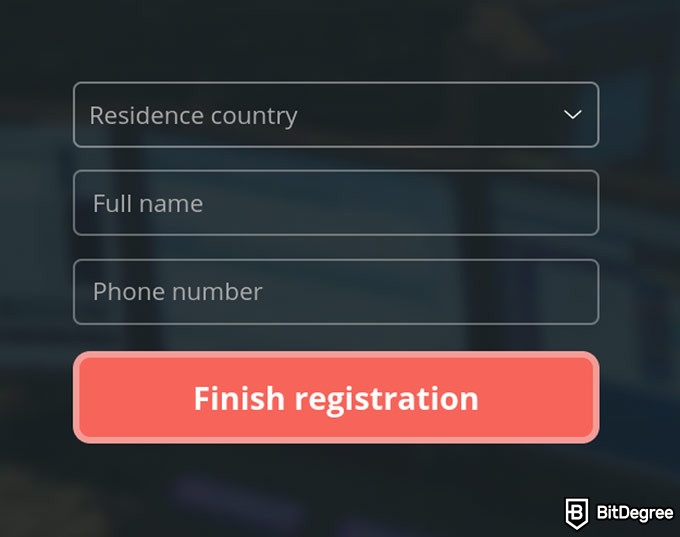 Step 4. Click "Finish Registration".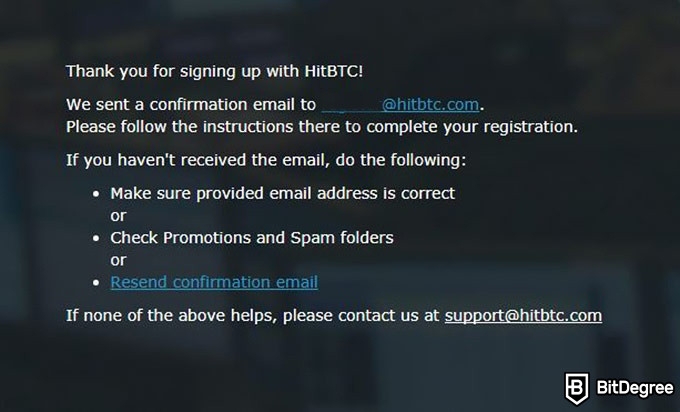 Step 5. Check your email address and click the confirmation link.
After completing these 5 easy steps your account is created.
How to Deposit Funds into Your HitBTC Account?
After creating your account it's time to start trading. However, first, you will need to deposit funds into your account. Let me explain how to do that.
Step 1. Go to your account page and click the green button that says "Deposit".

Step 2. Using the "Search" field that you'll find at the top of the page find the cryptocurrency and click the "Deposit" column. After doing that you'll have a generated wallet address.

Step 3. To initiate a transaction copy and paste your wallet address at a third-party service.
Step 4. For some cryptocurrencies, you will also need to copy and paste your payment ID that's also called "Destination Tag".
If you completed each of these steps you managed to successfully deposit funds into your HitBTC account.

Pros
A very well-known crypto exchange platform
More than 500 different cryptos available
Two-factor authentication
Main Features
Over than 100 different cryptocurrencies available
Strong security
Small withdrawal fees

Pros
Secure and reliable
Low fees
A good amount of fiat currencies accepted
Main Features
Reputable exchange
Multiple fiat currencies are accepted
Relatively low trading fees

Pros
Anonymous trading
Secure
Supports a variety of cryptocurrencies
Main Features
Easy to use
Low fees
Good security
Conclusions
Therefore, after this HitBTC review, it should be clear that it's a legit and highly-recommended crypto exchange platform.
HitBTC offers robust security measurements and will protect your assets even if your personal details, such as account information and email address, are compromised. What is more, it supports more than 380 cryptocurrencies, over 800 crypto pairs, and has low trading fees.
If you want to see how HitBTC works, you can take advantage of the Demo version that allows you to try the platform out completely free without actually investing anything.
However, you'll find that multiple HitBTC reviews distinguish the fact that the company's customer support is not the most helpful, and some users don't like a long verification process. If you're someone who'd prefer a better and more-established crypto exchange, make sure to check out Coinbase or Binance, and start your crypto journey today!
You should take each of the aspects into account and decide if HitBTC is suitable for you!
The content published on this website is not aimed to give any kind of financial, investment, trading, or any other form of advice. BitDegree.org does not endorse or suggest you to buy, sell or hold any kind of cryptocurrency. Before making financial investment decisions, do consult your financial advisor.
Leave your honest HitBTC review
Leave your genuine opinion & help thousands of people to choose the best crypto exchange. All reviews, either positive or negative, are accepted as long as they're honest. We do not publish biased reviews or spam. So if you want to share your experience, opinion or give advice - the scene is yours!