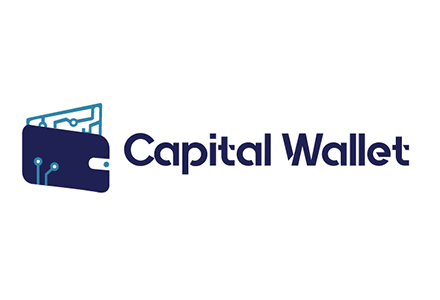 In today's rapidly evolving world of finance, the line between traditional and decentralized markets is becoming increasingly blurred. In the midst of this transition stands Capital Wallet, an innovative Australian firm that offers a crypto payment solution to businesses of all sizes. In this Capital Wallet review, we'll be taking a closer look at the platform in question.
Thanks to the effort put in by the team, Capital Wallet is quickly becoming the go-to platform for businesses oriented at everything crypto. Capital Wallet has quickly turned into what users refer to as a reliable, secure, and future-proof payment solution.
However, what really lies behind the string of impressive industry awards? What is Capital Wallet used for, really, and what are the benefits & shortcomings of this product that you should be aware of?
Well, that's exactly what we'll cover, in this Capital Wallet review!
Pros
Mandatory 2FA, MultiSig
A regulated, secure crypto exchange
Simple merchant sign-up process
Over 300 supported coins and tokens
Very simple to use
Send, accept, store, swap crypto payments
Cons
No mobile app
Not the best option for anonymity seekers
What is Capital Wallet?
Before we get into the actual pros & cons of the platform in question, let's first take a look at what is Capital Wallet, to begin with.
Capital Wallet is a fintech company based in Australia that offers cryptocurrency payment solutions to businesses. Yes, that's right - the company focuses on businesses, instead of retail users. In other words, it's a B2B-oriented service. The company was founded in 2019, and has since established itself as a reliable and innovative player in the rapidly growing world of cryptocurrency.
The core product of Capital Wallet is a payment gateway that enables businesses to accept and process cryptocurrency payments from their customers. The gateway is designed to be user-friendly and easy to integrate with existing websites & eCommerce platforms.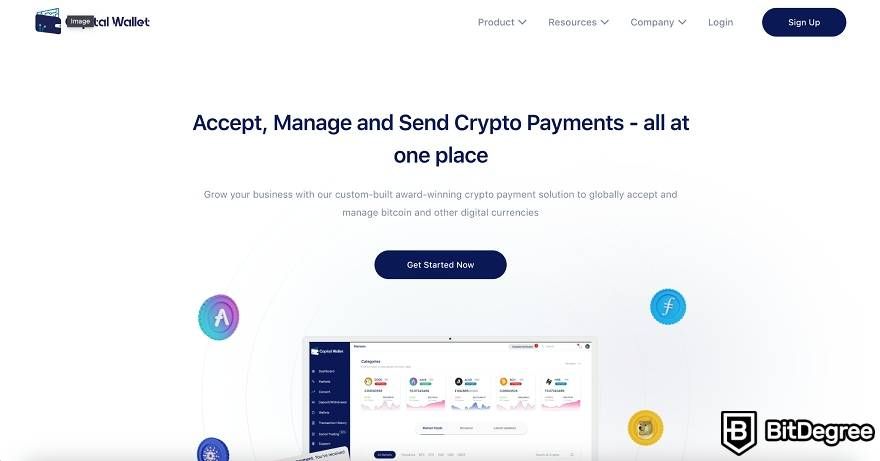 Additionally, some user Capital Wallet reviews will tell you that the company provides a range of value-added services, including real-time analytics and reporting, fraud detection, and chargeback management.
Capital Wallet's target market is primarily small and medium-sized businesses that want to accept crypto payments, as well as larger enterprises looking to integrate cryptocurrency into their payment systems.
The platform has actually managed to make a name for itself in the payment processing field, winning multiple awards in the process:
Most Outstanding Innovator In Crypto Payments - MEA at UF Awards Dubai 2023;
Best Crypto Solution for Payments award at Finance Magnates London Summit in November 2022;
Best Crypto Payment Solutions Provider award at Forex Expo Dubai in October 2022;
Best Crypto Solution for Payments award at iFX Expo Cyprus in June 2022.
Evidently, and in short, Capital Wallet positions itself as a well-developed, long-term player in the space. This is a sentiment echoed through multiple user Capital Wallet reviews, as well.
Latest Ledger Wallet Coupon Found:
100% FREE Shipping
For ALL Ledger Products
Purchase top-rated Ledger products and get it shipped to you completely for FREE, wherever you are! Take advantage of this limited-time offer now.
Expiration date: 02/06/2023
1,278 People Used
Only 72 Left
Capital Wallet Review: PROS
Let's start off this Capital Wallet review with some of the biggest features and benefits that the project in question has to offer, to all of its potential users. At the very top, naturally, you're going to find security.
A Security-Conscious Crypto Service
When you're looking through user Capital Wallet reviews (or any other crypto wallet reviews, for that matter), it's important to pay extra-close attention to the security aspect of the product, and how the brand behind the wallet deals with it.
I'm happy to say that, according to those same aforementioned user reviews, it would seem that anyone who's wondering "is Capital Wallet safe?" can rest assured - the team of experts behind the platform has implemented the most advanced security measures to ensure that your information stays safe and secure.
For starters, Capital Wallet employs 2FA - or, two-factor authentication. It's a pretty standard feature that everyone has come to expect out of crypto service providers, but it still works very well at preventing many scam / hacking attempts. You'll need to provide two different types of information to access your account, making it more challenging for unauthorized individuals to gain access.

Next, whether you'd use the Ethereum Capital Wallet, or store BTC, LTC, or any other supported crypto on it, you'll be happy to learn that the platform utilizes MultiSig addresses. This prevents any single individual from making unauthorized transactions, and all transactions require the approval of multiple parties (signatures).
Capital Wallet also offers IP white-listing, which means that you can specify the IP addresses that are authorized to access your account. This is an incredibly effective way to protect against cyber attacks, since it ensures that only those on your approved list can gain access.
Now, we should definitely address something that you'll find mentioned rather often, among different user Capital Wallet reviews - the fact that the wallet in question is regulated. Capital Wallet is registered with AUSTRAC (the Australian Transaction Reports and Analysis Centre), and with a few more robust regulatory bodies around the globe.

Being registered as a DCE (Digital Currency Exchange) means that Capital Wallet is a legitimate financial institution, and complies with all of the laws and regulations present within the country. This does, naturally, include KYC & AML, as well.
Learning about what is Capital Wallet, you will quickly notice that the legitimate nature of the product allows for it to operate in a legal green area, and avoid many potential issues that unregulated projects face. The latter is especially significant if you want to store and transact in crypto with peace of mind.
Cold storage, audits, top-tier data encryption methods - you can rest assured that Capital Wallet is equipped with the latest technology, and the strongest protection to keep your funds safe and sound. So, as far as the question of "is Capital Wallet safe?" goes, that should certainly answer it, at least to an extent!
Multiple Feature Support
For a pretty long time, most cryptocurrency wallets would offer their clients but a couple of features - the obvious crypto storage functionality, as well as the ability to send and receive crypto assets to and from different places.
As time went on, though, and the crypto industry advanced and innovated, many wallets expanded their service model, and became something along the lines of crypto hubs - places where you could take part in most of the key crypto services.
Reading through user Capital Wallet reviews, it's pretty clear that this particular wallet isn't much different.
Indeed - the Capital Wallet crypto project offers multiple different features to its clients! That is, in addition to your traditional crypto storage.
For starters, Capital Wallet features exchange functionality. So, you are able to exchange, swap, accept, and withdraw different cryptocurrencies, from within the wallet. No need to venture off on a separate, dedicated exchange, and worry about managing multiple accounts, all at once.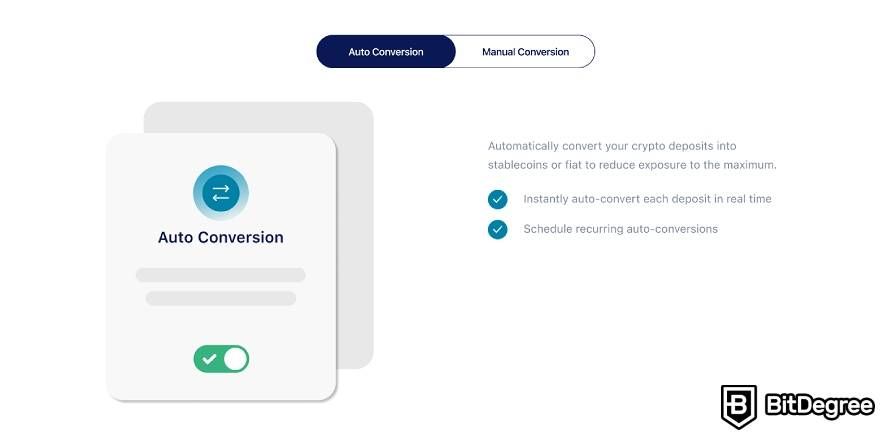 Auto-conversions are a big part of the aforementioned exchange functionality. They allow you to easily switch between currencies depending on your needs - in other words, you'll be able to convert crypto assets to traditional currencies, for everyday use.
Following that, there's also an auto-payout function for merchants who want complete control over their earnings. Autopay allows for payments to be automatically transferred to your designated account, at regular intervals.
Then, granted that the Bitcoin, Litecoin, and Ethereum Capital Wallet (as well as that which supports other cryptos, as well) is a regulated product, it offers something quite out of the ordinary - a crypto payment-acceptance feature, for institutional clients.
Essentially, Capital Wallet would enable your business to accept crypto payments, in a regulated and law-abiding manner. This is a big deal, since, if you're a business owner, and want to deal with crypto, you probably know just how much of a headache this topic can really be!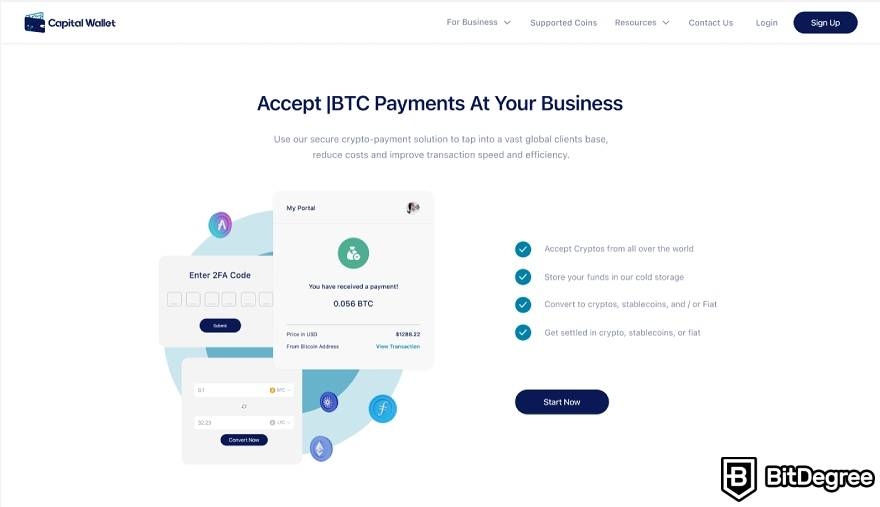 To make that heading as small as possible, there's also a crypto payment API integration, which allows you to accept those payments with ease and efficiency.
Capital Wallet states that their API is highly customizable, allowing you to tailor the payment experience to your unique business needs. The integration process is very simple, as well, so you can start providing a personalized payment experience for your clients pretty quick!
Furthermore, Capital Wallet offers CMS plugins that allow you to seamlessly integrate your business with the most popular eCommerce platforms. The plugins are pre-built, which saves the user both time, as well as money.

To top that all off, you then have the dashboard - the main area of the platform in question. On it, you'll be able to manage your payments and monitor transaction history, in a hassle-less manner.
Find yourself stuck? No worries - there's a dedicated, 24/7 support team available to help you out, at any point in time!
All things considered, there's a lot to discover, when you're learning about what is Capital Wallet! The feature variety makes the product in question suitable for most types of crypto-enthusiastic businesses out there.
Hot Crypto Storage - The Pro-Side
Now, this is one of the more interesting points to cover, in regards to this particular review. It's something that is often a bit two-sided, and it being a pro or a con depends solely on your point of view of the matter.
Given that's the case, we'll cover this aspect from both sides - it being a benefit, as well as a shortcoming. Let's start with the former, and then we'll talk about the latter later in the Capital Wallet review.
So, yes - the product in question is a "hot" cryptocurrency wallet. What this essentially means is that the wallet is a software-based platform that maintains a constant, steady connection to the internet.
For comparison, cold wallets are hardware devices - ones that you can disconnect from the web, so there's no internet connection maintained.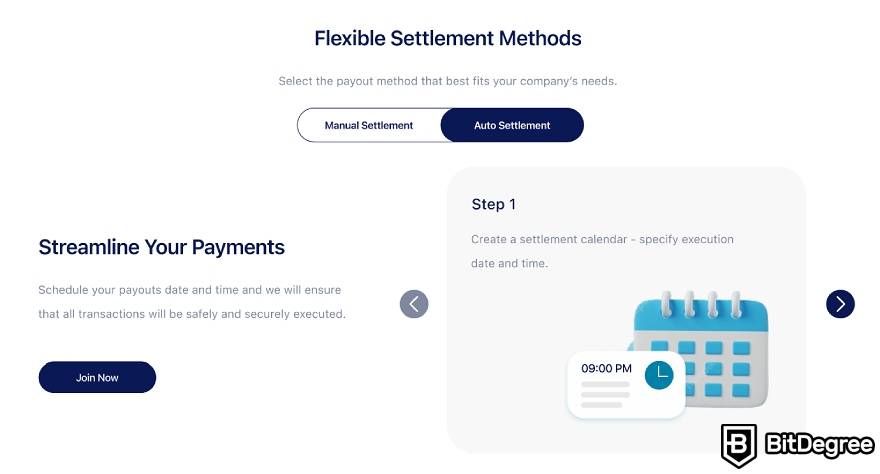 Sticking to the positive sides of the matter, hot wallets are considered to be the most convenient of the lot. They are actually often used in conjunction with hardware wallet devices, especially by people who tend to be active on the market, and exchange, buy, and sell cryptos frequently. Allow me to explain.
Hot wallets can be anything from a browser extension, all the way to a dedicated app on your phone or computer. Thus, accessing a hot wallet, and performing actions within it (making a transaction, sorting your crypto assets, or even simply viewing your portfolio) is a process of a few clicks.
On the flip side, with hardware wallets, it's usually a bit more complicated - you need to connect the actual, physical wallet to your computer, wait for it to load, and so on. Naturally, it's nothing *that* cumbersome - however, if you would need to do this ten times per day, you would likely get pretty annoyed, fast.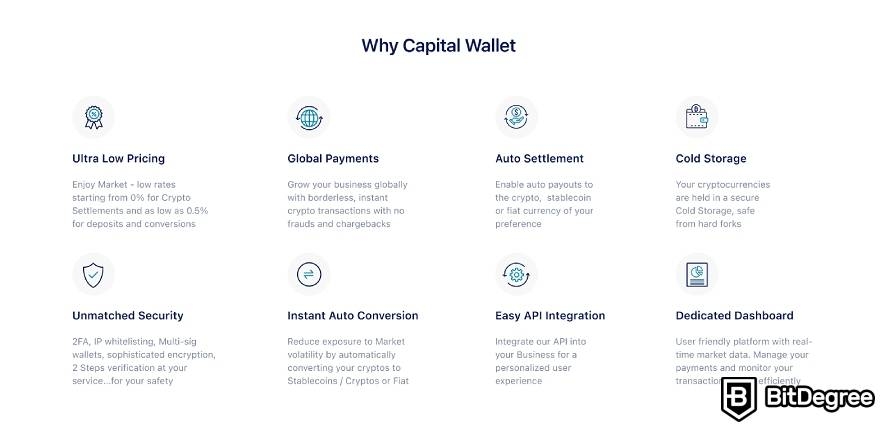 Multiple user Capital Wallet reviews praise the product for how seamless it is to connect to your wallet, and start using it. If your business deals with crypto on a constant basis, and convenience is a huge factor for you, then this is great news!
As mentioned earlier, though, many people choose to get the best of both worlds - utilize a hot wallet for their daily transactions, and keep the majority of their funds in a cold wallet. And, even tough Capital Wallet utilizes cold storage (it stores the majority of user funds offline), I'm referring to a personal cold wallet that you yourself would own.
All in all, if you're a business owner who's looking for a reliable crypto custody service that would also offer high levels of convenience, user Capital Wallet reviews will point you to this product!
Decent Exchanging and Swapping Fees + Many Supported Assets
Earlier in the Capital wallet review, we talked about the different features that are available with the platform in question. One of the main of these features was a built-in exchange service - an area where you could accept and convert all the major cryptocurrencies and stablecoins of your choice.
That's cool and all, but there's something that should be addressed, whenever talking about crypto exchanging functionality - fees.
Needless to say, this is a hot topic when it comes to cryptocurrency payment solutions. That's why it's important to take a closer look at the Capital Wallet fees - after all, you want to know that you're getting a fair deal when it comes to transaction processing.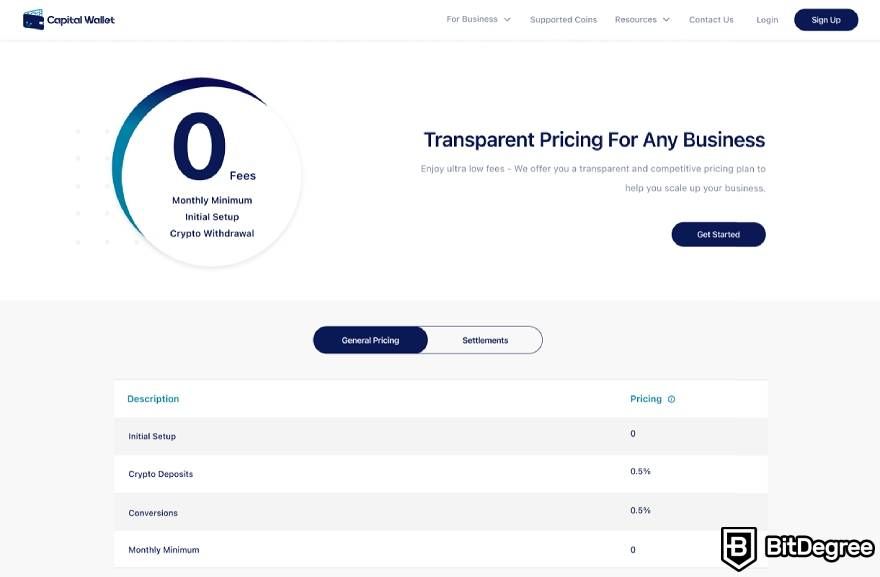 So, what can you expect when it comes to the Capital Wallet fees? Well, the good news is that the company offers a competitive pricing of 0.5% per transaction, that's in line with industry standards. While fees can vary depending on the specific services and withdrawal methods you're using, Capital Wallet strives to keep its pricing transparent and predictable.
Static fees are a pretty common occurrence, and while they're often subject to scrutiny (variable fees are usually better for long-term traders and investors), it all depends on the numbers. When you take into account all of the details surrounding the platform in question, and all of the different perks and benefits that it has to offer to the user, 0,5% is definitely still very approachable!
Decent fees don't really mean anything if there's no cryptocurrency support, however. Thankfully, this is far from being the case with Capital Wallet! While this is something that you'd come to expect, granted that it's a crypto wallet product that we're talking about, it's still great news, nonetheless!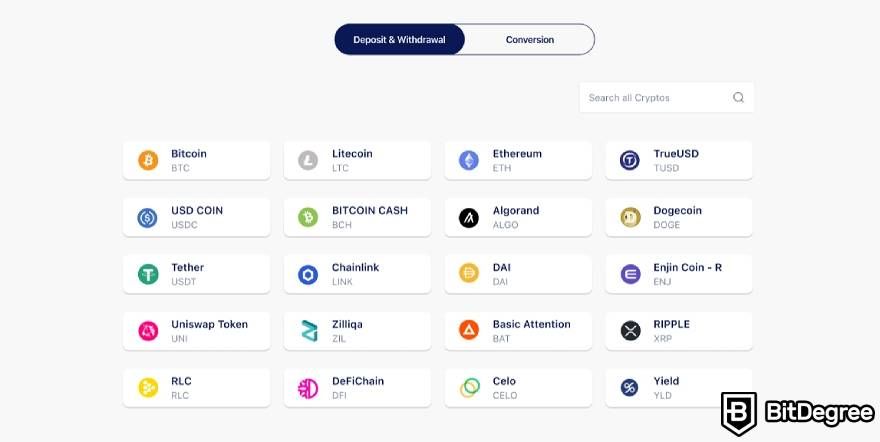 To be a bit more specific, and as mentioned earlier, Capital Wallet supports all major cryptocurrencies and stablecoins, with that number growing constantly. The list will include all of the major crypto assets that you can think of (Bitcoin, Ethereum, Litecoin, etc.), as well as many of the more-niche coins & tokens, as well.
This is definitely awesome news, as far as this Capital Wallet review is concerned! Whether you're a beginner in the field, or a professional crypto business owner, you should be able to find the assets that you're looking for (unless you're after some niche crypto tokens, that is).

Did you know?
Capital Wallet Review: CONS
Now that we've covered all of the main benefits and features of the product, we do still need to also take a look at some of the less-positive user Capital Wallet reviews, and the potential shortcomings that they mention.
Given the unique and interesting nature of this particular crypto wallet, it's worth mentioning that the bigger outlined shortcomings are quite up for debate - as you'll see in a second, they can be interpreted as both shortcomings, as well as actual benefits, for some users.
Anonymous Usage - Unavailable
Anonymity is one of the core pillars of blockchain technology, and the world of crypto, as a whole. As you can imagine, though, it's also a huge point of contention, as well - while there's one group of people who are very pro-anonymity and decentralization (these concepts go hand-in-hand), there are others who understand that there needs to be a regulatory compromise, in order for crypto to achieve true mass adoption.
This is where strictly-regulated services such as Capital Wallet come in, as well. As you can imagine, not everyone is going to be very happy about the regulated, anonymity-second outlook of the platform.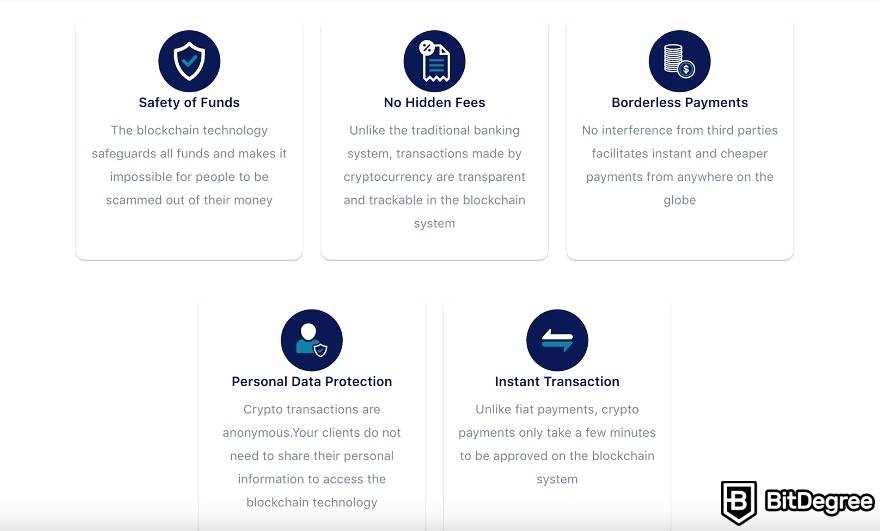 Indeed - if you're looking for a decentralized crypto wallet that you could use in a completely anonymous manner, Capital Wallet might not be the best pick for you. While the majority of the wallet's potential users probably won't have any issues with revealing some of their private information, if you have strong beliefs in this regard, there are alternative options out there.
Once again, however, I'd like to stress that this isn't necessarily a shortcoming - at least not to most potential clients of Capital Wallet. In fact, with proper regulatory frameworks adding to the legitimacy and security of crypto services, most people would probably opt to view this as a benefit, if anything!
Hot Crypto Storage - The Con-Side
Remember when, earlier in the Capital Wallet review, we talked about the product being a "hot wallet", and how it's a huge benefit for anyone who's looking for convenience? Well, at the beginning of that chapter, I've also mentioned that opinions regarding this aspect differ, and that there are businesses that aren't too keen on using a "hot" crypto wallet.
Why is that the case? Well, it really all boils down to the question of is Capital Wallet safe - specifically, the fact that cold wallets will theoretically always be safer than hot ones, due to their lack of a maintained internet connection.
On top of that, whenever you're using a centralized hot wallet, you don't actually own your private keys - instead, they are kept by the company that owns the wallet.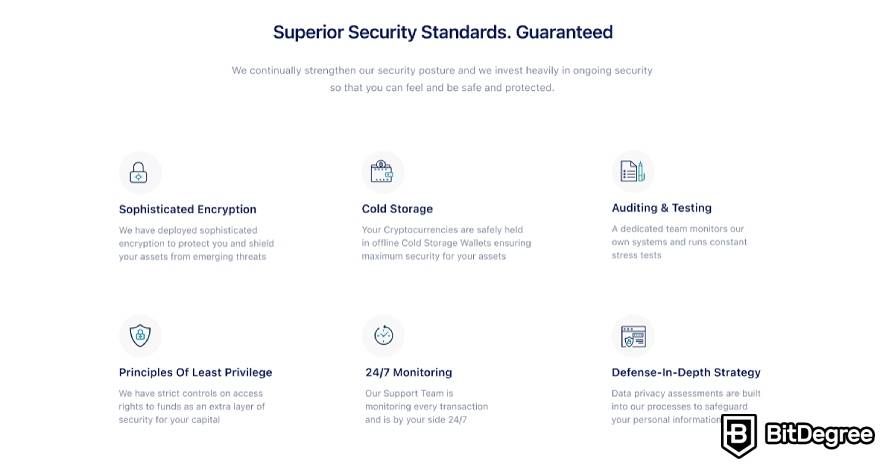 This is, admittedly, a really tricky topic to deal with, simply due to the fact that there are many differing opinions on the matter. It's worth pointing out that, yes - if you don't own your private keys, your crypto is at risk of being frozen, stolen, or you simply not being able to reach and withdraw it.
However, while these things do happen, it's really important to emphasize that they're going to involve very specific situations - ones that have nothing to do with this Capital Wallet review. So, for example, if you steal crypto, and transfer it to a centralized wallet, law enforcement could come in and tell the company behind the wallet to freeze your accounts.
Or, if you register with some super-shady wallet brand, they turn out to be scammers, and run off with your crypto assets - that could happen, as well! That said, as you can see, these are some pretty specific situations.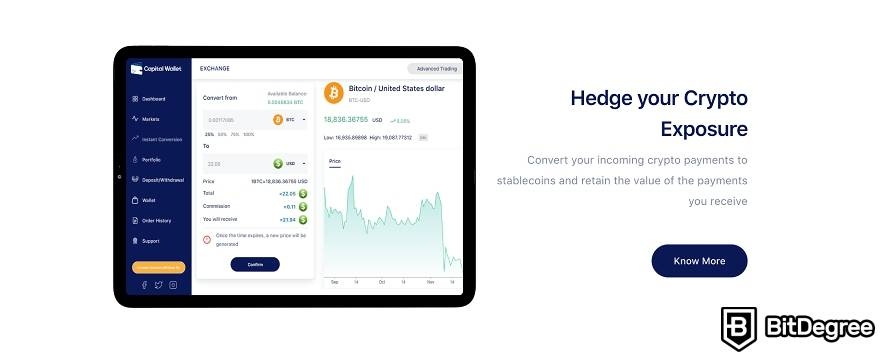 Talking about what is Capital Wallet, we've already established that the product in question offers top-tier security, and is fully audited and compliant with relevant regulatory frameworks. It's a service trusted by countless numbers of users, after all!
So, in essence, unless you're extremely paranoid about your cryptocurrencies getting stolen, Capital Wallet being a hot crypto storage product shouldn't really be a big deal.
Furthermore, don't forget - you can always use Capital Wallet for your daily crypto business activities, while storing the vast majority of your cryptos in a personal hardware device. It doesn't need to be all black and white, and it usually never is!
How to Use Capital Wallet?
As a final point of this Capital Wallet review, I'd like to walk you through the registration and first-boot processes of the project in question. We'll keep things short and simple, so that you can develop a better idea of what to expect out of your first time using the Capital Wallet crypto platform!
Step 1: Starting off with the registration on the Capital Wallet, navigate to the company's official website, and click the big, blue "Sign Up" button at the top-right corner of the screen.

Step 2: You will now be prompted to enter and confirm your email address, as well as create a strong, custom password. After that, you will also be asked to set up your 2FA, via Google Authenticator.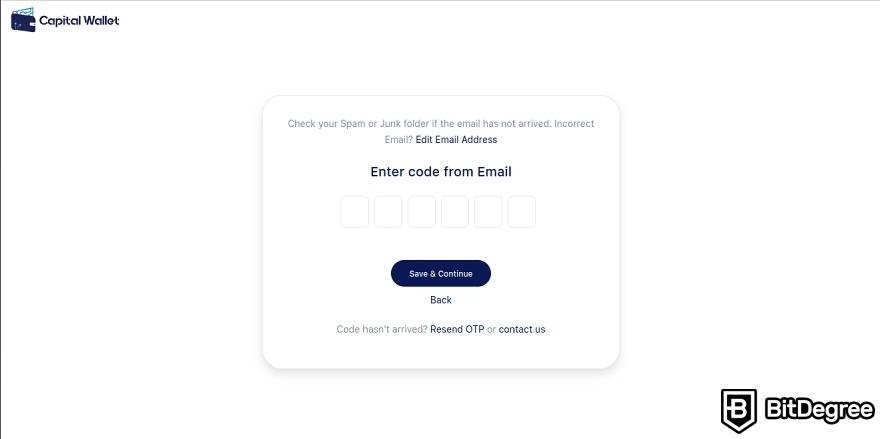 Step 3: After adding the Google Authenticator code, you will then be asked to enter your company information, including its legal name, office address, business activity, and tax ID.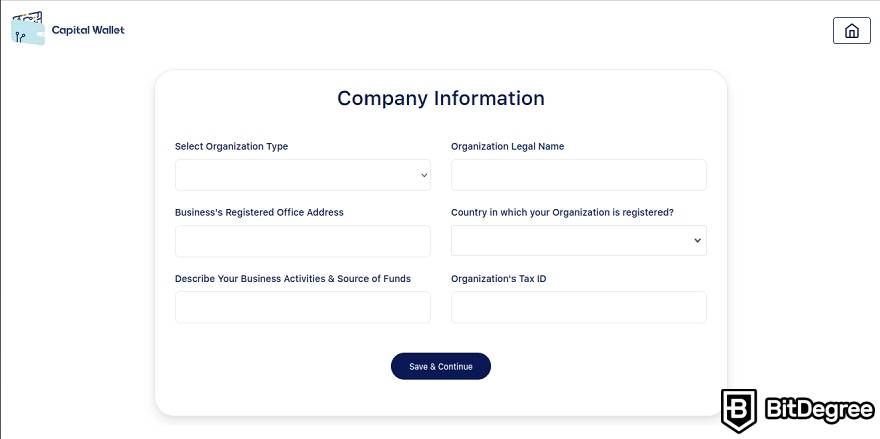 Step 4: Following that, there's also the question of authorization representative details - typically, this includes information about the business owner.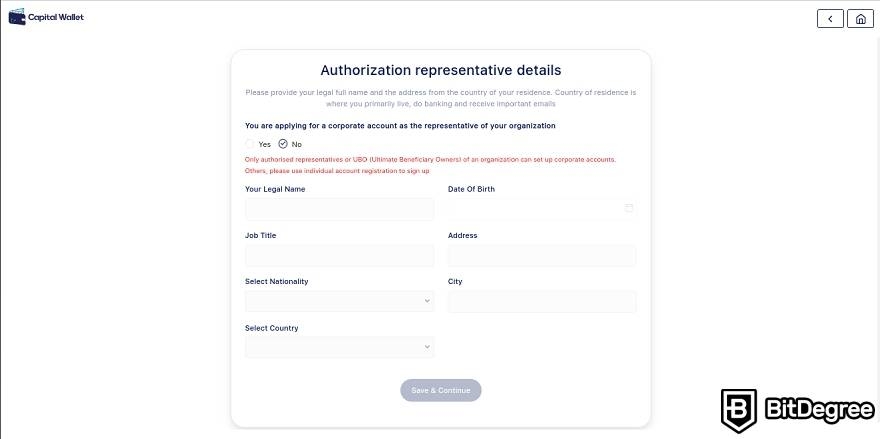 Step 5: Then, you will need to upload all the relevant documents related to your business.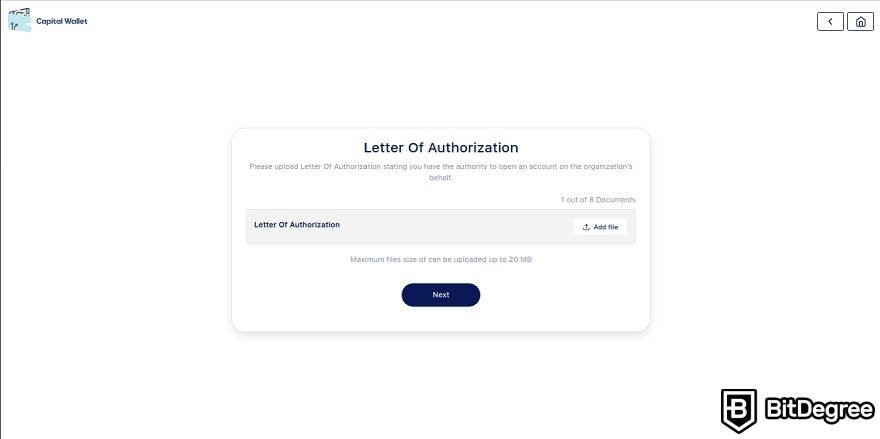 Step 6: Finally, once all business documents are submitted, you will be directed to the Capital Wallet dashboard. That's it - you're in!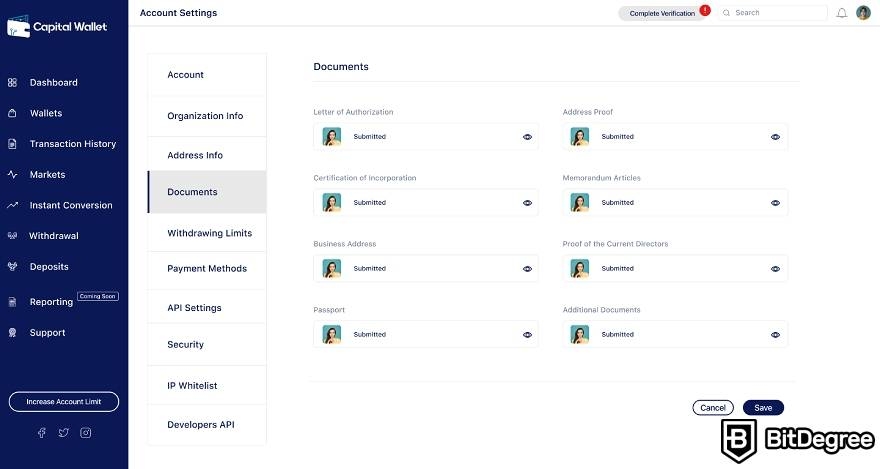 The registration is rather quick, and hassle-free. You are now able to explore the features available with Capital Wallet, and start transferring your funds, if you so wish to.
The wallet interface is very self-explanatory - you will find all of the key features on the left side, and will be able to navigate to the sections that interest you by clicking on them. Conversions, order history, portfolio stats, deposits, withdrawals, and more - everything is available on the left-side menu!
Overall, the Capital Wallet crypto dashboard is intuitive to use, and, as we've established earlier in the review, very user-friendly. No matter if this is your first time using a crypto wallet, or if you're already used to hot wallet interface designs, you should have a pretty enjoyable experience, browsing through all of the menus available with the wallet in question.

Pros
Can be managed from mobile device
Very secure
Supports more than 1500 cryptocurrencies

Pros
Top-tier security
DeFi app support
Store over 5500 assets, install up to 100 apps simultaneously
Conclusions
Capital Wallet is a unique, interesting crypto storage solution. The most interesting features of this particular wallet include the fact that it's strictly regulated, as well as its integration solutions via API, making it stand out from the competition. Whether you deal with an eCommerce store or a brick-and-mortar business, the platform's clean UI and simple payment processes are definitely noticeable.
So - judging by all of the user Capital Wallet reviews found online, is the wallet worth checking out? I would certainly say so! If you're looking for reliability and security, and aren't afraid of regulations and KYC, then Capital Wallet could prove to be one of the better hot wallets on the current market!
Convenience, feature variety, top-tier security, availability of all major crypto assets (including stablecoins), and so on - the wallet in question comes equipped with everything that a potential user might need to start their crypto-related business journey, or to enhance one that they're currently on.
All of that being said, thanks for reading my Capital Wallet review, and until next time!
The content published on this website is not aimed to give any kind of financial, investment, trading, or any other form of advice. BitDegree.org does not endorse or suggest you to buy, sell or hold any kind of cryptocurrency. Before making financial investment decisions, do consult your financial advisor.
Leave your honest Capital Wallet review
Leave your genuine opinion & help thousands of people to choose the best crypto wallet. All reviews, either positive or negative, are accepted as long as they're honest. We do not publish biased reviews or spam. So if you want to share your experience, opinion or give advice - the scene is yours!