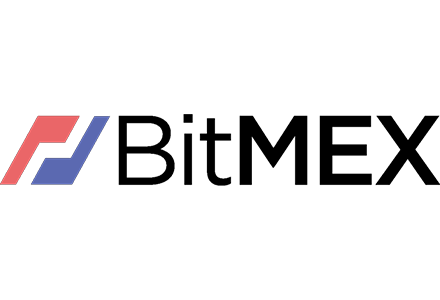 BitMEX is quite a popular cryptocurrency derivatives trading platform, however, since there are multiple recommended platforms that offer similar services, this BitMEX review will reveal to you how good this crypto derivatives platform actually is.
The review will cover all the necessary and additional information about BitMEX, including the details about the company, security, trading fees, aspects regarding BitMEX leverage and futures trading as well as supported countries, and even more.
Before moving further, you should know that BitMEX is not a regular crypto exchange, it focuses on leveraged trading and derivatives, meaning that it's recommended for more experienced traders rather than beginners. Keep this in mind when choosing the best crypto exchange platform for yourself, whether it be Binance, Coinmama, or else.
Without further ado, let's see how everything started.
Pros
Strong security
Advanced features
Low fees
Cons
Doesn't support fiat currencies
Not recommended for beginners
Deposits and withdrawals only in Bitcoin
BitMEX Review: Find Out More About the Company
BitMEX was founded by Arthur Hayes, Ben Delo, and Samuel Reed, in 2014. They had financial support from friends and family that helped them to start such a successful business.
Interesting fact. In 2018, Ben Delo became the first billionaire from Bitcoin in the UK. He was also the youngest billionaire that managed to achieve this on his own.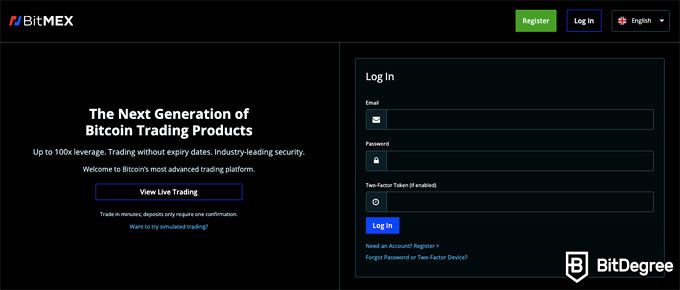 Sounds like a dream come true, however, that's not what happened afterward. In 2019, cryptocurrency critic, Nouriel Roubini, framed the company of illegal activities, such as the fact that there was too much risk involved for customers when trading.
A few days after this happened, Bloomberg reported that BitMEX is now being investigated by the Commodity Futures Trading Commission (CFTC), which regulates all the US crypto derivatives markets. The main goal of the investigation was to find out whether or not any rules were broken by allowing Americans to use the platform.
What happened afterward is something that wasn't expected, to say the least. On October 1, 2023, the founders of BitMEX were all accused of the U.S. Bank Secrecy Act and a conspiracy to break the law. This was all due to the fact that they failed to implement the measures against money laundering. At the moment, only Reed is arrested.
Now, BitMEX cryptocurrency derivatives platform is owned by HDR Global Trading Limited that has offices worldwide, however, is registered in Seychelles (an island country in the Indian Ocean).
This information about BitMEX exchange might scare you off of using this platform. If that's the case, you can always check out other top-rated cryptocurrency exchanges that offer robust security. Such providers include Binance and Coinmama.
However, if you're still interested in finding out more about the platform, then continue reading this BitMEX review.
Latest Binance Coupon Found:
SECURE $600 BONUS
Binance Holiday Sale
Sign up on Binance and claim up to $600 worth of rewards for completing simple tasks during this Binance Holiday Sale. Use our Binance referral code (49316610) to activate the offer while it's still valid!
Expiration date : 10/12/2023
2,935 People Used
Only 67 Left
BitMEX Review: PROS
Let's begin with the positive aspects of BitMEX exchange and focus on the strongest features of the platform.
Strong Security - Assets are Kept in Cold Storage
When it comes to any service that requires investment and stores your private information, it's crucial to pay attention to security measurements and find out whether or not it's actually safe to use. That's the main reason I would like to begin this BitMEX review from security.
BitMEX seems to be a truly secure platform that takes your safety and privacy super seriously. That includes wallet, system, trading and communication security.
Let's begin with wallet security. BitMEX features a multi-signature deposit and withdrawal system that will require you to undergo multiple verification methods to complete any of these actions.
What is more, BitMEX keeps all the addresses in a cold wallet. If you're not aware yet, cold wallets are considered to be among the most secure storage for your cryptocurrencies. The reason for that is because your private keys are stored offline, so even if your personal information is compromised, a hacker won't be able to access your wallet.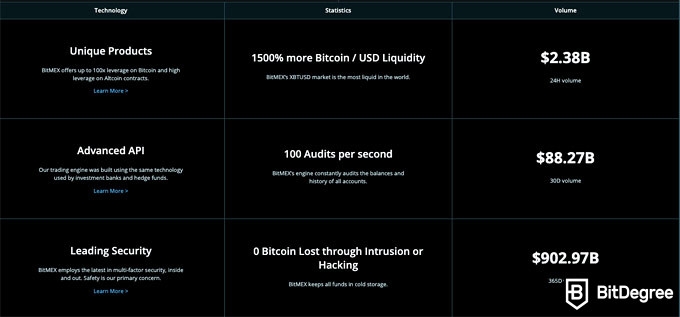 On the same note, I would like to recommend getting secure hardware (cold) wallet and transfer at least part of your assets to it. It's always a better idea to keep at least some of your crypto separately. As for the most recommended hardware wallets, you should definitely check out Ledger Nano X and Trezor Model T, users really appreciate them, not only due to security but also usability and design.
Now, moving to the BitMEX system protection, the company uses Amazon Web Services' top-tier security. What is more, all the BitMEX systems demand multiple authentication forms.
Talking about trading engine security, the company uses the same database and toolset that some of the most trusted banks are using in trading applications. After you make an order, trade, deposit or withdrawal, BitMEX makes a full risk assessment on each of them.
All things considered, if you were concerned about BitMEX exchange security, there's completely nothing to be worried about. Of course, if you want to take additional security measures, you should definitely get yourself a hardware wallet. That's something that all BitMEX reviews should mention.
Latest Deal Active Right Now:
$300 + 40 DOGE BONUS
Huobi Black Friday Limited-Time Period
Huobi Black Friday & Cyber Monday 2023 period offers great bonus for new users - sign up & earn up to $300 + 40 DOGE bonus!
Expiration date : 10/12/2023
3,817 People Used
Only 31 Left
Futures Contracts and Other Services
As already mentioned at the beginning of this review, BitMEX is not like a regular crypto exchange because it offers multiple other services and features, such as futures contracts, perpetual contracts, margin trading, and even more.

Let's take a look at each of these services offered by BitMEX separately.
Understanding how BitMEX futures work is quite easy. It's when you make a deal to buy or sell a specific asset, for example, Bitcoin or Ethereum, at a certain price and at a specific time in the future. That deal or agreement is called a "futures contract". It's quite risky because the cryptocurrency market is so volatile and you can never know when prices will increase or drop instantly. That's why you can either gain quite a generous amount, or lose (of course). Make sure that you know what you're doing before making such agreements.
BitMEX Perpetual Contracts
When it comes to perpetual contracts they're the same as futures contracts, except for the fact that there's no specific time in the future when you have to sell it. That said, when you purchase such a contract, you can keep it as long as you want and no one will tell you when to sell it.
BitMEX Margin trading is a type of trading method when you practice trading financial assets using the money that you borrowed from a broker. BitMEX offers margin trading with up to 100x leverage for its Bitcoin/USD Perpetual Contract. It means that by investing $10, you can trade as if you have $1000. It works almost like a loan.
Also, since BitMEX is a crypto derivatives trading platform, you're not really trading crypto coins, only exchange derivatives. What does that mean exactly?
Derivatives can be explained as a financial product that gets its value from a specific asset, for example, Bitcoin, Ethereum, or any other altcoin. It means that you won't be actually having those coins and trade contracts instead.
The final aspect that should be mentioned is that BitMEX will never allow your balance to go below zero. The platform uses a smart margin and liquidation process that will automatically close all the open positions and will protect you from going bankrupt. If you want to use margin trading, you should make sure that the platform offers these features. Otherwise, you might lose everything and even more.
Since BitMEX offers such amazing functionality, you should make sure that you understand how everything works before starting to use it. There's no better way to do that than to start practicing on the "learning" mode.
With that said, let's move further and take a look at BitMEX TestNet.
Practice Trading with BitMEX TestNet
If this is not your first BitMEX review, you've probably heard about BitMEX TestNet multiple times. It's a simulation where you can practice trading without any risks.
Even though the platform is not really recommended for beginners, the simulation could be amazing for those who have no previous experience when it comes to placing, executing and canceling orders.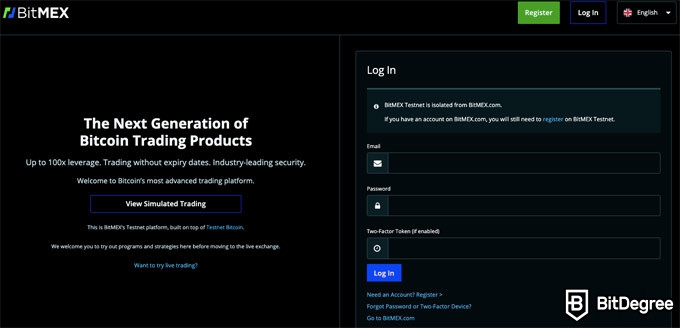 Using BitMEX TestNet you can practice trading Bitcoin with up to 100x leverage. The simulated trading will provide you with the current market view based on which you'll be able to perform various actions.
If you want to practice trading on BitMEX TestNet, you'll need to create a separate account from BitMEX.com. It will take you only a few minutes.
BitMEX Fees - Very Low
If you want to maximize your earnings, you have to minimize your spendings - that's pretty simple. Now, if you want to gain as much as you can from a trading platform, you should always take a look at the fees. They might seem almost unnoticeable, however, when you're making multiple trades, you'll notice the difference.
The good news is that BitMEX fees are very low. Whether we're talking about perpetual contracts or traditional futures, the fees will remain the same. The fee for the maker is -0.0250%, and the fee for the taker is 0.0750%.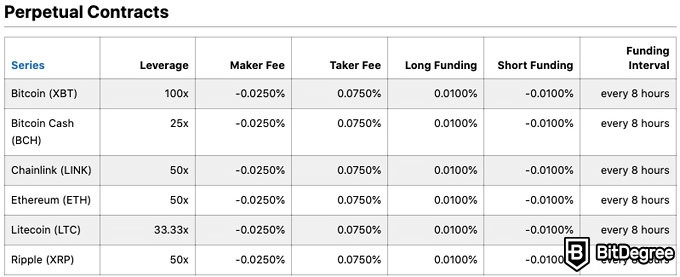 As you can see, makers get a negative fee. This means that the trader will get a rebate, meaning that they will actually get a small percentage of the amount that they spent instead of paying additionally.
If you're not aware yet, the market maker is the one that adds liquidity to the market and sets a price, while the market taker is the one that trades at a price that is set by the market maker.
Also, BitMEX doesn't charge for deposits or withdrawals. However, when withdrawing Bitcoin, you'll need to pay a minimal Bitcoin Network fee that depends on blockchain load.
BitMEX App - Available
Every crypto fan knows how important it is to have the ability to keep track of the assets and trade cryptocurrencies on the go. However, that would be difficult without a mobile app that the majority of top-rated crypto exchanges have.
You can find not only a desktop but also a mobile BitMEX app that you can download on Google Play and the App Store. The app is rated 4.4 out of 5 on Google Play, so you should definitely give it a try.
The majority of the customers claim that they haven't experienced any technical issues while using this app. What is more, the app has a clear interface and is easy-to-use, if you know what you're doing.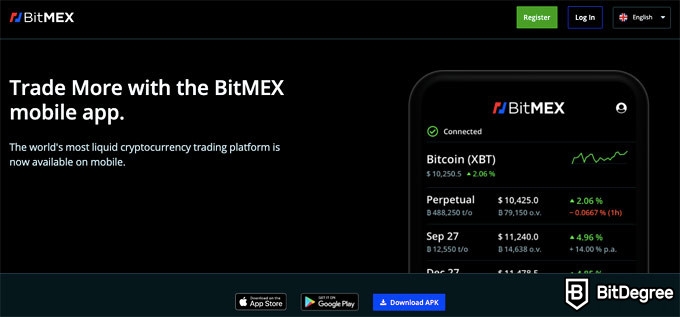 The BitMEX app allows you to access real-time market data, make deposits and withdrawals easily, increase your security through multiple authentications and login notifications, and so much more. So if you decide that BitMEX is a suitable platform for your needs, you should download the app as well.
Helpful Customer Service
When it comes to advanced exchanges or cryptocurrency derivatives trading platforms that have very extensive features, you might come across some issues. That's when you'll need helpful customer support.
When having troubles or simply some questions whilst using BitMEX, you can contact their customer support via email by pressing the "Contact" button on their main page. The support is available in English, Chinese, Russian, Korean, and Japanese.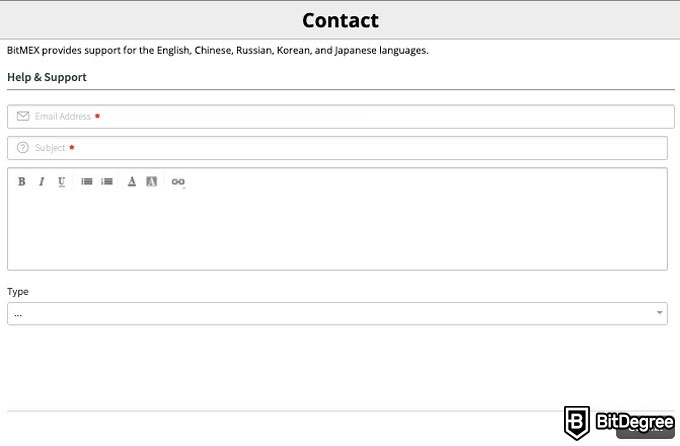 According to multiple user BitMEX reviews, it has very helpful customer support that can solve multiple issues and answer the most important questions when needed. That being said, you can rely on BitMEX support in case you're experiencing any issues when using the platform.
Moreover, you can visit the company's FAQ section where you'll be able to find information about liquidation, contracts, leverage, fees, deposit, security, and even more. All the answers to generic questions can be found in the FAQ section, however, if you have more specific ones, you should contact them via email.

Did you know?
BitMEX Review: CONS
Even though BitMEX seems to be like a really good platform that offers amazing functionality, robust security, low fees, and other great benefits, not everything is just as good. To find out what this crypto derivatives platform is missing, it's time to move into the less-pleasant part of this BitMEX review and consider all the cons.
BitMEX USA - Not Available
Before deciding which cryptocurrency exchange to use, it's crucial to make sure that it's supported in your country. If not, you might experience some law issues.
You probably know that the US is very strict when it comes to cryptocurrencies and trading platforms, especially when it comes to decentralized/not regulated ones. That's why it might be difficult for US citizens to find a truly good crypto exchange platform that would allow them to trade without worrying about legalities.
While BitMEX is supported in multiple countries all over the world, there are some places where you cannot use BitMEX services. Based on the information founded on the BitMEX official site, you cannot use BitMEX services in these countries:
The USA
The province of Ontario in Canada
The province of Québec in Canada
The Hong Kong Special Administrative Region of the People's Republic of China
The Republic of Seychelles, Bermuda, Cuba, Crimea and Sevastopol
Iran
Syria
North Korea
Sudan
While these are the main countries that are not supported by BitMEX, you should also make sure to check out the laws of individual countries to ensure that there are no laws against crypto and trading.
Not Recommended for Beginners
Functionality is one of the main reasons why so many people tend to choose BitMEX. However, margin trading with leverage, futures contracts, perpetual futures, and other processes can be quite difficult to grasp and quite risky for users who haven't done this before.

Let's take BitMEX futures trading as an example of how you might make a risky decision.
Imagine that you make a deal with another person to purchase 1BTC for $20,000 on the 1st of January. If, when the date comes, Bitcoin is worth only $10,000, you're losing $10,000 and that person gains the same amount. To make such predictions you have to perform thorough research, analyze the market, and invest an amount of money that wouldn't be too afraid of losing. Needless to say, this is not recommended for beginners.
Now, there's another reason why BitMEX is not the best option for beginners that I think should be mentioned in this BitMEX review. That's the fact that withdrawals and deposits can be only made in Bitcoins. This means that you won't be able to purchase cryptocurrencies using fiat currencies, such as USD and EUR, and will have to transfer Bitcoins from another platform to BitMEX.

If you're looking for a reliable crypto exchange platform that would support fiat currencies and allow you to purchase Bitcoins without much trouble, you should check out Binance and Coinmama.
No Fiat Currencies Supported and a Small Number of Coins Available
As already mentioned, BitMEX doesn't accept fiat currencies, so it might be a bit difficult to make deposits for those of you who haven't done it before. What you should know, though, is that platforms that accept fiat currencies tend to charge higher fees, so it's a good and a bad thing at the same time. If you're an experienced trader, you won't have any issues with this.
However, that's not everything. You should also be aware of the fact that BitMEX only handles Bitcoin, meaning that all the provided information, including profits and losses, is presented in Bitcoin.
Also, BitMEX is very limited when it comes to altcoins. You can check out the list for supported cryptocurrencies here:
Bitcoin
Bitcoin Cash
Dash
Ethereum
Ethereum Classic
Litecoin
Monero
Ripple
Tezos
Zcash
As you can see, there are only 10 cryptocurrencies to choose from. The number of options is very limited compared to some of the top-rated crypto exchanges, such as Binance and Coinmama, that offer hundreds of options to choose from.
How to Use BitMEX?
If you decide to use BitMEX, you'll probably need a step-by-step guide on how to do that. Below you'll find information on how to register on BitMEX and make a deposit.
How to Register on BitMEX?
Step 1. Go to the BitMEX main page and click on "Register".
Step 2. Provide all the needed details, including your email address, password and country of residence, then click "Register".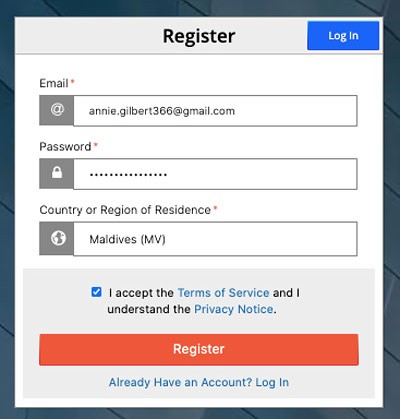 Step 3. Go to your email and click on "Verify my Email".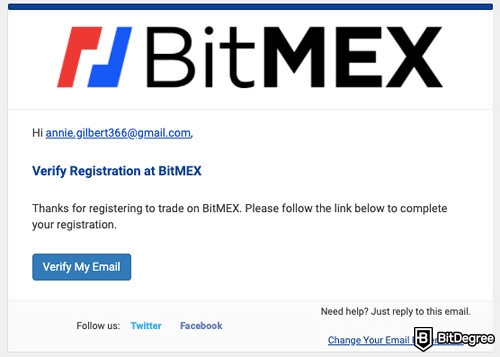 Step 4. That's it, you'll be automatically logged into your account.
How to Make a Deposit on BitMEX?
To deposit on BitMEX, you'll first need to verify your identity. After that, you will need to generate the wallet address and use it for transferring assets.
What's crucial to be mentioned once again is that you can transfer only Bitcoins! No other cryptocurrencies can be deposited.
If you don't own any Bitcoins yet, then it's recommended to create an account on Coinbase and purchase Bitcoins using fiat currencies, then transfer them to the generated BitMEX wallet address. That's it.

Pros
A very well-known crypto exchange platform
More than 500 different cryptos available
Two-factor authentication
Main Features
Over than 100 different cryptocurrencies available
Strong security
Small withdrawal fees

Pros
Secure and reliable
Low fees
A good amount of fiat currencies accepted
Main Features
Reputable exchange
Multiple fiat currencies are accepted
Relatively low trading fees

Pros
Anonymous trading
Secure
Supports a variety of cryptocurrencies
Main Features
Easy to use
Low fees
Good security
Conclusions
Since this is the end of the BitMEX review, I would like to take a look at the most important aspects that were already mentioned once again.
BitMEX is a well-known cryptocurrency derivative trading platform that was founded in 2014 by Arthur Hayes, Ben Delo, and Samuel Reed. Currently, it's owned by HDR Global Trading Limited and has multiple offices worldwide.
BitMEX comes with advanced functionality that requires knowledge to minimize risks. Such features include futures contracts, perpetual contracts, margin trading with up to 100x leverage, and even more.
Moreover, it's recommended to choose BitMEX crypto exchange for its security. The platform seems to be very reliable when it comes to wallet, system, trading and communication security. That includes multi-signature deposit and withdrawal systems, multiple verification methods, a cold wallet instead of a hot one, and even more safety measurements.
What is more, BitMEX allows you to practice using BitMEX TestNet that's created especially for learning purposes. Users can practice margin trading with leverage completely risk-free as well as try other amazing features that the platform offers. Also, BitMEX fees are very low, so it's definitely recommended for those who are into daily trading.
However, as always, there are a few drawbacks that you should take into account. First of all, if you're not experienced with cryptocurrency derivatives trading platforms, BitMEX is not really recommended. Moreover, it's not available in some countries, including BitMEX USA, and no fiat currencies are supported.
Therefore, you should consider all of these aspects and only then decide whether or not this platform is suitable for your needs. In case you want to try something different, you should consider Binance and Coinmama.
The content published on this website is not aimed to give any kind of financial, investment, trading, or any other form of advice. BitDegree.org does not endorse or suggest you to buy, sell or hold any kind of cryptocurrency. Before making financial investment decisions, do consult your financial advisor.
About Article's Experts & Analysts