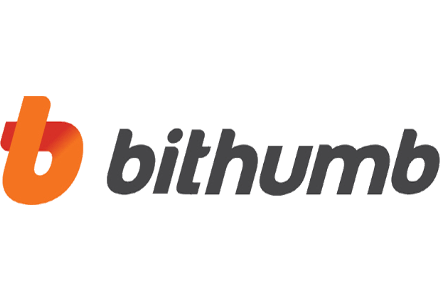 WARNING: The CEO of Bithumb, as well as some of the executives of the exchange, have been issued arrest warrants, and the exchange platform has found itself in the middle of a price manipulation probe.
Hey there and welcome to my Bithumb review!
Are you thinking about buying and selling some cryptocurrencies at Bithumb, but first want to find out if they are the right exchange for you? Or maybe you're nervous about trading on Bithumb, and would like to learn more about their security features before you start?
Either way, I've got you covered! In this complete Bithumb review, I am going to start by giving you a quick overview of who Bithumb are and how they got started. After that, I am then going to go through how you can actually buy coins and what kind of fees the exchange charges.
Following that, I will talk about the type of coins that Bithumb likes to list and who the exchange is best suited for. Finally, I will summarize everything for you by listing their advantages and disadvantages as well as provide you with other, more recommended exchanges. These would include Binance, Kraken, and KuCoin, among others.
By the end of reading it from start to finish, you will have all of the information you need to decide whether they meet your requirements as a trading platform.
So, what are you waiting for? Let me introduce you to Bithumb and give you an in-depth Bithumb review!
Pros
Live support
Large trading volume
Reliable
Good for beginners
Cons
Relatively slow verification process
Hacked in 2017
A Brief Introduction to Bithumb
Bithumb is a third party exchange that allows you to buy, sell and trade a range of cryptocurrencies. They were created in 2013 by a company called BTC Korea.com Co. Ltd and their headquarters are based in South Korea. As such, this makes them one of the most established exchanges in the industry!
Since they were launched, Bithumb has become one of the largest exchanges in the world for the daily trading volume. This is the amount of money that people trade in a 24-hour period. In fact, at the time of writing in June 2018, Bithumb average more than $100 million in trading every single day, however, it has reached as much as $2 billion!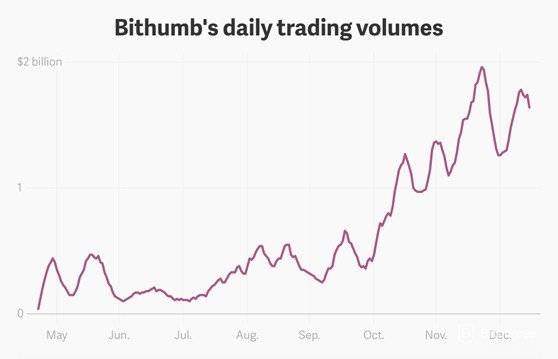 Source: theatlas
Bithumb also provides accounts for institutional investors, which is one of the reasons it has such a high trading volume. This is really important as it ensures that there is always enough liquidity in the market to make a trade.
The founders designed the Bithumb platform in a way that it can be used by anyone, meaning it's very user-friendly and perfect for beginners. Although a large percentage of their traders are from South Korea, the website also supports English, Chinese, Japanese, Spanish and even Hindi.
So, now that you know who they are and when they were founded, the next part of my Bithumb review is going to look at how you can buy coins and what kind of fees they charge.
Latest Binance Coupon Found:
CLAIM $600 BONUS
Exclusive $600 Binance Offer
Don't miss this limited-time deal that's only available for our readers. Follow the Binance referral code link & receive up to $600 in rewards and bonuses!
Expiration date: 01/04/2023
7,847 People Used
Only 49 Left
Payment Methods
It is always important to consider what payment methods a cryptocurrency exchange supports before signing up, as they might not have the option you are looking for.
The good news is that Bithumb has the facilities to process fiat currency deposits and withdrawals. However, the bad news is that this is only available to South Korean residents using KRW!
If you are reading this Bithumb review and are not from South Korea, don't worry as you can still deposit using a cryptocurrency instead.
If you are just starting out in cryptocurrency and don't have any coins yet, the best thing to do would be to open an account at KuCoin. Coinbase allows you to register an account and deposit using a debit/credit card or bank account straight away. Once you have purchased one of the top cryptocurrencies on Coinbase, all you need to do is transfer your coins over to Bithumb.
It's as simple as that!

Did you know?
Bithumb Fees – Deposits, Withdrawals & Trading
Deposit fees depend on the type of coin you want to fund your account with. For some reason, cryptocurrencies such as Ethereum, Ripple and EOS are free, while others such as Bitcoin, Dash and Litecoin carry a very small fee. For example, a Bitcoin deposit will cost 0.001 BTC.
There are also minimum deposit limits that you need to consider, however, during the writing of this Bithumb review, I found that these were very low. For example, the minimum Litecoin deposit is 0.1 LTC and the minimum Ethereum Classic deposit is also 0.1 ETC!
When it comes to withdrawing your cryptocurrencies out of Bithumb, FEES will also depend on the type of coin you are looking to take out. For example, Ethereum costs 0.01 ETH and Bitcoin costs 0.001 BTC. Keep checking the Bithumb website for an up-to-date list of prices.
So, what about Bithumb fees for trading?
The website claims that they have the lowest fees in the industry. The basic trading fee that Bithumb charge is 0.15% of the total amount you are buying or selling. For example, if you are buying $1000 worth of Ripple, you will pay 0.15% of this amount, which is $1.50.

Source: Bithumb
Technically speaking, this isn't actually the lowest in the industry, as Binance only charges a flat rate of 0.1%. However, it is actually possible to get cheaper rates if you use the Bithumb voucher, which you can access within your account.
This brings your Bithumb fees for trading down by 0.01%-0.07%. If you are able to get the maximum discount (which is awarded for large trading volumes), then Bithumb is one of the cheapest in the industry!
So, now that you know how to deposit coins and the Bithumb fees charged, the next part of my Bithumb review is going to look at the types of coins you can buy.
Coin Availability
At the time of writing, there are a total of 103 different coins that you can buy, sell and trade at Bithumb. The type of coin available depends on what you are looking for.
They support the majority of popular cryptocurrencies such as Bitcoin, Ethereum, Ripple, Litecoin and Bitcoin Cash. They also support less popular coins too, such as Ethos, Augur and Aeternity.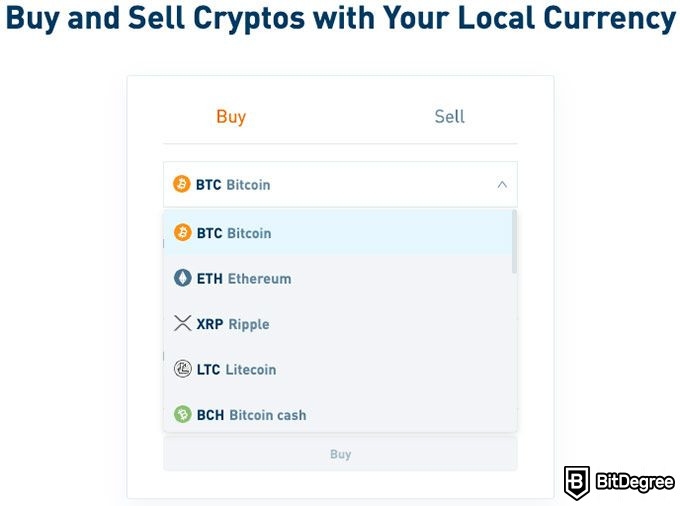 Interestingly, like most other South Korean exchanges, the prices of popular coins like Bitcoin are actually more expensive than exchanges located in other countries. People think that this is because South Korean exchanges are so much more professional than others, which includes fast withdrawals and top security.
Furthermore, as cryptocurrency trading is now banned in China, lots of Chinese traders use exchanges in South Korea to get around the rules.
Although Bithumb is one of the largest exchanges in the world, the amount of coins available is much less in comparison to others. For example, exchanges like Binance and Cryptopia have hundreds of different cryptocurrencies to trade, with the list being added to all the time.

On the other hand, Bithumb is more selective in the coins they list. The most recent addition was in June 2018, with the exchange adding Cardano and Status Token. Although this can be frustrating for people who like to have lots of coins to choose from, the Bithumb team only like to support projects that they believe are legitimate.
This means that when new cryptocurrencies are first released after their ICO, it could take a long time before the coin is listed on Bithumb. However, history suggests that when a coin is eventually added to Bithumb, it experiences an increase in value!
For a full list of cryptocurrencies available to trade at Bithumb, check out here.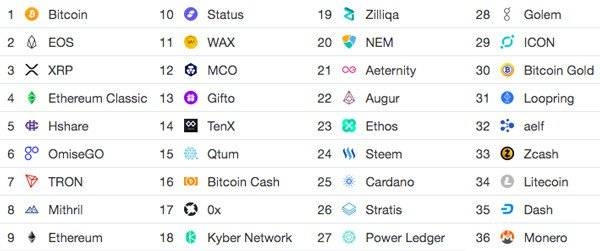 Source: coinmarketcap
So, now that you know the kind of coins you can buy and the fees that are charged, the next part of my Bithumb review is going to look at how easy or difficult it is to sign up!
Signing up to Bithumb
For this Bithumb review, I thought the easiest way to explain how easy it is to open an account was to show you using a few screenshots! That way, if you have any difficulties, you can always follow my step-by-step guide.
Before I go any further, it's important to let you know that in May 2018, the Bithumb team announced that they would be restricting account registrations from 11 countries.
These particular countries are described as Non-Cooperative Countries and Territories (NCCT) by the Financial Action Task Force, and the problems are related to money laundering weaknesses.
Anyway, let's get into it!
The first thing you need to do is visit the official Bithumb website, which you can do here.
Then, click on the Sign Up button.


This is the part of the sign up process where you will need to provide some basic information. You will notice that unlike certain exchanges, Bithumb asks for a few more details, however, they need to do this to make sure they do not break Korean regulations.
You need to enter your email address and then click on Check Duplicate. You also need to tick the box so that they know you are NOT a robot!


Next, you will need to enter your nationality. You also need to enter your cellphone number. It is important that you enter the correct number as you will need it to complete your registration.

Once you have entered your cellphone number, click on SMS Request. A 6 digit code will then be sent to you, which you need to enter into the Cellphone verification number box.
Next, you will need to enter your personal information. This includes your full name, date of birth and gender. You also need to enter your full home address.

You will now need to create a strong password. It needs to be between 8 and 12 characters long and you need to re-enter it in the box below. You also need to choose a 4-digit pin number. Make sure it is something that nobody would be able to guess, such as 1234 or your birth date.


You also need to tick the two terms and conditions boxes. It is probably best that you read these to make sure you understand Bithumb's terms.

Once you are happy with all of the information you have entered, click on the Sign Up button. A confirmation email will then be sent to you, which you will need to click on when it arrives.
Congratulations, you now have an account at Bithumb!
You are now classed as level 1, which means you are able to trade straight away without needing to do anything further. However, if you want to trade really large amounts, you will need to upgrade your account to the next level.
This will require you to upload some identification, such as a passport and proof of residency. Unfortunately, the Bithumb website does not make it clear how much you can deposit and withdraw before needing to do this, so it is best to contact them directly.
So, now that you know how to sign up, the next part of my Bithumb review is going to look at which traders the exchange is most suited for.
Who Should use Bithumb?
You might remember how I mentioned earlier that the Bithumb platform is great for beginners. The website is really clear and uses simple colors. Everything is labeled well too, making trading very straight forward.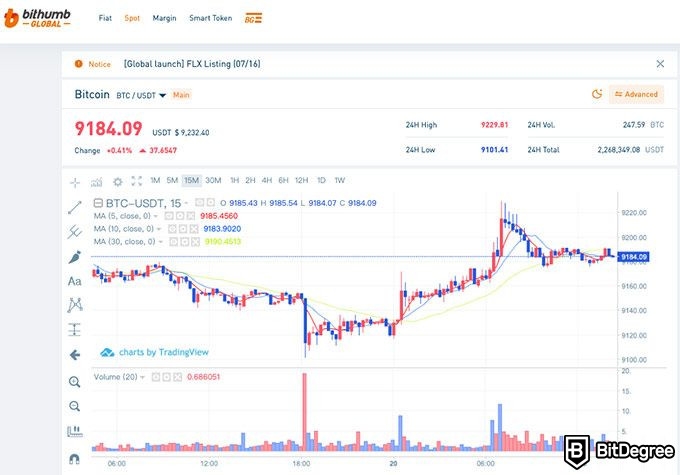 Even better, you can also play around using virtual credits, which gives you an excellent opportunity to test out the platform before using real funds. However, you will need to open an account first before using the virtual mode.
On the other hand, the Bithumb platform is suitable for professional traders too! There are lots of different trading tools that you can use, such as chart analysis and candlestick bars. Furthermore, because Bithumb has one of the largest trading volumes in the world, there is always good liquidity for people who want to trade really large amounts.
There is also a cool feature called "remittance" that allows people to send funds internationally!
Ultimately, whether you are a beginner or a more experienced trader, the Bithumb platform is great for all traders.
When it comes to customer support, the Bithumb exchange has a 24/7 live chat facility, as well as phone support too. This means that should you have any issues with your account, you can always get help.

It is also important to remember that you will not be able to trade anonymously at Bithumb. Although you might only be depositing and withdrawing using cryptocurrency, you still need to provide a full range of personal information. If this doesn't sound like something you want to do, then Bithumb might not be the best exchange for you.
So, now that you know who the exchange is best suited for, the next part of my Bithumb review is going to look at how safe the platform is.
Bithumb Review: Is Bithumb Safe?
Before depositing your hard-earned cash on to a third-party exchange, it is always important to first find out how secure they are.
So, is Bithumb safe? Firstly, cryptocurrency regulation is slightly stronger in South Korea, so exchanges have a responsibility to keep customer funds safe.
You may have noticed from the above sign up instructions that you are required to provide full and complete personal information. This ensures that only one account can be opened per person, and it also restricts anonymous trading.
I also mentioned that you need to not only provide your mobile number but also confirm it too. Furthermore, Bithumb allows you to set up two-factor authentication. This means that every time you log in or attempt to withdraw funds, you need to enter a number that is sent to your mobile phone.
The website also uses encryption technology which further protects your personal details from outside hackers.
Bithumb Hack?!
In June 2017, it was reported that the Bithumb servers were hacked, resulting in a loss of approximately 100 billion Won. At the time, this amounted to about $94 million. According to the reports, over 31,000 individual accounts were accessed by hackers, meaning lots of people lost their money.
In response, the Bithumb team said that they would refund everybody that was affected, up to a maximum of $900. Although the exchange has not suffered any hacks since (at least that we know of), it is very concerning that the hackers were able to break their security controls.

'In addition, for the members who suffer additional damage due to this incident, we will compensate the entire amount of damages in a responsible manner by the representative exchange as the damage amount is fixed.'
---
Bithumb
This should be a strong reminder to you that you should only ever keep small amounts of cryptocurrency inside an exchange, as you can never be 100% sure that they won't be hacked.
An additional issue that the exchange recently experienced was an in-depth investigation by the Korean authorities. This included the national Tax department, financial intelligence unit and also the financial regulators.
The agencies were investigating whether Bithumb was acting within the law and when the news of the investigation was originally reported, various cryptocurrency prices went down. However, the good news is that in June 2018, it was reported that the exchange was cleared of any wrong-doing.
Ultimately, Bithumb has some really good security controls in place to ensure that your funds are kept safe. They don't allow anonymous accounts and they have a team of employees who are there to monitor suspicious activity. Although no cryptocurrency is ever 100% safe, Bithumb is one of the most secure.
So, now that you know is Bithumb safe, the final part of my Bithumb review is going to look at the exchange's advantages and disadvantages.
Bithumb Review: The Advantages and Disadvantages
Le's take a look at Bithumb's pros and cons list.
PROS
CONS

Created in 2013 – making them one of the most established exchanges
Very low fees
Large trading volume – always good liquidity
24/7 support – both live chat and phone
Good security controls
Ideal for both beginners and advanced traders

Fiat currency deposits only for South Korean residents
Exchange was hacked in 2017 and investigated in 2018
Slow verification process for increased limits

Pros
A very well-known crypto exchange platform
More than 500 different cryptos available
Two-factor authentication
Main Features
Over than 100 different cryptocurrencies available
Strong security
Small withdrawal fees

Pros
Very low trading fees
Exceptional functionality
Mobile trading app
Main Features
Very competitive trading fees
An intuitive mobile app
Up to 100x leverage available
Advanced trading feature

Pros
Fiat currencies - accepted
Simple to use
Accepts only the most trustworthy cryptocurrencies
Main Features
A leading cryptocurrency exchange platform
Best for beginner investors
Accepts fiat currencies
Highly-regulated and secure
Conclusion
And that's the end of my Bithumb review! If you have read it from start to finish, you should have a good idea of whether Bithumb is the right exchange for you.
In this review, I have covered the Bithumb fees, supported coins and deposit methods. I also went through the sign-up process with you and included some step-by-step screenshots.
Bithumb is different from the majority of cryptocurrency exchanges I have reviewed, as they ask you for a lot of personal information upon sign up. Even if you are only using cryptocurrency to deposit and withdraw, you still need to provide details about your identity.
However, I personally think that Bithumb is a great exchange to use, even though they did experience a hack in 2017. I just make sure that I don't keep my funds in there for too long — in the same way I don't with any exchange.
If you have any concerns, check out more secure exchange platforms, such as Kucoin, Binance and Kraken. They're completely worth it.
The content published on this website is not aimed to give any kind of financial, investment, trading, or any other form of advice. BitDegree.org does not endorse or suggest you to buy, sell or hold any kind of cryptocurrency. Before making financial investment decisions, do consult your financial advisor.
Leave your honest Bithumb review
Leave your genuine opinion & help thousands of people to choose the best crypto exchange. All reviews, either positive or negative, are accepted as long as they're honest. We do not publish biased reviews or spam. So if you want to share your experience, opinion or give advice - the scene is yours!