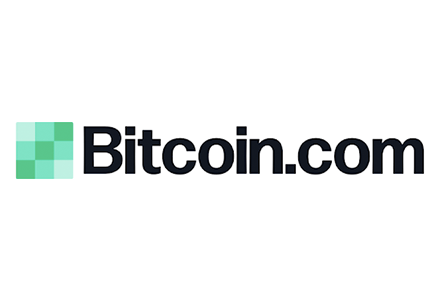 Without a doubt, Bitcoin is the most popular cryptocurrency in the world - I mean, it's the one that started it all! Naturally, with such an amount of attention that it receives, this particular cryptocurrency possesses a lot of dedicated wallets. In this Bitcoin.com review, we'll be looking at one of them.
Now, if you're thinking - with a domain name like that, this wallet should be great, right? -, you're not too wrong. While you'll find many "is Bitcoin.com safe?" inquiries online, the majority of the answers seem to indicate that the wallet really is worth paying attention to.
We'll get into the nitty-gritty details in due time, though - we'll talk about the legitimacy of the site, how it operates, and whether or not it's worth using as a reliable crypto wallet. If you find that it's not exactly what you're looking for, though, you may also check out better alternatives, such as the Binance wallet, or the Ledger Nano X.
TL;DR: Most user Bitcoin.com reviews found online are quite positive when it comes to the wallet in question. Users claim it to be super-simple to use, especially when it comes to purchasing the actual coins with fiat money. While there are some mini-controversies surrounding the platform, the general consensus is that Bitcoin.com is, in fact legit.
Pros
Very easy to use
Smooth user interface
Reputable wallet
Available on all major platforms
Cons
Relatively big fees
Only supports Bitcoin and Bitcoin Cash
Some prior controversy
Lacks security features
Bitcoin.com Review: PROS
The current version of Bitcoin.com was re-launched in 2015. A single google search will reveal to you that the domain name (and the operations behind it) has had a pretty complex history of legal disputes and miniature controversies. From 2015 up to August of 2019, Bitcoin.com was run by a crypto enthusiast named Roger Ver.
If that name sounds familiar, it's probably because you've seen it come up in other user Bitcoin.com reviews - admittedly, Mr. Ver is one of the more controversial figures in the cryptocurrency world.

Funnily enough, it would actually be impossible to talk about Bitcoin.com and all of its pros and cons without also discussing Roger Ver and his views on Bitcoin. They are actually quite heavily intertwined with the crypto wallet in question, especially when it comes to user Bitcoin.com reviews, and questions such as "is Bitcoin.com wallet safe?".
This is true even today, too - while Roger Ver has stepped down from the position of CEO of the company all the way back in August of 2019, his sentiments regarding Bitcoin, Bitcoin Cash and the concept of decentralization, in general, still linger around the wallet. Worry not, for all of this shall be elaborated in dues time - for now, let's concentrate on the actual usability aspects of the wallet.
Very Easy to Set Up and Use
One of the first advantages that you'll see mentioned quite often among user Bitcoin.com reviews is the fact that, as a crypto storage platform, Bitcoin.com is actually very simple to use, and straightforward to set up, in the first place.
Admittedly, usability has always been the "odd feature" when it came to crypto wallets, whether it be dedicated ones, or those that can store multiple cryptocurrencies at once. While you're going to come across questions such as "is Bitcoin.com legit?" and "is the wallet safe to use?", you'll rarely encounter questions regarding usability.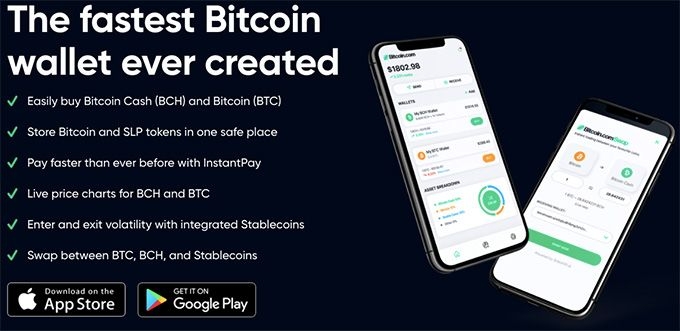 Now, don't get me wrong - as noted above, users point out the simplicity aspect of Bitcoin.com regularly. That said, topics such as 'fees' or 'security' tend to overshadow any and all usability aspects.
All of that being said, though, let me stress this once again - Bitcoin.com is very easy to set up and start using, as a Bitcoin storage wallet. It's a software-based wallet, too, which means that it comes with some extra security features.
Latest Deal Active Right Now:
$300 + 40 DOGE BONUS
Huobi Black Friday Limited-Time Period
Huobi Black Friday & Cyber Monday 2023 period offers great bonus for new users - sign up & earn up to $300 + 40 DOGE bonus!
Expiration date : 12/12/2023
3,817 People Used
Only 31 Left
Software-Based Bitcoin Wallet (Available on Most Operating Systems)
Being a software-based Bitcoin wallet means that you'll have to download a file from Bitcoin.com and install it on your system. The difference from an online wallet is that, with the latter, you'd only be able to use it while connected to the web, on a specific website, while the former has a dedicated software.
Naturally, as you can probably imagine, this is some great news for anyone wondering "is Bitcoin.com wallet safe?".
I haven't seen many user Bitcoin.com reviews elaborate on this, but a software wallet is going to provide better security features than most online ones. That's simply because program- or app-based wallets are more difficult to hack than those that are based on the browser.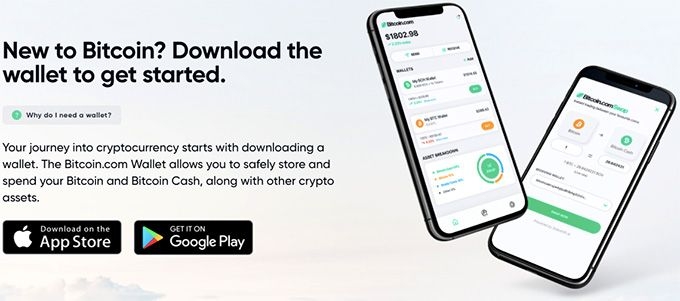 Better security-aside, it would appear that one of the better features mentioned in multiple Bitcoin.com wallet reviews is the fact that the wallet in question is available on all of the main operating systems - iOS, Android, Mac, Windows, and Linux.
While this is probably quite self-explanatory, extensive device support makes the wallet very appealing for a large group of people, since no matter which OS it is that you use, you'll always be able to access your wallet, and check on your funds.
Accepts Fiat Money / Easy to Purchase Bitcoin
Fiat currencies are those that are issued by the government - USD, EUR, GBP, and so on. Frankly, they are currencies that we deal with every single day - they're also money that cryptocurrencies and the process of decentralization aim to eventually replace.
The issue with a lot of crypto wallets is that they either don't accept fiat money, or don't allow you to purchase cryptos from within them, in general.

As user Bitcoin.com reviews will tell you, that's not the case with Bitcoin.com.
The wallet in question allows you to easily integrate your credit card and purchase Bitcoin or Bitcoin Cash that way. The integration is simple, the purchasing process itself is simple - everything related to the usability aspect is simple and straightforward!
Latest Ledger Nano X Coupon Found:
GET MORE, SAVE 10%
Ledger Holiday Sale
Holidays are all about sharing! Get top-tier security for you & your loved ones with this 10% Ledger Holiday discount on family packs.
Expiration date : 12/12/2023
3,947 People Used
Only 53 Left
Bitcoin.com Review: CONS
As mentioned in this article a few times already, user Bitcoin.com wallet reviews would have you believe that the wallet in question is quite popular among the crypto community, and that it's actually great for storing your Bitcoin in. While that might be the case, in general, there are still some downsides that need to be addressed.
Only Able to Store Bitcoin and Bitcoin Cash
I mean, when the domain name is literally 'bitcoin.com', you probably saw this one coming from miles away, right?
One of the biggest proclaimed downsides of Bitcoin.com is the fact that you cannot store any other cryptocurrency within it, except for Bitcoin and Bitcoin Cash.

Whether it be some of the most popular altcoins such as Ethereum and Litecoin, or some lesser-known as Dash and NEO - none of them are available for storing on the Bitcoin.com wallet.
If you're only interested in Bitcoin, then naturally, you're not going to see this as a huge issue. That being said, though, with cryptocurrencies becoming more and more popular as time goes on, an increasing number of people are also starting to expand their interests to include various altcoins - for this group of individuals, Bitcoin.com just won't "do it".
Instead, you should look into wallets that allow you to store multiple different crypto assets. Examples include Ledger, Trezor, and popular hot, exchange-based wallets, such as Binance.
Lacks Security Features
Whenever somebody references the security aspect of cryptocurrency wallets (whether in Bitcoin.com reviews, or any others), the two big terms that usually come into play are "two-factor authentication" and "custom PIN codes".
Both of these safety-ensuring measures have become almost mandatory when picking the right crypto wallet for yourself. Custom PINs are self-explanatory - they are quite foolproof, unless you use the same PIN codes in multiple different places online.

2FA, on the other hand, is considered to be a top-tier security measure when it comes to keeping your cryptocurrencies safe - exchanges and wallets that use 2FA (i.e. CEX.IO) are usually praised for it, since it's obvious that they do care about the safety of their user crypto coins.
Now, unfortunately, Bitcoin.com does lack two-factor authentication.
Surely, this does not mean that the wallet is "unsafe" to use. That being said, though, it just means that there are certain security measures that are simply not taken by the company behind the platform - measures that could ensure high levels of security, and that are otherwise usually seen as essential.
Involved in Controversy
Remember when I said that the now-ex-CEO of Bitcoin.com - Roger Ver - is a pretty controversial figure in the crypto world, with some quite controversial outlooks on things?
Ya, well, his reputation does, apparently, damage the way people see Bitcoin.com, too. This is evident from quite a few Bitcoin.com reviews left online, and especially from social forums such as Reddit.
Mr. Ver is an avid fan of Bitcoin Cash - so much so, that he promotes it to the fullest extent, while shunning people away from the "original" Bitcoin with the argument that it "lacks scalability".

Some of Mr. Ver's practices are seen as quite immoral in the community, and on top of that, his views are considered to stand against the "philosophy" behind Bitcoin and the concept of decentralization, in general.
Admittedly, none of that has anything to do with the actual usability aspects of Bitcoin.com. However, it has led a lot of people to question "is Bitcoin.com wallet safe?" and "is Bitcoin.com legit, in the first place?".
If you're an avid cryptocurrency fan yourself, and are a true believer that cryptos are the future, Roger Ver's comments and point of view might leave a bitter taste in your mouth, too. If you're just in it "for the money", though, and don't really care about the philosophical side of things, then it doesn't really affect you or the wallet in question, either.
No Live Customer Support
As much as the philosophy of Bitcoin.com's ex-CEO was a subjective topic that's up for debate, the fact that the wallet does not have dedicated, live customer support is objectively bad.
There seem to be a few different industries that suffer from this issue, and the crypto wallet (and exchange) world is one of them. While some brands host pretty poor-quality support, companies such as Bitcoin.com don't have any live option, in general.

As you can probably imagine, this isn't good - especially if you encounter an issue with the wallet, and seemingly aren't able to resolve it yourself.
No live customer support also means that, oftentimes, you have to rely on the community to help you out. Oftentimes, this is a shot in the dark - while some people might be well-intentioned and want to genuinely help you, others will search for ways to scam you out of your Bitcoins. Never click phishing-like links sent to you by a random person!

Did you know?
Price
An important part of any Bitcoin.com wallet review has to do with the pricing (fees) of the wallet in question.
As you know, you're able to purchase Bitcoin and Bitcoin Cash from within the wallet in question. Naturally, as with most other exchange-wallets out there, you'll be charged a set fee for your transaction.
Bitcoin.com has a pretty straightforward fee system in place, though - it's made up of "Takers" and "Makers". The fee system looks a little something like this:
Now, admittedly, the fees are actually quite high! There are many wallets out there that will take a much smaller fee from your transaction, and that have a scaling fee system in place.
How to Use the Bitcoin.com Wallet?
To finish off our Bitcoin.com review, let's quickly discuss how to actually use the wallet in question - meaning, how to install and set it up, transfer funds, buy Bitcoin, and so on. Granted that we've answered the question "is Bitcoin.com legit?" quite extensively, you might want to try the platform out - it's better to know what to expect!
How to Instal and Set Up Bitcoin.com?
First up, the installation process.
Step 1: Download and install the Bitcoin.com wallet from the app store of your choice. For the sake of this Bitcoin.com review, I'll be using the Play Store.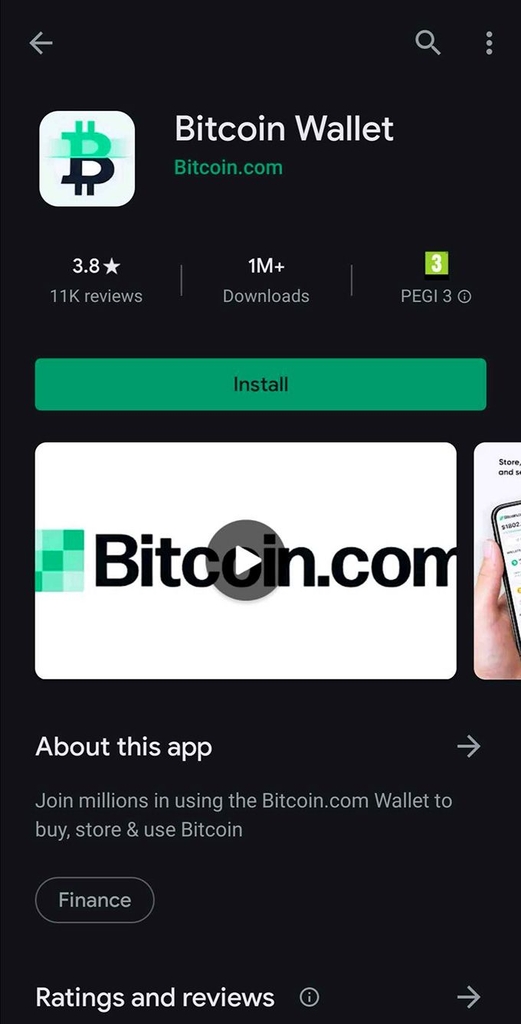 Step 2: Once the installation process is complete and you go to the app, you'll be directed to the home screen.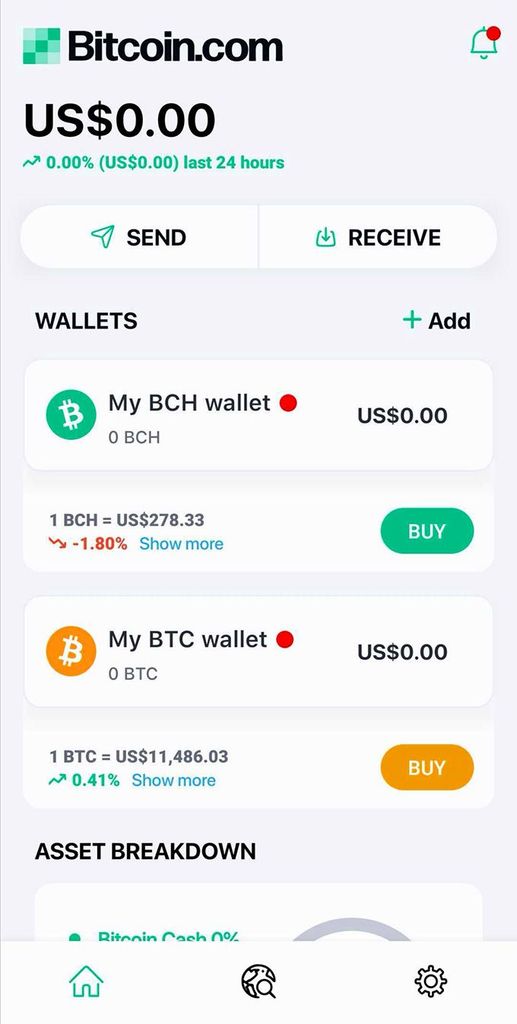 Step 3: From the home screen, go directly to the wallet of your choice - you'll notice that it asks you to back your information up. Do so, and you'll see a 12-word recovery phrase - make sure to write it down and keep the note safe, since it's your only way of recovering your funds if you forget your information!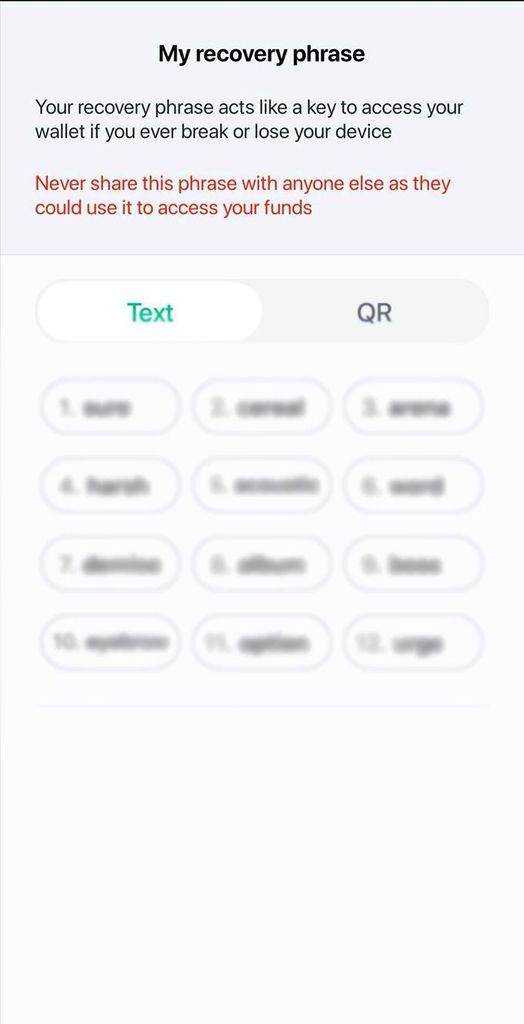 The user Bitcoin.com reviews didn't lie - once that's done, the setup process is complete - you can now send and receive Bitcoin or Bitcoin Cash!
How to Send / Receive Bitcoin?
Sending and receiving Bitcoin or Bitcoin Cash is also very simple with the wallet in question.
Step 1: From the wallet screen, tap either "Send", or "Receive".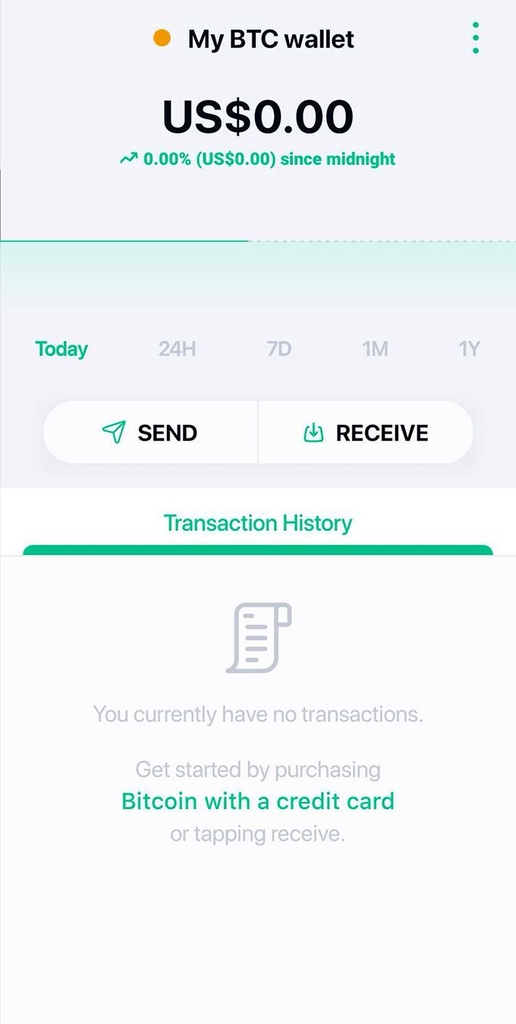 Step 2: If you'd like to send Bitcoin, you'll be able to scan a QR code, enter the wallet address manually, send the coins to your own wallet, or send them to one of your contacts.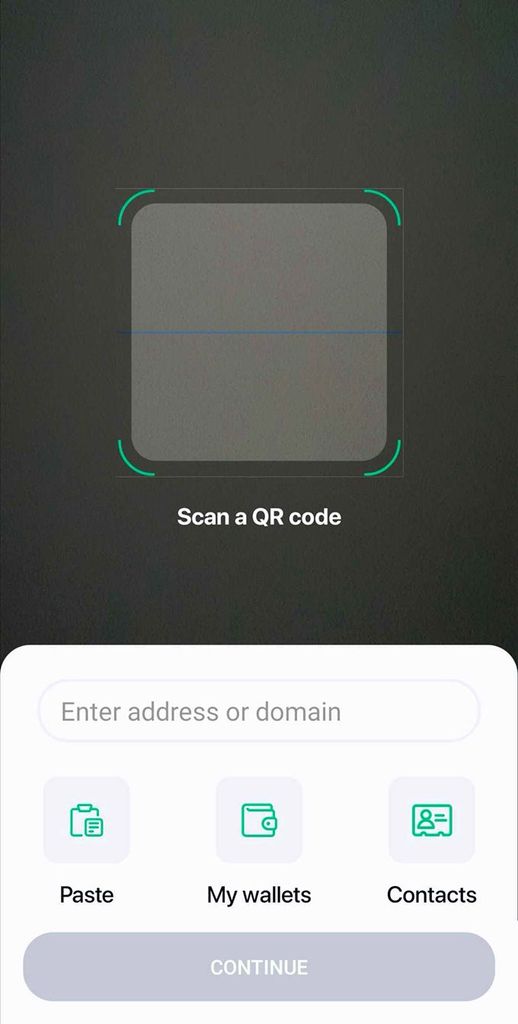 Once that's done, just choose the amount of Bitcoin that you'd like to send, and follow through with the transaction!
Step 3: If you'd like to receive crypto coins, then all you have to do is tap the "Receive" button, and you'll see a QR code and your wallet public key. Either scan the code, or copy and paste the key to anyone you'd like to receive Bitcoin or Bitcoin Cash from - that's it!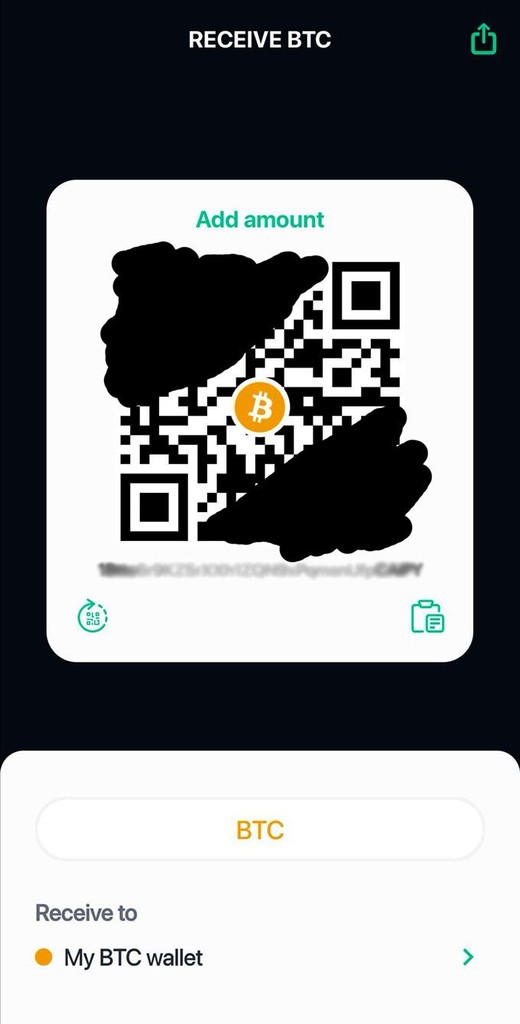 As you can see, the processes of sending and receiving Bitcoin are actually very simple with the wallet in question - most user Bitcoin.com reviews agree!

Pros
Can be managed from mobile device
Very secure
Supports more than 5500 cryptocurrencies

Pros
Top-tier security
DeFi app support
Store over 5500 assets, install up to 100 apps simultaneously

Pros
Multiple cryptocurrency support
Very secure
SegWit and Bech32 address support
Conclusions
Now, then - is Bitcoin.com worth using, in the first place?
Well, judging by the majority of user Bitcoin.com reviews found online, yes - as long as you only care about purchasing, selling and storing cryptos, and if you hold nothing else but Bitcoin and (or) Bitcoin Cash.
Naturally, the wallet does have some flaws - everything from a small number of security-ensuring features, up to it holding only two cryptocurrencies can be annoying. That said, most of its users agree that, when it comes to Bitcoin storage, it's surely one of the better and easier-to-use wallets out there.
If, however, you'd like to check out some alternatives, do keep in mind that hardware crypto wallets are always going to be "at the top", security-wise. Popular options include the Ledger Nano X and the Trezor Model T.
The content published on this website is not aimed to give any kind of financial, investment, trading, or any other form of advice. BitDegree.org does not endorse or suggest you to buy, sell or hold any kind of cryptocurrency. Before making financial investment decisions, do consult your financial advisor.
About Article's Experts & Analysts