Our personal belief is that the Simpsons can lighten the mood on just about any occasion – and as luck would have it, your favorite yellow family does have a handful of great tips for choosing the best Amazon Web Services tutorial.
1. Identify your goal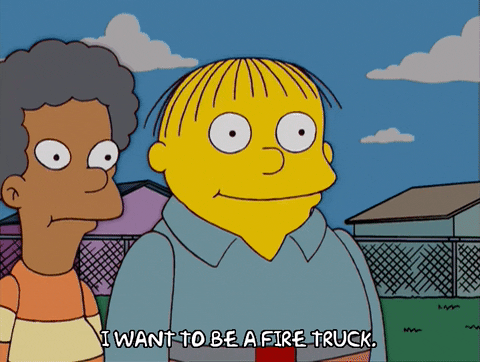 The Simpsons (via GIPHY)
You could use this ages-old advice on pretty much anything, to be honest: if you wish to score, you need to know exactly what you're aiming for. It's true in archery, and it's true in picking an AWS tutorial that helps you gain exactly the level of knowledge you want.
When it comes to mastering cloud platforms, there are two main ways to go: you could either try to simply gain knowledge or prepare for a certification exam. AWS certifications are a great way to show your level of expertise when looking for a new job or aiming for a higher role in your organization – however, they are not in any way a must for someone who wants to use AWS for their freelancing projects or simply learn to use one or two services needed in their current job (e.g., you might want to understand AWS billing better if you work in accounting).
If you're going for a certification badge, your best bet is to pick an exam-oriented AWS tutorial that's been created specifically with the topics you need to know to pass it in mind (e.g., this course by BitDegree Academy might be a great pick if you want to become an AWS Certified Cloud Practitioner). This is usually stated explicitly in either the title or the description of the course. A Foundational-level exam-oriented course is also a good option if you want a concise and clear AWS tutorial for beginners: it does cover all the AWS basics one must know to use the platform.
2. Think of the way you learned best in the past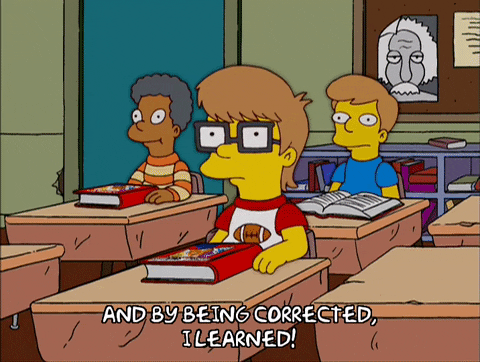 The Simpsons (via GIPHY)
Studying the AWS tutorial for beginners surely won't be your first rodeo at learning: you have already learned the basics of many things in your life, be it driving, cooking, or using the Pythagorean theorem. There's probably a few you have mastered and could now do with your eyes closed.
Think back to those experiences: what helped you understand and retain new information the most? Was it reading and rereading the theory? Closely watching someone else do it? Rolling up your sleeves and trying to DIY your way into a solution? Testing your knowledge over and over with tests or exercises? Trying to build independent projects? Once you identify what kind of learner you are, it will be way easier to choose an AWS tutorial that includes this particular type of content.
We don't recommend limiting yourself to just one sort of material – diverse is always best, but make sure the Amazon Web Services tutorial you pick includes the tasks you excel at. If you're of a testing-type, look for practice exam sets. If you enjoy practical exercises, try hands-on labs. Theory-lovers will enjoy educational videos. There's truly something for everyone!
3. Dig deep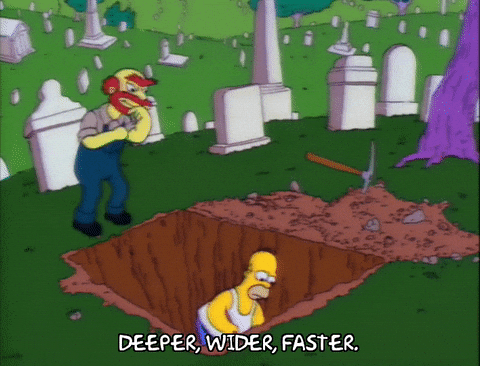 The Simpsons (via GIPHY)
An all-inclusive AWS tutorial is a good investment of your time and money – and yet, it is an investment. To make sure you make the best possible choice, collect as much information about a particular course or learning program as possible: read the whole information provided (including FAQs) and review free pieces of content to see whether you find it engaging (most learning programs have short videos or readings available).
If you have any questions, don't hesitate to contact the customer service team: this will also let you understand how willing they would be to provide help if you happened to experience any issues with the AWS tutorial itself. Some training providers (e.g., BitDegree Academy) even allow booking a call with their representatives and discussing everything in detail: this could be a perfect chance to get all the answers you need promptly and conveniently.
4. Be smart about pricing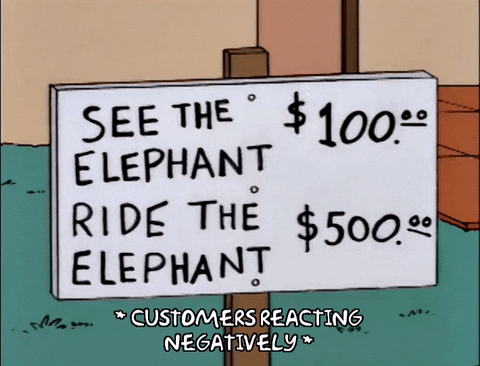 The Simpsons (via GIPHY)
We all love a good deal, right? It's no coincidence most people plan to do their shopping on Black Fridays, Cyber Mondays, and end-of-the-season sales. However, what works for choosing a new sweater can't always be applied when investing in your future and career: there's simply a lot more elements to consider and a lot more at stake.
Just like most things online, AWS tutorials come with all types of price tags – you can expect to pay anywhere from $9 to $999 (if not more). Understandably, you will not choose the ones that are too expensive for your budget: while spending money on training and upskilling typically does pay off, you shouldn't really aim at going bankrupt in the process. You should also evaluate whether you really need the expensive functionalities that boost the price of a particular AWS tutorial – for example, if you're only interested in mastering AWS basics for now, you don't yet need training on using other popular cloud platforms or extensive comparisons.
Nevertheless, you shouldn't be going for the-cheaper-the-better logic here, either. AWS is a constantly evolving platform with hundreds of products and services, so it takes a lot of time and effort to get to know it all, prepare effective learning materials, and keep up with the latest updates. No expert will do it for peanuts – so if you come across a course or training program with a price that seems too good to be true, it probably is. A cheap AWS tutorial will either be incomplete and leave you looking for additional information, or be terribly outdated and discounted multiple times already.
Another possible reason for a small price is copyright infringement. If a cyberthief steals someone else's materials and tries to sell them as their own, they're more likely to offer enticing prices so they can sell as much as they can before getting caught. For a buyer, this means no content updates, no consultations or tips, plus a huge risk of losing access to the materials anytime – not to mention providing your financial information to a criminal!
5. Choose a provider you can trust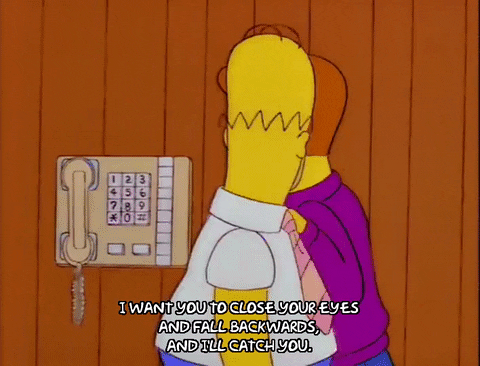 The Simpsons (via GIPHY)
You might come across an AWS tutorial online that seems pretty good, but there are little to none reliable ratings, reviews or testimonials. This can often happen with rather new courses – and you'd be right to feel cautious about jumping the gun. In such cases, it could be smart to pay more attention to the course provider: are they new to the market too, or have they worked on big projects already in the past? Were they successful? Is the team reliable, and can you find enough information about it online to get a solid picture?
Aside from press releases, awards, and finished projects, take a moment to check the reviews on Trustpilot. The reviews the companies have on their websites cannot always be trusted: after all, they are curated by the staff, so they are free to select the best ones and even make some up. Trustpilot, on the other hand, is independent and free to use, so it often helps to get a realistic picture.
For example, BitDegree has just launched their training courses for AWS basics, but the company itself is rated as excellent (4.6/5) – and it's for a good reason: in less than four years of work, it has managed to gamify its learning platform, team up with two universities to work on education research, become a finalist in the EIC Horizon Blockchain for Social Good competition AND a global champion in the World Summit Awards 2020!
6. Look for up-to-date information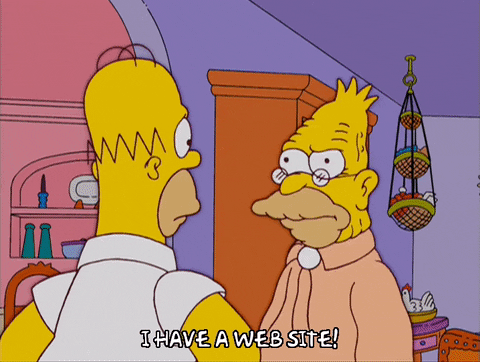 The Simpsons (via GIPHY)
If you know anything about tech and especially cloud computing, you're undoubtedly aware of the fact it's progressing at an incredible speed – and no one moves faster than AWS. That is precisely why you should pay attention to the time a particular AWS tutorial was created or updated: if it's been over a year or more, a lot of the materials might already be outdated and irrelevant. You probably won't experience issues with grasping the core services and absolute AWS basics (like AWS IAM, AWS CloudFormation, or AWS Lambda). Still, you'll miss out on the newest additions, making it harder for yourself to benefit from the real potential of AWS.
If you can't find the date or any other time indications on the website of a particular Amazon Web Services tutorial, try checking the provider's social media. What is their message? Are they just focused on selling, or do they also share extra information – such as the latest AWS updates, free guides or articles? If so, they must be following the industry news closely and care about actually educating you on the topics of cloud computing. Such a provider will rarely ever showcase outdated AWS tutorials or training programs as their offerings.
7. Seek recommendations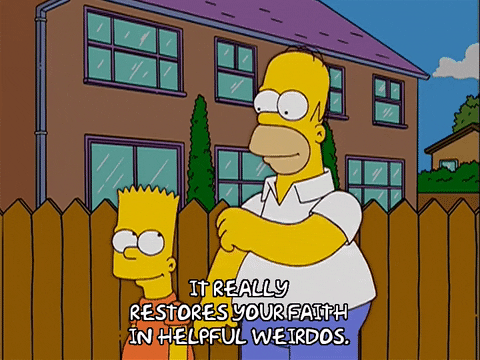 The Simpsons (via GIPHY)
When all is said and done, you're left with listening. Have any of your friends or family members tried studying with a particular Amazon Web Services tutorial? If so, you're in luck: not only can you trust their opinions, but you're also familiar with their prior level of knowledge and can now evaluate their learning outcomes fairly.
Actually, this goes both ways: they understand your current knowledge too, so their recommendations will be more to-the-point. For example, they won't offer you a highly complex bootcamp for experienced cloud engineers if what you actually need is an AWS tutorial for beginners because you have no clue what even the fundamental services like AWS IAM or AWS CloudFormation are for.
If you don't know anyone who has ever attempted to master AWS basics, try looking for reviews and recommendations online. Read online forums (e.g., Quora or StackOverflow), check AWS tutorial reviews on YouTube or other video platforms. While these suggestions will not be as well-tailored to your needs, they can get pretty detailed, and some of these reviewers might even point out advantages or disadvantages you'd never notice due to simply not having seen or tried enough AWS tutorials to do a proper comparison.
Have anything to add to the list? Drop us a line at [email protected]!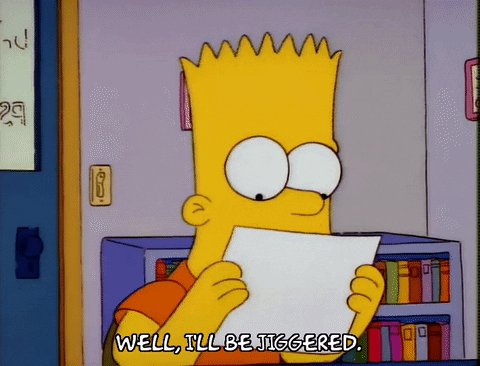 The Simpsons (via GIPHY)