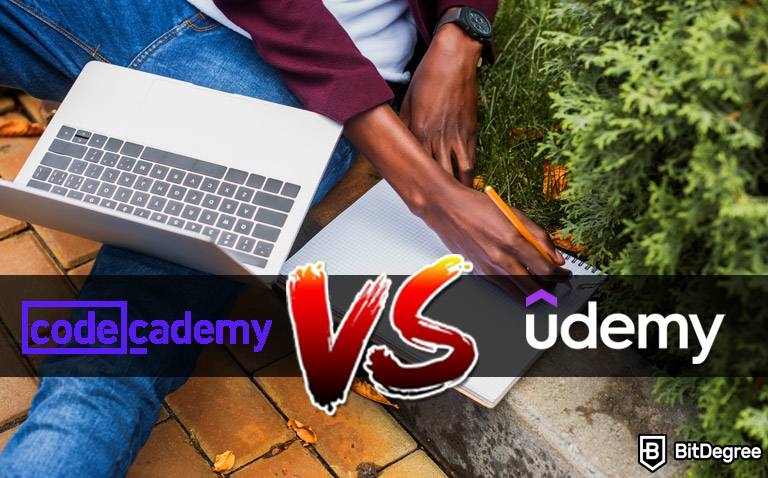 While new year is the favorite time to make changes in professional and personal life for many, there's really no wrong time to get started. And if you're interested in programming, jumping in today is the perfect opportunity, as this field is constantly changing and you can stay ahead of the curve. To help you get started, let me welcome you to this Udemy VS Codecademy comparison.
If you're already here, you probably know the advantages and convenience of online learning platforms. The two we're comparing today are among favorites in various learner circles. Although the two platforms differ quite a bit – as you'll see very soon – there's good reason why you can see them mentioned next to industry leaders like DataCamp. As always, we'll be conducting an analysis and using a five-criteria comparison system to draw our conclusions.
But first, what platforms are we dealing with, exactly? Well, Udemy is perhaps one of the largest online learning platforms you can find. Launched in 2010, it's also one of the industry's oldest. Since Udemy offers hundreds of thousands of courses, we'll only focus on the particular branch of programming-related content. Codecademy is a platform that focuses on helping coders grow. It was launched in 2011.
So, now that you know what our focus is, let's start this Codecademy VS Udemy review.
Udemy VS Codecademy: Comparison Criteria
If you're at all familiar with the two subjects of our Udemy VS Codecademy comparison, you might be wondering – how can these two be held against each other equally? After all, Udemy is far bigger than Codecademy as a platform. Its catalog isn't limited to just coding and data science – you'll find things like art classes, biology guides, language 101s, and just about any subject you can think of. How can we make sure that things are fair and square?
Latest DataCamp Coupon Found:
CLAIM 50% OFF
DataCamp Cyber Monday Deal
DataCamp Cyber Monday special is here! Enjoy a massive 50% off on DataCamp plans. Subscribe now and redefine your data and Al skill set for the better!
Expiration date : 07/12/2023
5,324 People Used
Only 36 Left
To alleviate such issues, we have designed a five-criteria comparison chart that can be universally applied regardless of the platform in question. While some adjustments have to be made – as I've mentioned, only the programming-adjacent courses on Udemy will be accounted for when relevant – overall, we can make a pretty fair comparison whether it's Codecademy VS Udemy or DataCamp VS Coursera.
So, let's see the criteria:
Course Quality and Variety. While none of the five aspects you're reading about are ranked by any order of importance, you can't argue that courses are one of the key things to discuss. After all, they're the meat of the whole thing – the reason why you're looking for the best online learning platform in the first place. So, it only makes sense to evaluate this aspect first. While we won't be taking the catalog apart course by course – there's simply no time for that – you'll get a good idea at what variety is available to learners of different levels.
Usability. Next, we're going to talk about how user-friendly both platforms are. While the designs and services of online learning platforms can differ quite drastically, there are some core principles they should strive to achieve, like fast navigation and beginner-friendly menus. In addition to the desktop performance, we can't overlook mobile devices. We'll see if you can find Udemy VS Codecademy mobile apps for studying on the go.
Foreign language support. Online learning platforms are rarely region-restricted. This means that anyone, anywhere in the world, can access the courses and work on their skills, whether that's programming or music production. However, such global reach means that many learners could use some help accessing the content – namely translations, subtitles, and other localization elements in their native languages. In this section, we'll discuss how well Codecademy VS Udemy stand in terms of foreign language support and what tools foreign learners can take advantage of.
Certifications. "Certificate" is a term that often goes hand in hand with the topic of online learning platforms. While the definition may vary slightly based on your platform of choice, when we talk about certifications, we usually mean the rewards you receive for completing digital courses or learning paths. Sometimes, you can get academically validated, or accredited, certificates, although most platforms will offer you a non-accredited alternative. We're going to discuss what rewards you're eligible to receive as a Codecademy VS Udemy user.
Pricing. Finally, we'll wrap up our comparison by discussing the payment plans of the two platforms. To start this category off, we'll see what options users can access for free. Then we'll compare the different pricing models. Do you favor subscription plans or one-off purchases? That might sway your decision. Finally, as a little bonus, I'll share with you where you can find discount codes for both platforms.
The aim of this Udemy VS Codecademy comparison is to give you an unbiased, facts-based overview of the two platforms. We won't be writing a final score at the end. Instead, if you wish to learn more in-depth about the performance of both platforms, we've got reviews on both Udemy and Codecademy for your convenience.
At the end of the day, our goal is to make it easier for you to decide what suits your needs as a coding student best. Read carefully and see for yourself which platform is the better option for you. And if you find yourself still feeling indecisive, try out our Comparison Tool for online learning platforms. Not only will you get a better look at how Udemy VS Codecademy stand against each other, you'll also be able to compare them to other industry favorites, like DataCamp!
So, now that we know our comparison plan, let's get started.
Udemy VS Codecademy: The Comparison
Throughout this Udemy VS Codecademy analysis, we'll be following the same order as established above, starting at Course Quality and finishing with the Pricing.
Course Quality and Variety
Talking about the courses is a great starting point. After all, that's why you're here for – the content itself. Whether you're a beginner, an intermediate, or someone looking to brush up on their old skills, there's usually something for everyone. The difficult part is just finding what suits you best.
If you were to look at the Codecademy course catalog, you'd come across more than 290 beginner and intermediate courses on coding. That's a pretty impressive range, right? In terms of variety, there are options for novices interested in a whole big array of programming languages, from Python and Javascript to Bash and C#.
You can also choose to learn by subject. Here are some of the available options:
Web Development
Computer Science
Cybersecurity
Machine Learning
Data Science
In addition to the regular courses, the platform offers Career Paths. If you're familiar with platforms like DataCamp, you might already have an idea of what I mean. Essentially, those are different related courses grouped up to make a series. For example, you can have a career path for a Python developer that goes from basics to more specific library work. Career paths are pretty useful if you want to follow a clear learning plan.
Table: Courses on Udemy VS Codecademy
Defining the exact number of programming and data science courses on Udemy is a more difficult feat. For starters, overall, the platform offers over 200,000 courses. That's thousands upon thousands of hours you could spend learning! At the time of writing, the data science section makes up about 3,000 courses – and that number is growing almost daily.
How come? Well, Udemy is a platform that allows anyone to upload courses. The main criteria you need to match are:
At least 30 minutes of video content
At least 5 lessons in one course
Once you've hit the criteria, you can easily become an official Udemy instructor. That said, you might be able to spot some issues with it. If anyone can become an instructor, the quality of all courses is not even across the board. Some instructors are experts, while others might not be as well-versed in the field. So, ensuring that the content you're learning is accurate and up to date can take some vetting.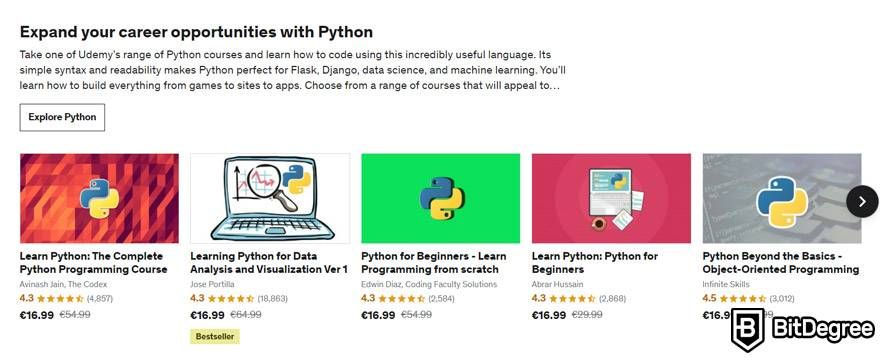 The individuality also means that the structure, additional resources, and other tidbits often differ. For example, some instructors open Discord servers or Facebook groups for learners to consult them or get in touch with their peers. Others are more detached – the courses may be focused more on the video guides than practical exercises.
So, although it wins in terms of variety, making sure that the courses are high-quality is more complex on Udemy. Of course, if you know how to look, you can find some real gems that can compare to and even exceed the Codecademy catalog. All in all, this Udemy VS Codecademy match-up is pretty tough to make a final call on.
Usability
Next in our Udemy VS Codecademy face-off is the question of user friendliness. If the courses are the goal of your digital learning experience, the user interface is what keeps you motivated to choose that particular learning platform. Finding the site structure confusing and not being able to quickly figure out what's where can cost platforms valuable prospective learners – and make you miss out on what could otherwise be excellent content.
To achieve this, a platform really only needs a few elements – a catalog that's easy to find, a search tool that can refine to results to your preferences, and a layout that you can follow even if you've never used an online learning platform before. And when it comes to Udemy VS Codecademy, both platforms perform well here.

Let's start with Udemy. At first, it might seem that the platform would be really hard to get the hang of, given how many courses it offers. However, that's far from the case. The course menu offers many categories and subcategories to help you find what you want specifically. For example, if you're interested in iOS development or want to know how ChatGPT works, you can easily find categories for both.
Then, there's the search bar. With thousands of courses, finding the perfect can feel like searching for a needle in a haystack. However, Udemy makes it simple for you. You can refine all your search results based on a number of criteria, including:
Overall rating
Course language and subtitles
Price
Subcategory
Learner level
So, it can be really easy to find what you're looking for. Additionally, you'll have recommendations both for courses that are beginner-friendly and popular among the Udemy community.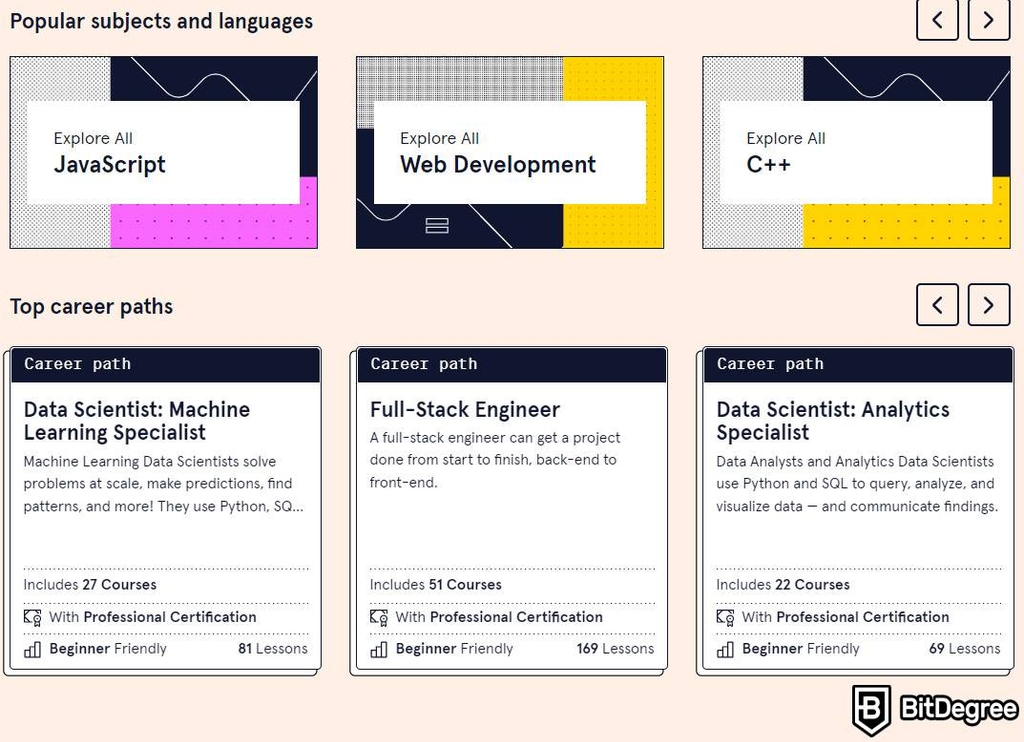 Codecademy all offers its users a sleek design that's easy to follow. As we've discussed, the courses are primarily sorted by programming language, subject, and career path. Subjects make it easy for you to choose the most relevant courses. With over twenty subjects in total, you can pick from:
Computer science
Developer tools
Game development
Interview prep
Open source
Evidently, not all skills are focused only on the technical side of things – you can also work on the soft skills that will help you land your dream programming job. Similarly, the resource catalog can be browsed by topic, letting you find everything you might need in one place.

As you can see, the desktop experience on Codecademy VS Udemy is pretty good. However, how do mobile users fare? Although coding is more of a desktop activity, sometimes you only have time to complete a quick class on your phone.
It's thumbs up for both platforms here. Both Udemy and Codecademy offer iOS and Android compatible mobile apps so you can learn whenever convenient. So, in terms of both desktop and mobile usability, you have two great options here.
Foreign Language Support
As we've already established in the intro, foreign language support can be a very important feature for much of the userbase on any online learning platform. If you've got millions of learners, it's more than likely that a number of them won't speak English as their native language. This can be a problem if that's the only language you offer.
Of course, it might not see as significant for coding courses. After all, code is universal and you'll use the same commands regardless of the language you speak. Nevertheless, it can be a lot easier to follow instructions when they're written clearly in your mother tongue. So, to alleviate the stress of not understanding the courses fully, many platforms have implemented foreign language support services.
Many – but not all. Unfortunately, in this Codecademy VS Udemy face-off, only the latter platform has language selection settings. After all, when you've got a platform with over 50 million users, that's a convenience that shouldn't go overlooked. Udemy has been localized into nearly 20 different languages, including Dutch, Indonesian, and Japanese.

Then there's the matter of the course languages. As we've already established, as an instructor, you decide what content you're going to share with the world. This includes content in various languages. So, if you search around, you might even find courses about the topic you're interested in taught in your preferred language!
Essentially, Udemy's a great choice for language variety. Codecademy, on the other hand, really lacks here. In fact, there are no foreign language options on the platform, which can be inconvenient to some learners. According to the Codecademy team, the recommended strategy is to use Google Chrome for learning as it has built-in machine translation that might help. However, there's a lot of room for growth here.
So, the Udemy VS Codecademy language round has a clear winner – Udemy.
Certifications
Whether it's graduation, competitions, conferences, or any other learning path, receiving a certificate that lets you show off your skills is always a nice feeling. Of course, online learning platforms have hopped on this trend. Often, as you make your way through the courses and improve your skills, you're rewarded for your efforts with a digital certificate.
Is there any use to collecting those? Sure! For starters, they're a simple yet effective way to display your skills, especially if you use platforms like LinkedIn for networking. You can also mention them on your CV – they can be a great conversation topic during your job interview.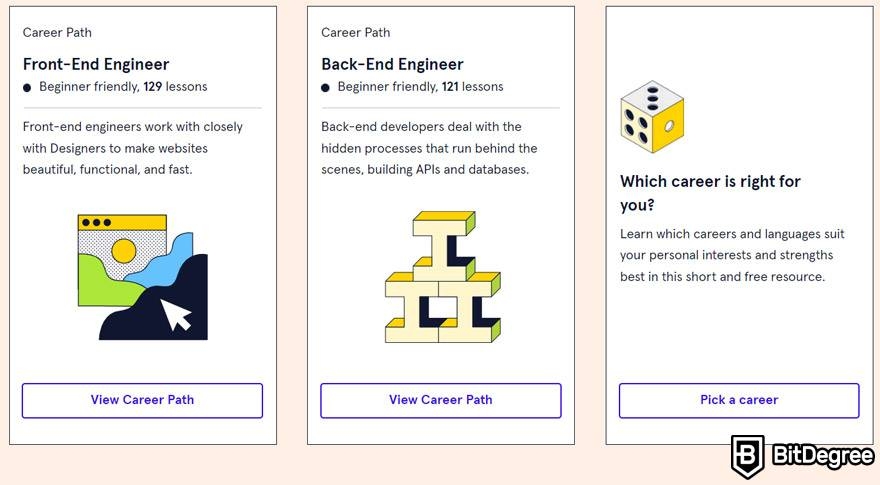 There's another perk to certificates, if you happen to be studying on a platform that has ties to higher education institutions. Of course, I'm talking about accredited certificates. These have the backing of the academic institution the course was tied to. For example, if you completed an MIT Computer Science online course, you may be able to convert your digital certificate to part of an MIT college credit.
While all this talk of accredited certificates is fun, I'll have to disappoint you. Neither Udemy nor Codecademy offer such rewards. In fact, getting a Udemy certificate can be a tricky process.
Let's say that you've found a course you're interested in. It's short, it's insightful, and, most importantly, it's free. Well, once you're done and the course is over, you won't find a certificate of completion anywhere. That's because Udemy only issues certificates on paid courses that you complete. We'll get into the pricing situation soon. However, this means that from the price point, some certificates are more expensive than others.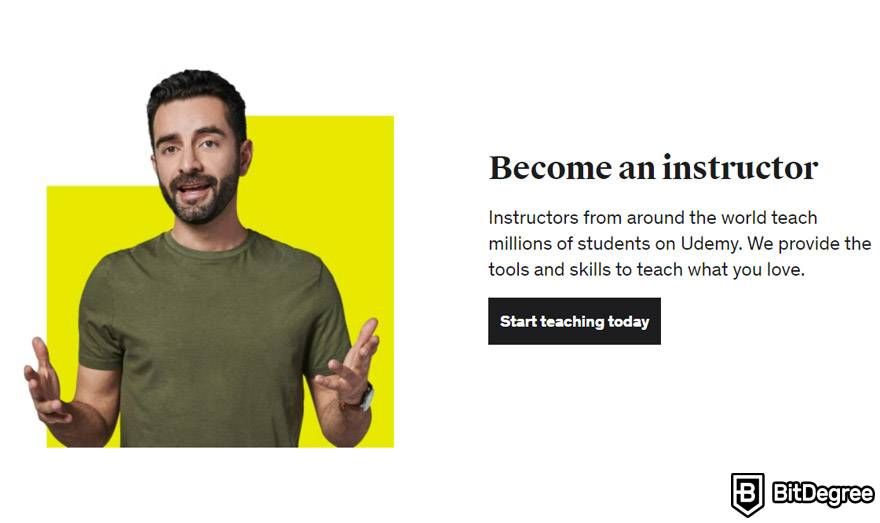 Codecademy offers certificates for completing most of the courses. However, some might be exempt, so read the description carefully before enrolling if receiving a certificate might be important to you.
As we've discussed, In addition to regular courses, you can also take career paths that let you develop your coding skills step-by-step, helping you prepare for a specific role in the market. If you choose to take a career path, you must complete every course that's on it 100% to obtain the certificate of completion.
So, there are ways to earn certificates on both platforms – you just have to be mindful of which courses you're taking.

Pros
Easy to use with a learn-by-doing approach
Offers quality content
Gamified in-browser coding experience
Main Features
Free certificates of completion
Focused on data science skills
Flexible learning timetable

Pros
High-quality courses
Nanodegree programs
Student Career services
Main Features
Nanodegree programs
Suitable for enterprises
Paid certificates of completion

Pros
A huge variety of courses
Easy-to-navigate interface
Over 600 free courses
Main Features
A huge variety of courses
30-day refund policy
Free certificates of completion
Pricing
Last but not least in this Codecademy VS Udemy comparison, let's discuss pricing. In many cases, online learning platforms can be a budget-friendly, accessible way to learn anything you want to learn. While some platforms can charge several hundred dollars for a long course that's basically a mini university degree, more often than not you'll find something fun and useful within the two-digit line.
And what's more fun than paying what's essentially the cost of a couple nights out? Not paying a cent! In fact, it's not unusual to find free online learning courses, and both Udemy and Codecademy are a great place to hunt these offers down.
Let's start with Udemy. We've already discussed the extensive search system that this platform uses. So, it's no surprise that you can also sort your search results based on the price! In fact, Udemy has a whole separate section for free courses. However, keep in mind that after completing free courses, you won't receive certificates. Still, they can be useful for various crash courses and brief introductions to your subjects of interest.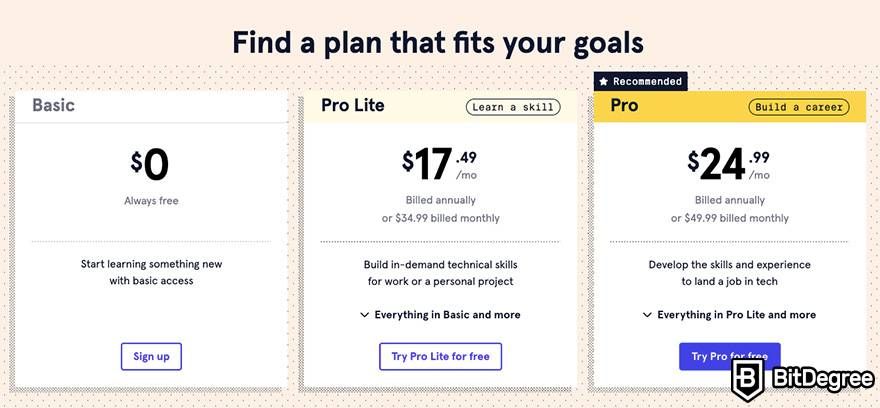 Codecademy also offers its learners a catalog section for free courses. We're about to start talking about the plans, so you should know that with the Basic plan – which is free – you'll have access to these courses, as well as the full range of resources, guides, and cheat sheets to help you out.
So, if you're looking for a place to study for free, there are definitely options. However, you might be interested in more range. Since we've started talking about Codecademy's plans, let's stay on this topic.
In addition to the Basic plan, you can also choose between Pro Lite and Pro. The Pro Lite plan costs $17/month and unlocks the full course catalog, letting you have all 290+ courses at your disposal. Pro offers the same perks as Pro Lite – and then some. For $25/month, you can start taking career paths that will get you sorted for your future coding idea. And don't think I've forgotten what I said about discounts – if you're interested in learning with Codecademy, you can find some special offers here.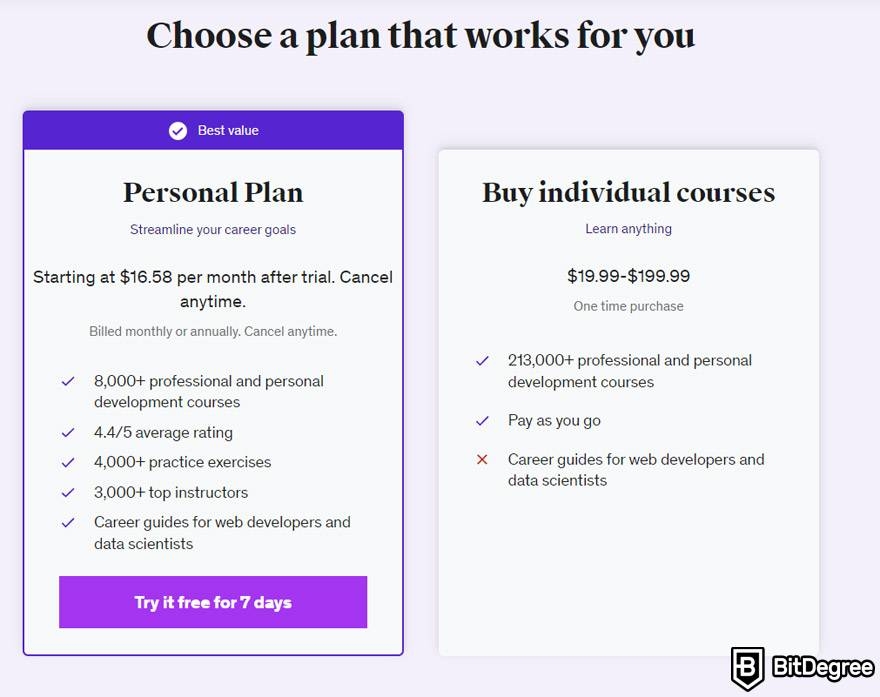 As for Udemy? Well, things aren't quite as straightforward here. In general, the paid courses can be purchased individually. Rather than the subscription model, you make a single payment and have permanent access to all materials. Based on the course length, difficulty, and other criteria, the price may vary anywhere between $10 to $100. So, if you find a course that you like but find the price to be a bit steep, you can find a discount code here.
However, users from the US may be able to sign up for Udemy Personal. This subscription plan lets you access 7,000 courses – including some covering data science and programming – for $16.58/month. However, since this feature is relatively new and limited to some courses and regions, you should double check if the plan covers the content you're interested in.
Your choice might be very subjective at this point of the Udemy VS Codecademy comparison – are you interested in a single particular skill or do you want to expand your knowledge even further? Nevertherless, both platforms can be a great option for budget-friendly learning.
Conclusions
And with that, our Udemy VS Codecademy comparison has reached its end. Shall we quickly run through the main features we've covered and discovered today? For one, both platforms offer a great range of courses on programming and data science for affordable rates. Udemy also has the strong advantage of offering courses in foreign languages. However, you'll need to really figure out the course vetting process here, as the quality on Udemy isn't quite as consistent as on Codecademy.
What do you think? Have you found the best coding platform for you? If you're still having second thoughts, don't worry – our Comparison Tool is here to help you out. You can see the main features, pros, and cons offered by Udemy VS Codecademy and even see how they compare to DataCamp, Udacity, and other popular data science learning platforms. Of course, once you've tried out either (or both) of the platforms, remember to share your experience in the comment section below.
No time to waste now. Sign up, try out some free courses to warm up, and dive right into coding with Codecademy VS Udemy!
Leave your honest feedback
Leave your genuine opinion & help thousands of people to choose the best online learning platform. All feedback, either positive or negative, are accepted as long as they're honest. We do not publish biased feedback or spam. So if you want to share your experience, opinion or give advice - the scene is yours!