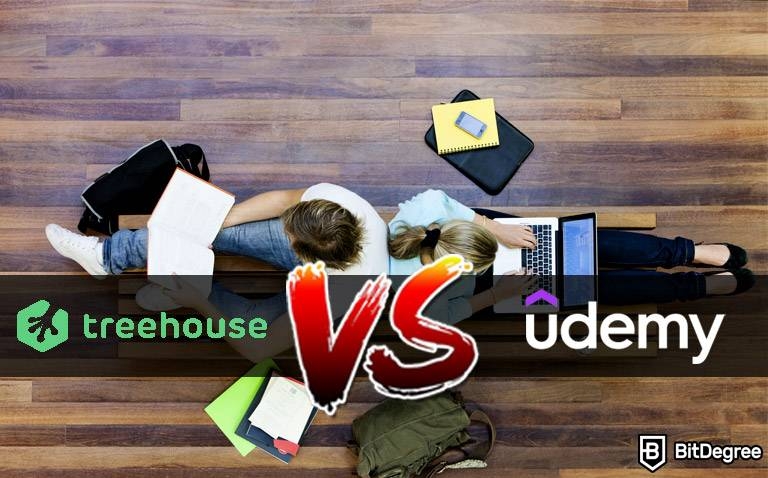 So, for one reason or another, the time has come for you to dive into the world of data science. Perhaps you've become curious about the way the software works, or maybe you've decided that your portfolio needs some new skills to improve your career opportunities. No matter the reason, your big decision now is where to start learning – and our Treehouse VS Udemy comparison will guide you in the right direction.
After all, online learning platforms are among the most convenient ways for people to learn new skills, including data science, without needing to enroll in college classes or attend private tutoring sessions. However, with so many options out there, it can be hard to narrow things down and find what's best suited for you personally.
Today's comparison will introduce you to two recognizable names in the field. In case you haven't come across Udemy or Treehouse yet, here's a short introduction. Treehouse is an online learning platform that's focused on programming. Launched in 2011, it offers career-focused courses and learning tracks. Its competitor Udemy is among the largest digital learning hubs. It was launched in 2010 and has amassed a ginormous catalog of various courses, ranging from arts to astrophysics. Given this range, we'll only focus on the data science side of Udemy.
But before we begin the comparison itself, let's first familiarize ourselves with the evaluation process.
Treehouse VS Udemy: Comparison Criteria
Conducting an analysis of two online learning platforms, such as Treehouse VS Udemy, can be tricky. You want to make sure things are fair and square, but the purpose of the platforms can impact your evaluation. Take the two subjects of today, for example: Treehouse is dedicated to teaching coding and data science. Udemy, on the other hand, has a far broader catalog, and techy courses that you'd find on Treehouse make up only a fraction of its range.
Latest DataCamp Coupon Found:
CLAIM 50% OFF
DataCamp Cyber Monday Deal
DataCamp Cyber Monday special is here! Enjoy a massive 50% off on DataCamp plans. Subscribe now and redefine your data and Al skill set for the better!
Expiration date : 10/12/2023
5,324 People Used
Only 36 Left
So, to keep things fair and honest, we have established our own comparison criteria. This way, even if two platforms differ in their range, we can still analyze them on equal terms and ensure that all the essentials are covered. We also don't focus on specific courses and instead discuss the catalogs more broadly.
Here are the five comparison criteria for the Udemy VS Treehouse analysis:
Accessibility and Ease of Use. I'm going to assume that you have never used the two websites in question before. However, if you've ever taken courses on an online learning platform, you know how crucial it is that the learning space is easy to navigate and points you toward the resources you need. In this category, we're going to discuss the accessibility and usability of Treehouse and Udemy. Additionally, we'll give some thought to those of us who prefer learning on our phones rather than desktop devices.
Foreign Languages. Millions of people worldwide are interested in learning data science online. Given such a global learning community, it's unsurprising that many of them would prefer to be able to study in their mother tongue. However, some online learning platforms still lack in this regard. In this section of the Treehouse VS Udemy comparison, you're going to see what options non-English speakers may have and how extensive the foreign language support is.
Course Variety and Quality. Next, we're going to discuss the difference between Treehouse VS Udemy course catalogs. As we've already established, Udemy has a far broader course selection, so we'll only focus on the sections that are similar to those offered by Treehouse. You're going to find out how much content both platforms offer and which learner levels are going to find content with ease. We'll also see what different learning services aside from standard courses you may find.
Certificates. There's no way to discuss online learning platforms without mentioning certificates. After all, they've become an integral part of most digital learning services – proof that you've successfully acquired new skills that might improve your employability. We're going to establish the difference between accredited and non-accredited certifications, figure out which ones the two platforms offer, and then see what you can earn by completing courses on the two platforms.
Pricing. Our final comparison is twofold and concerns both those that want to learn for free and are looking for an affordable alternative to a college education. To start, we'll see what perks you can find on Udemy VS Treehouse without needing to pay a cent. Then we're going to explore the payment plans and see what subscription and pay-per-course options you'll have. And to finish things off, I'll show you where you can find discount codes to make those expenses even lower.
Once all five criteria have been covered, you'll have a good idea of how the two platforms perform. Then, it shouldn't be as difficult for you to make the final call and select your preferred online training platform. In case you find yourself needing more data, you can use our Comparison Tool for online learning platforms here.
Now that we've sorted what each aspect of the comparison criteria means, let's finally jump into the analysis itself.
Treehouse VS Udemy: The Analysis
The criteria will follow the same order as introduced above, starting with the accessibility of Treehouse VS Udemy.
Accessibility and Ease of Use
When you open a new website for the first time, you usually spend some time first learning how to navigate it. Part of this navigation is an instinct – looking for things you'd normally see on websites you're familiar with, recognizing the different menus, and going through the sign-up process. However, with more niche platforms, such as online learning websites, you may need to familiarize yourself with some extra new features.
In the case of Udemy VS Treehouse, your first order of business is figuring out where and how the learning itself is going to take place. It'd be really inconvenient if finding the course catalog or an entry test were to take longer than enrolling for the course itself. So, to start, let's discuss the user interface of both platforms.
First, let's venture into Treehouse. You won't find much information about the courses themselves on the homepage. Instead, you'll be introduced to the different plans and services (which we'll learn more about later), as well as the 100 Days of Code challenge. It's a challenge that all users can participate in. Essentially, each participant must dedicate at least 30 minutes a day to coding for 100 days. It's an effective strategy to help build your programming habits and get used to longer projects.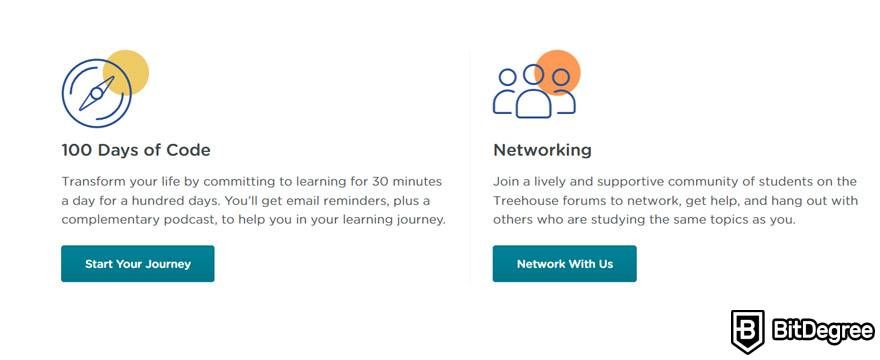 Users that are completely new to the coding world can also take the Get Started Quiz. It's a short survey that takes a few minutes to complete. Once you're done, you'll be recommended the best courses for you to get started with.
As for the course catalog? It's known as the Library on Treehouse, and it's arranged to be very easy to navigate even if you've never visited the platform before. Everything is sorted into more than 20 categories, and you can pick and choose what interests you the most. So, all in all, the platform is pretty accessible to those who have never studied coding online before.
Let's turn to Udemy now. As we've established, the platform offers far more than just programming or data science. However, there's no need to fret – IT & Software and Development are among the top recommended categories on the home page. You'll often see courses on Python or Javascript recommended among the top-rated courses.
Due to the nature of Udemy courses, which we'll talk about in one of the following sections, it's not possible to arrange a universal quiz to find your perfect match. Nevertheless, Udemy has refined its search filtering to an admirable degree.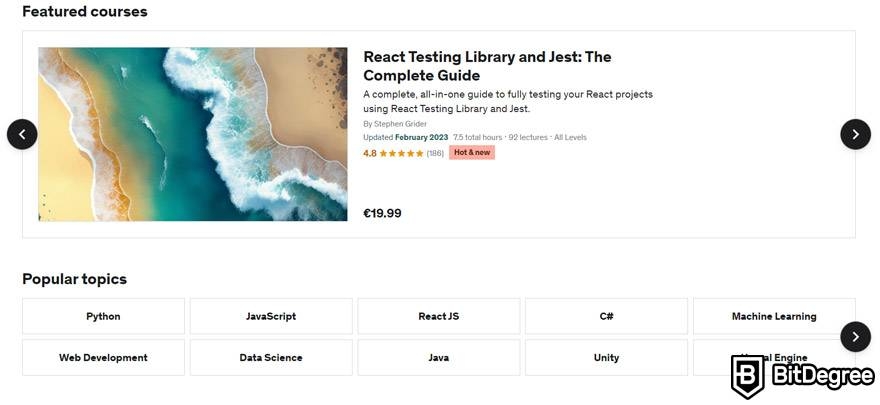 Not only can you pick your learner level and course duration, but you can also choose the subcategory, like Game Development or No-Code Development, and extra features, like quizzes or coding exercises. All in all, Udemy is pretty well-rounded for varying levels of programmers and data science enthusiasts.
However, what we've discussed so far only concerns the desktop learning experience on Treehouse VS Udemy. What if you'd prefer to study on your phone while commuting or taking your lunch break?
It seems there's only one answer here – Udemy. This platform offers an iOS and Android-compatible app for smartphones and tablets. It's an easy way to work on your courses without being glued to your desk.
Table: The features of Treehouse VS Udemy
As for Treehouse, you won't be able to find an app, regardless of your phone's operating system. If you scour the internet, you'll find mentions of an app from a few years ago. However, it has since been discontinued, and there's no word from the developers whether it'd ever make a return.
So, as far as the desktop experience is concerned, the Udemy VS Treehouse match-up is pretty even and might go down to just your personal preference for the website layout. But if you're more in favor of mobile learning, then Udemy is the clear winner of this round.
Foreign Languages
There's a high chance that if you're reading this, English isn't your native language. There's an even bigger chance that the average user of an online learning platform doesn't speak English as their mother tongue either. When you've got a big demographic like that, you need to take measures to accommodate its needs.
These measures? Well, it varies from platform to platform. Sometimes, you'll be able to watch a video with subtitles in your native language. Sometimes, the instructor is able to create and launch a course fully in a foreign language. And if you're very lucky, the entire website is going to be localized.
So, how are Treehouse VS Udemy doing in terms of foreign language support? Well, the answer might give you a deja vu about what we've already found out about mobile apps. There's no foreign language support on Treehouse.
To be fair, it hasn't gone completely ignored. The team once responded to a question on the platform's forums, stating that they know there's a huge demand for a Spanish translation in particular. However, there's no timeline or roadmap detailing exactly when something like this would become available on the platform.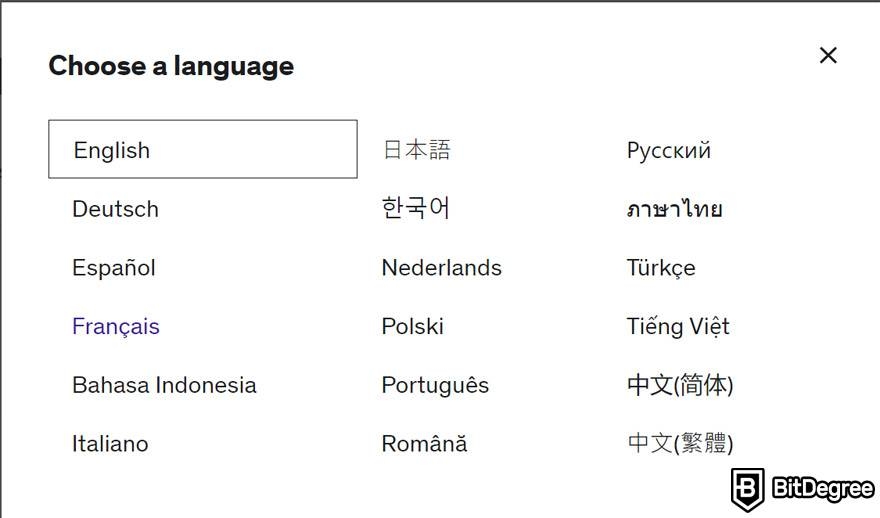 Udemy, on the other hand, is doing far better in this regard. The platform has over 57 million learners worldwide – that's massive! And while it wouldn't be possible to gather enough resources and make the content available in every single language at once, there's been some good progress.
For starters, you can access the platform in multiple languages, including Spanish, Korean, and Mandarin. Not to mention the courses – and this is where things get fun. Udemy courses are community-based. You can easily become one of the instructors – you simply need 5 lectures and at least 30 minutes of content ready to be uploaded. But let's not get carried away.
This community-based approach to sharing knowledge and launching courses means that you can easily create a course in your native language. And it won't get lost in the sea of thousands of courses either. Remember the refined search filtering I mentioned earlier? Well, one of the things you can filter by is language. So, you can go to the Data Science category, select Spanish, for example, and see how many courses are available.
Naturally, the Udemy course catalog is predominantly English. However, there's decent variety – and the fact that this content is often created by native speakers means you won't always encounter any weird translation errors. So, in terms of language support, Udemy is unparalleled compared to Treehouse.
Course Variety and Quality
Now, we're getting to the meat of things – the very thing that people seek out online learning platforms for. As you start learning, you want a nice balance of quantity and quality. If a platform offers five courses that are excellent quality, you'll certainly learn things that are worthwhile, but you'll run out of content and get bored fast. On the other hand, a platform with tons of bad content won't help you grow as a person or a worker.
So, do Treehouse VS Udemy manage to strike this balance? Certainly – although some question marks can be drawn near Udemy's name. Let's settle this in numbers – Treehouse offers its users over 1,000 courses, while the Udemy catalog consists of more than 213,000. That said, if you were to look at data science courses specifically, you'd find just over 500 free and paid courses.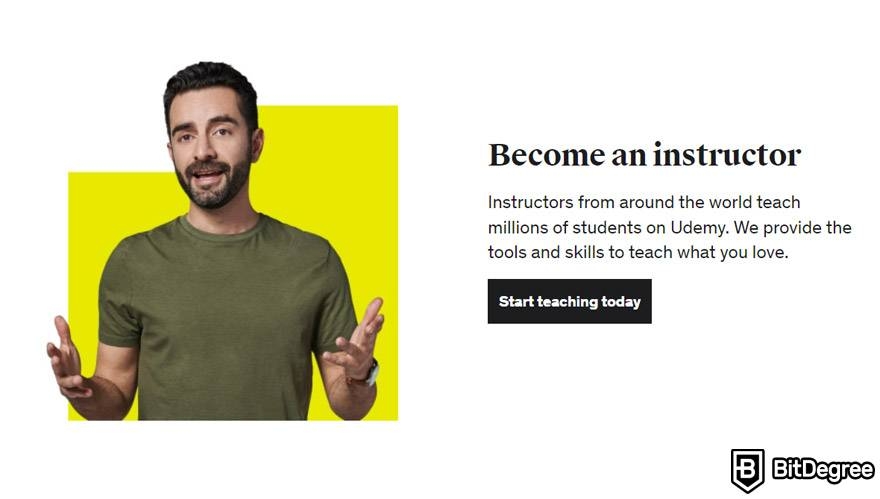 Given Udemy's range, chances are that sometimes you'll come across a course that looks interesting in theory, but the quality doesn't deliver. However, you'll typically be recommended the best-rated content before anything else, so sorting through things won't be as hard as it first seems.
While all Udemy courses follow the same format, Treehouse offers more range with its content selection:
Learning Tracks
Courses
Workshops
Practice
Conferences
Bonus series
Courses are the main content that you'll come across and exactly what you expect to gain from this platform. Learning tracks are collections of courses that help you develop skills in a particular field, such as Python programming or web design. Workshops are short presentations that will show you some of the tips and tricks that are widely used in the industry. Practice tasks give you an opportunity to put your skills to a test.
Conferences and bonus series are exclusive pieces of content for the Courses Plus subscribers. They let you participate in events featuring renowned industry names and provide additional programming resources that are unavailable under the Practice section.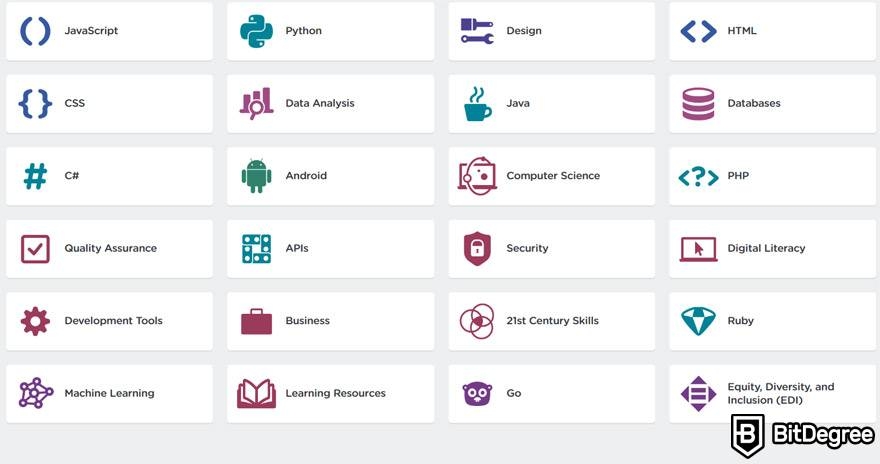 Additionally, Treehouse offers a unique service known as Techdegrees – however, we'll talk more about it in our next Treehouse VS Udemy comparison section.
So, in terms of content quality and variety, both platforms perform quite well. While you should keep an eye on the courses you're browsing through on Udemy, you can find good quality data science and programming courses on both, whether you're a complete beginner or a budding expert.
Certificates
Let's say that you've finally finished your first online course, whether it was on Treehouse VS Udemy. Congrats! More likely than not, you're going to find a certificate in your profile. But what does it mean? What value does it hold? And... what if you can't find one?
Let's start with that last question. If you're a Udemy user, the answer is quite simple. You probably finished taking a free course. You see, as we've discussed, Udemy offers both free and paid courses for its user base. One of the biggest differences between the two is certificate issuance. Only paid courses can grant you a certificate of completion. If you opt for a freebie, all you get is all that new knowledge in your head.
Similarly, you won't get a certificate by simply completing a single course on Treehouse. Instead, what you're looking for is a Techdegree. I mentioned them briefly in the last section. Techdegrees are special learning programs that focus on mastering a particular skill that you can later use in your portfolio. Team Treehouse describes this service as a coding bootcamp.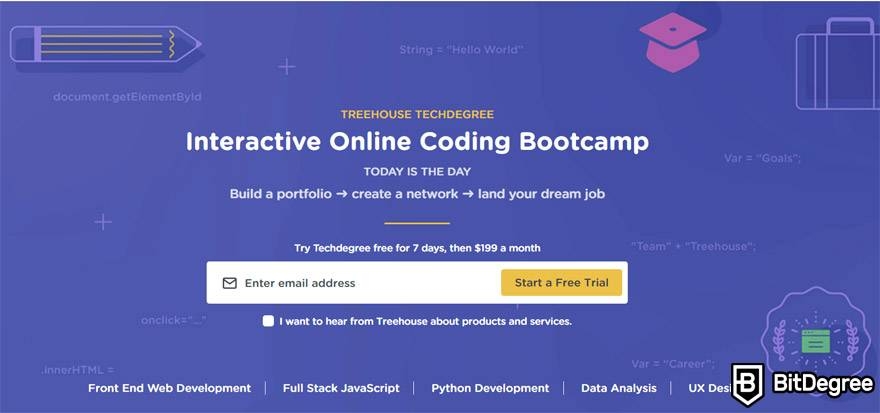 If you enroll in a Techdegree – which is an all-levels service and will teach you the essentials from scratch, even if you've never heard of the subject before – you'll technically receive two rewards. The first is finished projects for your portfolio. The bootcamp is based on the principles of learn-by-doing, so you'll have something to show for your efforts. The other is – you've guessed it – the certificate of completion.
However, you might recall me mentioning accredited and non-accredited certificates. Let's quickly figure out what they are. An accredited certificate of completion is issued by completing a course that is affiliated with an academic institution. For example, if you were to take a course that's taught in the same or similar form at Harvard or Oxford. It's like a seal of academic integrity.
Table: Learning tools on Treehouse VS Udemy
Neither of our Treehouse VS Udemy match-up platforms offers accredited certificates. Instead, you'll be issued one that's non-accredited, meaning that it's produced by the platform directly. Nevertheless, the Techdegree, in particular, is recognized by industry professionals as reputable proof.
In terms of reputation, it can be trickier for Udemy users. It's not always easy to determine and objectively evaluate the quality of the course, especially when there are hundreds of thousands of them to get through. So, all Udemy certificates are non-accredited. Nevertheless, they can still find a spot in your CV or on your LinkedIn profile as proof of your new data science skills.
In terms of value, what Treehouse offers may be recognized as having more impact in the professional world. However, this doesn't mean your proof of course completion from Udemy is completely worthless – even if you don't put it to professional use, all that knowledge isn't going to be wasted.

Pros
Easy to use with a learn-by-doing approach
Offers quality content
Gamified in-browser coding experience
Main Features
Free certificates of completion
Focused on data science skills
Flexible learning timetable

Pros
High-quality courses
Nanodegree programs
Student Career services
Main Features
Nanodegree programs
Suitable for enterprises
Paid certificates of completion

Pros
A huge variety of courses
Easy-to-navigate interface
Over 600 free courses
Main Features
A huge variety of courses
30-day refund policy
Free certificates of completion
Pricing
We've reached the final Treehouse VS Udemy comparison criterion and the determining factor for many people. After all, you want to make sure that you get your money's worth when you invest in education and new skills. For a huge chunk of students, online courses are a cheaper alternative to colleges that can help open doors in terms of career and personal development.
Another reason why learners enjoy these platforms is the ability to access some of the content for free. When we're talking about Udemy, that means a whole wide range of free courses. They make up the minority of the overall catalog and come without certificates of completion. Still, if you're looking for bite-sized courses that would explain the essentials of your subject of interest, it's a great option to keep in mind. Besides, you don't need to enter your bank details when you sign up, so you don't have to worry about ghost charges.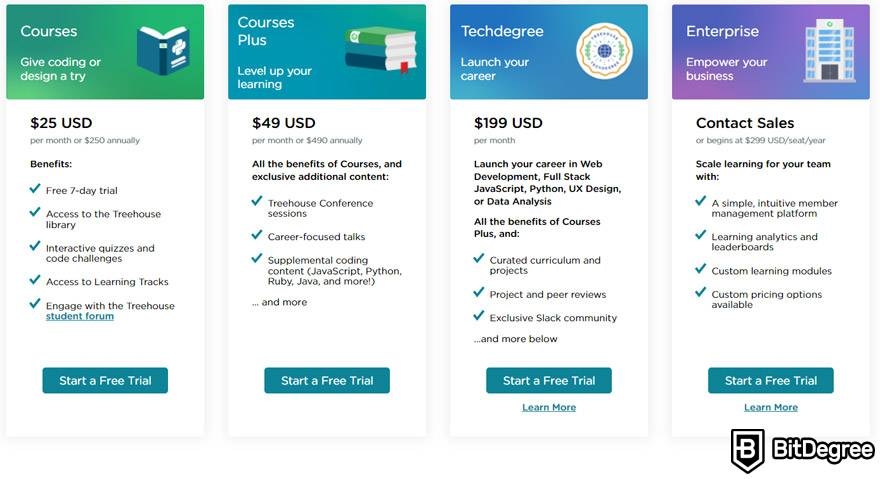 For Treehouse users, the free option is a seven-day trial that you can get with every paid plan. It gives you ample time to decide whether the content and teaching styles work for you. While 7 days may not seem like a lot, some courses only take a handful of hours to complete, so you can cover quite a lot in that time. Besides, it would get you started with the 100 Days of Code challenge.
Speaking of Treehouse plans, here are your options:
By now, you know exactly how Techdegrees work. However, what's the difference between Courses and Courses Plus? Well, it's the range of content you'll be able to access. Courses Plus unlocks the opportunity for you to join various conferences and access additional coding content. If you choose to sign up for the Techdegree plan, you'll automatically get all the perks of Courses Plus. And regardless of the plan you want, you can find discount codes and special offers here.
Enterprise is the business solution for companies. It's a great option if you've got a team to train, as it comes with various management and progress-tracking tools. Enterprise content is also customizable, so you can get a solution that's tailored exactly to what your team needs.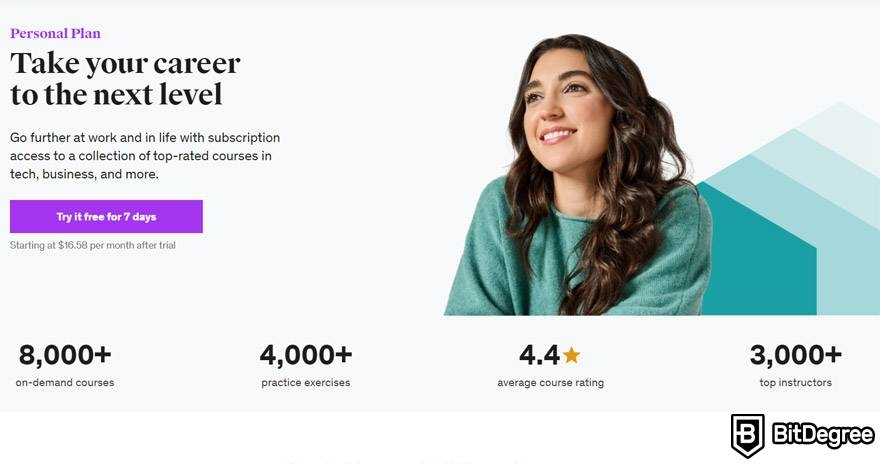 Things are a bit different on Udemy. For starters, most content can be purchased on a pay-per-course basis. This means that if you find a course you're interested in, you can make a one-off payment and own it forever. The price range here can be vastly different, going from $10 to as high as $200. That said, Udemy frequently has special offers for its users – as do we. You can lower the price of your dream course by using one of the coupons available here.
The other, newer, way to pay for content on Udemy is Udemy Personal. Bear in mind that this plan hasn't been rolled out everywhere yet, so it might not be available in your region. It currently also only offers over 7,000 courses, making it a small section of the overall Udemy catalog. However, if you're interested and can access it in your region, Udemy Personal will cost you $16.58/month.
As far as the pricing is concerned, Udemy VS Treehouse can be seen as pretty even. It's really going down to which content you're going to prefer and what's going to feel like a better investment in your future.
Conclusions
And with that, our Treehouse VS Udemy comparison is done. It's been a tough one. In some places, the fight was toe-to-toe, while elsewhere – particularly in terms of accessibility – Udemy was ahead of the game.
Now that you're familiar with the pros, cons, and perks of the platforms, it's your turn to make the final decision. Need more data? No worries – you can read our reviews for Udemy and Treehouse or try out the Comparison Tool for online learning platforms to get a better idea of the numbers. Once the decision's been made and you've got the first taste of your platform of choice (or perhaps even both of them?), make sure to leave a comment below detailing your experience.
There's a lot of range and decision-making when it comes to starting to learn data science. I hope this guide has been helpful in discovering what's best for you. So, enjoy all the incoming new skills and good luck!
Leave your honest feedback
Leave your genuine opinion & help thousands of people to choose the best online learning platform. All feedback, either positive or negative, are accepted as long as they're honest. We do not publish biased feedback or spam. So if you want to share your experience, opinion or give advice - the scene is yours!