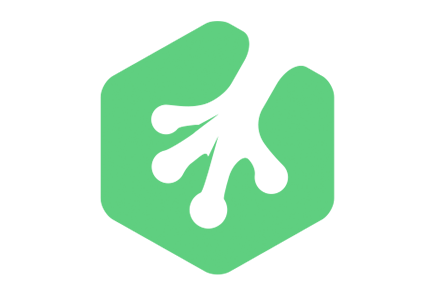 A good, reliable and reputable e-learning platform - that's what everyone looking to start learning online is trying to find. There are a lot of contenders that would fit such a description, and each one of them has plenty of reviews. Today, in this TeamTreeHouse review, we are going to look into one such platform.
I'll tell you what TeamTreeHouse is. After that, we'll talk about the platform, its features, pricing and everything else that you might need to know before deciding is TreeHouse worth it. In the end, you'll have all of the essential information that will help you decide if TreeHouse is worth your attention or not.
If you decide that it isn't, in fact, worth paying attention to, you might want to take a look at some alternative options - namely, Udemy, edX and Coursera.
Let's start the TeamTreeHouse review off by talking about the company behind the platform. I won't go too in-depth - we'll simply cover the basic information needed to figure out is TreeHouse worth it.
Pros
Good pricing
Free trial
Easy to use
Cons
Some design parts could be better
Some courses are worse in quality than others
Table of Contents
TeamTreeHouse Review - Introduction
TreeHouse originated back in 2011, in Orlando, Florida. The owner and creator - Ryan Carson - established the company from his previous business venture - a video-tutorial based service provider called Carsonified.
TeamTreeHouse is a technology learning-oriented MOOC provider. This means that most of the Massive Open Online Courses that the platform provides to the general public are based and centered around the topics of web, game, app and other, similar product development.

To put it very simply, the company offers professionally-made courses on IT-based topics to beginner and advanced students who want to score a coding job in the tech industry.
Now that you have a general idea of what the company is (and what it does), we can move on to the actual TreeHouse review. Let's start off by talking about the usability and design of the platform.
Latest DataCamp Coupon Found:
CLAIM 50% OFF
DataCamp Cyber Monday Deal
DataCamp Cyber Monday special is here! Enjoy a massive 50% off on DataCamp plans. Subscribe now and redefine your data and Al skill set for the better!
Expiration date : 08/12/2023
5,324 People Used
Only 36 Left
Ease of Use
Even if a company has the best courses around, you will probably never figure that out if you're not able to find your way through the platform. The usability factor (how easy it is to use the platform and to navigate around it) is a very important aspect of any e-learning website. And this can usually be seen straight from the get-go - the homepage.
Pair a great UI with some awesome design decisions, and you have yourself a pretty fun experience. However, if it's impossible to find your way through the main page, and the design is dodgy at best, you're probably going to give up in just a few seconds and are never coming back.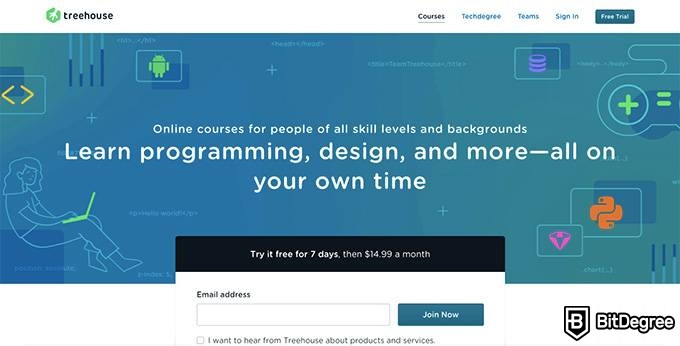 As a few user TreeHouse reviews point out, the main landing page of the platform is very minimalistic. Upon entering, you immediately notice a sign-up form, a call-to-action, and some information about what you're going to receive. If you scroll down, you'll see some additional features that the website offers, a partner list and a success story.
Even though this is some pretty standard stuff, it's still nice to see that the team behind the platform chose to go with the simplistic route, rather than trying to do something complex and edgy.
Some TreeHouse coding reviews point out (and I tend to agree) that the website leaves a pretty good first impression. It immediately shows you the price (more on that later), what you'll get, and make the sign-up process very straightforward and simple.
One thing that I really didn't like was that I couldn't find a way to access the course page from the front page. I had to actually google "TreeHouse courses" to get to them - if you're interested, look for treehouse.com/library. This was an inconvenience that I don't think many people would go through.

The courses themselves are organized by both category and date. I'm not sure if I'm a big fan of the generic thumbnail - sure, it's a lot better than copy-pasting some random stock photo, but I'm still torn. In any case, the lack of unique thumbnails kind of made me read through most of the course titles, so I guess that's a win on the business side of things.
Once you pick a course and enter its landing page, you'll be greeted by a typical layout - the "about" and "teacher" sections, "what you'll learn", course syllabus, etc. Again, even this part of the site is very minimalistic - a few colors, a "sterile" design, not much wording.
I, for one, see this as a great feature - it helps potential customers concentrate on the course and not worry about any annoying pop-ups or other advertisements. A lot of other TreeHouse coding reviews seem to agree with me. Furthermore, since the whole platform is subscription-based, the company doesn't see to worry all that much about getting people to "buy the X course".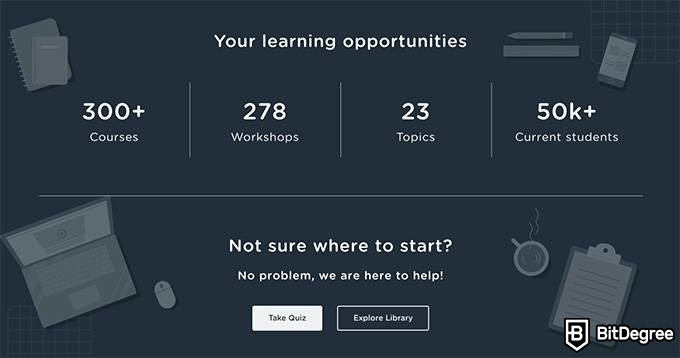 Overall, I found the site rather easy to navigate through. The only major issue that I encountered was trying to find the list of courses - other than that, everything seems like a pretty smooth sail. The UI is of the most common type that you'll encounter on such websites.
I guess that's a good thing - it's familiar to a lot of people, and allows you to know what you're doing even if it's your first time visiting the site. The design is also a good choice - you don't need to worry about being lost in a palette of colors. It's not overwhelming, and is more complementary than anything else.

Did you know?
Content Quality
As many different online TreeHouse reviews mention, the quality of the courses that the platform provides should be the main priority of any company striving for success. It's really easy to get lost in advertising, designing, and planning - educational platforms should not forget their main goals! With that said, the next step in this TreeHouse coding review will be to cover the actual quality of the courses that the site hosts.
Students that have taken a few different courses on the platform leave some pretty positive TreeHouse reviews online - it's quite difficult to find someone who would be very unhappy with the service that he or she received. I've noticed that most of this is due to the fact that TeamTreeHouse offers users a free 7-day trial to try the platform out.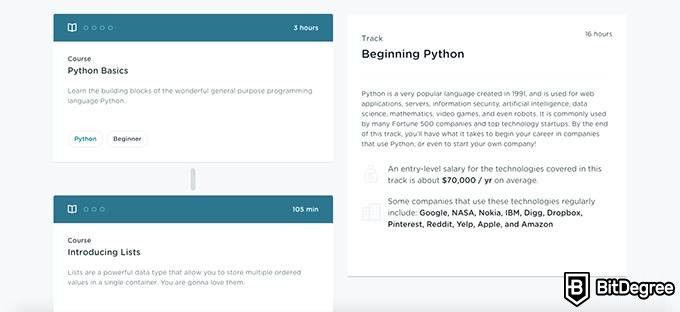 Users report that whether you're on the free trial or are actually already paying a subscription fee, the service & quality of content that you receive is the same. This is a pretty big deal! A lot of free trial-offering sites aim to scam their users - they provide exceptionally good content at the very beginning, but once a user starts paying, the curtain of deception falls.
Back to the TreeHouse review, it is worth mentioning that a lot of students report that not every course is the same quality-wise, though. Some users that have tried multiple courses leave mixed TeamTreeHouse reviews - they say that even though the general baseline of the quality is alright, there are courses that still leave something to be desired at the very end.
So, to summarize, it seems as though most of the TeamTreeHouse reviews are great content quality-wise, there are still some courses that should be worked on.
Features
By now, it is common knowledge just what features an e-learning platform can offer. You have your simple courses, video tutorials, interactive courses that allow you to work on your own projects while learning along the way, etc. etc. We all know and expect an online course provider to have and offer these and similar things - it's just how this business works.
However, if a MOOC-based platform wants to stand out, it has to offer its students something unique and interesting. This can be a scholarship opportunity, degree-earning programs, a chance to earn university credits, and so on.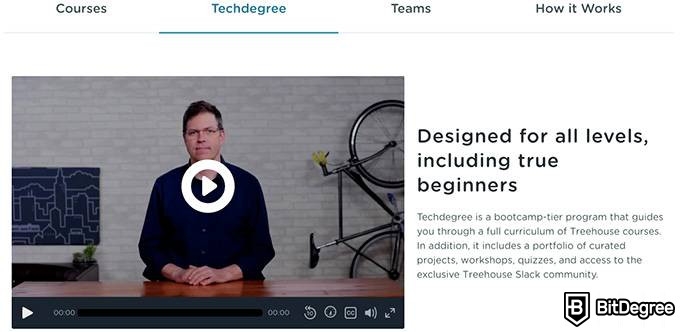 As we can see from multiple Team TreeHouse reviews, the platform offers the user a chance to earn a "Techdegree". People can choose to study one of four (Python web development, iOS development with Swift, Front-end web development and Full-stack Javascript development) career paths, and start learning with TeamTreeHouse.
These sets of courses are aimed at creating a professional that would bring competitive skills with him or her into the job market. Since tech-related jobs are so popular nowadays, these four programs are probably handpicked for maximum success.

The company also offers team-based training. With this feature, you can help your team advance towards a collective goal, create career paths, further the knowledge of existing developers, and so on. This type of training is great for employers looking to further educate and develop their teams.
Price
Now, the pricing. You would struggle to find Team TreeHouse reviews that wouldn't mention the pricing of the platform - that's probably a clear indication that it's worth talking about.
TreeHouse offers its users three (four) different types of subscription-based payment options. First of all, you have the Basic $25 per month option - this is great for anyone who isn't really sure whether or not they want to dedicate their lives to coding, and just want to try it out. It's a beginner-oriented plan that'll provide you with the essential tools that you'll need to get started.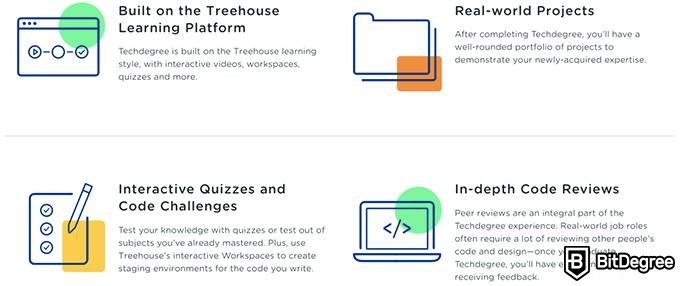 The Pro option costs $49 per month. You receive everything from the Basic plan, plus a few other features, the most notable being the unlimited access and the ability to download videos for offline viewing. This option is aimed towards people who are determined about their coding ventures and want to take learning seriously.
Then there's the Techdegree plan that comes out to be $199 per month. Now, that's a big leap! In addition to everything from the Basic and Pro plans, you'll receive personalized feedback, individual consultations, curated curriculums, and will be able to learn at your own pace.
This option is probably aimed at people who know that they want to dedicate their time toward acquiring that tech-based job and becoming an expert in their field.
The fourth and final option is aimed at the teams of two or more people. The site offers no specific price, so it's probably very context and situation-dependent.

All in all, it seems as if the prices offered by the platform are pretty straightforward and fair. Surely, the company is dependant on their subscription-based payment model. They offer a free 7-day trial to everyone, and charge you after the trial ends.
It's a pretty good deal, but you need to remember to cancel your subscription if you find something you don't like, or you'll be charged month after month until the end of time.
Learning Experience
For the final section in this Team TreeHouse review, we're going to take a look at the question "is TreeHouse worth it?" from the perspective of the learning experience that a user might have if he chooses this platform.
The learning experience is a really subjective thing to analyze - different people will have varying opinions about the same course. Sure, it doesn't change the quality of the course itself, but things like hunger, mood swings, fatigue and everything in between might affect your opinion about the information provided within the course.
However, as a general baseline, you will find that most TeamTreeHouse reviews are actually really positive - people enjoy the platform, love learning there, and don't really have all that many issues with the courses themselves. There are some complaints here and there, but the general overall consensus is that TreeHouse is a good platform to learn coding and web development.

Pros
Easy to use with a learn-by-doing approach
Offers quality content
Gamified in-browser coding experience
Main Features
Free certificates of completion
Focused on data science skills
Flexible learning timetable

Pros
High-quality courses
Nanodegree programs
Student Career services
Main Features
Nanodegree programs
Suitable for enterprises
Paid certificates of completion

Pros
A huge variety of courses
Easy-to-navigate interface
Over 600 free courses
Main Features
A huge variety of courses
30-day refund policy
Free certificates of completion
Conclusions
It can be really tough choosing an online learning-based platform to help you with all of your learning needs. It doesn't only depend on the quality of the service that the platform provides - you have to take into account your own time management skills, financial situation, skill level, and many more different things.
However, since TeamTreeHouse offers a free trial, it's a great example of a site that you could try out and see if it does suit your wants and needs. Just remember - you will get billed after 7 days if you don't cancel your subscription!
With that said, I hope that you've enjoyed this TreeHouse review, and that the information provided will be useful to you when it comes to deciding whether or not TeamTreeHouse is worth using. If you find that TreeHouse isn't really your cup of tea, though, make sure to check out Udemy, edX, or a platform like Coursera!
Leave your honest TeamTreehouse review
Leave your genuine opinion & help thousands of people to choose the best online learning platform. All reviews, either positive or negative, are accepted as long as they're honest. We do not publish biased reviews or spam. So if you want to share your experience, opinion or give advice - the scene is yours!