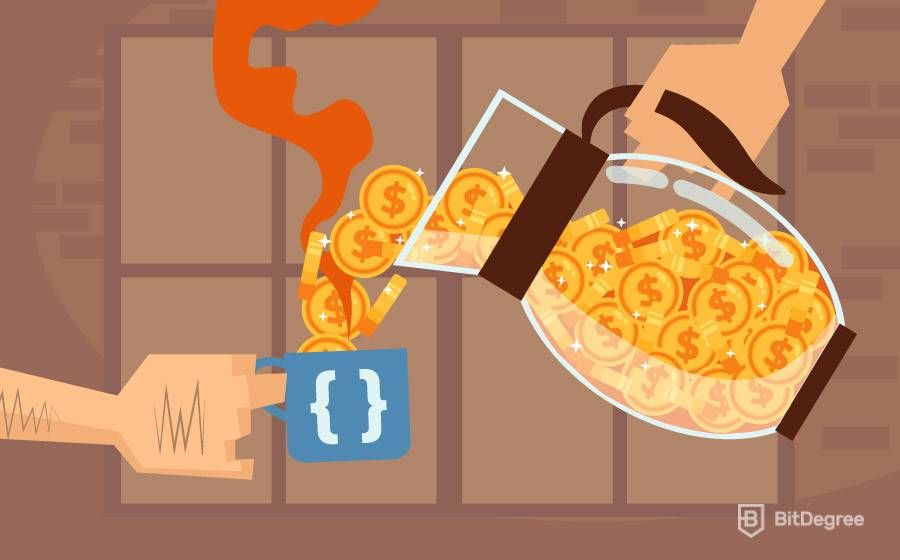 In a world where technology is developing and advancing every single day, tech-savvy people are needed now more than ever before. And this isn't only true when it comes to huge, designated projects or things like AI - there are a lot of companies and individual people who are interested in software or web development. Good developers are difficult to come by, however - it is often said that this reflects on the Java developer salary. Whether that's true or not, that's what we'll try to figure out in this Java programmer salary article.
First of all, we'll briefly go over the job title itself. It is probably worth discussing what Java programming is before we start talking about the money. Once we have that out of the way, we'll be able to start talking about the Java developer salary. However, since there are a few different types of Java developers out there, we'll cover the main ones - both to be more objective and to give you a better understanding of the topic at hand.
What Do Exactly Java Developers Do?
So - let's take it from the top. You've probably heard the title many times before - Java developer. However, many people still get a bit confused as to what these developers do - or, in other words, what are their responsibilities. Let's take a minute and cover the main points.
Latest DataCamp Coupon Found:
EXCLUSIVE 25% OFF
On DataCamp Subscriptions
Follow the Datacamp promo code link & get an exclusive 25% OFF Datacamp subscriptions. Act now while the offer is still available!
Expiration date : 12/06/2023
2,765 People Used
Only 35 Left
As you've probably guessed it, Java developers work with the Java programming language. This means that these experts specialize and dedicate their time solemnly to learning Java. Java programing can be implemented in many different situations and scenarios - business apps, web development, and so on. This is why Java developers usually work closely with other types of programmers and developers. Now, that's all pretty simple, but why would anyone want to integrate Java into their apps?
There are many different reasons why people would want to use Java. Not to go too in-depth (believe me, I could - there's a lot of great things about Java that we could cover extensively), let me just name a few key points that are often brought up - Java is scalable, quite universal and - most importantly - portable. If you write the code once, you will be able to transfer it anywhere you'd please.
Now that you have some sort of an idea of what a Java developer is, lets transition and move towards talking about how much do programmers make.
The Main Groups of Java Developers
Now, I know what you might be thinking - why in the world should we talk about different Java developer groups? Why can't I just give you a simple, straightforward answer about the Java developer salary and be done with it? Well, it's pretty simple.
As you probably know, jobs usually have different titles. This is true for most jobs out there, and it's especially prominent when it comes to IT-related ones. These titles are most often used to help and identify the level of experience that a person has in that particular field. Java development is no different.
Generally speaking, there are three types of Java developers out there - entry-level, junior and senior ones. You will find that these three classifications are the most common in any type of job. That being said, let's briefly go over them - this way, you'll be able to understand where the different numbers of the Java programmers salary come in.

Did you know?
Entry-Level Java Developer
The "entry-level" job title is used to identify those people who have just recently (or not even yet) started their career paths in the field of Java development.
Needless to say, an entry-level Java developer salary reflects the skill level of this particular group of people. Entry-level (or beginner) developers are often just finishing their university studies (or might have just reached the end of their online course binging marathon), and are starting to slowly look for their first real job. And yes, I do know that I'm generalizing - not every situation is the same and there are exceptions. However, as a general rule of thumb, these are the most commonly-occurring scenarios.
It is also common for the beginner group of developers to search for a place to practice their acquired skills. And no, I don't mean the general type of practice. I'm talking about university credits - most higher education programs require people to have a certain amount of hours spent 'working' (practicing) in a company. This is commonplace, and a lot of employers are happy to take in practitioners and show them how things work in a real work environment. Why is this important? Well, in these situations, the entry-level Java developer salary is either very small or non-existent, in general.
Junior Java Developers
The junior group of Java developers is the most complicated one of the three. And, unfortunately, this is true with most IT-related jobs out there. Why is that the case? Simple - this group of developers is the biggest one of the three, which means that the junior Java developer salary is also very unstable.
When it comes to the general description of a junior Java programmer, these are the people who have already started working "full throttle" - they have a stable job, and are often determined that Java development is the way to go. There is nothing more important to a junior Java developer than experience - depending on how fast the developer can learn and advance with his or her skills, they might expect to climb the ranks in both the Java developer salary and the job title pretty steadily.
That being said, however, you will see a lot of inconsistencies with the junior programmer salary itself. I will explain a bit further in-depth for why that's the case later on in the article, so just keep that in mind for now.
Senior Java Developer
Finally, we've reached the third and final type of Java developers - the senior ones.
Senior Java developers are veterans in the field - they have been working and learning Java development for the bigger parts of their lives. These people are usually essential members of the team and have a variety of different difficult tasks to perform every single day. Most notably, senior developers are commonly tasked with teaching and supervising entry-level and junior ones - they become mentors and pass on their knowledge.
The senior Java developer salary is usually the number that people throw around when talking about how much do programmers make. Even though it might often seem like a whole lot, these people forget the job title - senior. It means that these developers have dedicated their lives to Java development, and are the highest level professionals in their field. Surely, their salaries represent that.
What is the Java Developer Salary?
Now that we've covered all of the main groups of Java developers out there, let's move on and start to talk numbers. As a point of reference, I'll be using the average monthly salary in the US (± $3700) to compare it with the different types of Java developer salary that you might encounter.
Entry-Level Developer Salary
As I've mentioned a bit earlier on, the entry-level Java developer salary is something that a person can expect when he or she is just starting as a Java developer. But talk is cheap - what do the numbers say?
According to Glassdoor.com, an entry-level Java developer can expect to make around $80,500 per year or $6700 per month. That's a huge amount of money - almost double the average salary in the US!
If there's one thing to take away from this, it is that Java developers are truly needed and are essential to the current job market. If a beginner developer can expect to make such sums of money, this must mean that the job is truly difficult, and there is a bigger need for good Java developers than ever before.
Junior Developer Salary
Now, this is where it gets tricky. Before we go any further, I want you to take a look at the Glassdoor estimate of a junior Java developer salary.
Do you notice anything strange? The annual estimate of a junior Java developer salary is $78,100 (or around $6500 per month). This is $200 less than that of the entry-level Java developer salary! How is this possible, you may ask? Well, let me explain.
I've hinted earlier that the junior group of Java developers is complicated. Since there are no clear guidelines for when a beginner developer becomes a junior one (or a junior becomes a senior), what we might often encounter is some overlap between the three groups. At any given point in time, the junior developer groups could consist of, let's say, 80% of people who have just "exited" their entry stage, and 20% who are close to their "senior" stage (or vise Versa). This can heavily fluctuate the estimated junior Java programmer salary. Now, you might think - so what? This doesn't explain the junior salary being the lowest! That's true, but there is also an answer to that, as well.
Different companies have different needs. You could find yourself in a situation where a company is more inclined to hire an entry-level Java developer than a junior one. Furthermore, there might be a case where junior Java developers simply went to work for less-paying companies that offer other job benefits as compensation. Whatever the case might be, it's very context-dependent. This shouldn't, however, sway you away from seeking and wanting to advance to the junior position of a Java developer job. The golden rule is that if you stick with the same company for a longer time, and put in the work, your salary will naturally follow.

Pros
Easy to use with a learn-by-doing approach
Offers quality content
Gamified in-browser coding experience
Main Features
Free certificates of completion
Focused on data science skills
Flexible learning timetable

Pros
Simplistic design (no unnecessary information)
High-quality courses (even the free ones)
Variety of features
Main Features
Nanodegree programs
Suitable for enterprises
Paid certificates of completion

Pros
Huge variety of courses
Easy to navigate
No technical issues
Main Features
Huge variety of courses
30-day refund policy
Free certificates of completion
Senior Developer Salary
And, finally, we have a senior Java developer salary. People don't reference these developers' salaries is discussions on how much do programmers make without a reason - they are the staple and the dream of what you could earn as a Java developer if you just put in the time and the work. But what amount of money are we talking about here?
Glassdoor states that the annual senior Java developer salary ranges somewhere around the $112,000 ($9300 per month) mark. That's nearly triple the average salary in the US!
Seeing these numbers, it's pretty clear why Java development is as popular of a job as it is. However, you should always keep in mind that these salaries are not a "default" - they don't just manifest out of thin air. You have to work hard, constantly improve and be extremely motivated to reach the senior level of Java development. It is a goal that only a few people reach (if we compare the number with that of how many people start and learn Java development).
Furthermore, don't forget that Java developers, in general, can usually expect great working conditions as a bonus to their salaries. Seminars, holidays, bonuses - you name it! A salary often fails to reflect the whole picture. This can go both ways, however - Java developers have huge responsibilities, and have to work very hard (often - on multiple tasks at once) to maintain both quality and quantity standards of the company.
Conclusions
Whether you're a small business owner that wants to enter the big markets or the CEO of a huge enterprise who wants to expand his or her reach even further - Java programming is something that will open multiple different doors to you. Software, application, web development - you name it! This is why Java development is such a hot topic in the current job market.
As you've probably understood from this article, a Java programmer salary is truly something worth working towards. If you are thinking about becoming a Java developer, I hope that the numbers and facts provided in this article will help you in your career path. Start your new developing career with BitDegree's interactive Java course and climb those career steps.
One last point that I want to stress is that if you're already a Java developer, and your salary is lower than the ones presented in this tutorial - don't panic! These numbers are just an estimate - the actual salaries depend on a lot of different variables (place of work, experience, etc.).
Hope this article was helpful to you. Best of luck!
Leave your honest feedback
Leave your genuine opinion & help thousands of people to choose the best online learning platform. All feedback, either positive or negative, are accepted as long as they're honest. We do not publish biased feedback or spam. So if you want to share your experience, opinion or give advice - the scene is yours!