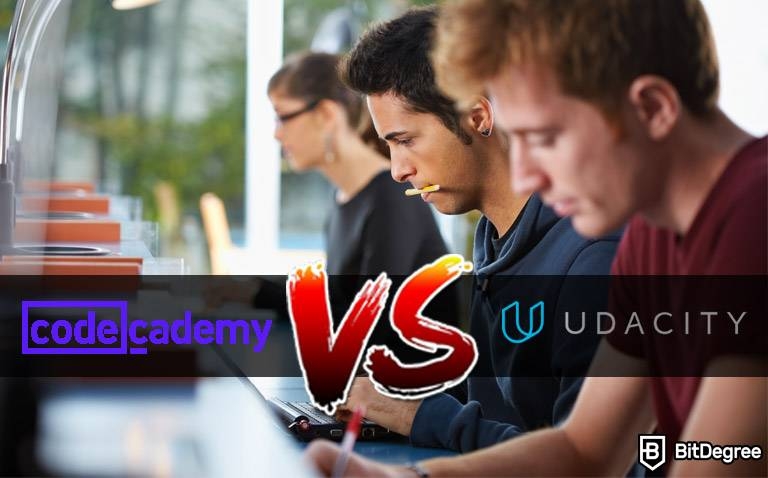 Data science is a lucrative field, so it's no surprise that people are on the lookout for resources and classes that help them gain some practical skills before entering the field. Perhaps the most popular way to set the foundational knowledge is by joining an online learning platform. If you're a budding data scientist, this article is just for you – today, we're comparing Codecademy VS Udacity.
With thousands of programming, data science, and data analysis courses to choose from, it's tough to find what's best for you. So, our comparison will help you go through platforms one by one – or two by two – and figure out your wants and needs as a learner. In fact, we've established an evaluation system that's easy to follow and has all the essential information in one place. All you need to do is read along – and, additionally, you can try out our Comparison Tool for online learning platforms.
First, here's a brief introduction to today's platforms. Codecademy is an online learning platform that focuses on coding skills. It offers programs that teach more than 15 different programming languages and how they are used in various data science fields. Udacity is a platform that focuses on delivering job-ready skills and industry insights into machine learning and data science. Both platforms were created in 2011.
As we're warming up for our Udacity VS Codecademy analysis, let's see the introduction to our evaluation criteria.
Codecademy VS Udacity: Comparison Criteria
We typically deal with two types of platforms when we conduct our analysis – general ones that offer a broad variety of courses, and the ones that fill in a niche, such as Codecademy VS Udacity. Often, the two may overlap. So, to ensure that our comparisons are fair, we have established a five-criteria system that covers all the key aspects of exchange platforms.
Latest DataCamp Coupon Found:
EXCLUSIVE 25% OFF
On DataCamp Subscriptions
Follow the Datacamp promo code link & get an exclusive 25% OFF Datacamp subscriptions. Act now while the offer is still available!
Expiration date : 12/12/2023
2,765 People Used
Only 35 Left
While every learner is unique, there are certain things that come into consideration that are more or less universal, like the costs, the course variety, or the usability of the certificate you receive upon completing the courses. All criteria are equally important, as some learners will prioritize one over another. As such, we have decided not to provide a score at the end of the comparison. Instead, if you are looking for a more in-depth, ranked analysis of the platforms themselves, you can additionally read our Codecademy and Udacity reviews.
Now that we've established why having a clearly established comparison system is important, let's take a look at how Udacity VS Codecademy will be evaluated:
Course Quality and Options. Content is king when it comes to online learning platforms. After all, that's the service you're after. No matter what platform you sign up for, you want to make sure that what you have access to is reliable and worthwhile. While a bigger catalog means more variety, it may come at the price of quality. So, it's important to strike a balance between offering a broad range of good quality courses. We'll start the comparison by looking at the course range on Codecademy VS Udacity and which learner levels are supported.
Desktop and Mobile Usability. Of course, it's hard to even start learning if you can't find your way around the platform. User experience plays a big role here – can you figure out your starting point with ease the first few times you open the website? Here, we're going to talk about how user-friendly the two platforms are. Additionally, we'll cover the question of devices – given the convenience of smartphones, knowing whether a mobile app is available can make the platform more attractive to some learners.
Access to Foreign Languages. Something we might take for granted is how many resources online are easily available when you're a native English speaker. While it might be considered among the most widely spoken languages on the internet, it's far from the only one. Students that don't speak English as their native language often find it a lot easier to learn in their mother tongue. So, to help you out, we'll show what foreign language options are available for Udacity VS Codecademy students.
Certifications and Rewards. Many online learning platforms employ the idea of gamification – checkpoints and rewards for completing lessons and courses. The most popular of such rewards is a certificate of completion – proof that you've successfully finished your course of choice. Typically, you'll see people discuss two types of rewards – accredited and non-accredited. Once we establish what the two terms mean, we're going to see what rewards Codecademy and Udacity users are eligible for.
Course Prices. Finally, we can't wrap up our Cocademy VS UDemy comparison without discussing the costs of the two online learning platforms. After all, this is literally the selling point – while knowledge is priceless, once you've acquired it, you want the path toward it to be worth the investment. We're going to compare the payment plans and what you'll be receiving for them. Additionally, we'll see whether the two platforms offer some free perks for learners.
As we go through the criteria one by one, you are going to get a general idea of how Codecademy VS Udacity function and what they offer to you as a learner. Then, it should be a lot easier for you to decide where you should start your data science journey. And if you feel like you need some more guidance, keep in mind that our Comparison Tool is available, so you can compare the two platforms against each other, as well as other best-rated online learning services.
We've got our foundation sorted. So, let's begin the analysis.
Codecademy VS Udacity: The Comparison
We'll start the comparison by discussing the course quality and variety, and follow the order as discussed above.

Did you know?
Course Quality and Options
As we've briefly discussed, when it comes to picking the best online learning platforms, the content that they offer is perhaps the key thing to keep in mind. After all, you're not browsing just to kill some time – you're actively looking for new things to learn. So, you want to make sure that what you're learning is going to have meaning and impact on your life, whether that's your career or the day-to-day activities we're talking about.
But what can we learn when we take a closer look at Codecademy VS Udacity?
To start off, we can compare the content range and variety. These two platforms are pretty easy to compare in this regard, as they're both data science learning platforms that offer courses on things like programming, machine learning, and business intelligence. If we were to look at the numbers, we'd find more than 290 courses in the Codecademy catalog. In turn, Udacity offers its users over 200 courses. All in all, that's a pretty similar range.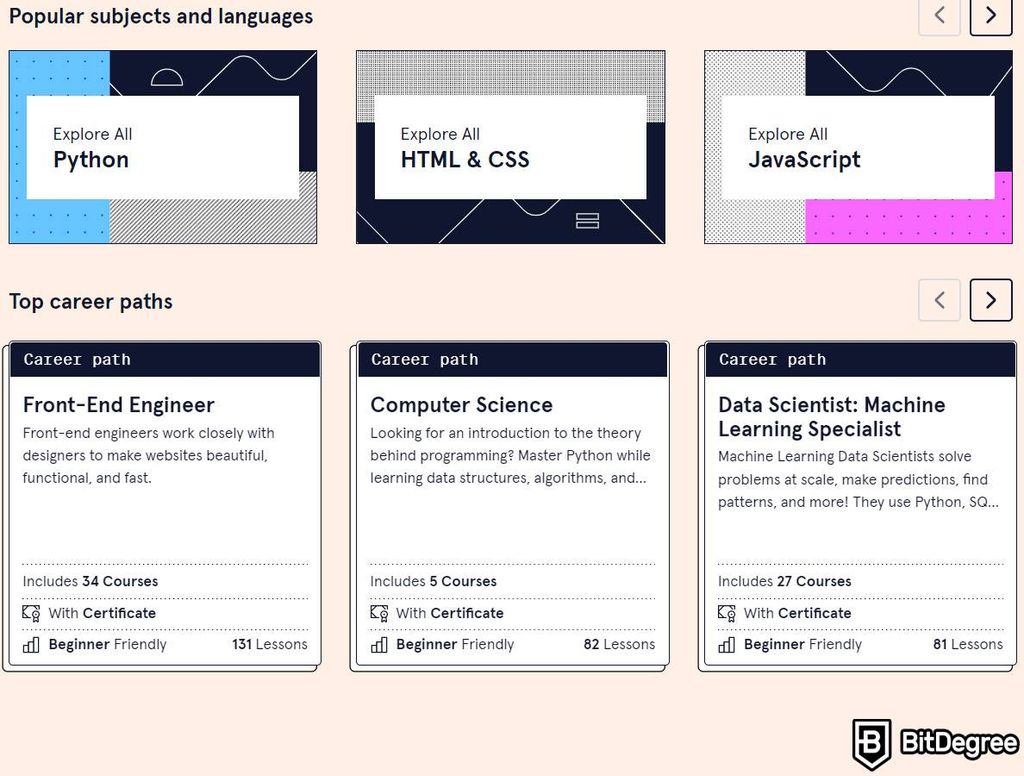 Naturally, with such a broad range, there's something for all learner levels to find. Codecademy, in particular, stands out as a beginner-friendly platform. Not only does it offer a good selection of introductory and easy courses, but many of them can also be accessed for free. And while we'll get into the question of pricing later, it's a good selling point for many newcomers to the data science world.
Meanwhile, Udacity is somewhat more focused on specific fields within the data science space, and the categorizing of content can seem a bit confusing. For example, there are three learner groups:
Individuals – everyday users that learn on Udacity by themselves, without any industry or academic affiliation. Essentially, this is the standard learner on a platform like Udacity. Individuals can select any of the 200+ courses on the platform;
Enterprise – businesses that use Udacity as a team building or workshopping platform. This category has access to more extensive features, such as data reports or performance management;
Government – one of Udacity's unique features is the promotion of digital literacy through governmental projects. Various national and federal governments have developed programs that make Udacity more accessible to residents.
In addition to its unique userbase structure, Udacity has its own approach to the course catalog. While you can choose to take one-off courses, the more popular approach is taking a Nanodegree. Nanodegrees are long-term programs that allow you to learn the core skills of a specific data science branch, such as robotics or cloud computing. Nanodegrees come with technical mentor support and easy access to the learner community. Additionally, as you progress, you work on developing your professional portfolio.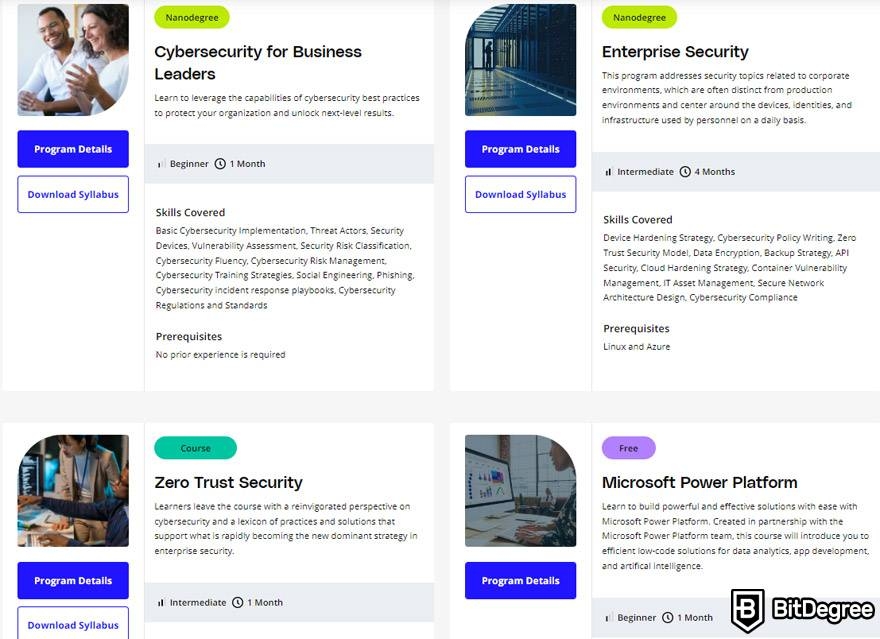 Codecademy also bundles up courses into groups known as career tracks. These may be arranged based on skill or topic. For example, you can take a Back-End Engineer career track. Like Udacity, throughout the track, you will work on your portfolio as you complete various relevant projects.
So, if you're a complete beginner with little to no experience in data science, it may be easier to build your foundation on Codecademy. However, if you're looking to expand your skills and become an expert in a particular field, Udacity's Nanodegrees may be more interesting to you. Nevertheless, both platforms are good options, offering sizeable catalogs of reputable courses.
Desktop and Mobile Usability
Some websites are easier to navigate than others. And if it's a question of two competing platforms, you're probably going to settle for the one that's easier for you to figure out. You'd be surprised by how important this can be to users – after all, most people don't want to waste more time learning to use a platform. They'd rather get right to what they want to study.
So, user experience can be a very important determining factor for learners. But which one between Codecademy VS Udacity seems to be easier to browse?
Let's start by looking at Codecademy. From the get-go, the platform is pretty easy to figure out. Take a look at the menus – you'll be able to see both the most popular courses and career tracks, as well as additional useful resources.
The catalog itself is sorted based on the programming languages and industry roles, and there are a few ways to approach them. If you already know what you want to learn, whether it's a particular programming language or role, you can simply follow the category and see which courses are recommended. However, what can you do if you're completely new and don't know where to start?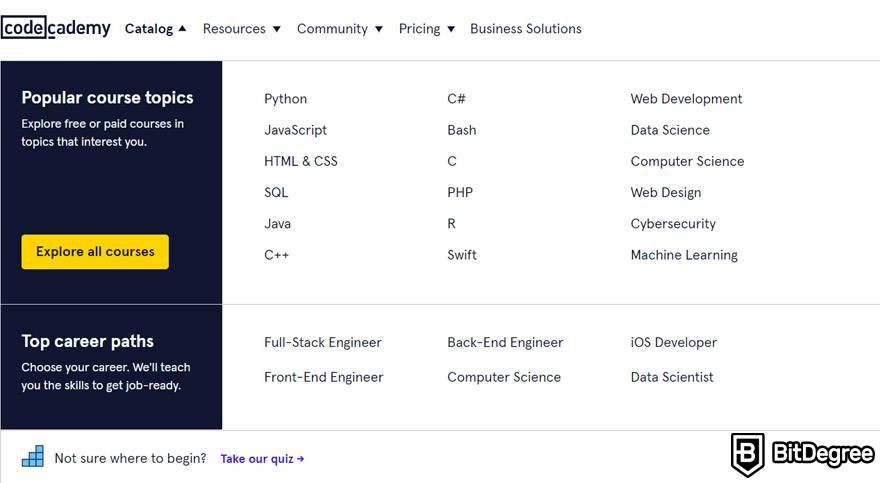 Well, Codecademy has you covered here. All new members can take the Sorting Quiz. It's a quick survey that will determine your current programming skills. By sharing what your goal in learning coding is, you'll be recommended a few courses and career tracks to get you started. It's as simple as that.
Now let's move over to the Udacity side of things. First and foremost, you need to pick which learner group suits you best. For now, let's presume that you're an individual learner. Getting over this first hurdle makes things a lot easier. As a student on Udacity, you'll be able to learn in one of the fields (also known as schools), including:
Artificial Intelligence
Cybersecurity
Data Science
Product Management
Programming & Development
When it comes to the Udacity VS Codecademy search function, the former is more refined, as it allows you more options. For example, you can sort your search results by topic, field, skill level, course duration, price, and ratings. Codecademy doesn't offer quite as many filters – the search results can be sorted by learner level, and you can select to see either paid, free or all courses.
So, if you know what you have planned for yourself, the desktop navigation of Codecademy VS Udacity won't be too difficult for you. However, let's talk about one more aspect of user experience – mobile accessibility.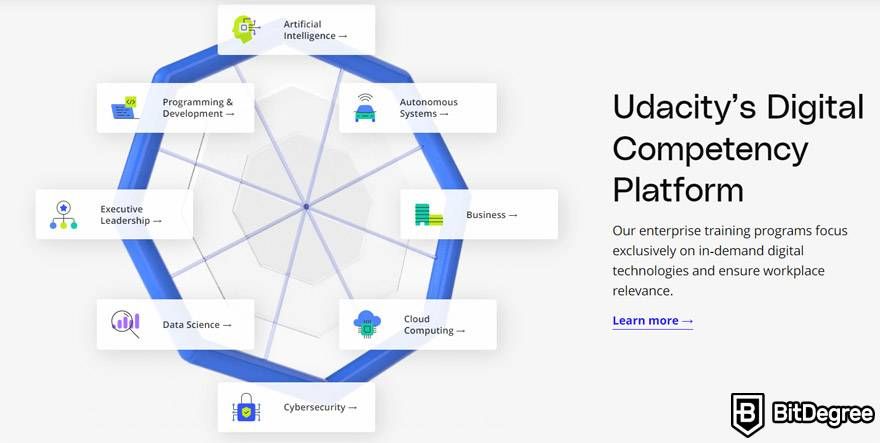 Many of us spend a lot of time browsing on our phones, whether that's checking social media or handling plans on the go. So, it's unsurprising that many online learning platforms have started making their services more easily available via mobile apps. If you want easy and convenient ways to learn on the go, this can be something to keep in mind.
Codecademy is the winner in this regard. The platform's native app can be found on both iOS and Android app stores, making it a great compact solution. All process is synchronized between devices. In terms of Udacity, at the time of writing, there is, unfortunately, no mobile app support, as it has been discontinued.
Overall, the platforms are easy to figure out and navigate, even if you've never used any other online learning platforms before. However, if you plan to be a mobile-heavy user, you're probably going to prefer Codecademy here.
Access to Foreign Languages
Foreign language support is a feature that you might overlook if you're a native English speaker. After all, whether it's Codecademy VS Udacity or other online learning platforms that we're talking about, more often than not, they're developed in countries like the US or Great Britain and are accessible in English first and foremost.
However, foreign language speakers shouldn't go overlooked. Finding content in your mother tongue can help you learn things faster and understand the concepts better. So, even if you're a native English speaker, it's good to know how supportive your learning platform of choice is when it comes to the global userbase.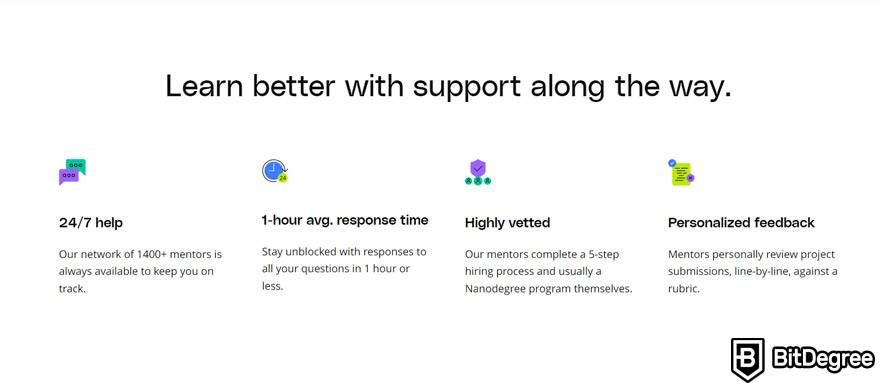 Unfortunately, foreign language support is not Codecademy's strong point. The website itself and the courses can only be accessed in English, meaning that some learners may find it harder to study. According to the Codecademy team, the platform might introduce foreign language support in the future. However, until then, it's recommended to use online translation tools, which isn't ideal.
That said, the Codecademy community connects thanks to various social features, like forums and Discord. This means that you can probably find a group of fellow students that speak the same languages you do. The sense of community and ability to discuss the learning materials with your peers can compensate for the lack of direct foreign language support.
And what about our other platform? Well, in the Codecademy VS Udacity foreign language face-off, Udacity is the clear winner. For starters, we have to discuss the Government services that I mentioned earlier. While the number of countries participating in this program is limited, you'll find their native languages available in the Udacity subtitle catalog.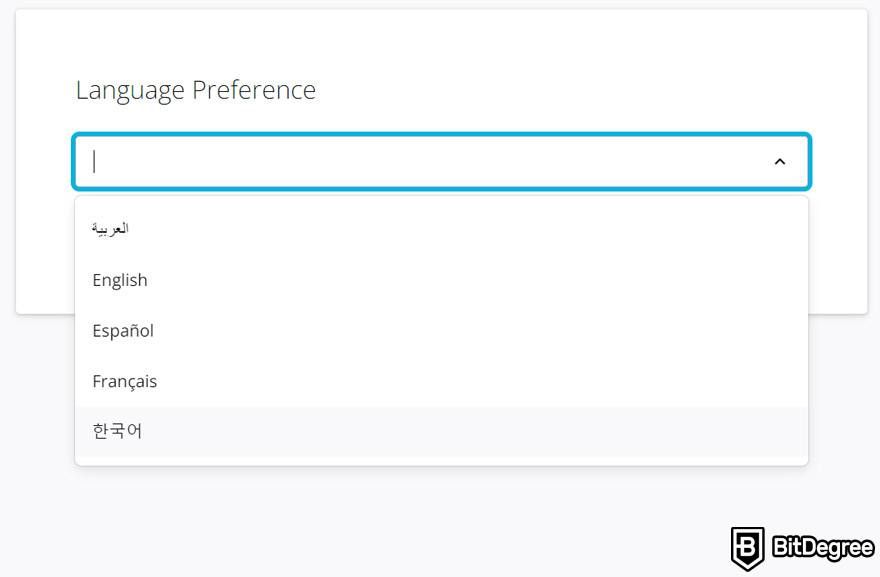 This brings us to our next point – subtitles. This is the main feature that Udacity has implemented to support foreign language learners. At the time of writing, you can only find five subtitle languages. However, it's more than likely that more options will be added in the foreseeable future.
So, in what might be our easiest Codecademy VS Udacity comparison round yet, Udacity takes the cake for its foreign language support.
Certifications and Rewards
It's always nice to be recognized for your achievements. Whether it's a "Good job!" from a peer, a gold star sticker next to your test score, or a diploma, seeing your hard work come to fruition is a really nice feeling. No wonder many online learning platforms have continued this reward tradition by implementing digital certificates of completion.
These certificates are pretty self-explanatory. You typically receive them for completing a course, a learning track, or other educational activity – it really depends on your platform of choice. The award you receive can be either accredited or non-accredited. Let's see what that means:
Accredited – accredited certificates are ones issued in association with another reputable institution. In most cases, that's going to be a university. However, large enterprises and companies that require special industry qualifications to use their products, such as IBM or Microsoft, may also issue accredited certificates or badges. These rewards can sometimes be converted to college credit or count as a specialized exam pass;
Non-accredited – certificates that are issued by the learning platform without any third-party affiliation. Essentially, this is proof that the platform itself provides you with. While non-accredited certificates are not quite as prestigious as the other kind, they are still often recognized in the data science industry as proof of skills.
Now that we've established this, let's return to our Udacity VS Codecademy comparison. What can you earn by completing courses on either of the two platforms?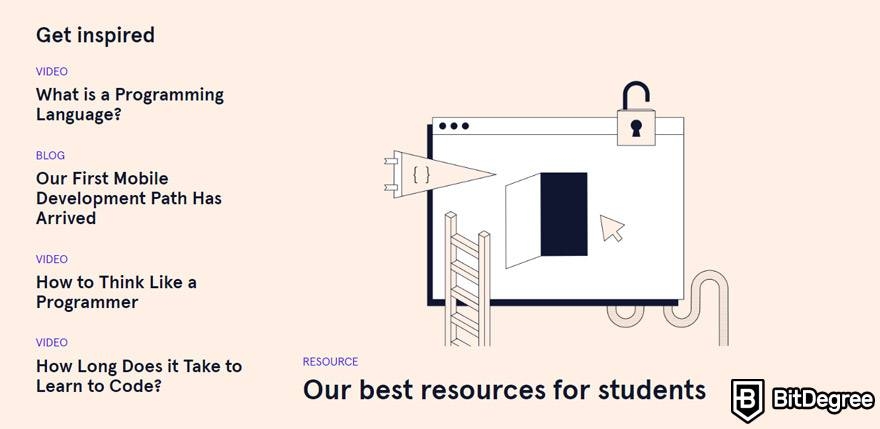 On Codecademy, you'll receive a certificate of completion for most courses. However, this doesn't include the entire course catalog, so you should double-check before you enroll. If you opt to take a career track, which is made up of several different courses, you must complete each individual course 100% before you can get the track certificate.
Udacity users receive certificates for finishing their Nanodegrees. In addition to this reward, you'll also have a programming portfolio since you will work on projects based on real-life data as you make your way through the Nanodegree. Additionally, for transparency's sake, you must complete the ID verification process on Udacity before the certificate can be issued to you.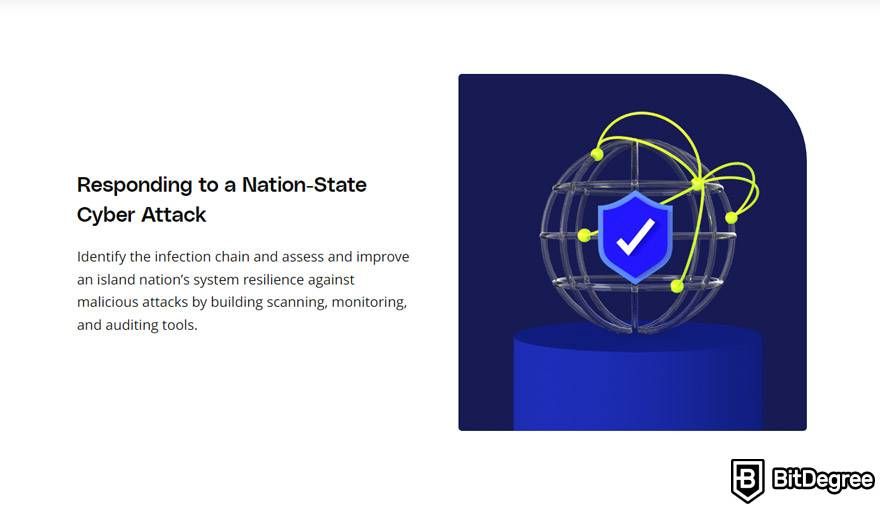 In terms of accreditation, I'll have to let you down. Neither platform has accredited certificates. While this does not diminish their value, it does mean that they may not be as impactful in some regards as the other type of reward. Another thing to keep in mind for Codecademy users is that you need to subscribe to the Pro Lite plan to become eligible for a certificate or upgrade to one of the other paid plans.
Codecademy VS Udacity are similarly useful – the certificates issued by both platforms can be used to boost your CV and even act as proof that you've developed not just theoretical but also practical skills. However, if accreditation is what you're after, neither platform has what you're looking for.

Pros
Easy to use with a learn-by-doing approach
Offers quality content
Gamified in-browser coding experience
Main Features
Free certificates of completion
Focused on data science skills
Flexible learning timetable

Pros
High-quality courses
Nanodegree programs
Student Career services
Main Features
Nanodegree programs
Suitable for enterprises
Paid certificates of completion

Pros
A huge variety of courses
Easy-to-navigate interface
Over 600 free courses
Main Features
A huge variety of courses
30-day refund policy
Free certificates of completion
Course Prices
We've got one last thing to cover in our Codecademy VS Udacity comparison – the costs of both platforms. A large number of prospective learners will see this as the ultimate decision-maker. If the quality doesn't match the price, they might not find it to be a worthwhile investment. However, before we look at the plans, let's talk about what you can find without paying a cent.
Codecademy offers its users a free plan known as Basic. It includes a number of courses that you can take by just signing up on the platform – no bank details are required. The Resources and Community sections are also freely available, so you'll have decent support to get started and see for yourself whether you want to upgrade to a paid plan.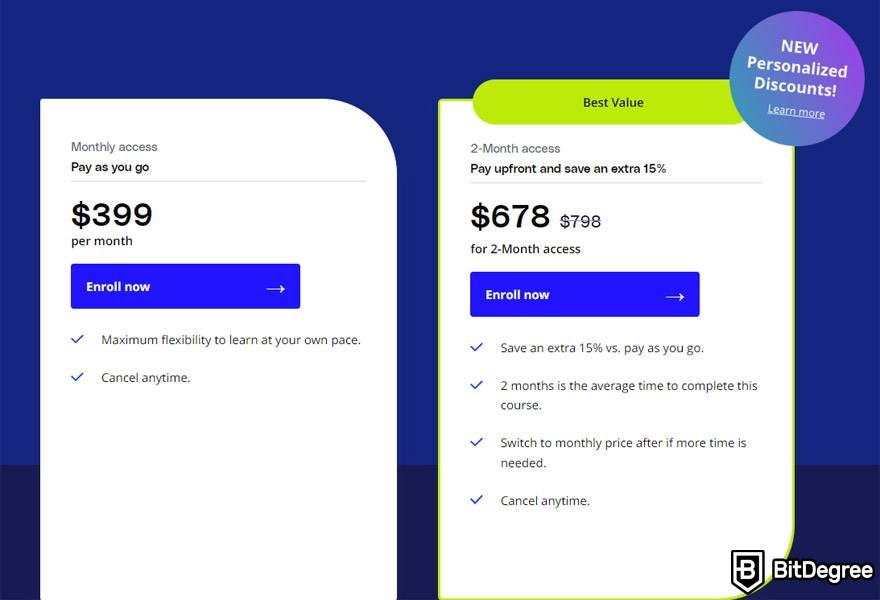 Udacity also offers its users free introductory courses. Unlike the Nanodegrees, which are a much bigger time commitment, the introductory courses typically only take a handful of days to finish. Keep in mind that you won't be eligible to earn a certificate of completion by taking free Udacity courses.
Now, let's discuss payment plans. The Udacity Nanodegree price is calculated individually based on which program you've decided to take. While the base rate for one month is $399, each Nanodegree duration may range from two months to nearly a year, so how much you spend in total is going to vary. However, with each additional month, you'll receive a discount. And if you want to bring the price point even lower, you can find some special offers here.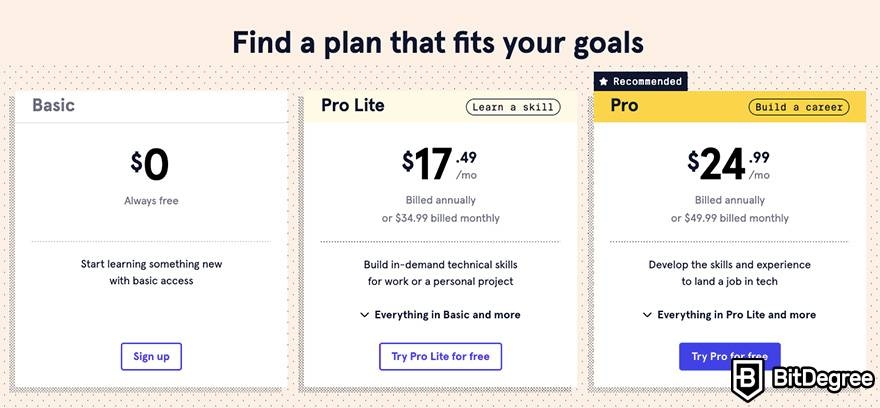 Meanwhile, Codecademy uses a monthly subscription model. You can choose one of the three plans:
Basic – the free plan we've already discussed. Access to some of the Codecademy courses;
Pro Lite (starting at $17/month) – unlocks the entire Codecademy course catalog;
Pro (starting at $24.99/month) – in addition to the entire course catalog, it also provides access to career paths.
As you can see, the Codecademy subscription model grants you unlimited monthly access to hundreds of courses. And if it piques your interest, feel free to check out the available Codecademy coupons and discounts here.
So, while Codecademy is the more cost-efficient option, choosing Udacity can be a great way to directly start working on your portfolio. At the end of the day, it all depends on what you need the most as a learner.
Conclusions
That's it – our Codecademy VS Udacity comparison is now complete. It's been a pretty even fight, although Codecademy shone more in some parts while Udacity stood out in others. Nevertheless, if you're seeking a starting point in your data science journey, both platforms can be an excellent choice.
With a combined amount of 500 courses, there's a lot for you to discover, whether you're completely new to data science or are working on moving towards a particular branch. On the one hand, you might favor Codecademy for its mobile access. On the other, Udacity's foreign language selection may be more helpful. It can be a tough call to make.
So, have you made up your mind and decided which platform is the best fit for you? If not, don't worry – our Comparison Tool is here to help you do some more analysis of your own. And once you've had your hand at this learning experience, remember to share your thoughts and opinions in the comment section below.
And now – good luck, and enjoy your experience in the data science world!
Leave your honest feedback
Leave your genuine opinion & help thousands of people to choose the best online learning platform. All feedback, either positive or negative, are accepted as long as they're honest. We do not publish biased feedback or spam. So if you want to share your experience, opinion or give advice - the scene is yours!