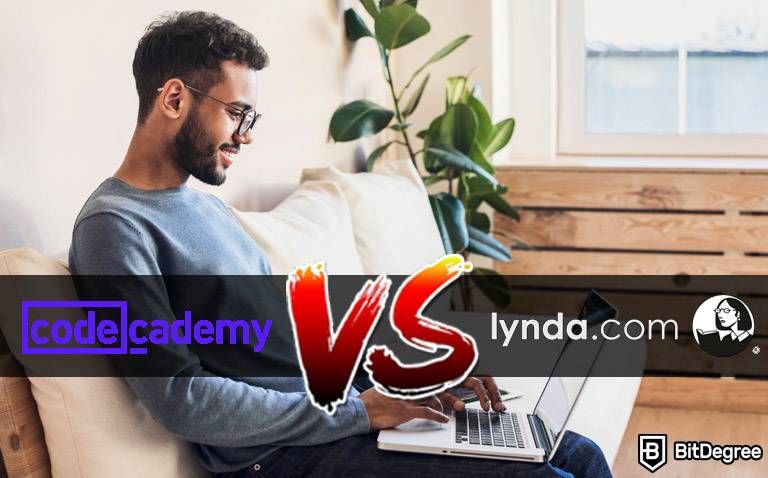 Are you looking for ways to upgrade your CV and think some new tech skills could help? Congratulations – you've found the right place! Today, we're talking about Codecademy VS Lynda – two very popular online learning platforms for tech enthusiasts and professionals alike.
In case you're not familiar with the BitDegree evaluation system for online learning platforms, don't worry – our first course of action will be introducing you to how things work around here. And once that's done, you'll be able to see how Codecademy and Lynda stand against each other. You can also add more data on top of this analysis by hopping over to our Comparison Tool, which lets you see how these two platforms stand against each other, as well as other popular service providers, like DataCamp and Udacity.
Before we go over the evaluation criteria, here's a short introduction to today's subjects. Codecademy is one of the most popular coding platforms out there. Launched in 2011, it offers job-ready skills in programming languages like Python and C++. Lynda, also known as LinkedIn Learning, is one of the oldest players in the field, as it was launched in 1997. Although LinkedIn acquired this platform in 2015 and it has since been rebranded, we'll be using both Lynda and LinkedIn Learning throughout the text.
So, let's not waste any more time and introduce you to the comparison criteria.
Codecademy VS Lynda: Comparison Criteria
At first glance, Codecademy VS Lynda are not the easiest platforms to compare. LinkedIn Learning offers more than just programming courses in its catalog. So, to keep things fair, we'll only be focusing on the tech-related courses. As you can see, issues with maintaining a fair comparison plan can arise early on. What can be done to keep things from getting unbalanced?
Latest DataCamp Coupon Found:
EXCLUSIVE 25% OFF
On DataCamp Subscriptions
Follow the Datacamp promo code link & get an exclusive 25% OFF Datacamp subscriptions. Act now while the offer is still available!
Expiration date : 12/12/2023
2,765 People Used
Only 35 Left
Well, we have spent a long time researching and refining our comparison strategy until we've come to what we have today – criteria that cover five core aspects of all online learning platforms. Regardless whether it's focused on one niche or offers hundreds of thousands of courses, each platform can be analyzed and judged based on these five aspects.
Here are our criteria for evaluating Lynda VS Codecademy, as well all other online learning platforms:
Foreign Languages. Accessibility is really important in creating a fun global internet space. One of the things that make a platform accessible is content localization. After all, the more languages your platform is available in, the more users you can attract. Besides, having courses or parts of the learning content in multiple languages can help maintain a more straightforward learning process if you struggle to study in English. We're going to see how Codecademy VS Lynda accommodate learners who speak foreign languages.
Course Quality and Range. Next, we can't avoid talking about the courses. After all, they're the key component of the platforms and the main service you'll be interacting with. While it's not humanly possible to compare every single course on one platform against its alternative on the other, we'll be looking at more general features, such as how much content you can access and what learner levels may benefit from it. After all, it's important to maintain both quality and quantity if you want a broad range of students.
Ease of Use on Desktop and Mobile. Doesn't it sometimes seem like time spent online melts away? You want everything to be easily accessible at the click of a button, and having to wait for things to load or navigate a maze of menus can really dampen this experience. So, looking at the usability of Lynda VS Codecademy is really important to us. Furthermore, it's not just about how things run on your desktop – many of us enjoy the convenience of mobile-compatible sites and apps, so we'll see what mobile students can find on their app stores.
Certificates of Completion. The rules of most online learning platforms are simple – once you've successfully completed a course, you obtain a certificate of completion. These digital proofs of learning are a great way to show what your professional skills are and something you can add to your CV. We're going to learn about the two main types of certificates – accredited and non-accredited. Then, we'll take a closer look at what Codecademy VS Lynda have to offer their diligent students.
Subscriptions and Prices. The final matter we must discuss is the pricing of the two platforms. Nowadays, subscription models are pretty popular among online learning platforms, so the question is down to what you can get at a specific price point. In addition to talking about the paid services, we'll see what perks you can have for free. Also, as we wrap this Lynda VS Codecademy comparison up, I'll show you where you can find discount codes and special offers for your subscriptions.
With each category covered, you should get a good idea of how the two platforms function. Keep in mind that we won't be grading them here. If you want to find out how we've rated Lynda and Codecademy in the past and read a more in-depth analysis, feel free to check out our reviews.
If you find yourself still having second thoughts about which platform is better for you as a student, we can help you out. The BitDegree Comparison Tool for online learning platforms allows you to see how Codecademy VS Lynda stand against each other in various aspects. You can also play around and check out the features of other learning platforms, like DataCamp.
So, we've got our basics covered. Let's jump into the comparison itself.
Codecademy VS Lynda: The Comparison
This comparison will follow the same order as established above. So, we'll start with foreign language support, continue with the courses, usability, and certificates, and wrap things up with the pricing.

Did you know?
Foreign Language Support
Here are some fun statistics for you: according to company data, LinkedIn Learning has over 27 million users, while Codecademy's user base has surpassed 45 million. These numbers are undeniably huge. And this means that it's more likely than not that a huge chunk of these users don't speak English as a native language.
It might not seem like a big deal – after all, we're talking about tools to learn data science here, and code is code no matter what language you speak. However, video guides, external resources, descriptions – having all these things available in your mother tongue can significantly improve your performance as a learner.
So, what support features do we find when we look at Codecademy VS Lynda? Well, there's only one platform that has something to show for it.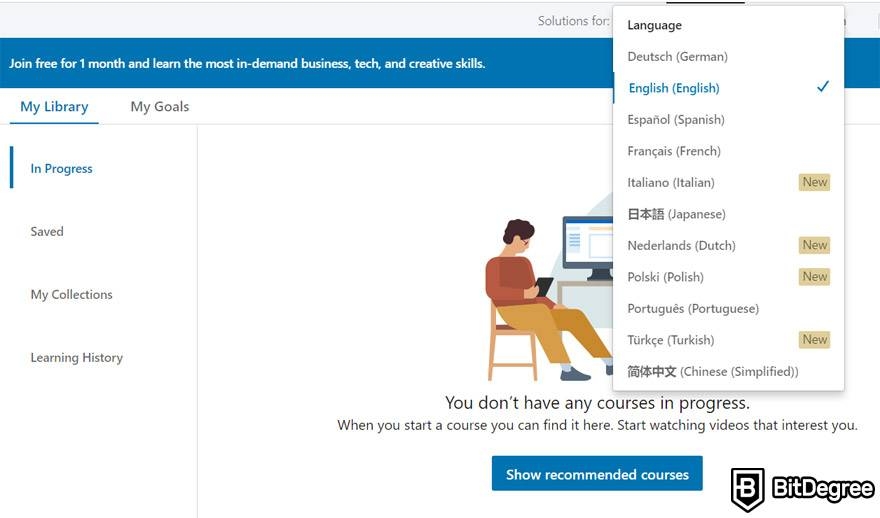 As we've already established, Lynda is part of LinkedIn. This social networking platform is already available in multiple languages, so it's not surprising that Lynda's services would also be localized. Overall, the platform can be accessed in 26 languages, including Italian, Japanese, and Turkish.
However, that's the platform itself – meaning categories, menus, and the overall infrastructure. The numbers aren't quite as large when it comes to the courses themselves. At the time of writing, the videos come equipped with subtitles in 11 languages. All other course content has been localized to 7 languages so far. So, there are some good stepping stones laid around here already.
Table: Features of Codecademy VS Lynda
The same can't be said about Codecademy. In fact, there's not much to say here at all. The platform is available exclusively in English, and the team recommends using machine translation if you run into any issues. However, the Codecademy community has many ways to connect – from forums to local charters. So, given that same huge number of registered users, chances are that you can find some peers to help you out in your mother tongue.
As far as the first category of our Codecademy VS Lynda comparison is concerned, Lynda is the undisputed champion here.
Course Quality and Range
This is the holy grail of online learning platforms, whether we're talking about Lynda VS Codecademy or any other website. This is also why you're here – you want to know if these two platforms offer what you need and what would be worth your time. After all, this is a long-term investment into your future.
Whether you're only interested in learning the basics or you want an assortment of content, you're probably very curious to learn what the two platforms have to offer. Well, we can first describe it in numbers. On the LinkedIn Learning platform, you'll find over 20,000 courses. That number is probably hard to wrap your head around. Remember that data science courses will only account for a fraction of this number.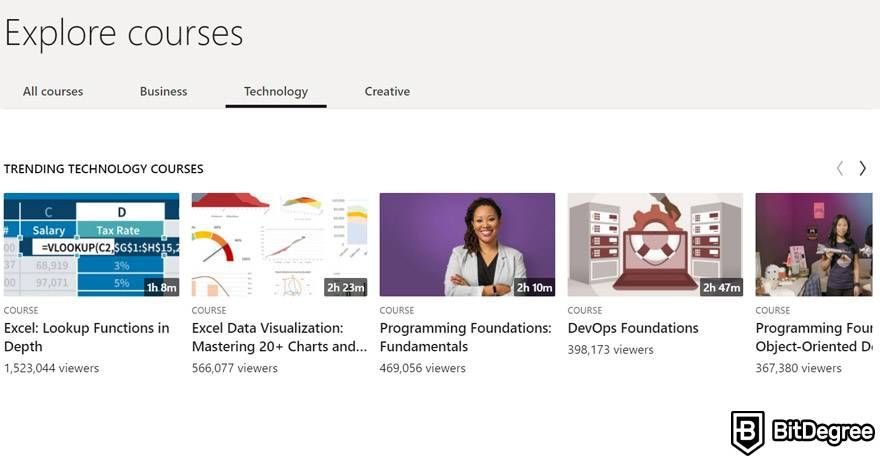 What you need to keep in mind here is that all Lynda courses are grouped under one of the three categories – Business, Technology, and Creative. In this case, you'll probably be interested in the Tech courses the most. And the quality of these courses can be attested for with time alone – Lynda has been around for around three decades now. If the content wasn't good, it wouldn't be one of the oldest and best-known names in the industry.
Although Technology will be your focus, we can also briefly talk about Business and Creative courses. While the names are pretty self-explanatory, Business is a broad field, and you'll find guides to things ranging from investments to personal branding. The Creative section is a great option if you're interested in creating digital art, whether that's graphic design or electronic music composition.
In addition to the regular courses and video guides, you can also take up a learning path. You may already be familiar with this concept – paths are series of courses focusing on a specific subject. They can be really useful as you learn gradually and don't need to hop around the course catalog to find your way from step 1 to step 2.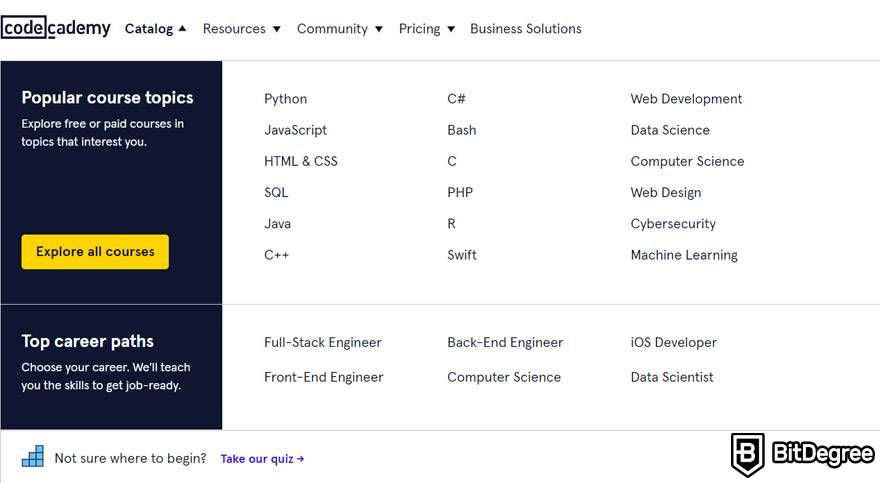 The Codecademy course catalog is quite humble compared to Lynda's, consisting of just over 290 courses. However, you need to keep in mind that this platform has only been around for a little over a decade, barely a third of Lynda's existence. Nevertheless, in this time, Codecademy has established a quality catalog of free and paid programming courses.
Codecademy is particularly focused on newcomers to the tech world. Most courses are either beginner or intermediate level. In addition to the standard individual courses, you can also take career paths – course series where you focus on a particular programming language or subject and work your way up from the foundation to more advanced skills. It's a great way to start preparing for a tech career.
So, while Lynda certainly stands out in its variety of courses, Codecademy doesn't fall behind in terms of quality.
Ease of Use on Desktop and Mobile
That title is quite a mouthful, but it won't take too long to cover everything. First, let's talk about user experience. Don't worry, this won't get technical. Simply think of what your ideal online learning platform would look like. You probably want menus that take no time to figure out, beginner-friendly courses recommended to you as you start out, and a search system that you can refine to find exactly what you need.
It might seem like achieving all of this at once is tricky business. However, the two platforms we're discussing are actually quite user-friendly in terms of navigation. Let's take a closer look at Lynda VS Codecademy.
Lynda is actually pretty easy to figure out, especially if you already have a LinkedIn account. It takes the information that's available on your profile – such as which skills you have, what your career is, and what you're interested in – and creates personalized recommendations, making it pretty easy to find some courses to get started with.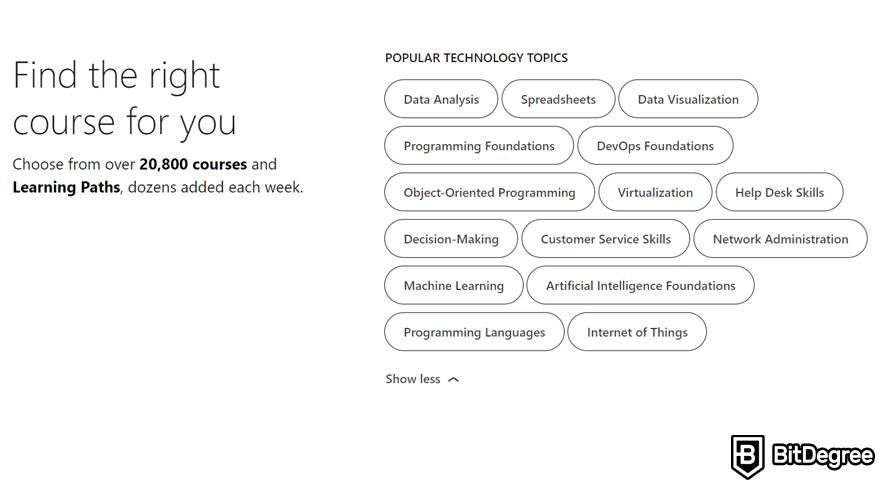 That said, a LinkedIn profile is not required to preview the courses. All the descriptions are available even if you're logged out. This is stark contrast to LinkedIn itself, as most features are hidden behind the log-in screen if you try to browse company or user pages.
Lynda also takes into account the interests of your community. So, you'll be able to see courses that are popular among your friend circle and the rest of the learners on the platform. As for the search function, you've got some interesting options here. If you were to look for, say, Python courses, you'd be able to sort the results based on:
Your learner level (beginner, intermediate, or advanced)
Result type (course, video, or learning path)
Time to complete
Software
That last filter can be very useful – even if you don't have the required software, you can watch video guides to help you figure things out once you get your hands on it. Overall, this makes for an efficient learning experience on Lynda.
What about Codecademy? Well, this platform is certainly great for beginners. For starters, if you're completely new, you'll be able to take the sorting quiz. Taking your experience with coding into account, it'll recommend the best courses and career paths to get started with.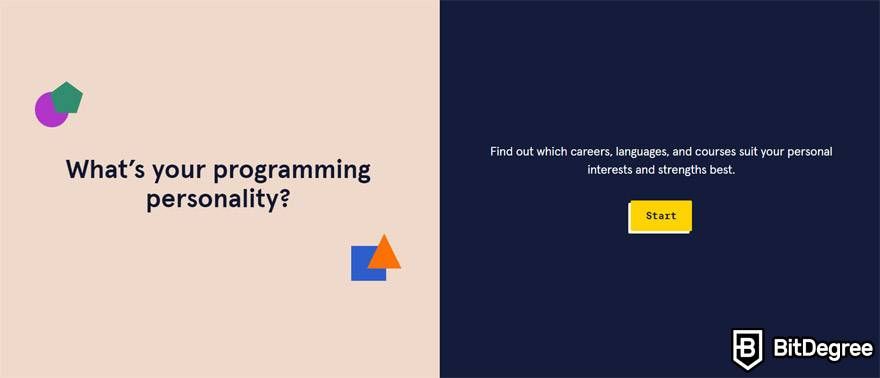 The course catalog itself is really easy to navigate. Everything is grouped based on either the tech field or the programming language. So, if you're interested in web development, you'll find courses on the different engineering roles, as well as guides to passing the technical interviews. If you're interested in learning SQL, you'll be able to complete several courses that focus exclusively on this language. Overall, everything has its place and takes no time to find.
The same can be said about the Codecademy resources. The organization here follows a similar structure. Among the broad variety of free resources you'll find cheat sheets, video guides, programming tasks, challenges, and tips and tricks to inspire you on your path to the tech world.
Everything we've discussed so far concerns the desktop Codecademy VS Lynda experience. But what about those learners who spend just as much time on their phones, if not more? Although coding is definitely an activity you'd prefer to have a desktop setup for, watching a quick video guide or doing a quiz on your smartphone when you're commuting can be really convenient.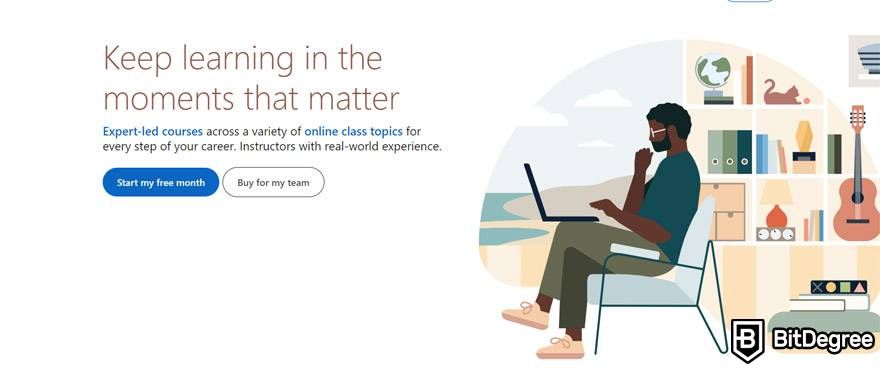 Well, you can look for LinkedIn Learning and Codecademy apps on your iOS or Android device and be certain to find them. Keep in mind that a stable internet connection is a must – and once you're online, you can sync up your progress and return to your course on your laptop at any point.
As you can see, in terms of user friendliness, this Codecademy VS Lynda face-off is once again pretty tough. In the end, it may come down to something as simple as which design you prefer.
Certificates of Completion
When it comes to delivering a fun and informative online learning experience, certificates definitely can't be left out of the conversation. While they are, first and foremost, proof that you've acquired specific skills, just receiving them can be a boost of serotonin. After all, they're kind of like mini diplomas. They can be an immense career booster – or simply an original conversation topic.
Usually, when we discuss certificates, we have two types in mind – accredited and non-accredited. The latter are the type you'll find on most online learning platforms – including our Codecademy VS Lynda competitors – as they are automatically issued by the learning service provider.
Accredited certificates can be trickier – they require the backing of an academic institution, such as a college or a university. Not many platforms offer them. However, earning one can be pretty impactful, as some institutions allow you to convert it into credit and add it towards your GPA.

Unfortunately, as I've already hinted, when you're looking at Lynda VS Codecademy, you'll only hear about non-accredited certificates. Neither platform is affiliated with universities for the courses. Nevertheless, there are still some interesting aspects to discuss.
Take Lynda, for example. As you might know, LinkedIn allows you to add certificates acquired on various online learning platforms, such as DataCamp or Coursera. The same goes here. Once you complete a course, you can easily publish your results on your LinkedIn platform. It's hassle-free, as the process is all handled within the same platform. And once you consider how long Lynda has been around, you can feel certain that the value won't be overlooked.
Keep in mind that if you choose to take the weekly tip courses, you won't be eligible to receive a certificate. This content is categorized as frequently updated courses.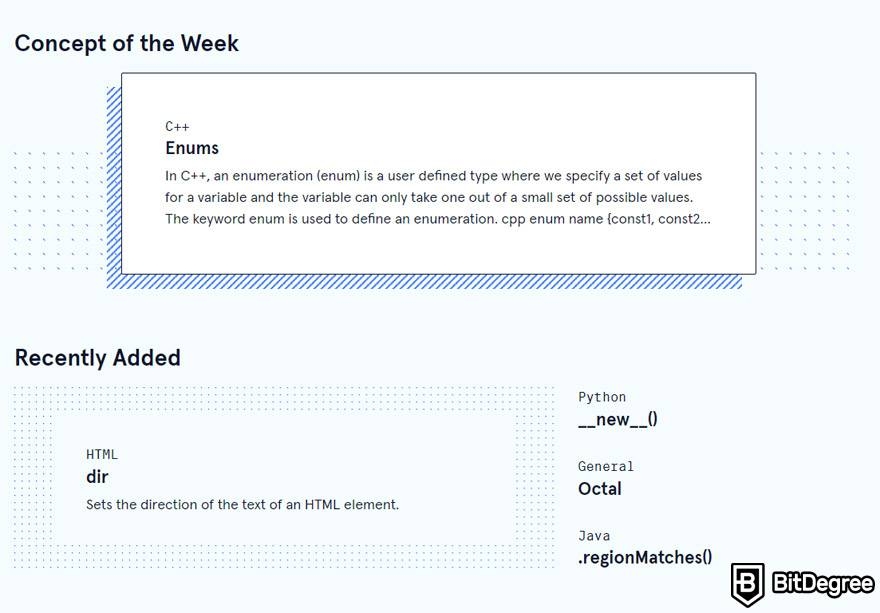 Similarly, while you'll receive a certificate for completing the majority of Codecademy courses, it's not 100% of the catalog. Make sure to check the course description beforehand. If you opt for a career path, you'll have to get the maximum completion rating on every single course that's included. So, it's definitely a serious commitment.
Overall, there are some downsides to the certificate issuance on Codecademy VS Lynda. For starters, a course you're interested in might not be certified, which can be a letdown. And, of course, neither platform issues accredited certificates. However, if the knowledge itself is your primary goal, that shouldn't be too much of an issue.

Pros
Easy to use with a learn-by-doing approach
Offers quality content
Gamified in-browser coding experience
Main Features
Free certificates of completion
Focused on data science skills
Flexible learning timetable

Pros
High-quality courses
Nanodegree programs
Student Career services
Main Features
Nanodegree programs
Suitable for enterprises
Paid certificates of completion

Pros
A huge variety of courses
Easy-to-navigate interface
Over 600 free courses
Main Features
A huge variety of courses
30-day refund policy
Free certificates of completion
Subscriptions and Prices
We've reached the final Codecademy VS Lynda comparison point – the price of both platforms. If you were to look at the broad spectrum of popular online learning platforms, you'd see that the prices may vary quite drastically, ranging anywhere from $15/month to hundreds of dollars for one course.
Now, I know talking about expenses can be daunting, so let's do something fun first and discuss free content. For starters, if you sign up on Lynda, you're eligible for a 10-day free trial. In this time, you can get the feel for how the platform functions overall. However, considering the thousands of courses in the catalog, it might end up not being enough time.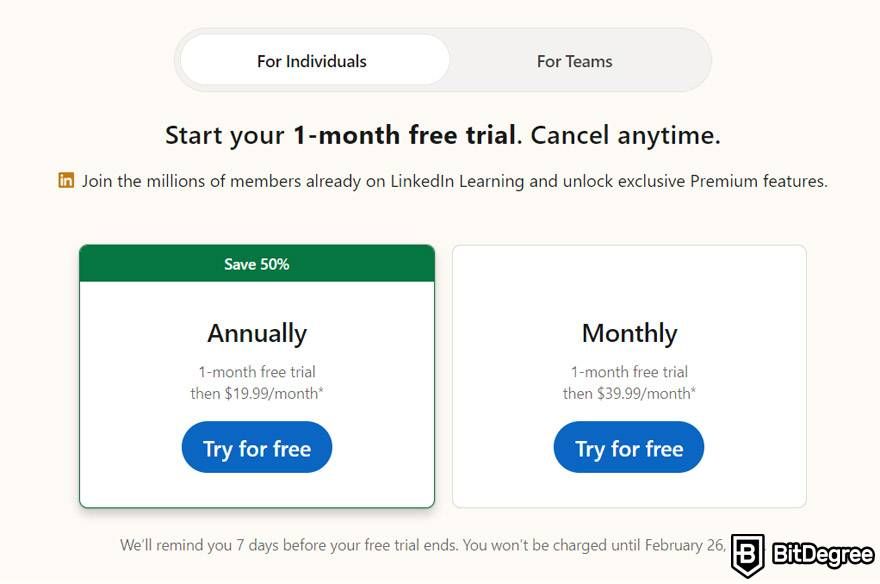 Codecademy gives more freedom in this regard. It offers its users the Basic plan, which is completely free. As a member under this plan, you can access part of the course catalog which consists of free content, as well as all additional learning resources and downloadables. That's pretty convenient, isn't it?
Now, let's take a look at the plans themselves. Both platforms use a subscription-based model, meaning that you select your preferred payment plan and learn for as long as you wish to keep your subscription going.
On Lynda, you can select your plan based on whether you're an individual user or part of a team. If you're an individual user, you can choose to either renew your subscription each month or pay for a year in advance. Let's take a closer look at these plans:
If you're a member of a team, the costs are based on how many licenses you require. If your team does not exceed 20 people, the license costs $379.99. Larger groups should contact LinkedIn Learning for a custom quote. If you happen to be interested in a Lynda discount, you can click right here.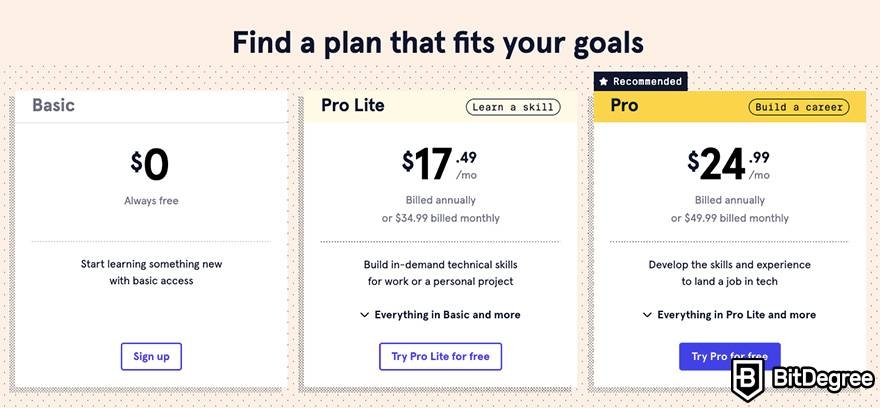 Codecademy offers its users three plans. As we've already discussed, Basic is the free plan. The other two options are Pro Lite ($17/month) and Pro ($24.99/month). The Pro Lite plan unlocks the entire main course catalog, while Pro throws the career paths into the mix. Overall, the price is pretty good – but we can make it even better, can't we? Simply follow this link to find Codecademy special offers and discounts.
If you take the annual rate into consideration, Codecademy VS Lynda are pretty on par in terms of expenses. However, overall, Codecademy sways towards being more of a budget-friendly option.
Conclusions
With this, our Codecademy VS Lynda review is wrapping up. I hope it's been helpful in making your final decision on which online learning platform you prefer for your career development. Both are pretty strong competitors, with Lynda standing ahead in terms of foreign language access, and Codecademy being more freebie-friendly.
If you're still having a hard time making the final decision, don't fret. Instead, visit our Comparison Tool which has all the essential information about Lynda VS Codecademy – and just about every online learning platform we've ever evaluated, including big names like DataCamp.
Once you've decided and tried your hand studying, remember to come back here and share your experiences in the comment section below. Your opinion isn't only valid to us – your prospective peers may find it helpful once they have to choose too.
So, what are you waiting for? The decision is in your hands – once you've made it, you get to enjoy the vast array of tech courses. Have fun!
Leave your honest feedback
Leave your genuine opinion & help thousands of people to choose the best online learning platform. All feedback, either positive or negative, are accepted as long as they're honest. We do not publish biased feedback or spam. So if you want to share your experience, opinion or give advice - the scene is yours!