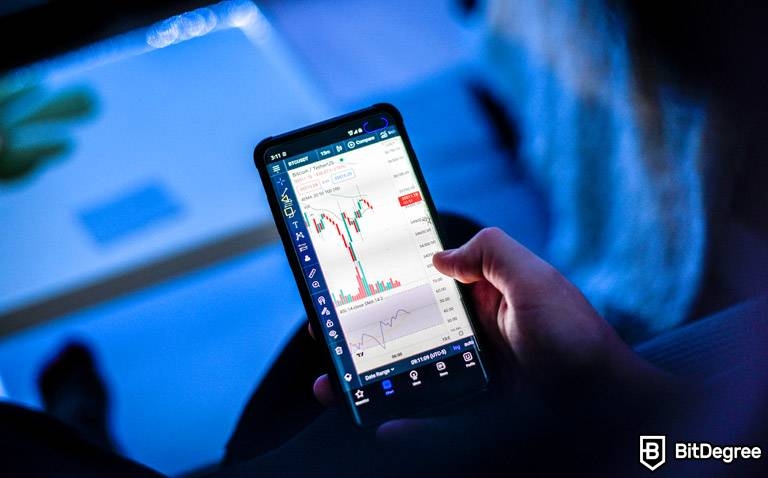 In this day and age, it's impossible to have completely avoided the topic of crypto – everyone and their mom know about it. It has long since left its niche corner of the internet and become a daily feature of mainstream news. And with more and more people getting involved, it's no surprise that many of them are on the lookout for the best crypto trading course.
Getting started with crypto can seem difficult at first. There are so many new terms to cover – from those related to blockchain technology specifically to the more general financial jargon. Luckily for you, BitDegree is your one-stop shop for all things crypto, and I'm here today to help you make this journey easier.
We'll be taking a look at the top seven best crypto trading courses that are beginner-friendly, brought to you by the likes of Udemy, Coursera, and edX. You'll find out about the basics of blockchain, how to set up a trading account for your first transactions, and the must-know of regulations and ethics.
In case you find any terms or concepts unclear, feel free to consult the BitDegree Crypto 101 Handbook. It contains over 1,000 terms, articles, and videos on the subject. And now, before we get started with our list of the best crypto trading courses, let's first discuss why this field is something you should keep a close eye on.
Best Crypto Trading Course: The Background
Before we jump into our list of the best crypto trading courses online, let's get some background knowledge first. As I mentioned before, crypto trading and blockchain technology can be pretty tricky subjects to figure out at first. While I won't be going into a deep dive, we'll quickly go through some of the essentials.
Latest Udacity Coupon Found:
SAVE 75%
Udacity Black Friday Offer
The best time to save on Udacity courses is now - follow this coupon to access 75% Udacity Black Friday discount on all courses & enjoy top-quality learning for less!
Expiration date : 05/02/2023
3,176 People Used
Only 97 Left
We won't cover the full history of blockchain – all you really need to know about the earliest origins is that the researchers that paved the way to what blockchain and crypto are now were known as cypherpunks[1]. They were a group of cryptographers that worked developing privacy-focused technologies.
The work that cryptographers did played a big role in the creation of Bitcoin (also known by its ticker BTC). While Bitcoin wasn't the first attempt to create digital currency using cryptographic tech, it was the first one to see such tremendous success. Bitcoin was launched in January 2009 by an entity known as Satoshi Nakamoto[2].
At first, Bitcoin was used for illicit purposes, such as paying for illegal goods and services on the darknet. The most infamous was Silk Road – a digital black market where users could buy and sell things like drugs and weapons, and use Bitcoin as a payment method thanks to its lack of identification. However, in 2013, the FBI shut down Silk Road, and its creator was arrested.
However, in the decade since, Bitcoin and other cryptocurrencies have become more mainstream. Platforms that support trading cryptocurrencies have been popping up left and right, some more successful than others. Crypto has grown from a very small niche on the internet to a sub-category under the Business section of the most popular news portals.
Naturally, as more people hear about it, the interest in crypto trading increases. And this is where digital learning platforms step in – online crypto trading courses can help you with figuring out your way in this tricky space. From Udemy to Coursera and edX, new courses have been cropping up at an increasing pace.
This brings us back to today's topic – we'll be taking a look at the top seven paid and free crypto trading courses that you can take. We'll cover everything you're going to need to get ready for your first trade – from the essentials of crypto to the rules and regulations that ensure you're not breaking any laws.
So, let's get started with our seven best crypto trading courses.

Platform: edX
Duration: 6 weeks
Price: $99
Certificate: YES
Level: Beginner
Discount: Available
Where to apply? HERE
Crypto can be a complicated topic to master at first, so getting a good understanding of cryptocurrency itself can give you an advantage as you step into the trading waters. And what better subject to start your journey learning about than Bitcoin? That's the focus of our first best crypto trading course recommendation – Bitcoin and Cryptocurrencies on edX.
This course is great option if you want to build on your fundamental knowledge while preparing for the markets. It shows you the links between crypto and traditional finance, and explores the entire journey from the first Cypherpunk meetings to Bitcoin's prospects in the broader financial space, both centralized and decentralized.
Bitcoin and Cryptocurrencies consists of six courses, and the recommended time of completion is six weeks – so, a course per week. Starting with week 1, you'll find out about the origins of Bitcoin and how it grew from scientific research. As you move along, you'll learn how the Bitcoin network works, and what risks it faces.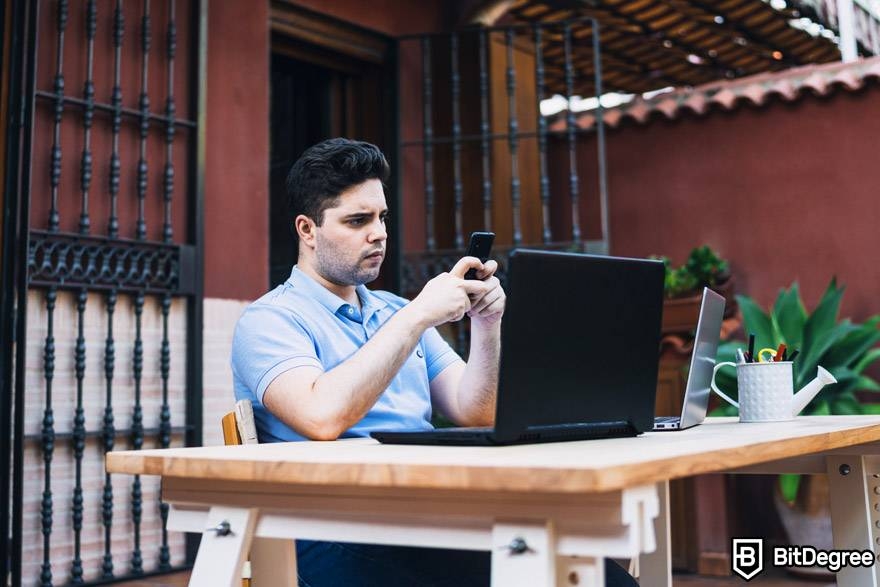 By the end of the entire course, you'll understand more than just Bitcoin – you'll be introduced to the various case studies of cryptocurrencies and see how the technology can be applied not just to crypto trading, but to other fields, too.
You're not required to have any background knowledge of crypto before enrolling. However, some understanding of computer science may be helpful. Once you've finished the course, you'll:
Understand what the core qualities of cryptocurrencies are;
Be able to detail the history of the crypto movement and counterculture;
Have examples of crypto use cases, both in the financial sector and outside it;
Understand the risks faced by blockchain networks and what their vulnerabilities might be;
The course was created by the Blockchain at Berkeley team and is taught by two of its representatives, Rustie Lin and Gloria Wang. The course is different from those you'd typically come across on edX, as Blockchain at Berkeley is a student-run organization. Both Lin and Wang are Computer Science students at Berkeley that have decided to share their knowledge and enthusiasm for crypto with the rest of the world.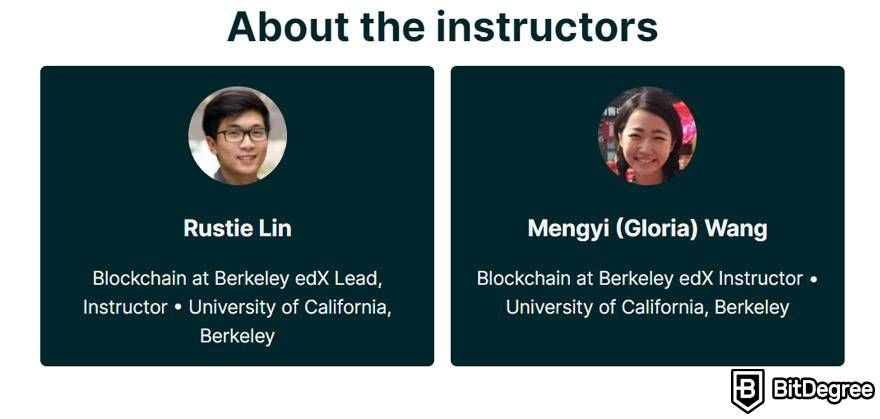 Enrolling in the Bitcoin and Cryptocurrencies course costs $99. However, if you wish to just audit the course without receiving the certificate, you can start studying for free. If you find yourself wanting to enjoy all the features offered by this course, you can take a look at some of the edX discount codes and special offers here.
When it comes to crypto, the pool of knowledge is seemingly bottomless. So, enroll today and dive right in.

Platform: Udemy
Duration: 7 hours
Price: $109.99
Certificate: YES
Level: Beginner
Discount: Available
Where to apply? HERE
Now that we've covered the key aspects of crypto, partilarly Bitcoin, let's see how these assets actually work when you put them to practice. Our next entry could possibly take the title of the ultimate crypto trading course – for a good reason. All it takes is for you to take a look at its name – Crypto Trading Investing 101: Buy Sell Trade Cryptocurrency on Udemy.
As you can see, we're about to get really practical here. While the core of this course is mastering the art of technical analysis, it'll also provide you with some insights into blockchain technology. By taking this course, you'll get industry-ready insights into day trading cryptocurrencies.
This course should take you 7 hours to complete. It's balanced for beginners – according to the instructor, all you need is a desire to learn, a screen to watch the videos, and your preferred tools for taking notes. The course also offers live support from the creative team, meaning that if you have any questions while studying, you'll get them answered in no time.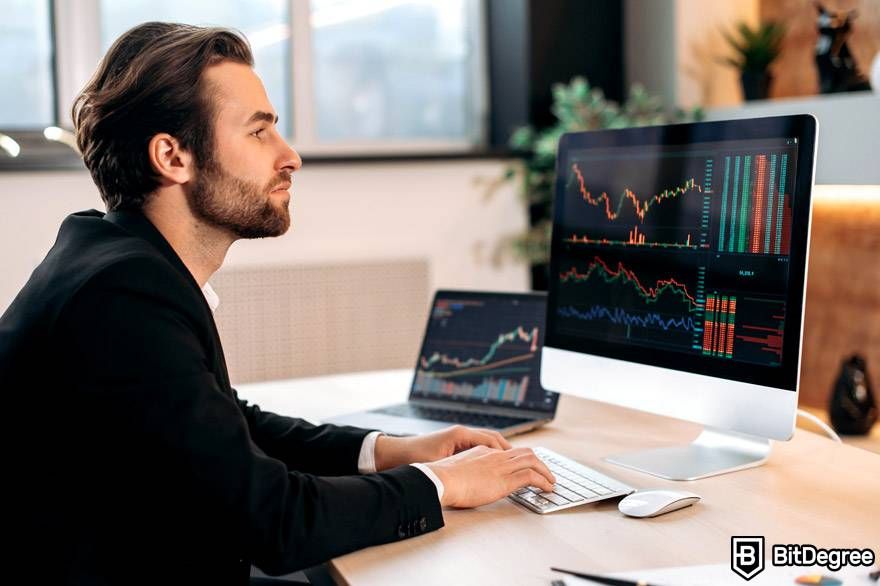 This course consists of 24 chapters. Throughout the duration of Crypto Trading Investing 101, you'll learn about the following:
The key concepts of blockchain technology – what is mining and how are cryptocurrencies created;
The different means of trading, such as spot, options, and futures, as well as the positions you place (known as longing and shorting);
The different trader types and which one you fall under;
How to work with technical analysis patterns, as well as lines of support and resistance;
How to read different types of charts using various timeframes;
How to develop trading strategies and work with simulations.
As you can see, there's a lot of ground to cover. So, to aid your learning, you'll be able to access a range of additional articles and examples. In addition to the theory, the course is updated continuously to keep you up to date with the latest major news. So, you'll be staying in the loop as you learn.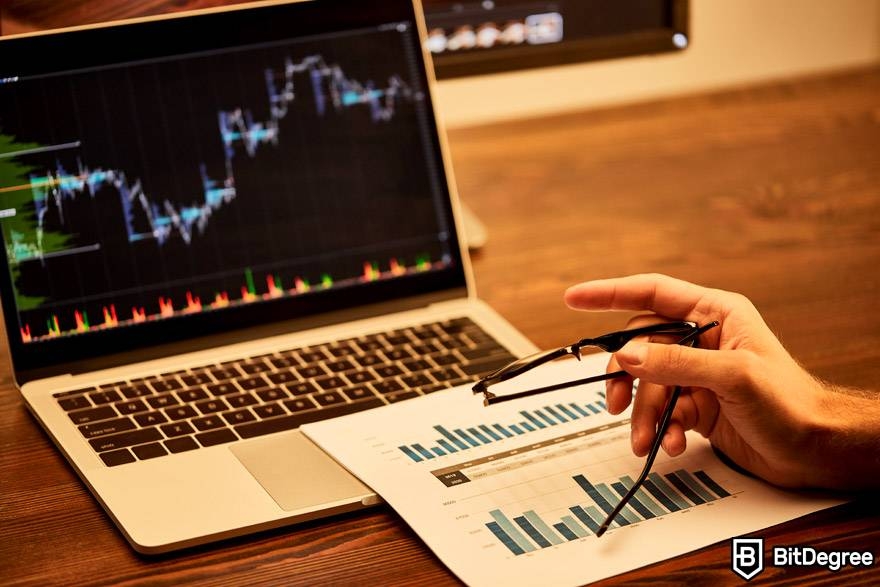 And once the video guides are over, you won't be done learning – the team has included bonus courses that you can take if you want to keep working on your skillset and knowledge. See why this is perhaps the ultimate crypto trading course?
In truth, Crypto Trading Investing 101 is perhaps one of the best crypto trading courses offered by Udemy. With over 32,000 students and a rating of 4.5 stars, it's not hard to get why that's the case. And let's take our instructor into consideration – Luca Moschini is an investor that deals with stocks, ETFs, and cryptocurrencies. He's also the founder of a training program for prospective traders.
And if you're looking for the best crypto trading course with certificate, Crypto Trading Investing 101 is certainly a strong contender. Unlike the free Udemy courses, this one offers you a certificate upon completion. While Udemy certificates aren't accredited, it's still going to be solid proof that you know what you're talking about when it comes to crypto market analysis.

This online crypto trading course costs $109.99. While the price seems like a lot, take into consideration everything you'll be getting – from the video classes and additional downloadables to the certificate of completion. Besides, using one of our special coupons, you may be able to save up to 82% on your purchase!
So, grab a discount code, sign up for the course, and become a market analyst in a day with Crypto Trading Investing 101.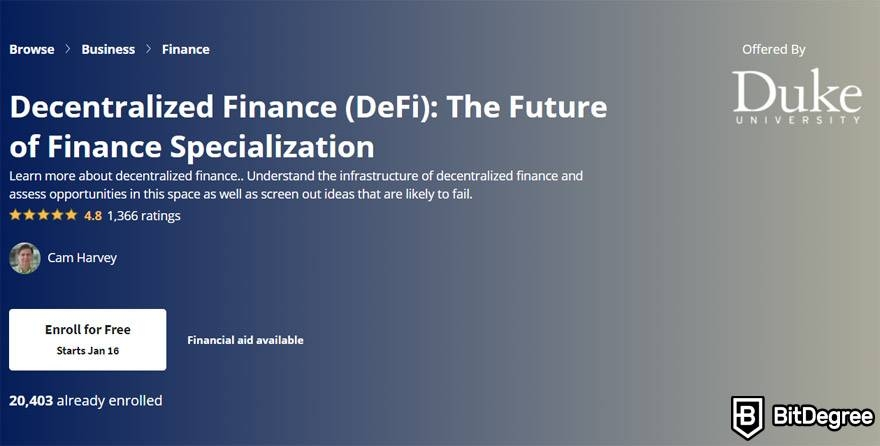 Platform: Coursera
Duration: 4 months
Price: FREE
Certificate: YES (Paid)
Level: Intermediate
Discount: Available
Where to apply? HERE
As you go through each of our best crypto trading courses, there might be a term you'll come across quite a bit – DeFi. DeFi, or decentralized finance, refers to the financial model embraced by crypto enthusiasts and professional traders. The idea is that rather than entrusting a third party like a central bank, users can share finances, trade, buy, and sell, directly – peer-to-peer.
The principles of DeFi are important in crypto trading, especially once you get to the differences between centralized and decentralized exchanges. The topic itself takes time to grasp thoroughly – so, why not learn all there is to know about DeFi by enrolling in the Decentralized Finance (DeFi): The Future of Finance Specialization on Coursera?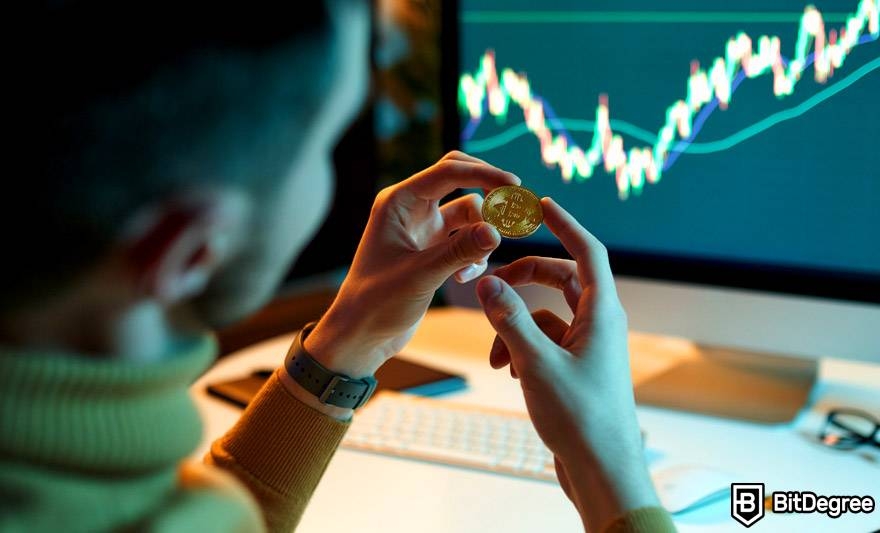 In case you're not familiar with Coursera's specialization model, this is a series of courses that you take sequentially. Once you've completed every course, you receive a specialization certificate. So, if you're looking for the best crypto trading course with certificate, you'll hit four birds with one stone here.
The four courses without the DeFi Specialization are:
The first course in the DeFi specialization, DeFi Infrastructure, focuses on the foundations of this field. You're going to see some differences between centralized and decentralized financial models and what role crypto plays here. You'll also find out about the key infrastructure and what problems DeFi aims to solve.
The second course, DeFi Primitives, will get closer to our topic of the day. As one of the best crypto trading course series on the platform from the technical point of view, it'll introduce you to the concept of token development. You'll find out about transaction mechanics and learn more in-depth about the different trading platforms, such as swaps and centralized/decentralized exchanges.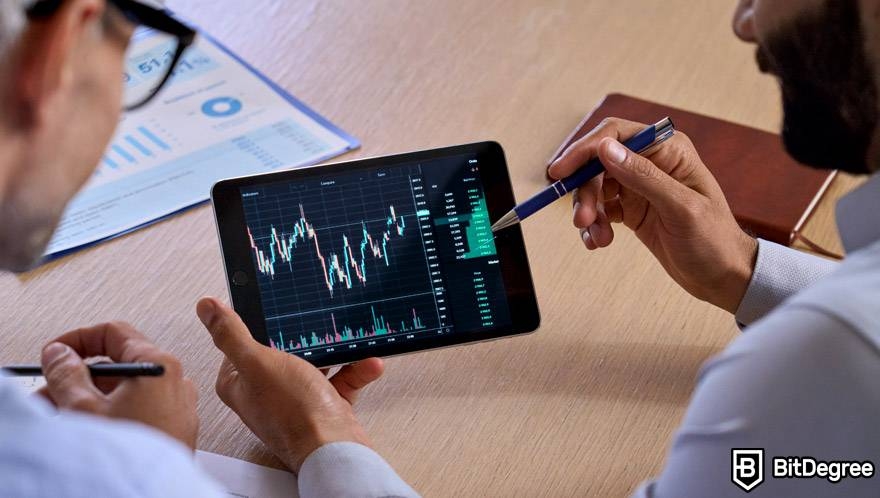 DeFi Deep Dive talks about the mechanics of implementing decentralized finance into everyday operations. You'll see how crypto is used not just for trading, but also credit and lending. You'll also learn about the process of tokenization – turning tangible assets into digital ones – a topic you won't find in every online crypto trading course.
Finally, DeFi Opportunities and Risks finish the entire specialization. This course explains what frameworks are used to evaluate the risks of DeFi. By the end of this course, you'll know about crypto regulations, as well as the range of risks toward DeFi – both inside the blockchain and outside its borders.
Your instructor for the DeFi specialization is Cam Harvey. If you've read our guide to the top online finance degree programs, you may already be familiar with his other course on DeFi infrastructure. Harvey is an economist and Professor of Finance at Duke University. In recent years, his research has focused on cryptocurrencies and DeFi, so you'll be taught by a field expert.

By enrolling in the specialization, you can get your first seven days of learning for free. However, with the Coursera Plus plan, you'll be able to not just complete the full specialization track, but also be eligible to redeem your certification – accredited by Duke University. The Coursera Plus plan starts at $59.99 a month, and grants you unlimited access to the platform's catalog.
And just as a little treat, you can also find special offers to get started with Coursera here. What are you waiting for? Become the master of DeFi today with The Future of Finance specialization!

Platform: edX
Duration: 6 weeks
Price: $199
Certificate: YES
Level: Beginner
Discount: Available
Where to apply? HERE
When it comes to crypto, there's the right way to trade it – and then there's the wrong way. While it aims to be decentralized, the crypto space has been wrapped up in various regulations over the years, some more lenient, others outright banning it in certain countries. So, no good "best crypto trading courses" list can end without talking about the ethics and legality of it all.
The FinTech Ethics and Risks course on edX is here to detail the essentials of legal regulations and social implications of crypto. Since the field is still so new, some boundaries between what's okay and what's beyond the law are still somewhat murky. This course will compare traditional financial technologies to blockchain-based ones in terms of ethics and digital security.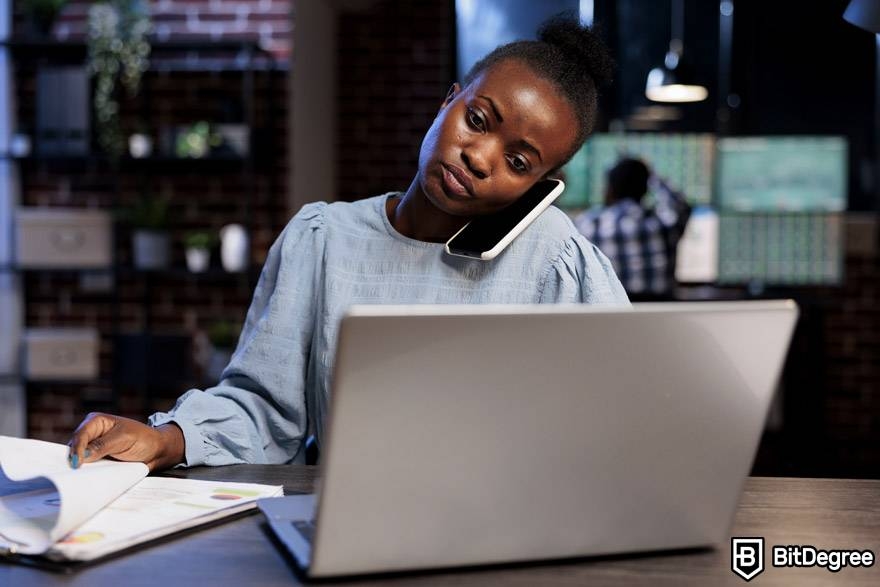 The six-week, six-syllable course explores the topic of ethics in finance. There are both negatives and positives to the increasing development of financial technologies that you need to keep in mind as you actively engage in them.
You'll learn about the principles of governance on various blockchain networks. The system used by many decentralized exchanges differs drastically from how trading is conducted on traditional platforms, so it's useful to keep this in mind. Additionally, the syllabus discusses the issues of cybersecurity and financial crime, as well as its consequences.
The use of AI has also been prompting more and more questions from ethics and finance experts, and it's certainly something to be mindful of if you plan to use trading bots or simulators. Finally, you'll take a look at the prospects of financial technology and how the growth of crypto and blockchain might impact it.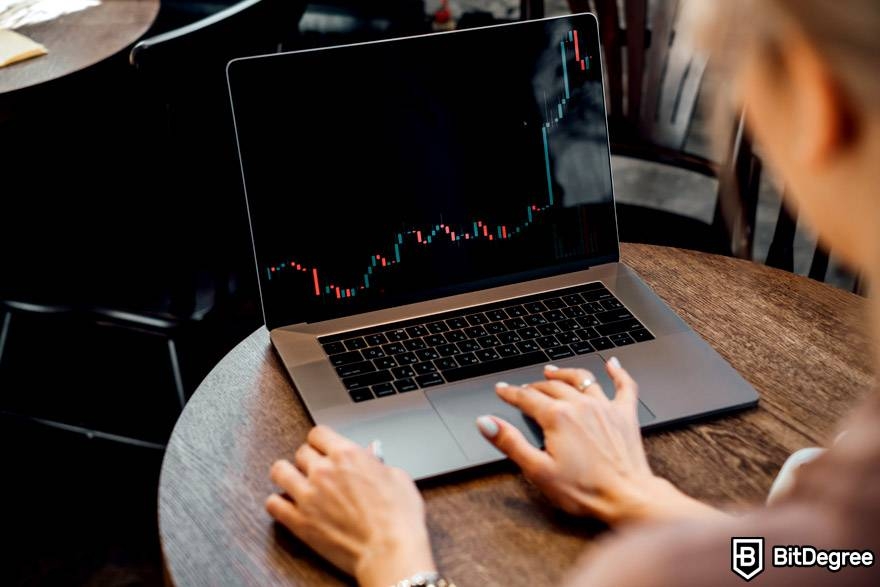 Are some of the questions you'll be able to answer once you've finished the course:
How financial technologies rose to the role they have today in the industry;
Why should FinTech solutions be adopted, and what risks might they pose;
Can such technological developments be exploited;
Is the use of blockchain an improvement or a new vulnerability;
How will human biases be accounted for when AI technologies are used in finance?
The FinTech Ethics and Risks course is taught by a team of two academics from the University of Hong Kong – David L. Bishop and David S. Lee. Bishop's area of expertise is focused on ethics and law. Lee is a lawyer and a former investment manager. With their combined experience, they share real-life experiences and case studies with the learners.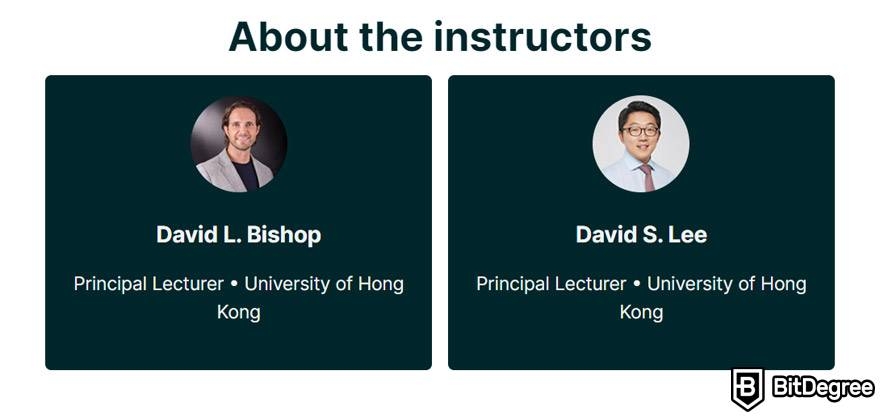 The full price for the FinTech Ethics and Risks course is $199. However, if you're not interested in obtaining the certificate (accredited by the University of Hong Kong), you can choose the free track and observe the entire syllabus for free. You can also find our special discount codes for edX learners here.
Trading crypto is not a game – and the technology you use to do it may not always be as unbreakable as it first appears. So, don't skip out on this ethics in finance course and enroll today!
Free Alternatives
We've offered some of the top candidates for the best crypto trading course. All these courses, offered by Coursera, edX, and Udemy, are highly-rated by learners, certified, and will certainly help you get ready to start trading on the crypto markets.
However, if you're on a budget or are on the lookout for something quick and easy, we've also got a few free crypto trading courses to discuss. Keep in mind that these courses are shorter than others we've discussed and they're not accredited. However, they can be an alternative option if you want a sneak peek into crypto trading.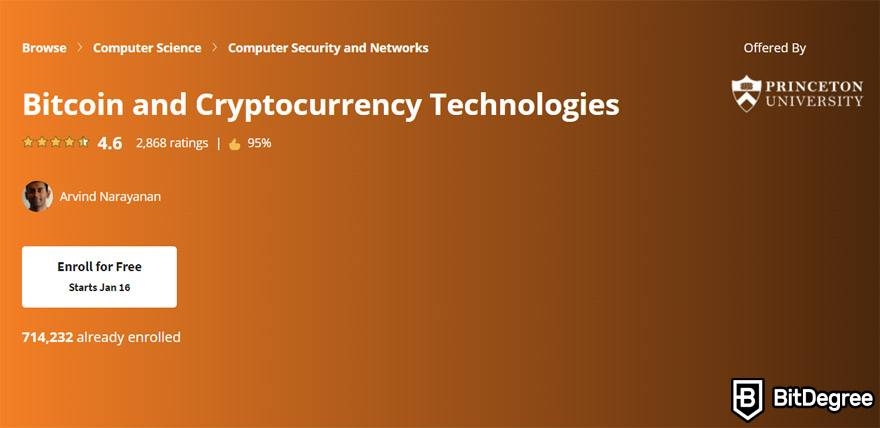 Platform: Coursera
Duration: 23 hours
Price: FREE
Certificate: No
Level: Beginner
Where to apply? HERE
Since the launch of Bitcoin in 2009, literally tens of thousands of other cryptocurrencies, known as altcoins, have appeared in the space. Some of them you might've heard of – perhaps Ethereum and Tether, or some of the less fortunate ones, like Terra or FTT.
Nevertheless, despite the huge market competition, Bitcoin remains supreme. It has remained the largest cryptocurrency in the world by market capitalization, reaching its all-time high in value of nearly $70,000 in November 2021 – and the Bitcoin and Cryptocurrency Technologies course on Coursera is all about it.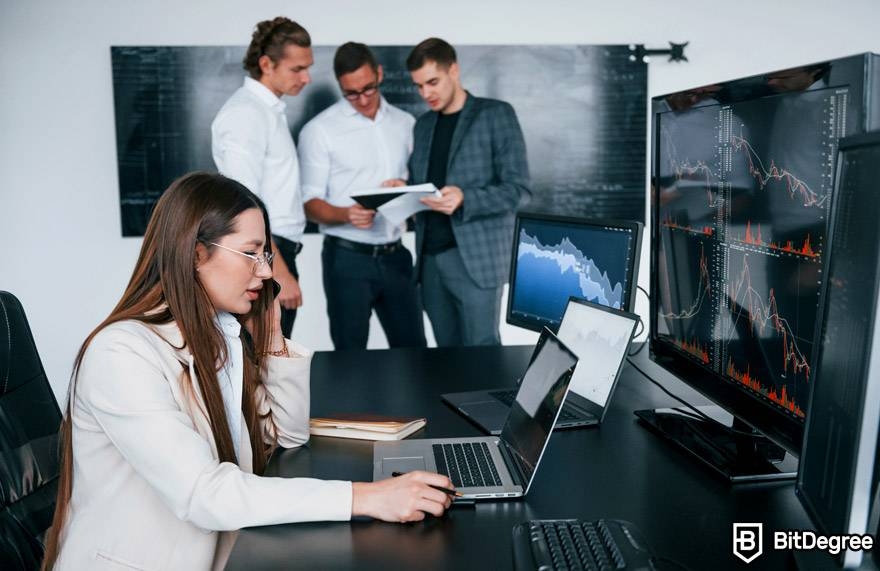 This course aims to help you gain a technical and practical understanding of what Bitcoin is and how it's become such a massive phenomenon. There are many facts, myths, rumors, and fake news regarding the subject, and the course will help you figure out which is which.
The program is structured to be taken over the course of 11 weeks, with the total learning time coming up to about 23 hours. So, if you really want to, you can marathon the whole thing in a day. However, it's highly recommended to follow the structure to let the knowledge sink in.
Some of the things that you'll cover in this course are:
The basics of digital security technologies and how they're used for blockchain projects like cryptocurrencies;
The idea of decentralization and its role in blockchain;
The mechanics of Bitcoin transactions, storage, and mining;
The cryptocurrency ecosystem;
The prospects of blockchain technology and cryptocurrencies.
The course is taught by Princeton University's Associate Professor Arvind Narayanan. He's a computer scientist whose expertise is the societal impact that digital technologies such as AI and algorithms. Narayanan also focuses on data de-anonymization and blockchain security. Given his academic prowess, you can feel confident about the course quality.

The Bitcoin and Cryptocurrency Technologies course is available for free. You are not required to complete any assignments and will be guided through the content using video lectures and additional reading materials. However, this is a free course, so a certificate won't be available upon completion.
So, if you want to deepen your knowledge of the concept of Bitcoin, feel free to enroll now!

Platform: Udemy
Duration: 50 minutes
Price: FREE
Certificate: No
Level: Beginner
Where to apply? HERE
As we've already established, crypto can be a pretty complicated topic, and covering the essentials alone would require an article of its own. So, let me direct you to a very convenient Udemy course – Blockchain, Cryptocurrency, Bitcoin and Mining.
This course is a bit more technical than some of the others we'll encounter on the list. It focuses less on the trading itself and more on explaining the background of this entire field. Nevertheless, if you're looking for a crypto trading course free of charge, this is a good place to start.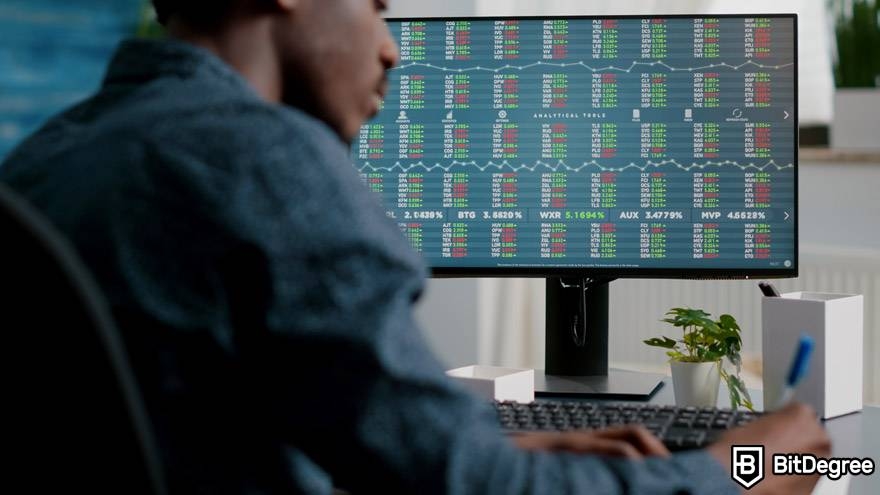 The first suggestion on our best crypto trading courses comes in at just under an hour. So, if you have a lunch break to spare, you can easily get started on your crypto journey. This easy-to-follow guide features the following topics:
Course Introduction – covering the very fundamentals of crypto, this category will run you through some of the essential terminology. What is cryptocurrency exactly? How does Bitcoin differ from other digital currencies? How do crypto exchanges work? You'll find basically the FAQ of the biggest crypto terms here;
Satoshi Nakamoto – you might've noticed this name mentioned once already. While this sounds like a very convincing real name, it's actually the pseudonym of the person (or people, we can't be sure) behind Bitcoin's technology. You'll find out about Nakamoto's footprints in the crypto space and his significance to the entire community. Spoiler alert: it's immense;
Blockchains – this section is what sets this free crypto trading course apart from the rest. While technology might not be all that relevant to everyone, it's never a bad thing to get the basic hang of it. You'll find out more about how blockchain is used, what its security advantages are, and the differences between public and private blockchains;
Bitcoin – the name says it all. Here, you'll get more in-depth with the cryptocurrency that started it all. Aside from carrying on from the Blockchains topic and covering the process of mining, you'll also find out how to set up a crypto wallet and start trading Bitcoin;
ICOs – the final topic covered by this free course has to do with initial coin offerings. This is the financial campaign to crowdfund and launch a new cryptocurrency. You'll quickly see how this process might work and what regulations apply.
As you can see, there's a lot to cover in a short time. Nevertheless, Kaushik Vadali, your instructor for this course, has received hundreds of positive reviews, with over 10,000 students enrolled in this course alone. Vadali himself is a digital security expert with over 25 years of industry experience. Rest assured, you're in good hands.

So, how much is all this knowledge going to cost you? If you have a keen eye, you probably already know – absolutely nothing. You can take this blockchain and crypto trading course free of charge – and get started as soon as today. However, keep in mind that this course does not offer a certificate.
So, if you want a bite-sized crypto crash course, dive right into the crypto ocean and enroll in the free Blockchain, Cryptocurrency, Bitcoin and Mining course on Udemy today!

Pros
Simplistic design (no unnecessary information)
High-quality courses (even the free ones)
Variety of features
Main Features
Nanodegree programs
Suitable for enterprises
Paid certificates of completion

Pros
Huge variety of courses
Easy to navigate
No technical issues
Main Features
Huge variety of courses
30-day refund policy
Free certificates of completion

Pros
Easy to use with a learn-by-doing approach
Offers quality content
Gamified in-browser coding experience
Main Features
Free certificates of completion
Focused on data science skills
Flexible learning timetable

Let's say that you're not completely new to crypto. You know the backstory, you understand how the technology works, and you're familiar with many of the use cases. However, you've never dabbled with trading before – whether we're taking traditional or this particular type of trading. Here's where our final free crypto trading course is going to come in handy.
Crypto Trading: Intro to Smart Money Analysis is a Udemy course that, according to its creator, will help you "learn how to trade like the whales" – the hot-shot, big-name traders that handle sums in the millions and even billions.
With two hours of content that explains the essentials of how crypto markets work, this is your ultimate crypto trading course if you want something quick and easily digestible. The course is completely beginner-friendly – you don't need any background knowledge about the industry before enrolling.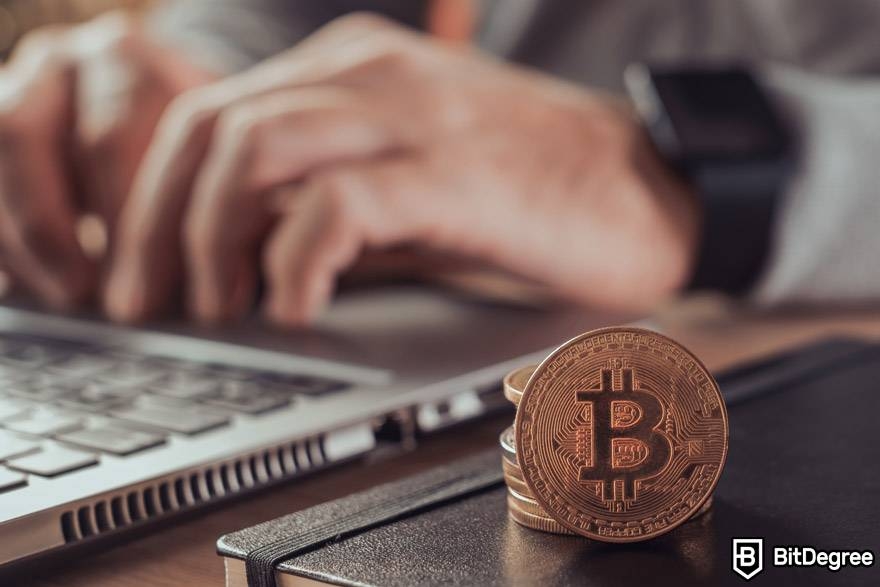 Crypto Trading is a great option if you want to learn more about the notoriously volatile crypto market itself. The course covers the basics of price charts and technical indicators, explains how you can work on your trading strategies, and even discusses the question of market manipulation.
By the time you've finished this entry in our best crypto trading courses list, you'll be able to:
Put together a comprehensive and effective trading strategy;
Conduct market analysis and efficiently read charts;
Explain the concept of whales (and maybe even start working toward becoming one yourself).
This free Crypto Trading course is taught by Mischa Lominy. He's an entrepreneur and the co-founder of Beyond the Hodl, a community for crypto traders. Lominy brings his expertise and hands-on experience with trading digital assets to you and other Udemy learners.

This course is free – all you have to do is enroll. The biggest downside of free Udemy courses is that you won't be able to earn a certificate of completion. However, if you're short on time, it's an easy way to dive deeper into crypto.
So, all that's left for you is to sign up and get ready to learn the essentials of the market with this two-hour online crypto trading course.
Conclusions
This brings our ultimate crypto trading course guide to its conclusion. Getting into crypto trading requires some time and background knowledge to figure out first. However, once you've got the basics down, all that's left is to play safe, play smart, and avoid trading beyond your means – and our best crypto trading course selection will aid you in that.
When it comes to learning about how to trade crypto, your options are plentiful. From entrepreneurs to academics, from free courses to paid accredited programs, there's something for everyone to try. Whether it's an introduction to crypto and blockchain on Udemy, a deep-dive into DeFi on Coursera, or a look into the ethics of trading on edX, there's more to crypto trading than trading itself.
So, all that's left now is for you to start learning. Don't forget to check out our special discount codes for Udemy, edX, and Coursera. And once you've tried anything from our best crypto trading course selection, make sure to share your experience in the comments below!
So, good luck learning, and even better luck trading crypto!
Scientific References
1. Patrick Anderson 'Of Cypherpunks and Sousveillance'
2. Satoshi Nakamoto 'Bitcoin: A Peer-to-Peer Electronic Cash System'
Leave your honest feedback
Leave your genuine opinion & help thousands of people to choose the best online learning platform. All feedback, either positive or negative, are accepted as long as they're honest. We do not publish biased feedback or spam. So if you want to share your experience, opinion or give advice - the scene is yours!