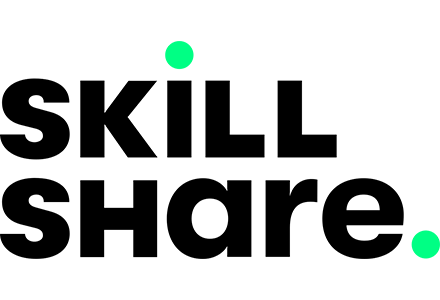 With the huge variety of e-learning platforms, it might be a bit difficult to pick one that would suit your wants and needs. In this Skillshare review, I'm going to take an in-depth look at one of such platforms and try to answer the question, "Is Skillshare worth it?"
In essence, Skillshare is an e-learning platform that has been widely referenced as of late - you've probably seen it featured in YouTube ads, sponsored posts of content creators, or the front page of Google search when looking for online courses.
In this review, you'll find all there is to know about what is Skillshare, including information on all of its main aspects – usability, learning experience, price, features, and more.
Verdict at a Glance: Skillshare offers a diverse array of creative courses, encompassing art, marketing, various programs, and more. The platform emphasizes community and networking among learners and instructors. However, Skillshare may not be the best fit for individuals seeking for in-depth technical or data-centric learning, and it doesn't provide certificates of course completion.
Pros
User-friendly interface
Live Sessions and Learning Paths
Plenty of courses to choose from
The possibility to become a teacher
Cons
No certificate upon course completion
Skillshare Review: Introduction
To start things off in this Skillshare review the right way, let's briefly go over what is Skillshare. After all, we can't really cover a platform without establishing an understanding of its core functions, now can we?
So, Skillshare is an online learning and education platform, otherwise known as an MOOC. It offers students the ability to learn various skills that they can then use in either their career or personal lives, depending on the situation.
What's cool about Skillshare (and is probably the first big point in this Skillshare review) is that it doesn't necessarily emphasize a very specific direction for the site. You see, many other e-learning platforms have a wide variety of courses, but only recommend/promote, let's say, IT-based ones.

Skillshare, however, focuses on the actual variety instead of sticking to a single topic and neglecting other categories. The only thing it does emphasize, though, is that it has to be something creative (whether you want to build a computer program, learn how to sing, or figure out the best way to clean your fridge).
It makes users feel more included, even if they're not planning on learning the main, promoted subject.
And when I say "actual variety", I mean that Skillshare is the king of niche topics. Apart from courses about marketing, programming, and UI/UX design (you know, the usual stuff), you can find courses that teach you how to build a miniature succulent garden on a glass jar, what type of donuts there are, or how to find your true self. So, you see, actual variety.
Latest Skillshare Coupon Found:
30% Off
Skillshare Annual Membership
Grab this exclusive Skillshare coupon code & receive a sweet 30% off Skillshare annual membership. Apply Skillshare discount code on an order.
Expiration date : 11/12/2023
543 People Used
Only 91 Left
Skillshare Review: PROS
Now, I think there is no better way to truly understand what is Skillshare than going over its pros and cons. However, I always prefer to look at things from the positive side first, so I'm going to begin my Skillshare review by doing just that.
User-Friendliness With a Dash of Pizzazz
One of the very first aspects I want to analyze and look into is the usage of the platform. Or, in other words, just how user-friendly and accessible Skillshare actually is. It's surely an important aspect for everyone searching for a "complete Skill Share review."
Once you're on the front page of the site, you'll be invited to sign up and "start learning today". You can either use Facebook, Google, Apple, or simply your email address to do that. And let me tell you, the registration process is impressively fast.
All it takes is filling in your email address (I went the standard way) and coming up with a password. If you're a fast typer, you'll be able to do that in under one minute.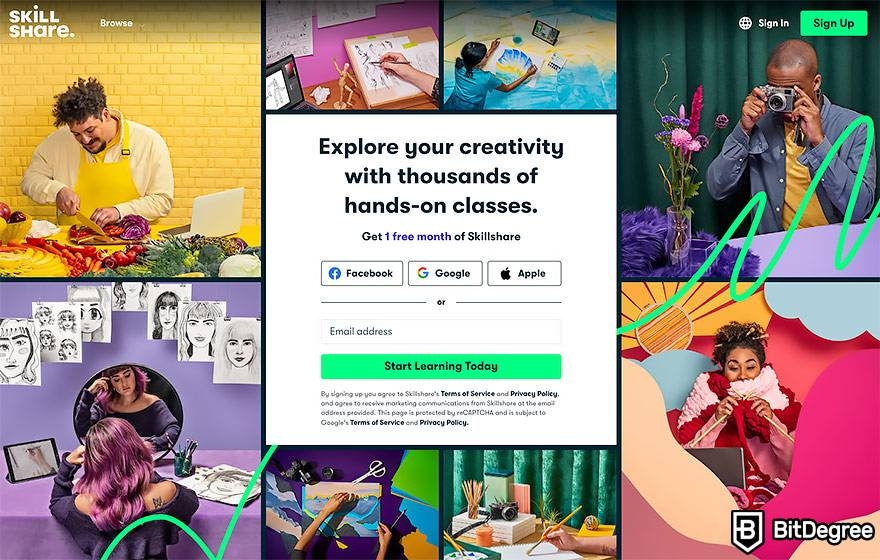 Now, I do remember that, in the past, the homepage of Skillshare did look a bit different. You used to be greeted by their interactive, video-based banner and a slogan - "Explore your creativity. Join Skillshare to watch, play, learn, make, and discover."
The idea of having a video-based banner wasn't necessarily an original one, but it still was pretty cool to look at. It's not there anymore, but I do like the new colorful homepage as well.
If you don't want to immediately register, scrolling down, you can see a variety of categories of the courses available for you to learn (and featured courses, too), some incentives on "why is Skillshare worth it", top Skillshare instructors, and some student reviews.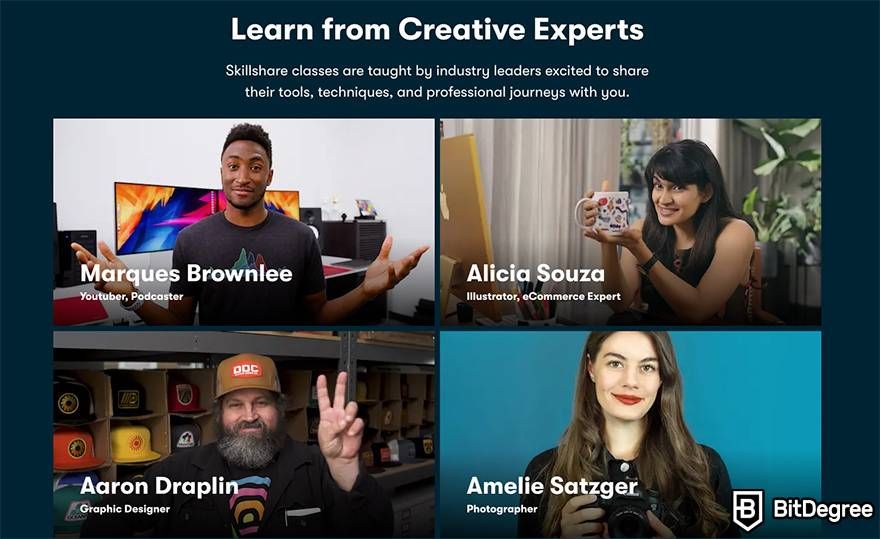 Overall, the front page is actually really nice and inviting - it's not over-encumbered with needless information, and goes straight to the point. Even though the page is simplistic in its design, it serves the job well - a welcome break from all of the too-flashy web pages that have been popular as of late.
Now, once you do decide to register, you'll be taken to the "Browse" page, where you can start your search for the course you want to watch. If you know specifically what you want, you can just use the search bar.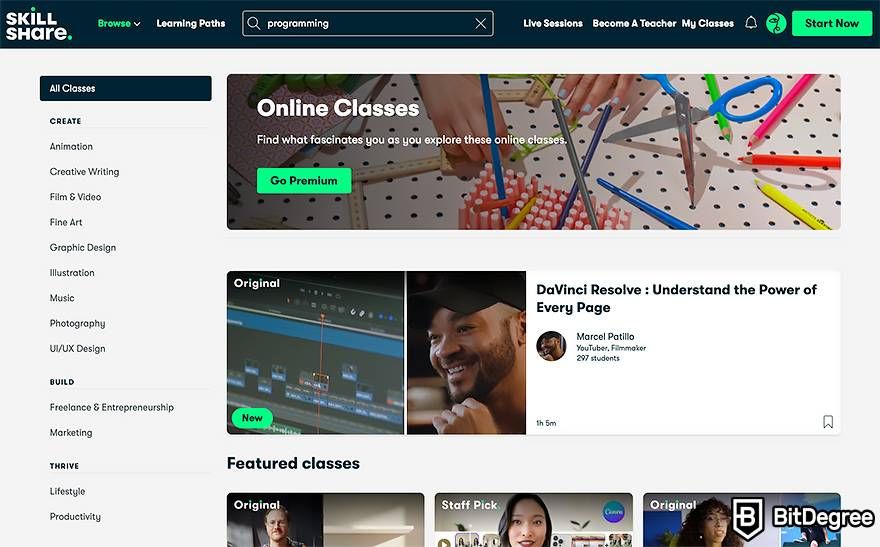 If not, Skillshare has a categorization system. It consists of three main categories – create, build, and thrive. When I saw it, my first thought was, "But wait, create and build are kind of synonyms, no?" Well, they are, but in this case, they refer to different things, and you can clearly see that from their subcategories.
The "create" category consists of various courses about the creation of art and whatnot. So, you can find courses about animation, writing, graphic design, music, UI/UX design, and so on. The "build" category, on the other hand, consists of courses about freelancing & entrepreneurship, as well as marketing.
So, basically, the "create" section is about making an actual product or object, while the "build" section is more about building your brand or career, something that's intangible. What about the "thrive" section, though? Well, it consists of courses about lifestyle and productivity, so it's all about you thriving as an individual.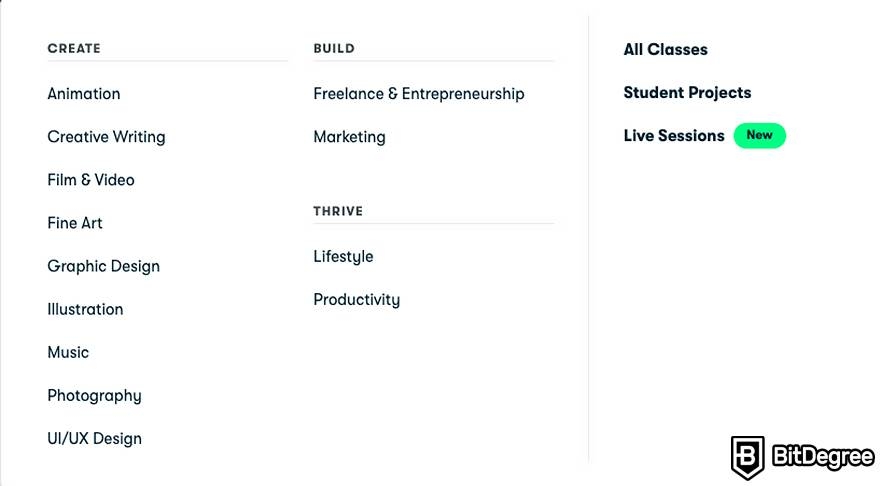 The course I chose to watch is called "Art Journaling for Self-Care: 3 Exercises for Reflection and Growth" (these nice journals with Pinterest-worthy pages always intrigued me). When I went to the course page, I was greeted by the introductory video from the instructor and the lesson list.
Truth be told, the interface itself is quite inviting - once you scroll down, you'll see the course description, an overview of the instructor, and related courses. Pretty neat and simple!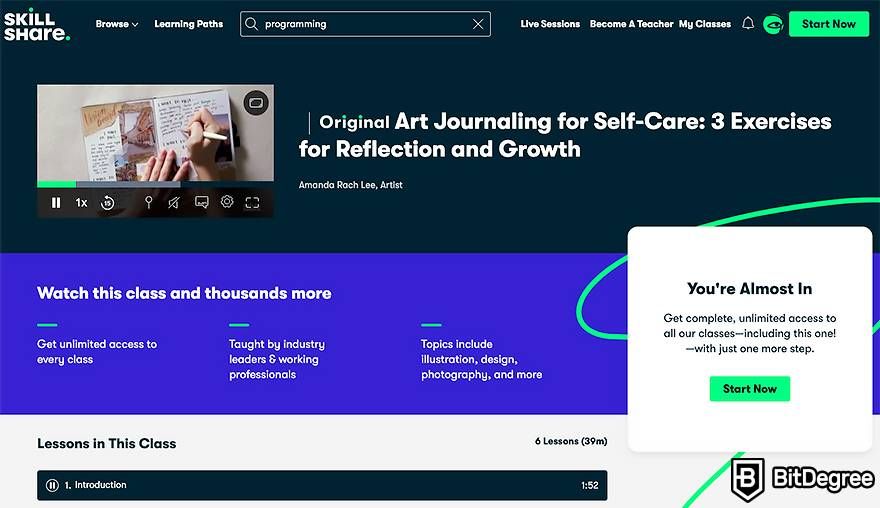 When I started the course, I was taken to a dashboard that is very similar to other learning platform dashboards. There is a video player on the left and a list of lessons on the right. Under the video player, there is the "About" section, reviews, discussion, projects & resources, and the transcript.
The transcript surely is a useful feature, especially if you're one of those people who learn better when they listen AND read (I know I am). Also, I liked that the course is divided into 6 short lessons, even though it's only 39 minutes long. It's nice to be able to jump back and forth between different parts of the video without giving too much thought to it.

However, something that I didn't really like was the fact that students can leave "comments" or "timestamps" on the timeline of the video. This is a popular concept with some video players, but for me, it's usually an annoyance that does nothing else but distract me from the video itself.
Now, while it would surely be impossible to answer the question, "Is Skillshare legit?" from the user interface alone, many Skillshare reviews do point out that the platform is pretty simple and nice to use. Especially because it's intuitive and doesn't overwhelm you with buttons, banners, pop-ups and so on.
Decent Content Quality
Naturally, the quality of the content is probably the most important aspect when it comes to any education-based platform because it serves as the main criterion for just how good the platform really is. When it comes to this Skillshare review, I believe that considering its content quality might just help answer the question, "Is Skillshare worth it?"
The general opinion about courses found on Skillshare seems to be quite positive. The majority of courses are quite short (normally ranging from 1 to 4 hours). Also, as you already know, they are usually divided into short "subchapters" that allow you to easily navigate through the course.
However, some other Skillshare reviews highlight the fact that most of the courses are very basic, and they place this in the "cons" section. I find this odd, though. If you come to Skillshare to learn something new, you opt to take a "beginners" course, anyway.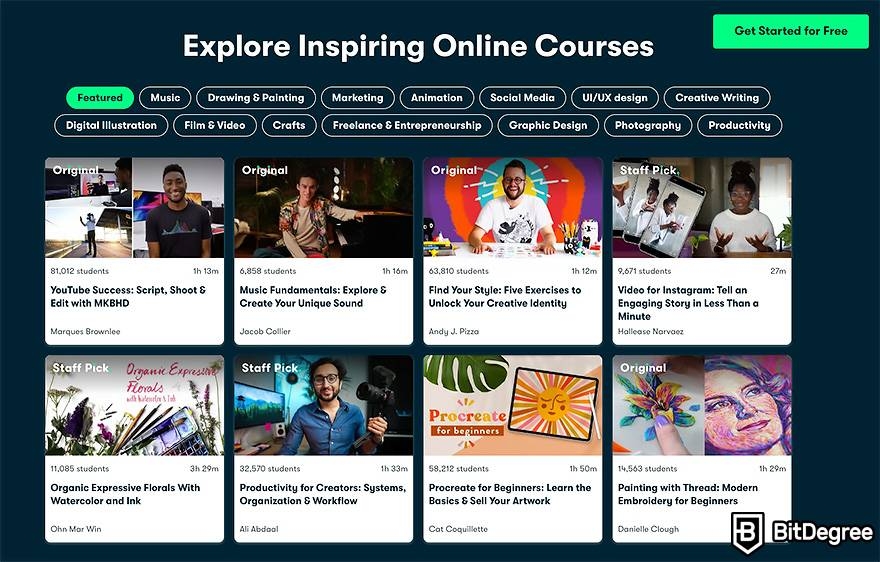 Also, an issue that was put forth in some Skillshare reviews was that some instructors don't disclose whether the course is aimed at beginners or advanced-level students. Although I haven't encountered such broad inconveniences in the time that I spent on Skillshare, I have to admit - some course descriptions really are quite vague and open for interpretation.
Other than that, however, in my opinion, the vast majority of Skillshare courses seem to be professionally made and informative. After all, Skillshare reviews that users submit to online forums have a rather positive outlook on them - people are generally happy about the content that Skillshare provides.
Learning Paths, Live Sessions, Teaching, and More
If an online education platform wants to be ahead of the game, it has to offer its users something unique and interactive. So, let's take a look at the available features on Skillshare.
The very first thing that stands out is team-based courses. These are designed for businesses to help them with team-building exercises and efficiency management. MOOC platforms have become a pretty beneficial tool for increasing employee performance and motivation in recent years[1].
Skillshare for Teams provides its users with the ability to switch admins, work on team-based projects, and so on. This is definitely a big plus for anyone asking, "Is Skillshare legit?"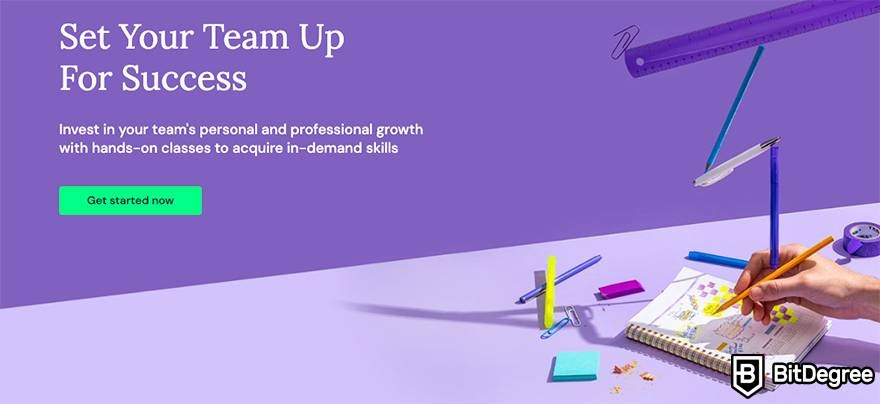 Another great feature that I thought I'd mention in this SkillShare review is student projects. Skillshare promises that each and every single course on the platform requires students to work on a project as they learn the subject material.
This way, you not only get the theoretical information about the subject that interests you, but also get a chance to create your very first project right as you finish the course.
The best part, though, is that you can share these projects with the Skillshare community and get feedback from others. Truth be told, this is a great feature - it motivates the students to learn new information and pay closer attention, all the while maintaining their interest in the course.
Furthermore, Skillshare offers learning paths. This is a feature any top-notch learning platform provides these days. What are those, though? Well, basically, they are curated classes that consist of carefully handpicked courses based on the topic in question.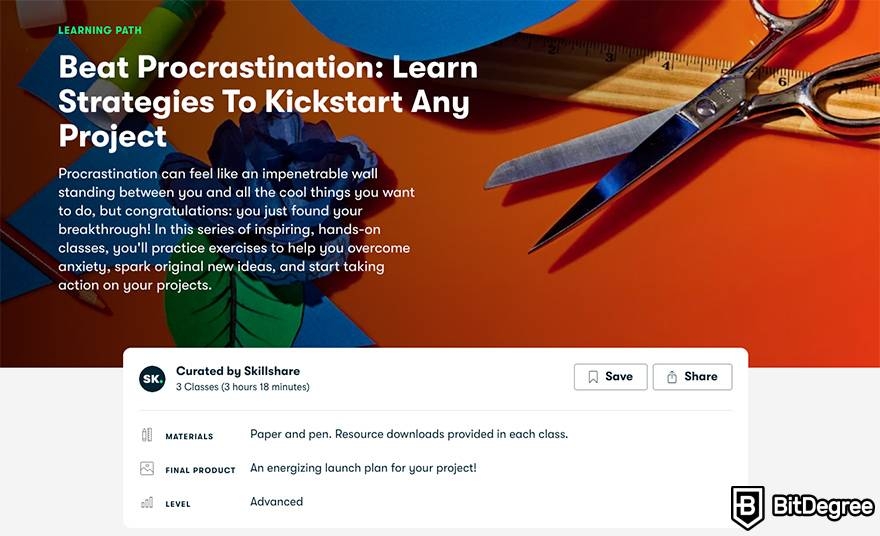 For example, let's say you're a stubborn procrastinator, but you want to change that. Skillshare offers a learning path that consists of 3 courses that should help you beat your procrastination. Learning paths on Skillshare are usually made up of 3 to 7 courses.
Moving further, Skillshare provides Live Sessions. Put simply, these are digital events that offer live learning experience. How does it work? Essentially, you join an event at a given time and participate in a live lesson.
This means you can interact with the teacher and other participants of the session directly in real-time. Do note that some of these events are free, while others are paid.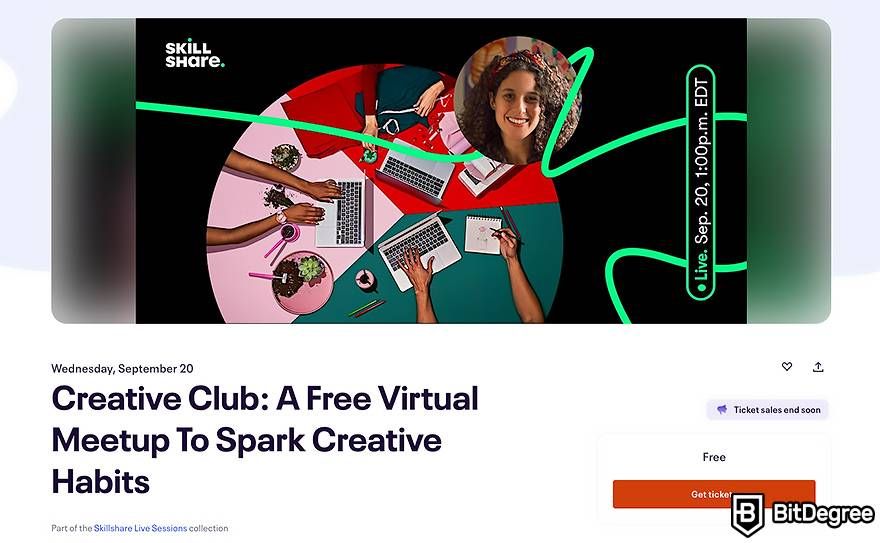 Moreover, while this might not be a feature per se, it's worth noting that you can easily become a teacher on Skillshare. Well, okay, by saying "easily", I don't mean that anyone can do that. I mean that professionals and experts can easily do that. After all, you do have to fill in an application, which has to get approved.
Once you get approved, though, Skillshare provides you with the "New Teacher Program", which helps you create your first course and publish it. The best part is that you can make money this way, because teachers get monthly royalties for every member who watches their classes.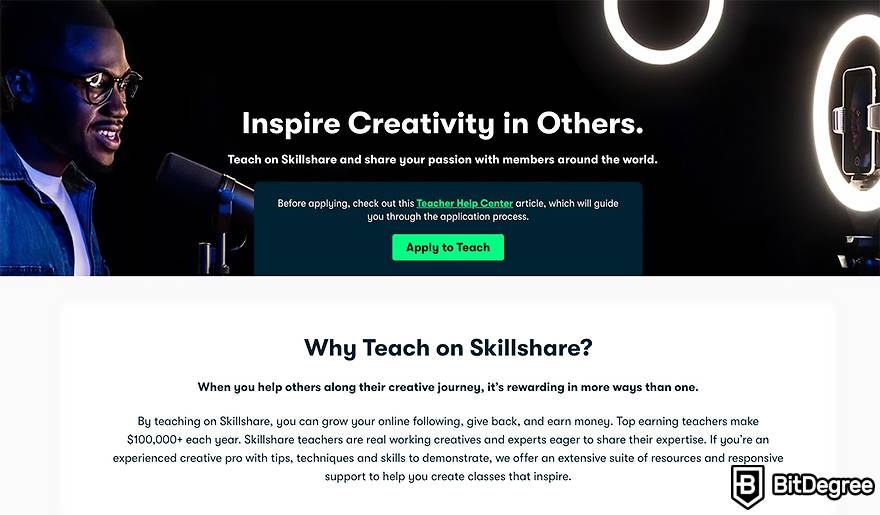 However, I must mention that there are some Skillshare reviews claiming that not all teachers on the platform are actually professionals, specifically because it's quite easy to get approved. Nevertheless, if you choose popular courses or the ones with the teachers you've heard of, I'm sure you'll be just fine.
When it comes to the main features of Skillshare, that's basically it. Even though the platform might lack some of the more flashy features, it makes up by successfully perfecting the ones that it has.
Good Pricing With a Cloudy Past
Now, this is where things get a bit more interesting. Up to this point, most user Skillshare reviews were rather pleasant - a few minor hiccups here and there, but nothing too serious. However, when it comes to the pricing policies of Skillshare, things get a bit complicated.
You see, in the past, you could find a huge amount of very strong-wordy-typed, negative Skillshare reviews online when it came to the company's pricing strategies. Multiple people claimed that they had issues with how the company charged them - they said that it used to happen even after they canceled their subscriptions.
Now, I personally never had such issues (in the past or the present), and I don't see that mentioned in new Skillshare reviews, which most probably means that this issue was resolved.
Okay, now that we got that out of the way, let's talk about the actual pricing options because that's probably one of the things that interest you the most if you're searching for a "decent Skill Share review."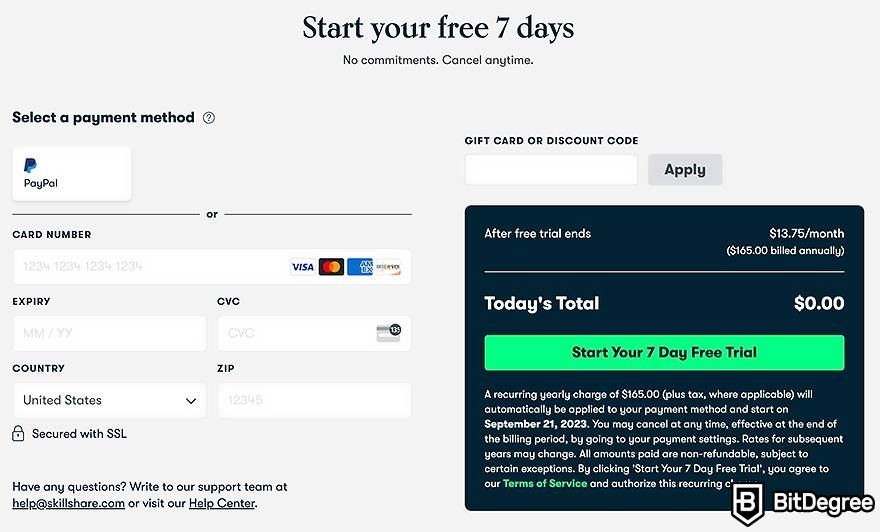 On Skillshare, the pricing works a bit differently than on some similar e-learning platforms. While other online education platforms usually allow users to purchase individual courses for the price tags that were set by the instructors themselves, Skillshare only offers a subscription-based model of pricing.
This means that once you subscribe to the platform, you are free to start learning anything you want.
The site used to offer two types of subscriptions - free and premium. The free "subscription" allowed you to interact with all of the free content on the site (comparatively, there wasn't all that much of it). However, this plan was discontinued. Now, Skillshare offers a 7-day free trial and a premium subscription.
Once you purchase the premium subscription, you "get access to more than 25,000 classes". It costs $13.75 per month, which is billed as $165 once a year. A pretty good deal for 25,000 classes, right? Though, do note that the pricing depends on where you reside, so it might be different if you're not in the United States.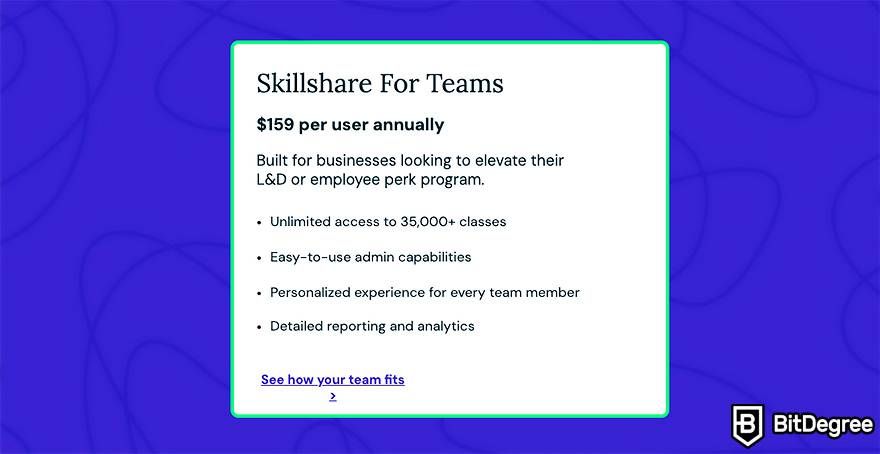 It's also worth noting that there's a separate plan for the Skillshare Teams option. It costs $159 per user (per year). This plan not only provides access to all courses on Skillshare, but also offers admin capabilities, personalized experience for each team member, and detailed analytics.

Did you know?
Skillshare Review: CONS
Nothing is ever only sunshines and rainbows, right? Every platform has some benefits and some drawbacks. Speaking of the platform in question, you'll notice in various Skillshare reviews that it does have one or two things users don't like.
However, I will only focus on one – the lack of certification.
No Certificate Upon Course Completion
When it comes to various online learning platforms, they usually provide students with certificates that prove their completion of courses. While these certificates are not always accredited (actually, more often NOT accredited), you still get proof that you participated.
Skillshare, on the other hand, provides no certificates of completion. Zero. Zip. Nada. There are no accredited NOR non-accredited certificates. The only way you can prove that you completed their course is by sharing the project you made on their "Student Projects" network.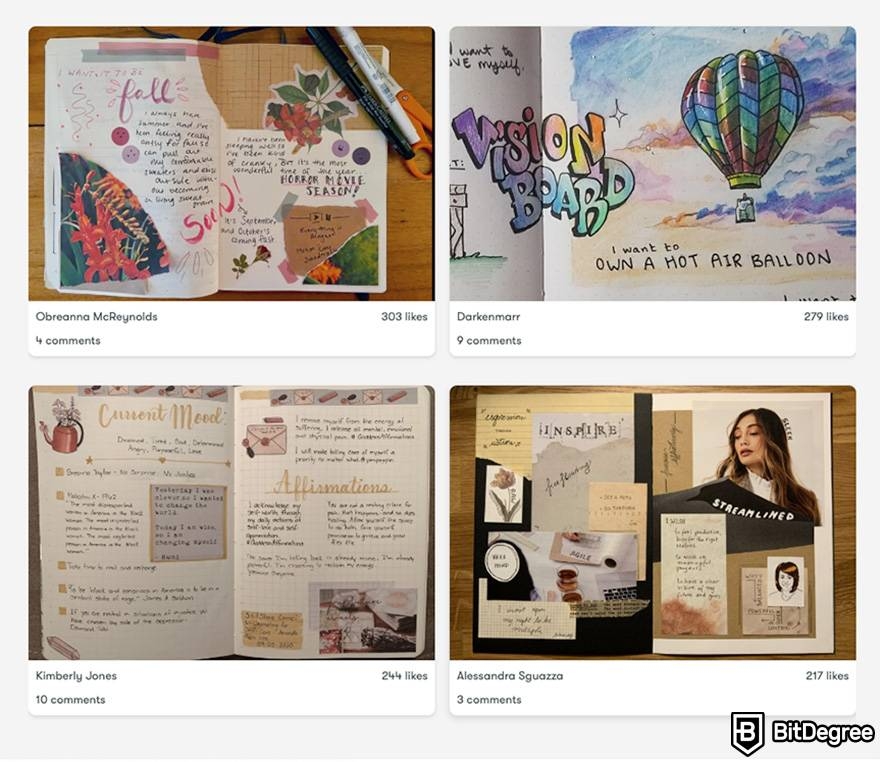 This, indeed, is a bit disappointing. I always get more motivated to do something when I get some sort of reward after doing it, and motivation is an important part of learning[2]. Yes, I know, knowledge in itself is a reward, but having a certificate with your name on it can be pretty useful, especially if you want to boast about your newly acquired skills to someone (your potential employer, for example).
This drawback might even make some question, "Is Skillshare legit?"
That being said, if you want courses that provide certificates, make sure to check out such platforms as DataCamp, Udacity, or Udemy.
Learning Experience: Good or Bad?
At the end of the day, it all boils down to the learning experience that a user has when using some sort of educational product or service. Skillshare is no exception - a positive learning experience is crucial for attracting positive Skillshare reviews.
Since Skillshare offers a very wide variety of different courses (and I do mean - a VERY wide variety), it might be rather difficult to say for certain whether the learning experience would be great or troublesome for everyone.
It all really boils down to course instructors. As mentioned before, some reviews do claim that not all of them are "professionals." However, Skillshare does exclaim that it has only "accredited" instructors, which would beg the conclusion that a positive learning experience is somewhat of a guarantee.
My personal experience on Skillshare is pretty good. I liked its short and simple courses, the design, the categorization system, and the overall feel of the platform. And, to be honest, the general consensus seems to be quite positive as well. Most of the courses seem to be up to par in the quality department.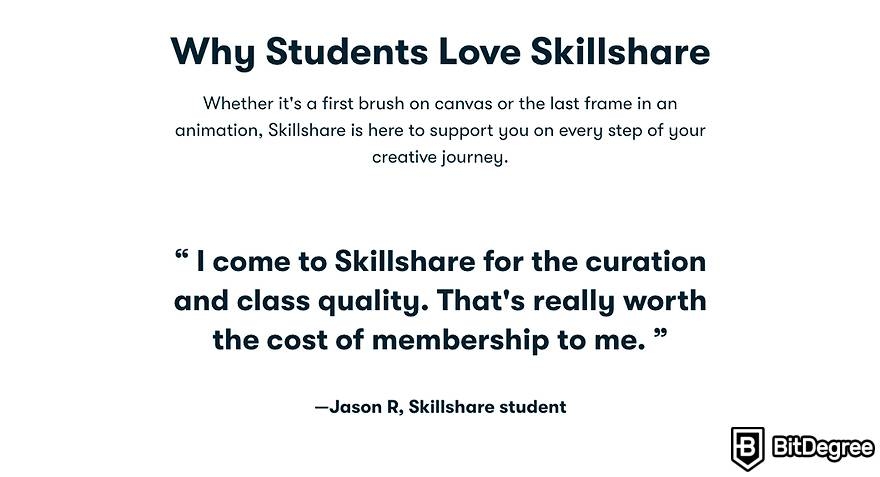 Besides, the fact that every single course offers students the chance to work on their own projects while learning and then share them with the whole community is surely a huge factor in the equation. The only truly disappointing thing is the lack of certificates.
Lastly, let's not forget the feeling of inclusivity, which is an important aspect when it comes to a positive learning experience. As I've mentioned earlier in this Skillshare review, the platform doesn't focus on one specific field to promote - all it takes is a single visit to their front page to see that there's a wide variety of different skills that you may learn and perfect.
Since other e-learning platforms often focus all of their promotion on a single category of subjects, it may feel alienating to people who come to learn something more than that one subject. Skillshare avoids this, and it does so rather successfully.
Surely, this is a big factor when it comes to a great learning experience, but it's just a single piece of the puzzle - the whole site works together to form an inviting, friendly sense of inclusion.
Skillshare's Top Course Selections
Hearing about other people's experiences is great and all, but there's nothing better than trying things out yourself, right? If my Skillshare review piqued your interest, I'm sure you can't wait to do that.
However, you might be struggling to decide which course to begin with. After all, the variety could be a bit overwhelming for some. If that's the case, let me help you. I've handpicked a few popular choices from all three categories.
If you want to create something, check out these courses:
Copywriting For Beginners by Jesse Forrest. This course promises to unlock the secrets of compelling web copywriting and dive into proven techniques to craft persuasive content that drives results, all without resorting to cheesy tactics. Besides, it's only around an hour long, which is great for a first course.
Figma UI UX Design Essentials by Daniel Scott. Looking for something more technical and extensive? You might want to dive into UI/UX design essentials with this Figma course to level up your design game and start creating user-friendly interfaces like a pro.

Feeling like building your career? These courses might be of interest to you:
Constantly searching for ways to thrive as an individual? Might want to take a look at these:
Stoicism Masterclass by Ali Abdaal. If you want to elevate your mindset and find contentment in everyday life, you could dive into the wisdom of stoicism and discover the keys to a happier life with this Skillshare course.
Mastering Productivity by Thomas Frank. If you're interested in taking charge of your productivity by crafting a customized system tailored to your needs, this highly-rated Skillshare course might be a decent choice.
Of course, these are just a few suggestions for very different topics. If you don't see anything of interest to you, don't forget that there are thousands of intriguing courses you can find on Skillshare.
Skillshare VS Competitors
So, we've established in this Skillshare review that the platform really is worth your attention. However, you might be wondering how it compares to other top-rated online learning platforms.
Skillshare VS DataCamp
Skillshare and DataCamp cater to distinct learning preferences and career paths. Skillshare is known for its diverse range of creative courses, encouraging a collaborative learning environment, as well as emphasizing community and networking among learners and instructors.
DataCamp, on the other hand, specializes in data science, analytics, and programming languages such as Python and R. The platform is tailored for individuals aspiring to work in data analysis, data science, and related fields.
Table: The subjects of Skillshare and DataCamp
DataCamp offers interactive coding exercises and structured learning paths, providing a hands-on approach to mastering technical skills relevant to these domains.
Ultimately, while Skillshare excels in nurturing creativity and collaboration, DataCamp focuses on providing specialized technical training for those pursuing careers in data-related fields.
Skillshare VS Udacity
Skillshare and Udacity also serve different educational niches. You already know what Skillshare is renowned for. Udacity, however, specializes in technical education (just like DataCamp), offering courses in areas like programming, data science, and artificial intelligence.
It provides industry-aligned Nanodegree programs designed to equip learners with practical skills for specific careers. Udacity also offers personalized mentorship and career services to support learners in their professional development.
Table: The learning processes of Skillshare and Udacity
So, Skillshare excels in creative pursuits and community engagement, while Udacity focuses on providing specialized technical training for those pursuing careers in technology-related fields.
Skillshare VS Udemy
Skillshare and Udemy are both popular online learning platforms, each with its unique strengths. They are more similar than Skillshare is with DataCamp or Udacity.
Udemy also offers an extensive catalog of courses covering a wide range of subjects, including technology, business, personal development, and more. Though it does have a much bigger course library than Skillshare.
Table: The stats of Skillshare and Udemy
Besides, courses on Udemy are available for individual purchase, and they provide certificates (though not accredited ones).
Either way, both platforms offer flexibility and accessibility in learning, making them suitable for a wide range of learners with varying interests and learning goals.
Latest DataCamp Coupon Found:
EXCLUSIVE 25% OFF
On DataCamp Subscriptions
Follow the Datacamp promo code link & get an exclusive 25% OFF Datacamp subscriptions. Act now while the offer is still available!
Expiration date : 12/12/2023
2,765 People Used
Only 35 Left
Conclusions
As I stated at the very beginning of this Skillshare review, the world of online learning is as competitive as ever before. Although this might be a headache for competing platforms, it proves to be a great thing for the students - a wider variety of choices and an ever-growing competition means more quality courses at competitive prices and unique features.
Skillshare aims to be one of the top dogs in this ballpark, bringing its own unique features and a huge variety of courses into the mix. Even though some might be more successful than others, one thing is for certain - the name "Skillshare" is one of the most well-known names in the e-learning community.
I hope this review was helpful to you, and that you now have a better understanding of just what Skillshare is and how it functions.
Scientific References
1. P. Sureephong, W. Dahlan, S. Chernbumroong, et al.: 'The Effect of Non-Monetary Rewards on Employee Performance in Massive Open Online Courses';
2. M. Borah: 'Motivation in Learning'.
Leave your honest Skillshare review
Leave your genuine opinion & help thousands of people to choose the best online learning platform. All reviews, either positive or negative, are accepted as long as they're honest. We do not publish biased reviews or spam. So if you want to share your experience, opinion or give advice - the scene is yours!