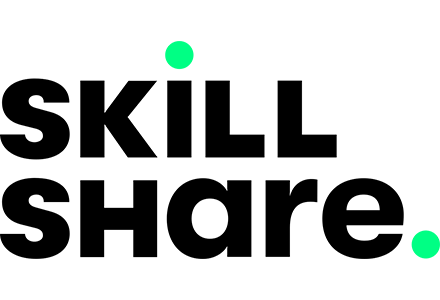 With a huge amount of e-learning platforms, it might be a bit difficult to pick one that would suit your wants and needs. Today, we are going to be talking about Skillshare.
Skillshare is an e-learning platform that has been widely referenced as of late - you've probably seen it featured on the front pages of Google searches, YouTube ads, content creators sponsoring it, and so on. In this Skillshare review, we are going to take a look at the site and see if we can figure out - is Skillshare worth it?
First of all, I'll tell you what is Skillshare. Then, we'll cover all of the main aspects that such a platform should possess - usability, learning experience, prices, features, etc.
To start things off with this Skillshare review the right way, let's briefly go over what is Skillshare and "what it does". After all, we can't really cover a platform without establishing an understanding of its core functions, now can we?
Pros
User-friendly interface
Straightforward interface
Plenty of courses to choose from
Unique features
Cons
Pricing problems
The video player could be better (annoying comments / timestamps)
Table of Contents
Skillshare Review: Introduction
Skillshare, like many others, is an online learning and education platform. It offers students the ability to learn various different skills that they can then use in either their career or personal lives, depending on the situation.
What's cool about Skillshare (and is probably the first big point in this Skillshare review) is that it doesn't necessarily emphasize a specific direction for the site. You see many other e-learning platforms have a wide variety of courses, but only recommend/promote, let's say, IT-based ones.

Skillshare, however, focuses on the actual variety instead of sticking to a single topic and neglecting other categories. This is a welcome change indeed! It makes the user feel more included, even if he or she isn't planning on learning the main, promoted subject.
So, now that you have an idea of what is Skillshare, let's move on to the actual review.
Latest Skillshare Coupon Found:
30% Off
Skillshare Annual Membership
Grab this exclusive Skillshare coupon code & receive a sweet 30% off Skillshare annual membership. Apply Skillshare discount code on an order.
Expiration date : 03/04/2023
543 People Used
Only 91 Left
Ease of Use
One of the very first aspects that we'll try to analyze and look into will be the usage of the platform. Or, in other words, just how user-friendly and accessible the site actually is.
Once you're on the front page of the site, you'll be greeted by their interactive, video-based banner and a slogan - "Explore your creativity. Join Skillshare to watch, play, learn, make, and discover.". The idea of having a video-based banner isn't necessarily an original one, but it's still pretty cool to look at.
Scrolling down, you can see all of the different categories of the courses available for you to learn (and some featured courses, too), some incentives on "why is Skillshare worth it" and, finally, a banner offering you to start teaching on the site (this is aimed at potential instructors).
Overall, the front page is actually really nice and inviting - it's not over-encumbered with needless information, and goes straight to the point. Even though the page is very simplistic in its design and usability, it serves the job well - a welcome break from all of the flashy color-based web pages that have been popular as of late.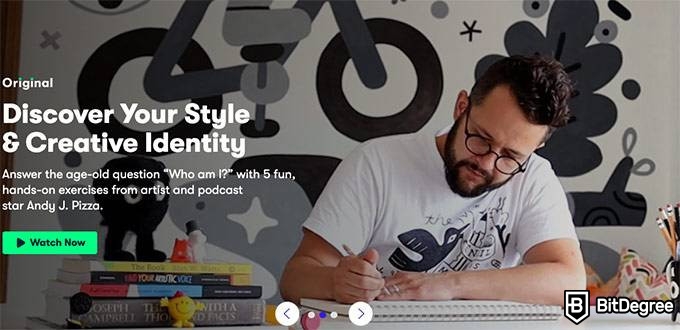 Once you sign in and visit the course page (of a specific course that you want to enroll into), you'll be greeted by an introductory video from the instructor and the lesson list. Truth be told, the interface itself is quite inviting - once you scroll down, you'll see the course description, an overview of the instructor and related courses. Pretty neat and simple - easy to navigate and find your way around!
Something that I didn't really like was the fact that students can leave "comments" or "timestamps" on the timeline of the video. This is a popular concept with some video players, and it's usually an annoyance that does nothing else but distracts you from the video itself.
All in all, it would surely be impossible to tell is Skillshare legit from the user interfaces alone. However, just as some other Skillshare reviews would point out, Skillshare is pretty simple and nice to use - it's intuitive and doesn't overwhelm you with buttons, banners, popups and so on.

Did you know?
Content Quality
Naturally, this is probably the most important aspect when it comes to any education-based platform - and this Skillshare review is no exception. The quality of the content serves as the main criterion for just how good the platform really is.
When it comes to Skillshare, content quality will help us determine is Skillshare worth it. Furthermore, if you're wondering is Skillshare legit, look no further than the content - it's a dead giveaway.
The general opinion about the courses found on Skillshare seems to be quite positive. A lot of Skillshare reviews highlight the fact that any of the courses are very basic, and they place this in the "cons" section. I find this odd, though. If you come to Skillshare to learn something new, you opt to take a "beginners" course, anyway.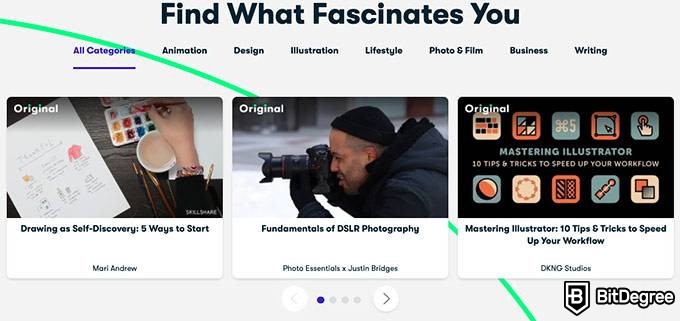 However, an issue that was put forth in some Skillshare reviews was that some instructors don't disclose whether the course is aimed at beginners or advanced level students. Although I haven't encountered such broad inconveniences in my time that I spent on Skillshare, I have to admit - some course descriptions really are quite vague and open for interpretation.
Other than that, however, the vast majority of the courses seem to be professionally made and informative. Most Skillshare reviews that users submit to online forums have a rather positive outlook on them - people are generally happy about the content that Skillshare provides.
Features
If an online-education platform wants to be ahead of the game, it has to offer its users something unique and interactive. Let's take a look at the available features on Skillshare.
The very first thing that stands out as unique and interesting in Skillshare are team-based courses. These are designed for businesses to help them with team-building exercises and efficiency management.
It is something that I hadn't seen before - you have the ability to switch admins, work on team-based projects, etc. This is definitely a big plus for anyone asking - is Skillshare legit?
Another great feature that I thought I'd mention in this SkillShare review are the projects. Skillshare promises that each and every single course on their platform requires students to work on a project as they learn the subject material.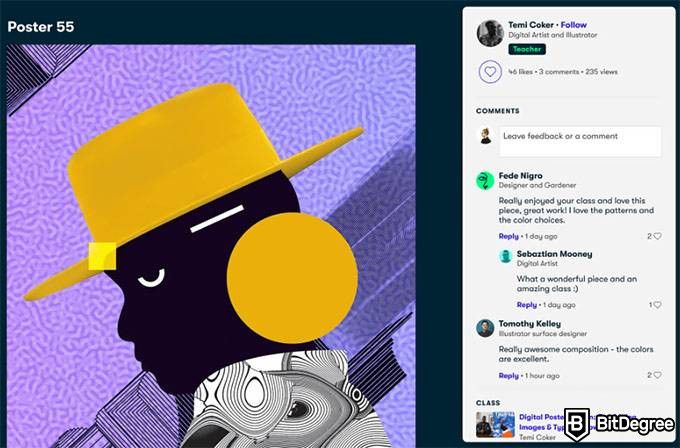 This way, you not only get the theoretical information about the subject that interests you, but also get a chance to create your very first project right as you finish the course. Truth be told, this is a great feature - it motivates the students to learn new information and pay closer attention, all the while maintaining their interest in the course.
As it relates to the main features of Skillshare, that is basically it. Even though the platform lacks some of the more flashy features, it makes up by successfully advertising the ones that it has.
Price
Now, this is where things get a bit more interesting. Up to this point, most user Skillshare reviews were rather pleasant - a few minor hiccups here and there, nothing too serious. However, when it comes to the pricing policies of Skillshare, all hell breaks loose. Let's take it from the top.
On Skillshare, the pricing works rather differently than on most other, similar e-learning platforms. While other online education platforms allow users to simply purchase individual courses for the price tags that were set by the instructors themselves, Skillshare offers a subscription-based model of pricing.
This means that once you subscribe to the platform, you are free to start learning anything you'd like.
The site offers two types of subscriptions - a free one and a premium one. The free "subscription" allows you to interact with all of the free content on the site - comparatively, there isn't all that much of it, to begin with.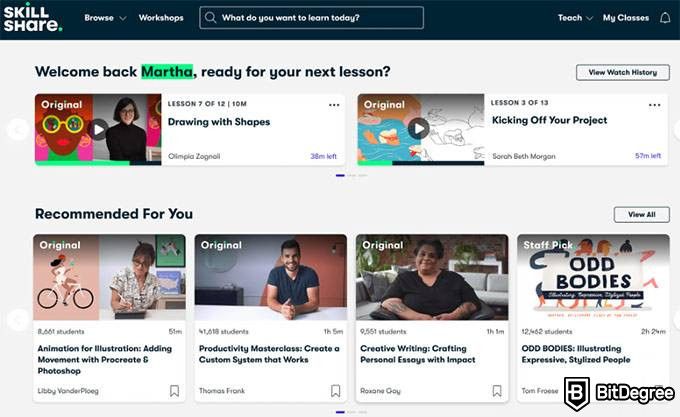 However, once you purchase the premium subscription, you "get access to more than 25,000 classes". The premium plan costs $16 USD per month or $96 USD billed once a year (you would save 42% in the long run with this once-a-year investment).
A pretty good deal for 25,000 classes, right? Well, this is where the negative Skillshare reviews and problems start.
You can find a huge amount of very strong-wordy-typed, negative Skillshare reviews online when it comes to the companies pricing strategies. Multiple people claim that they are having issues with how the company charges them - the say that it happens even after they cancel their subscriptions!
Now, if this is true, it's a huge issue that Skillshare needs to deal with. Building a reputation within the community is a long and tough process, but destroying it takes just a small controversy - and this is far from being a SMALL issue.
Learning Experience
At the end of the day, other than the actual pricing and fairness of the company, it all boils down to the learning experience that a user has when using some sort of an educational product or service. Skillshare is no exception - positive learning experience is crucial if you want to attract positive Skillshare reviews form the users of your site.
Since Skillshare offers a very wide variety of different courses (and I do mean - a VERY wide variety), it's rather difficult to say for certain whether the learning experience is great or troublesome. It all really boils down to the actual instructors themselves. However, Skillshare does exclaim that it has only "accredited" instructors, which would beg the conclusion that positive learning experience is somewhat of a guarantee.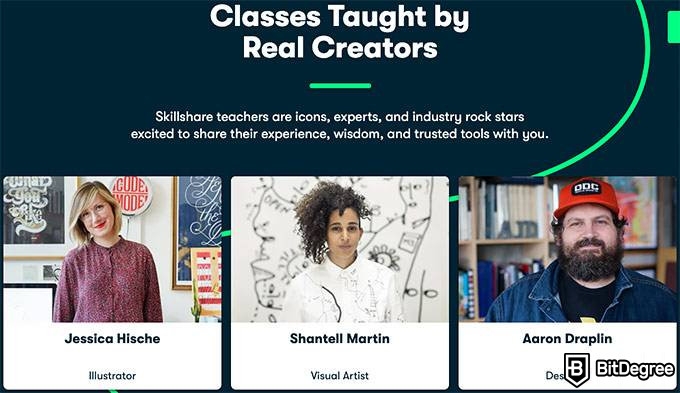 And, to be honest, the general consensus seems to be quite positive. Most of the courses seem to be up to par in the quality department. Furthermore, the fact that every single course offers students the chance to work on their own, individual projects while learning is surely a huge factor in the equation.
Admittedly, a huge factor when it comes to a positive learning experience is the feeling of inclusivity. As I've mentioned earlier in this Skillshare review, the platform doesn't focus on a one, specific field to promote - all it takes is a single visit to their front page to see that there's a wide variety of different skills that you may learn and perfect.
Since other e-learning platforms focus all of their promotion on a single category of subjects, it may feel alienating to people who come to learn something else than that one subject. Skillshare avoids this, and it does so rather successfully.
Surely, this is a big factor when it comes to a great learning experience, but it's just a single piece of the puzzle - the whole site works together to form an inviting, friendly sense of inclusion.
Latest DataCamp Coupon Found:
EXCLUSIVE 67% OFF
On DataCamp Subscription
Follow the Datacamp promo code link & get an exclusive 67% OFF Datacamp subscription. Act now while the offer is still available!
Expiration date : 04/04/2023
2,765 People Used
Only 35 Left
Conclusions
We have reached the very end of the Skillshare review. At this point, you should already have a pretty good idea and opinion about Skillshare and the services that it provides. Do keep in mind that this review only touched upon some of the main points of interest - there are a lot of smaller details that could have gone without coverage.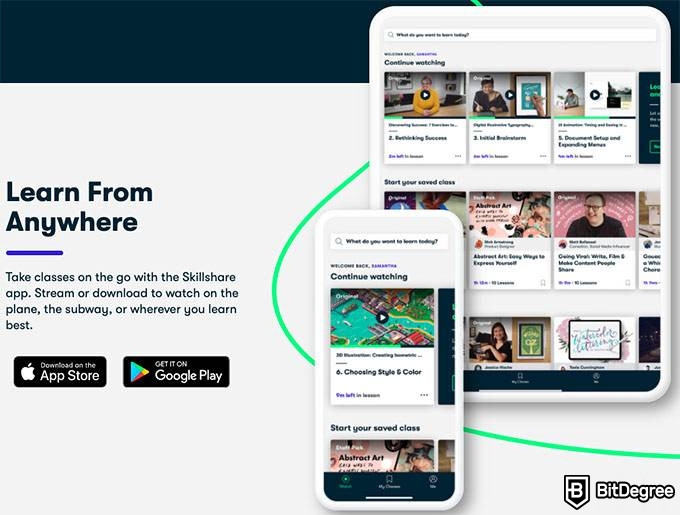 As I've stated at the very beginning of this Skillshare review, the world of online learning is as competitive as ever before. Although this might be a headache for competing platforms, it proves to be a great thing for the students - a wider variety of choices and an ever-growing competition means more quality courses at competitive prices and other additional, unique features.
Skillshare aims to be one of the top dogs in this ballpark - the platform brings its own unique features into the mix. Even though some of them are more successful than others, one thing is still for certain - the name "Skillshare" is currently one of the most well-known in the e-learning community.
I hope this review was helpful to you, and that you know have a better understanding of just what Skillshare is and how it functions. Best of luck!
Leave your honest Skillshare review
Leave your genuine opinion & help thousands of people to choose the best online learning platform. All reviews, either positive or negative, are accepted as long as they're honest. We do not publish biased reviews or spam. So if you want to share your experience, opinion or give advice - the scene is yours!