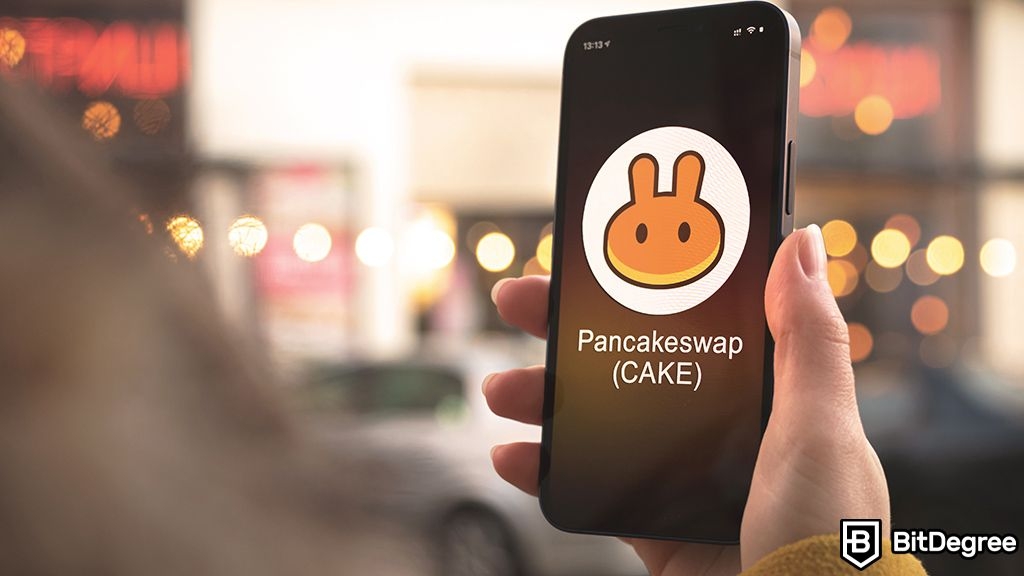 So, you've already tried out swapping and staking, but now you're wondering how to withdraw from PancakeSwap? Well, you cannot actually make a PancakeSwap withdrawal like you would on a centralized exchange (CEX) like Binance.
This is the case because you don't actually store any crypto inside a decentralized exchange (DEX). You do lock up your tokens, though, for liquidity provision, staking, or yield farming. Thus, you should be asking instead, "How to withdraw liquidity from PancakeSwap?" or "How to withdraw staking rewards?"
Don't worry, it's very easy.

Did you know?
Want to get smarter & wealthier with crypto?
Subscribe - We publish new crypto explainer videos every week!
What is a Crypto Mining Pool? Is it Worth it? (Beginner-Friendly)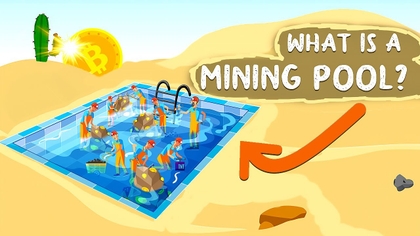 Table of Contents
How to Withdraw from PancakeSwap?
A very short answer to the question, "How to withdraw from PancakeSwap?" is to go to a liquidity pool and click the "Unstake" button. Do note that while there are several staking options on the platform (in the broad sense of the term), in this case, I'm talking specifically about withdrawing from PancakeSwap farms.
Latest Deal Active Right Now:
REDEEM $600 PRIZE
Binance Cyber Monday
Attention new Binance users: this Cyber Monday, you can score up to $600 in rewards by completing special tasks. Activate this amazing Binance Cyber Monday deal using the code – 49316610!
Expiration date : 09/12/2023
6,127 People Used
Only 16 Left
Now, if you want a bit more thorough explanation:
Step 1: Assuming that you have already connected your wallet to PancakeSwap (which you should have if you're wondering how to withdraw LP tokens from PancakeSwap), go to the yield farming page, which you can access by hovering your mouse over the "Earn" option at the top left corner of the page and then clicking on "Farms."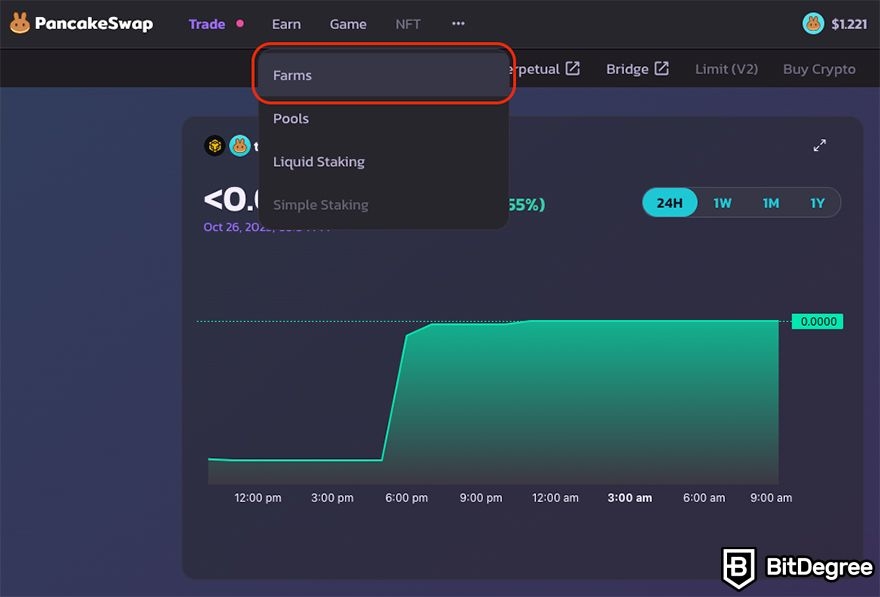 Once you go to the page, find the liquidity pool in which you are currently staking and expand it.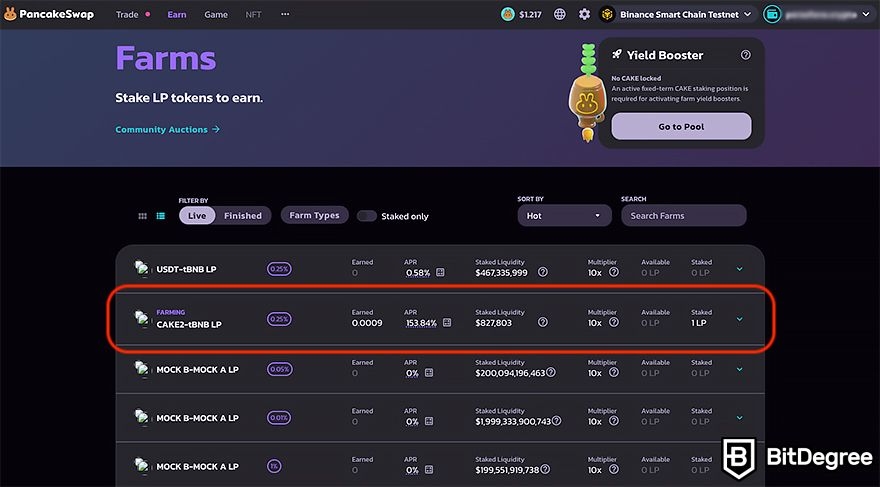 Step 2: Click "Unstake" and wait for the unstaking window to pop up.

Step 3: You'll see all the information about your staking position in that window. Click "Unstake" once more. Do note that when you unstake, any generated rewards are automatically harvested and sent to your wallet.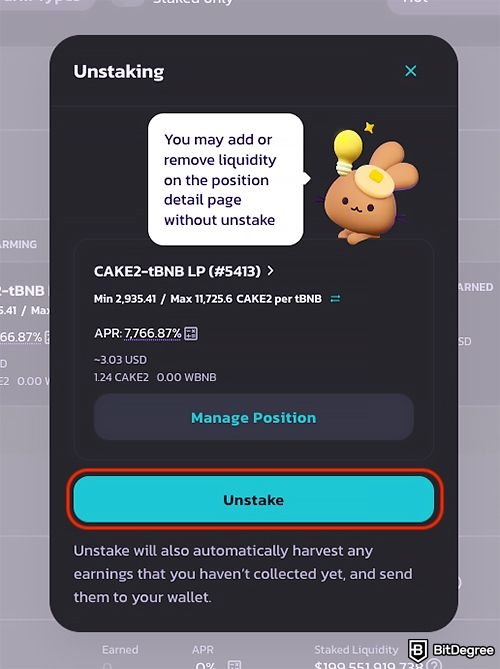 Step 4: Confirm the withdrawal on the MetaMask wallet extension window that will pop up. Notice that you will have to pay a certain withdrawal fee.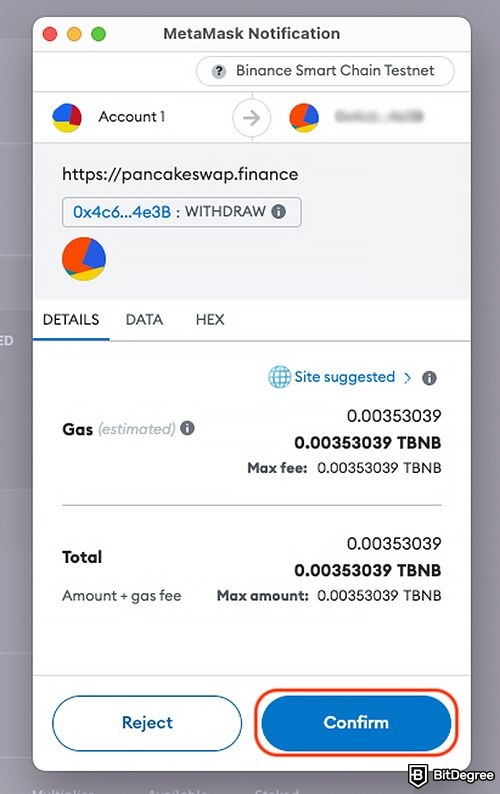 And that's all there is to a PancakeSwap withdrawal. Once you confirm it, your assets will be sent back to your wallet, together with the rewards.
CEX Withdrawal VS DEX Withdrawal
As I briefly explained in the introduction, an answer to the question, "How to withdraw from PancakeSwap?" would explain a completely different process compared to, let's say, a question, "How to withdraw from Binance?"
You see, Binance is a CEX that provides users with a very long list of trading and earning features. Besides that, though, it allows you to store your crypto in its built-in hot wallet. So, if you wanted to know how to withdraw from Binance, you would most likely want to know how to take out your crypto stored there and transfer it to another wallet.
PancakeSwap, on the other hand, is a DEX that primarily offers swapping and several earning options (liquidity provision, staking, yield farming, and so on).
It does not, however, allow you to store your crypto. The only thing that comes close to that is locking up your tokens in liquidity pools to generate rewards. Thus, withdrawing from PancakeSwap refers to unlocking or unstaking your crypto assets.
Conclusions
So, now you know how to withdraw from PancakeSwap. As you see, there is nothing complicated about the process - in fact, it's only a matter of clicking the right buttons.
The only thing you should keep in mind is that a PancakeSwap withdrawal does impose a certain network fee. These fees are not PancakeSwap-specific, though – they are a standard part of executing any operation on the blockchain network, be it a PancakeSwap withdrawal or a Binance withdrawal.
The cost of these fees can vary based on network congestion and other factors, so make sure you are aware of them before initiating a withdrawal.
About Article's Experts & Analysts