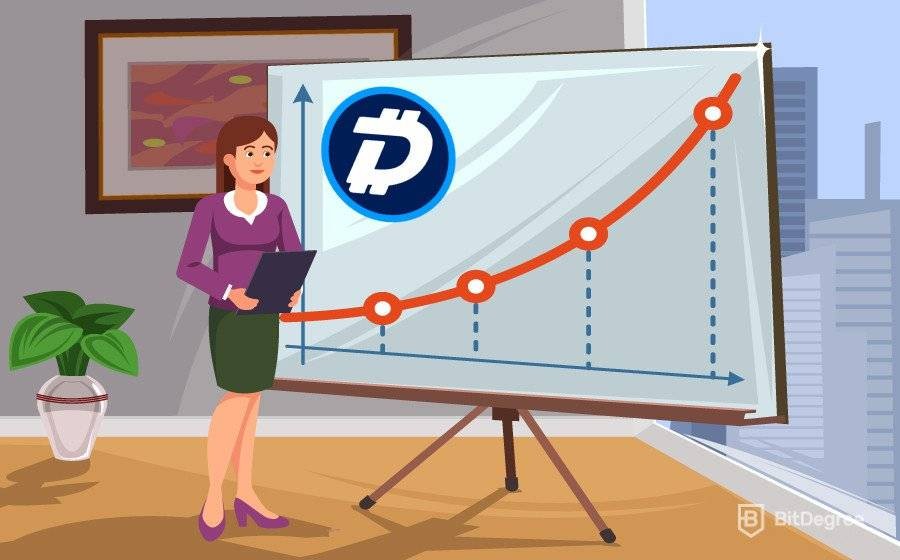 Are you currently holding Digibyte coins and looking for Digibyte price predictions? Or maybe you're thinking about making an investment and want to figure out where the price could go in the nearest future? Well, you've certainly come to the right place!
In my Digibyte price prediction guide, I am going to tell you everything you need to know. In the opening sections, I am going to briefly cover what the Digibyte project is, followed by a quick explanation on the importance of taking price predictions with caution.
After that, I am then going to discuss some current Digibyte price predictions for 2023 and beyond. Finally, I will give you my opinion on whether I think Digibyte is a good investment considering its advantages and disadvantages.
Always remember that it's crucial to keep your currencies in secure wallets. It's recommended to choose hardware wallets (Ledger Nano X and Trezor Model T) instead of online ones.
So, what are you waiting for? We've got a lot to talk about! Let's start by finding out what the Digibyte coin actually is!
(If you're already confident with your Digibyte knowledge, feel free to skip to the next section!)

Did you know?
Want to get smarter & wealthier with crypto?
Subscribe - We publish new crypto explainer videos every week!
ICO vs IDO vs IEO: Which One's the Best? (Easily Explained)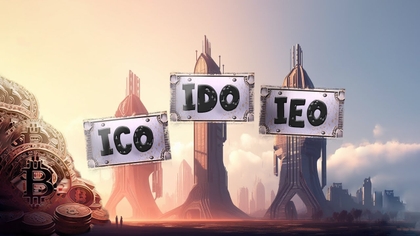 What is Digibyte?
Digibyte was created in 2014 by its lead-developer, Jared Tate. It is a cryptocurrency project that aims to concentrate on increased transaction speed, decentralization, and security. In fact, Digibyte technology performs significantly better than most other cryptocurrencies.
For example, while popular blockchains such as Bitcoin average transaction times of 10 minutes, Digibyte does it in just 15 seconds! Furthermore, recent tests in late 2017 achieved a maximum output of 560 transactions per second, with the Digibyte team aiming to increase this to 280,000 per second by the year 2035!
On the other hand, Bitcoin is only able to manage 7 transactions per second and Ethereum isn't much better either, at just 15. Digibyte is also referred to as DGB and in total, there will be 21 billion coins in circulation, which is also expected in the year 2035.
Interestingly, the Digibyte project became the first blockchain in the world to install something called SegWit (Segregated Witness). This means that transaction confirmations are separated from the information stored within the block, helping to achieve faster transactions.
Ultimately, the Digibyte team hopes that its technology will be able to act as a global payment system used by people all over the world.
So now that you know what the project actually is, the next part of my Digibyte price prediction guide is going to briefly explain what to consider when reading cryptocurrency price predictions.
Price Predictions of Digibyte
It would be great if cryptocurrency price predictions would always come true, however, in reality, the majority of them don't. The truth is, nobody can predict the future, especially in an industry as volatile as cryptocurrency.
Don't forget, coins can rise and fall by 100% or more in a single day! These events are completely unpredictable, so never follow the hype without doing your own independent research.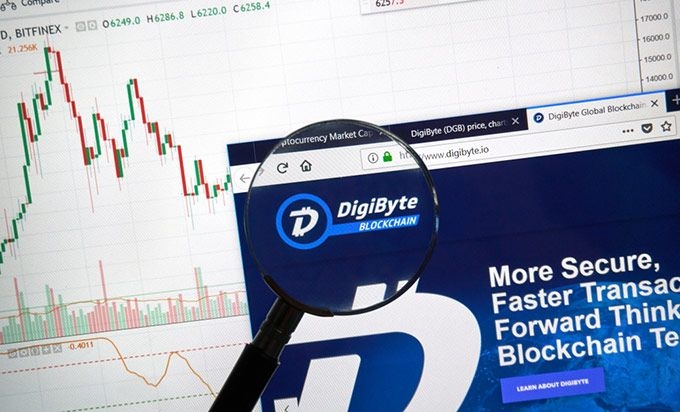 A great example of an untrustworthy price prediction source is that of John McAfee, who often releases Tweets displaying his cryptocurrency predictions. Why? Because McAfee admitted that crypto projects pay him more than $100,000 for each "prediction" he makes!
Ultimately, the biggest thing that affects the price movement of a coin is real-world events, such as improved technology, regulation, and new partnerships. Just make sure that you don't invest money based on pricing predictions alone. Do as much research as possible and make your mind up based on everything you have read!
Now that I've got that out the way, the next part of my Digibyte price prediction guide is going to look at some of the most significant price movements of its history!
Digibyte Previous Price Movements
Before I look at some of the Digibyte price predictions for 2023, I thought it would be a good idea to quickly take a look at how the coin has performed so far.
Interestingly, from the year it was founded in 2014 up to May 2017, the DGB coin was practically worthless! Even though the technology performed much better than most other blockchain projects, it appeared that nobody knew about it. The value of Digibyte didn't really move any higher than $0.0002 per coin, with daily trading volumes rarely more than $100,000.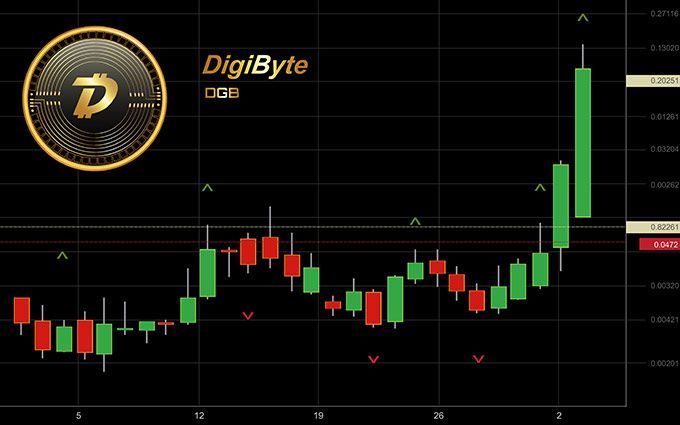 Then suddenly out of nowhere, its value increased all the way up to $0.056 in less than a couple of weeks. The exact reason for this remains unknown, however, the only event that took place around that time was a simple Tweet from the developers claiming that they were going to make "Decentralized, Blockchain, CyberSecurity a phrase and more importantly a reality".
This is a good example of how volatile the cryptocurrency markets can be! In fact, the price movement was so significant that it's market capitalization (I'll talk about why this is important later) increased from just $14 million all the way up to $500 million!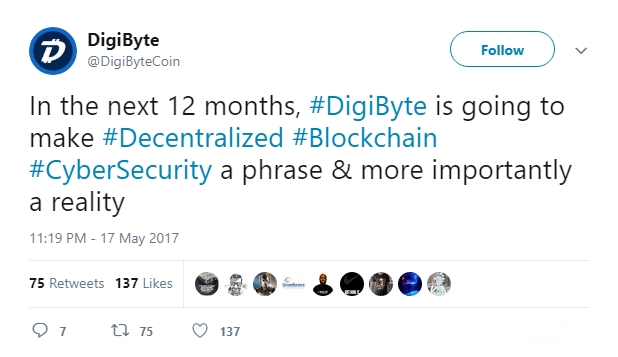 Moving forward, Digibyte experienced its most successful period in between December 2017 and January 2018, where its value went all the way up to $0.129 per coin, reaching a market capitalization of over $1.2 billion!
However, it is important to remember that the majority of the cryptocurrency industry experienced record-breaking highs in the same period and, just like Digibyte, most of them lost their outstanding gains in early 2018.
Another major pricing event happened in April 2018, where the DGB price went from $0.017 up to $0.049, an increase of more than 188% in just 4 weeks. After that, the price dropped down to $0.004 in 2020, and now (January 2023) it's worth $0.025. Once again, the price increased significantly.
The main reason for this sudden rise in price was due to Abra (a really popular digital wallet app) announcing they were going to start accepting the DGB coin. This was an important development, as the app allows people to buy and sell more than 20 different coins as well as fiat currency.
So now that you know the history of its most important price movements, the next part of my Digibyte price prediction guide is going to look at some popular predictions for 2023.
Digibyte Price Prediction 2023 and Beyond!
What better way to start than by finding out what the founder, Jared Tates, thinks will happen to the value of DGB? According to people within the Digibyte community, Tate believes that the value will eventually go anywhere between $1 and $10. However, there is a slight issue with this prediction.
This is because it is very unusual for the leader of an organization, both in the real-world and cryptocurrency industry, to make a prediction on the value of their own project. This is like Mark Zuckerberg announcing that he believes the value of Facebook shares is going to rise to $1,000 per share!
The next Digibyte price prediction I wanted to discuss with you was one released by a platform called "jiomobilephone1500". Sounds legit? Let's find out! According to the "analyst", they predict that by the end of 2023, the DGB price will increase to $9.20.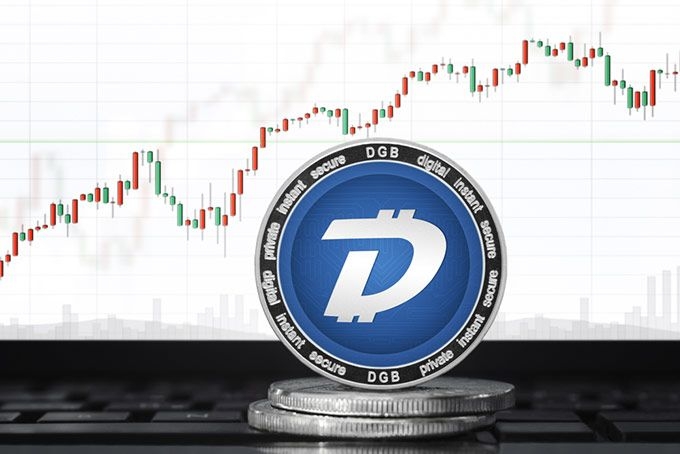 The reason this sounds very unlikely is due to the way market capitalization works. This is how you work out the total value of a project, which you can do by multiplying the current market value of the coin against the total amount of coins in supply.
For example, if there were 10 million coins and the current market value of the coin was $1, then the total market capitalization would be $10 million!
So, going back to the above pricing prediction of $9.20 and using an estimated total circulation of 11 billion coins, this would value the Digibyte project at $101 billion! Although the cryptocurrency markets are completely unpredictable, it would perhaps take a miracle for Digibyte to increase its price by that much in such a short amount of time.
Why? Well firstly, its all-time high in January 2018 amounted to just under $500 million, meaning it would need to increase by more than 20,000%. Secondly, this would see Digibyte overtake every single cryptocurrency other than Bitcoin, which again, is probably unlikely.
So, what other Digibyte price predictions 2023 are there? Well, the next one I thought I would mention was published by an analyst called "CoinFan". The Digibyte price prediction released by CoinFan is less optimistic than "jiomobilephone1500"!
The prediction has a big variation between the minimum and maximum prices, which makes it difficult to analyze. Therefore it is best to take the minimum prediction as a guideline. Interestingly, CoinFan believes that the DGB price will slowly increase throughout 2023, ending the year at $0.242.
This doesn't really provide us with a reliable prediction, because according to the analysis, your Digibyte investment could either 1) decrease by as low as 67% or 2) increase by up to $138%!
These Digibyte price prediction 2023 are a great example of how unreliable prediction services can be. The most important thing that all of the above predictions fail to mention is why. There has to be a reason for a price to rise or fall, however, when analysts don't say how they made the prediction, it's very difficult to take it seriously!
UPDATE 2023: DigiByte's current price is $0.02. Needless to say, none of the predictions seem to come true.
Anyway, the next part of my Digibyte price prediction guide is going to look at beyond 2023. Will we see anything more reliable? Let's see it!
Digibyte Price Prediction Beyond 2023!
The first Digibyte price prediction I wanted to talk to you about was one released by Coinliker a few years back. As you will see from the screenshot below, they believe that by June 2023, the Digibyte price will increase to $3.5.

Is this reliable? Well, a price of $3.5 would amount to a total market capitalization of approximately $100 billion. This would be quite a significant increase as it would see Digibyte enter the top 10 cryptocurrency rankings.
You might remember how I mentioned earlier that Digibyte performs much better than most other cryptocurrencies, so in reality, this would actually be a reasonable thing to happen. For example, Litecoin, which at the time of writing is the sixth most valuable coin, can only manage transaction speeds of 2.5 minutes.
Why is it worth so much more, when Digibyte can process transactions in just 15 seconds? If the team are able to do some really good marketing and promote their technology, it wouldn't be impossible for this Coinliker prediction to come true.
So, what about beyond 2023? I came across a Digibyte price prediction by somebody called Crypto Gunther. Although he isn't a well-known analyst, his prediction process was probably the best available.
This is because he explained in full detail how and why he got to his prediction, rather than just publishing estimations without any reasoning.

According to Crypto Gunter, the Digibyte price will increase to $20 in a few years. If this did happen it would give DGB coin a total market capitalization of $220 billion, which would make it the most valuable cryptocurrency in the industry.
However, the assumption is based on something significant. Crypto_Gunter argues that the ideal price of the DGB coin should amount to 1/1000th of what Bitcoin is worth. For example, if Bitcoin was worth $10,000, then Digibyte should be worth $10. Using the theory of the above Digibyte price prediction, Bitcoin would need to reach $20,000 for the DGB coin to increase to $20.
If you are still unsure, the next part of my Digibyte price prediction guide is going to look at their plans for the future, to explore whether there are any possible events that could help the price go up!
The Future of Digibyte
Now, then. Let's explore the fundamental future of Digibyte: their roadmap, partnerships and exchange listings.
Roadmap Objectives
Although the Digibyte developers do not have an actual roadmap, they do have various development ideas that they are considering. Firstly, they are considering a mining algorithm swap. At the moment, the blockchain uses 5 different versions, however, the team is thinking about changing one of them to make mining even more decentralized.
However, the biggest development objective is what Digibyte calls "Core 4.1.3". Once the protocol has been built, it will allow users to create and enter into the smart contracts. This would be massive news for Digibyte and would most likely result in an increase in the price of its DGB coin.
Partnerships
The Digibyte team claims that they are actively looking for partnerships with corporate organizations. If a large company were to use the DGB coin within its systems, it could have a very positive effect on its price.
In February 2018, Digibyte announced that they had just employed the services of a PR agency, who would help them market and promote their technology. This was an excellent move and will certainly help them form new partnerships.

Pros
A very well-known crypto exchange platform
More than 500 different cryptos available
Two-factor authentication
Main Features
Over than 100 different cryptocurrencies available
Strong security
Small withdrawal fees

Pros
Secure and reliable
Low fees
A good amount of fiat currencies accepted
Main Features
Reputable exchange
Multiple fiat currencies are accepted
Relatively low trading fees

Pros
Anonymous trading
Secure
Supports a variety of cryptocurrencies
Main Features
Easy to use
Low fees
Good security
Exchanges
Digibyte coin is now listed on lots of different cryptocurrency exchanges. Currently, the most recommended crypto exchanges that support DGB coin are Coinbase and Binance. These platforms are secure, reliable, offer very low fees and hundreds of different cryptocurrencies to choose from.
So now that you have some of the things to look out for, in the next part of my Digibyte price prediction guide I am going to give you my opinion on whether I think it's a good investment or not!
Is Digibyte a Good Investment?
Before I go any further, I thought I should mention that I am not giving you financial or investment advice. Everything within this Digibyte price prediction guide is either my opinion or the opinion of other analysts.
If you do decide to go and make an investment, you should always a) conduct your own research before and b) never invest just because of a price prediction.
Anyway, I actually think the Digibyte project is a really promising cryptocurrency. I must admit, I am very surprised that it hasn't performed better. Why? Well, as I mentioned earlier, the Digibyte blockchain is much faster than most other cryptocurrencies in the industry.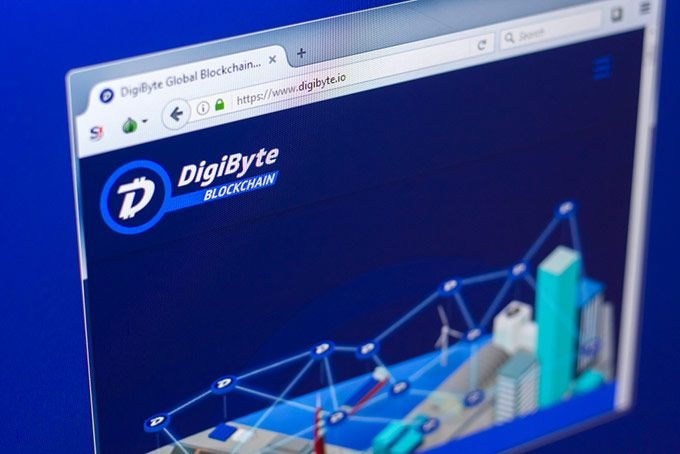 The actual technology is one of the most important parts of a crypto project, otherwise, people would never use it. Therefore, I think the Digibyte team should focus on marketing and promotion so that more and more people can find out how good their blockchain is!
Not only would this attract more users to Digibyte, but it would also help the project form new partnerships with large organizations, which is something the team wants to do.
I also like the sound of the upgrade the team is working on, which if successful, will allow people to create smart contracts on top of the Digibyte platform. I personally believe if they are able to do this, it could see the price of the DGB coin increase very quickly!
On the other hand, my biggest fear is if Bitcoin's upgrade to the Lightning Network is successful, it could affect other cryptocurrencies, including Digibyte. This is because the upgrade could allow Bitcoin to perform even faster, cheaper and more scalable transactions. If this does happen, people might decide to use Bitcoin instead, as it is the most popular cryptocurrency in the industry.
Ultimately, the next 12 months will be very interesting for the Digibyte coin project. If they are able to make new partnerships, upgrade their technology to allow smart contracts and improve their marketing, things could be very good for its price. However, if the above events don't happen soon, the price could go the other way.
Conclusion
And that's the end of my Digibyte price prediction guide. I hope you found it both interesting and educational! If you read it from start to finish, you should now have a good understanding of what the project does and what they are hoping to achieve in the future.
I have also discussed various Digibyte price prediction 2023, as well as in 2023 and beyond. What do you think of the predictions made by the above analysts? Do you agree with any of them? If so, why?
Some of the predictions were reasonable, however, it is frustrating when the analysts don't explain their reasoning!
Finally, I also gave you a list of things to look out for that could affect the price of the Digibyte coin as well as my own opinion on whether I think it is a good investment. If you decide to purchase Digibyte coin, it's recommended to do that via Coinbase or Binance - the most reliable crypto exchanges.
Let me know all of your thoughts in the comments section below!
About Article's Experts & Analysts